Proctor's blogs from off-campus programs (Ocean Classroom and Proctor en Segovia this fall), feature dozens of samples of student work. Reflections, poetry, creative writing, and stunning photography provide a window into the transformative learning taking place in these programs.
Today, we explore the work of students on-campus in English classes. Proctor's English teachers embrace a wide variety of assessments. Enjoy the sampling of student work produced over the course of the past week below.
Frances O'Gorman shares a piece on the Polar Swim experience for Peter Southworth's Sense of Place course. Anyone want to join the fun Friday morning at 6:00 am? Or maybe you want to join the Vulcans at 4:45 am as they light the sauna?
Andrew Jonash '15 wrote THIS reflective piece on an experience on the football team this fall for Tom Morgan's Modernism Class. Andrew's remarkable talent on the field is matched by his ability to vividly sketch a scene for the reader. It is refreshing to see students with diverse talents who are encouraged to pursue all of them while at Proctor, especially in the culture of specialization adolescents are faced with today.
As British Literature students read Hamlet, they are encouraged to articulate their understanding of Shakespeare's characters. Erin Meegan's drawing (above) from Jane Barban's class provides insight into one student's interpretation of the piece. Interacting with literature through multiple mediums is a powerful exercise for students.
In Jennifer Fleming's Modernism course, students are studying material through the lens of Modernism artists. Delia Holland '15 shares her creative piece, Soft Young Women, HERE.
American Literature students are not only writing formal papers, but writing informal nightly reponses through a class blog. We believe every student should have a digital portfolio of his or her work before he or she graduates from Proctor, and this publishing of student work is a step in that direction. Check out the American Literature blog HERE and see how this class engages with each other through this digital forum.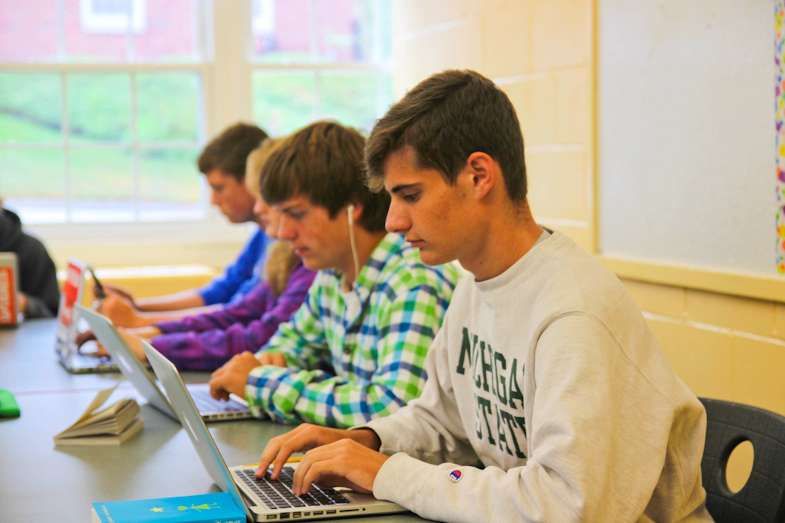 We are continually amazed by the creativity of our students, not just in English classes, but across departments. Friday and Saturday evenings we have yet another opportunity to see the work of our students in action as the Arts Department hosts the Fall Art Show at 6:00 pm followed by a Performing Arts Collaborative 7:00 pm Friday evening in the Wilkins Meeting House, and a Jazz/Rock Ensemble Performance Saturday night in the Wise Center at 8:00 pm! We hope to see you there!