Seeing as this is, unfortunately, the last blog post of the term, everyone is going to be contributing a paragraph about our experience on the whole. And seeing as it was finals week last week, I need to cover two weeks in a short space of time. As a result, I am going to focus on my highlights, instead of a meticulous chronological run through.
(photo: Sarah)
We opened the week with a visit to Tina Tari's vineyard, Tina is the very hospitable aunt of Boomer Vasquez '17. Tina is a professional winemaker living in Provence, who has a very warm and motherly smile that she used liberally when we came to visit. She speaks three languages fluently and would shift obsequiously between French and English while she ran us through the winemaking process.
It was beautiful to hear her talk and articulate the process of growing grapes while we stood over some early blooming grapes. From the way she spoke about each plant with such personification, it sounded like she was talking about people not a row of crops.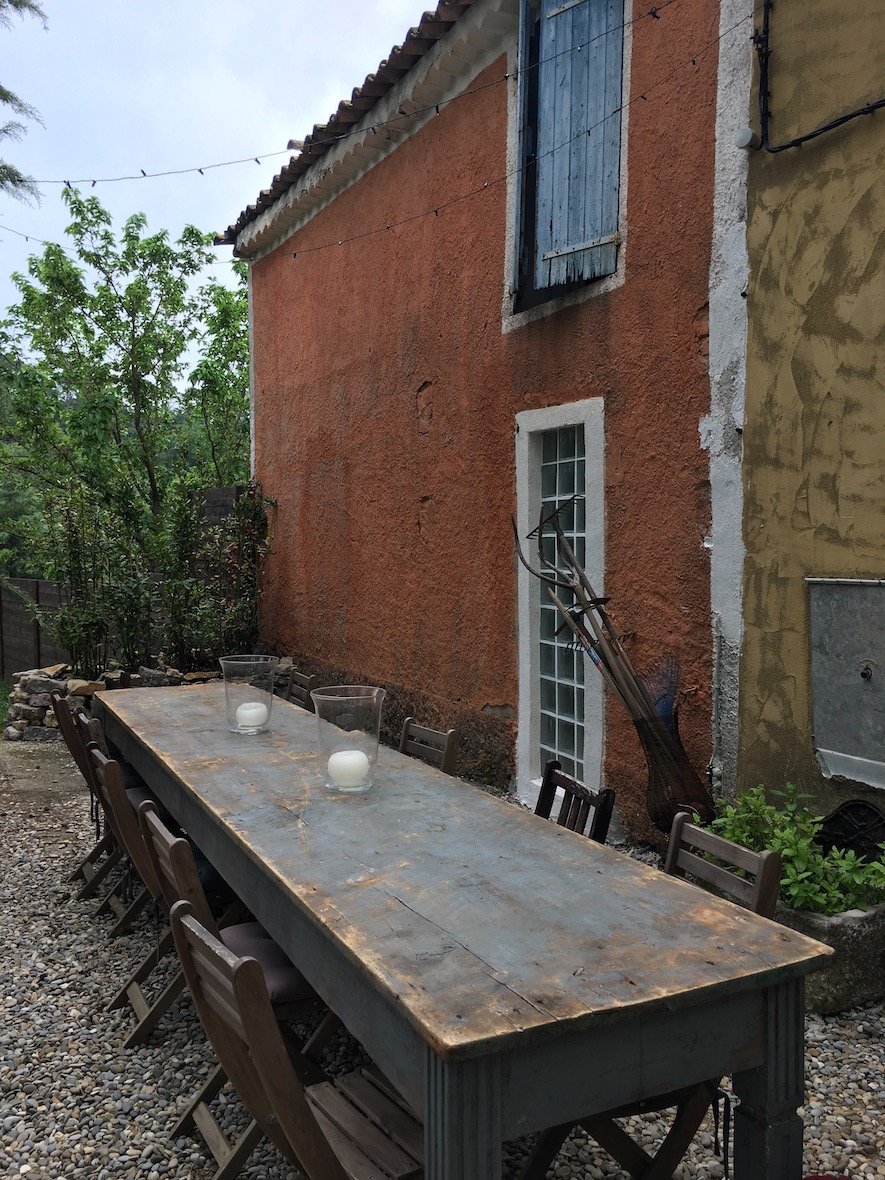 We enjoyed a mostly locally-sourced picnic and a wine tasting in Tina's oxymoronically new and ancient kitchen (the walls and floor were generations old, but the lighting, cabinets and other features were all state of the art). We did a blind wine tasting in opaque glasses; Tina wanted to see what we could taste without sight since according to her expertise, eighty percent of flavour we sense in wine comes from our sight.
While this was all happening we were enjoying a soulful concert in which Dave played the guitar in three different songs accompanied by the wonderful voices of Sarah, Emilia and Pilar. It was a swelteringly hot day, and while the sun was beating down on us, we explored the grounds and produced some joyful drawings.
(photo: Sarah)
The next noteworthy event happened the following Saturday. We had all woken up cautiously early before daybreak and set off to Marseille airport, to discover that, in typical French fashion, our flight, among many others, was cancelled due to the air traffic controllers being on strike. We then stressfully went terminal to terminal in an attempt to work out any way we could make it to Amsterdam. After the nail-biting anxiety, Jen managed to successfully work out a route with the assistance of our saviour who came in the form of a ticket assistant at the airport. It was decided that we would fly to Paris and from there take a train to Brussels and then one onto Amsterdam. After everything was sought out Dave confided in me that he had a love-hate relationship with the french that could flip-flop very quickly especially when they were deciding to strike. We concurred and concluded that striking on a day when tickets have already been purchased should be a capital offence. Despite the addition of about six hours to our journey we actually quite enjoyed the train because we were able to see a large scope of the northern European countryside and take some extended naps.
(photo: Sarah)
Once in Amsterdam, we came to our Hostel that is adjacent to Vondel Park, the largest park in central Amsterdam. The Hostel had a very cool vibe with a very modern ground floor featuring a kitchen, bar and a cornucopia of funky looking and comfortable couches. Most of the clientele seemed to be on the younger side of the coin, backpackers and young travelers mostly, but intermittently we came across some slightly older guests who were still young at heart. Jacob and I were staying in a six person dorm room with four other beds that had rotating guests.
(photo: Sarah)
On our first night, we had a long and amusing conversation with our roommates: there were two Italian sisters from Tuscany, one of which was a law student. In the other bunk, there was a twenty-six-year-old Columbian and above him a young Dutchman in town for the weekend. English was the chosen language for the conversation since it was the communal second language of the ground, and fortunately my first.
(photo: Sarah)
(photo: Sarah)
What was produced from this assortment of broken English speakers was a sort of game of charades where we would try and work out as a group what someone was trying to tell us, often using a lot of hand gesture. Although this was not related to art in any way I think it was my favourite couple of hours from the weekend, because I was in a room with four complete strangers getting to know one another's interests, telling jokes, with such an eclectic group that could unite over common interests in music, art, and stories from our varied pasts. This was something truly unique to the EAC program that I definitely could not of experience on campus.
(photo: Sarah)
Amsterdam was an incredible experience for most of the group, and for me especially. I think that I very quickly fell in love with the progressive and open culture of the people. I found it wonderful the ease at which strangers would make conversation with me in public, and how it seemed there were people of every ethnic and social background living in a safe and comfortable environment. I don't have enough space to do the city justice, so I'll focus on my favourite afternoon.
(photo: Sarah)
I had been told by one of my roommates that to truly experience the city I needed to rent a bicycle, after some coaxing of Dave, and a 4 am Eastern time wakeup call to my groggy dad asking for his blessing, I was allowed to spend my free afternoon on a bike.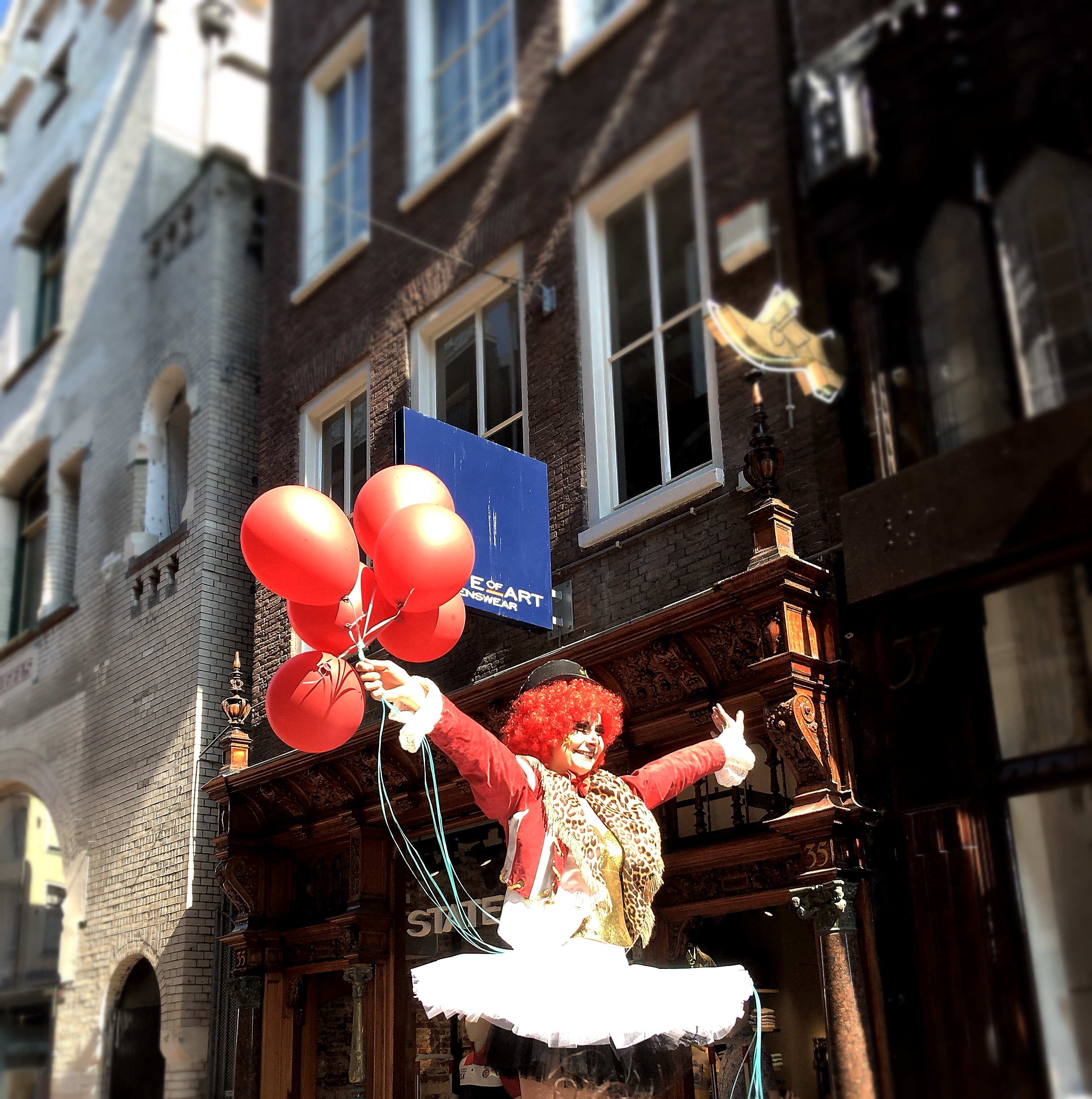 (photo: Toby)
(photo: Sarah)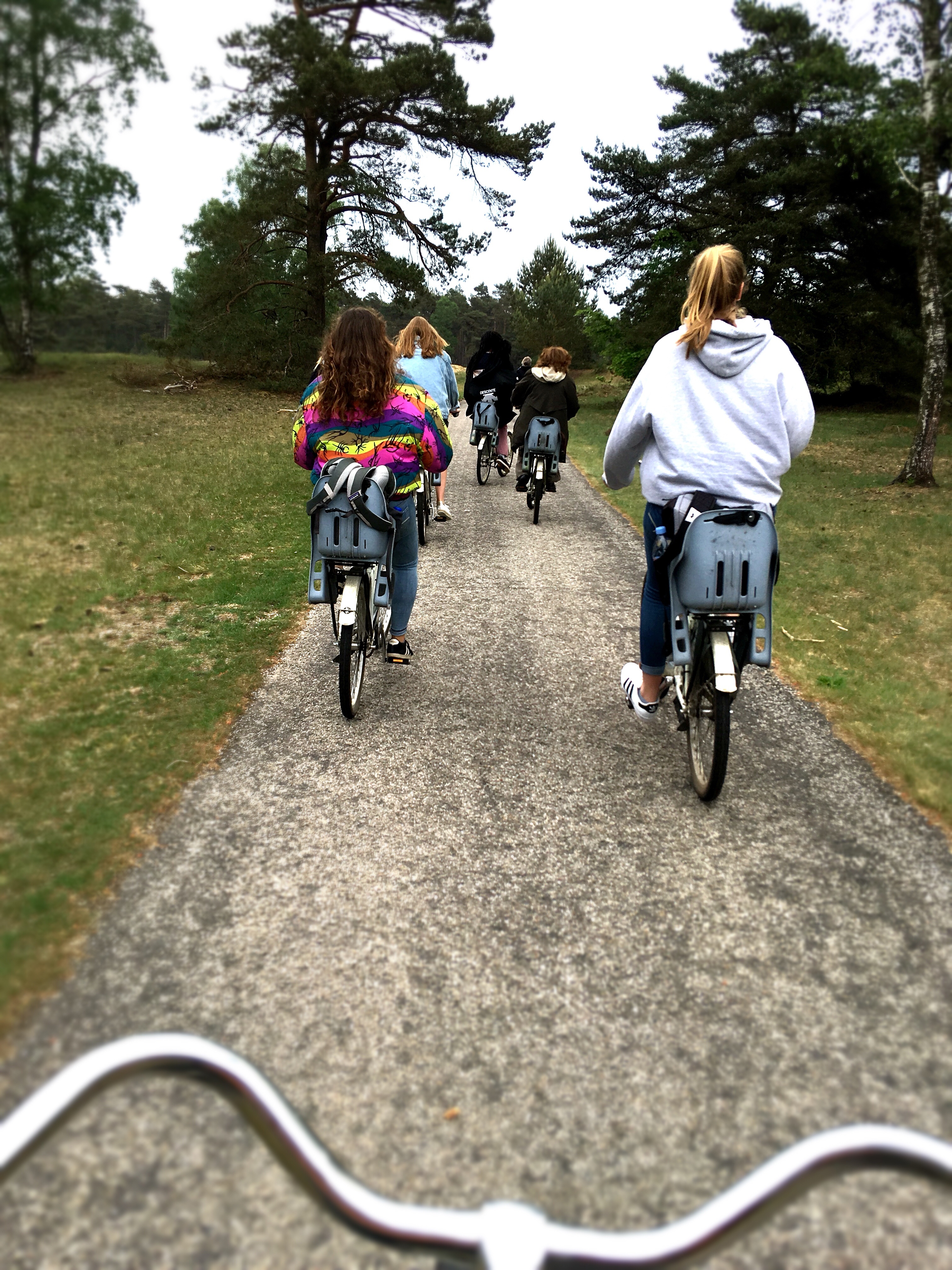 (Photo: Toby)
Having a ride made navigating the city a lot easier since it meant I could travel distance faster than a car even in the busier parts of the city. With my metal steed, I rode to the furthest most reaches of Vondel Park and had a serene picnic next to one of the many flower gardens in the park. With irises in full bloom it was a very calming meal. The cool thing about riding around was on top of seeing more of a city I also felt I experienced it more like a local and even found myself yelling at herds of tourists blocking the cycle paths. It was also a great testament to the trust that the off-campus program gives to its students. Upon our return to Provence we were greeted by fields of Poppies.
(photo: Sarah)
(photo: Sarah)
(photo: Sarah)
Below, EAC students share some final reflections.
How can I describe my experience on European Art Classroom in one paragraph? In short, I can't. I've ridden a white bike through Het Hoge Veluwe National Park in Holland, leapt into Van Gogh's canal in Arles, swam in the Mediterranean Sea at Cassis, ate probably a pound in total of gelato, and so much more. On top of that, I visited an honestly insane number of museums and saw art that I had only dreamt of seeing, such as Gustav Klimt's "The Kiss." Somehow, it feels as though we've been in Europe longer than two months, and part of me still isn't ready to leave yet. EAC has made me realize that I want to travel in the future, because there's so much left to see, and as Dave says, one lifetime will never be enough.
However, that will have to wait, because while one part of me would like to stay, the other part is excited to return home to Proctor and graduate, and to see my family and friends again. In fact, I'll be starting the journey homewards in only a few short hours. So, being the end of my time here, I'd like to thank Jen and Dave for an amazing last term as a Proctor student. I've had so much fun learning from both of you, singing, laughing, and living differently from my "normal life," and I'll never forget my time here. A la prochaine fois!
- Emilia '18
When asked by locals that inquire why this group of Americans is wandering the streets of Aix, or sketching master artworks in our Carnet de Voyages at museums in major European cities, or riding the L140 bus to class every Monday and Thursday, our typical response is "We're art students." Rarely, as high school students, are we able to say that we are solely studying art, and although we are also learning a host of other things, art is woven into the underlings of our lives here. Though some may see our lifestyle as a "vacation" from the "real" subject matter, I have gained more insight into how to suck the marrow out of life, how to co-habitate, and have discovered what inspires me, and the person I'm going to strive to be over my time here.
Besides sharing a wealth of knowledge about art with me, my fellow EAC-ers have passed onto me lessons that I will value for the rest of my life. From Dave, I learned the power of kindness. Throughout our trip, I started to notice that Dave never fails to be exceptionally friendly to everyone he encounters. In return, more often than not, the guy gets a ton of free stuff, connections, and help. Even when he isn't personally rewarded for his attitude, his positivity still creates a ripple effect of positivity. A lot of the managing and planning fell on Jen's shoulders, and throughout our travel we hit quite a few unplanned bumps. Each time, instead of sulking at our bad luck, Jen always immediately began problem solving. I found her resilience inspiring, but often overlooked because we just expect the nitty-gritty to always be put in place for us.
And from Pilar, Peppy, Emilia, Rhyanne, Anna, Toby, and Jacob, I gained huge insights into the dynamics of group living. We went through major transitions as a group, and each "storm" challenged us to dig deeper within ourselves, and come to a compromise. My final takeaway from this incredible experience, was that I discovered my relationship with art. I now view art as a necessity within my life, rather than something I love, but often put it on the back-burner. I may never have the luxury of living and creating art in this way again, however I know that I now need to feed the art monster within me on a regular basis. A HUGE thank you to everyone on this program, and those back home who all made this experience possible for me!
- Sarah '18
The singing and talking that I have heard over this term has been amazing. Being able to be around people who I normally would not hang around with on campus has been a change that I have enjoyed. I have loved the art and travel, even just the small trips to town. This term has been a once in a life time experience. I had never been to Europe before this term, and nothing was what I had expected it to be. Aix-en-Provence was not the small town I was envisioning when people explained "the cookie" to me. The house I thought was going to be small and a lot closer to town. However, almost all the unexpected and the expected had good impacts on me. As we all embark our separate ways from this experience we will all have France and each other embedded in a small place in our hearts. A special place where our weird artistic selves came out and we created masterpieces. We found people we could be ourselves around without judgement and I would not change a thing that happened. My favorite day from this whole term was definitely going to swim in the Mediterranean on one of our last days. Getting gelato after a day in the sun and enjoying ourselves was a huge highlight. This has been a great time and as much as I want to stay, I am excited to go home to prepare for my next adventure to start.
- Rhyanne '18
(photo: Sarah)
Thinking about this past term (and all the carbs I have ingested) it was one of the best decision that I have made in my life. If there is a window of time where it is possible to go off campus... take it. I have learned so much through being thrown into the action. I lived with some very different, yet amazing people and we were taught by the coolest teachers. With everything that we have all experienced, I feel like we are more of a family then just a group of students living with some wicked good artists. Speaking of art, I believe that my skills have improved in all types of studio art, whether I was trying new types of materials or enhancing my painting style. It was also so new to travel to different places, and experience the varying cultures that paired with those destinations. Within the last couple months I have lived in France, Spain, Vienna, and Amsterdam. Talk about eye opening. This classroom will never slip my mind and I will treasure it forever. Sadly, all things have to come to an end. I hope I will continue creating in college (Ooo some alliteration for you) and keeping in touch with this new french family of mine. Go abroad. I dare you!!!
- Anna '18
I have come to the realization that we as a group will never be in this place at this time in our lives again. Though there were some struggles to acclimate and become the family we are today those struggles are what made this experience so special. We all took risks that if we hadn't of gone on Euro we might not have, I wouldn't have dared wandered European streets on my own, Emilia and Rhyanne might not have jumped off a bridge, Toby might have not experimented with plein air work, Jacob might have never gone to a French convention, Sarah might never have tried the palette knife, Peppy may have never discovered her love of the Carnet De Voyage, and Anna may never have seen Monique's painting which inspired her work. I won't forget the little things and I'll always know there is so much to learn from being together with a group of so many different personalities and so many more risks worth taking.
- Pilar '18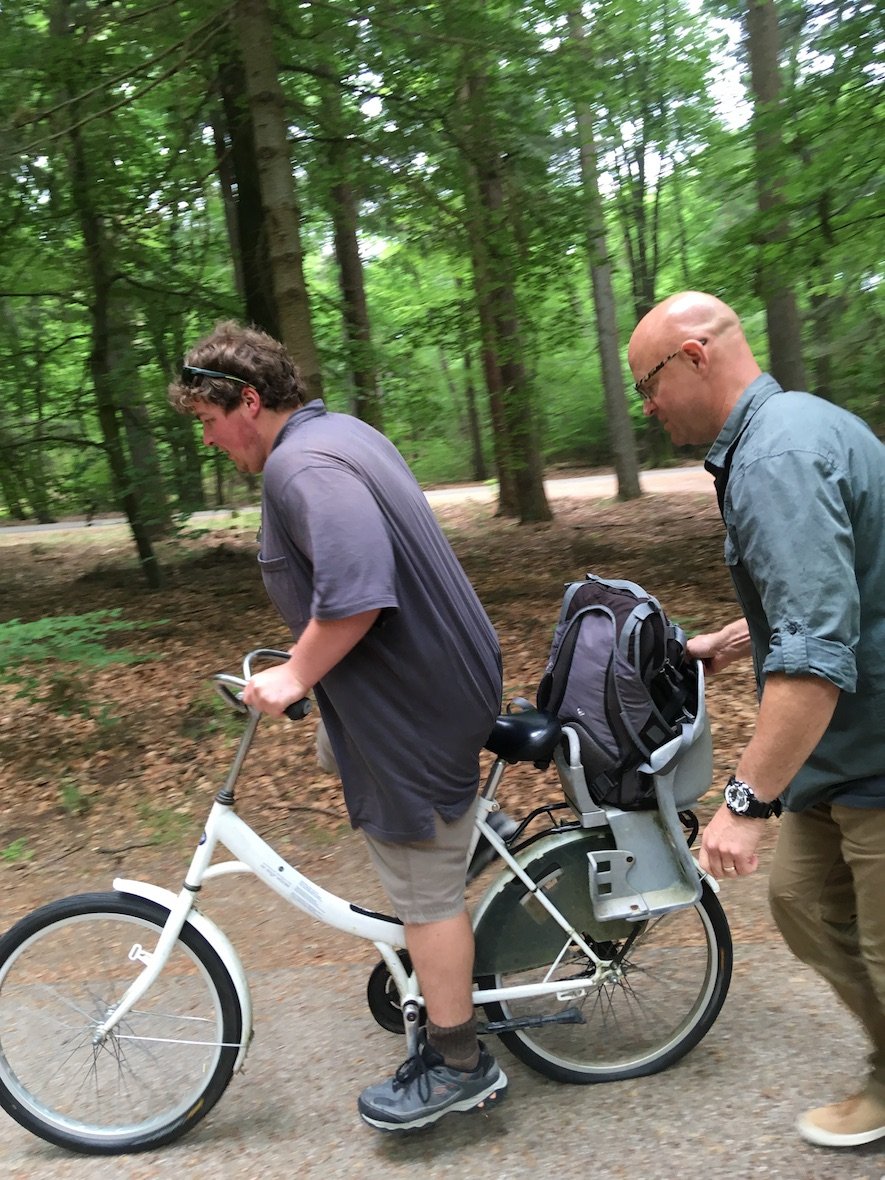 (Photo: Toby)
This was a great term and I learned a lot of different things from new painting styles to playing the guitar. The most memorable one would have to be learning how to ride a bike. Before that day I never knew how. That will definitely stick with me for the rest of my life. - Jacob '18