Proctor Academy's Mountain Classroom program has reconvened for the remainder of the Winter Term with back-to-back excursions hiking in the Grand Canyon and climbing at Mt. Lemmon. Read reflections from Lila '20 and Ben '20 below as Mountain Classroom provides a window into life on the road.
Lila '20: The Grand Canyon
We were given two choices. The first was to have a minor sleep in. The second was to wake up at 6:00am and get a jumpstart on our exciting day at the Grand Canyon. The sleep in was enticing and usually appreciated after a few days of bus travel: on driving days, we typically have an alpine wake up, meaning we wake up at 4:30 or so. But we're a daring group, so we decided to wake up early.
As leader of the day, I had lots to think about. Once we made it to the trailhead and parked the bus and our beloved trailer, Rocinante, (named after Don Quixote's horse), behind. We got comfortable. I have a tendency to lose track of time sometimes, so we ended up hanging out at the trailhead for a while.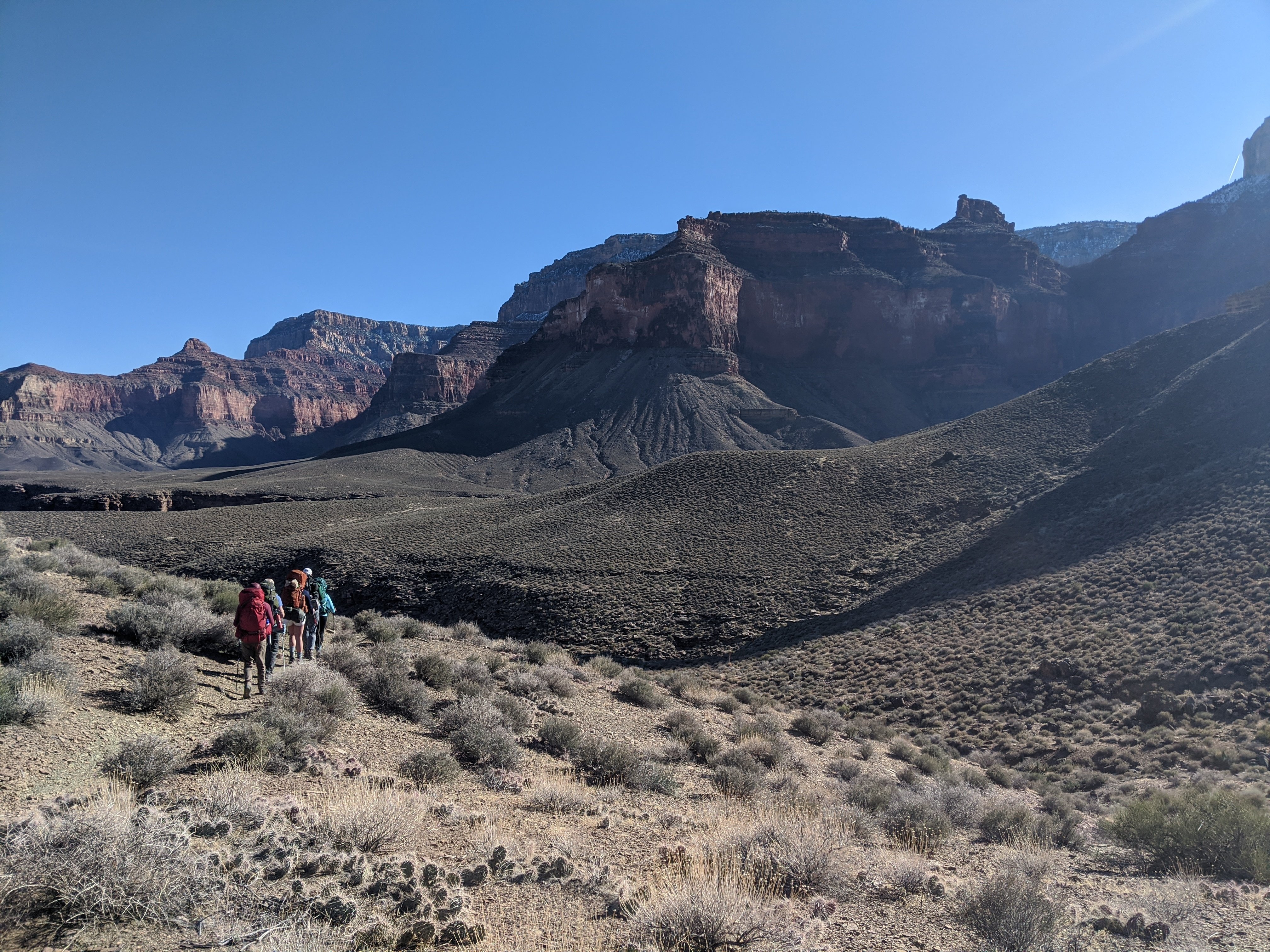 We had a ten mile descent.
I did not want us to have to hike in the dark.
A cayenne dusted canyon laid before me, and I began. As we hiked and descended a couple of thousand feet, a new geological layer would be revealed to us. We began with a snowy sediment. Two layers down was red shale. Shale has always been a favorite rock type of mine. When I was a little preschooler, I remember my dad showing me the shale in our backyard in Vermont, and how I could break it with my own bare hands.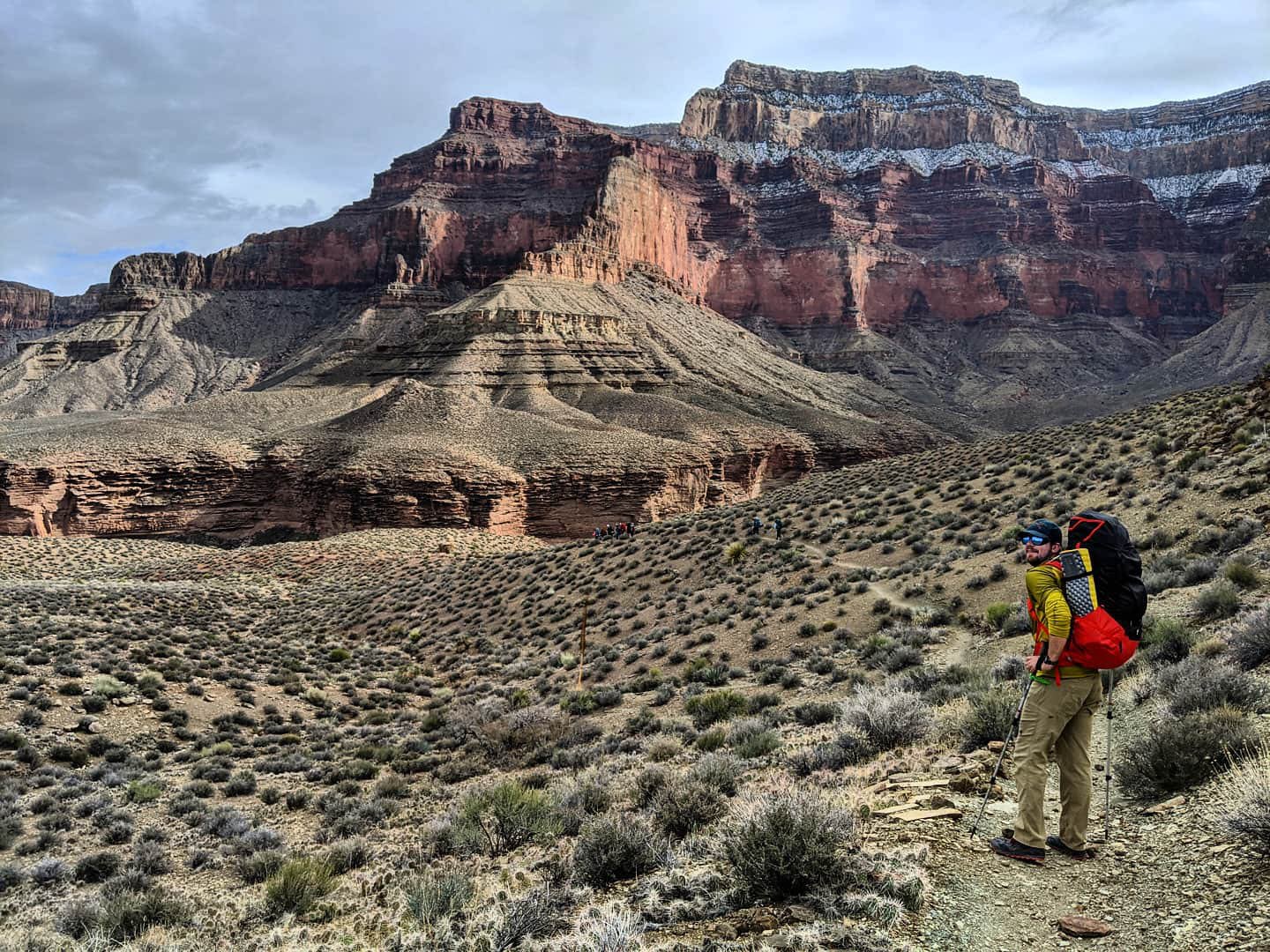 We still had a couple of hours to go. I picked up a piece of red shale and broke it in half with my bare hands, letting the chalky red pigment float to my feet. "I am so strong," I thought to myself. As we trekked on, Alex, Ben and I lead the pack with a quick pace. Ben was whistling a tune. Alex noted the fact that we were all wearing maroon. "We're like a band," she remarked. "We'll call ourselves Maroon 3!" I decided.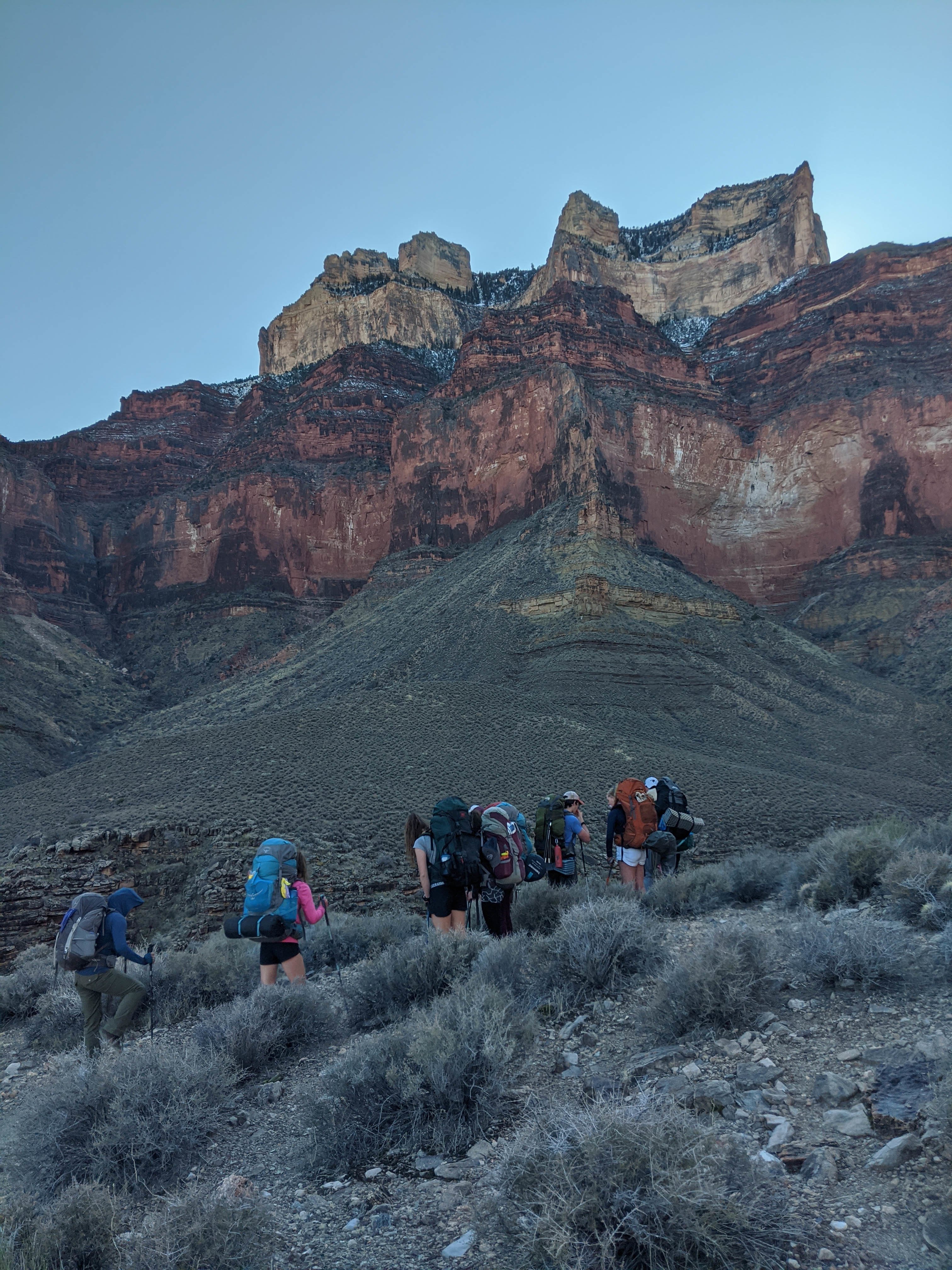 With my maroon leggings, Alex's maroon tank top, and Ben's burgundy baseball cap, we descended lower and lower, feeling warmer with each substantial decrease of elevation. Our riverside campsite greeted us: the sand soft and delicate, a perfect place to set up our tents. An emerald river rushed by, its strong rapids decorated with Chub fish and Xyz fish: some local fish we learned about in our ecology lesson with Erica. Our long day was wrapped up with burrito bowls prepared by Cam and ??, and a very sandy evening meeting.
I retuned to another Radiohead-filled bus ride.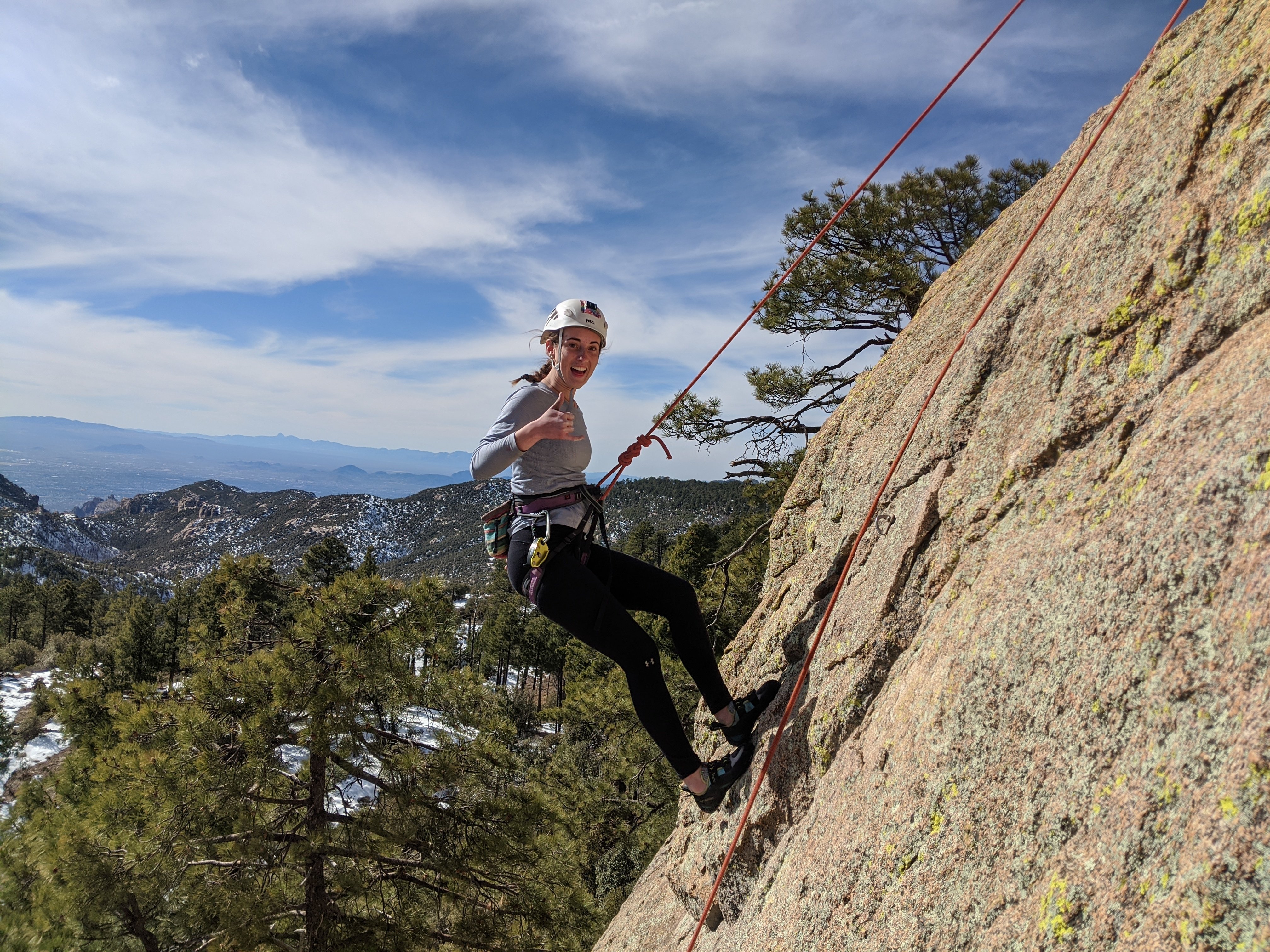 Ben '20: Arizona Climbing Adventures
*NOT CLICKBAIT* *READ TILL THE END FOR SOME JUICY CONTENT**
Before the week of climbing began we talked with our guide Aaron who suggested we check out Mt. Lemmon instead of our originally planned destination at Cochise Stronghold. So we headed to our campsite along a winding road snaking its way up the mountain. Once there, we set up camp, ate dinner, and headed off to bed with a mixture of excited and nervous for the day to come. In the morning we ate omelets for breakfast and laid out climbing gear while we waited for A-a-ron, as we liked to call him. Shortly into our harness fitting tutorial Aaron pulled up in his Black Buick SUV and hopped out wearing his favorite yellow and gray Patagonia sweatshirt and excitedly introduces himself to the group. We got right into a little introduction game where we learn that he is sponsored by NativesOutdoors and Patagonia for backcountry skiing and climbing, and the rest of us are lame.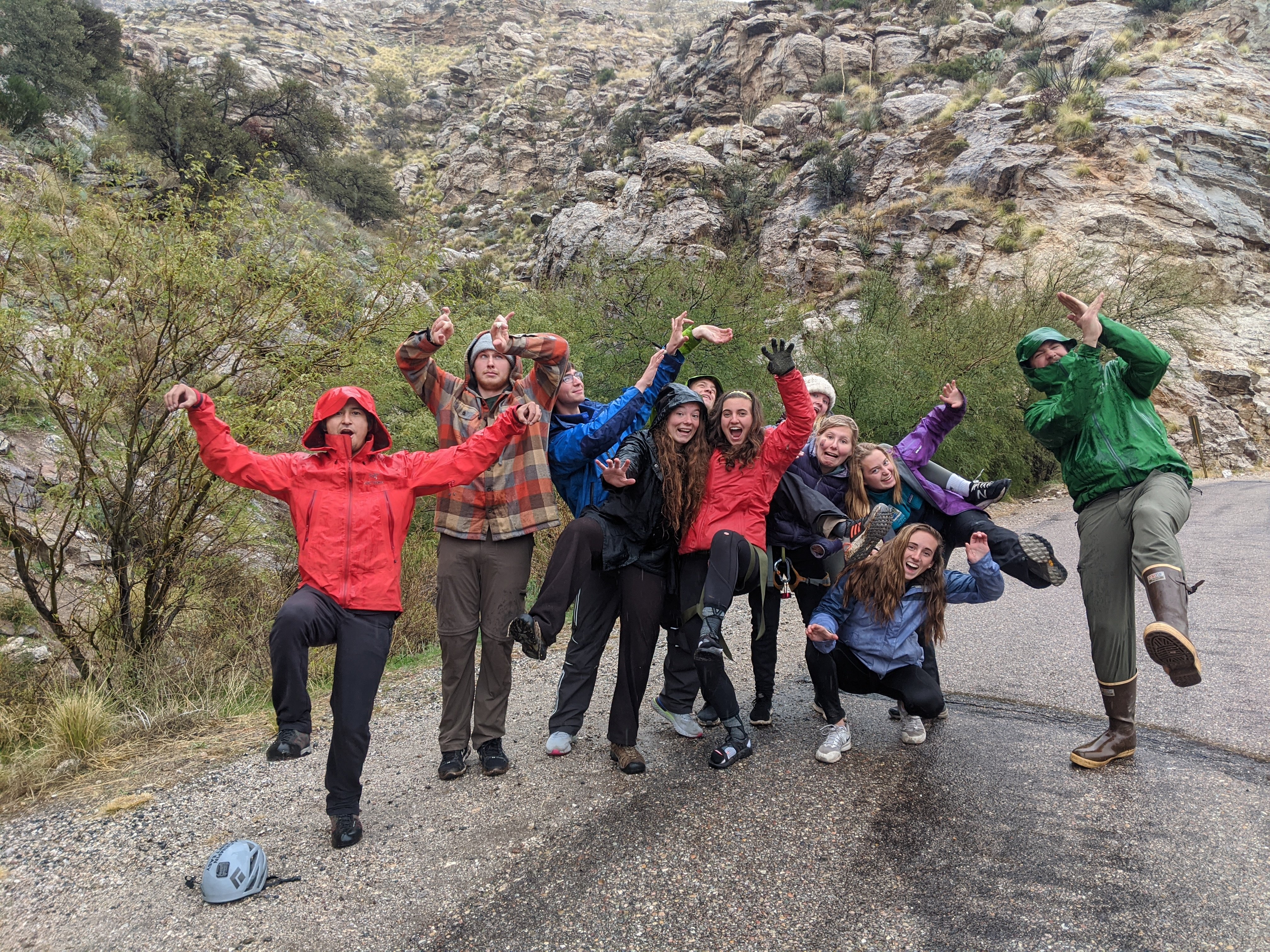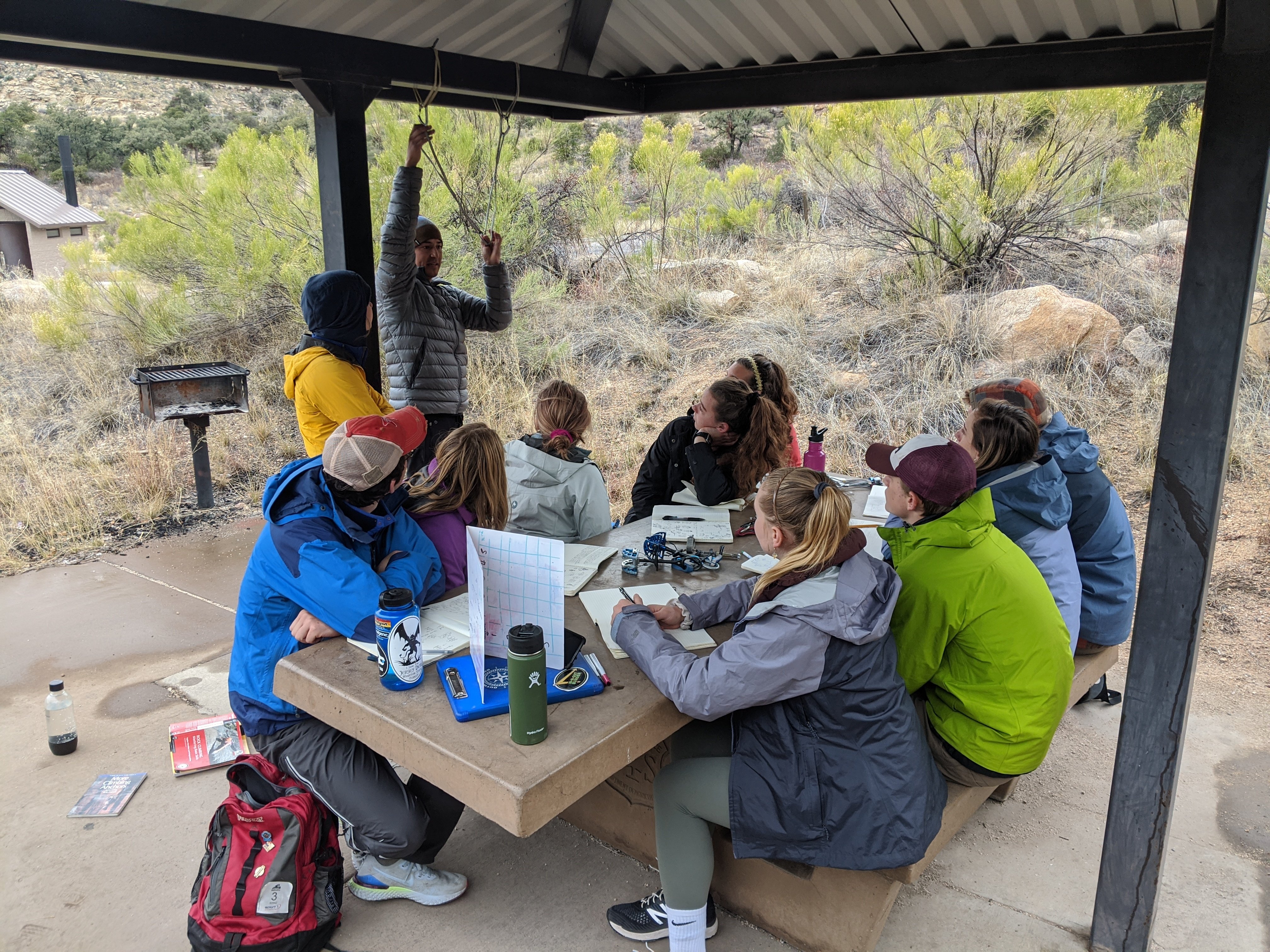 We finished fitting shoes, harnesses, and helmets, then headed off to where we'll be climbing for the day. The approach is full of scrambling and loose rock but eventually we make it to the base of the wall where Aaron leads a couple 5.7's to set up top ropes while the rest of the group gets ready to climb. After that we have a quick lesson on tying in using a figure eight and belaying using an ATC, then we practiced and proved our competency before we finally got to climb. Those of us who have done it before scurry up the relatively straightforward routes while others get a feel for climbing for the first time. Many are understandably apprehensive at first, toes cramped in tight shoes and legs shaking from the get-go, but eventually everyone made it up a route and started getting over their fear of heights. As the day came to an end and we hiked back to camp we talked a little with Aaron about his work as an outdoor sports advocate for Native Americans.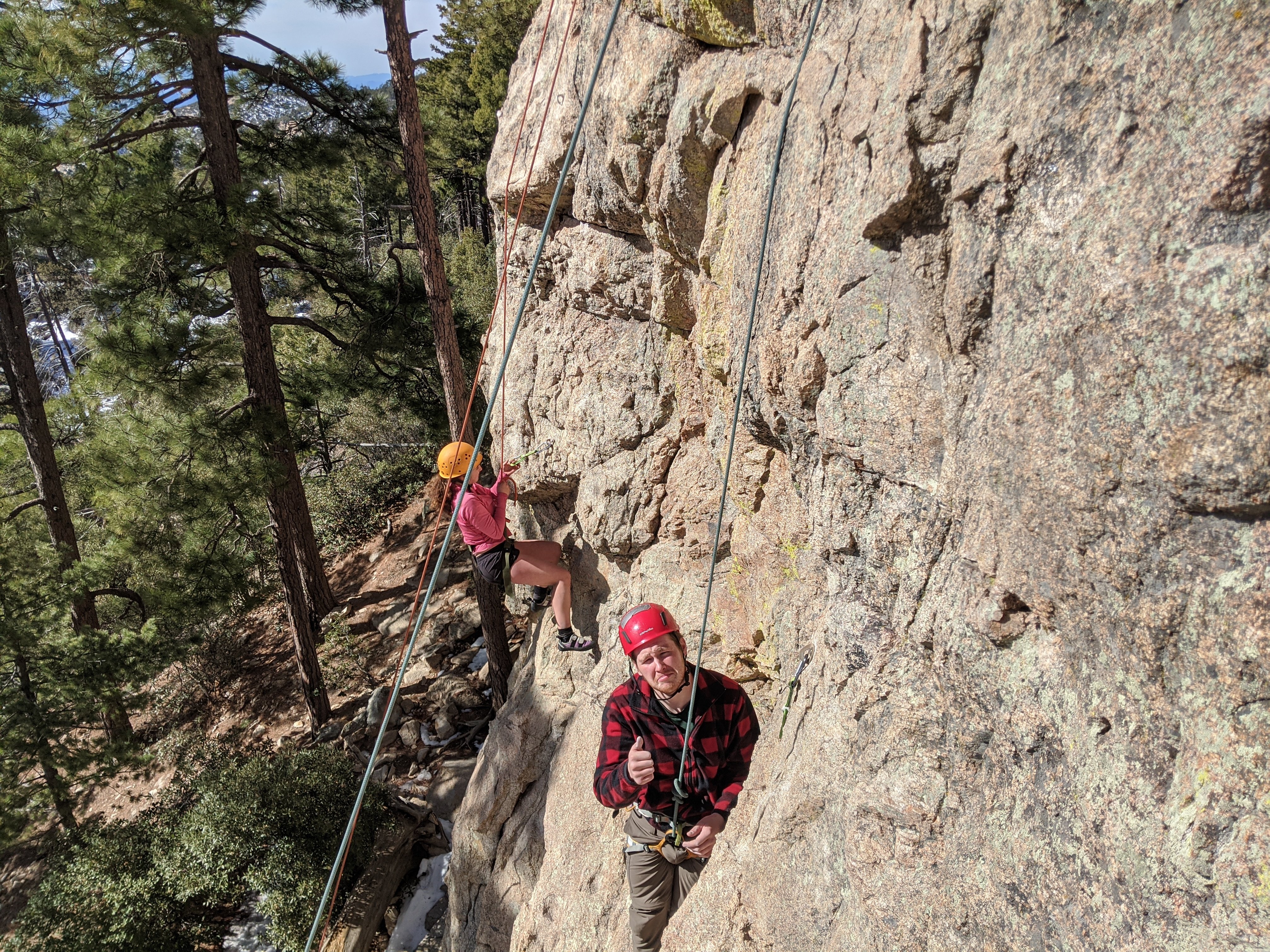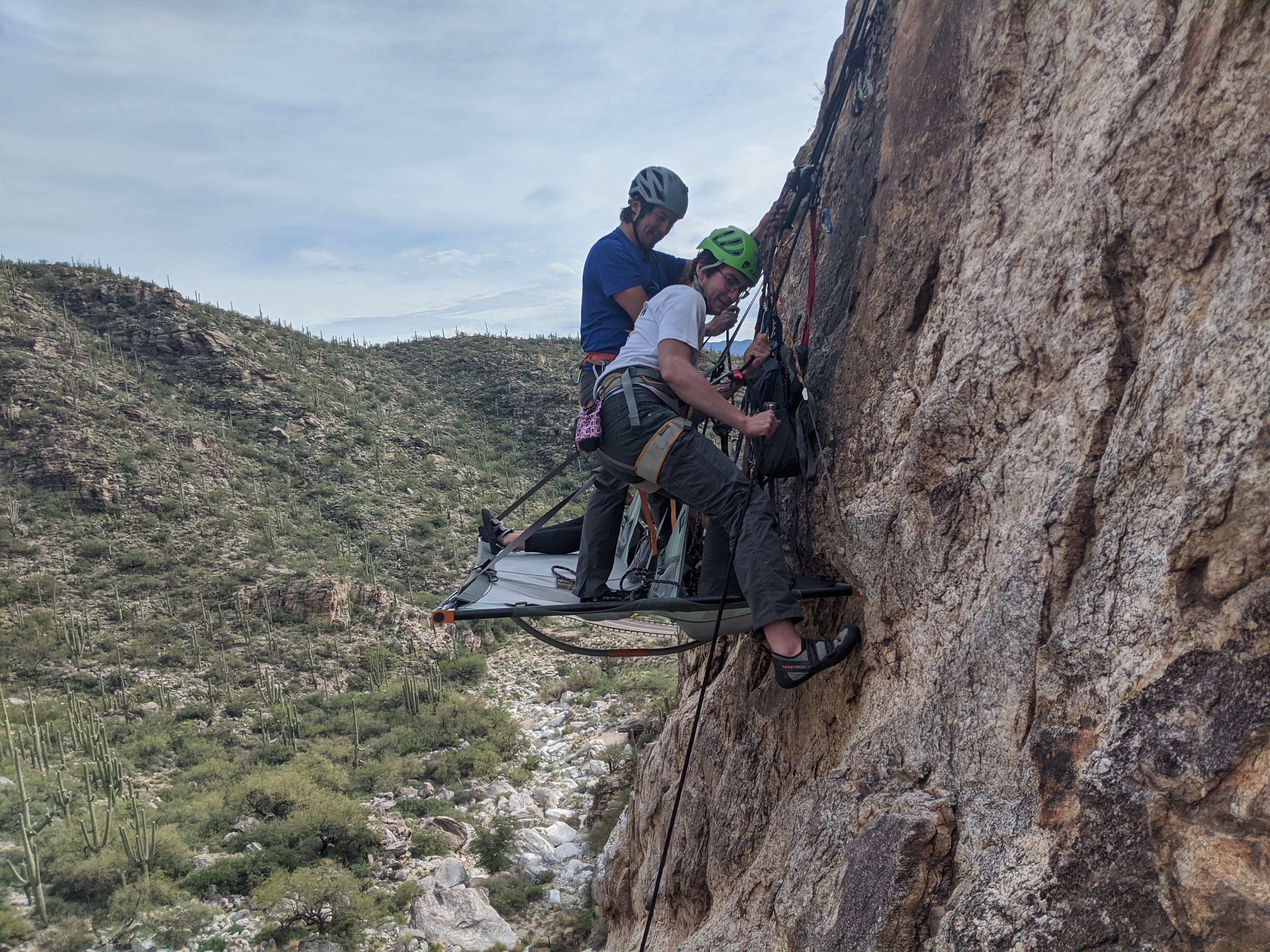 The second day was much the same, this time we drove further up the mountain to a wall that overlooked the valley below. Once again, Aaron set up a few tope ropes while we got ready. As we sat there watching Aaron effortlessly climb up some pretty technical routes we realized the med kit was left in the bus. Lila and Anya were sent on a rescue mission to retrieve it but when they hadn't returned for over an hour we grew…curious. A few minutes later they returned dismayed and empty handed and informed us that they got lost on their journey and did not succeed in finding the med kit. For the first half of the day we just did our regular climbs, but after lunch things got a bit spicier. We learned how to belay using grigri's and Aaron set up a 5.10 that I managed to slice my fingertip open on before the first bolt, leaving a trail of blood up the route. Once again the day drew to a close and we drove back to camp and said goodbye to Aaron for the night.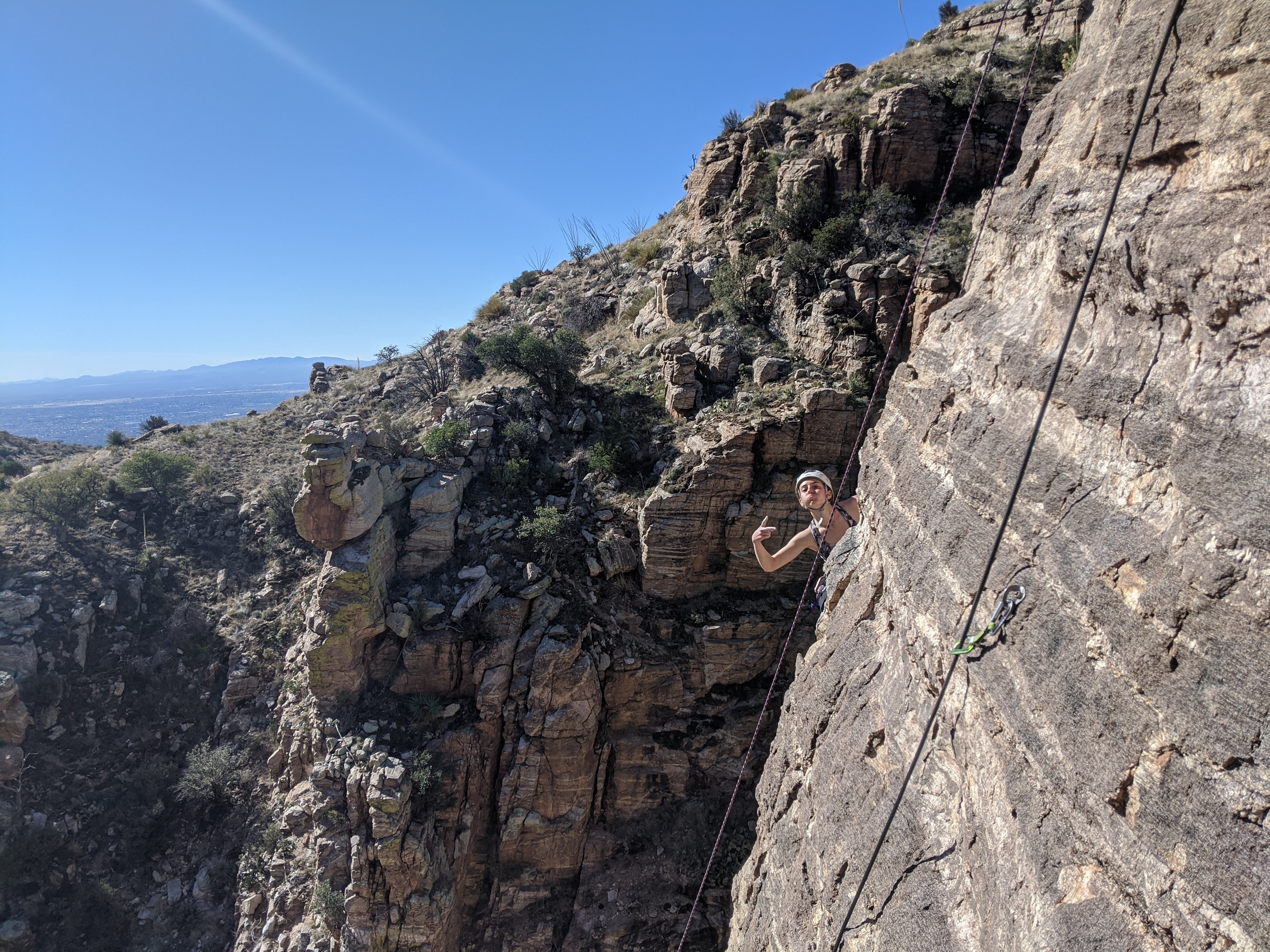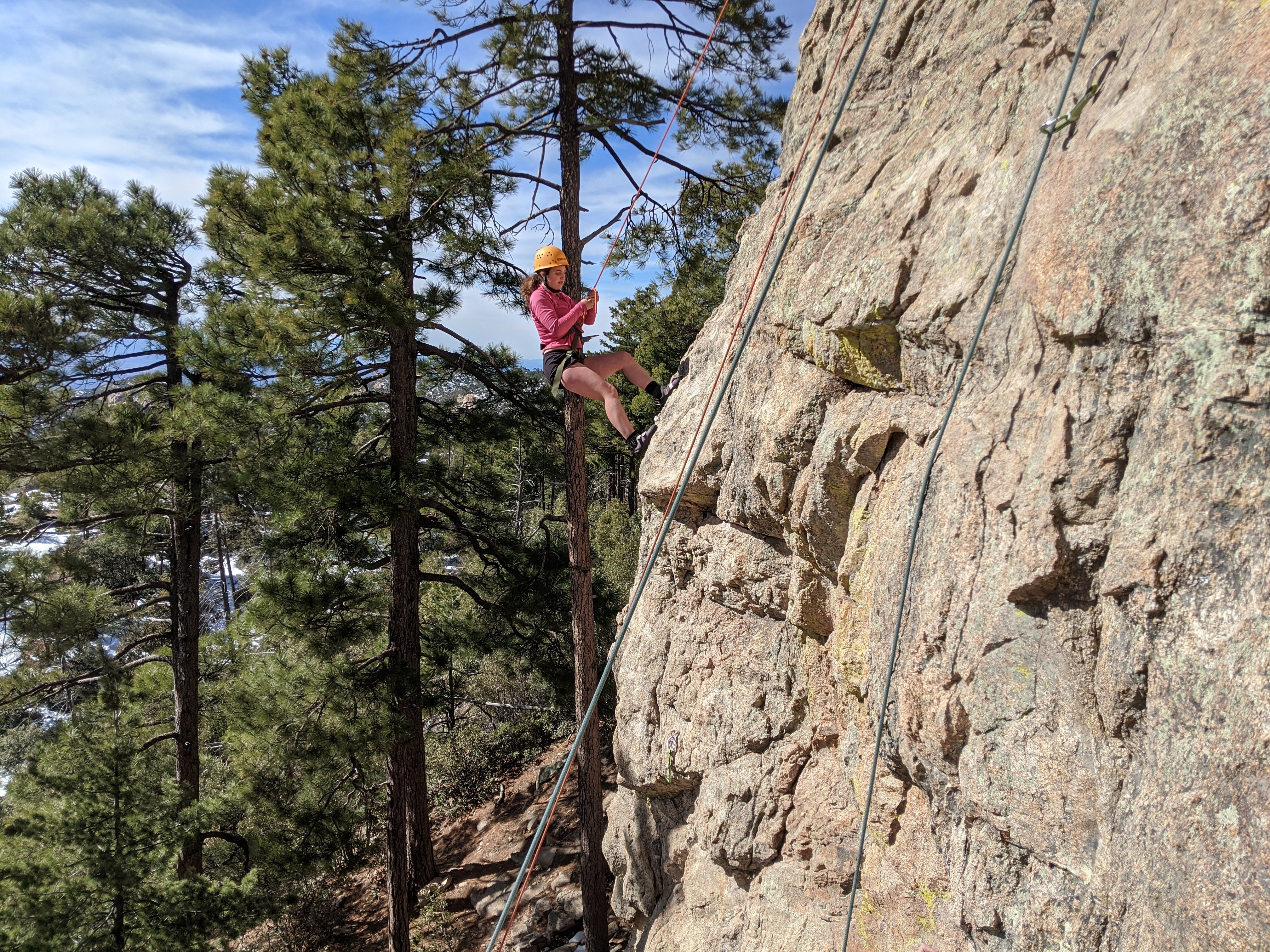 Our third day was much of the same, this time we learned how to rappel from a porte-ledge Aaron set up which was pretty cool. The rest of the day consisted of more top roping and a couple more challenging routes. The next day is when things get spicy. To start things off, we get rained out from climbing…in the desert, so we did a short lesson on placing trad gear and setting up anchors on it. Then we decided not to let some rain ruin a day of climbing so we headed to a bouldering gym in town. Our time there was short-lived because the guy at the front desk either really loved his job or really hated us as he informed us we could not climb there without our actual parents signing waivers. Spirits dampened, we headed somewhere waivers are not required, Goodwill. We found some hidden gems including Hawaiian shirts, goofy pants, dresses, and snacks which picked us up a bit.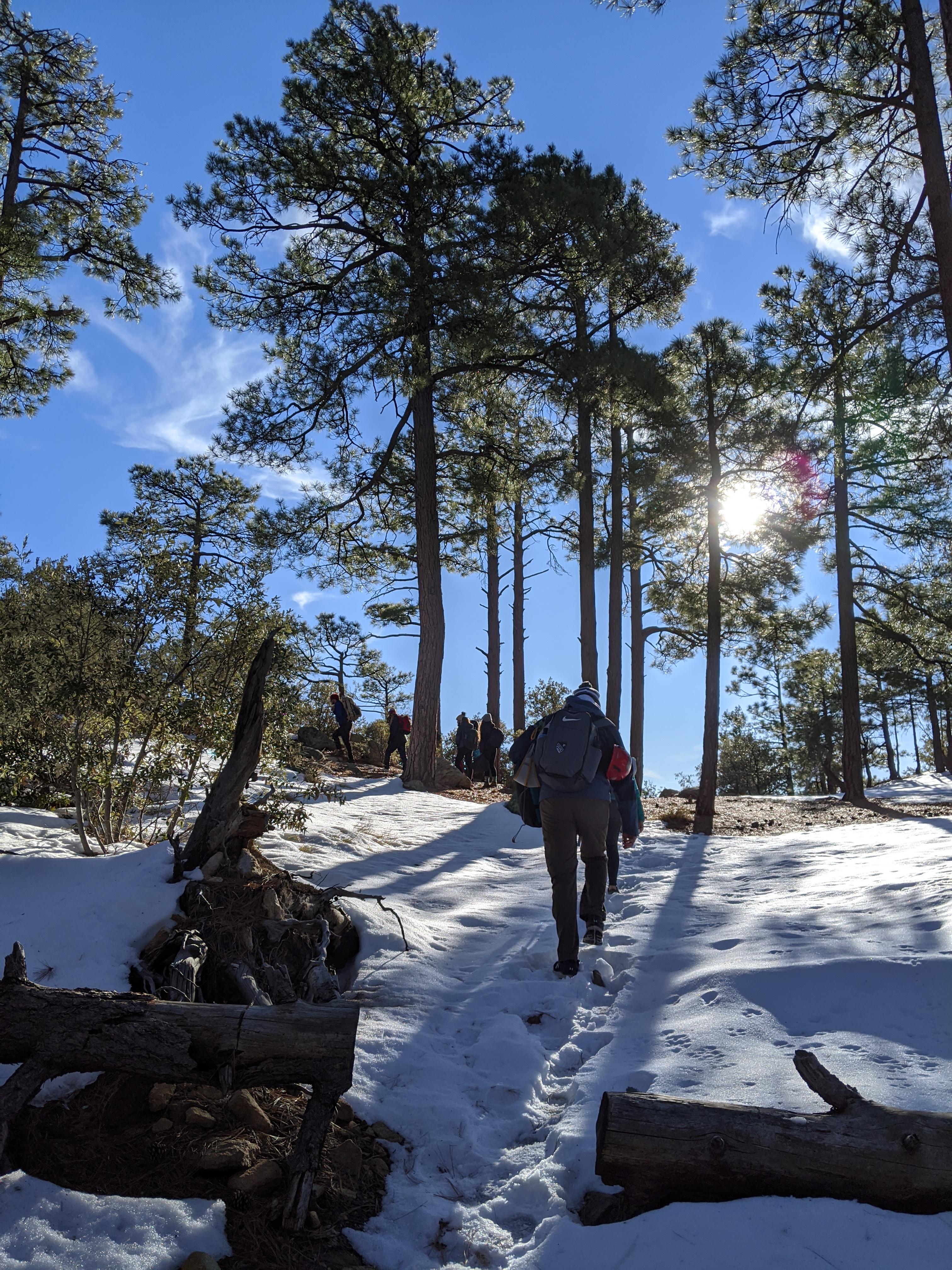 Undeterred by the warning signs of the day so far we headed to the Arizona parks and Recs center for some exercise and a shower. The boys tried to lift but there were no free weights and we needed a 30 minute lesson to get a pin for the geriatric weight machines, so we played some b-ball in our Hawaiian shirts instead. After a quick round of horse we headed into the changing room to shower and had yet another adventure talking politics with some old guys in locker rooms.