Three weeks ago today the schooner Roseway blasted its canon as it pulled out of Gloucester Harbor. Over those three weeks, the 21 students aboard the 135 foot schooner have learned how to sail, stood watch in shifts around the clock, continued to take math, literature and marine science courses, and have navigated the ship into and out of multiple harbors, including Fishers Island and Manhattan (below), where they visited last week.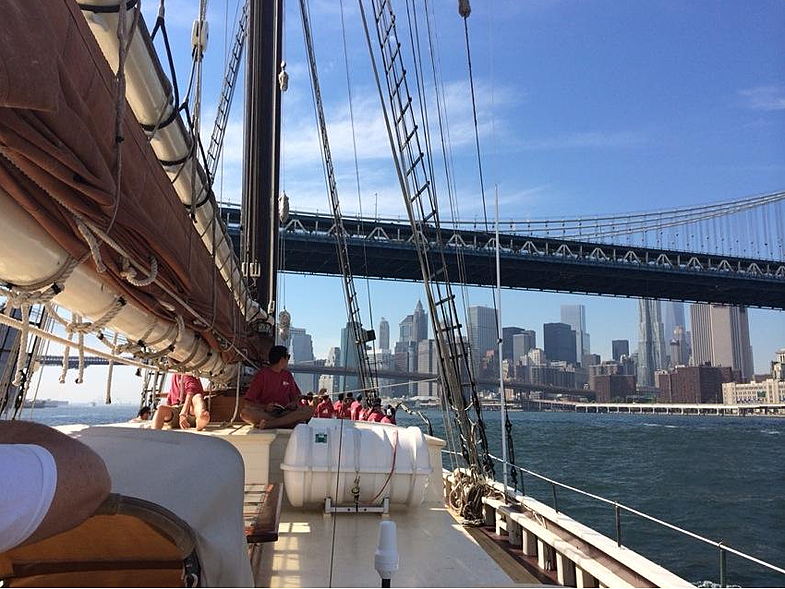 The group's most recent stop took them into Baltimore Harbor where they deboarded and traveled to KIPP Baltimore. In 2011, Proctor alum Shawn Hurwitz spoke at commencement about his experience as one of the founding board members of KIPP, a nationwide network of free, open-enrollment, college-preparatory public schools dedicating to preparing students in underserved communities for success in college and life. Hurwitz shared about his work with the Houston KIPP schools and the similarities in mission and pedagogy to the education he received while at Proctor, focusing on determination and grit as key components of any meaningful education - lessons learned studying both on and off-campus at Proctor!
Take a moment to listen to and watch Hurwitz' commencement address HERE.
KIPP Baltimore was kind enough to share some of the images in this blog with us, but more importantly, shared their students with our students. Ocean Classroom students spoke to fifteen different classes about their experiences aboard the Roseway and the KIPP students' plans for college. World Ocean School educators shared that the Proctor students did a fantastic job answering questions of the K-7th grade students they visited and were viewed as heroes in the eyes of the young scholars. What the KIPP students may not realize is what heroes they are to the Proctor students as well.
For more updates on Ocean Classroom as they sail south, follow World Ocean School on Facebook!