Thursday evening, teams met one final time for the Fall Athletic season to recognize individual players with end of season awards. Over the past ten weeks, all of Proctor's student-athletes and coaches have dedicated tremendous time and energy into creating a valuable shared experience within each team. While every athlete has improved over the course of the season, team awards recognize those individuals whose outstanding contributions through leadership, sportsmanship, or ability made a significant impact on the team's success this fall.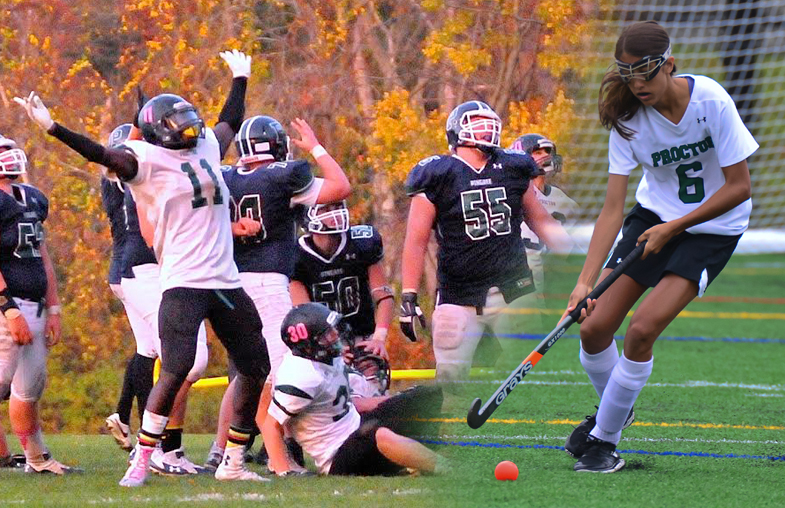 Each season, two athletes new to Proctor are recognized for their contributions to Proctor athletics with the presentation of the Marvin Award. This fall's recipients are Chris Agyemang '16 (Football) and '18 Kiara Vazquez (Field Hockey).
KIARA VAZQUEZ - FIELD HOCKEY
Kiara Vazquez has started and played almost every minute of every varsity field hockey game. She is an amazingly kind, coachable, and talented player. Kiara is one of the best defenders Proctor has ever had on the field, and her dedication to the sport and willingness to try new roles is exceptional. She is incredibly accomplished for any Proctor field hockey star, but she just picked up a field hockey stick for the first time this fall. Kiara is deserving of the Marvin Award not only for her amazingly high level of play, but for her willingness to try something new, and her determination and exceptional attitude and example.
CHRIS AGYEMANG - FOOTBALL
Chris Agyemang came to Proctor as a repeat 11th grader from Billerica, MA. He is a hardworking student-athlete with strong skills in the classroom and on the athletic field. Chris has shown dedication to the team by demonstrating strong work ethic, modeling positive behavior, supporting his teammates on and off the field, and adapting well to new systems on offense and defense. His natural abilities have allowed him to pick up our strategies quickly, and he has excelled in his new environment. Chris is a positive member of our team, and we are lucky enough to have him returning to the football team again next season.
Congratulations to all fall athletic award recipients listed below!
BOYS' VARSITY SOCCER
COACHES' AWARD: Stiles Alpeter '15
MOST VALUABLE PLAYER: Thaddeus Bicknell '15
BOYS' JV1 SOCCER
COACHES' AWARD: Eamonn Healey '17
MOST VALUABLE PLAYER: Eric Bonewald '17
BOYS' JV2 SOCCER
MOST IMPROVED PLAYER: Mo Nguyen '18
COACHES' AWARD: Tristan Stenzel '16
GIRLS' JV SOCCER
COACHES' AWARD: Peppy Pettengill '18
MOST VALUABLE PLAYER: Kelsie Berry '15
VARSITY FIELD HOCKEY
MOST VALUABLE PLAYER: Taylor Methven '16, Lexi Tilton '16
JV FIELD HOCKEY
COACHES' AWARD: Liv Ginchereau '18
MOST IMPROVED PLAYER: Chloe Methven '18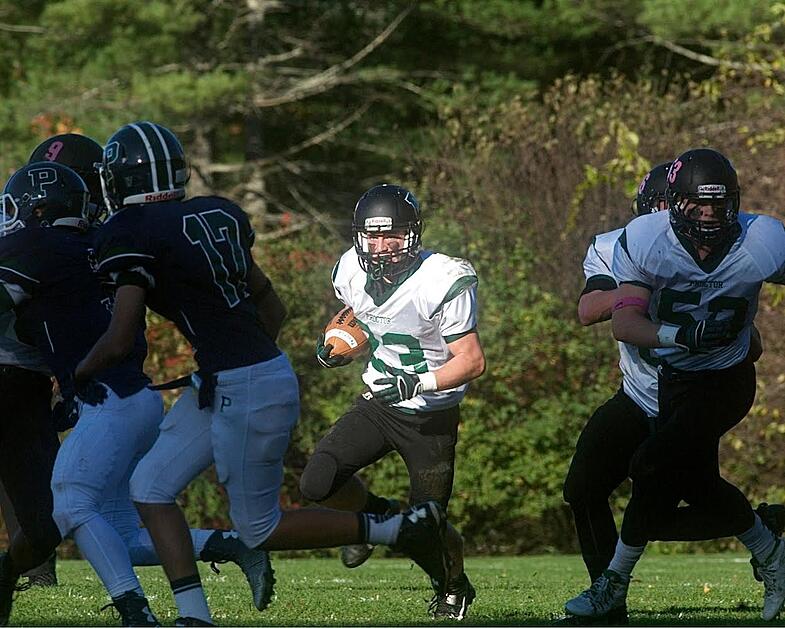 VARSITY FOOTBALL
KENNETH HUDSON COACHES' AWARD: Warren Albert '15, Andrew Jonash '15
ARTHUR PRATT TEAMMATE AWARD: Calvin Johnstone '15
JV FOOTBALL
JUNIOR VARSITY AWARD: Dylan Oakes '18
MOUNTAIN BIKING
COACHES' AWARD: Ethan Butterworth '15
MOST IMPROVED RIDER: Kevin Oh '18
VARSITY CROSS COUNTRY
MOST VALUABLE RUNNER: Angus Allan '15, Madison Clarke '17
COACHES' AWARD : Lulu Orne '15