Proctor's Ocean Classroom program has made its way to Cumberland Island, Georgia as they prepare for the long open sea voyage to St. Croix, US Virgin Islands in the coming week. Unsettled weather in the Atlantic has delayed Roseway's departure for this 13 day open water voyage, but the students and program are committed to making this experience happen. Read more from the past week on Ocean Classroom in the student journal entries below and enjoy a few video clips from the past week.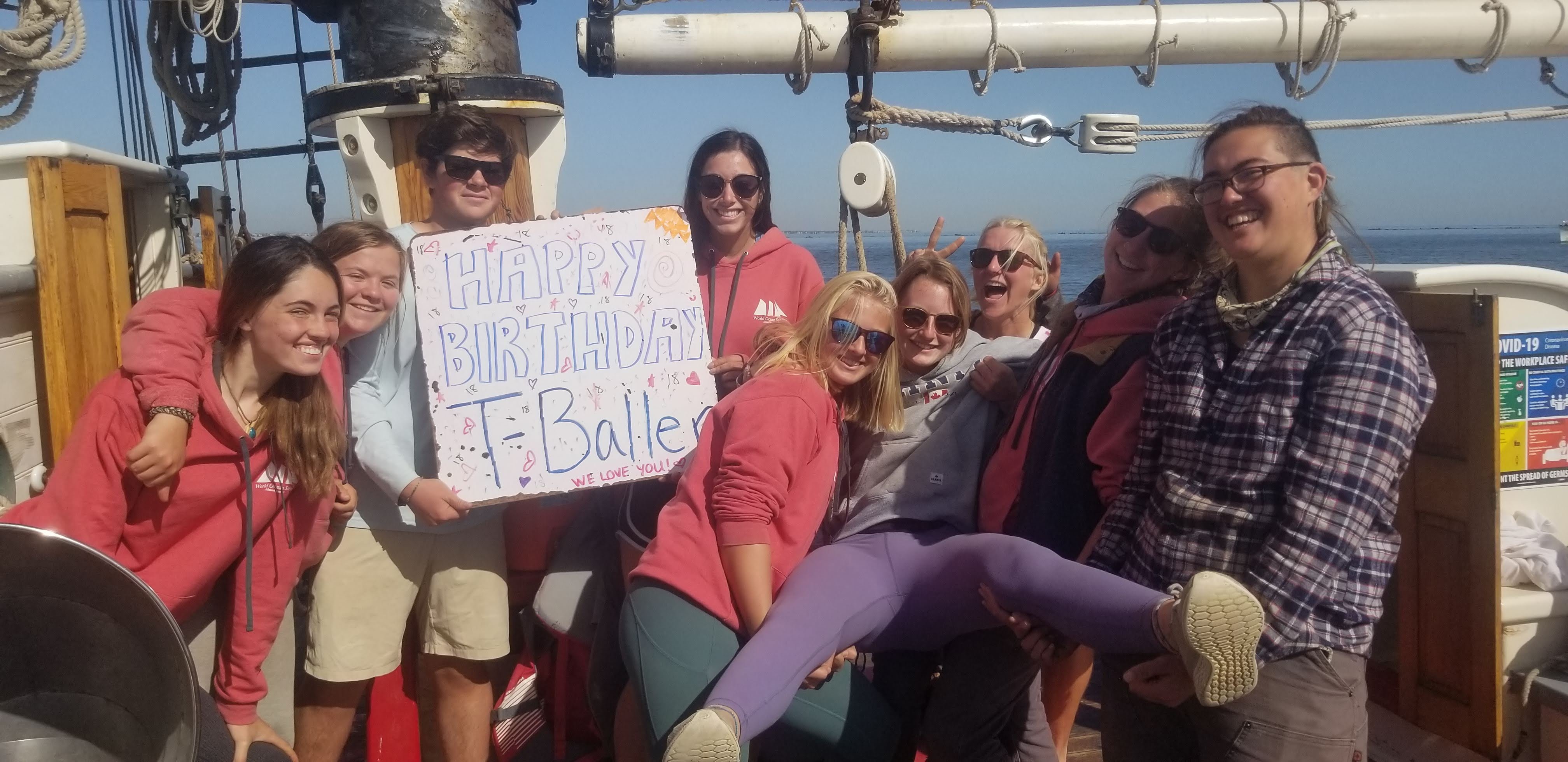 Torie '21 | Charleston, SC
Friday, October 30, 2020
This morning there was an absolutely beautiful sunrise. We are anchored outside of Charleston and as everyone was coming up to muster the orange rays streaked the sky. Everyone has been enjoying the warmer weather. My watch had the morning off so it was nice to sit outside and enjoy free time. I also got caught up on school work and many people got aloft cleared. After lunch my watch had dish cleanup, however now that it is warm out no one really minds scrubbing the dishes and we get cleanup done much faster. In the afternoon we had history class where we both learned and sang sea shanties. Many of the songs made for tall ship life describe the hardships of sailors like being at sea for years and barely getting paid. The shanties though are very rhythmic and designed to be sung while hauling lines. Everyone has also been getting excited for Halloween. This evening we carved pumpkins and my watch made a seasick pumpkin. I'm looking forward to tomorrow with celebrations full of costumes!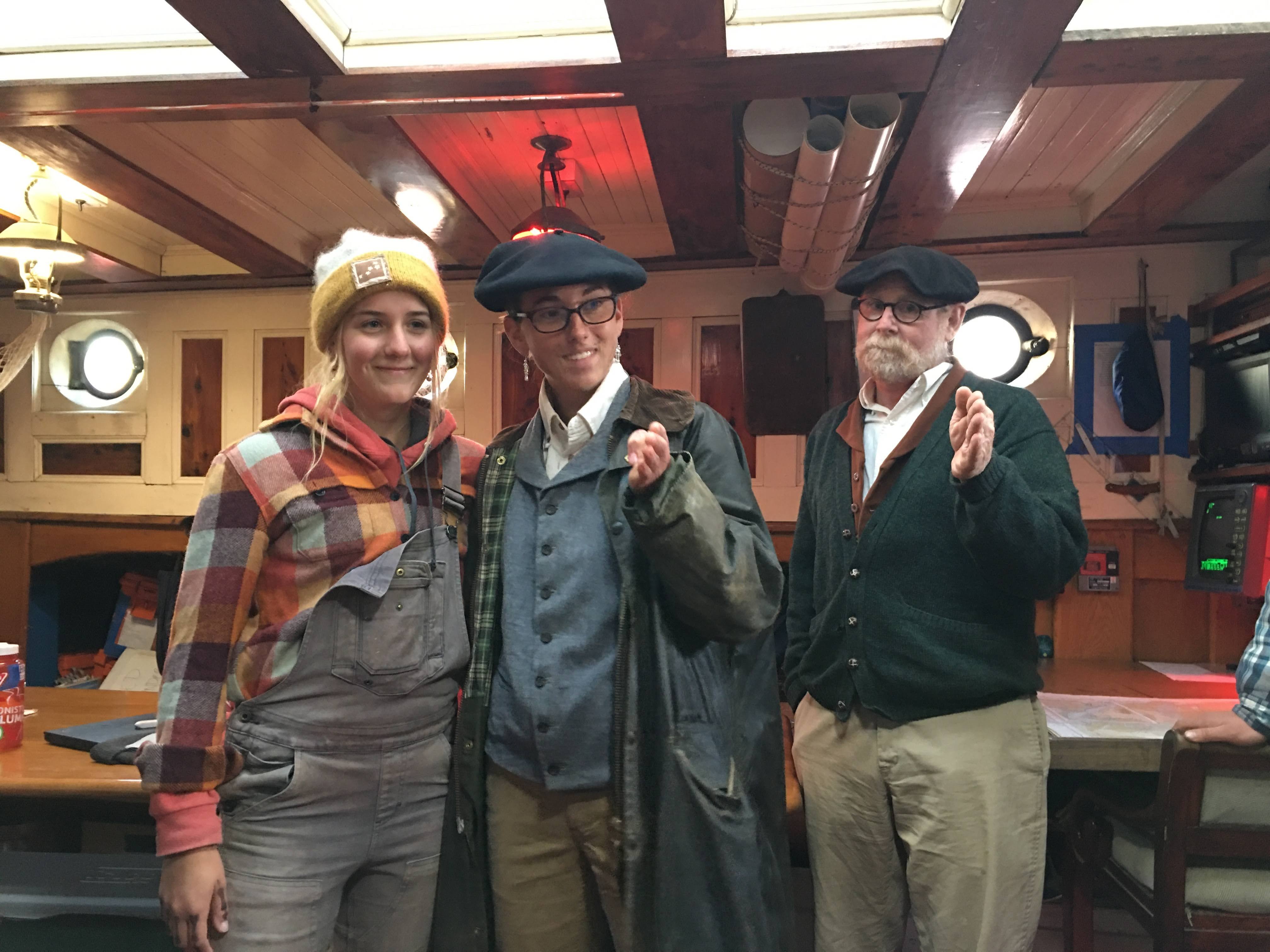 Aubrey '21 | Charleston, SC
Saturday, October 31, 2020
Hi all, Aubrey here! Happy Halloween! We had the spookiest day here aboard Roseway in Charleston. We moved from our anchorage to a dock just outside the city. The marina was nice enough to gate off our end of the dock, allowing us to stay in our bubble. From a distance we were able to see people out in their costumes enjoying the holiday. A lot of the students dressed like crew and vice versa. The similarities were quite freaky! There were a lot of other funny ones like Hilary Clinton, Dora the Explorer, and my personal favorite- Jasper, who found a big green ball gown and made a paper crown, calling himself "Princess Jazzmine." I dressed up with a friend, calling ourselves "Barry and Larry", who both enjoy fishing, golfing, and long days at the country club. We had a whole story and nailed it! After dinner we masked up and Holly and Tiffany took us to a park near the dock. We enjoyed the time to stretch our sea legs as we ran around a big field and played in the playgrounds. However soon our engineer Nick ran over to the park in a hurry to bring us back to Roseway saying that we had to immediately get underway to Savannah. (he played the part so well that a lot of us believed him, embarrassingly so later). We all ran back to the boat and into the fo'c'sle for an all hands muster, where a crew member Morgan scrambled down the ladder in a panic saying the rest of the crew had gone mad and that it was up to us to start the engine and get out of here. We soon realized that this was all a Halloween prank and that we were about to go through a haunted ship that the crew put together for us while we were at the park. Morgan brought us up into groups of three and we went through an elaborate maze around the boat. I kid you not when I say it was just as scary as any professional haunted house I've been to! We walked through all the living quarters climbing up ladders, walked though emergency fire hatches, and crawled around the salon all the while crew members jumped out and grabbed us, hiding beneath sole boards and chasing us around the deck. Flashing lights, spiderwebs, and mazes of sheets hanging from above made it all the more spooky. We all pitched in a bit for cleanup and then hit the racks for a night of dock watches under the Halloween moon. Much love from Roseway!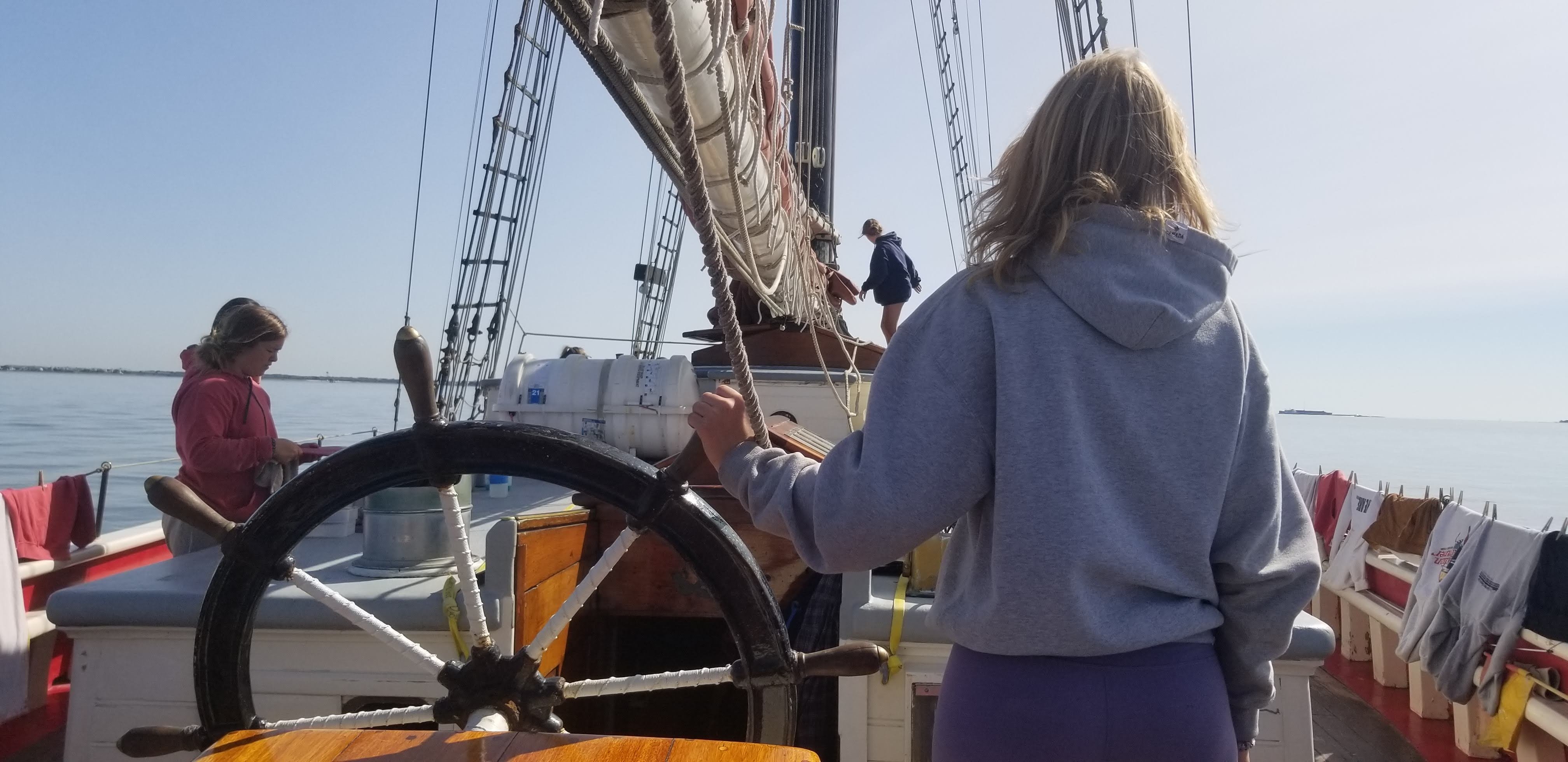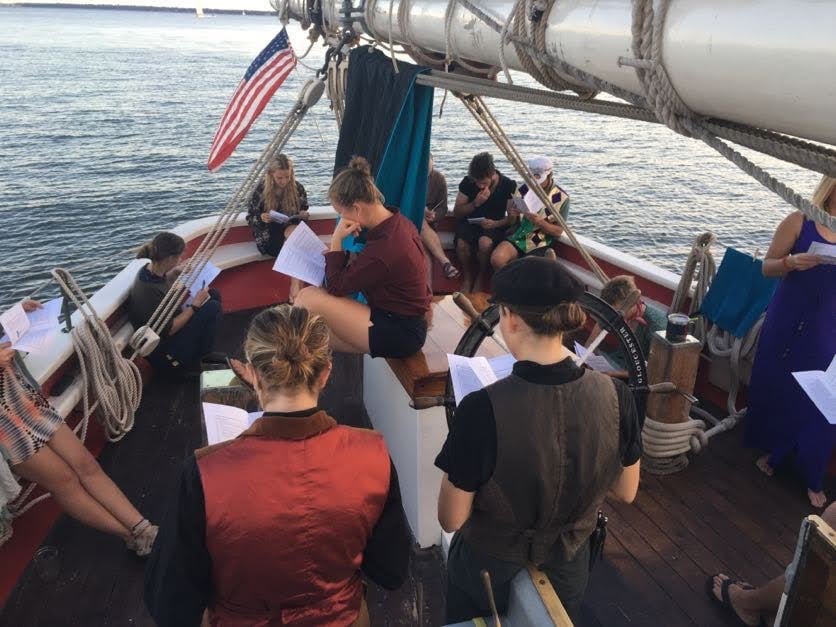 Hannah '21 | Charleston, South Carolina
Sunday, November 1, 2020
Today was such a busy day. In the morning, we had field day and cleaned the whole ship like we did in Mystic. All the students were excited and nervous for the afternoon that would bring phone calls home. We had a busy day, and it didn't end until that late that night. The crew and students were given characters we would be playing that evening in a murder mystery game. Some people were playing crew on a ship and some students played different types of wealthy people from all over the world. After parent phone calls, we got into our costumes made up of random borrowed articles of clothing around the ship. Some of the costumes were well thought out and looked awesome. Thane, Jasper, and Morgan all shaved their beards into mutton chops and then even shaved parts of his head. Our goal of the game was to figure out who killed the captain along with individual tasks we were given. Some people were secretly spying, including my character. Each of us had different pieces of information we needed to find in order to complete the game. We spent that evening talking to one another in character and trying to figure out who did what. Many characters were killed, and many things went unsolved. It was a fun break from our normal routine and it was really fun to get all dressed up in normal clothes. I do not believe we solved the murder, but we had tons of fun trying.
Jamie '21 | Charleston, South Carolina
Monday, November 2, 2020
This morning we woke up to a cold breeze. After a few days of stormy weather, I think we are all ready to spend time in the Caribbean. After morning chores and homemade bagels from galley assistant Rachel, we wrote a timed essay for English class. A Voyage for Madmen has been a main topic of discussion, so wrapping up the book by answering a question that has been a major theme was a good way to end. Next, we gathered our laundry to be washed! We partnered up, each of us were allowed to have half a pillowcase worth of laundry. This is exciting because we have only washed our clothes so far by hand with Dr. Bronners and seawater. After sending our clothes to be cleaned, we got the call that provisions had arrived. We put on masks, grabbed a few carts, and went to meet the delivery service to bring weeks' worth of food back to the boat. We sorted food and broke down cardboard boxes until we grabbed everything from the dock. For history class we continued with our Modern Monday debates. We are given a question from a landmark supreme court case. We debate both sides and are then told the actual outcome of the case. After a dinner of chicken and waffles, we watched the documentary Smog of the Sea set up by Holly for our marine science class. We brought up sleeping bags and pillows to keep warm and stay comfortable on deck. The documentary was about a group of scientists and musician Jack Johnson explaining the reason they have been conducting research in the Bahamas. They found a lot of microplastics in the water, even when the water looks clear. It's a sad reality but important that we all recognize that plastic use is a large problem. After watching the documentary, there was a pod of harbor porpoises that came close to the boat. Since then, we have seen them very frequently all through the next morning. I am looking forward to warmer coming as we continue our voyage south!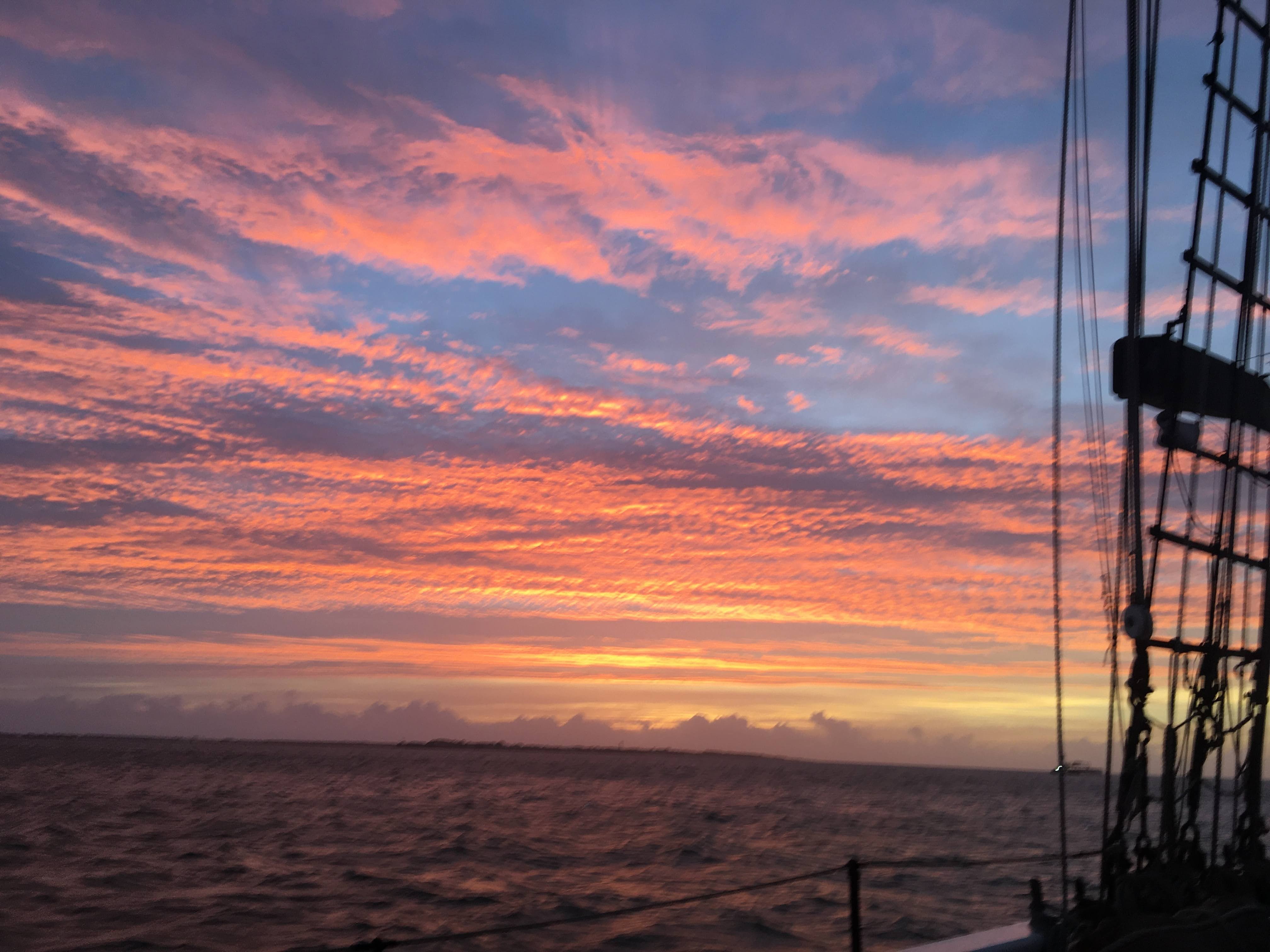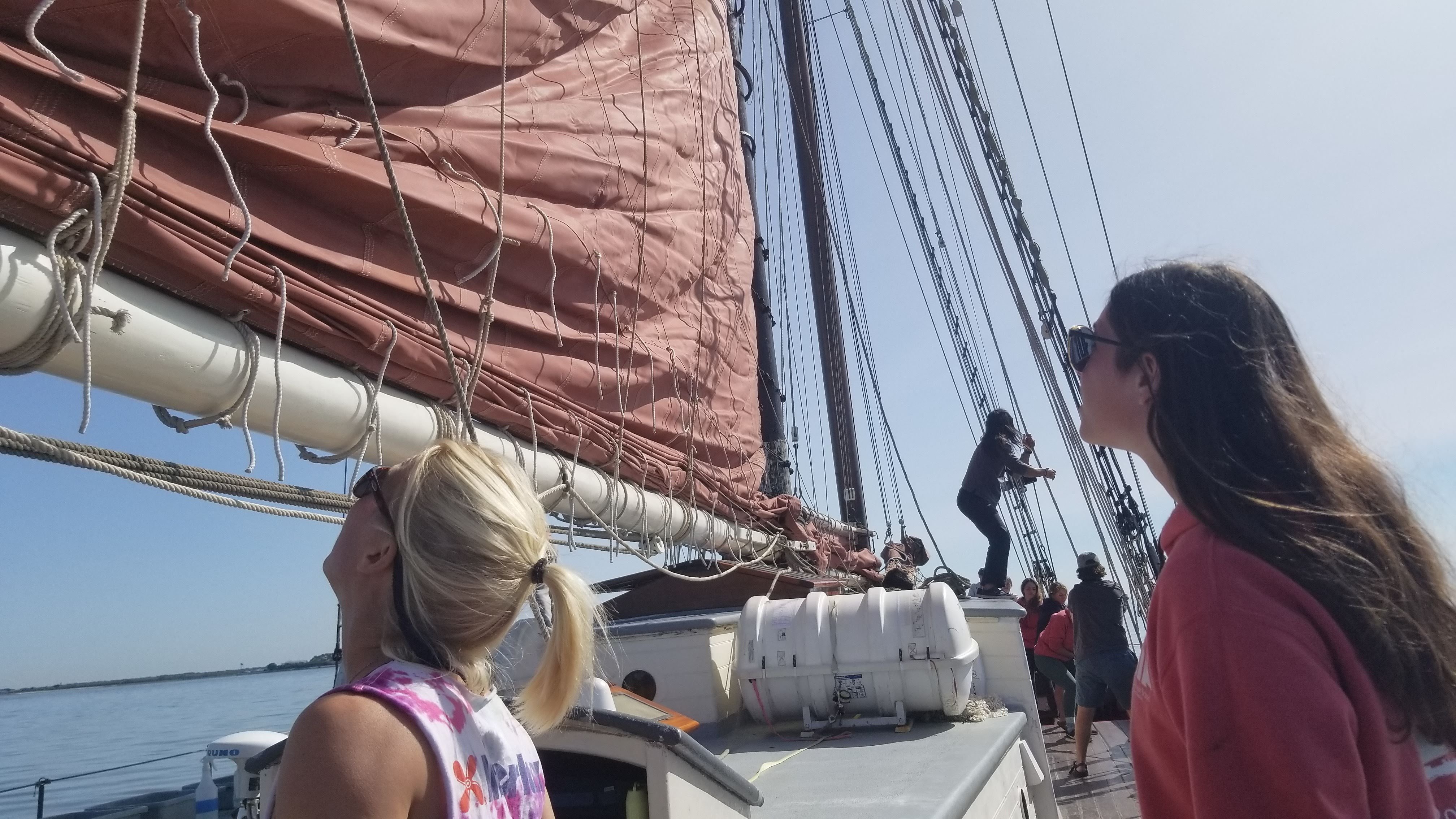 Katie '21 | Voyaging off Hilton Head Island, South Carolina
Tuesday, November 3, 2020
As I woke up and emerged on deck the cold air swarmed our group muster. Who knew the south was cold? To be honest I don't remember being woken up this morning- all I knew was the weather was cold. Ciaran was making patriotic scones for election day which was really good. Everyone was in a good mood despite the cold wind, the sun began to come out and the weather got warmer. We got ready to leave Charleston, our JWO Jamie told me to go start the small boat and warm it up. I stepped into the boat and my socks got soaked. There was water in the small boat… instant panic but the plug was in. The water was from last time. Anyways we waited for Jamie and Captain to tell us what to do. They told me to go into the small boat and as I was driving with our med officer, Cafferty, porpoises were splashing all around us. We picked us Ollie and Hannah on the dock like an Uber, but small boat Uber. Later on after watch we took bucket showers with the infamous Maui shampoo which smells so good! I am almost out of it, but that is fine. Next came navigation in which we used sextants with assistance from Mr. Terry. Today was also Torie's big 18! We had a smoothie birthday cake for her because she loves smoothies. We had second dog watch where I was JWO. It was our first watch with rotated crew, and it was so much fun with bioluminescence everywhere! Ms. Miller-Shelley, Ollie, Tierney, and I were talking about a sign that the hurricane would pass and right after our conversation we saw the moon rise above the sea. It looked like a ball sitting on a table. I was JWO which was so much fun and involved lots of navigation. Tomorrow I am galley assistant which I am excited for. Our cook Sean is so funny and is a great cook! Overall, today was a great day!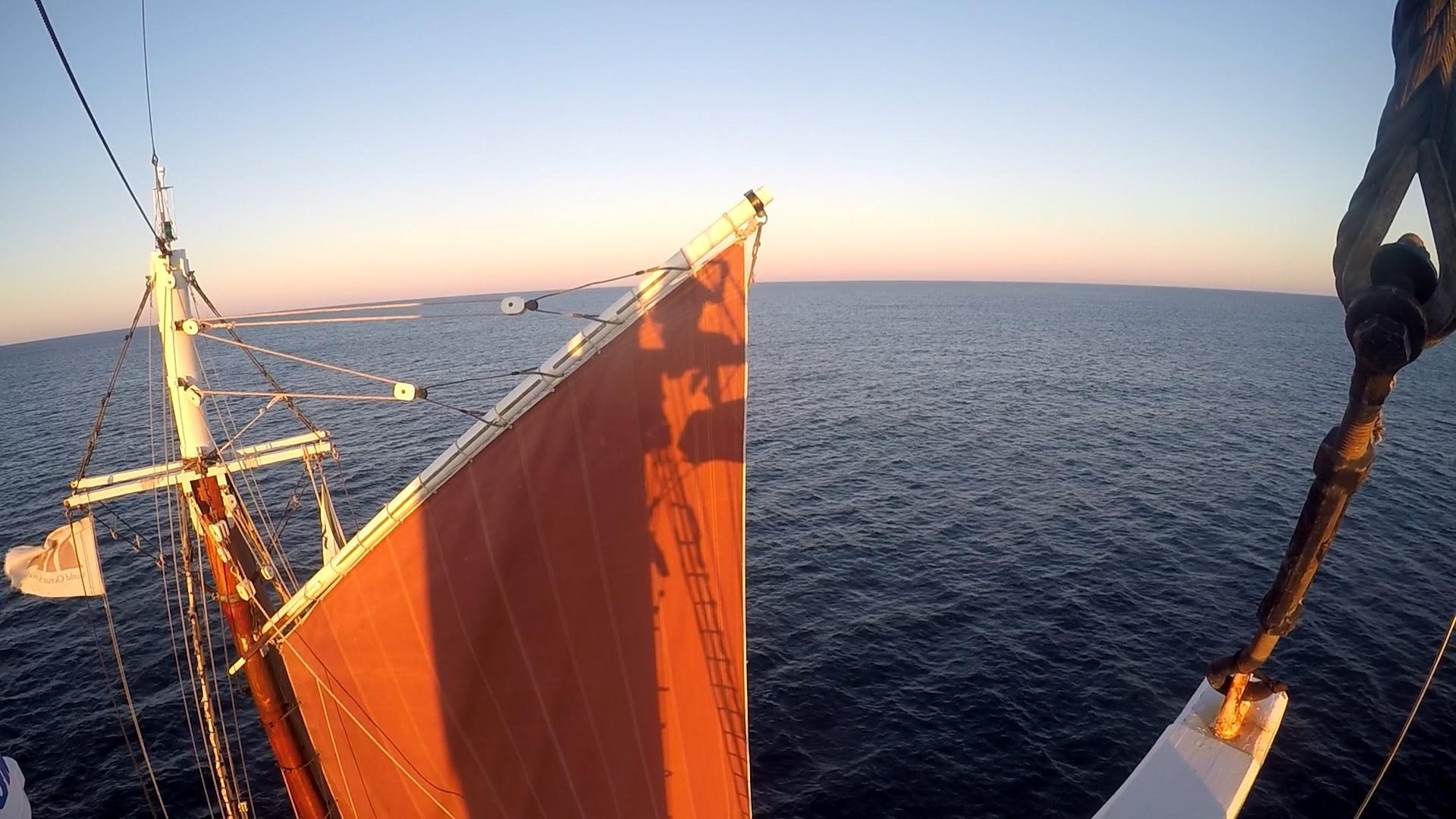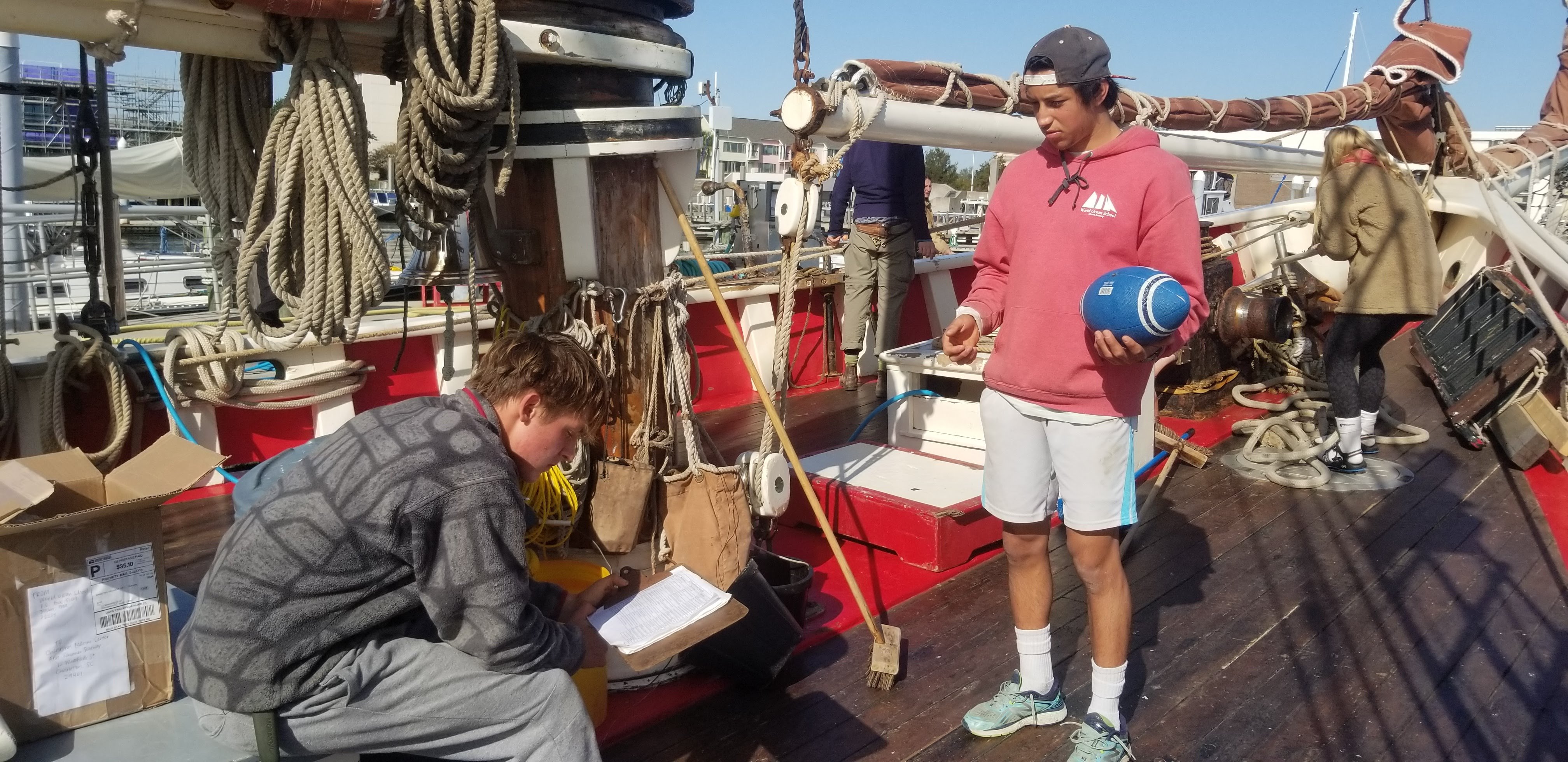 Mitchell '21 | Cumberland Island, GA
Wednesday, November 4, 2020
After spending most of the day underway, everyone was relieved when we arrived at Cumberland Island at 1800. Progress was slow but steady as we sailed past hundreds, if not thousands, of cannonball jellyfish. We did not catch any fish today, but we did catch a bunch of those. When we picked them up they left brown stuff in our hands which was kind of sketchy, but turned out fine. It was a normal, sunny day in general. Jake was the watch officer in the morning and Thane got us started on The Alchemist. Jake passed the title of Junior Watch Officer (JWO) onto Julia, who did a great job in the afternoon. Katie went the whole day as galley assistant with only one accident! There was a mishap with the nachos at lunch when the wind and waves picked up a bit. For Thane's class we discussed the election and learned further about the electoral college. Everyone here is on the edge of their seats about the outcome of the election. As afternoon turned to late afternoon, Julia passed the JWO hat to Ollie and B watch took the deck. Since (in my opinion) B watch is the best watch, we took in sails and got the boat anchored. The striking of the mainsail was choppy, but we moved passed that and nailed the foresail, jumbo, and especially the jib. At anchor we had an all hands dinner and got treated to a viewing of Moana, courtesy of Holly and Tiffany. The students and some of the crew gathered with their sleeping bags, which was nice. I am excited to get going to shore tomorrow and exploring Cumberland Island!