Proctor Academy's Ocean Classroom program left the calm waters of Savannah Harbor to head north to Charleston, South Carolina for a few days of learning and sail training before preparing for the long passage to the blue waters of the Caribbean. Enjoy the brief window into daily life aboard Roseway from the perspective of the student crew.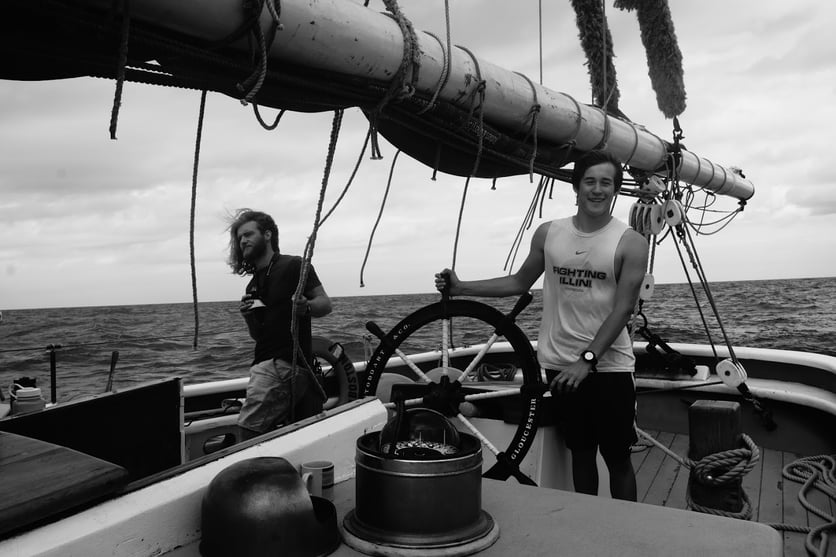 Day 27: Wednesday, October 18 - Savannah, Georgia - Michelle
A watch stood the dawn watch this morning with high hopes of seeing land soon. There's a strange feeling about seeing land after being at sea. You become so set in the schedule that you forget land exists and you and lose yourself to the wonders of the sea. A watch flew by with Erim, Cooper, Joey, and Pat working navigation. End of watch was greeted with delicious pancakes, blueberries, and sausages. We were stood down with hopes of docking when we came back on at 1600. We officially stepped on land about 1700. There were smiles all around to reach land again. Best part of reaching land is the thought of going back out to sea again. This is also the first night each watch got to stand their own dock watch without a crew member. I have high hopes for all students.
Day 28: Thursday, October 19 - Savannah, Georgia - Ian '19
Today we entered the actual city part of Savannah, Georgia. Such character, such a vibrant sense of community amongst the people of this area. I ended up having 2 conversations with different people on the dock. We discussed the trip. Things like beginning destination, life at sea, etc. The students went for a ghost tour in town which was historically interesting, yet I never did believe in any of the old ghost tales. After the ghost tour ended, it seemed that there were quite a few of us (myself included) who were feeling vastly dehydrated. Luckily for us, there was a very enjoyable stop at a Ben & Jerry's that included ice cream, shakes, and most importantly water. Today was very fun and I wouldn't mind revisiting Savannah, Georgia.
Students also received their mail today! A big thank you to friends and family that took the time to send packages and letters—it made everyone's day.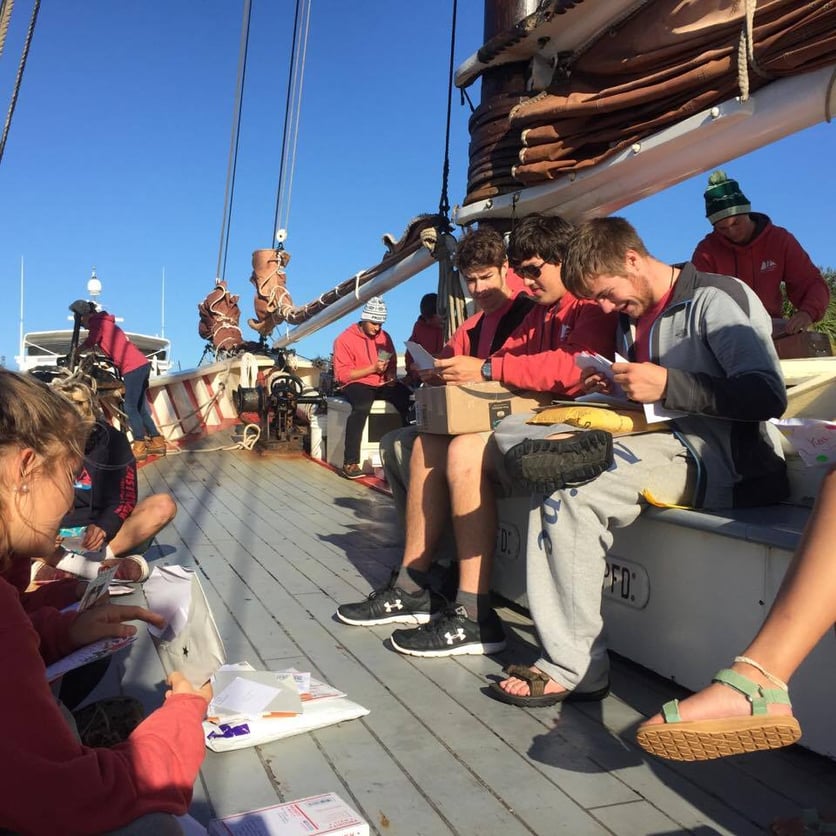 Day 29: Friday, October 20 - Savannah, Georgia - Miss Curran
Savannah is an exciting place. The crew has the day off while the education department takes the students out to explore. A day off is never truly a day off on a boat. There is always water tanks to top off, emails to send, students questions to answer and projects to set up. Finally I broke away to explore the town. I jumped on the water taxi and crossed the river.
We all met back at the boat in the evening. The students were still buzzing at 2300 after a movie night. I don't know when they sleep but they have more energy than I do. Thankfully they'll know the boat now and how to take care of Roseway and their shipmates, so little guidance was needed before they were doing boat checks and getting ready for bed. I hope they took notice of the container ships that looked like they were cutting through town as they steamed down the river. Tomorrow we will steam down that river.
Day 30: Saturday, October 21 - Voyaging to Charleston, SC - Chad '19
Woke up this morning bright and early. The sight of the old ferries, Savannah, and the tune of street music is a great way to start a morning. It was rather sad to many of us knowing that this was our last few hours in Savannah. Our plan was to hopefully leave after breakfast, but we were given the task of putting the sail on. If I'm not mistaken, it's hard to sail without a sail, at least that's what I think. After spending a few hours on the sail we were ready to depart the wonderful city of Savannah. We were all pretty bummed because during the port report, there were some amazing people that drew my love for the city even closer. Everyone agrees this was the best port we've been to.
As we left the dock we did some maneuvering that was pretty gnarly. Today was the first day back on the agua in a few days. I would say almost everyone was sea sick. Brian being Brian made some outstanding special syrup that cured everyone's sickness. It was bold. Everyone wanted it. The bottle was being passed around like a plate of cookies. Not sure if that analysis makes sense but I wrote it in pen. So let's hope it does.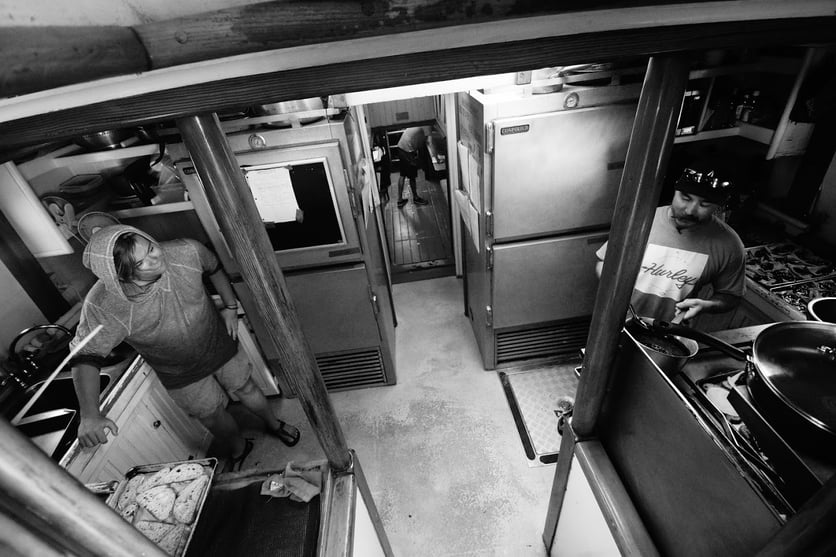 Day 31: Sunday, October 22 - Voyaging to Charleston, SC
0000-0400:
After a few nights in Savannah, we are once again taking part in the hardest part of the journey, readjusting to the watch the schedule, we woke up at 0000 with skies almost clear (2/8), except for some low cover on the horizon. There are 4 large ships on the radar, all seeming to be constantly changing course. One of my favorite things is when the forward lookout gets good enough to see ships before I do. The watch is starting to slow down around 0130. Parker appears, overheating and unable to sleep. I gather some of the standby students on the starboard cabin top and tell stories of the scary house I lived in at school. Success. Much scarier than the Savannah Ghost Walk. We completed another boat check, held a steady course, and were even accompanied by bioluminescent dolphins! We woke B watch and prepped the deck for their watch by pumping bilges and finishing out watch snacks. Muster then sleep!
1200-1600
Up for breakfast, then back to sleep. Up again for lunch, mmmm, cheese toast. I love cheese! A watch relieves C watch, we are cruising, headed to Charleston. Rowan starts us off on helm, holding true to course, one of the best helmsmen in the land! Rowan completes his hour and is relieved by Patrick. The wind picks up and next thing you know, Pat is fully engaged and stoked to be going 8.2 knots. I think this might be his favorite thing about the trip. Sky is getting darker, must be rain. I have people gather foulies, Pat wants to shower but I convince him to put on a jacket. As soon as jackets are on the skies start dumping rain on our ship. It rains on and off for the next 2.5 hours of watch. Wind dies. We are making all of 0.8 knots right now. Coop is still smiling. Best part of the rain is the two full cups of water that filled themselves!
2000-Anchor Watch
Up for Almanacs. Up for dinner. We sail onto the hook and tidy the deck. Tonight is the first night of anchor watch with mixed watches. Could be chaos. Tomorrow we hit the town, Charleston.
Day 32: Monday, October 23 - Anchorage in Ashley River in Charleston, SC - Ellie '19
Today was a bittersweet day on Roseway. We all said goodbye to a friend and crewmate. It was sad to see her leave, but we knew it was for the best.
We spent the rest of the day anchored in Charleston. Getting homework done and studying for our science midterm. Ali created a Jeopardy study guide that we were all able to play to win bonus points on our midterm. Miss Ordway also taught a class on ditty bag making. Ditty bags are bags that are used for learning stitches that are used to make sails. After they're completed, they're used to hold the tools that make sails. Another good thing that happened today was all the students finally got headrig cleared, which means we can go out on the bowsprit.