After several weeks living and learning with host family and establishing a class and afternoon activity routine, Proctor en Segovia students traveled north to El País Vasco, Euskadi, or The Basque Country. To complement their History and English coursework, they studied Basque history and culture firsthand and contemporary art at the Guggenheim Museum in Bilbao.
San Sebastián - Henry '24, Willem N. '24, and Natalie '23
As we journeyed into the Basque Country, we were excited for the next day. We were finally going to San Sebastián! We rose at 9:00 so that we could be out the door by 10:00. We arrived in San Sebastián at 11:00, just in time for our tour of the San Telmo. The San Telmo is a museum dedicated to Basque history, from its roots to the modern day. The bottom floor was the beginning, with cases of weapons, jewelry, and other miscellaneous objects. There were a couple of sections about labor and a section about whaling. There were cases of swords and knives, sets of armor, and other weapons. There were sets of clothing, including different hats women would wear for occasions such as being married and divorced. The clothes were elegantly designed and of varying styles and patterns. There were varying accessories, such as a fan, a handbag, or a shawl. There were even more elaborate costumes, with even more detailed designs. There were exhibits from the Spanish Civil War, and the modern era. There was an exhibit on casinos and one on cars. There was also an entire hallway for different types of work, such as sewing, cobbling, and engineering.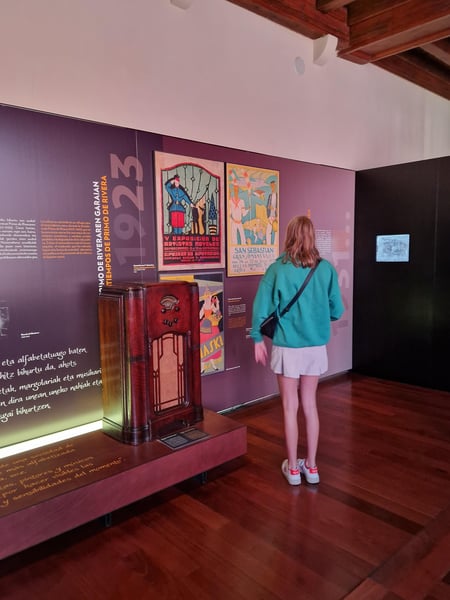 After we left the museum, we headed down to the beach. It was time for a snack. We stopped at a small outdoor restaurant and ordered something to eat and drink. Afterward, Luis gave us some money for lunch, and we all split up to do some shopping or exploring. The second part of the day consisted of trying different restaurants with pintxos, which are small bites of food meant to be 3 or 4 euros. We would walk around to different restaurants and try different foods. My favorite thing was definitely the croquetas which is basically an elevated french fry. Well, almost. It could be described as a fried ball of mashed potatoes. Next, we went to a cool Restaurant Bar called Beti Jai. There were many more options for pinchos. We ended up discovering that there was a downstairs which was the location of the kitchen. Obark, Lane, Pierce, Willem, and Henry ordered as the chefs cooked right in front of us. Henry ordered a perfect bao bun sort of sandwich. It had a thin, tender steak cooked right in front of us between two Japanese-style buns with sesame seeds on top. It was not worth 7 euros due to the cut of beef, but it was pretty delicious.
Bilbao - Lane '23, Mia '23, and Presley '24
On September 23, the group went into the big city of Bilbao. We arrived in the city and, while coming out of a tunnel, were amazed at the incredible architecture of the Guggenheim museum. We drove past the giant puppy dog covered in flowers and into an underground parking garage. When we arrived at the museum, we were eager to be set free to explore. The museum contained many different modern art statues, paintings, and exhibits. One that amazed us all especially was Jeff Koons tulips. We spent lots of time staring into the large metal sculpture and continued to explore to see more of the art. Jean-Michel Basquiat was a group favorite and famous artist who had many pieces that were featured. After exploring the modern art, we met up outside at the large and extravagant puppy statue that happened to be covered in live flowers. We took some group pictures and set off to the old part of the city for some food.
We all broke off into smaller groups and did some shopping, eating, and Starbucks buying. As a group, we had the option to eat with Laura and Luis or on our own. Lane, Oliver and Nick set off on their own to indulge in the culture and find some food. The rest of the group stuck together and had the experience of ordering off of a menú. The menú is a three course meal that was a steal of a deal in our minds in comparison to what a three course meal might cost in the United States. Everyone ordered lots of different things and we enjoyed the ambiance of the restaurant for a good two hours. The walk back to the car was about 30 min and everyone's exhaustion set in. The car ride home consisted of lots of sleeping and movie watching. When we arrived back at the beautiful house in the mountains, some chose to get their work done while others watched A Bug's Life in the living room. For dinner we threw some frozen pizzas, croquetas, and tortilla española in the oven. We sat down with a salad on the side, and the table went silent as everyone started dreaming of the great night's sleep ahead. Bilbao was an incredible experience, and it was amazing to see other parts of Spain.