Students in Proctor's AP Environmental Science course recently visited the Town of Andover Transfer Station as they learned about the waste cycle, trash, and the reality of recycling systems in small town America. Read more about this on-campus example of proximate learning through the eyes of senior Jaimes Southworth, a local Andover resident and four-year Proctor student, in her AP Environmental Science blog below!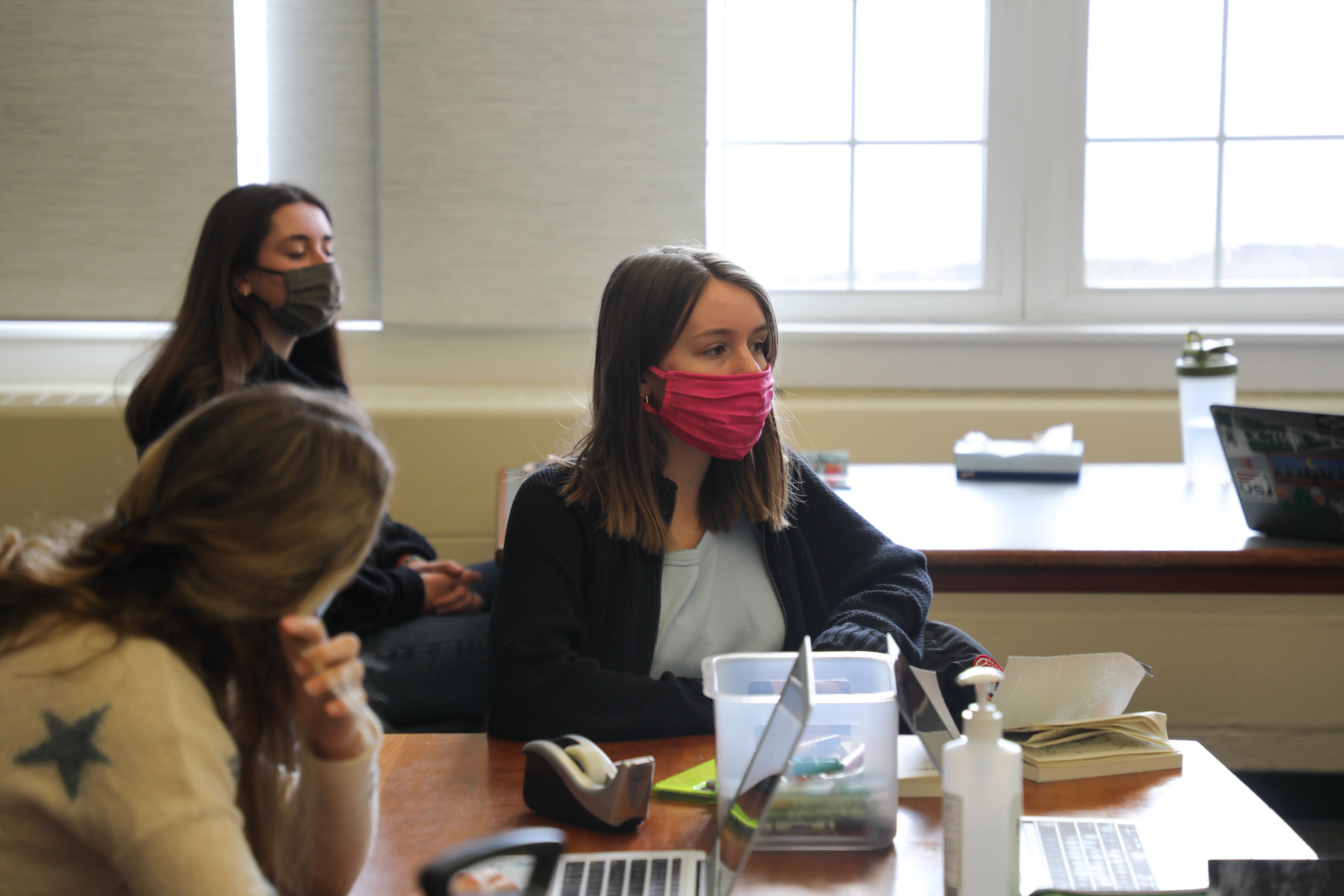 In my previous blog post I shared the results of my personal solid waste project where I collected all of the trash that I generated over a 7 day period. This project allowed me the opportunity to get a visual representation of the waste that I generate as an individual! After completing this eye-opening project I was left with an ominous question… where will all of this trash end up going? Turns out that all of the trash in my town is dropped off, sorted, and disposed at the Andover Transfer station!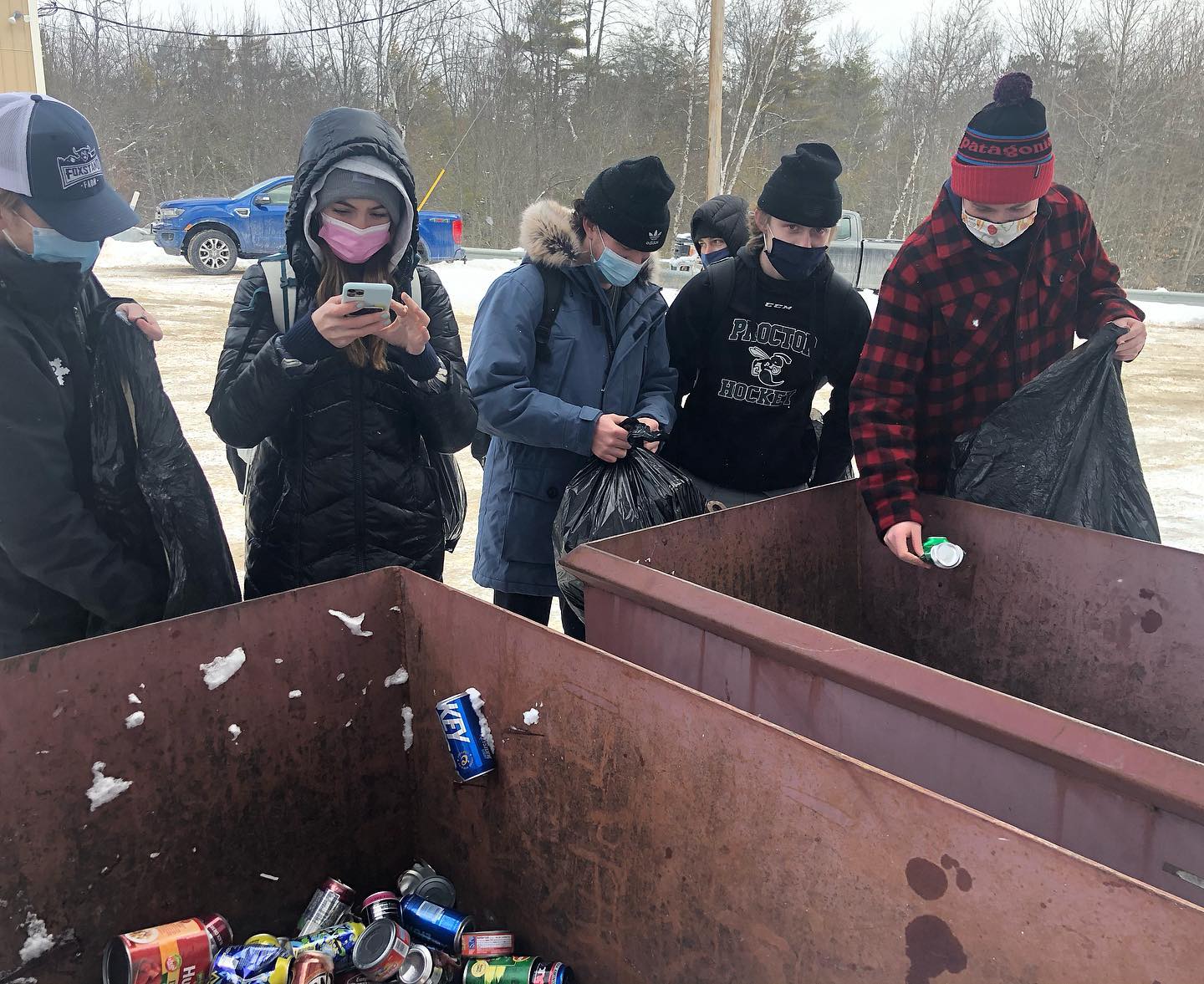 On February 3rd, 2021 at 10:00am I set out to find the answers regarding the "life-cycle" of my trash. During this time I was in quarantine which meant that instead of joining the class field trip to the Andover Transfer Station, I made an individual quest to tour the transfer station, interviewing the employees, and learning as much as I could. When I first arrived I noticed there were three cars parked outside of the main building, all of which had locals unloading their trash into different colored dumpsters. I now know that this was the personal sorting process for people who wish to dispose of their trash. Different materials are designated to a specific dumpster. Evidently, the most common dumpster for locals is named the "general trash".
I was fortunate enough to land an interview with one of the three full time employees that work at the Andover Transfer station. Jeff has been working at the station for 5 years and works alongside Deb and Richard. These three full time employees are paid by the Town of Andover, and also receive revenue from selling waste materials such as cardboard. Jeff welcomed me into the little office and I took a socially distanced seat across from him in hopes to ask a few questions and get a better idea of how things work around the transfer station! I first asked Jeff about the overall process for a regular Andover citizen disposing trash and he began on the sorting process which I had mentioned earlier. Apparently, "60% recycles and the rest don't" stated Jeff implying that 40% of people dump recyclable items into the general trash hopper without bothering to sort it. Recyclable items include "glass, paper products, non corrugated cardboard, magazines, books without hard cover, aluminum, and steel." Jeff seemed pretty clear on the point that there are some people who sort out their trash and some that don't. In fact, there are signs posted all around the transfer station that regard instruction for proper disposal of certain materials, yet locals don't often comply. Jeff expressed a specific concern with items such as electronics which are supposed to be paid for instead of dumping it in the general trash. According to Jeff, "people will try to get away with throwing away laptops even though we charge for them…but if they throw them away in a black bag that we can't see the inside of it's out of our control." This point is very true, because the transfer station can only do so much to regulate the sorting of the towns waste.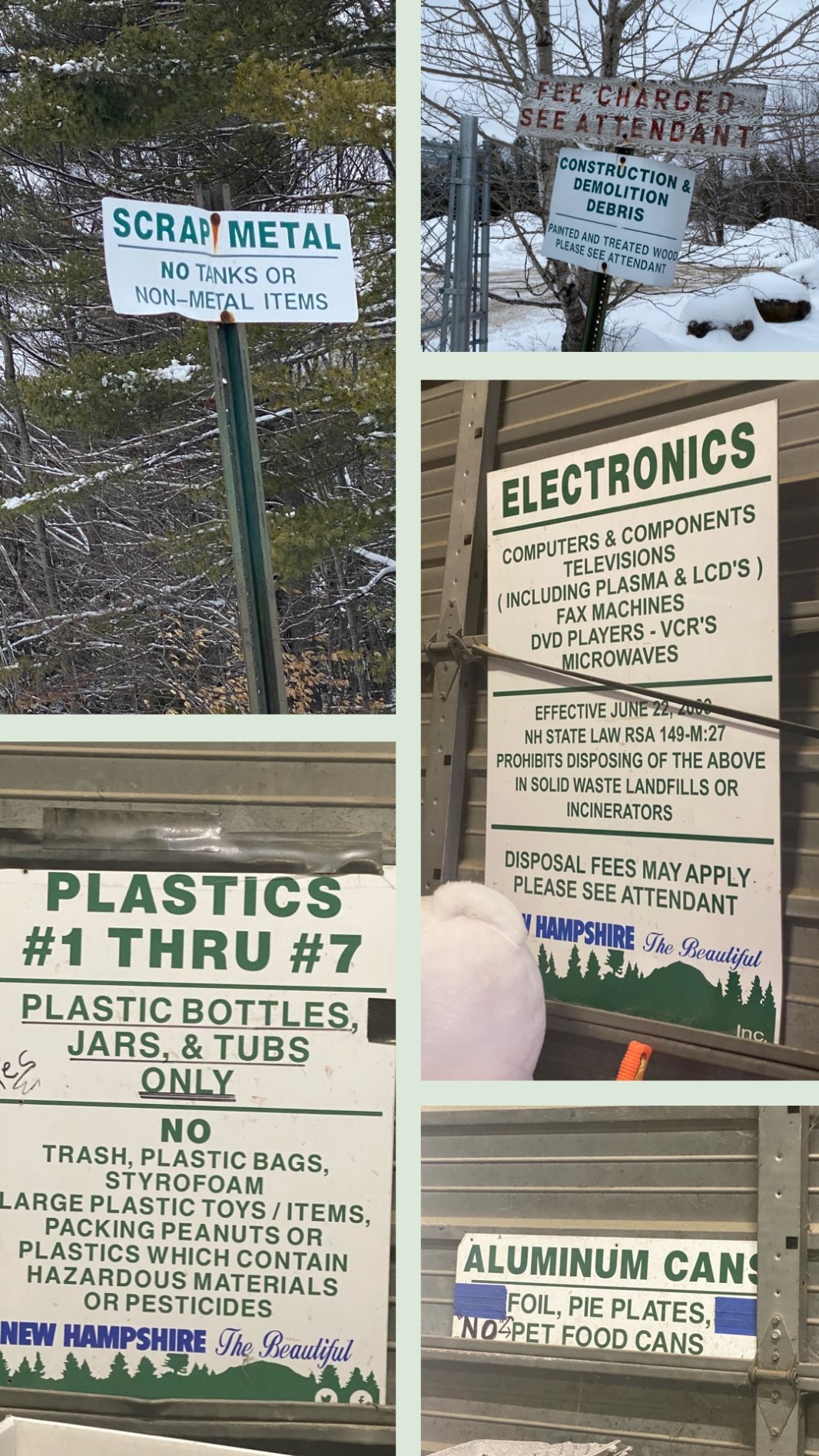 I was at this point curious to find out what the cost was to throw away this trash, were some types of materials more expensive to dispose of than others? I learned the Town of Andover gets money (about $65/ton) for cardboard, although, this is not the case for other materials such as the general trash, which has to be paid for. The Andover Transfer pays $85 per ton of general trash and this makes it the most expensive to dispose of. Jeff told me that as far as plastic goes, its cost has changed over the years. Evidently China used to buy the plastic and take it off of the transfer stations hands, although now that is not the case and instead it makes its way into the general trash. Some items that Jeff charges citizens for are batteries, lithium, fluorescent tubes (because there is mercury in them), and smoke detectors. Jeff also informed me that the dumpster that holds all the metal trash is the lowest grade of pay as the transfer station doesn't collect a lot of revenue from it. There is also indeed some types of trash that cannot be disposed of at the Andover Transfer station, I asked Jeff to name a few… "We are not supposed to take any sort of hazardous waste because we aren't a hazardous waste facility, we don't even accept motor oil. But there are a couple of weekends in the summer where folks can go and dispose of hazardous items." I was curious to know what he meant and asked him to expand on this. He went on the say that in Franklin, NH in the last weekend of July there is a place where people can have their hazardous waste disposed of. There is also the same idea in the first weekend of August in Bristol, NH where you drive up and the facility will take any lead paint or other hazardous materials and dispose of them properly.
I was super excited to get the ask my next question to Jeff regarding the ultimate "grave site" for the trash! Jeff first began with the general trash, the most common and expensive that ends up going to a near by town called Boscawen. The town of Boscawen takes the general trash from the Andover transfer station, which then goes into an incinerator that actually produces electricity! This is also known as a trash-to-energy plant…how cool is that? In my opinion this is a good use for some old granola wrappers I threw away! The glass that is stored in a heavy separate dumpster goes to Andover's neighboring town, New London. New London then takes the glass, crushes it, and uses it for a road base. In fact, the college that is located right in New London, Colby Sawyer College, uses the glass for all of their sidewalks! As for trash that has been generated from a house tear down, that gets crushed up and sent to a landfill. This type of trash is also known as construction and demolition or CND, "and can't be burned in the incinerator with the general trash because the paint from the house debris most likely will have lead in it" says Jeff. Lastly, Jeff enlightened me with the life cycle of paper products and where they will end up. Apparently paper will ideally be "turned back into paper" as it will be recycled and end up being a by-product of paper.
After I wrapped up my educational interview with Jeff and thanked him for his time I headed into the main building of the transfer station. There I got a glimpse of the trash being compacted and transferred into a storage unit to soon be taken away to sites like New London and Boscawen. The other full-time employee, Deb, was nice enough to allow me to take pictures of the process. While all the action was happening I noticed a little table inside of the building with a bunch of items. My dad told me that locals donate things that they think could be valuable for someone else. Everything is free. I thought this was a nice component of the transfer station and it brings a sense of community for the people who come in every week to dispose of their trash. One man's trash is another man's treasure!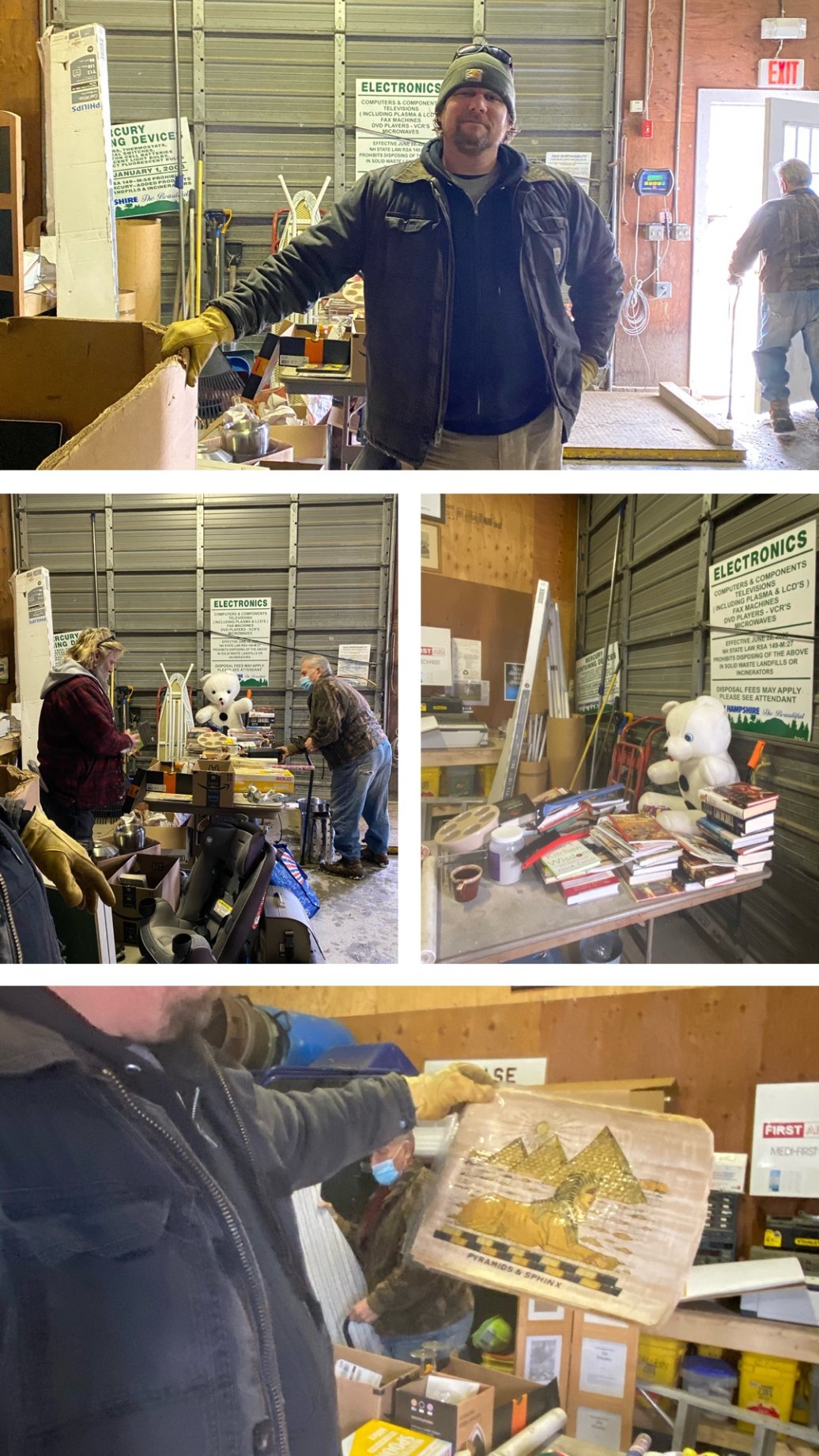 I was really happy to get the opportunity to visit my local transfer station and get a better understanding of what goes on behind the scenes after I throw something away. It is very easy to remain mindless when you are generating waste and trash and I am fortunate to have opportunities like these that encourage me to be more environmentally conscious. I thank those like Deb, Richard, and Jeff at the Andover Transfer Station who work diligently to make sure that our waste is being sorted and disposed of properly. My experience at the transfer station was not only educational but also fun! Now I understand why my dad loves going so much and I will definitely be accompanying him in the future.