Every day, Proctor students are called to indulge in their curiosities, challenge themselves, and try something new. This same 'trying something new' mantra has guided the World Languages Department over the past few years as instructors have been experimenting with different pedagogical approaches to classroom structure. As Ross, Ale, Erik, Jon and Scott discover creative ways to teach timeless lessons, we are reminded that a culture of learning is hinged on educational exploration for all community members, where individuals evolve with each passing season.
Proctor's World Language Department uses the American Council for Teaching Foreign Languages (ACTFL) as a resource, which provides opportunities to learn from peer schools and industry professionals. The ACTFL also publishes guidelines for curriculum and grading standards. Grading against a standardized system in any discipline is efficient and often necessary, but can sometimes illicit a narrow definition of success and a focus on end results. Proctor's World Languages teachers take pride in working to avoid a destination-centric standard and make sure to tailor classroom practices to individual goals and student interests. "Rather than teaching about the language, we're trying to teach them the language" says Ross Young, chair of the department, "it's more about the process than the product."
Throughout different levels of language proficiency, students develop specific communication skills in the realms of interpersonal (i.e. conversation), interpretive (i.e. listening or reading comprehension), and presentational (i.e. speaking to an audience or writing text). The variation in types of communication requires instructors to be creative in their activity design, a challenge they have willfully accepted. Their goal is to encourage students to be agents of their own education and participate in each step of the language acquisition journey. Students that have been taking language courses for a few years have seen the evolution in their classrooms and the focus of their work. For example, in lower levels, classes focus more heavily on listening and absorbing through food and culture, whereas in higher levels there is a stronger emphasis on language output.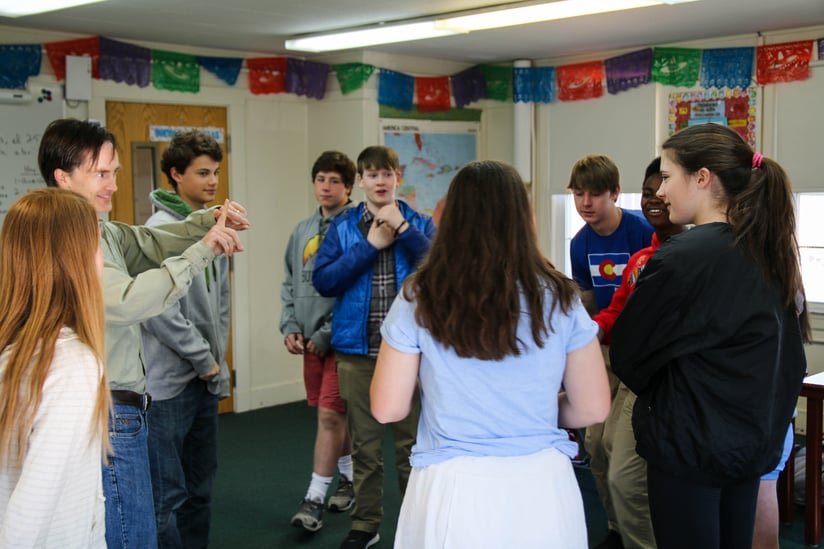 Even for interpretation tasks, instructors engage the students by making the topics of conversation accessible and interesting. As Jon Beard explains, "students learn a foreign language best when they can understand the general meaning of the messages they are hearing", a theory called Comprehensible Input. Jon uses humor or topical conversations to generate interest; "if the theory says that students need to understand what is going on to learn the language, then the meaning of the messages should ideally be compelling to them."
Third year Mandarin student, Pilar Galvan '18, commented, "Some of the games are kind of competitive." She adds, "One of my favorites is when we take personal whiteboards and have to draw out a character someone is describing. Or Jon says a sentence and we see who can write it the fastest and cleanest."
Take a walk through the upper level of Maxwell Savage Hall on any given day and you will see tables pushed against the wall, chairs in a circle, students up and out of their seats actively engaging with the language they are learning. As laughter filters down to rotunda from World Language classes each day, we recognize the boldness of our World Language faculty to identify the 'traditional' way of teaching languages was not working for our students.
No formal, long-run changes have been made to the curriculum, and the classroom activities fluctuate every term - some stick, some don't. But what is here to stay is a willingness to embrace a dynamic curriculum whose goals must always shift along with the needs of students. It is comforting, and very important, for our students to know that their teachers are a part of this educational journey alongside them; the expectation of curiosity, exploration and growth must never fade.