Despite over 135 course offerings, individual classes do not differentiate Proctor from other independent schools. Instead, the entirety of the Proctor experience, and the collective opportunities available to students, set us apart. In order to help students synthesize their varying experiences, on campus and off, Proctor introduced the Academic Concentrations Program in 2015.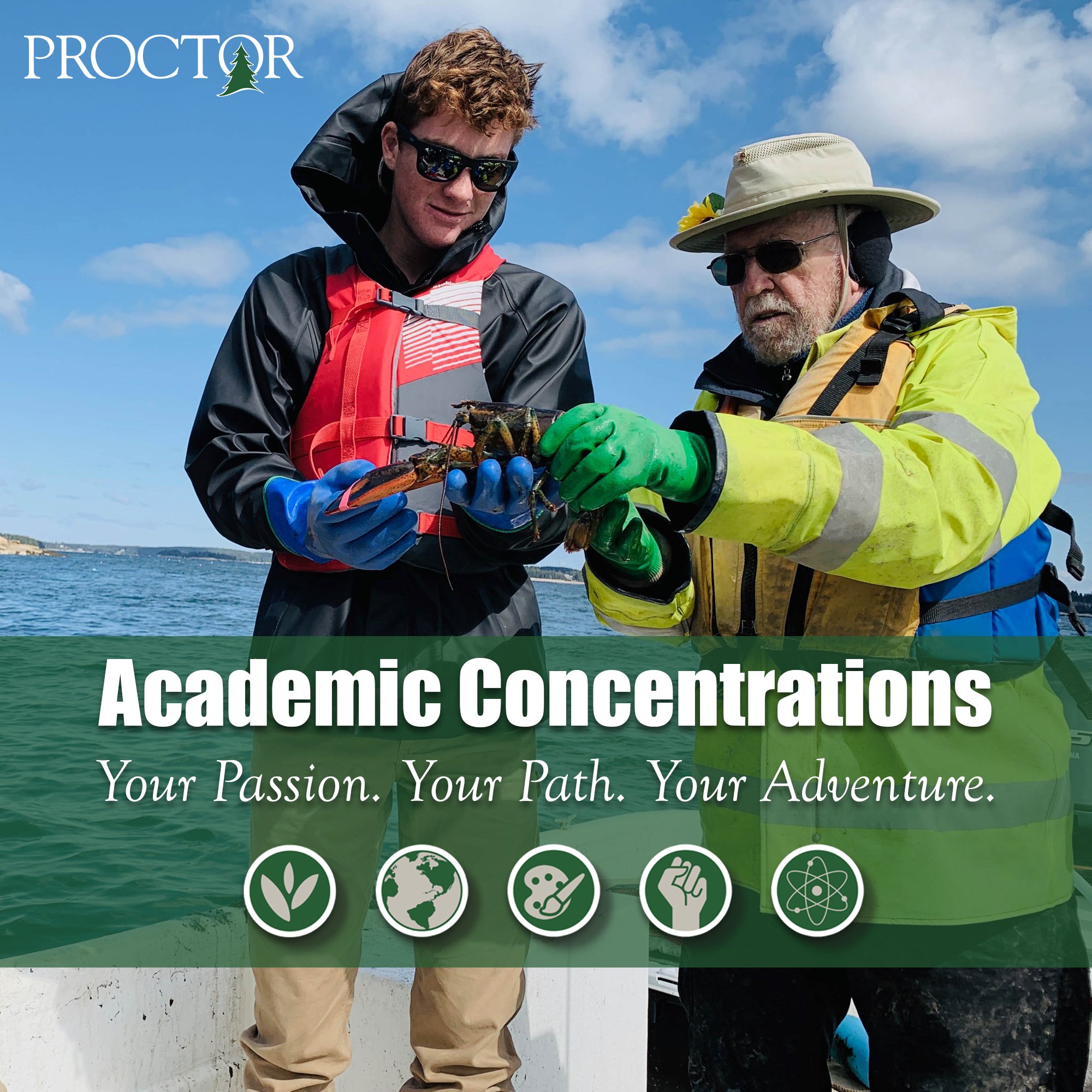 Academic Concentrations lie at the intersection of intellectual curiosity and academic rigor. By empowering self-directed students to design an individualized program of coursework, experiential learning beyond campus, and a culminating capstone, Academic Concentrations assist intellectual development on a sophisticated level. Each of the five concentrations aligns with intentional interdisciplinary guidelines that students tailor to create individualized academic and experiential plans.
Students enrolled in an Academic Concentration culminate their experience by sharing their unique learning in an action project or research paper. To earn a Certificate of Completion, students submit a final narrative reflection and participate in a public presentation and small group exit interview. Learn more about the different Academic Concentrations below.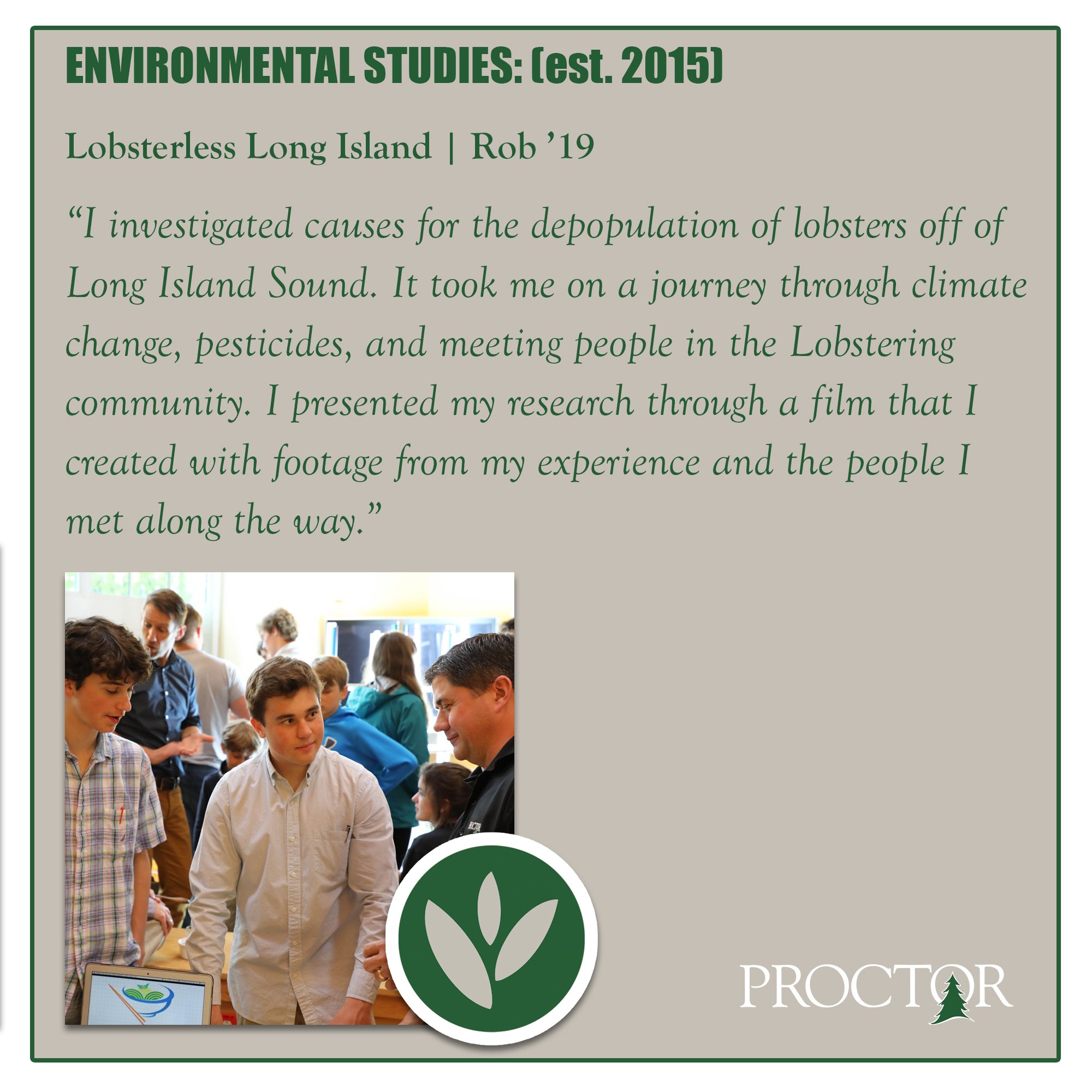 Environmental Studies
Building on Proctor's longstanding commitment to environmental stewardship, the Environmental Studies Concentration links Proctor's extensive academic and extracurricular environmental offerings with student-driven goals. Participants in the Environmental Studies Concentration explore the knowledge, skills, and worldviews that address many of society's most pressing environmental issues. From forestry management to environmental art, coral reef investigation, and the mental health benefits of wilderness exploration, our Environmental Studies Concentration culminating capstones are chosen from a wide range of subject areas.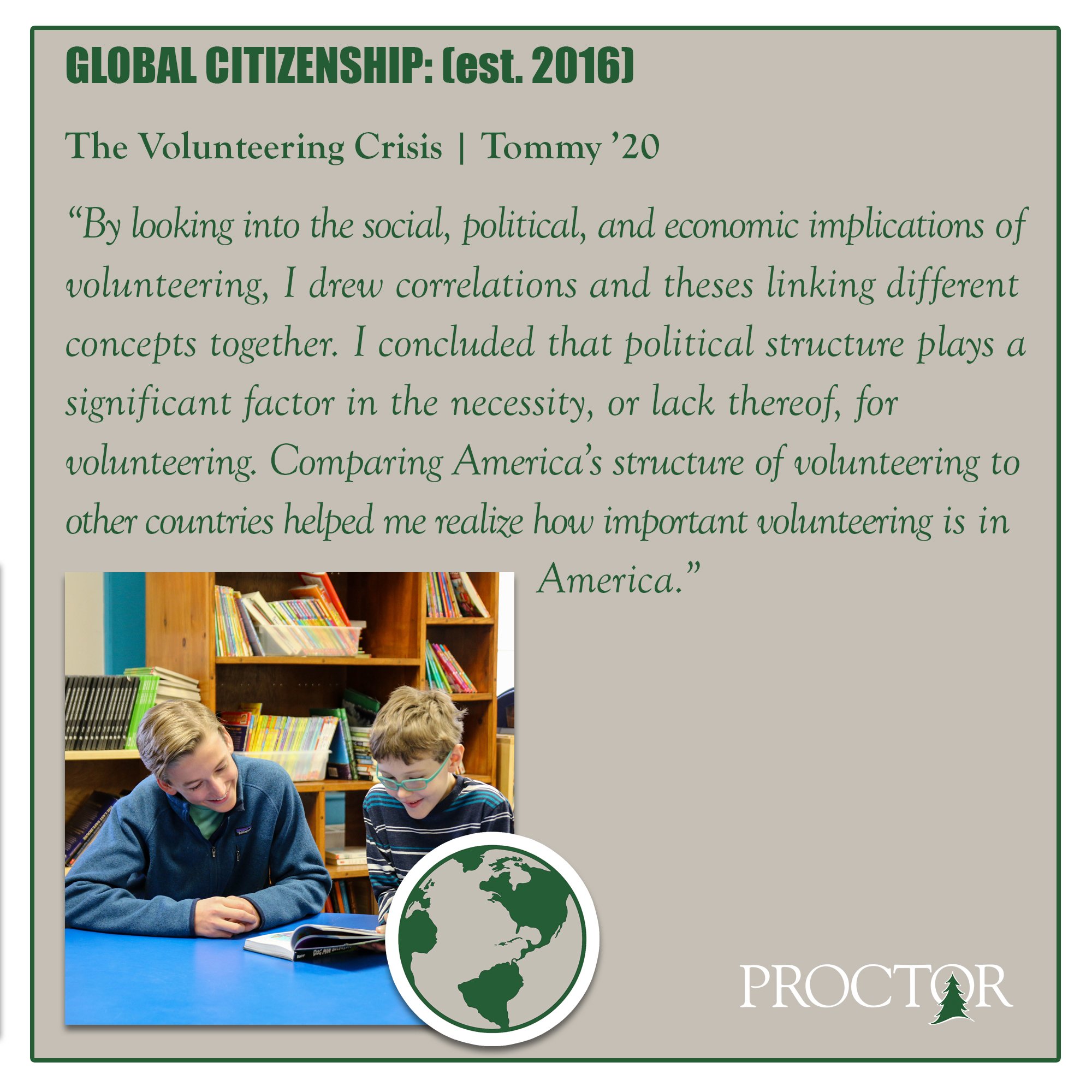 Global Citizenship
The Global Citizenship Concentration allows students intrigued by global issues, world languages, and cultural exploration to investigate beyond the traditional bounds of a single class or course of study and generate a unique academic and world view. The Global Citizenship Concentration incorporates diverse coursework, possibilities for multiple off-campus experiences, community involvement, and the planning and execution of a capstone that ties these aspects together to illustrate the genuine interests of the student.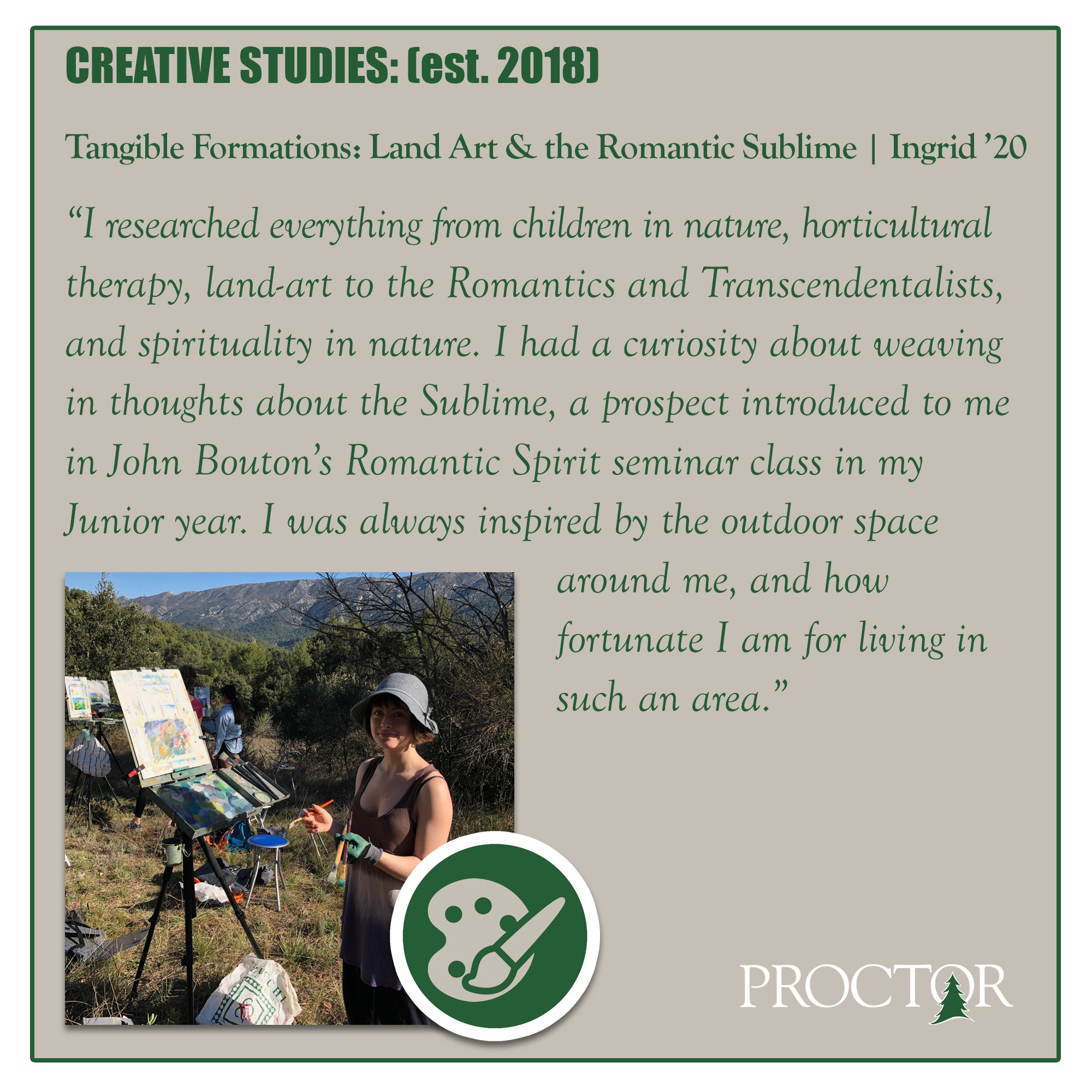 Creativity Studies
Creativity lies at the heart of all human development and innovation. Proctor's Creative Studies Concentration accommodates a wide range of interests, encouraging creative voice across disciplines including arts, sciences, humanities, and technology. With an emphasis on creative arts, this is the perfect concentration for students to illustrate self-expression and the artistic process throughout their coursework, extracurricular, and community service activities. Through the capstone, Creative Studies students showcase their individual perspectives on their chosen issue through any combination of mediums: visual, industrial, performing, media & literary arts.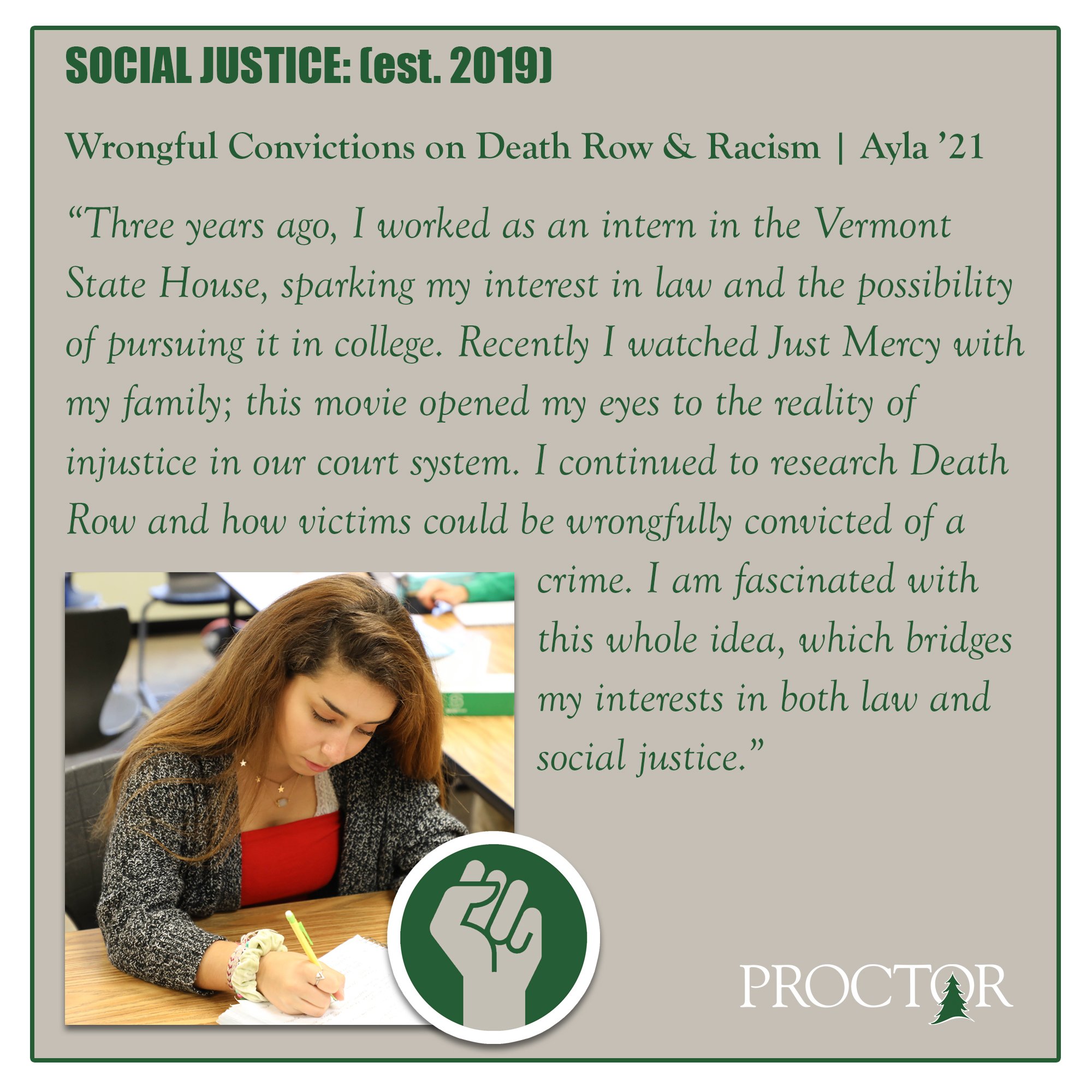 Social Justice
Students invested in social justice, human rights, multiculturalism, or issues such as social inequality, discrimination, and perspectives of marginalized citizens gravitate toward Proctor's Social Justice Concentration. This Concentration aims to engender a sense of humility and compassion as well as an acute understanding of the forces and sources which form the roots of social problems. Students graduating from Proctor's Social Justice Concentration complete a minimum of 30 hours of community service, engage in social justice issues near their home or campus, and design and complete a capstone that communicates their findings to a broader audience.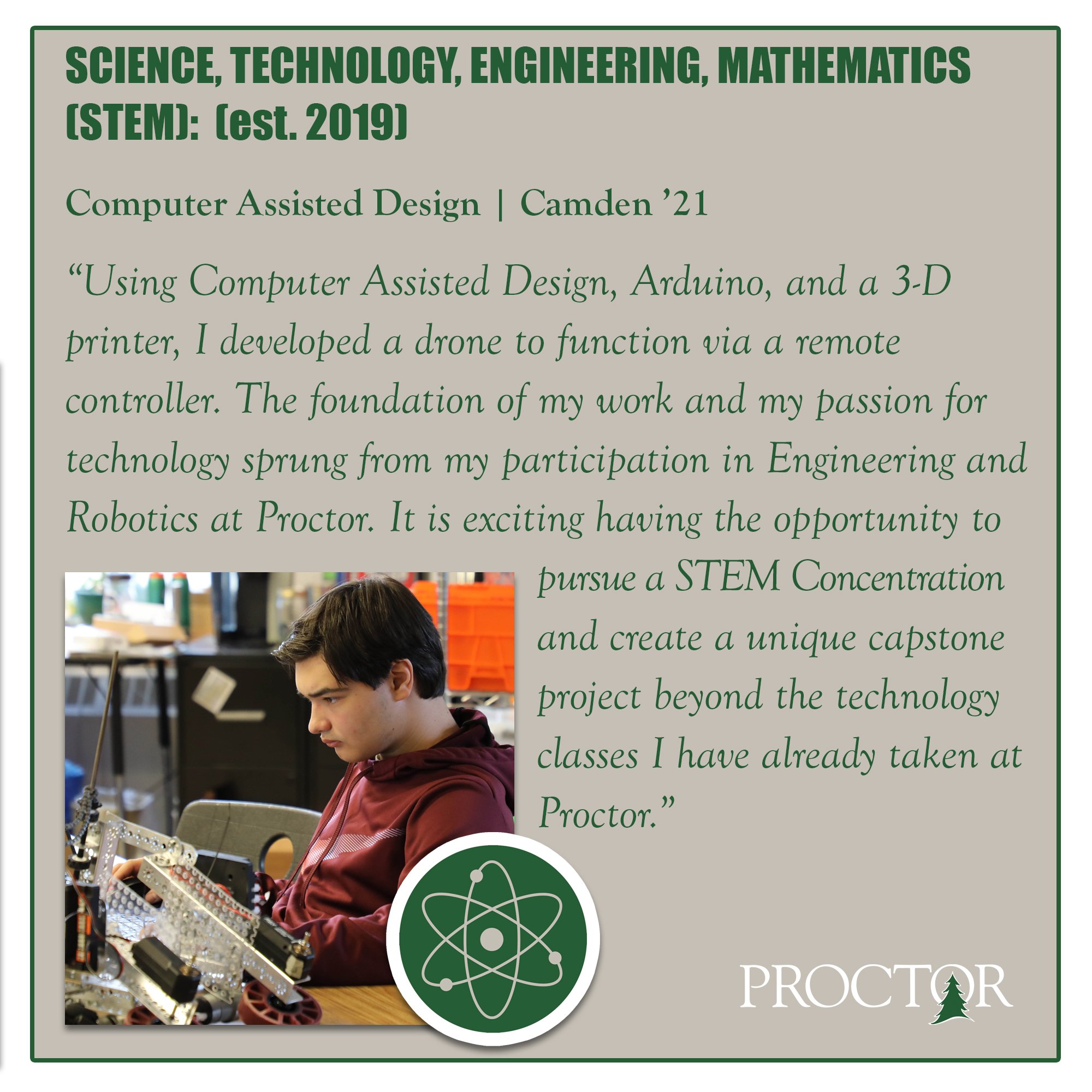 STEM
Students leverage Proctor's technology lab, experiential programs, and broad offerings in science and math curriculum when they participate in the STEM concentration to put their spin on the Proctor experience. STEM participants can explore hands-on opportunities in STEM-related occupations, take classes from a body of relevant coursework, participate in applied extracurricular activities, and complete and present a capstone with both hands-on and research components. The culminating capstone works presented by STEM students take the form of innovative engineering designs, neuroscience investigations, and biochemical.