For students with learning style differences, transitioning from Proctor to college requires a thorough understanding of the three R's: Rights, Responsibility, and Reasonable Accommodations. Up until this juncture in a student's education, Learning Skills and/or parents have been the core support system. Here is some advice for our students who thrive on support systems on how to navigate the transition to college.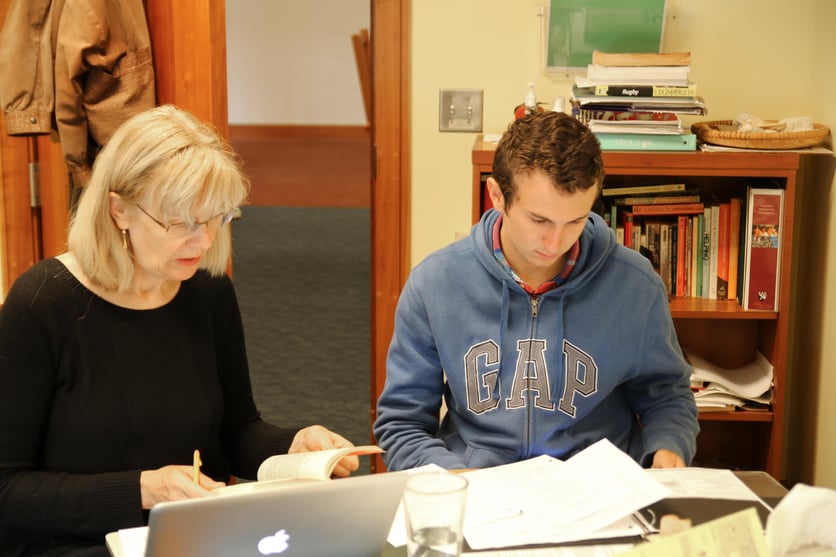 Rights:
The procedures for obtaining accommodations are very different in relation to getting and participating in higher education than they are in high school. You should be aware how your educational rights will be different in college. Details of your rights are defined in the Americans with Disabilities Act.
Responsibility:
When you get to college, it is essential that you recognize the roles and functions of the various people who are available to be on your team. It is imperative that students can articulate for themselves their learning style and can request accommodations from their college or university. Learning Skills students will have a history of accommodations received at Proctor and should be able to access their Final Reports (emailed to the parents of each student upon their completion or termination in the program). Parents can best prepare their children for college by fostering independence through self-understanding and allowing them to facilitate their own advocacy.
Reasonable Accommodations:
Extended time for exams
Reduced distraction site
Reduced course load
Note Taker
Reader/text to speech for exams
Audio Text
Laptop for exams
Study Guides
While your rights are protected by ADA, your responsibilities and reasonable accommodations may vary widely from college to college. Accordingly, academic support at colleges and universities fall into three types of categories:
Structured Programs (SP): In most cases, these fee-based programs are similar to Proctor Academy's Learning Skills Program. An additional application is usually required along with an interview, specific essays, and updated LD testing completed within the past three years.
Coordinated Services (CS): These programs place responsibility on the student. Support staffs are knowledgeable and trained to provide assistance to students in developing strategies for their learning styles. Typically, no additional application is required, but they will require updated LD testing.
Special Services (S): These programs are the least comprehensive. These schools comply with the ADA mandate requiring reasonable accommodations to all students. Updated LD testing is required and the student must be proactive in requesting services. Most of these schools rely on the small size of the school and personal relationship with faculty to assist students in finding success. The level of services at these schools will vary.
If you have a learning style difference and have received accommodations during high school, we encourage you to research support programs as part of your exploratory process. Usually, this information can be accessed at the school's website by searching for: Academic Support, Disability Services, or Learning Disabilities Services. When visiting campuses, you should also make sure you set up an appointment to meet with a member of the support program. In many cases, you will find the Director of the Program will be excited to meet with you.