This week was our first 5 day trip away from our home, Casa Grande. On Monday the 25th we left for our adventure, loading up the van with our painting supplies, bags, crazy creeks, and Carnets (sketchbooks) in hand.
Dave brushing off the car with a credit card.
After a long, windy car ride we pulled into our house in Sonoita, Arizona just as the blizzard hit! After getting comfortable in our new temporary home we impulsively all ran outside and rolled around in the freshly fallen snow, throwing snowballs and making snow angels.
Our first day was very flexible due to the dangerous roads and the closed stores. We ended up having a 2 1/2 hour impromptu facial features drawing lesson with a better than anticipated outcome.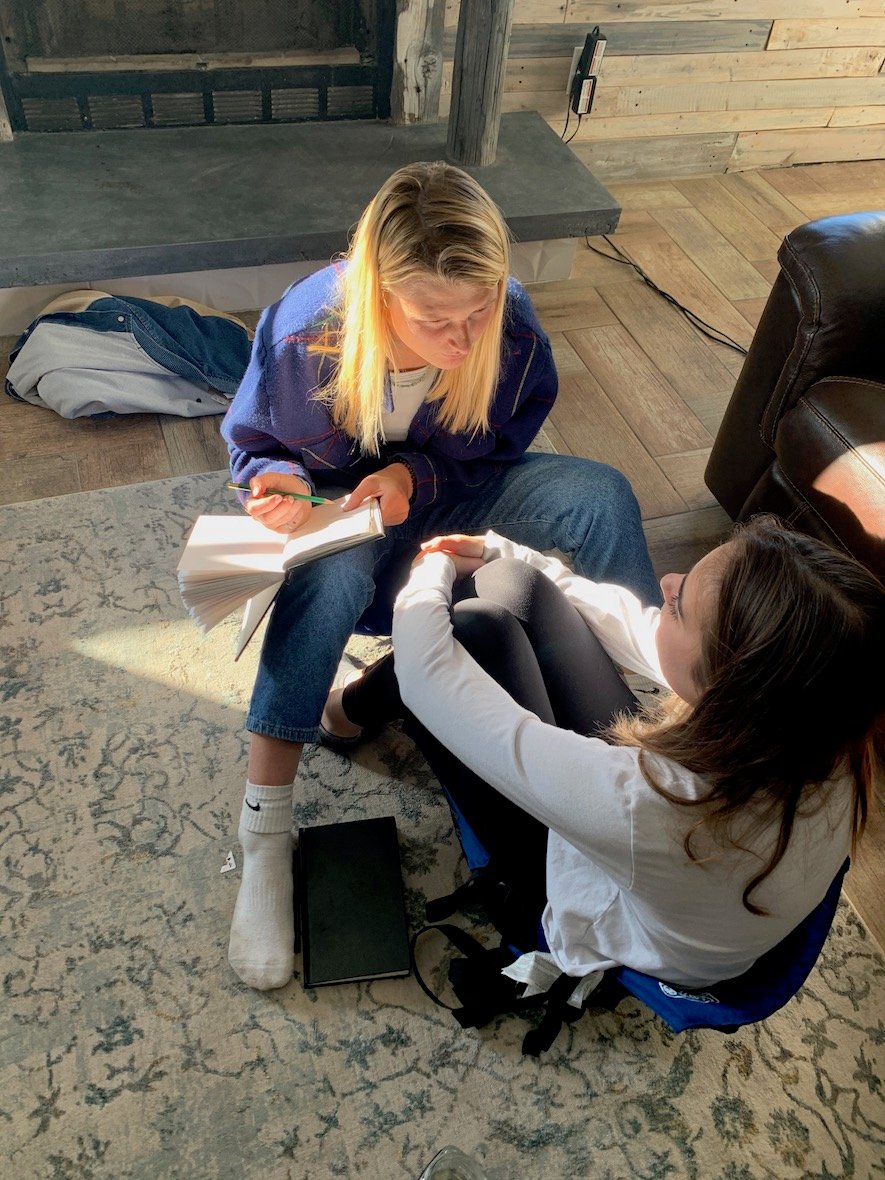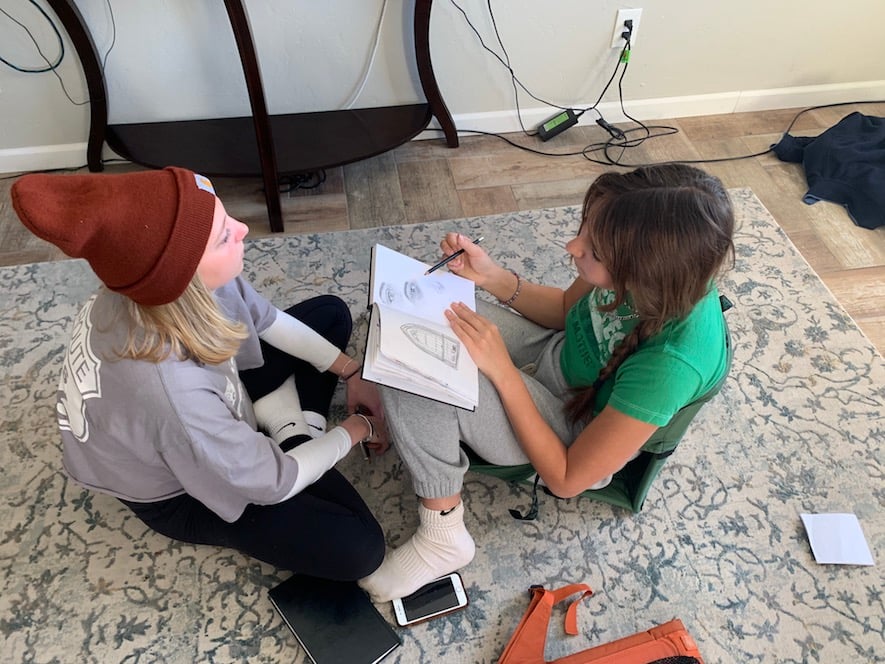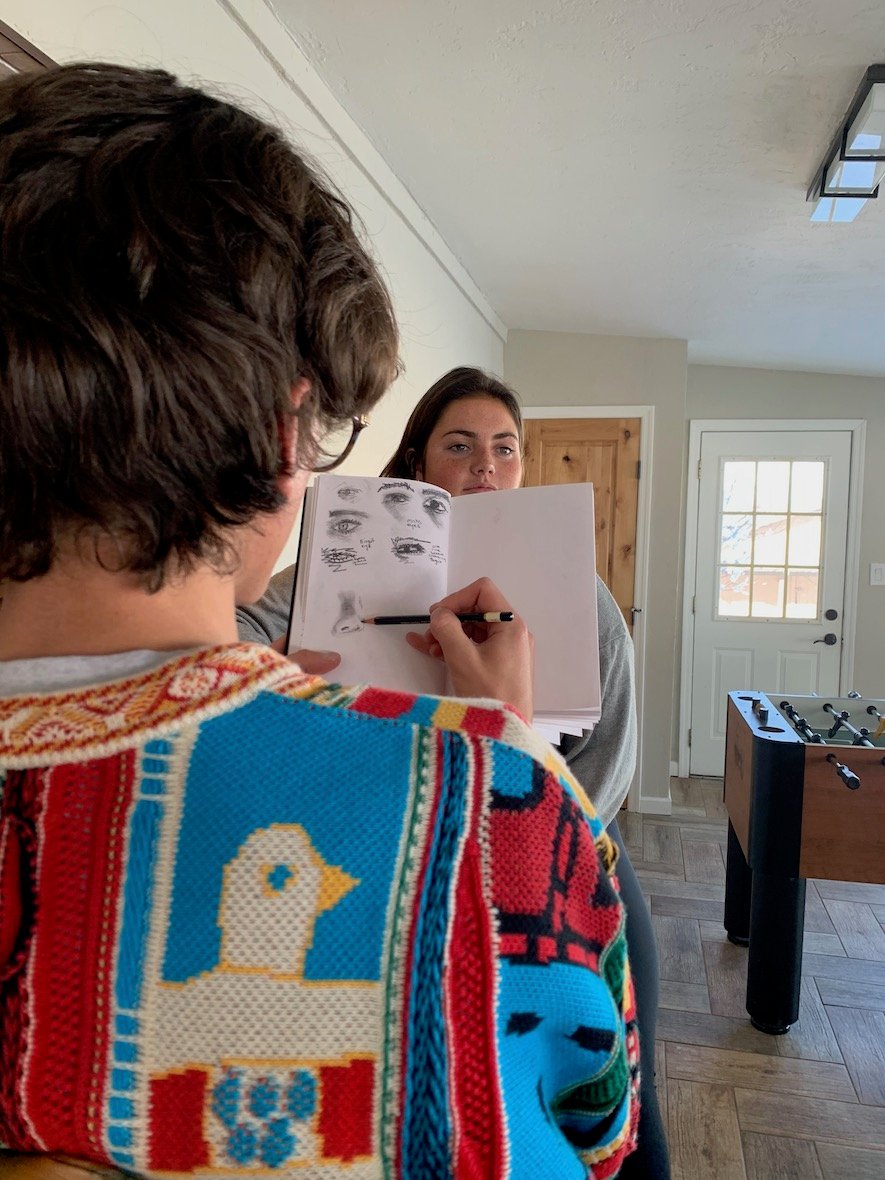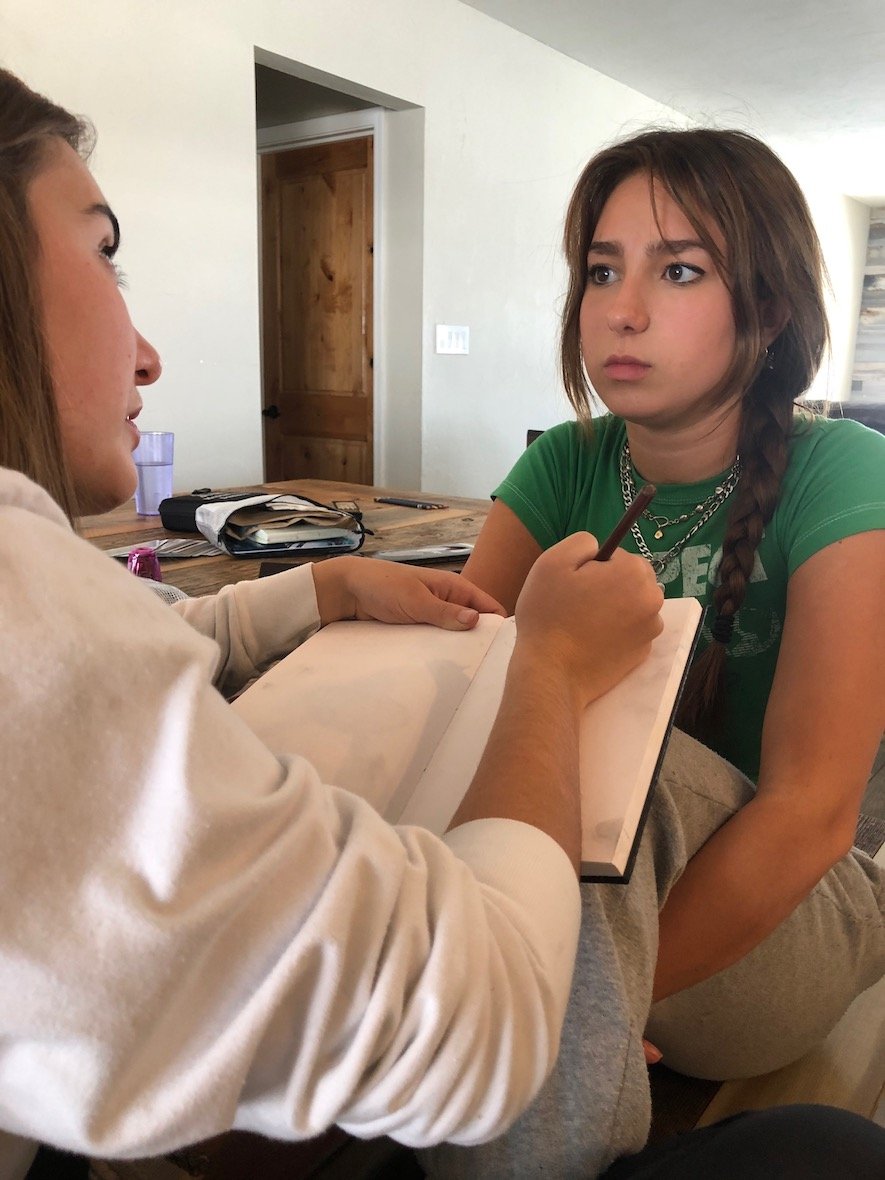 We played numerous rounds of Mexican Train Dominos but the game winner was the card game, "President" which became a daily ritual.
My personal favorite day was the day we drove to Tombstone.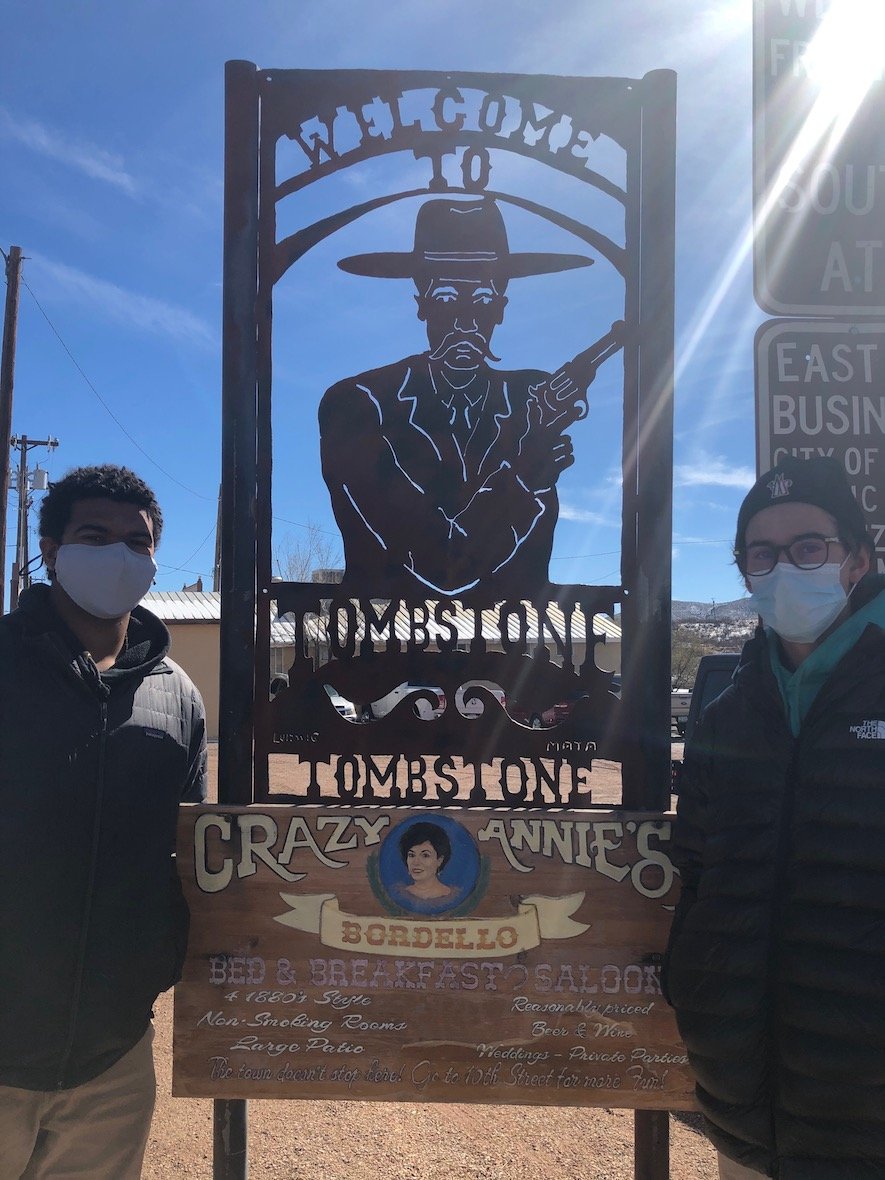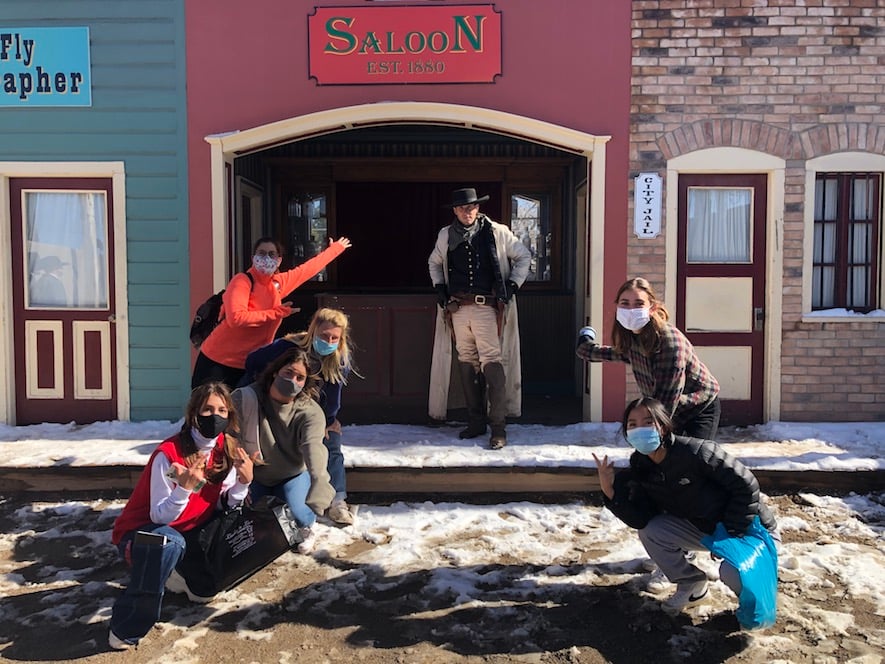 It was a day of warm hot chocolate, slippery real wooden boardwalks, pink cheeks, western ways, smiling faces, and one too many 'Howdy doos"! We tried on corsets and cowboy boots and posed as Saloon girls and cowboys. We saw the famous gunfight at the O.K. Corral (or should I say the reenactment of it) and gorged ourselves on french fries and burgers, recalling our favorite parts and actors from the show.
We went home worn out and tired, so after dinner and (of course) a couple rounds of President we all climbed in bed yawning and bleary eyed.
Our day trip to Douglass was our last and final one before heading home the next morning. We admired the real Tiffany stain-glassed window in The Gadsden Hotel downtown and sketched in the lobby. Legend says that the Mexican Revolutionary Pancho Villa road his horse inside and up the stairs.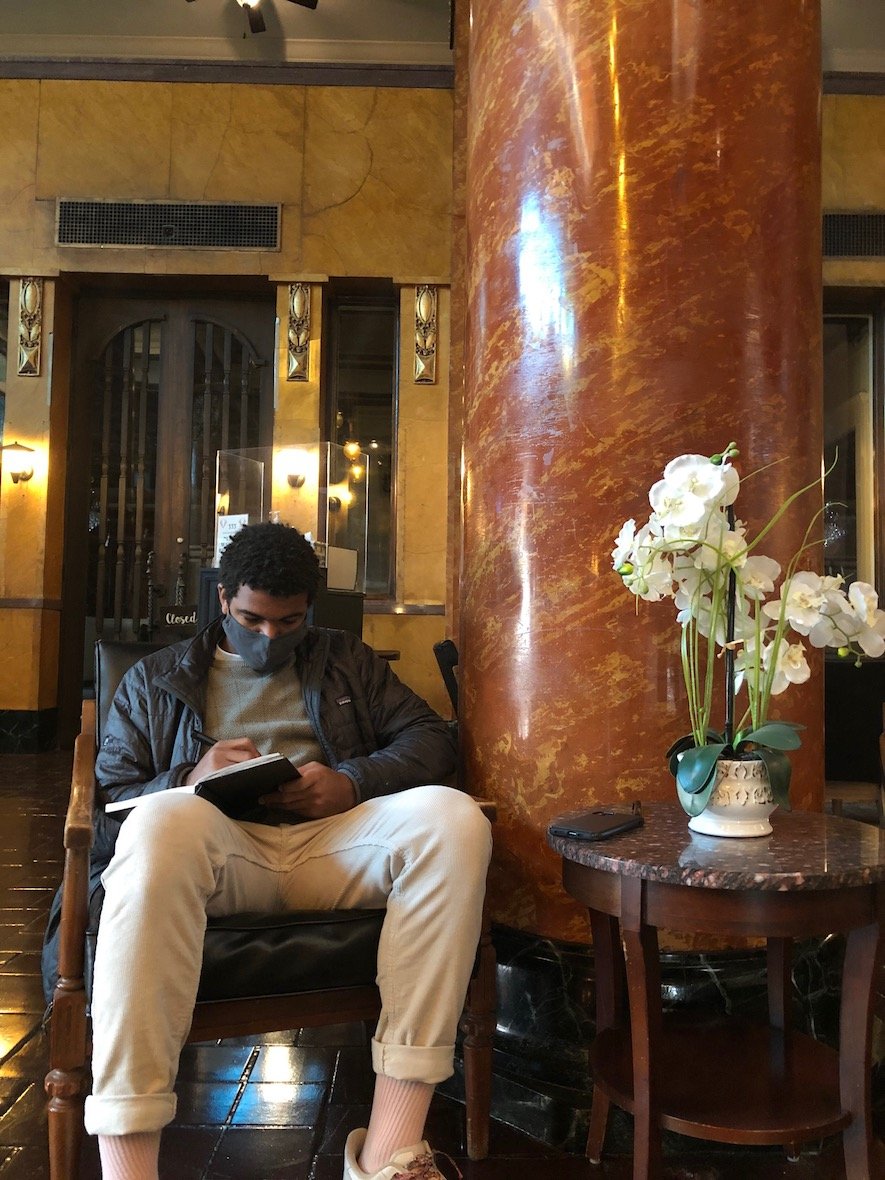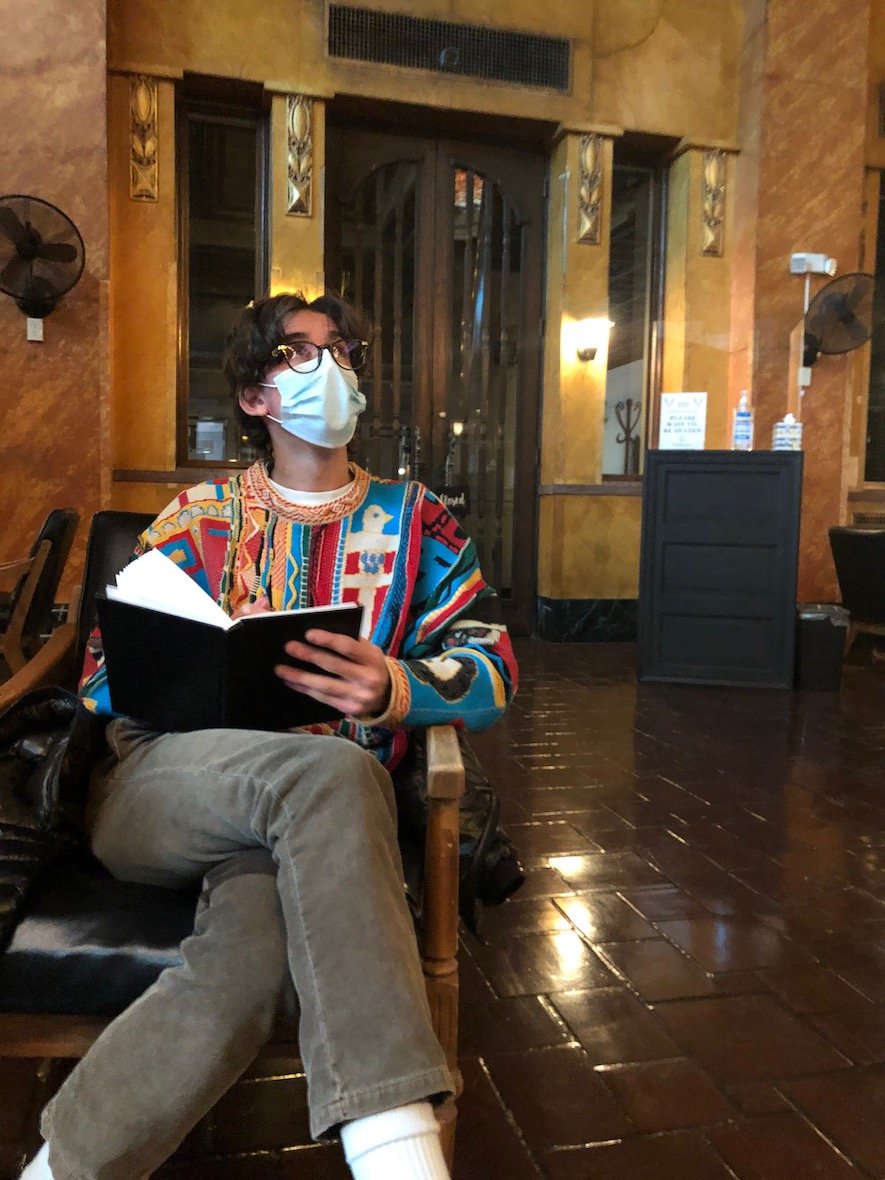 Our most interesting and informative adventure of the day was our trip to the Mexican border to see The Wall and hear from Dave's dad and mom, Tom and Mary. Their friend, a nun, named Sister Judy who works with refugees also gave us a lot of information.
Starting the day off with shrimp tacos.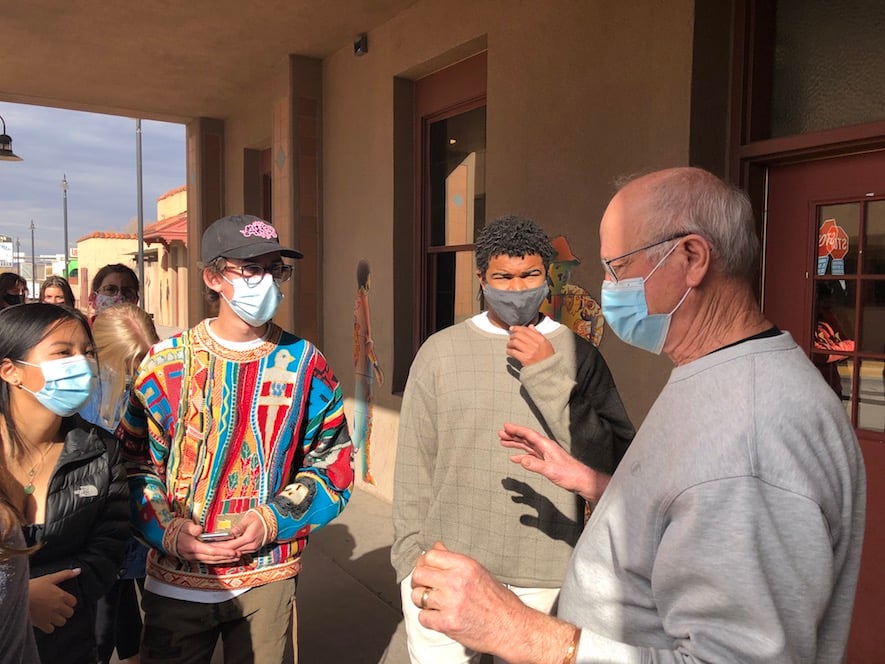 Tom makes sturdy decorated crosses and works with the nuns to find and identify Mexican refugees who passed away while trying to cross the border. Most of the time they are unable to identify the refugees but if they are so lucky they can contact the family and let them know where they have placed their cross and held a service prayer.
Dave's mom, Mary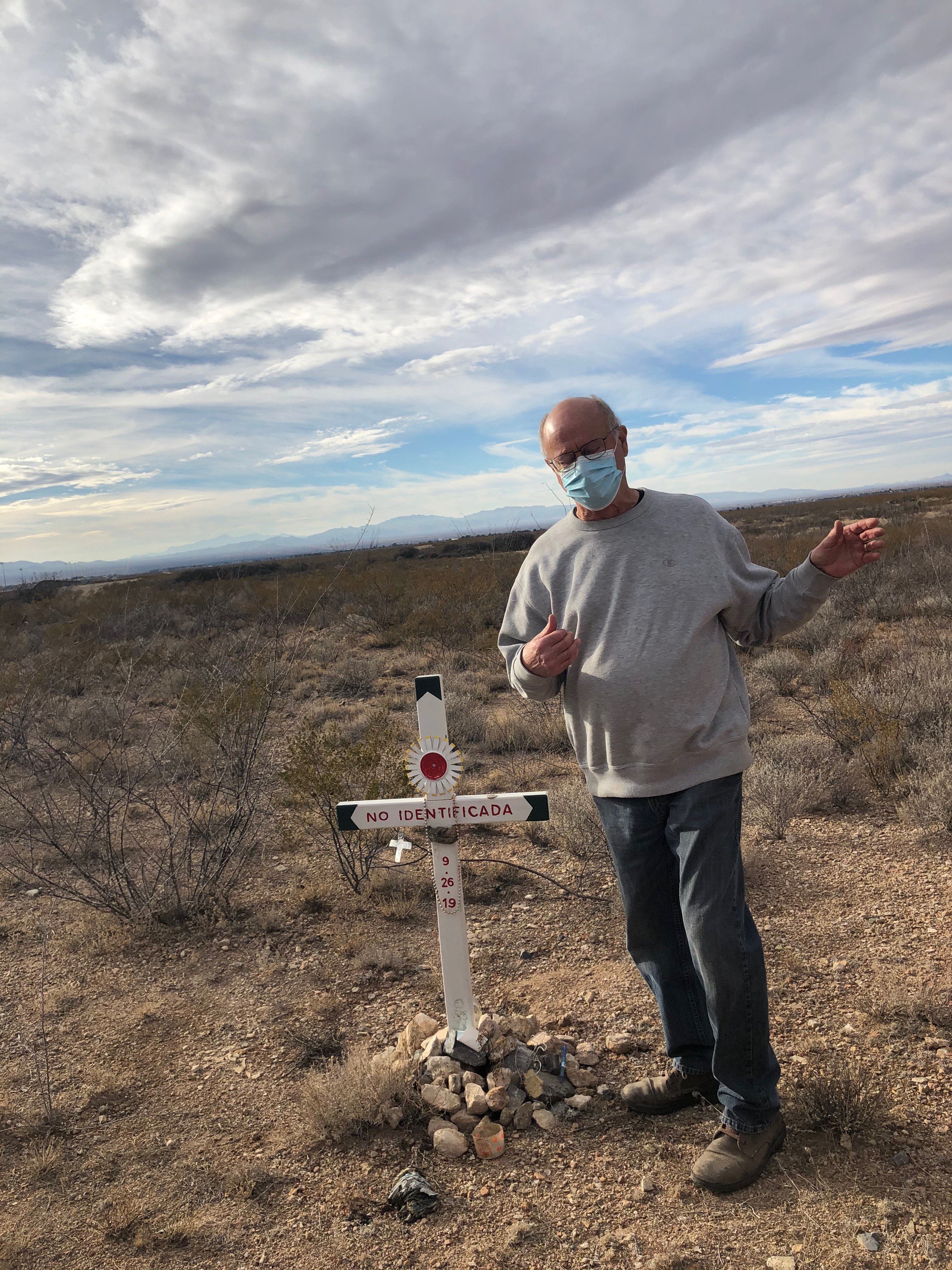 Whenever they can, they send home the remains or any possessions of these people to their loved ones. The further we drove down the road parallel to the wall, the higher it got covered with loops of razor sharp concertina wire.
At one point we met some kids poking their heads through the bars and they were so excited to see and talk to us in broken English.
We had two fluent Spanish speakers in the group and we talked to them learning their names and about their dog "Gordo".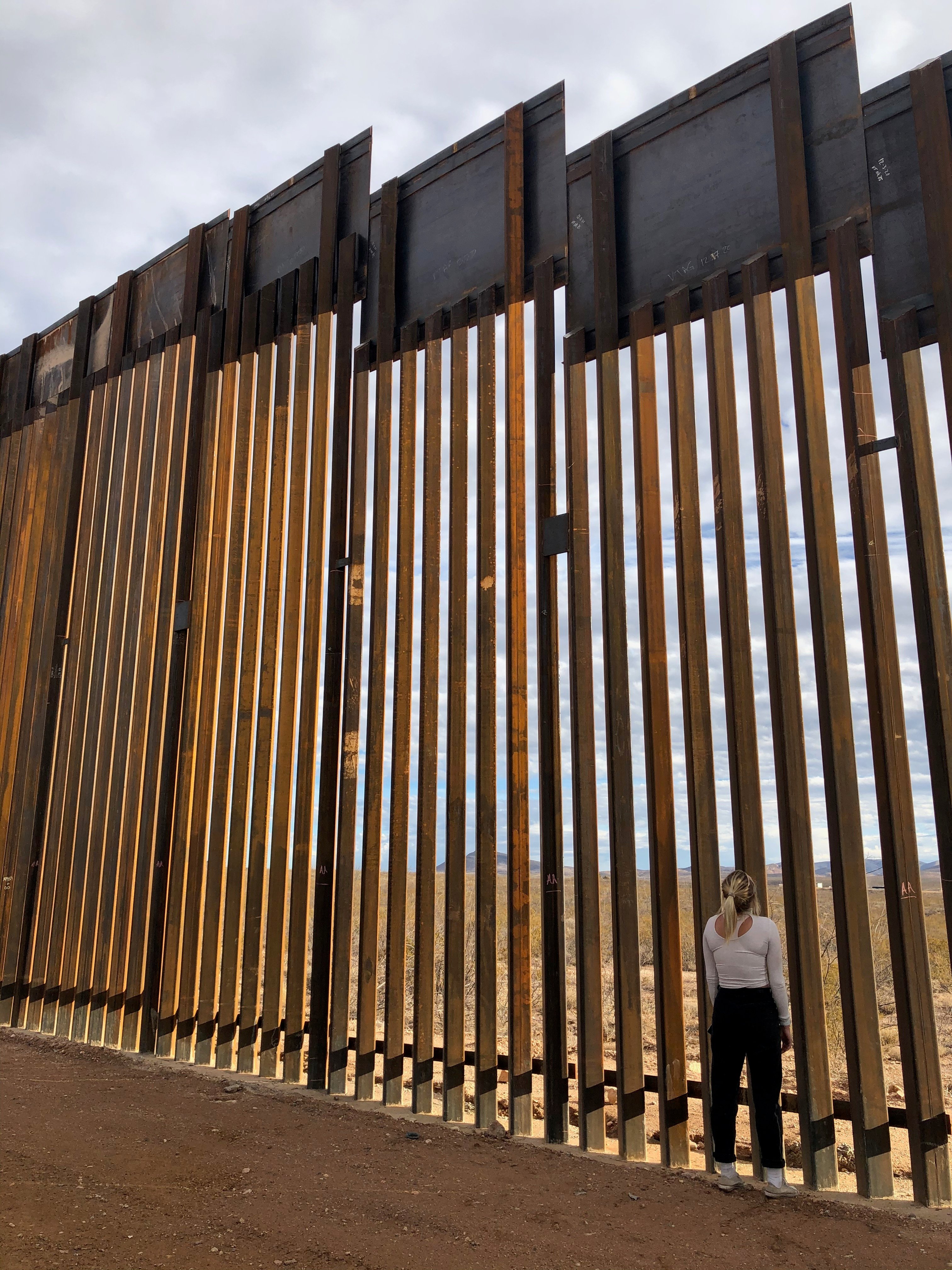 When we arrived at Tom and Mary's house for a pizza dinner before returning to Sonoita, Birgit, Kerri, Emily, and I impulsively did a polar plunge in the icy waters of the Fleming's unheated pool.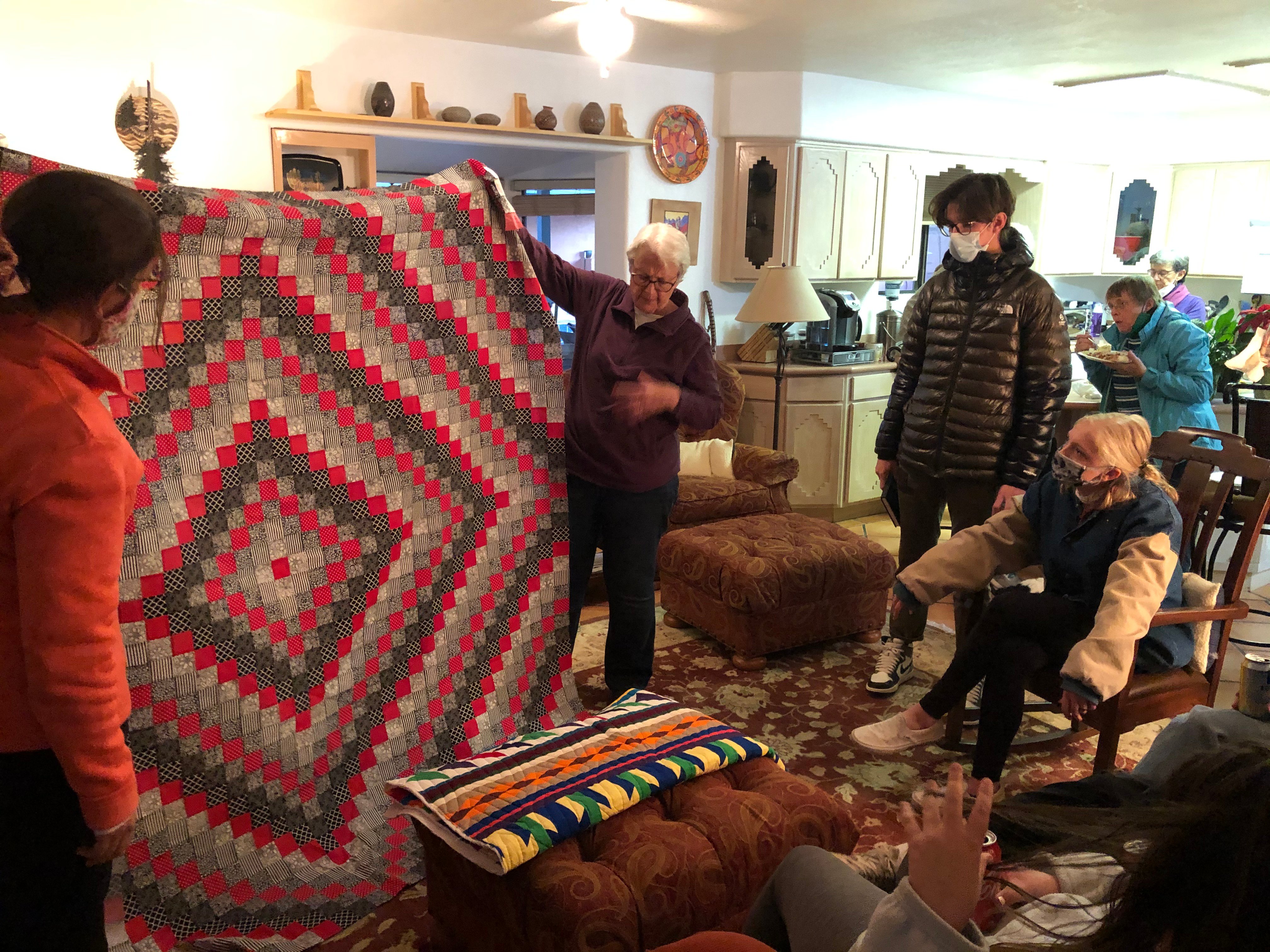 After scarfing down our pizza and huddling to get warm (Dave's mom) showed us her quilt work which was thoroughly impressive.
After a long car-ride and finally making it back to our little house in Casa Grande, we spent the weekend doing laundry, working in our Carnets (sketch books), writing letters, and preparing for the rapidly diminishing time ahead of us. - Anna '21