Last weekend we had a bevy of visitors come in from the United States to spend the weekend with us. It was lovely seeing our families, though the visit did cause a bit of disruption to our schedule. Monday, as usual, was spent in town. Morning classes, afternoon free time. Tuesday was the day most parents were retreating back to stateside, so for some, that afternoon consisted of spending the last minutes with them, spending their money in town (graduation dress, anyone?). It ended up being a dreary day, raining for hours.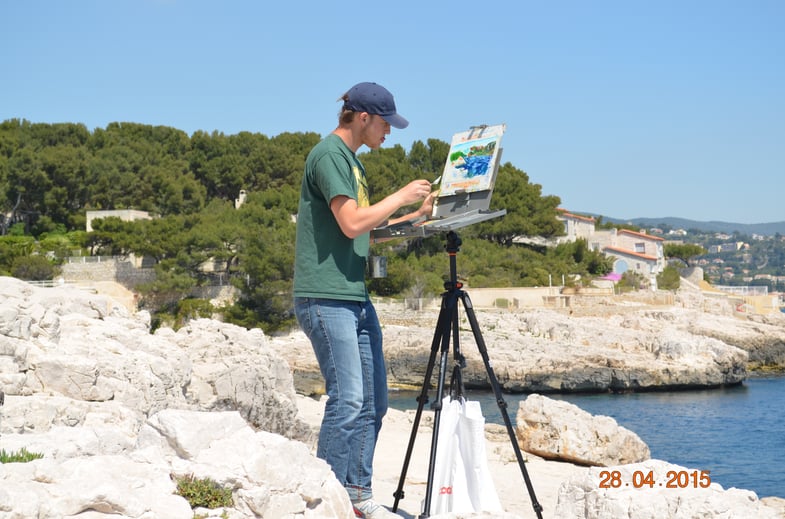 By Tuesday, though, everything was back to normal. Parents were gone, it was just our little family once more, and the weather resumed its sunny state. While Liv spent her solo day working on her book project and finishing a painting of the Tête du Marquis, the group headed off to Cassis. Cassis is a gorgeous little town on the Mediterranean sea, where we picnicked and painted on the bluffs. After collecting rocks from the beach and eating ice cream, we headed home.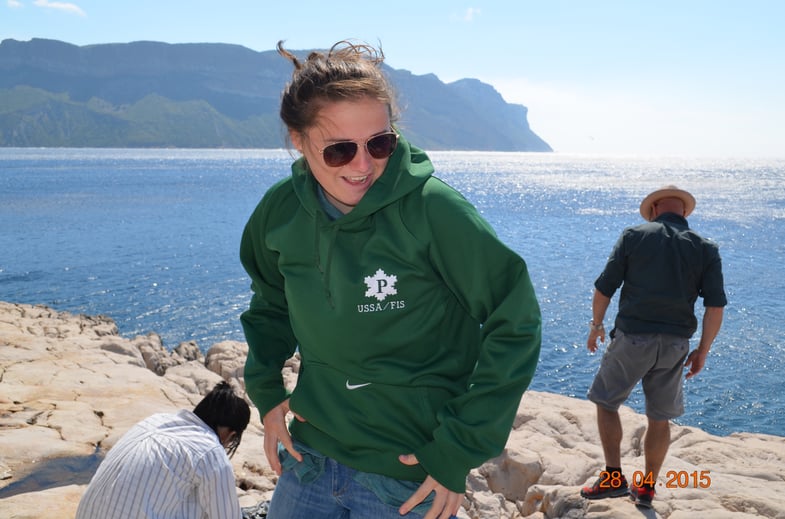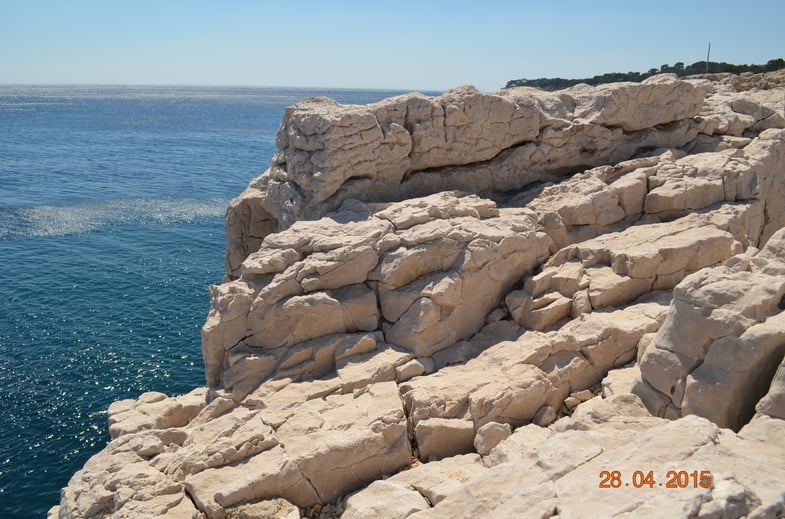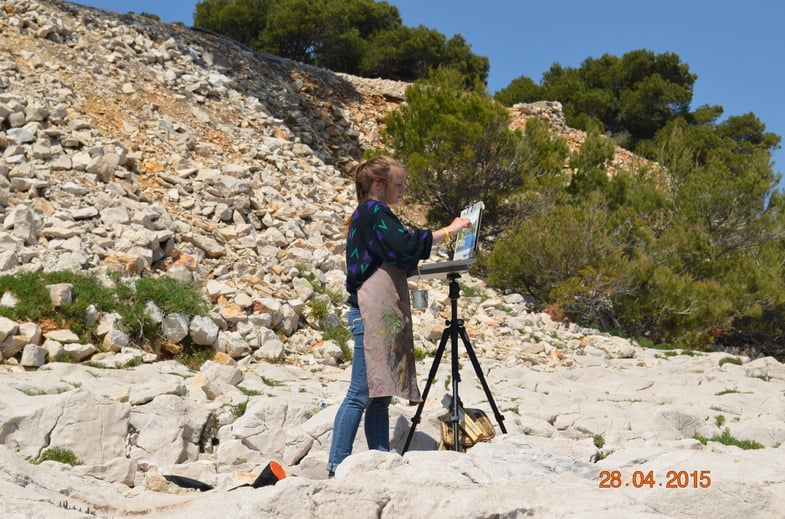 Kayden practicing Italian with us.
On Thursday we had to make a stop to the Marseilles airport…Kayden had arrived! We herded her into the van and stopped by the lamp store (to pick up a sconce to replace the one someone last term broke by "vacuuming") before heading into the sea side of Marseilles. There, we painted our "graded" plein air (on site) paintings, and Kayden did her first oil painting, with coaching from Dave. That night, Carl and Gabbi cooked German food from one of Carl's recipes.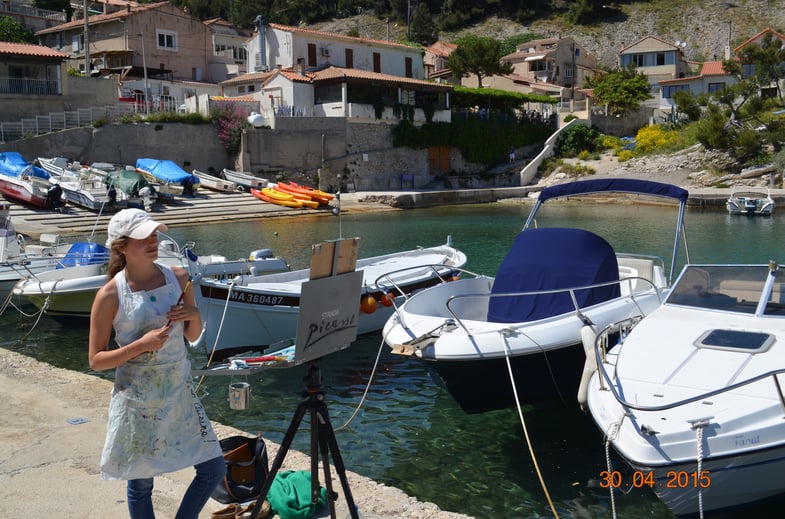 Painting in the little seaside village of Niolon.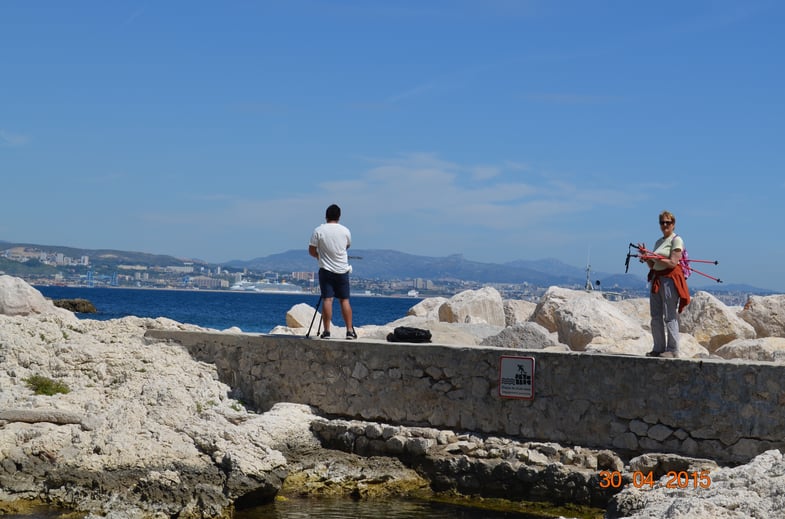 Niolon is one of the famous Calonques on the Mediterranean where the water is turqoise.
Friday definitely topped off the week. What happened was the perfect example of what Euro is all about: embracing the unplanned. Little did we know, May 1st is a major holiday in France. One of many days in the year when our bus line doesn't run. Another important one is December 25th. Dave ended up taking us all into town (it was a tight squeeze in the van). We ended up going to the open air market instead of the grocery store and eating lunch, all of us, at Papa Gayo, the very first restaurant Jen and Dave took us when we arrived in France weeks ago. We made taco salad for dinner instead of tacos, and we had our literature class at the kitchen table. We didn't care that we missed a day in town, because we had an amazing time together instead.
After finishing our last Art History presentations, we're headed to Nice for a night, and we're off to Milano! We will see what we studied - experiential education. I can't wait to see if it truly is nicer in Nice and to eat Italian every day for a week. See you soon!

Jill