As our time continues here in Aix-en-Provence, we all begin to feel less like tourists and more like locals. When we first arrived to Aix some 5 weeks ago, the city felt quite large and confusing. Jen and Dave reassured us that after a few weeks we would have the city memorized, and it would start to feel smaller and smaller.
Molly absorbed. Photo: Erin Hanscom
By this time, most of us know where our favorite cafés are, where the best restaurants are, and where the stores we like to spend our parents' money are (sorry mom and dad.)
Photo: Warren Albert
Even though most of us had never spoken French before this trip, we all know how to order what we'd like, and carry out basic conversations. We now know seeing words like "Pizza Royale" on a menu means that the pizza has ham, mushrooms, and cheese on it, a favorite of ours.
Photo: Warren Albert
Just as we are able to find our way in the city, we are also finding our way in art. All of us know what we enjoy looking at, and what we enjoy making by now. The mediums and subjects change from person to person, but the passion for it is all the same.
Photo: Warren Albert
Dan really enjoys using a pallet knife and mimicking amazing paintings that he has seen on the Internet or in person.
Calvin loves to oil paint experiences that he's had in Maine.
Bailey and Molly are fascinated with the ocean and sunsets. I personally enjoy painting landscapes from Texas and the southwest.
Daisy is in awe of the cityscapes and captures them through photography and painting.
Mary finds inspiration through graphic arts, lettering, and quotes.
Erin focuses on the lines of flowers and nature.
Photo: Warren Albert
On a promenade, Dan and Bailey tried Kangaroo!
Photo: Erin Hanscom
Photo: Erin Hanscom
During my solo day, the group visited the ancient Roman aqueduct, Pont du Guard, and saw an olive tree dating back to 908AD. Visiting sites like these remind us of the history that we are surrounded by everyday.
Photo: Warren Albert
On Wednesday morning, we were awoken with a bit of a surprise. There was snow! The snow in Aix though, could not compare to the recent storms our peers in Andover went thorough.
Photo: Erin Hanscom
Photo: Warren Albert
We got a brief glimpse of snow Tuesday night but none of us expected it to stay. It's fascinating how much snow can change a landscape. The terrain that we see every day was unrecognizable. Unfortunately the city of Aix doesn't handle snow well, like Andover, so we had a snow day.
Photo: Warren Albert
Many of us worked on presentations in preparation for our trip to Belgium. Every girl on the trip cannot wait to visit Belgium, mostly because of chocolate.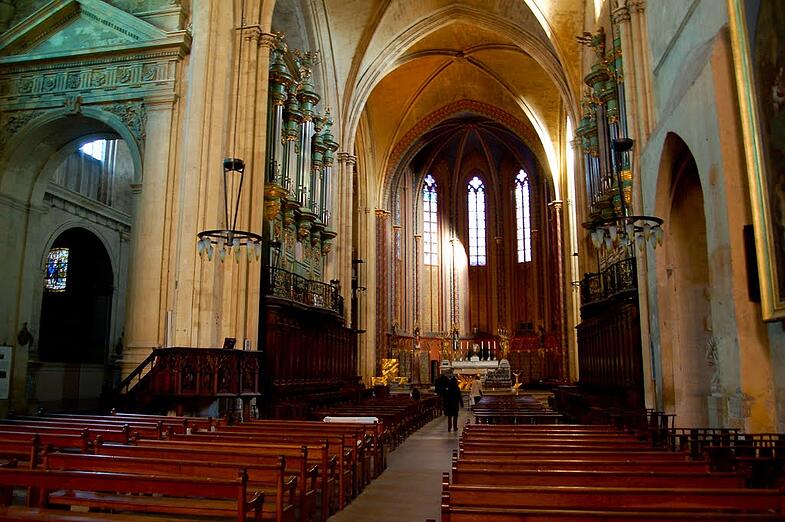 On Thursday we explored the life of Paul Cézanne. We saw his house nestled on the outer parts of Aix. As we squeezed through the city in our van Jumpy, Dave pointed out the significance of places that we walk by every day. Along Cours Mirabeau is Cézanne's father's hat store. Just up the way is the church that he was baptized in, and the house that he was born in. Many of us had walked by these sites countless times but had no idea their significance.
Photo: Warren Albert
At the end, we visited his gravesite. It was unpretentious and simple and hosting his various family members. Cézanne died an unsuccessful artist, but loved what he did. To him it was about the art and capturing the moment, something we try and do every day.
Photo: Warren Albert
On Saturday we visited the small village of Joques. We all enjoyed pizza, pasta, and steak outside in the sun together while sharing stories. On our way back through the windy, narrow roads with snow on either side, we pulled over and the boys explored old stone bunkers.
Photo: Warren Albert
We pictured Germans creeping through the mountains looking for French resistance fighters. We also envisioned troglodytes, or cave people, lurking around and living in those bunkers.
Photo: Warren Albert
As we continue our journey on European Art Classroom, we are looking to advance as artists and as explorers and build upon our knowledge. We've all found our current artistic interests and are ready to explore them. It's hard to imagine we have only one week left in the city of Aix, however we are all so excited to visit the culturally and historically rich areas of Belgium and Spain.
Don't forget to see our updates to our personal webpages.