European Art Classroom teaches each student how to be an avid traveler, as we are constantly immersing ourselves in various cities that hold new cultures, languages, and cuisine. As Florence, Italy was the third and final weeklong trip, each of us had the routine down to a tee.
The day prior to departure consisted of an Italian language session, learning the basics so that we could be polite travelers. Therefore, Jen and Dave taught us key phrases and words in Italian before each individual packed. At this point, we all know the importance of packing light, as it helps navigate busy cities and train stations where mobile luggage is critical. No luggage though is more important than the Carnet (sketchbook) and supplies.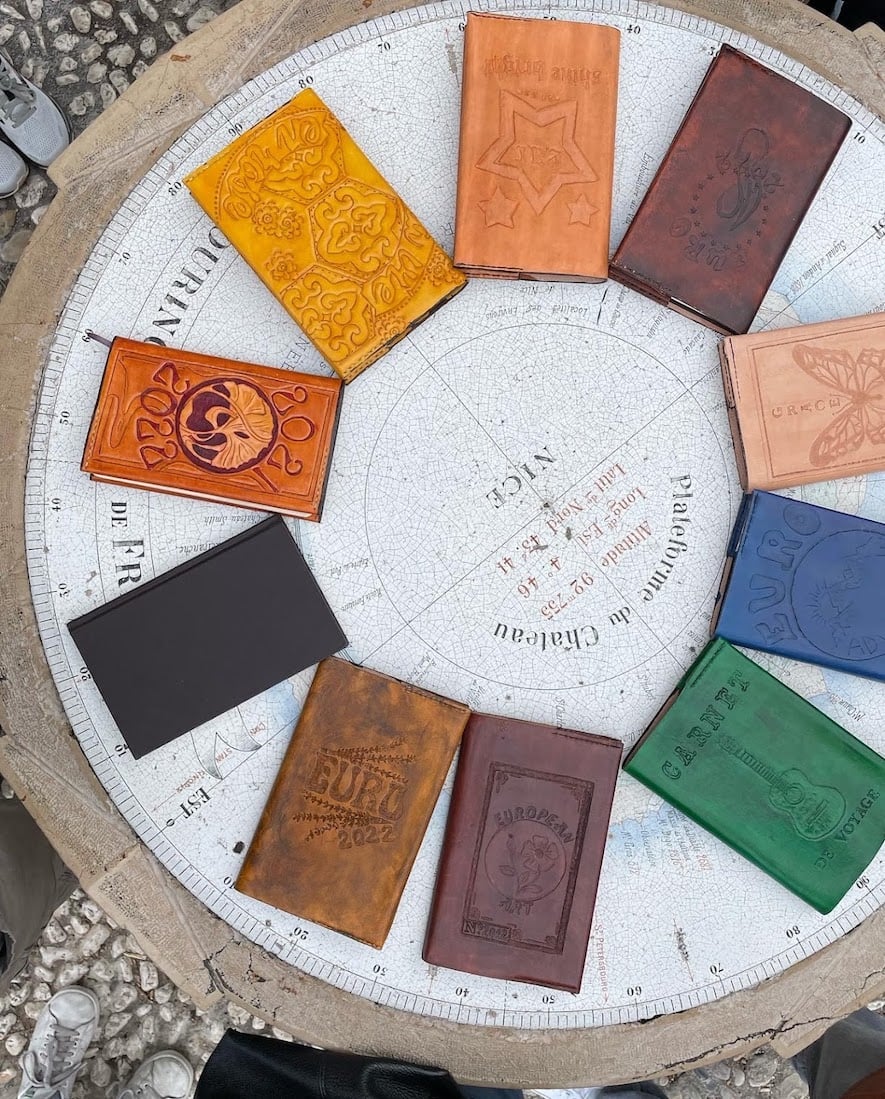 Some stone therapy in Nice before our multiple train rides into Italy.
When we emerged from the station, we were all taken aback as each corner we turned was postcard-worthy.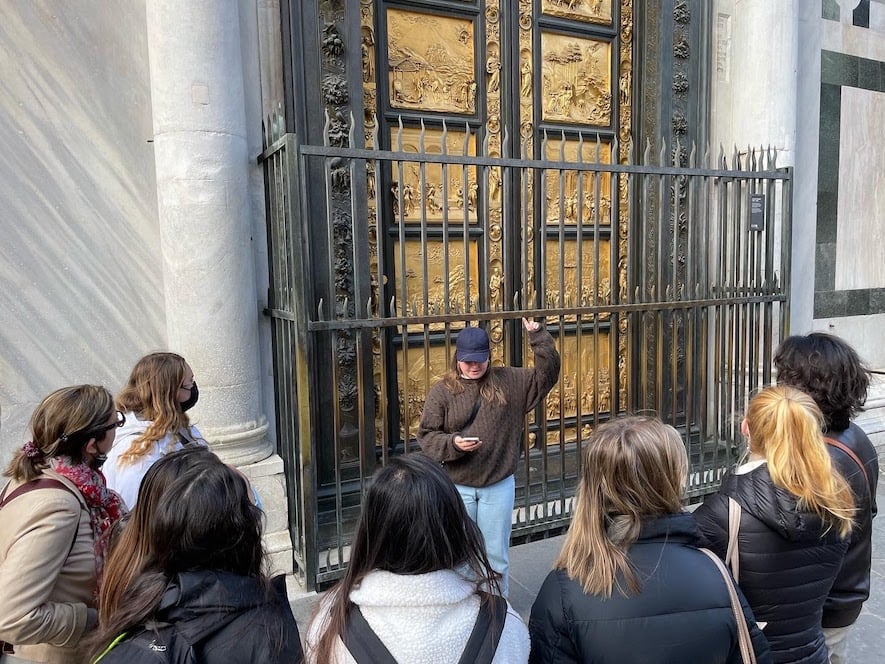 Libby giving us a lecture on the famous Baptistry doors.
The interior of Santa Croce
Throughout the week we witnessed beautiful cathedrals, amazing food, as well as the artwork we had previously studied.
Utilizing our Carnet de Voyage, each student chose elements of the city that they wanted to remember forever.
Detail: Andrea del Sarto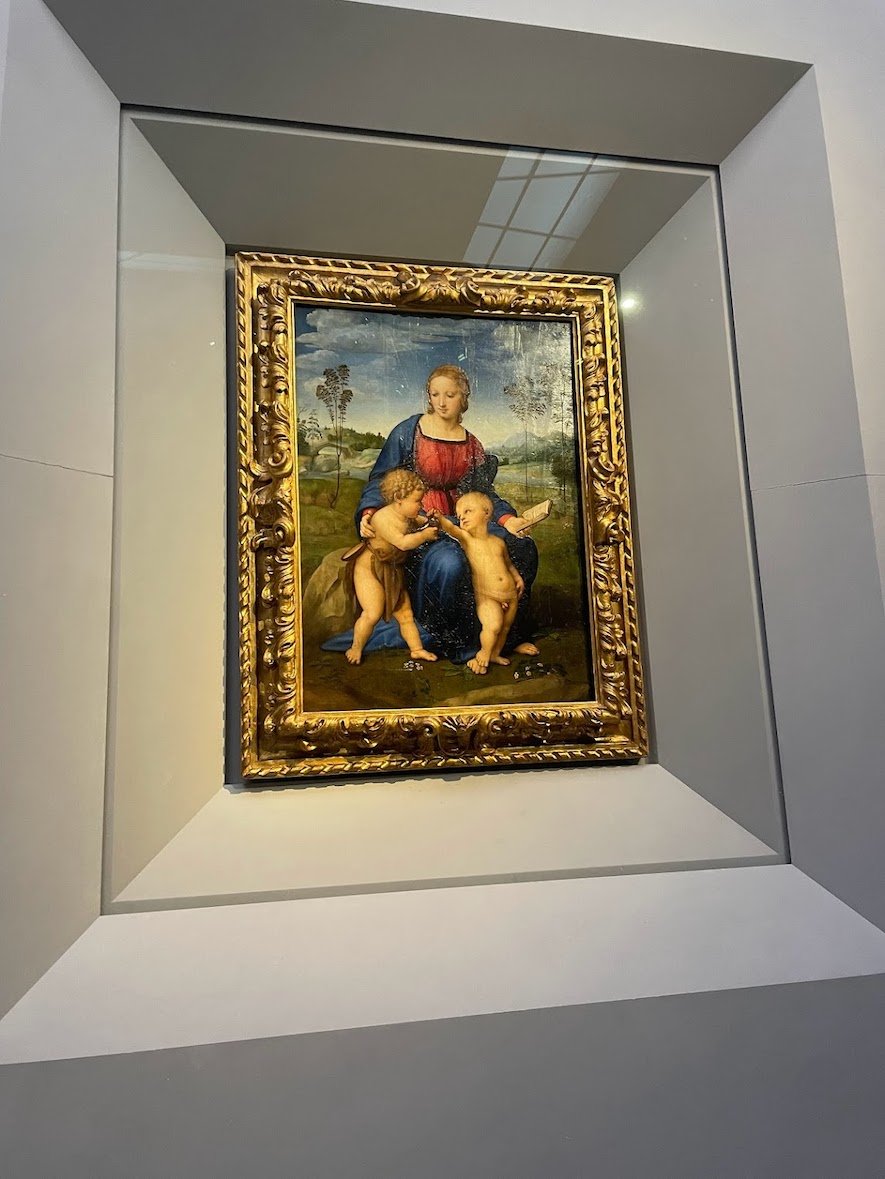 The Ufizzi was amazing. Raphael's depiction of the Virgin Mary, Jesus and John.
For some of us, the pre-term artists we studied and presented were in the Ufizzi. Here Claire stands next to Botticelli.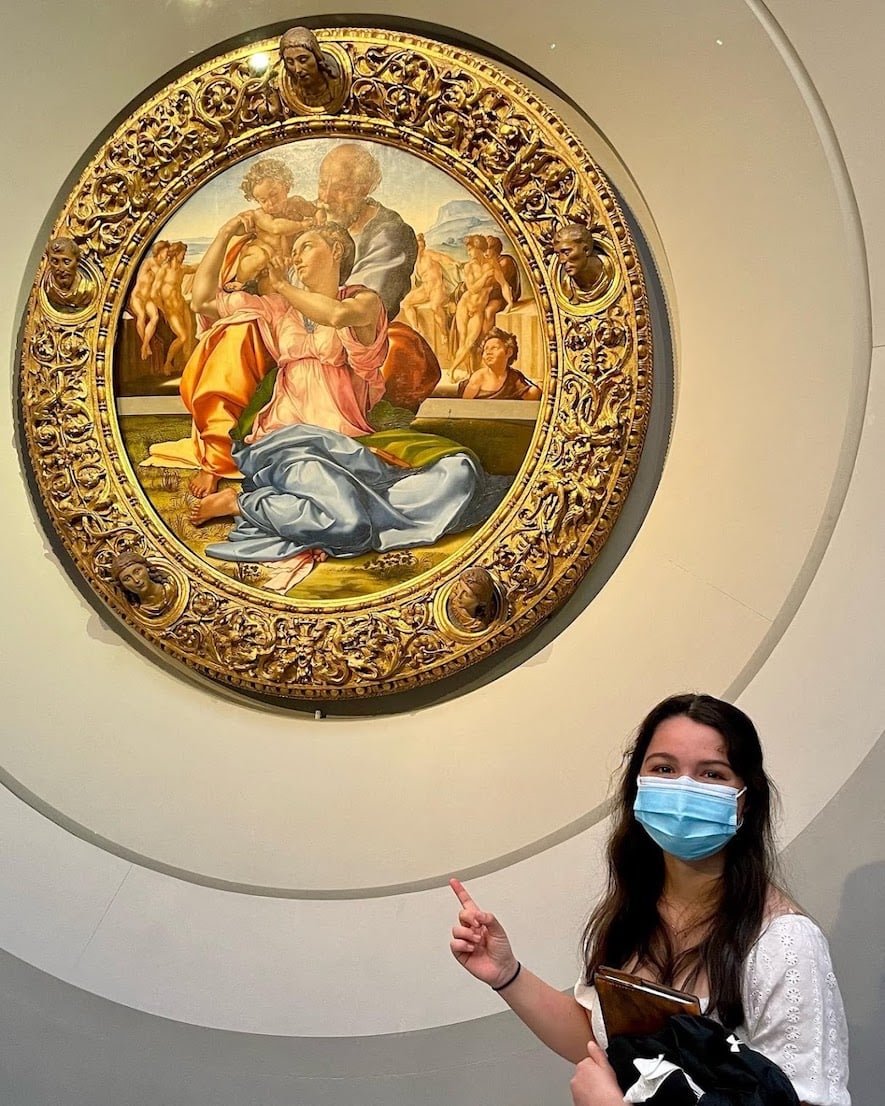 Kally in front of Michelangelo and the Holy Trinity.
Utilizing our Carnet de Voyage, each student chose elements of the city that they wanted to remember forever. Personally, I love our Carnets, as the drawings we make allow us to be immediately transported back into one specific moment, and our minds are flooded with memories of that day and place.
When in Florence, my favorite Carnet page that I produced was in the UFFIZI Gallery as I sketched small snippets of masterpieces that were before us.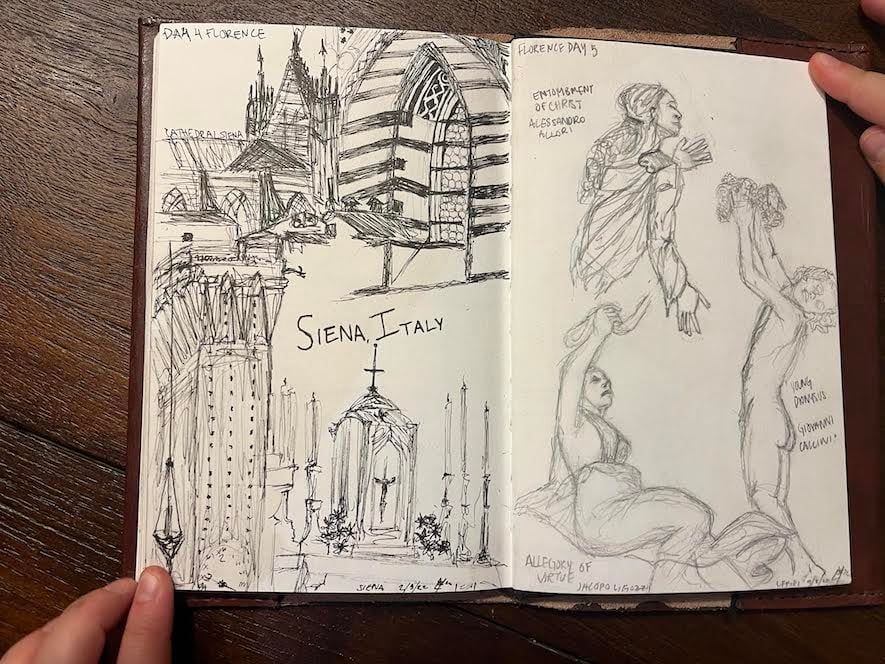 Libby
Kally
Similarly, Libby and Kally particularly loved their pages depicting the Uffizi Gallery and our day trip to Siena where we witnessed the most beautiful building I have ever set foot in, The Duomo di Siena.
Sketching the Duomo de Siena.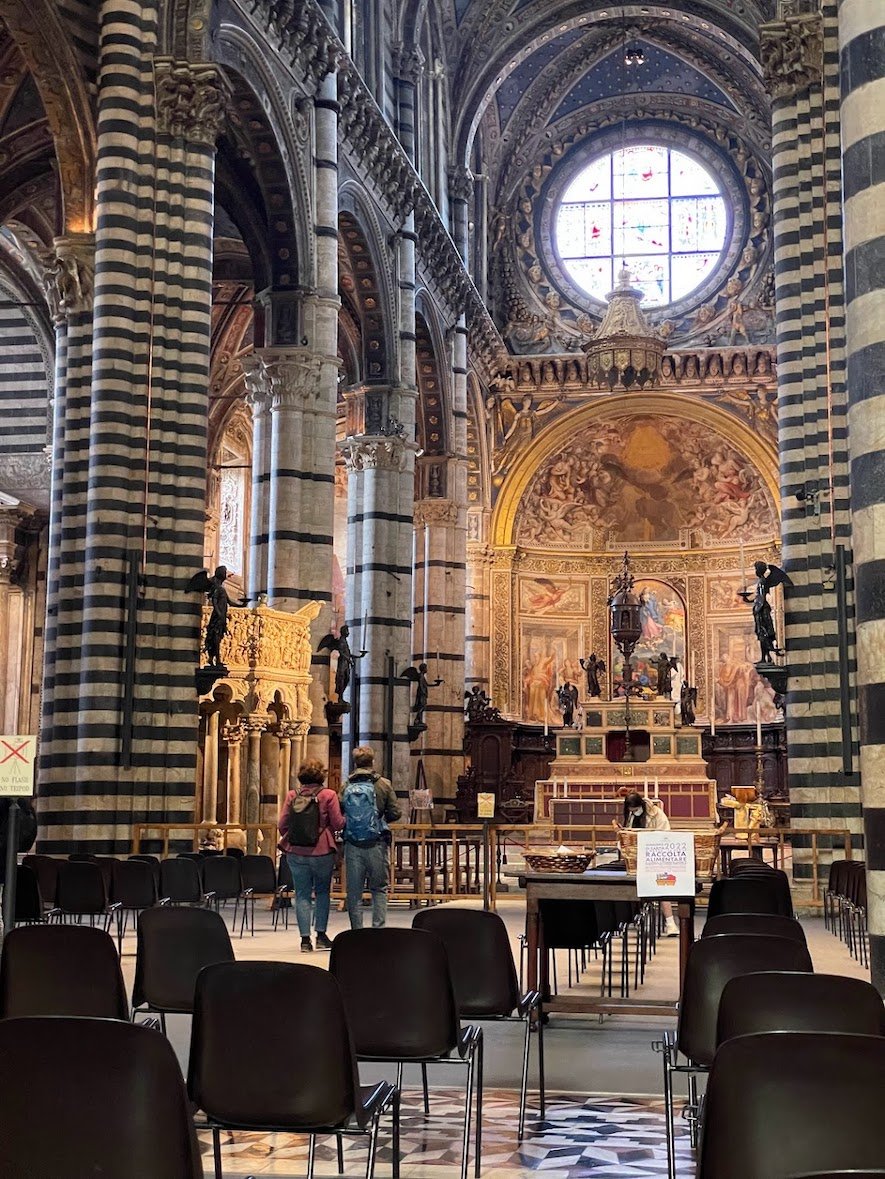 Bella
Jack
Bella and Jack produced beautiful sketches of the stunning Brunelleschi Dome (Cupola del Brunelleschi), that many of us could see from our hotel windows.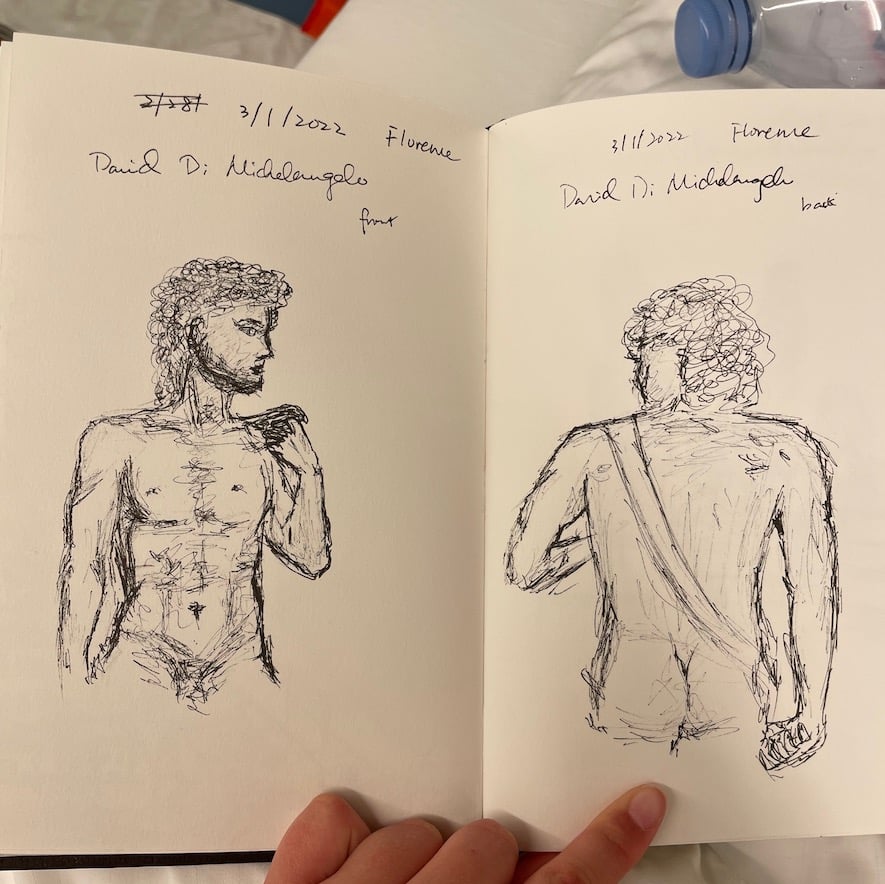 Claire was able to capture another amazing day through her pen sketch of the Statue of David by Michelangelo.
In addition to the amazing Carnet sketches, the Italian food was divine. Over the course of a week, the group was spoiled with what Florence had to offer: incredible fresh pasta, decadent meats, and gelato around every corner.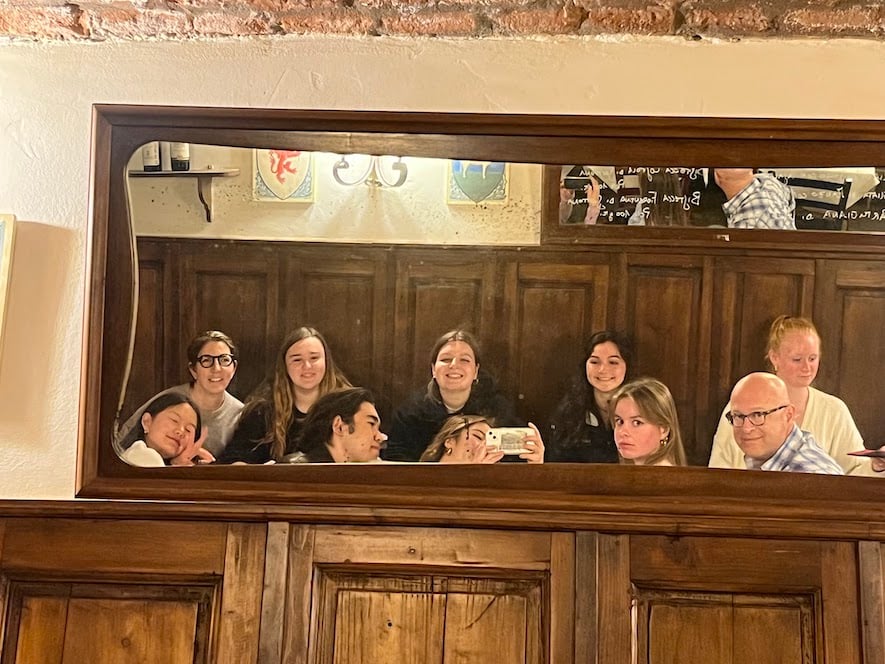 As I write this blog I realize that my time left on European Art Classroom is limited. This experience has allowed me to see a new perspective on the world, enhance my abilities to be present in the moment, and of course work on my art skills. I am sad to leave my city of Aix-en-Provence, but I will return home with an abundance of memories and a group I call family.
- Cam 22