To be blunt…This week was kinda crazy. There we were, at home in Aix, giggling over our German lessons and researching cool things to do during our free time in Munich with little success to find anything better than an apparently sub-par aquarium when right under our nose, Storm Ciara was raging her way across northern Europe.
Honestly, at first I was kind of relieved when our flight got delayed; a little bit more time to sleep in is always a good thing, right? We wandered our way to Marseille at 10:00 am instead of 5:00 am, got through security with out a hitch and are relaxing at the gate before we board to find that we got delayed a couple hours. Kind of grumpy and annoyed, we were not going to let a few extra hours in the terminal get us down.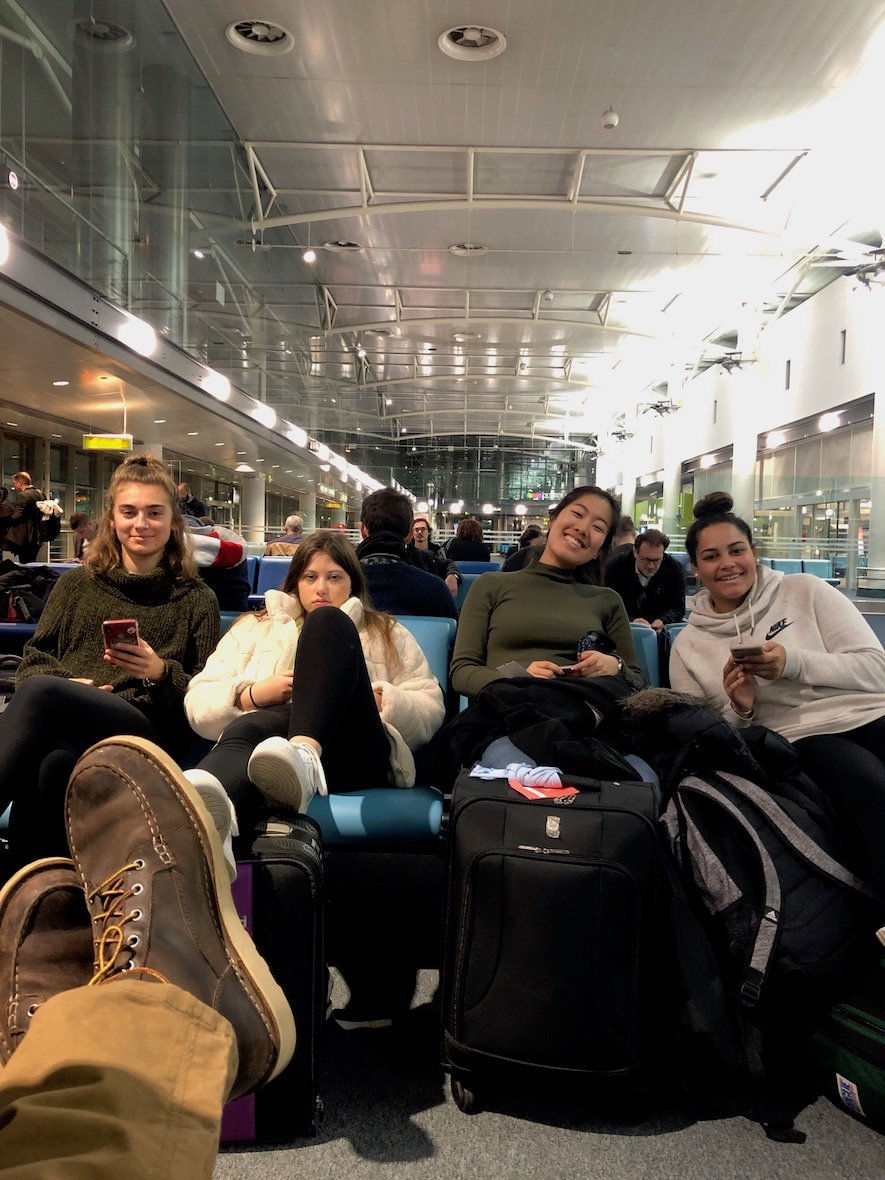 Lufthansa gave us all vouchers for a cafe stand a few gates away and we made ourselves quite a spread of airport food and sparkling water. The eight of us crowded a four person table and went to town; the next few hours stuffed and with laughing and complaining over stale bread and sparking water that tastes like the cherry health center cough drops made the whole ordeal feel like ten minutes. It's the moments when we put our phones down and focus on each other, when we have the most fun.
We eventually, and after way too long a wait, boarded the plane and started getting excited about our German adventure. After about an hour on board and exactly zero inches traveled, the captain called it and sent us back down to the terminal. After about 16 hours of confusion and bad seafood salads we boarded our flight to Munich with a connection in Bruxelles and I excitedly jammed out to my Yankee Cowboy playlist to celebrate the hard part being over. We landed, got scrambled eggs, bacon, and chai tea lattes before we hunkered in to our carnet de voyage entry for the day.
Then much to our surprise, at exactly 1:29 pm Dave and Jen informed us that Germany sucks and Belgium was way cooler so "...we're just gonna wing it and see where the wind takes us". We were all pretty cool about it, including Kaley which was surprising because that girl really loves her schedules.
It's kind of crazy how things work out, right? I don't know, I am a firm believer that life or the universe or whatever has a way of putting you where you need to be when you need to be there, and that is exactly what happened to us. We got an amazing hotel for an uber cheap price right around the corner from the Cathedral St. Michael with actual bones sticking out of the floor and right around the other corner from the glassed gallery with pink walls and an endless amount of chocolate shops.
We dropped our bags, went to Manneken Pis and found ourselves in like the coolest antique book store I have ever seen. They had first edition books from like the 1790's and some very interesting comics. We found a Napapiguri store that we had been looking for like the whole time we've been here and found ourselves in a corner cafe just in time for dinner.
Between the muscles in white wine broth and lots of toasts to an unexpectedly perfect day, I started to lose track of all of my anxiety and really let myself be comfortable here.
The thing I love most about Proctor is that they teach us crazy abilities to embrace the obstacles and turn them into strengths with a little elbow grease and a good attitude.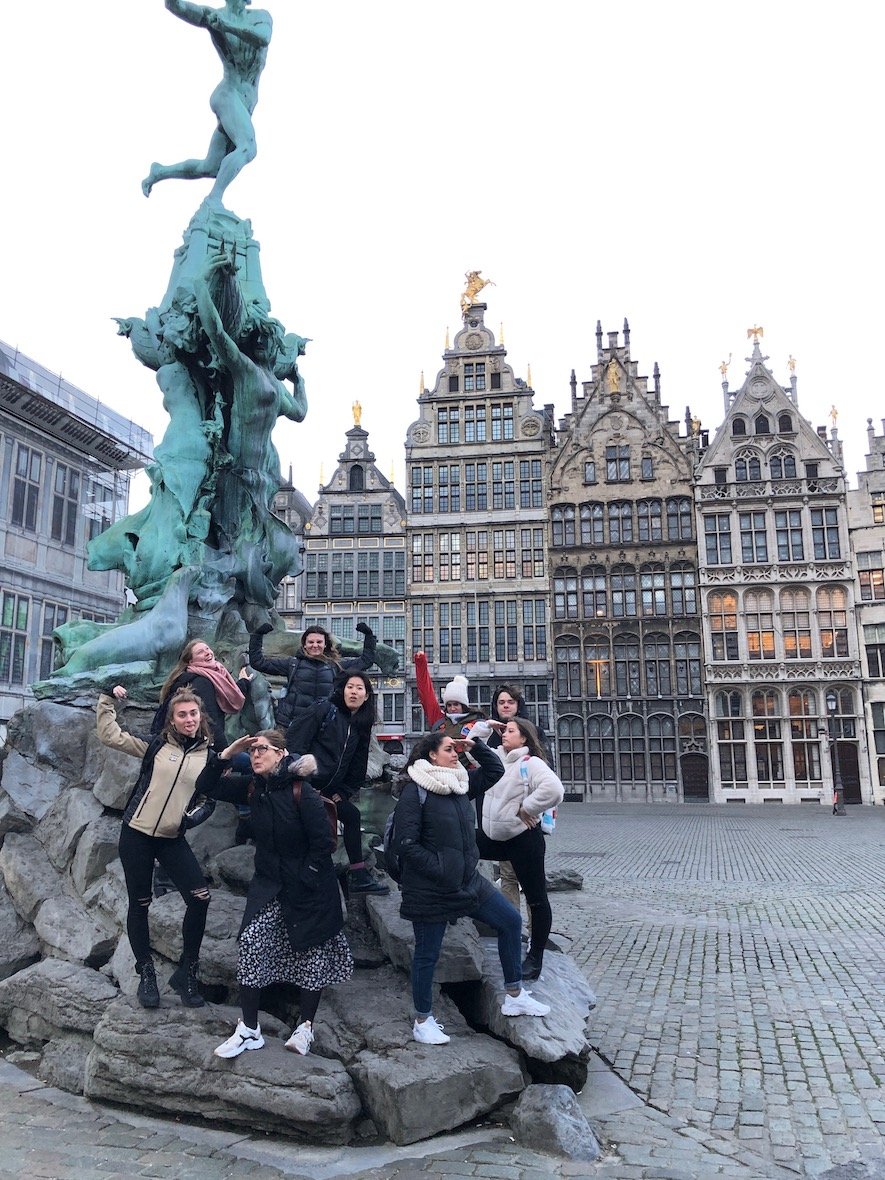 Super cheesy, I know but bear with me. I looked around the table that night and everyone had a look of pure joy on their faces, and for a bunch of teenagers in a pretty random and unexpected situation, I think we did what Proctor kids do best and made the absolute most of it.
We skipped away from the restaurant, arm in arm, grateful for the memories we made there, knowing that none of us were ever going to go back in the same way. After a little chocolate, because you can't not have Belgian chocolate every day in Brussels, we went back to the hotel and got ready for whatever the heck else we were gonna do the next day. Now I would tell you about the rest of the week, but I have to save somethings for us to tell you about when we get home, so I guess you will have to wait. All in all I can say that we are doing just fine. Thanks for checking in:) See you in T-14 days!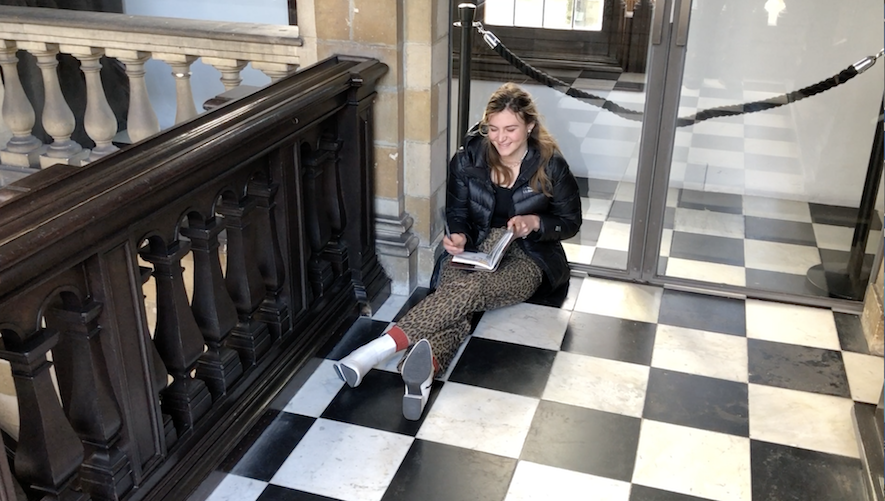 PS…Grandparents, We can always tell when you're stalking us on Instagram. We miss y'all too, but if you want photos, just text us instead of liking our classmates posts from our tagged photos.
Below are some more photos. Enjoy, thanks! - Bettina '20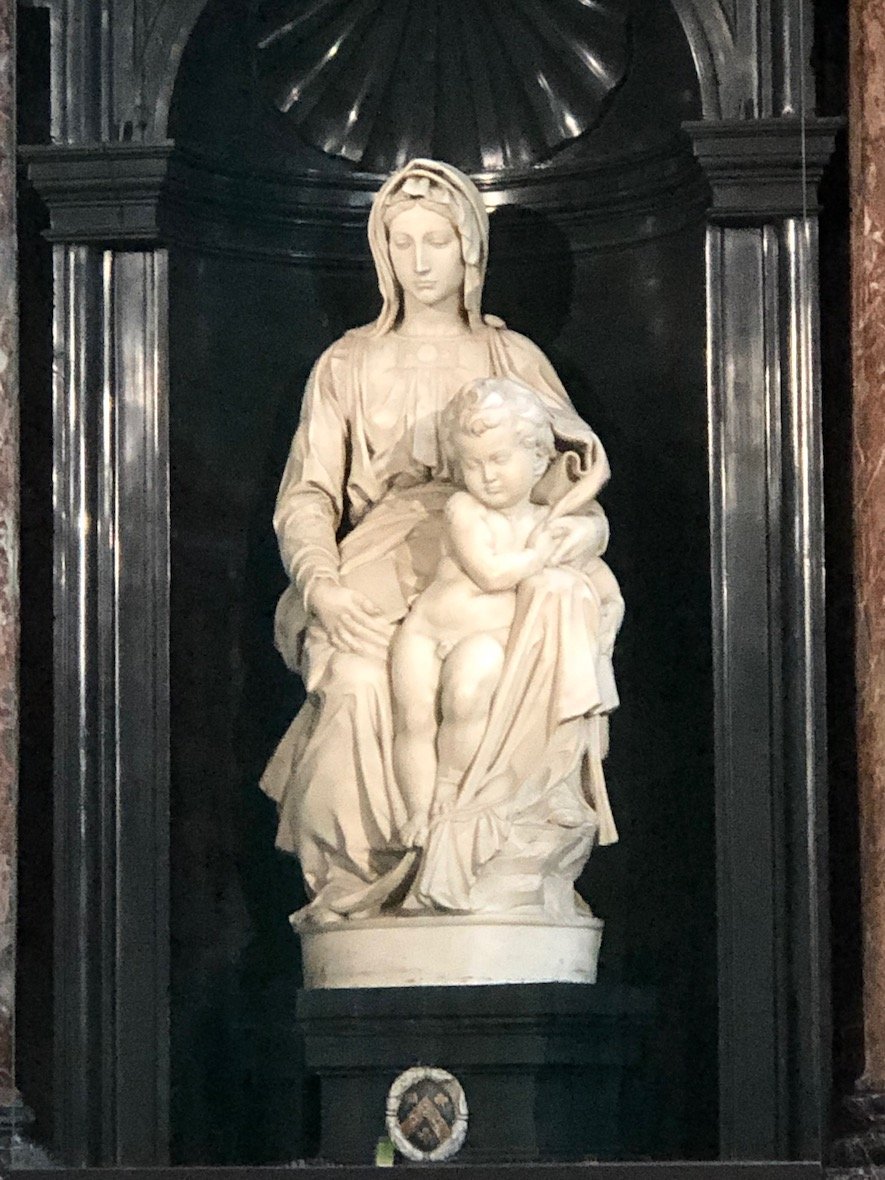 Michelangelo "Madonna and Child" or "Madonna of Brugge". Once stolen by the occupying Nazi's during WWII, it was recovered by the American detachment known as the "Monument Men" and returned after the war.
Carol stands before Jaques Louis David's painting, "Death of Marat", 1793
Sketching in the Royal Museum of Fine Arts, Brussels.
Rembrandt, Brussels
Alphonse Mucha, Brussels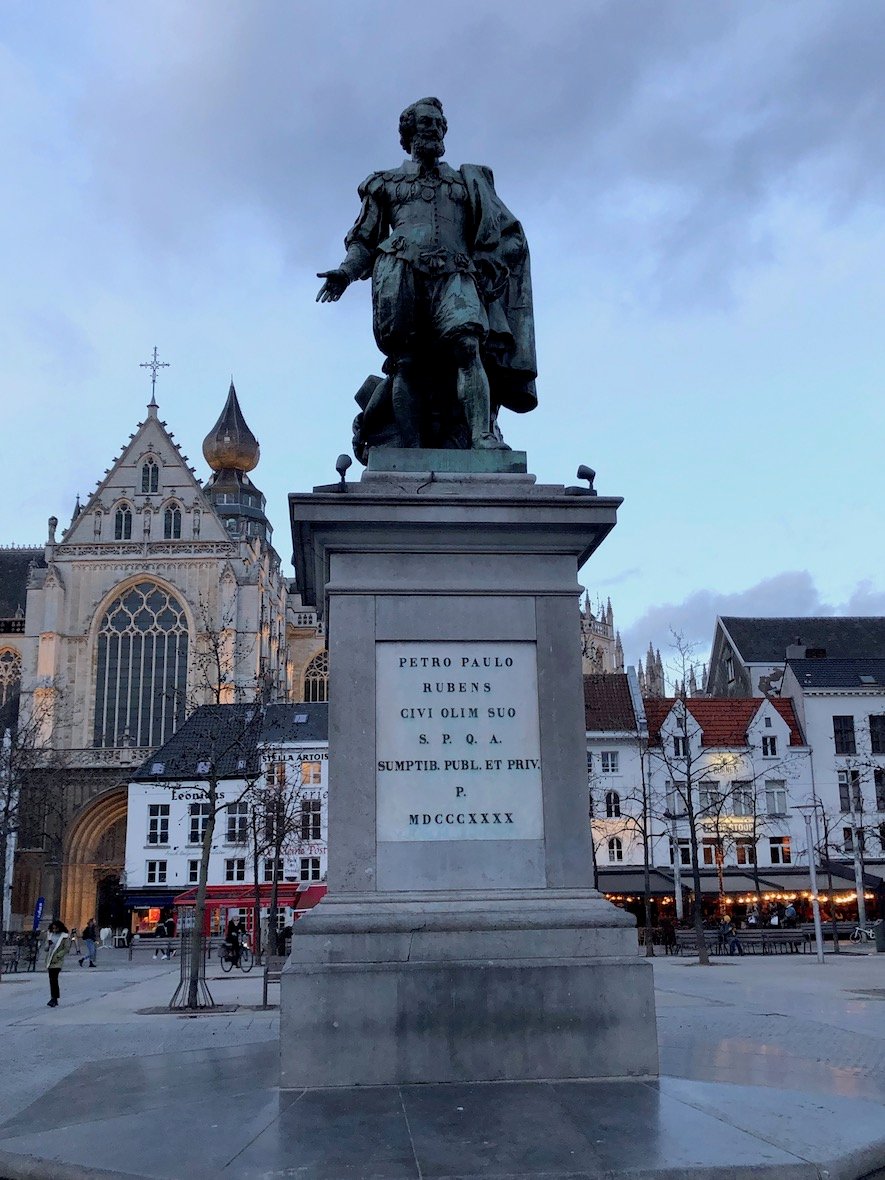 Statue of Peter Paul Rubens, Antwerp
Chocolate covered Belgian waffles.
Painting by Anna Bosch. She was a Post-Impressionist painter. She would one day purchase Vincent van Gogh's painting of "The Red Vineyard", 1888 months before he died. So he did sell one painting . Now in the Pushkin Museum of Fine Arts, Moscow, Russia.
Brussels
Fun with Dave's fedora