Proctor's European Art Classroom program welcomed parents to Aix-en-Provence as the group surpassed the mid-point in their trimester abroad. Read more from Emilia '18 below!
Emilia '18:
After a rainy week in Spain, as Sarah described in the last blog, it was especially nice to return to the cloudless blue sky and eighty degree weather of Aix.
However, while we were all looking forward to returning to our routine in Aix, this week turned out to be anything but ordinary! We kicked the week off with a visit from Thaddeus Bicknell '14 who arrived Sunday night, and spent Monday with us.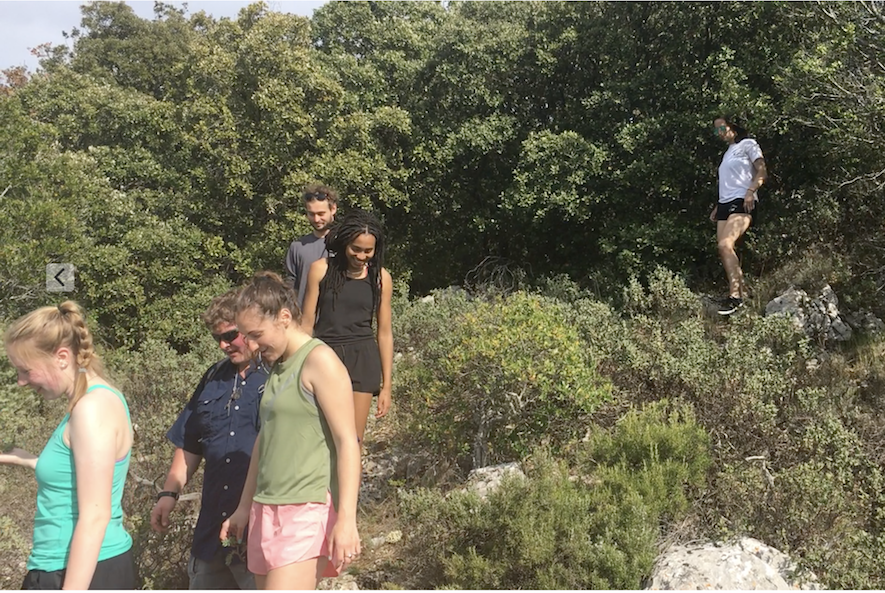 On Monday we practiced our French, learned about the infamous Claude Monet, and drank chocolate viennois in our café, Le Festival. Upon returning home, we hiked the Tête together and looked out over our valley.
On Tuesday we travelled north of Aix to a region named the Luberon, and to the small town of Cucuron where Russell Crowe's The Good Year was partially filmed. We painted the café goers next to the beautiful pond lined with plein trees.
(photo: Sarah Ferdinand)
For some of us, this was especially intimidating. Passers-by would stop to watch us paint, or talk to us. Every time someone would come up to me, I was afraid I wouldn't understand them, or be able to answer their questions, but it ended up being a fun time.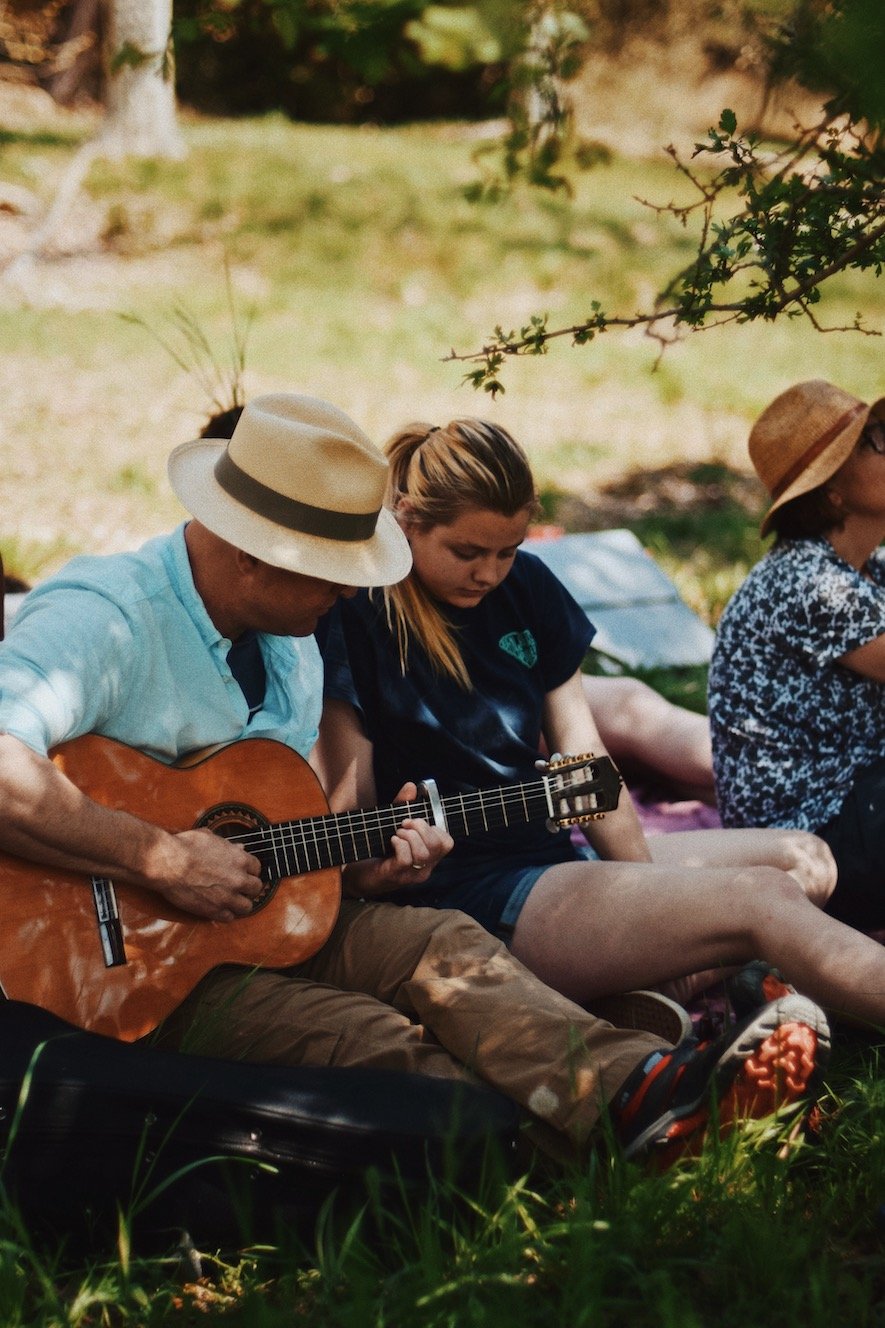 (photo: Sarah Ferdinand)
On Wednesday we went down the road to the ruins of what would have been General Lafayette's personal gardens and chateau. The chateau was never finished due to the happening of the French Revolution. We picnicked in the shade in front of the yellow arch in the unkempt grass. Afterwards, we painted and explored the tunnels, which were originally meant for water flow to fountains and pools around the gardens, within the ruins.
(photo: Sarah Ferdinand)
Thursday we practiced our French, learned about Edouard Manet, and once again drank chocolate viennois. It was market day, so we wandered the stalls before finding places to work on our Carnets de Voyage and eat lunch.
(Rhyanne Foster '18 and Dad - Trevor '87, Mom - Sharon and Sister - Bennett)
(Peppy Pettengill '18 and Mom - Gina '83)
We welcomed more visitors on Friday when Rhyanne's '18, Toby's '18, and Peppy's '18, parents arrived at the house in the morning.
We then convoyed to outside of the town of Puyloubier to visit Dave and Jen's friend Monique. We toured Monique's home, and she taught us some history of the area - like the town of Trêt (Three) was named when the whole town died of the plague, except for three (lucky?) citizens.
(Toby Bannister-Parker '18 and Mom - Charlotte)
(Peppy and Dad - Steve)
(photo: Gina Pettengill '83)
(photo: Gina Pettengill '83)
(photo: Gina Pettengill '83)
(photo: Gina Pettengill '83)
(photo: Gina Pettengill '83)
We then picnicked on her lawn, and painted her beautiful chateau.
With French Artist, Monique Curto, Puloubier, France.
(Adele Bloch-Bauer)
Afterwards the "orphans" (an affectionate term for those of us whose parents couldn't come) went back our house, ate pizza, and watched The Woman in Gold, a great movie about an Austrian woman's fight to reclaim a Gustav Klimt painting that was stolen from her family by the Nazis before the war.
On Saturday our convoy travelled South-West towards Arles and arrived at a small, medieval town named Miramas-le-Vieux. There we visited Dave and Jen's friend Doris at her art studio.
(photo: Gina Pettengill '83)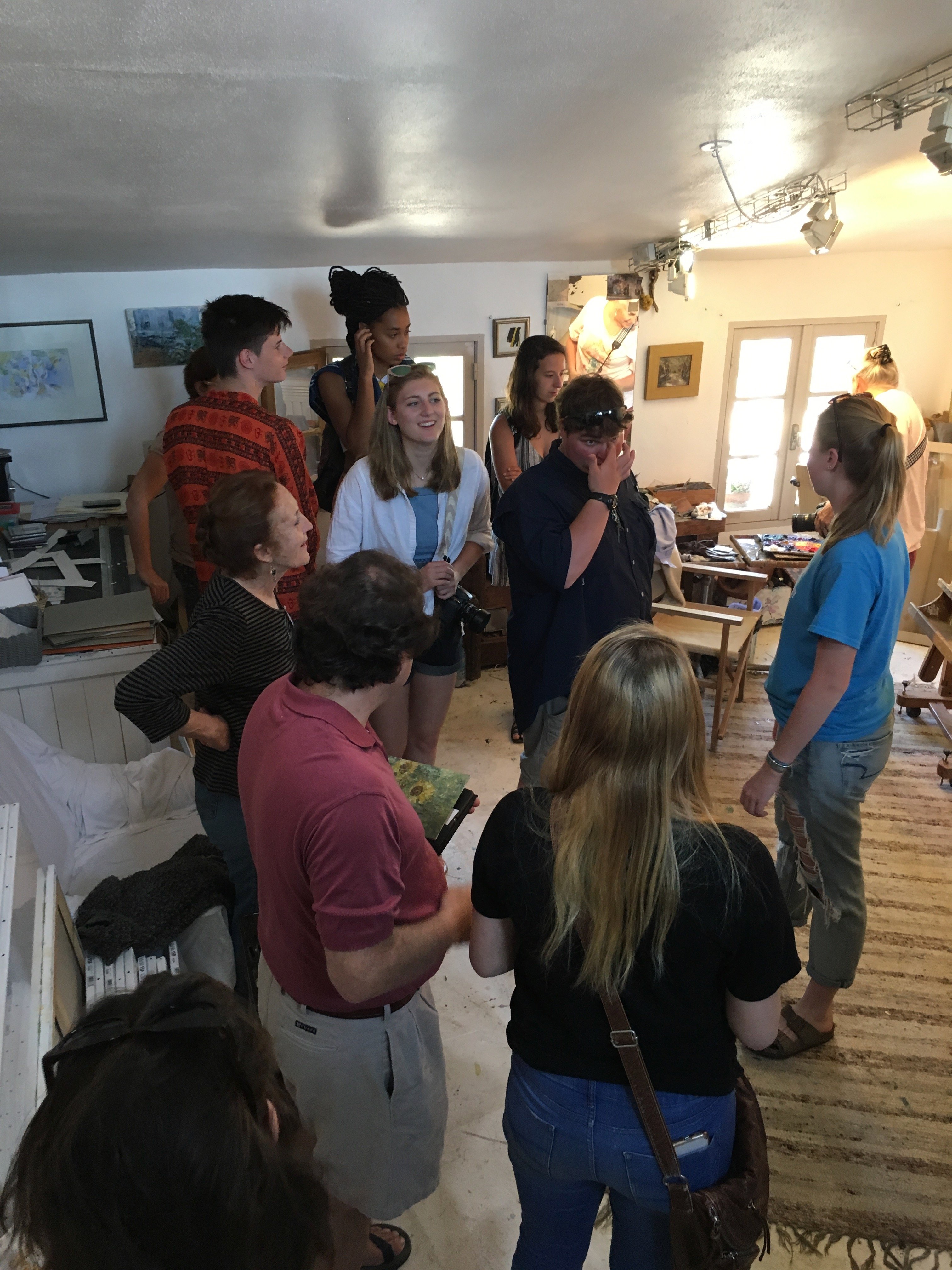 She's an amazing abstract painter, whose studio and gallery are filled to the brim with oil paintings.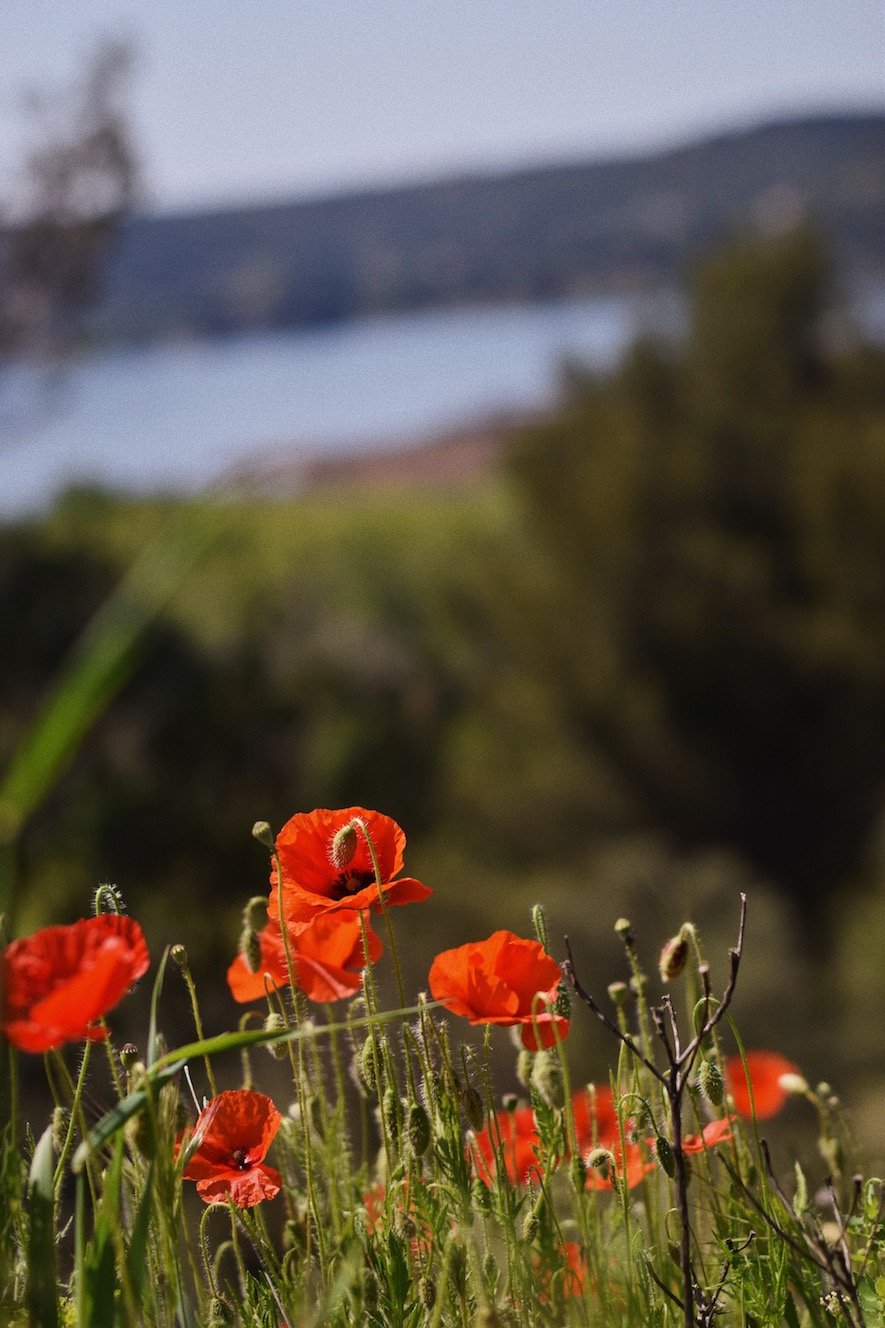 (photo: Sarah Ferdinand)
(photo: Gina Pettengill '83)
We then picnicked and enjoyed fruit tarts (the tartelette framboise is the best), sketched the views, and Dave taught us some WWI history in the town's cemetery. We also all went wine tasting.
The last wine was a special red called the Rocher Rouge, or Red Rock. There is only one hectare of the grapes used to make this wine, so it was a very special experience. Afterwards, the "orphans" were treated to a nice dinner by Jen and Dave, where we tried a lot of new things! For example I tried "Terrine de canard," sort of a duck paté, and Sarah ate rabbit. For dessert, we ate créme bruleé, and hot figs with caramel ice cream.
Overall, it was a beautiful week filled with sunshine (and sunburns), good friends, and new experiences. It was awesome to have parents come visit us in our own little world this side of the Atlantic, and see what the program is all about.
(photo: Sarah Ferdinand)
It's hard to think that we only have two more weeks to spend in Aix-en-Provence, and four total in Europe. The days keep flying by faster and faster, so it's becoming increasingly important to slow down and appreciate the little things as Dave always says.
A bientôt!