As we close our second week on Euro, I can't help but start to get accustomed to life here. Which, in my opinion, is a crazy thought. I've seen the breathtaking view of Mt St Victoire from my window every morning when I wake up, and I've now begun to expect it.
Not to say that it's any less impressive as it was the first time. However, there are definitely some views that will never be normal. To give an example, the chateau where Pablo Picasso is buried is within running distance of our house and it legitimately looks like a scene out of some fairytale.
My favorite place in Aix is called Passage Agard. It's a tunnel that begins on the main street called Cours Mirabeau and opens in the Place du Palais de Justice next to a government building that recently went under construction to expand, but instead found old Roman ruins and are now doing an archaeological dig in the middle of town.
I now have a map of our little town of Aix in my head. The first week, I strove to get myself lost because I wanted to find my way back. Honestly, that's one of my favorite parts of travelling. In a new town, every street you find you haven't walked down before. Aix has plenty of streets, and I have begun to familiarize myself with them.
Earlier this week on Tuesday, we went to Paul Cézanne's studio and afterwards painted en plein air at a spot where Cézanne painted Mt St Victoire over 70 times.
On Thursday, we went wine tasting at Le Chateau de Beaupré. Dave has been taking students there for 13 years. It's his favorite out of all the vineyards we will go to this term, and I know that the wine we tasted there will be hard to surpass.
Yesterday we went to the Aix Market. Every Saturday, our town's streets transform into an impressive market that sells fresh fruit and vegetables, clothing, cheese, bread, and plenty of hot food. Dani, Paloma and I munched on some fresh poulet (chicken), some honey bread, cucumbers, oranges, and pears we had bought at the market and walked to a park nearby.
We depart for Paris tomorrow. I never know what to expect when going to a big city for the first time. We have been studying the artists that we will see in the many museums there and it will be the first time I will have ever seen actual paintings from artists that I grew up dreaming about.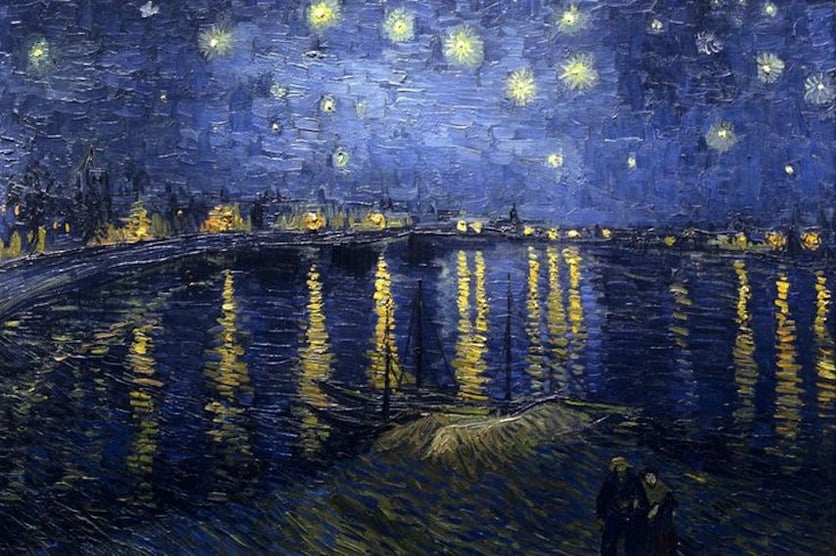 (Starry Night over the Rhone, Vincent van Gogh)
You can feel the excited energy of our group as we head into this week. We have been asking questions non stop and are all packed and ready. Tomorrow's the day!
- Sophie '18