It can be hard to believe that living in France studying art can count as school, and after completing the program it is even harder to imagine. That is not to say that living over here is smooth sailing 24/7. I am living and breathing art, creating art and seeing art from both my peers and the Dutch Masters. I love developing skills, working to become better at something and in this case art. So if you are taking this program seriously it isn't always easy, but it can be a lot of fun.
My other half: Egon Schiele.
Vienna, Austria was possibly the most relaxing week of the term.; all of our school work was due before we left, the hotel was the best one we stayed in, there was no pressure to complete anything. At the same time, I made and saw just as much art as if I had I been doing it for school.
Standing in front of a Caravaggio
Seeing a real Raphael.
Gustave Klimt.
Looking at Proctor people.
Vienna itself was exquisite. Just across the street from our hotel was a children's park, with knee high fences, trams went everywhere, a massive pedestrian zone with all kinds of shops and entertainment centers allowed for strolling amongst the old city. There were some smokers, but unlike France, the city did not smell like a 1920s lounge room.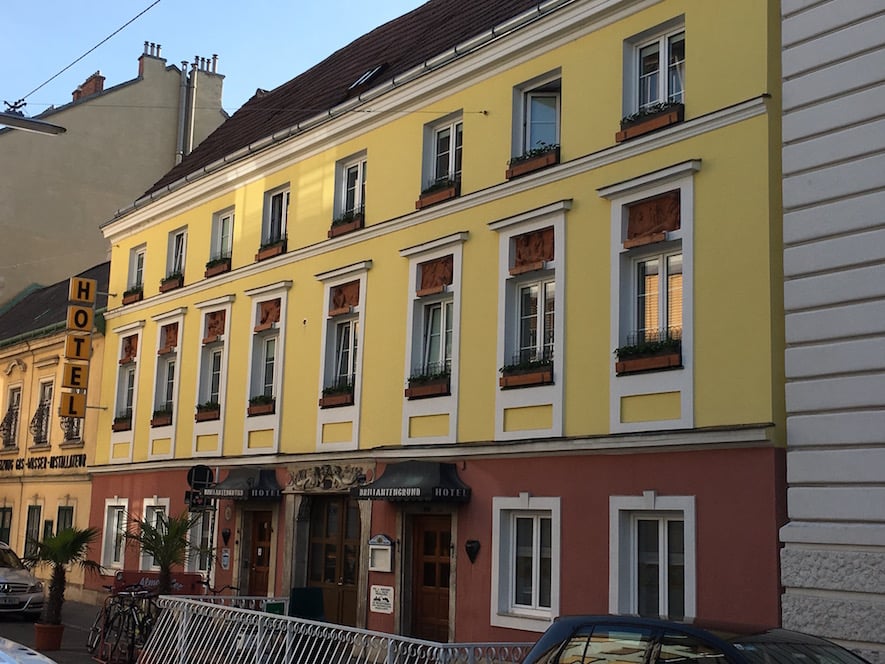 Our Hotel.
The breakfast courtyard.
I am very happy with the progress I have made here, and my appreciation for the opportunities this program has offered me will only grow with the passage of time. The ending of this term comes at an exciting time of change in all of the lives within this group.
As I am writing this we have eight days until we graduate and move on to the next stages of our lives and for many of us that means college. I am not sure what the others plan to do with their lives, what they choose to pursue, but I plan on continuing and expanding my study of the arts.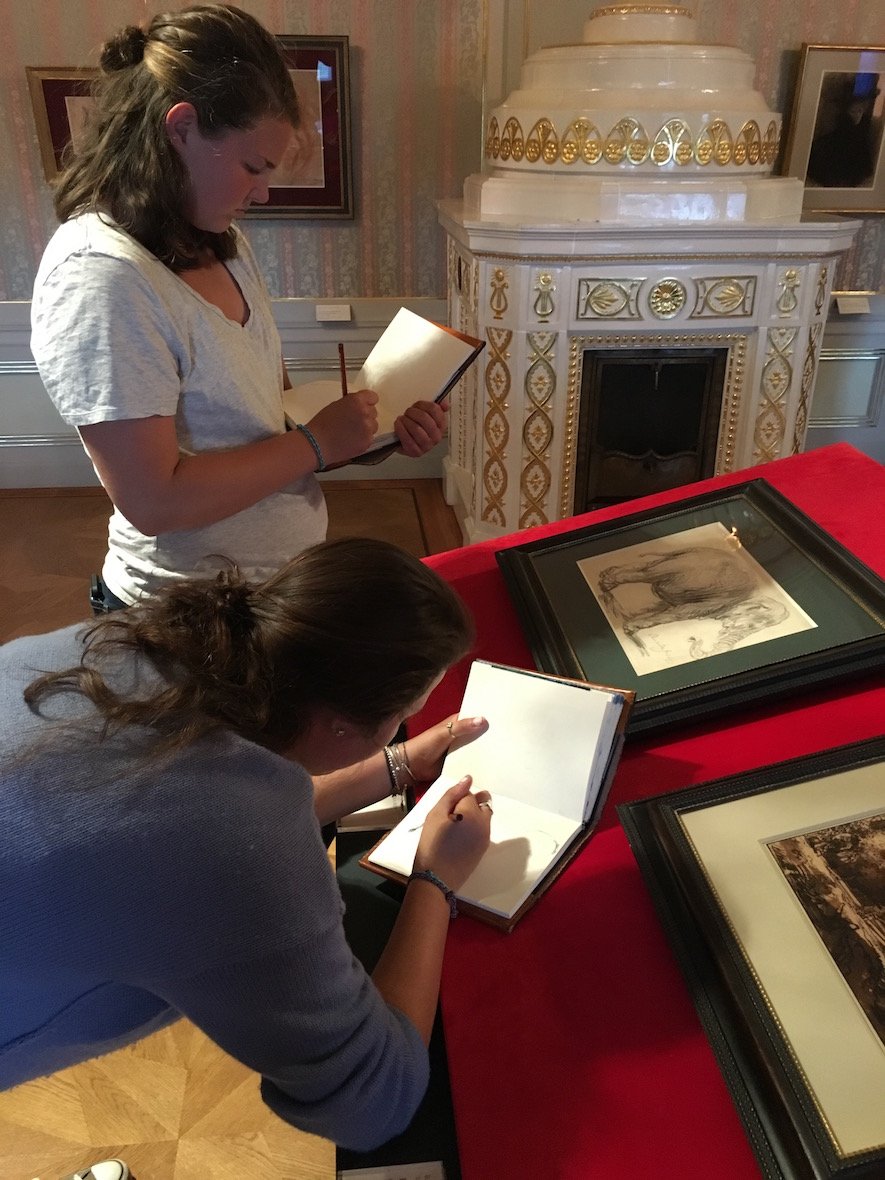 Finding our Aix friend Paul Cézanne.
Taking in the ballet: Swan Lake (image from the web)
It is hard not to write about my future, for the future has been the subject most present in my mind for these past weeks. My ultimate goal is still uncertain, but I have a few ideas, and from where I stand now, on the precipice of the transition from old child to young adult, it is hard to imagine myself not enjoying the path to that goal.
-Fisher '17
Below are the students' final thoughts:
Sydney '17:
This year I have struggled with the idea of being a senior. More so, I have struggled with the reality that on May 27th my four years at Proctor will come to an end. That said, I could not think of a better way to conclude my Proctor experience than spending the last two months abroad on European Art Classroom. I have at times been far beyond where I feel comfortable and as a result, I will leave France with incredible memories, valuable relationships and a better understanding of who I am. Jen and Dave have challenged me to be present and open minded which has only made my experience here richer. I am so thankful to them as well as all the faculty and students that have made Proctor an extension of my home. I am also incredibly grateful to all the people who have supported my journey at Proctor. I am especially thankful for my parents always finding a way to make it work and providing me with insurmountable amounts of love and support.


Annika '17:
Looking back on this term, its almost dizzying to see how far I've come since first arriving here in Aix. I've grown in so many ways that are somehow subtle but also make a world of difference to myself, and hopefully to others. I'm incredibly grateful to my family- in particular, my mother- without whom I would never have made it this far or become the person I am today. The support of my family, teachers, and friends has taken me from being a shy freshman to a college-bound senior on the verge of graduating, ready to take the next step in life. Thank you Jen and Dave for putting your heart into this program, and thank you to those who I have spent the last two months, nearly every waking moment, with. I'll be happy to be home, but I'll always look back on the times we had together. Much love and all of my best,

Katie '17:
This term on European Art Classroom has been electrifying. I have seen, tasted, heard and even smelled the most beautiful things on earth and for this I am extremely grateful. A huge thank you is in order for my parents for Proctor and for my two amazing terms abroad. Equally, I need to thank Jen and Dave; the program could not exist without them and their loving way of being. Euro is one of a kind, a beast that has evolved from years of tinkering and continues to shift for the better thanks to Jen and Dave's efforts. Euro challenged me far far more than I ever could have anticipated and illuminated personal strengths and weaknesses. Jen and Dave were an integral part of this process. I can not imagine a better way to end my time as a Proctor student than in this place with this group of people. On that note, I would finally like to thank everyone who has shared this term with me. You have made me laugh until I can't breathe, commiserated with me about the crowds in Paris in the spring, and shared the weight of groceries being dragged uphill. I cannot help but count myself as a truly fortunate individual, abeit one wondering where all the time has gone. Indeed, I could have sworn I stepped into Aix for the first time yesterday, but now we are headed home to family and friends, and graduation. How bizarre.
Emily '17:
Spending the Spring Term on European Art Classroom was an incredible way to end my four years at Proctor Academy. I have truly learned a lot about myself as an individual and as a member of a group. I started as a shy, introverted Freshman afraid of going out into the woods on Wilderness Orientation to an independent young woman who successfully navigated three major cities within Europe. When I first applied to Proctor, my dream was to be accepted into EAC, I can proudly say that I just lived that reality. As I stated in my blog earlier in the term, this experience is a privilege, one that had to be earned. It was teachers like Corby and Fiona who pushed me and stretched my limits. Mel Maness, my advisor, was my rock. She pushed me to work hard and kept me on track so that I could reach my goals. Then there's Dave and Jen. Dave has so much passion for art. He pushes you beyond your comfort zone. Jen is funny and an amazing teacher who truly wants you to learn not just for the sake of learning. Together, they made this experience challenging, fun, exciting and unforgettable! It will be a very long time before I don't see the lights of the Eiffel Tower sparkle, the Mona Lisa looking back at me, the ballerina's twirling around on stage during Swan Lake or the Mediterranean splashing at my feet as I close my eyes each night. I will take this and all of my experiences at Proctor with me for a lifetime. Thank you Proctor for challenging me, encouraging me to grow and to help me figure out who I am as an individual. And thank you to everyone who has helped me along the way! Thanks Mom and Dad!
Signing off for the last time as a Proctor student.
JoJo '17:
As my time on European Art Classroom, and as a Proctor student, comes to an end, I've had a lot of time to reflect on not only the past two months here, but the past four years as a whole. I've grown as a student, peer, friend, and recently an artist, and I can't even begin to describe how grateful I am to have finished my high school career in France doing something that I love. My thanks start with my family, especially my mom and my dad, and branch out to all the teachers, coaches, friends, and dorm parents who have helped shape me into the person that I am today. I've loved every minute of this program and can't imagine doing it without Jen and Dave so thank you to you two for your love and passion for art and teaching, you have truly made Aix a second home for me.
Mikaylee '17:
I have had such an amazing experience living in France for the past two months, and I have created so many lasting memories and friendships while being abroad. I want to thank my parents for giving me the gift of sending me to Proctor, and letting me travel abroad. Being at Proctor for the past four years has helped me grow as an individual and has challenged me in many ways. I would like to thank the people whom I have connected with over the past four years and have truly made an impact on my life. I would also like to thank Jen and Dave for their wisdom and passion. I can now call myself an art student, thanks to them.

Kali '17:
I can't believe this term of European Art Classroom is over along with high school and my time at Proctor. It has been one of those experience where I've made a ton of new friends and new memories that will last me a lifetime. I have also found a new love for art and appreciation for creating it and seeing the work put into it. But, I wouldn't be where I am if it wasn't for my parents and family who pushed me to go to Proctor and inevitably abroad. Also all the faculty at Proctor who've helped me learn and grow while at Proctor, along with encouragement, help, patience, guidance, and teaching. My overall take away from this program and Proctor as a whole is be true to yourself, don't be afraid to go outside your comfort zone, and never give up.

We'll be dreaming of you all. We wish you the best of luck next year and always strive to be in the moment. Remember what Pissarro said:
Blessed are they who see beautiful things in humble places where other people see nothing.