As European Art Classroom approaches the final two weeks of its term abroad, the group spent time in Vienna, Austria. The photos and video below speak for themselves, but a week of entries in Anna's '18 journal transports us into life on European Art Classroom unlike any blog post we've read before. Enjoy!
(photo: Sarah Ferdinand)
Anna '18:
Day 1:

The sound of church bells rang against the walls to wake the three that were living in the room. Sarah smacked her phone to turn off the 3:15am alarm. Capital yikes. The beginning to a long but exciting day had begun. We packed into the van, drove to the airport while counting chorus patterns in the song "I Won't Hurt You" by the The West Coast Pop Art Experimental Band. We finally made it to the airport, and of course the old soul inside me grappled with technology regarding my ticket. After all of the airport struggles, we energized ourselves with coffee and croissants. Then we said goodbyes to half our family who had to take separate flights (by one hour). My group, which consisted of Peppy, Rhyanne, Emilia, Dave, and I, were all able to sit in the same row. This was a treat because usually we are sprinkled around the cabin.
(photo: Sarah Ferdinand)
Right before departure, Peppy pulled out a little doohickey that allowed three of us to listen to the same music at the same time. I considered that a highlight of the morning. You will never guess what we listened to. We safely landed, and during our layover the 4 of us shared stories after we purchased pretzels and cappuccinos in Frankfurt. Emilia spontaneously slept. Finally, we made it to Vienna and our family was reunited. We used many forms of transportation to get to our hotel. These forms came in as the tram, the subway, a fancy train, and our own legs. The Hotel is quirky-yet-amazing place to live. Each room is different than another. We unpacked and then headed to find our museum destination.
We stopped for a snack, which was healthy frozen yogurt and fruit. Then we went to the Leopold museum to gawk at the Klimts and the Shieles. After the museum, we adventured to find an authentic Vienna dinner. In our path to dinner our group encountered a day rave in the middle of a garden. We took a short 5 minute dance break and bopped to the EDM/Techno music. Dinner was fantastic. I, as well as most of the group, tried schnitzel for the first time. It was amazing. Also, if you did not guess already what Peppy played on the airplane, it was I Wont Hurt You. Obviously.

Day 2:

Our first morning in Vienna. We had slept so well. Once our heads hit the pillow we had crashed. After a very delicious breakfast accompanied by some hot coffee, we all gathered our stuff and walked to the tram. We took the tram to a structure called the Secession building.
Outside this building Toby gave his presentation on what he researched. Inside this building was the famous Beethoven Frieze by Gustav Klimt. The art itself was simple, yet detailed all at the same time.
(photo: Anna Krawjewski)
After that we walked to St. Stephen's Cathedral. It was located smack dab in the middle of a commercial pedestrian district. The detail and color both inside and outside was magnificent. After Peppy gave her presentation on the cathedral, we all broke off on our own for lunch. We found a place with good schnitzel and a sassy waiter.
After lunch we assembled our troops and marched to the Albertina Museum.
Sarah and I spent too much time in one exhibit, so in the last 5 minutes before the museum closed, we were doing stair sprints to sneak a peak at every piece of art.
We were all very tired after the Albertina so we went to a cute cafe to regenerate. I had an iced coffee and it was delicious. At the cafe we all tackled our carnets (sketchbooks).
(photo: Sarah Ferdinand)
(photo: Sarah Ferdinand)
After we regained some energy we went to the Heldenplatz Palace where Emilia gave her presentation. A lot of history went down where we sat on the grass. Kinda creepy.
(photo: Sarah Ferdinand)
Peppy and I decided to have a date night so we ate at this place that Sarah's friend (who is studying abroad in Vienna… shout out to Oliver) recommended. We adventured on all the side streets to really soak in the culture. We purchased some goodies and pieces of chocolate cake.
After our free time Dave was determined to find street dancers. We were successful. After the hunt for dancers we took the tram back to the hotel and instantly fell asleep.
(photo: Anna Krajewski)
Day 3:
After our normal morning routine, the group walked through the "main street" of our suburban Vienna village. Store owners were setting up their shops and opening their doors. Graffiti decorated every open space on the buildings. We took a couple trams to the Belvedere Museum.
The Belvedere is two huge palaces that are connected by one huge garden. My first impression of the gardens was of a video game called Mariocart (The track is called peach gardens). Inside the upper and lower Belvederes are art exhibits. We saw so many different types of paintings from so many eras.
Gustav Klimt: The Kiss
Gustav Klimt: Judith
After we finished touring the upper Belvedere we broke off to find lunch. About five of us went across the road to this cute Greek place. I had a delicious iced coffee that also had ice cream in it. Also, one of the waiters mistook a couple of my friends and I as German. Thats a win. After lunch we walked down through the gardens to the lower Belvedere. After an hour or so we got a quick ice cream break and took the tram back to the hotel.
A group of us went to this place called The Cosmopolitan. We sat outside because it was nice out, but then it began to thunder and lightening. That was a cool experience. Just as we began to make our way home the rain came pouring down. We all had to sprint the whole way back to the hotel, taking a couple of breaks under awnings.
(photo: Sarah Ferdinand)
Day 4:

We started off today with taking the subway to the king of all art stores: Bosner. We all wandered aimlessly through all the aisles. Members of the group stayed in the building for a range of times. Five of us, including Jen and Dave, stayed in the store for at least 2 hours. After our purchases we took the subway to the park where we bought street sausages and relaxed. Peppy met a man from Ohio and decided to draw him.
(photo: Sarah Ferdinand)
(photo: Sarah Ferdinand)
(photo: Sarah Ferdinand)
After the park, we went to the Butterfly museum. It was like a hot, humid wonderland. A HUGE butterfly landed on my leg.
(photo: Sarah Ferdinand)
(photo: Sarah Ferdinand)
After that we walked the tram line, window shopping as we went, and got to our final destination at the hotel. There we got all dressed up for the ballet.
We toured the magnificent Opera house where Rhyanne gave her presentation. We also learned about French horn lamps. The ballet, which featured an ensemble of Russian dancers, was amazing.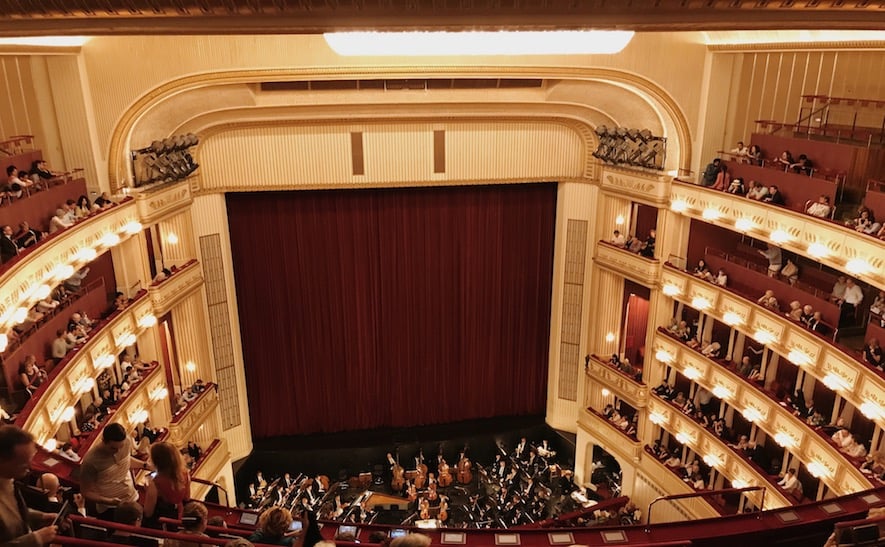 The last segment of the performance was very comedic, the pianist chased the dancers with a butterfly net. After the ballet was done, we all filed out of the opera house and dodged a couple motorcycles to get to our humble hotel.
Gustav Klimt: Ceiling painting, Kunsthistorisches museum
Day 5:
Today was a sad day. In the morning we packed up our suitcases and cleaned our rooms. We shoved our luggage into a closet and headed to a gigantic art museum called the Kunsthistorisches.
(Emilia and Rhyanne met a professional painting restorer)
We saw so many famous paintings created by so many artists like Caravaggio, Ribera, Rembrandt, Vermeer, Rubins and Bruegal. Here Sarah presented her artist, Diego Velázquez and I gave mine on Anthony van Dyke. Walls were covered floor to ceiling with paintings. After that museum everyone broke off for lunch.
We met back at the hotel, grabbed our stuff from the closet, and made our way to the airport. We ran into some problems along the way like our first flight being delayed because of technical problems. So when we finally ascended into the air we had a five minute window to get to our next flight. Once our flight landed everyone in the cabin unbuckled and began to remove their luggage from the overhead compartments. Once we touched the outside of a plane and onto the ramp it was an immediate sprint to the next gate. By the end it had to total a couple of blocks. But we made it on to our next flight and got back to Marseille on time. Dave has good Karma.
P.S. Say this but loud: "Der Mann Schwimmt". It's funny.
Thanks for tuning in.