Flying over the South of France only 9 days ago was the first glimpse I got of the mountains and the surrounding water of the Mediterranean Sea. Was I really here? When I was offered the spot on this wonderful program only a little over a month ago I had many things running through my mind. Excitement. Disbelief. Fear. Could I make this possible? Could I go?
It was the program I wanted to go on since applying to Proctor. Once I realized that, yes, unbelievably, I was going to go to Europe for my next term of school, other emotions and thoughts also ran through my head. I thought about what it would be like to be homesick, how exciting it would be to live in a French speaking country, and the amazing food I was going to get to experience.
But during the month and a half leading up to the trip there were a few things that I now realize never crossed my mind. I never wondered how I would feel being in the city without my parents to look out for me, I only thought about how I would miss them; I never thought about what nature in the south of France would be like, I only pictured what the city and house would be like.
I am already realizing how much more there is to this program than I had anticipated. When I pictured the city I could never have imagined the beautiful alleyways with their hanging lampposts and curling iron troubadour grates covering each window.
I never imagined the picturesque Cypress trees decorating the city and each terracotta-roofed house. I didn't realize how beautiful the house we live in would be, sitting up in the trees on a hill at the foot of our mountain "La Tête du Marquis."
I knew there would be vineyards, but I didn't know that we would sit in one for two hours eating a picnic lunch and sketching our surroundings on a perfectly clear Tuesday afternoon. I pictured the beautiful clear weather like that Tuesday afternoon, but I never thought about the dark grey weather we have also had, reminding us that it is still winter.
I have very quickly realized that the eight of us on this voyage have been given an amazing opportunity to experience life without the stress of having B block next, or having to run off to practice as soon as class is over.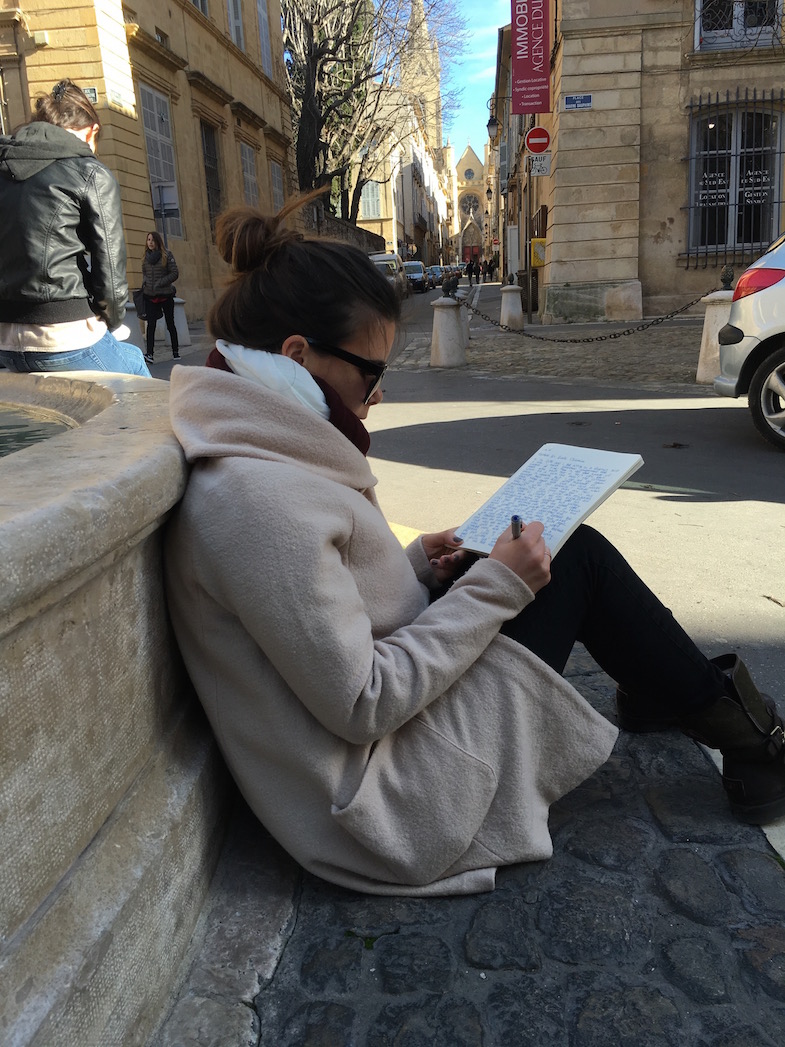 We have time to learn how to play the guitar and time to create art. Life is rushed, and unfortunately so many of us get sucked into that rush. I'm often "this" victim. Here we have been given the chance to take a step back and to learn in new ways and experience life at a different pace.
I have already been taught things that I could never have learned at school: things that only the city can teach me.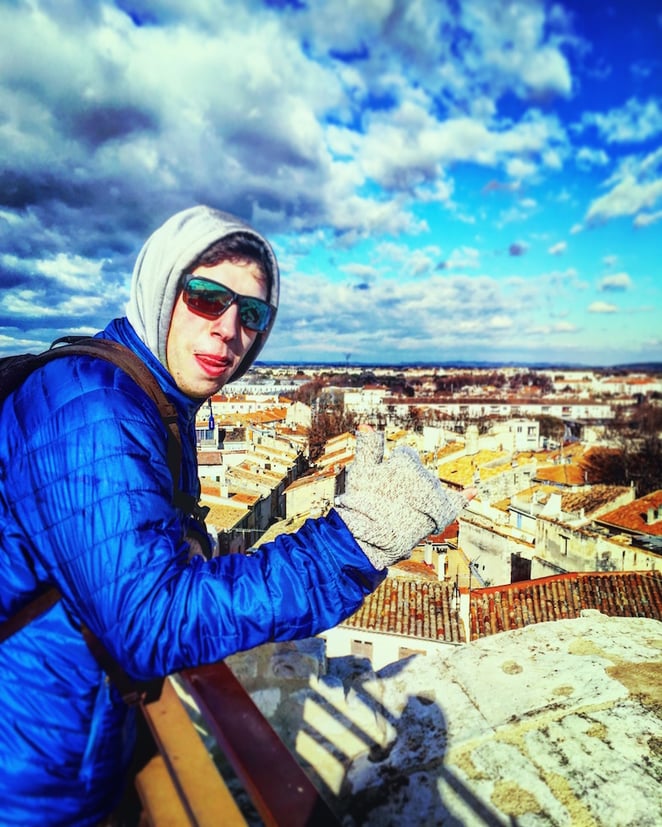 I have learned to walk away from someone if I have a bad feeling, because not everyone in the city is there to help you. Some people will try to take advantage of the obviously American teenagers wandering the city. The few encounters like this I have had have been very eye opening for me since I have never had to deal with anything like it on my own.
Despite this theme in life, there are also people in the city whose sole purpose is to help you. Since the tragedy in Paris, military police patrol the city. Seeing them walk around the city in groups of three or four has been another eye opening experience for me. It is one thing to see the effects of terrorism on the news, and it is another to see it in person.
There is so much more to life than grades, stress, and constant schedules. The next eight weeks will not be perfect, but neither is the real world. I can already put so much in a better perspective after only nine days of living in the south of France. I will be forever grateful to be a part of this adventure.
-Alaina