This week was an adventure as we traveled to London and Brighton, on the coast, south of London. London was exciting and new for me and I fell in love with the city.
It wasn't just because they spoke English, but it was nice for a change to understand what was going on around me. With that, some adjustments needed to be made as members of our group kept on forgetting everyone around us could understand what we were saying.
This field trip was nothing like Normandy with catastrophes after catastrophes happening. The closest we came was Courtney being sick in Victoria train station and the rest of the day as we traveled to Brighton. But even that can't really compete with Izzy in the hospital. This trip went relatively smoothly in comparison.
Photo: Isabelle Miriani
Photo: Isabelle Miriani
What made this trip so special was being able to see so many paintings from the artists we studied and presented while in Aix over the past two weeks. Knowing the history of the artist and the story behind the art made the experience so much more memorable. As Dave stresses, academics are in fact a part of European Art Classroom - which I did not completely comprehend before I embarked on this journey. Going along with Proctor's whole "experiential learning" we had three different presentations on artists throughout the term and had to research them and give a ten minute presentation for Art History class.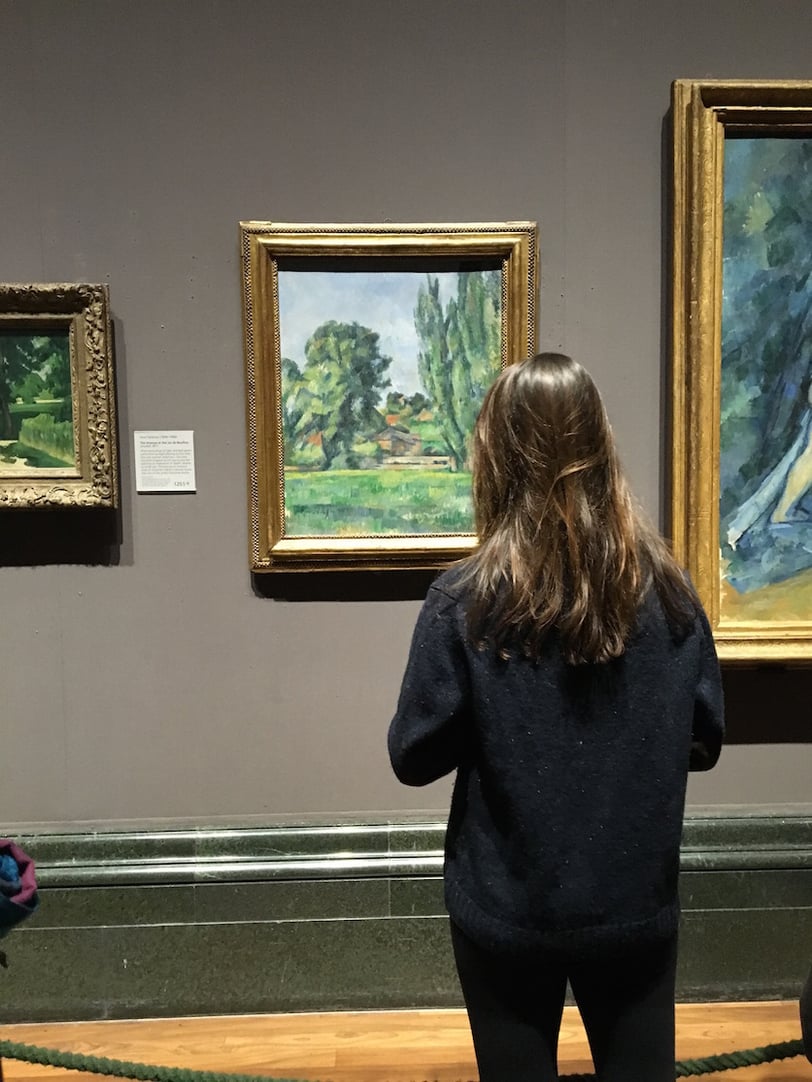 Photo: Isabelle Miriani. Katie checking out Paul Cézanne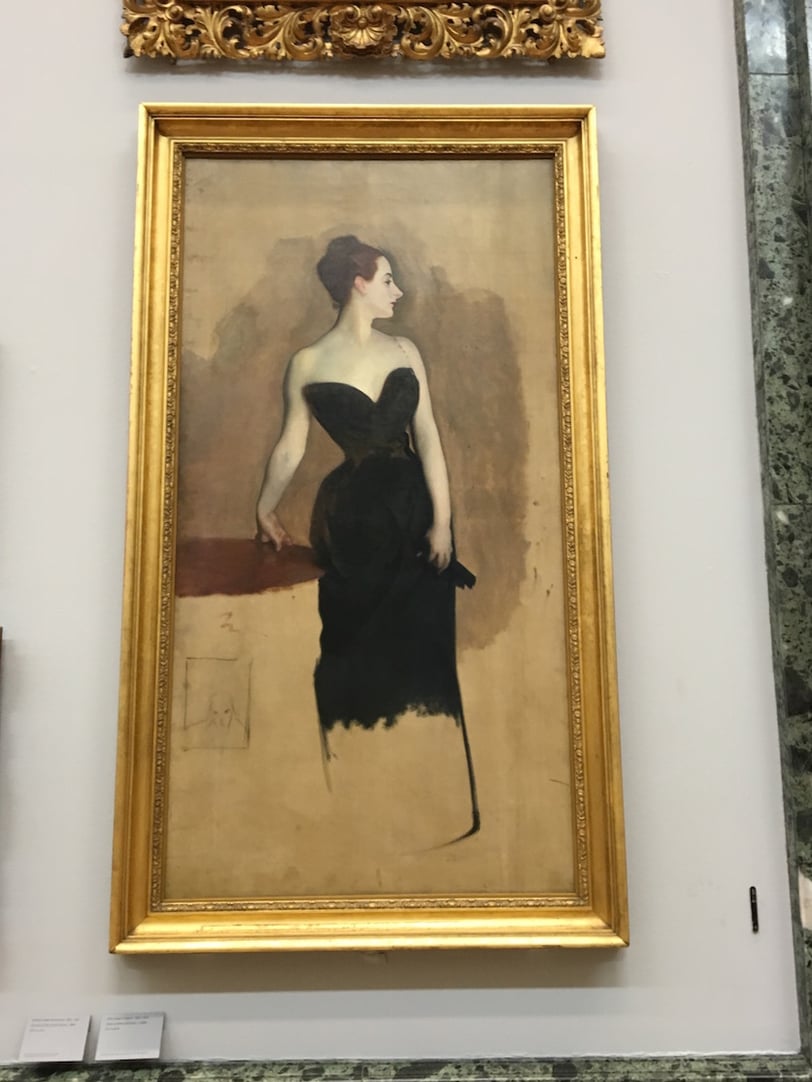 Photo: Isabelle Miriani. The famous "Madam X"
Part of what makes European Art Classroom so unique besides spending a whole term in France is actually being able to learn about famous artists and paintings and then see them in person. Not many schools give students this opportunity. So continuing on with what I really want to say (and can say) about our second "field trip"…..
Photo: Isabelle Miriani
Monday was our dedicated travel day, and with Jen having flown ahead to London for a jewelry arts workshop, it was just the 8 students and Dave flying together. Travel took up the majority of our day with trains, planes, and walking. We arrived just in time for a little exploring before dinner. We got to see Jen again after a weekend away from her and this was probably the most exciting thing we did all day. Finding a restaurant was a little difficult, all the traditional pubs were too small to accommodate a party of our size.
Tuesday was our first real day in London, and we visited the National Gallery and took a speed tour with Dave to cover the important paintings before wandering on our own. We were set free for lunch and ended up eating a less than enjoyable meal with Alaina finding a hair in her food. Sophie, Katie, Izzy, and I almost got in a fight with a bunch of 14 year old boys on hover-boards. I couldn't stop crying I was laughing so hard.
Wednesday was another art museum, the Tate Britain, where we got to see some of the most famous works from the artists we presented.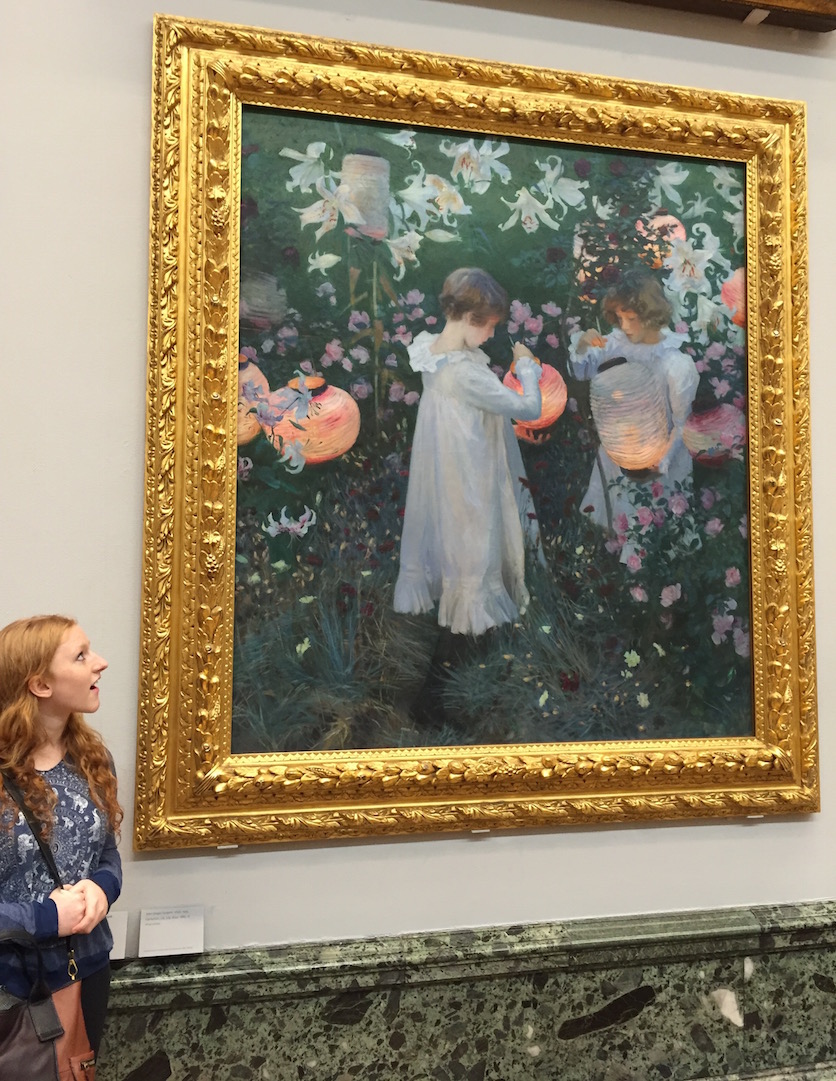 I got to see Carnation, Lily, Lily, Rose by John Singer Sargent the painter I had presented. It was one of the most beautiful paintings I have ever seen and I felt so fortunate to be there in person.
Courtney talking about The Rokeby Venus painted by Diego Velázquez
Sophie talking to us about William Blake
Burke and John Constable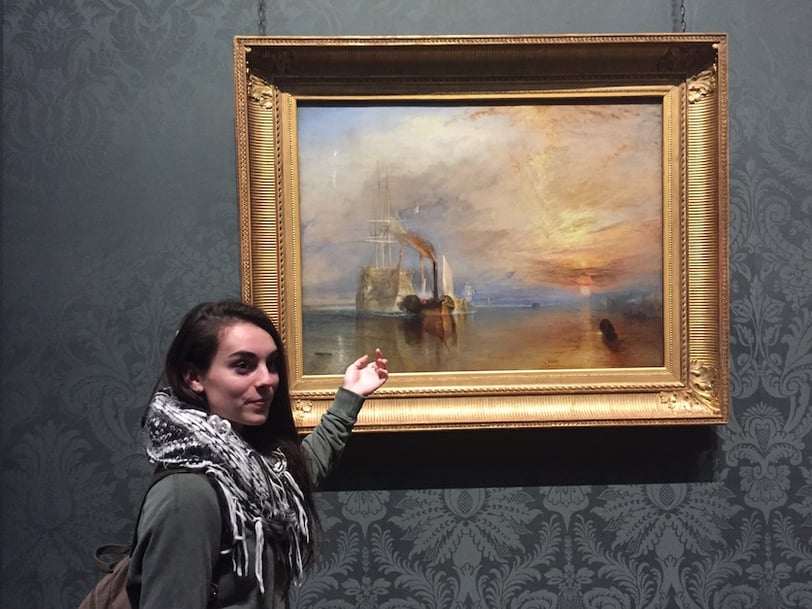 Alaina and J.M.W.Turner with his "The Fighting Temeraire"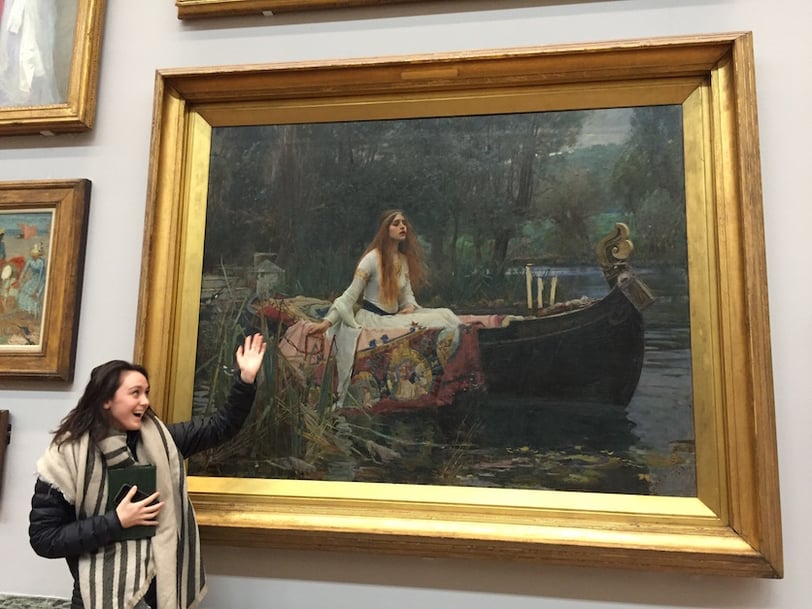 Isabelle presented "The Lady of Shalott" by the English Pre-Raphaelite painter John William Waterhouse, 1888
Photo: Alaina Robie
Photo: Alaina Robie
We went to Westminster Abbey in the afternoon to sketch and see all the famous dead people that were buried there. We even got to walk over some who were buried under the paths which I thought was pretty special.
We rushed to our reservations at Fortnum and Mason Tea House for a traditional tea party. We all got very excited about the clotted cream which is basically butter and I ended up eating the whole big scoop of it.
Thursday was our last day in London and we went to the Imperial War Museum in the morning and had free time in the afternoon to shop. Sophie, Izzy, Katie, and I met up with Sophie's long-time internet best friend in a restaurant. He turned out to be a real guy and after the afternoon spent on Canaby Street and in Soho, she made it back alive and in time for us to go see a theater production of "Guys and Dolls."
Photo: Alaina Robie
Photo: Nick Sawaya
We were very high up in the "Grand Circle" and I found my self sitting on the floor or in very awkward positions in order to see around the rails that blocked my view.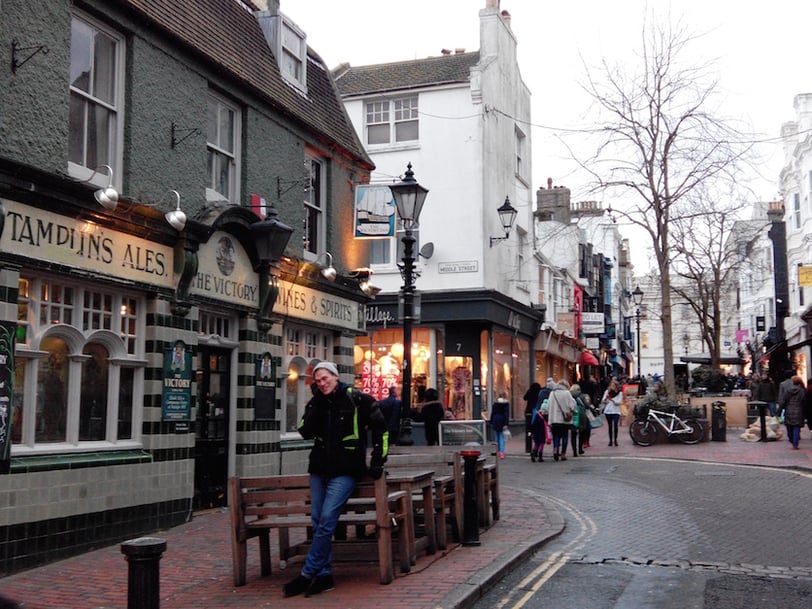 Friday was another travel day as we headed by train to Brighton. Courtney came down with a bug after breakfast and was sick the whole day. Upon arrival, we checked into the Brighton Youth Hostel which is right by the Ocean.
We wandered around town for a while searching for all the town's famous graffiti before heading off to a big seafood dinner.
Photo: Isabelle Miriani
As everyone else was feasting on a massacre of dead sea critters I ate a huge vegetarian lasagna. I did not finish all of it and the Greek owner told me that he was going to have the large chef come out and yell at me for not finishing. That night my little cot kept on breaking and I fell through onto the ground multiple times. I guess it was the universe telling me that I should stop eating so much food.
As we leave Brighton to head back to Aix I have such conflicted feelings about leaving. As this week comes to an end, it is ever more present that our time in Europe is as well. Below are some recent examples from our studios on the road, the infamous Carnet de Voyage:
Izzy
Sophie's
Nick's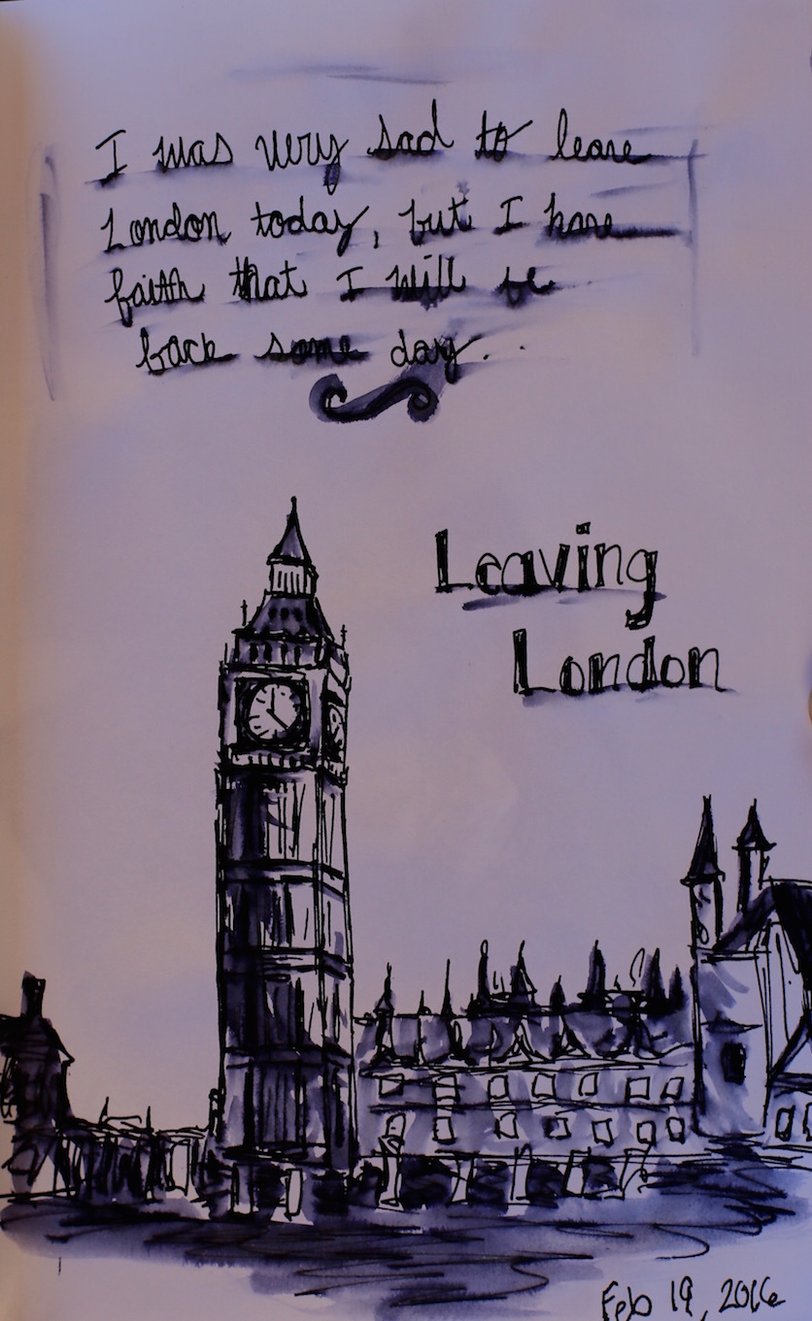 Alaina's
Dave's
Burke's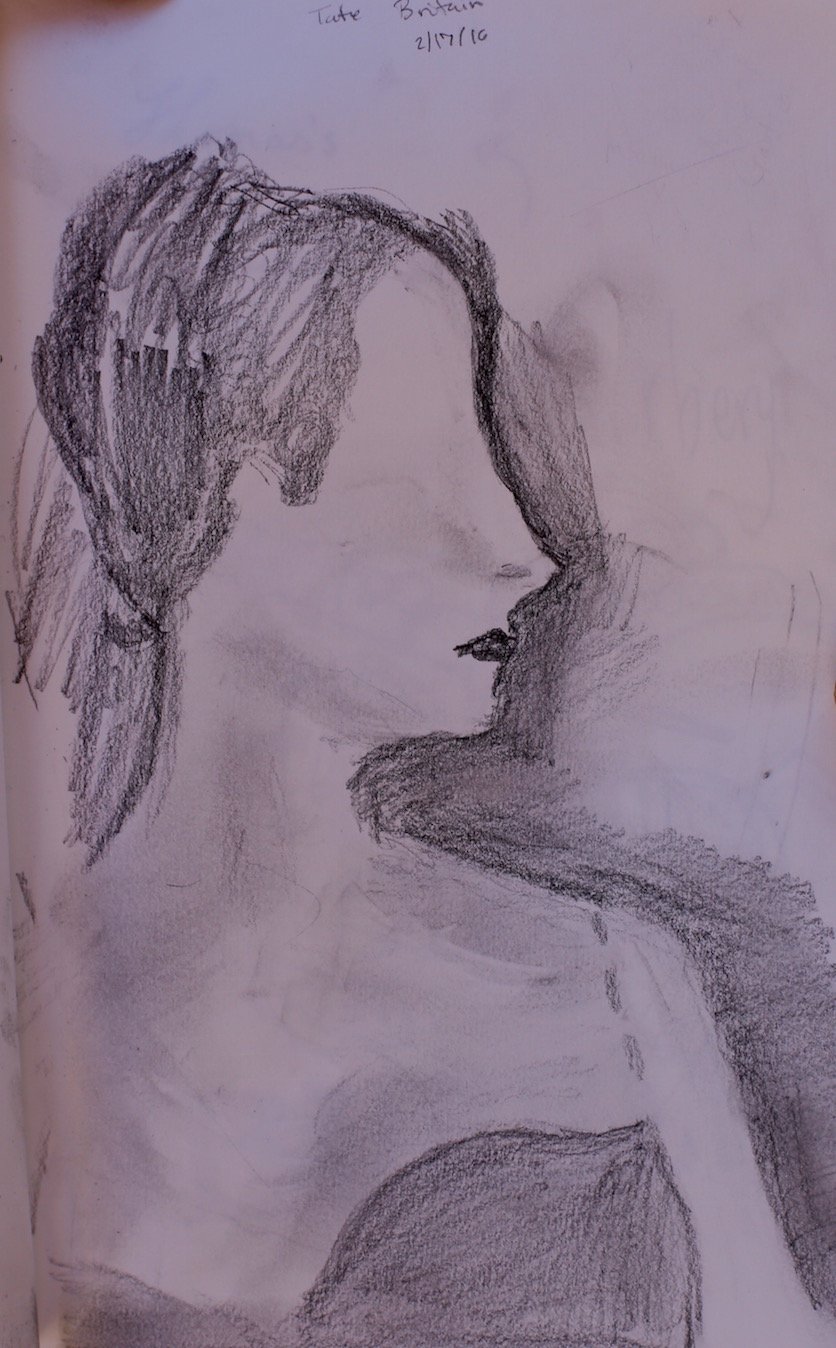 Courtney's
Katie's
Carolyn's
Jen's