"Dwight", the van, whipping through the grand fields of New Mexico. I'm currently losing the "guess who's song is playing" game run by Leo my beloved, our leader this week. Lars and I are amped up on Dunk's coffee which is pretty exciting considering we have seen nothing but Starbucks for two months (every New Englander's nightmare).
Oh the things one sees on Route 66.
One of my favorite stops in Taos was the Fechin House Museum. From the outside, the Pueblo revival style house was stunning.
Here is Lars striking a pose on the spiral staircase.
I couldn't imagine the inside could be even prettier, but boy was I wrong! Wood carvings done by Fechin himself everywhere you look, large windows that allow the Taos sun to shine through, a spiral staircase tucked in the corner which led to a bright bedroom with low ceilings and big arched windows allowing the room to feel warm and welcoming.
Nicolai Fechin's studio.
The wood floors, tiny door frames and antique lamps reminded me that this house was nearly a hundred years old.
Jules and Toby somehow created a mission to leave paper cranes in the houses we rented during our three separate voyages. 333 in Sonoita AZ, 333 in Sedona AZ and 334 in Santa Fe = 1,000 total. Once created, they were inspirational and an awesome display of art.
Meeting with Chris McLarry, owner of McLarry Gallery on Canyon Road, Santa Fe. He was kind enough to take time out of his day to talk to us about the art scene in America and in Santa Fe, the 3rd largest art market in the U.S.
Lars working in her Carnet in McLarry Gallery.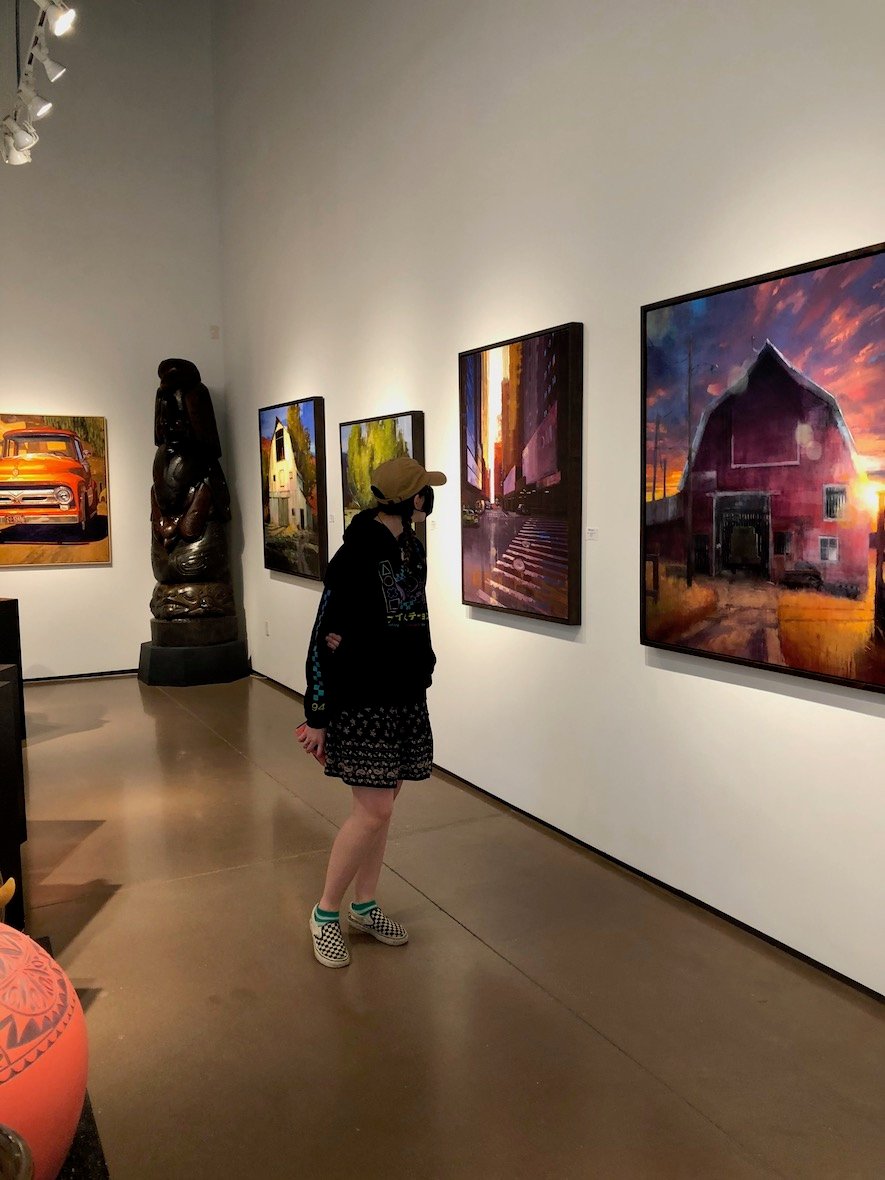 Beth the baddy taking in the artwork at the Blue Rain Gallery in Santa Fe.
Meeting with Bobert at the Nedra Matteucci Galleries.
This place is the oldest Fine Arts Gallery in Santa Fe, therefore representing deceased artists and living artists. It is a walk through time, thus a museum but equally a contemporary house of art. The place itself is a museum, true adobe, we were awarded a tour through the entire space which included guest quarters. President George HW Bush stayed here as did Jackie Kennedy among others.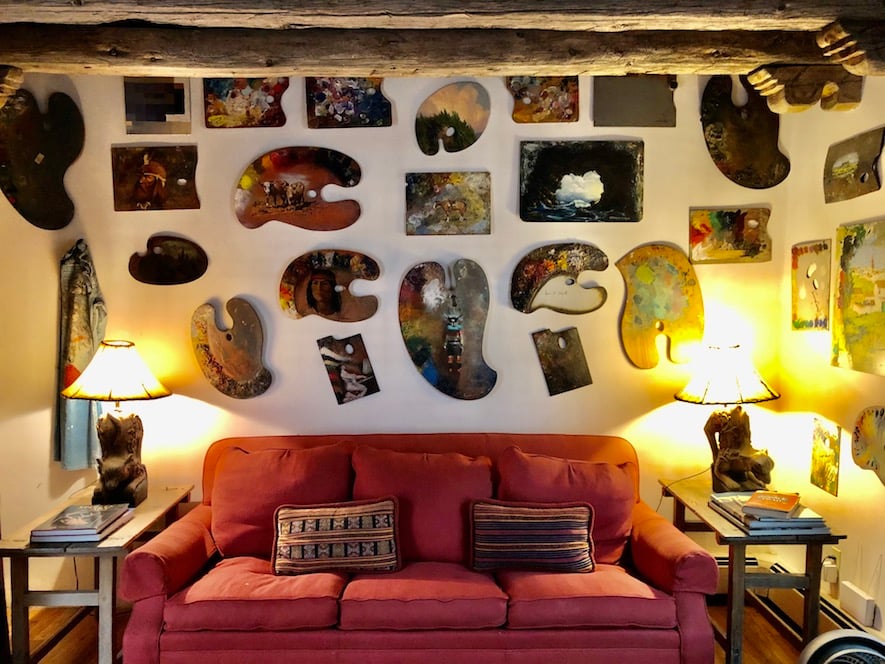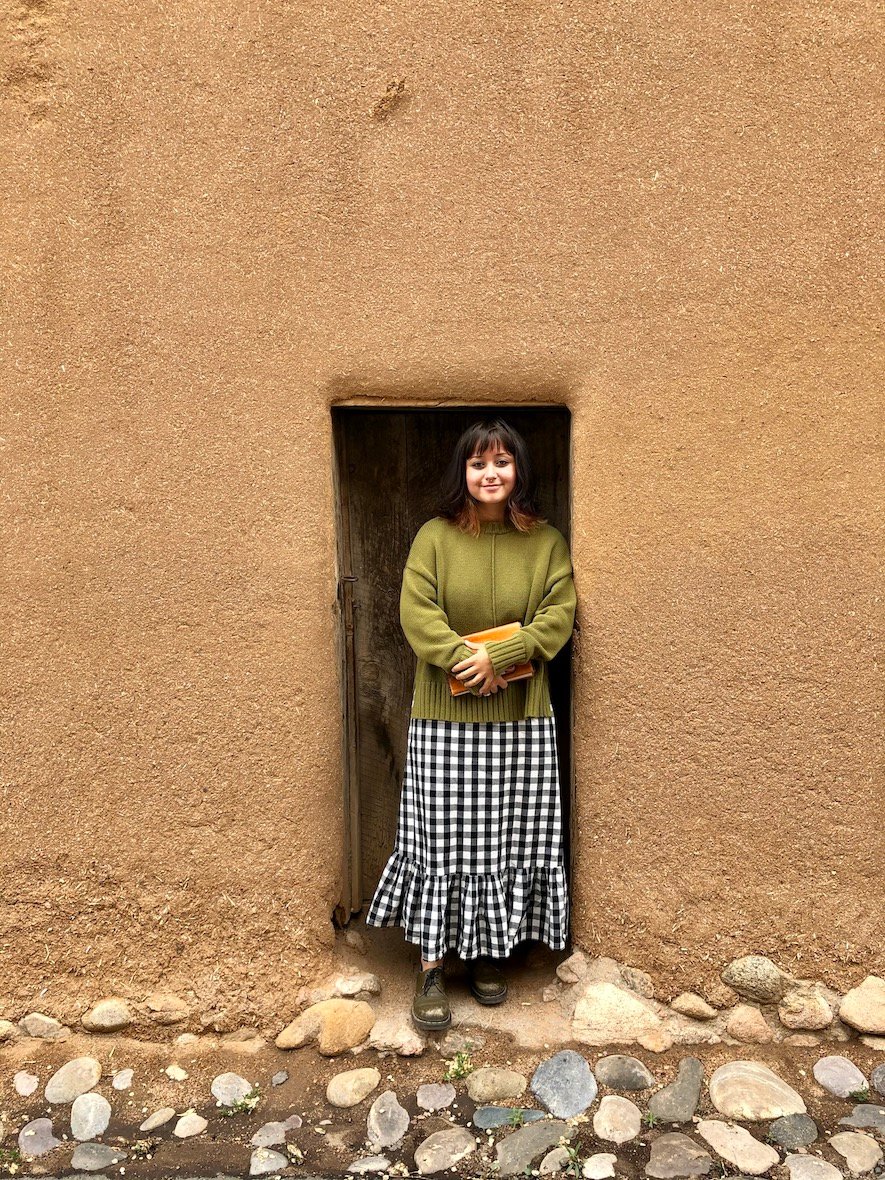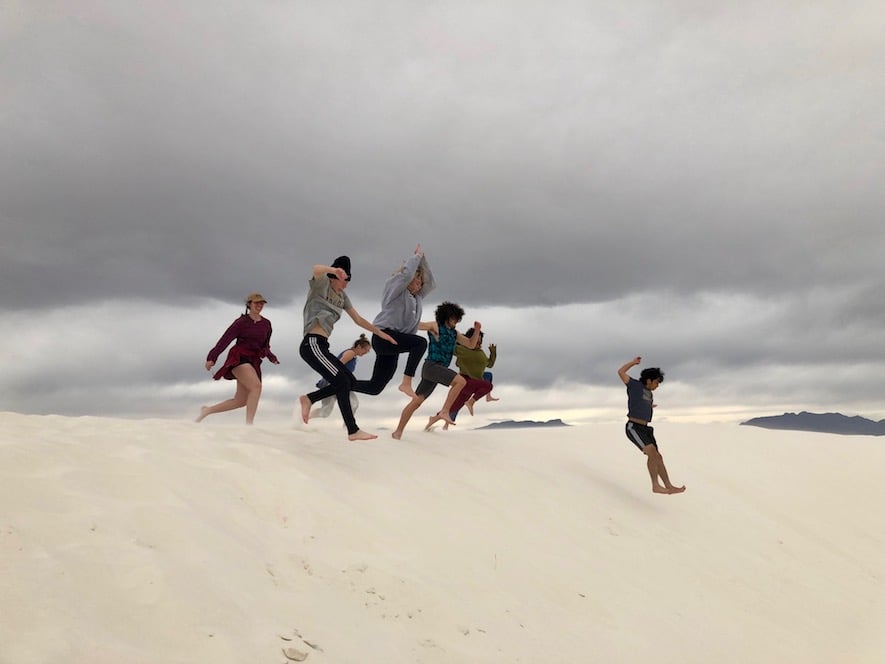 But wait there's more! Just when we thought our trip to Santa Fe was over we saw what looked like snow in the distance. Sand Dunes! I've never been this excited about sand. I could tell right away that Cape Codder Lars was in her element. Most of us used a sled to ride down the dunes and others (Maxx) decided to ditch the sled and send themselves rolling down the banks of sand. Mountain Boy Toby was long gone five minutes after we got there. and we eventually saw him standing on top of a mountain far in the distance. I think he's ready to take on the Appalachian Trail next spring.
I can't believe it's already the last week, it seems like yesterday we just arrived at the airport and Dave forced us to take the most awkward picture next to a cactus. Dave assured us we'll get the hang of it, and we did.
Our last night in Santa Fe we were all sitting in the living room taking in the presence of everyone we came to know so well. I've known everyone from around campus but I never thought I would get this close with these people. Without surprise Toby and Jules reached their goal of making 1,000 paper cranes over the course of three road trips. And here I am in a hotel room chowing down my fifth rice cake of the night, talking to my epic roomie Jules about hairless cats.
Farewell my friends - Maeve '21.
Please enjoy some final thoughts from our group.
sunrise sing my sighing soul to sleep
i haven't laid languid in this much grass since i was six
which is ironic
since i've spent these last months in the irrevocable beratement of desert heat
dave and jen stand picturesque on the white sand
arm in arm like the saguaros in tuscon
maeve always rolls out of bed on the sunny side of the street
and i'll forever admire her joyous demeanor
even on the longest of our days
i have never enjoyed kitchen chores more than with stella by my side
charming blue-green eyes bright even while scrubbing the sink
the moon hangs low again tonight
soft yellow illuminates your profile
we still don't know where any constellations are
but that's not really why we're out here
is it
and as much as i adore the very deliberate words we do speak
i'll miss our unspoken dialogue the most
silence has never felt this lovely
leo i don't think i'll ever look at clementines again with anything but your thundering disposition in mind
and caroline there were nights i remember laughing so hard with you i thought i was going to die in a fit of shrill shrieking
this doesn't really feel like an end
and as much as it most definitely is one
there's no point in being sad about it
and tainting the jubilation of the last months
i'm just happy
fate
or whatever
or whoever
let this happen
(and less poetically and romantically, but just as sincere, i am very much appreciative and thankful of my parents' sacrifices to let me have these experiences, & look forward to sharing stories with you both. thanks jen and dave for manning this whole ordeal through the good, the bad, and the ugly.)
peace, love, & harmony
juliet
I really wanted to write something special or funny or sophisticated, but I realized that I am better off to just write about what I can think of. These past two months are full of great memories and a good conclusion to my Proctor experience. I want to thank Dave and Jen for being a great dad and mom to everyone and introducing me to the world of art. Their stories are always as educational as they are entertaining, and their hard work ensured the program to run smoothly during this special time. I will also miss the Southwest, mostly its landscape, and the culture and art are unquestionably rich and beautiful, the museums, the galleries, and the stores, the embodiments of such beauty. I remember standing in front of some works, Monet or Fechin, for half an hour, retracing in my mind their brushstrokes as best as I could. And before, I never realized my true love lies in Clementines, and this trip has truly been a self-search. Now before I tear up, I should stop. I am and always will be very grateful for being a part of this journey. Thank you.
Thank you,
Leo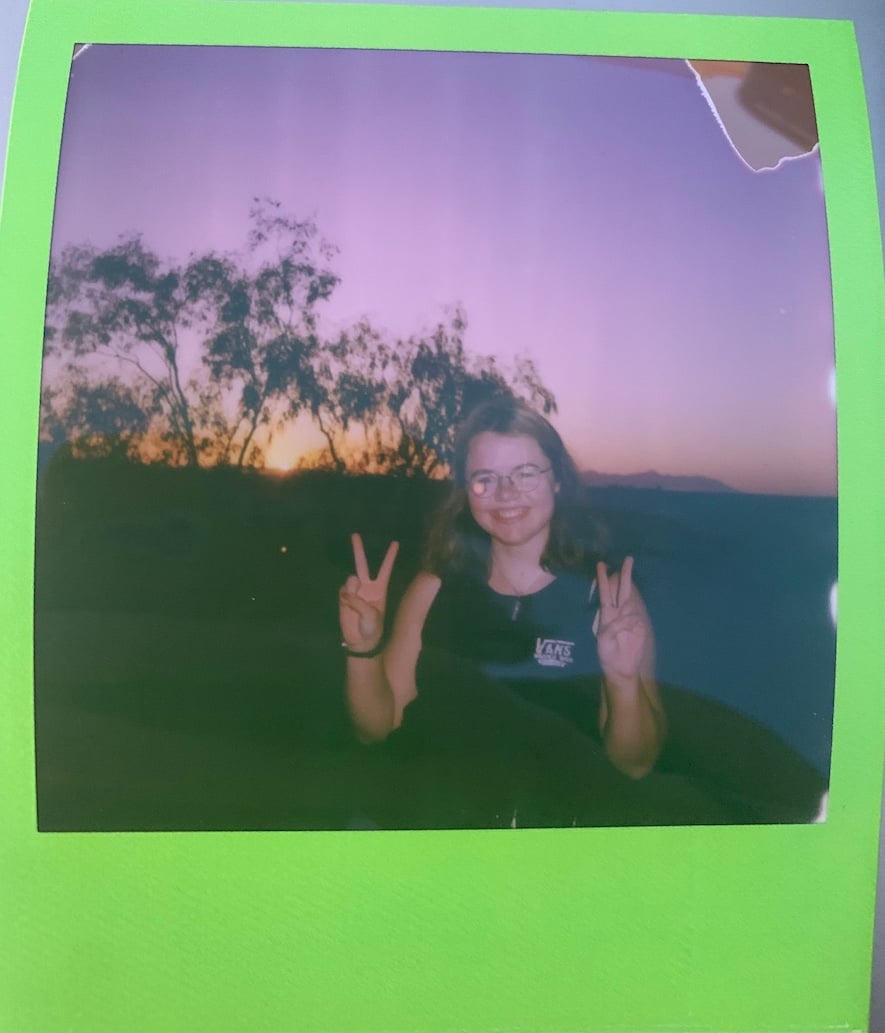 This term has gone by incredibly fast, it feels like just yesterday we were getting off the plane at the Phoenix airport. I've had a wonderful time here and I couldn't think of a better way to end my high school career. I would like to thank my parents, Joan, my learning skills specialist and Terry, my advisor, for helping me get here. I would also like to thank Jill for helping coordinate this trip and Jen and Dave for everything they've done over this term. - Stella '21
It's not exactly a simple task to reflect on the past eight weeks in a single paragraph. There's a lot to cover, some of which definitely should be, and some of which probably shouldn't be, said in this setting. Simply put this was a great way to cap off four years of high school. To be able to get away from campus and the more rigid structure of Proctor's normal academic schedule was calming and liberating for the mind. - Toby '21
I visited more galleries this term than I've ever visited in my entire life, during which my group and I observed some super influential and culturally significant art. I'll miss being surrounded by prickly pear products, Western (cowboy) merchandise, and turquoise everything under the sun. I will not at all miss the weather, even if "it's a dry heat". Beth '21
I am so happy. There's no dumb creative writing in the world I could do that would really convey it. I've been completely changed since I first arrived and I've created a bond with a rag tag crew of people that I'm really happy to call my friends. Each person has a quirk that makes them, them. Stella carries the sass of the group while she usually brings Dave back to earth during dinner convos, which makes us all laugh. Maeve is our resident wholesome-do-no-wrong-er (in the best way possible), always being quiet and kind. Maeve also drops jokes every so often that no one would expect, causing an explosion of laughter. Beth is the best to have a convo with and my fellow pisces. She'll let you chaotically drag her along all day in Sedona heat (while you spend way too much money on crystals) and chat with you about the ins and outs of just about anything at 2am on a haunted porch. Leo LOVES clementines or "clems" and we've found ourselves overstocking to compensate. Jules and Toby are both of their own kind, committing to 1,000 paper cranes (as i'm sure you've heard). But did you know they have successfully Pavlov'd themselves into autopilot crane making mode whenever they get paper? They better be careful with those flight tickets. Lastly, my super swag roommate Maxx. Maxx has promised me a wave at graduation, which I look forward too. Her and I have shared too many laughs to count and we feed into each other's chaos. At the grand canyon Maxx was completely willing to sprint over to the edge with me and stand there with our arms out acting like Rose on the Titanic. She's cool I guess. - Caroline '21
To bursting out laughing at 2 am. To the impending doom of due dates on Sundays. To mandatory toasts at EVERY single dinner, whether the day had been eventful or not. To the walks that were so long Dave forced me to call them safaris. To the tenth grocery stop in a week. To the times where each wanted to burst out and scream. To the sighs of relief after finally reaching a destination at the end of a long day. To the nights where everyone was out of their rooms till past midnight. To wild and crazy stories of raising children abroad. To the serious conversations, and the beyond silly observations. To Clemintines, or Cuties as I prefer to call them. For the kayaking poncho in all its glory, and flannels without the sleeves for that matter. To the devious duo that decided to make one thousand cranes for no obvious benefit or cause. For the absolutely adorable jacked up warmup sketches of rabbits, and the incessant references of famous videos from the internet. It's not only been a long two months, but a very quick two months as well. With polaroid pictures to capture it all, and cowboy hats roughly bargained for, we trudged on. - Maxx '21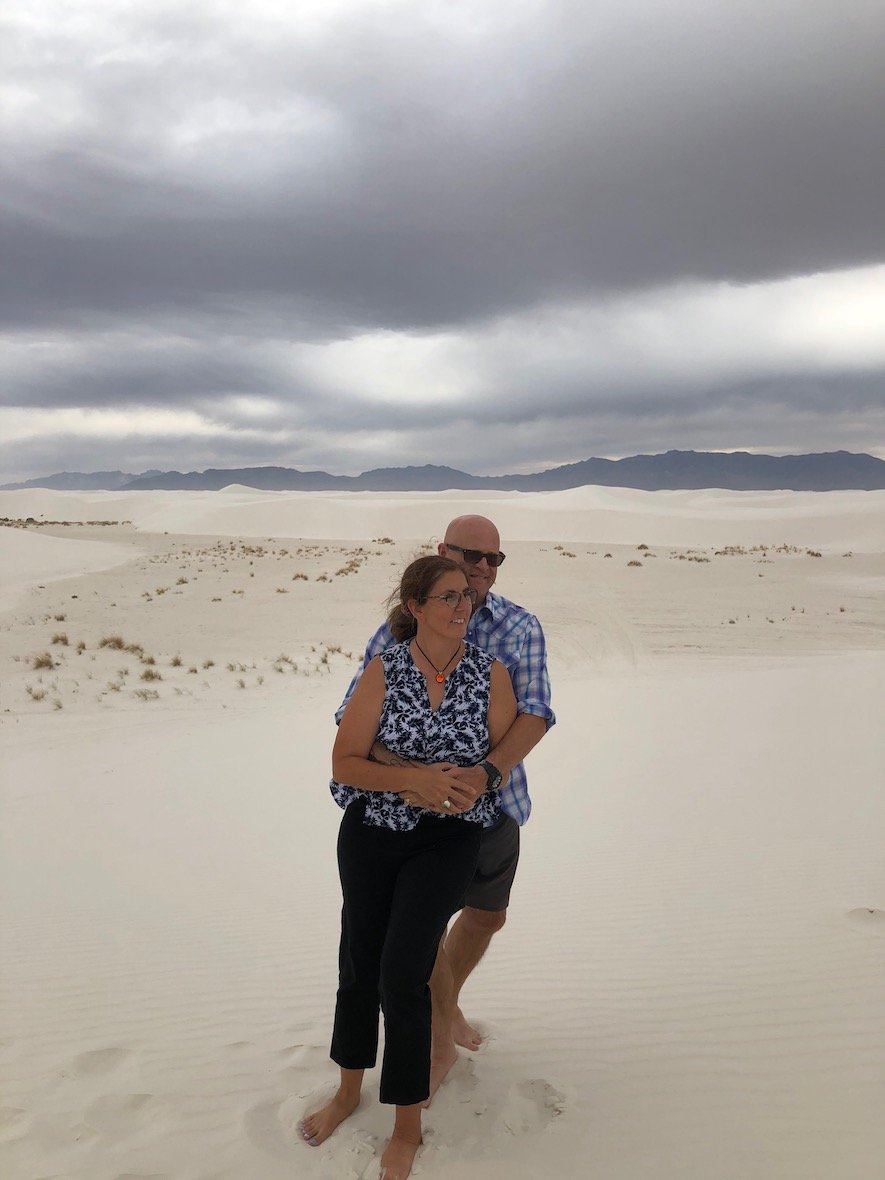 Thank you all for a term that was very rewarding. A term where we became family. Family with all the ingredients to make it memorable and sublime. The laughter, the fatigue, the work, the play. You guys rolled with it all with a quiet sense of humor and an energy for things and topics that really matter. - Jen and Dave