It's moment is fleeting. Tucked against the side of Maxwell Savage, actually jammed up against the building, it's an unobtrusive presence. Who planted it? Why there? It's a protected spot, but it's cramped. One side brushes up against brick, marginalizing its spread. Its size is overwhelmed by the building and the nearby maple. Most students and faculty zip past it as they bend down the path towards the Wise or Meeting House. There's a bike rack that shares the same corner of Maxwell Savage, so at least those who roll their bike into the rack have to acquaint themselves with the tree. Particularly in the spring, usually in the first week of May when the unfurled blossoms emerge, flourish, and fade in what seem to be minutes.
Magnolia trees have been around for a long time. Fossil remnants, collected and dated, trace a lineage back over 20 million years. These are tough trees. Resilient. Hardy. It is thought that their first pollinators were not bees but beetles. So the flowers had to be durable and able to withstand the picky little beetle feet and their trundling across the flower carpet. The trees are widespread, with over 300 different species, although that number is dwindling and many species - it is anticipated - may go extinct in the coming years.
There are two things to notice about the Maxwell Savage magnolia when it is in bloom. The first is the sweetness of the smell. It's a stop you in your tracks aroma that seems to travel in ropey strands. You catch it one minute, it's gone the next. The second thing to notice is the way the petals tear off in the wind and scatter on the ground like little sticky notes. I like to imagine what has been written on these notes pasted all over the sidewalk and grass. What reminders? What list of to dos? What's to be picked where? Patience? Kindness? Appreciation? And what hand is penning these thoughts and what disappointments might follow if the lists are forgotten? The magnolia tree is a tree of notes. Life reminders.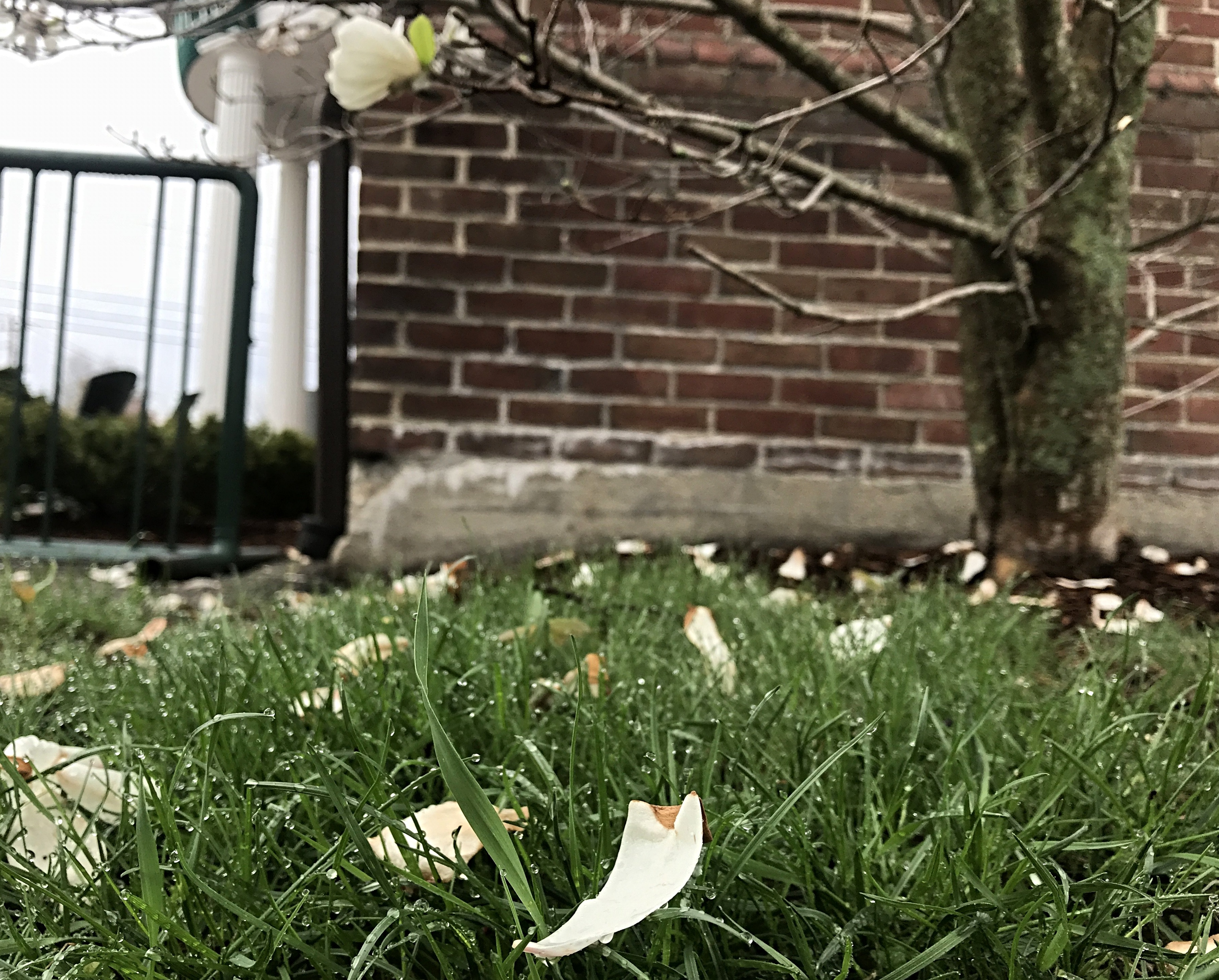 I've come to like this tree over the years. I like it's scrappy nature and the way it is pinned up against the building but still thriving. It may not be where the magnolia, if it had a say, might have chosen to be planted, but it's making the best of it. I like to believe that it chooses to thrive there, that it chooses to control its environment. If a magnolia can be optimistic, this one is.
I like the magnolia lessons that come to the forefront in the blooming week, this week.

Mike Henriques P'11, P'15
Proctor Academy Head of School