Proctor Academy's Mountain Classroom program continues their term-long adventure in the American Southwest. This week's blog post highlights the group's Boulder Mail Trail backcountry expedition. Read more from Paul's '22 perspective below.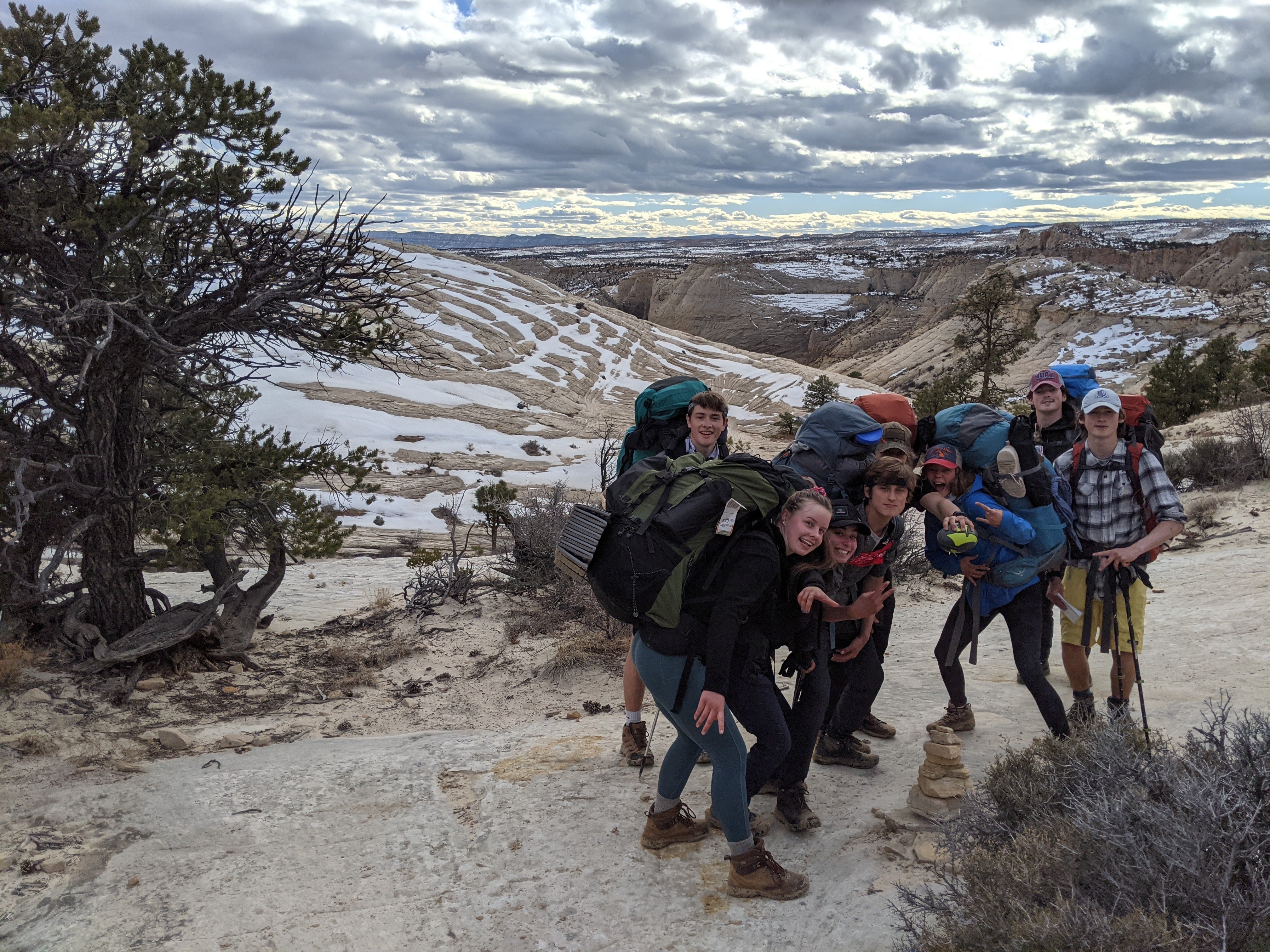 Paul '22:
After the amazing adjunct weekend we had with Patty and Coco, we prepared ourselves while in the cabin with Quinn and Erica for our next backcountry expedition. They informed us that we were going to Escalante and hiking the "Boulder Mail Trail" which was the only line of communication from Boulder to Escalante for over a hundred years. Established in 1902, the route mainly traversed by mules and horses, and by 1910, a patchwork telephone line which was strung from tree to tree providing Boulder with communication to the outside world.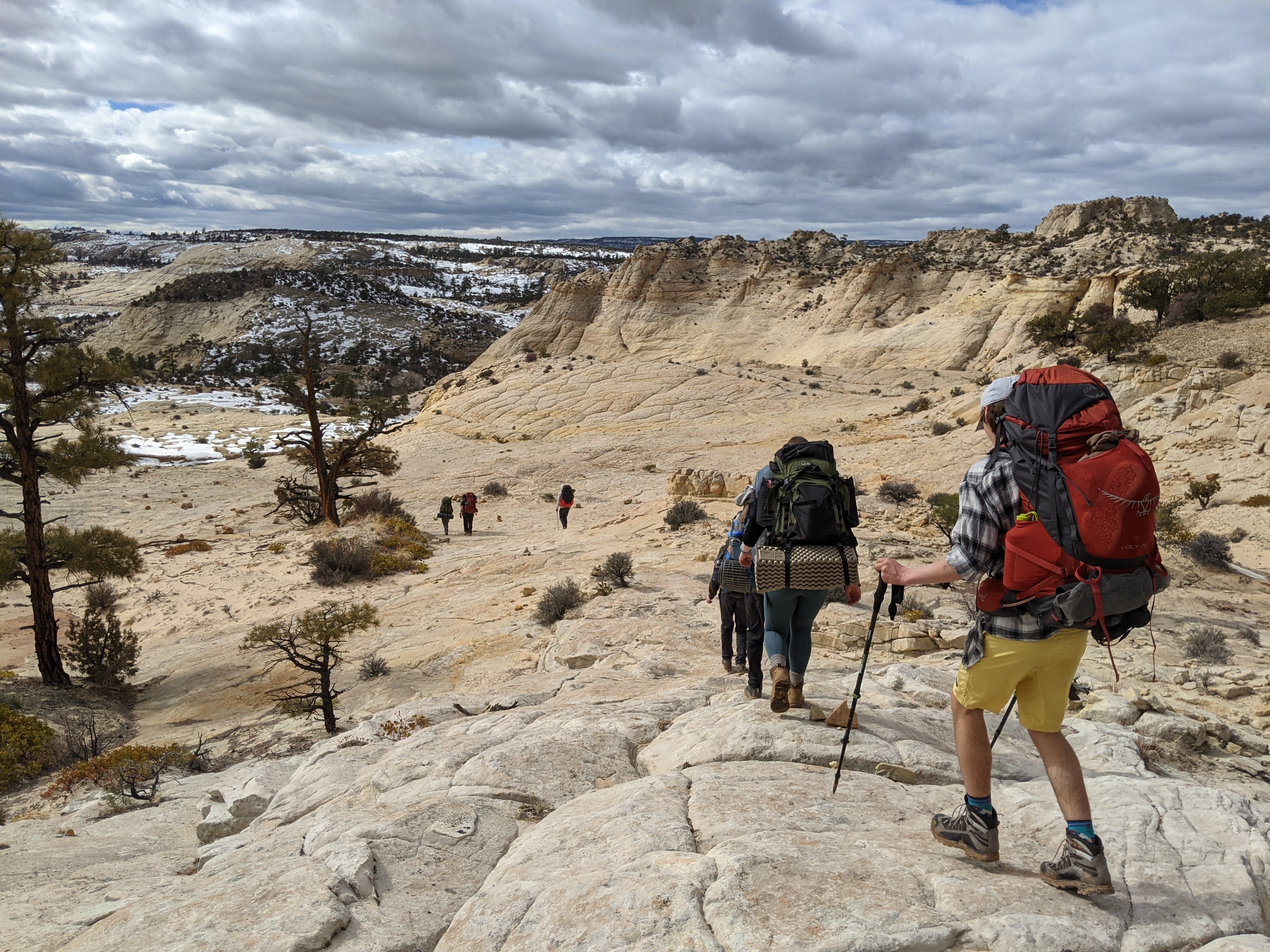 We started the route with our packs ready to go and our spirits high as we set out on the first day, hiking up multiple different types of terrain varying from a muddy road to get to the trail head after leaving Deb, to scaling up sandy ridges and limestone, and all the way to the top of snow covered peaks. While hiking the group played many games of "contact", "ghost", and "is it more like" as we wanted to keep our mind off the physical aspect of the hike and have as much fun as possible along the way. About seven miles later and a few stops along the way for water and food, we descended a large down hill to finally make it to our campsite across a river.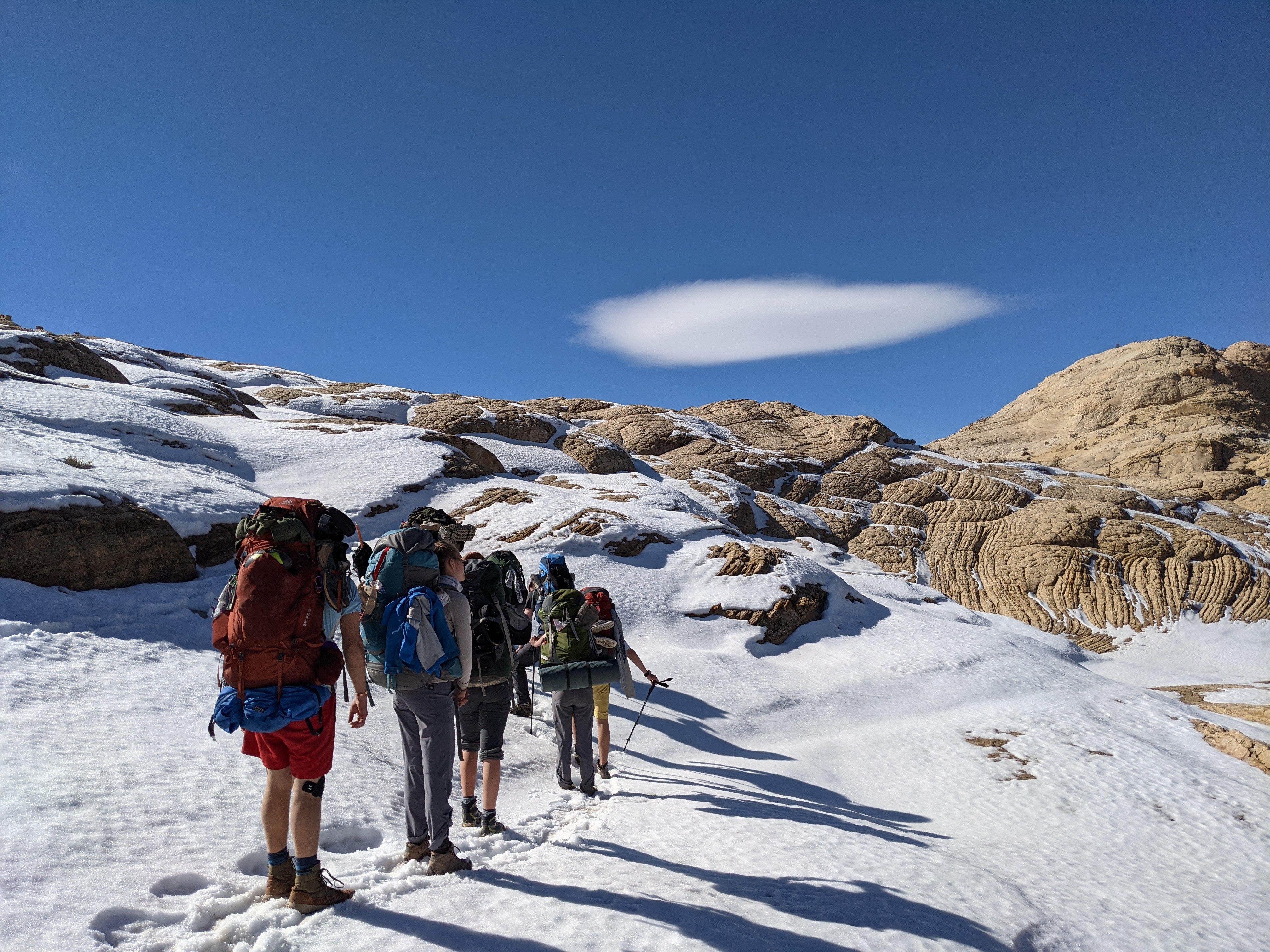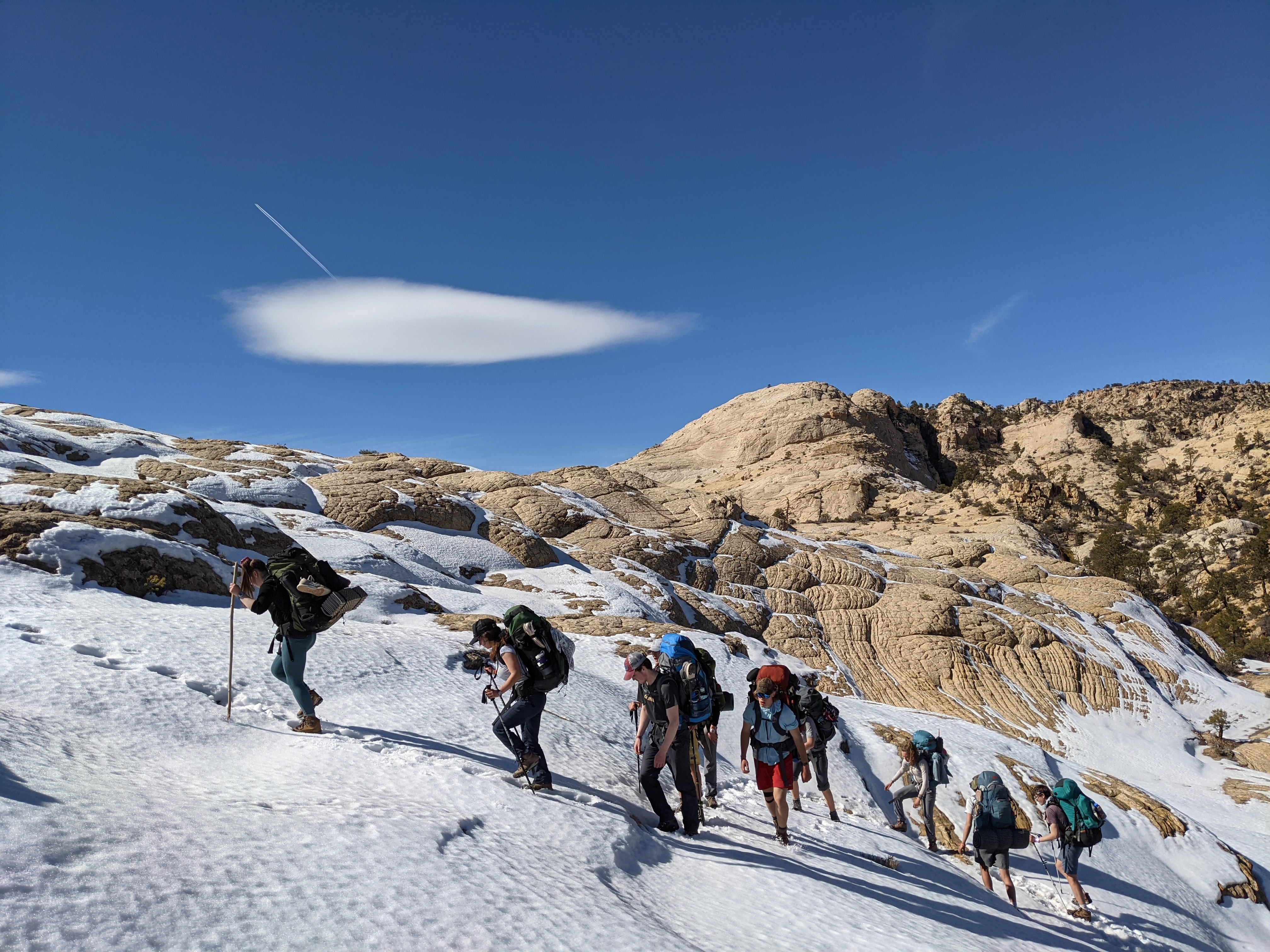 After the hike Tahg taught us a lesson about how to set up a tent correctly as one of Erica's assignments and soon after, Oscar, Hank and Griffin found themselves swimming in the river to cool off in the freezing cold mountain water. Some of the girls hopped on this idea and went upstream to find a better spot to swim. As the guys were changing and I was cooking a good meal of pesto pasta with Ayla we heard the screams of Cassidy, Meg, Brynne, and Sasha from about three hundred yards away and it sounded like someone was dying. They came sprinting back and jumped in their tent to get changed and for the rest of the night people were resting and waiting on the food to finish. Dinner was spent in silence which is a good sign that the food was delicious and everyone wolfed down their meals in a matter of minutes. During our evening meeting that night everyone was excited but nervous at the same time because we were told to bring both constructive and positive feedback for all our peers as an assignment for Community Living. This was the first time we were giving feedback to each other in the group individually. No one got roasted that badly and it was good to hear what everyone had to say about each other. We ended the night with some stargazing as the stars that night were insane and we got to see plenty of shooting stars and constellations.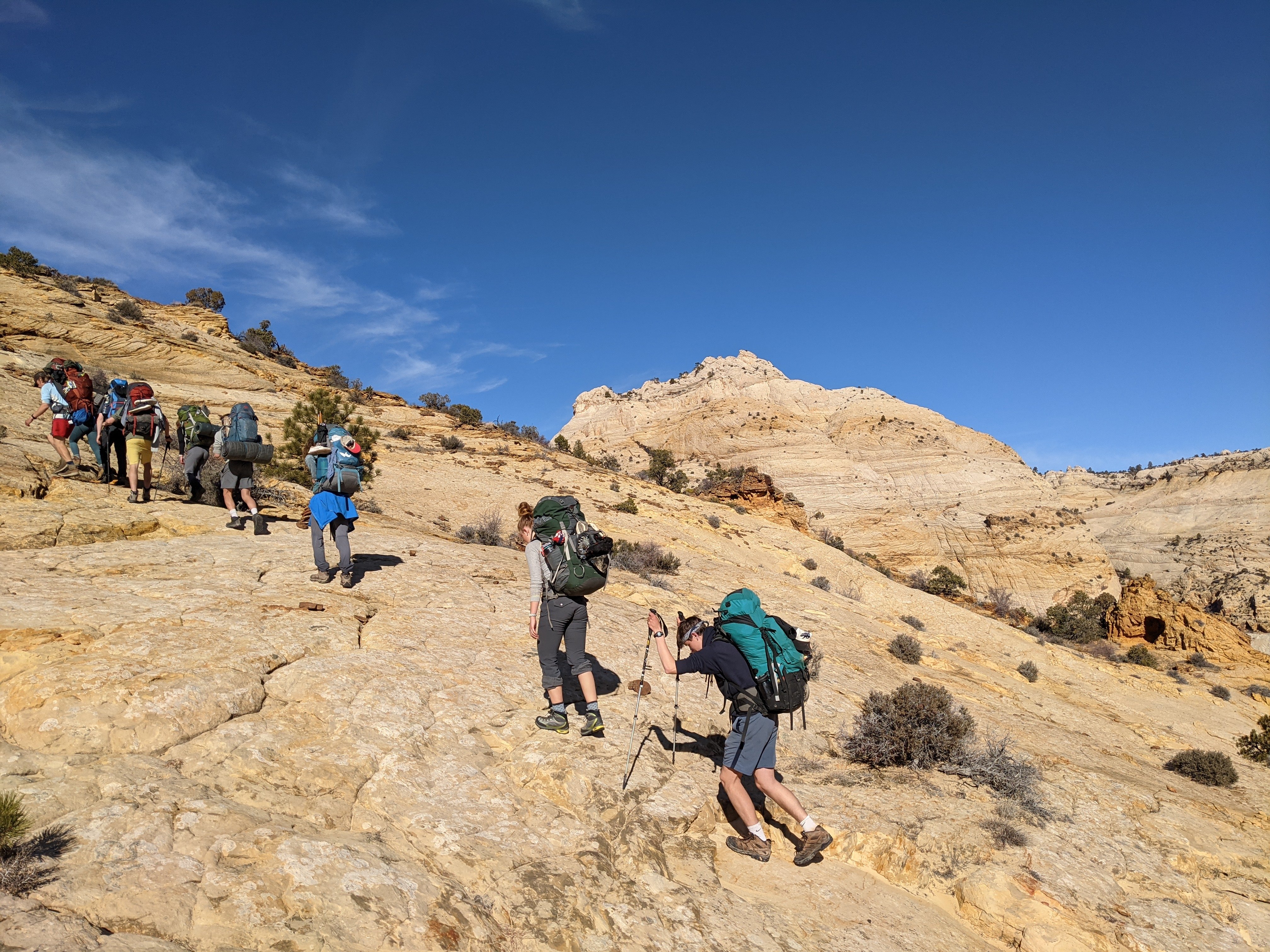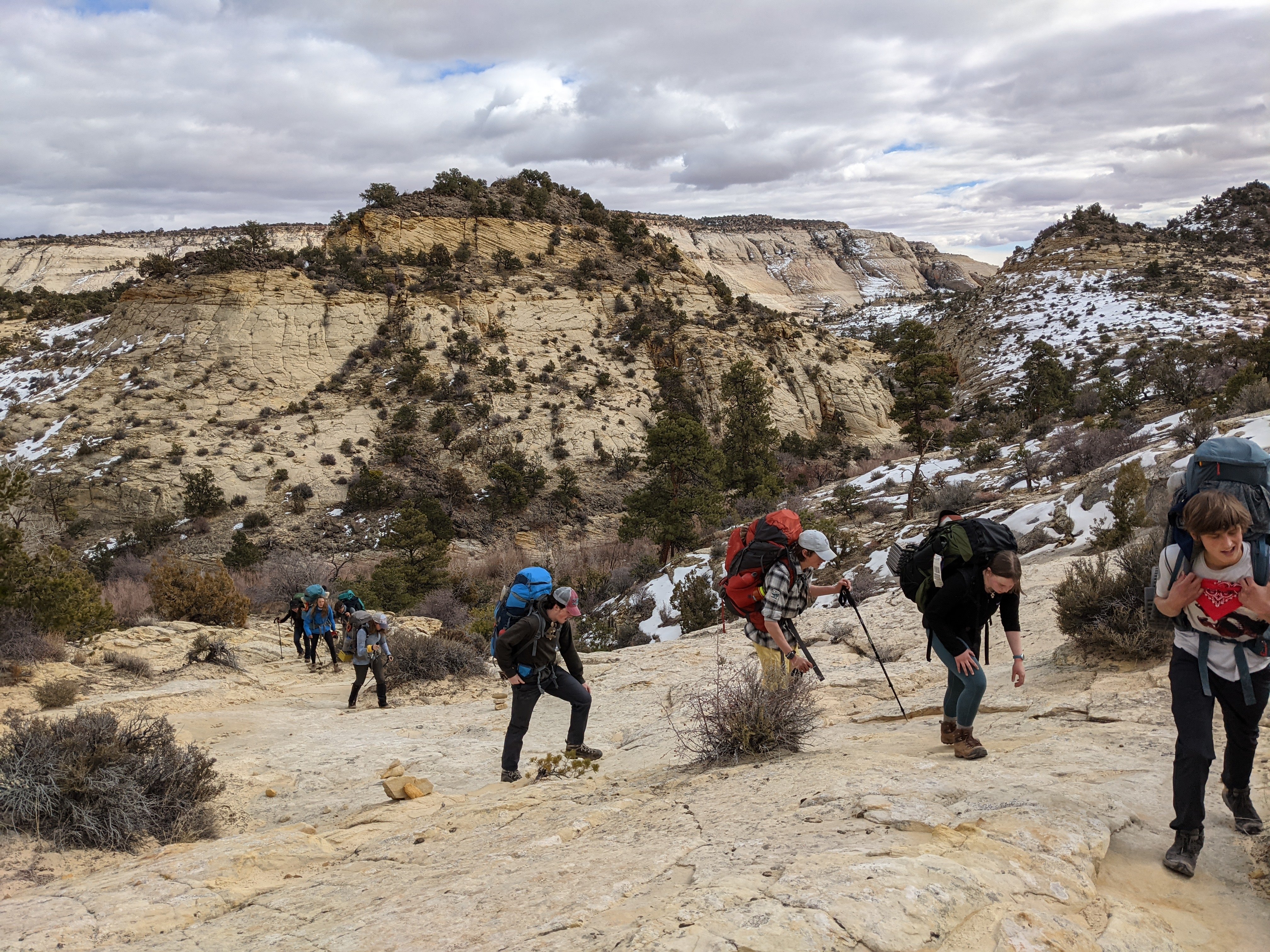 The second day started with a tough morning as we had with an early wake up and while that was happening, the guys noticed that Oscar was looking a little messed up and it turned out that he was getting some sort of an allergic reaction from something he touched or came into contact with. It wasn't horrible but he was itching all over and his face was swollen a little bit. He toughed it out for the second day and that morning we had about ten different river crossings to start the hike. While hiking along narrow rivers and small paths, we got to see many plants such as purple prickly-pear cacti and other colorful forms of bushes.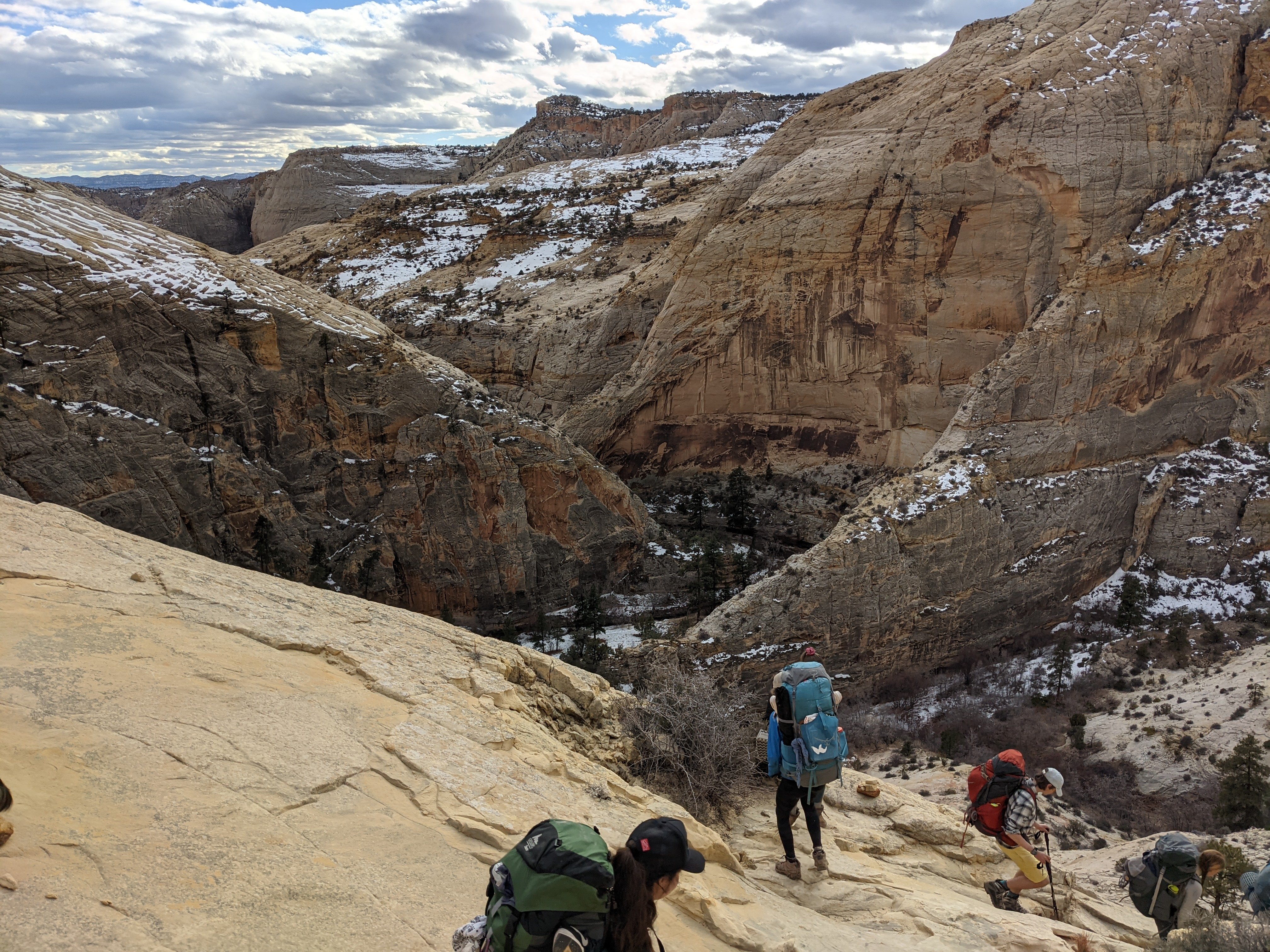 Once we finished crossing the multiple rivers early in the morning, we hiked up a very intense vertical which the group was challenged by, with carrying water covered shoes and our bags up the peak. With changing layers multiple times once the sun came out, we were all in shorts and light shirts climbing over snow covered rocks and peaks. The second day being more technical and challenging, we took longer to get to destinations and navigation became a struggle once we couldn't follow the old telegraph line and we ended up having a long day and got to see some people eat it while trying to traverse across the snowy slippery rocks. Once we stopped for lunch, Erica and Quinn gave us a lesson and a check in about where we are as a group and we all decided that we had come a long way since the beginning making great strides in multiple different categories. We all decided that we still struggle with organization and honestly, it is a fair enough conclusion. Two groups including mine forgot to bring chicken for their pasta and I realized that Ayla and I forgot it in the trailer about six miles down trail so there was no turning back.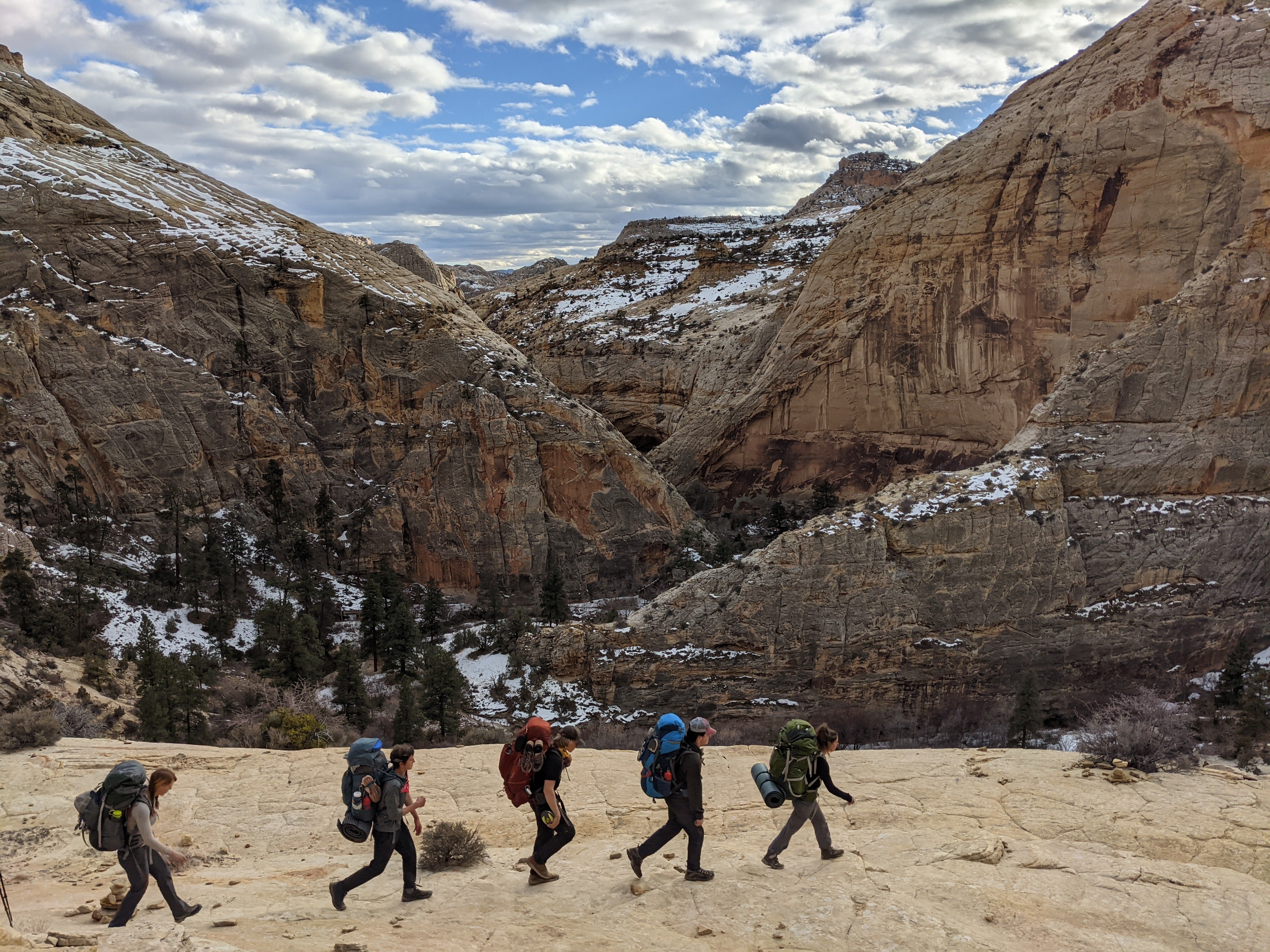 After lunch we kept hiking and with about another three or four miles to go we hiked at a much faster pace after lunch and reached our campsite at about 4:30. We had done it and the Boulder Mail Trail was completed, with everyone excited that the hard part of the hike was finished, we set up our tents and got camp situated. Later that night, Cassidy and Griffin made our dinner of tortellini and evening meeting consisted of the rest of our feedback from the night before. We all went to bed full and expecting a big hike the next day of traveling down the Escalante river for about ten more miles that we had planned on top of the Mail Trail.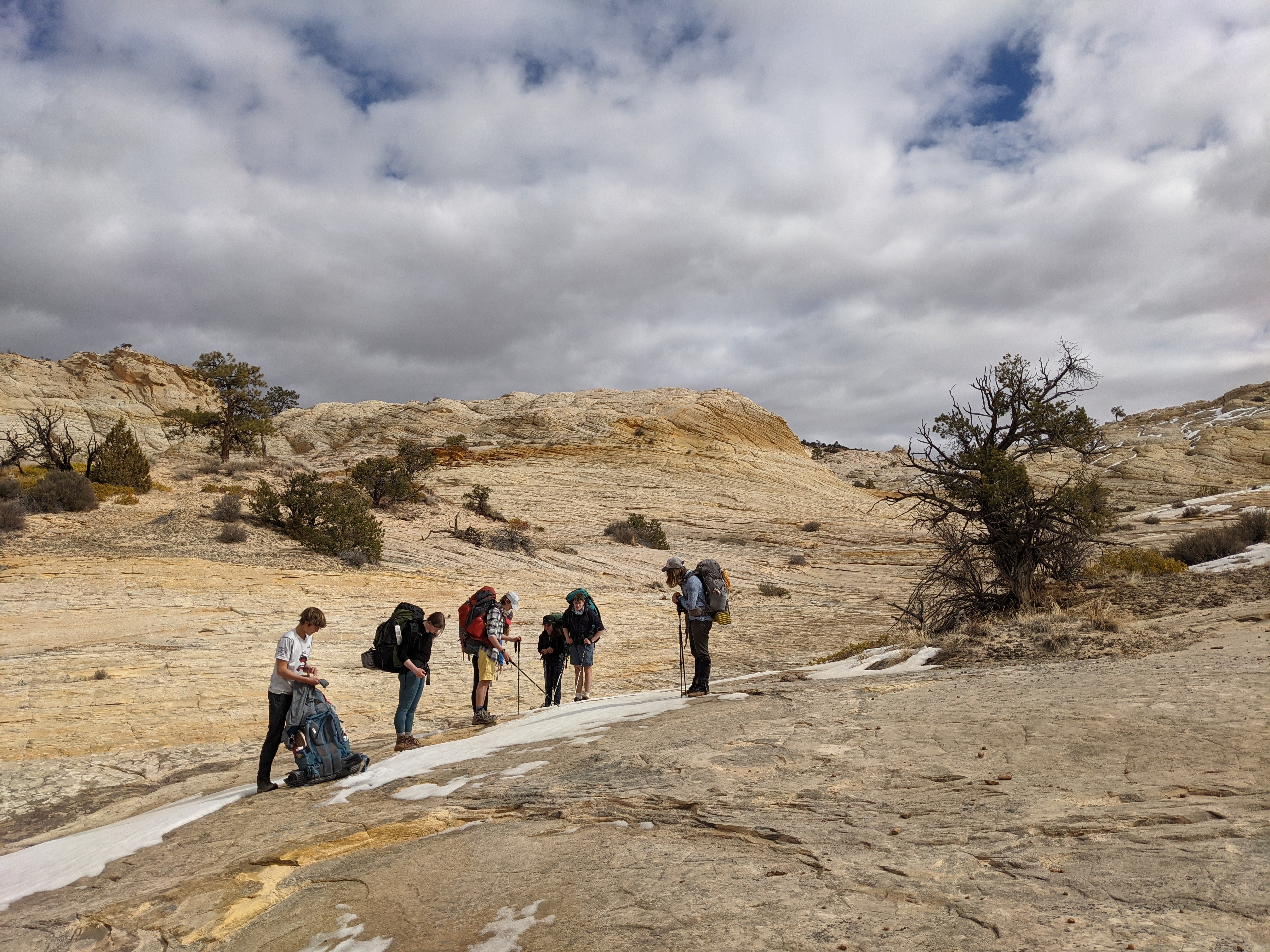 As I woke up on the third day in the tent with Griffin, Tahg, and Hank, we all were shocked at the site of Oscar. His eyes both swollen shut and his face looking like he just got stomped had us at a loss of words. He looked like a combination of a blobfish and a clown, as he described it he looked like the turtle from finding Nemo. He had hives over his entire body and he had told us that he had only slept maybe two hours during the night before. With only being able to see a sliver of his normal vision, he put on my sunglasses to hide how bad it was and made breakfast with Hank. After some last minute planning, we figured out how to get out of the trail with Quinn going about an hour early to a nearby trailhead to get picked up by a friend. He was going to the bus to come pick us up after we packed up camp and had to get to the same trailhead to get Oscar out of the wilderness and back to the cabin.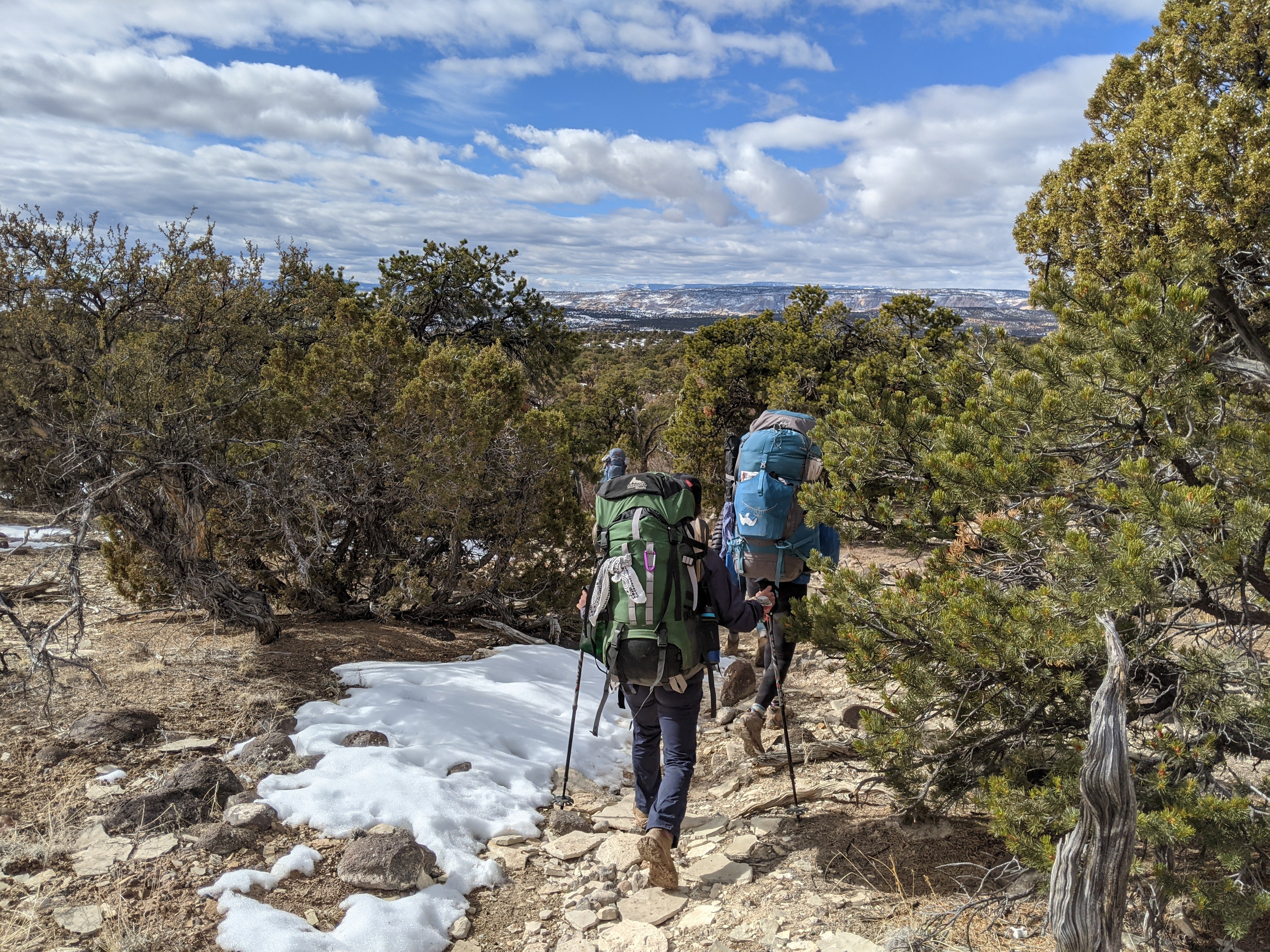 Cassidy and I followed the map as much as we could and didn't have a great sense of where we were at times, however, we knew that if we kept following the river and staying to the right we would eventually hit a road that led to the trailhead where Quinn would be waiting to pick us up. After traveling the river, we ended up in cow county and made it to multiple pastures and cow paths that we ended up taking to get to the nearest road. After crossing some fields, seeing some barns and farmers, we made it to the road and started hiking to a nearby park where Quinn was located. We saw Quinn earlier than expected and hit the road back to Kanab where Oscar could rest up and eventually go to the clinic the next morning as the reaction kept on getting worse. With a little magic, benadryl, and steroids, Oscar slowly got better as the days went on and we took time at the cabin to get some school work done. We did end up hiking the mail trail and Oscar toughed through an entire day of hiking while getting an allergic reaction. That sums up our expedition and evac. mission on the Boulder Mail Trail.