Mountain Classroom, Proctor's longest running off-campus program, began in 1974 when David Fowler, Chris Norris and others leading the school at the time were bold enough to augment Proctor's educational model (watch more about this evolution as a school). Forty years and hundreds of Mountain Classroom alums later, lives have been transformed by the experience, including those of current Mountain Classroom instructors Peter Logan '01 and Coco Loehr '08. Now it is their turn to transform lives!
Proctor's role as one of the best experiential learning schools comes from its deep roots in experiential education. Off-campus programs build on themselves as the term unfolds. As every Mountain alum knows, the program is a learning process focused far more on the long-run, than the short-run. Group dynamics evolve over time. Outdoor adventure skills develop, but only with practice. Perspectives change, only as experiences happen. Lives are transformed, but only when students are willing to have their lives transformed.
The first stage of this learning process is the Training Phase. The group entered this phase over the past week as they learned to ice climb, embrace the program's terminology, and developed routines that will serve as the backbone of their experience together over the next ten weeks.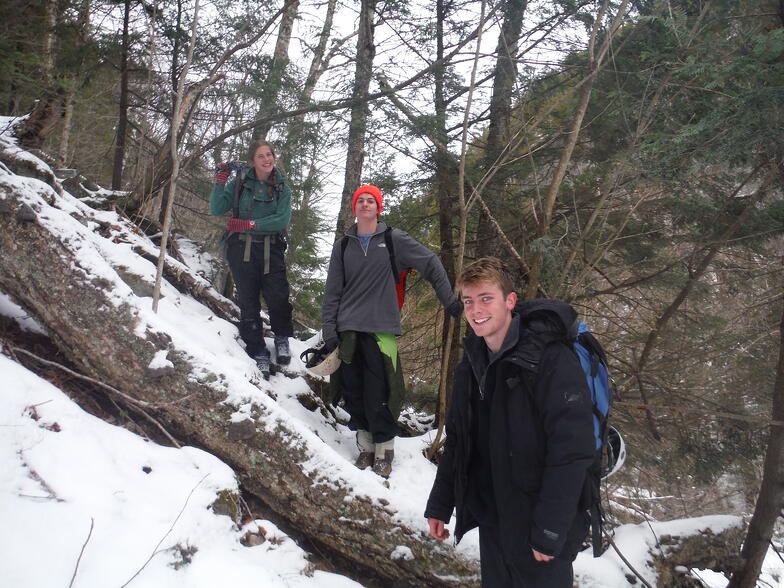 Below Isabella Ellis '15 and David Windsor '15 share thoughts from their first week of Mountain Classroom!
Training For Our New Selves
Our first week of Mountain has been wonderfully challenging as we have been given more responsibilities each day. Arriving at the Browne Center yurt the first night felt magical as we sat on the picnic table in the dark surrounded by snow and waited for dinner to be made. With each day we have all become more comfortable with each other and with what is expected from each of us.
Evening meetings have become the high point of my day when we all get to reflect and share our different roses, thorns and buds, our highlights and lowlights of our day and something we were looking forward to. A few days ago we were introduced to our job wheel and everyone in our group of ten has been such a pleasure to work with and get to know better.
Being in Training Phase, we are still getting accustomed to the Mountain Classroom terminology and ever changing schedule that is quite different from the dependent structure so easily found on campus. On Saturday morning, everyone drove to the market for our first shopping adventure, mostly on our own. The night before, after much planning, a week of meals had been decided and recipes had been organized and it was up to all of the students to find their ingredients and correct portions. The unfamiliar market in Plattsburgh NY was overwhelming at first, but all of the groceries were attained in record time and there were mozzarella, basil, tomato sandwiches in the parking lot for lunch as our reward.
-Isabella Ellis and David Windsor