As Proctor's Mountain Classroom group continues their journey westward, their travels took them to White Sands National Monument in a 60mph windstorm where they had sledding adventures galore on the gorgeous white dunes. Now the group has transitioned to Cascabel, Arizona for their solo experience. Read the student reflections from White Sands below: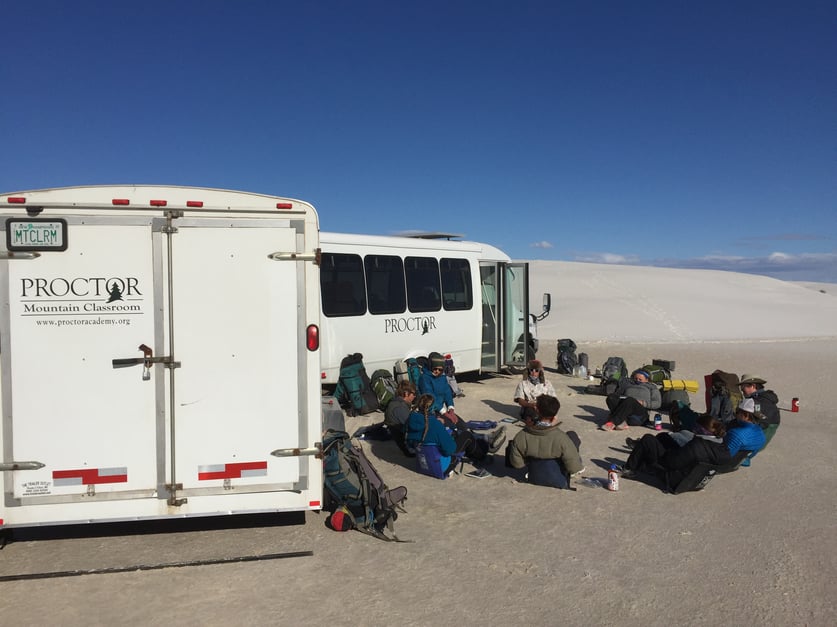 Lucien '17:
We recently finished our month long stay in the land of oil, brisket, and cowboy hats and headed for the Land of Enchantment. We were sad to say good-bye to Texas after spending so long there, but this was mixed with a sense of excitement, for we were going to a place like no other, White Sands National Monument.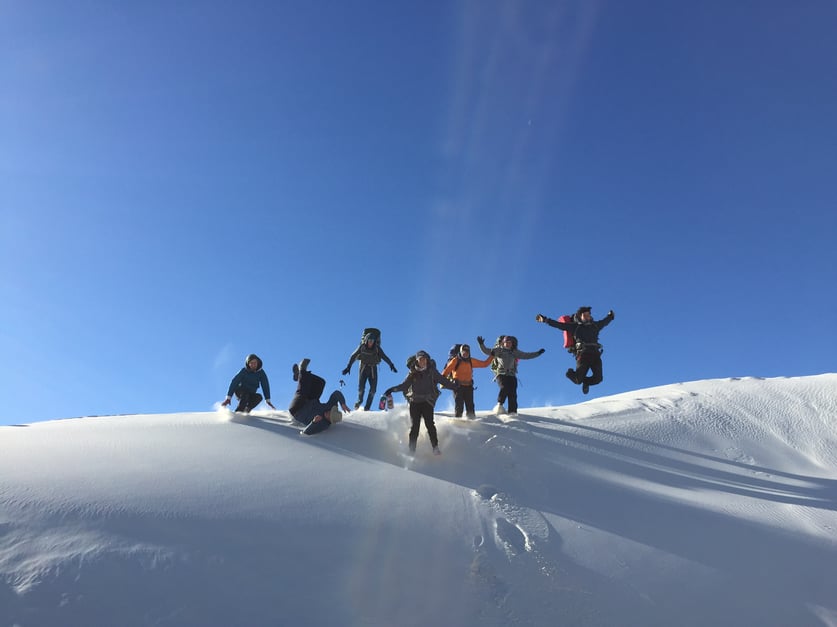 White Sands is aptly named. It is a place area full of sand that is white. Now that may sound bland, but it is anything but. It is a lake of hydrated calcium sulfate. An ocean of CaSO4 2(H2O). A sea of gypsum. The white sand dunes of White Sands are created from wind eroded gypsum deposits. This is able to happen because gypsum is softer than a human fingernail. The area is constantly being assaulted by the wind. The first night we spent in White Sands, the winds blasted at over 60 mph. In order to cook, set up tents, and simply function, we had to create a wind barrier with the bus and trailer. It was interesting. The four cook groups found different spots of refuge along the trailer and bus. We then had to set up all the tents right next to our mobile windshield. Luckily we were parked on hard, compacted sand, so once the tents were staked down and weighted we didn't have to worry about them too much.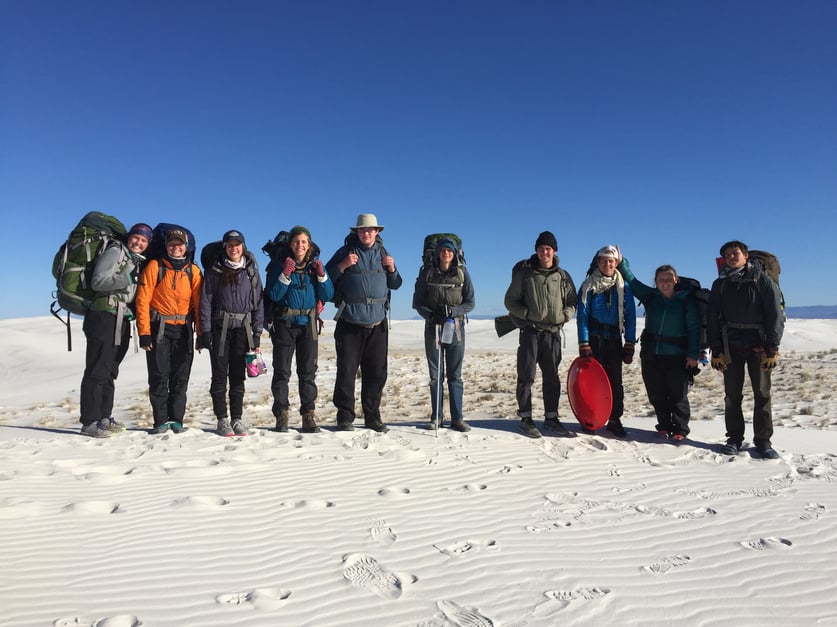 By the next morning, the winds had died down and we got to start our now one night backpacking trip. And so, we hiked three-quarters of a mile over the wave-like sand dunes. Our campsite was in a bowl created by a few sand dunes. It was an amazing spot. It felt like we were in some sort of giant hourglass that had long ago stopped working. That night while siting on the top of a dune I came to realize just how white White Sands Truly is. It hit me all at once that the sand there is not kinda white or off-white or something almost white. No. It. Is. White. The land seemed to emanate that word. White. White. White. Nothing but white. And thus is the beauty of White Sands National Monument.

Avery '17:
Much of our time between destinations on Mountain Classroom is spent soaring through space and time on our bus. The bus is the closest thing to a home, living like nomads, and it's the only setting that doesn't change. It's our spaceship as the world outside the windows flashes by. I sat, staring, as the dry scrubland filled with mesquite and creosote accented by rusted railroad tracks and a pale blue sky flowed on. The mountains were periwinkle and lavender, tracing a jagged line in the distance, overlapping and undulating, cresting like waves. The highest peaks are dusted with snow, and if I held up my hand to cover the rest of the desert my eyes could convince me I'm home. I let the hum and rustle of the bus take me to sleep as I gazed out at the silent landscape.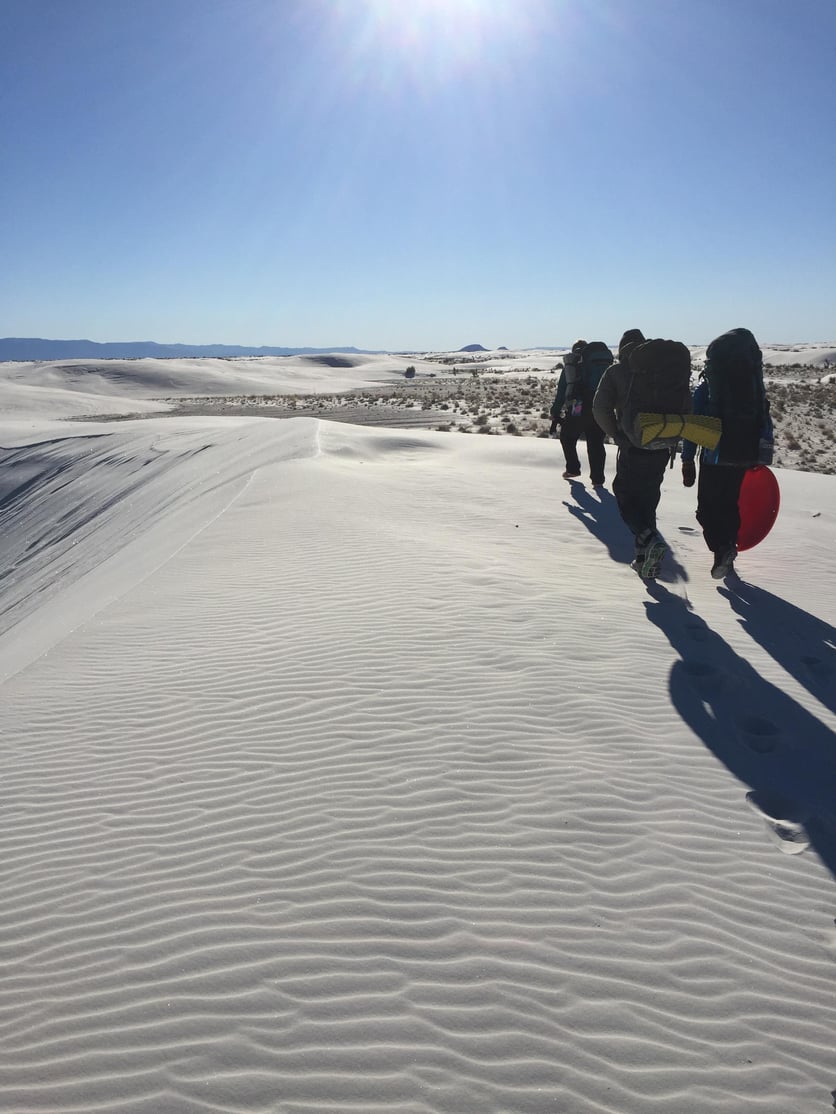 As I woke, the world around me had changed. I must've still been dreaming because we were winding through a glittering, white world. The wind was screeching and howling at us through the cracks in the door and we were enveloped in a cloud of white.
Suddenly sitting up, fully awake my first instinct was that we were surrounded by a blizzard, an icy oasis in the desert. Instead, we have arrived in White Sands National Monument. The snowbanks are sand dunes. Extremely white sand dunes. Gypsum ground down after thousands of years, carried by water and smashed into dust by the wind sand dunes. This is a magical place. White Sands is another land where all you can see is the glaring white of hundreds of wavering lines of sand. Dazzling and brilliant, it felt like home, it felt like the arctic, it felt like the moon, it was a place with no name. We spent two freezing, fantastical nights in White Sands. Sledding and drawing in the sand dunes, with sand stuck to our noses and ears and lips. Then we loaded up the bus, put our tray tables in their upright and locked positions, and took off again.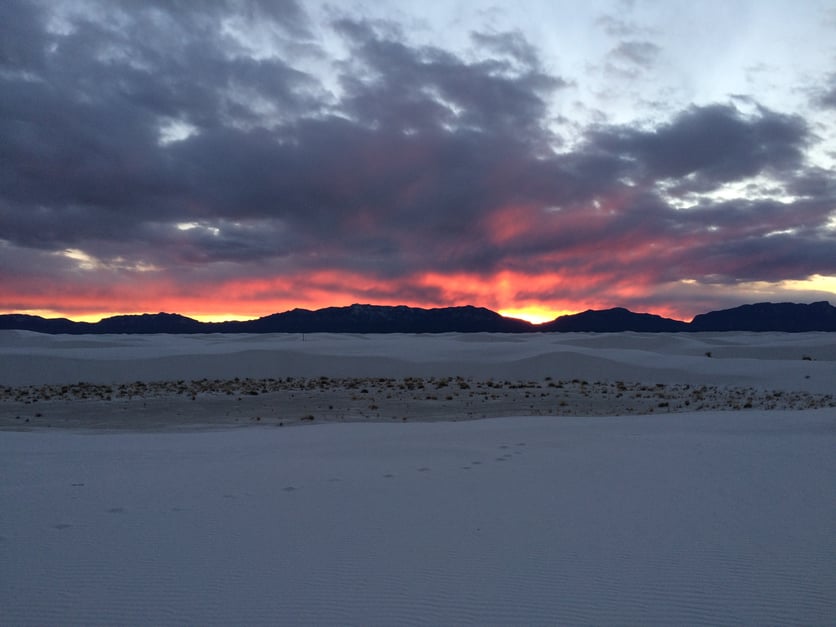 The world of oranges and reds and yellows overtook us again, returning to prickly pears and telephone lines. As we drive deeper into New Mexico, White Sands feels like an ethereal dream. The only reminder that we were ever truly there is the gypsum caked into every crevice of the bus.