Mountain Classroom has been enjoying Vermont for their culminating academic and backcountry adventures. The students chose to backpack into Stratton Pond in the Lye Brook Wilderness for their final expedition. The blogs tell the story beautifully, so read on.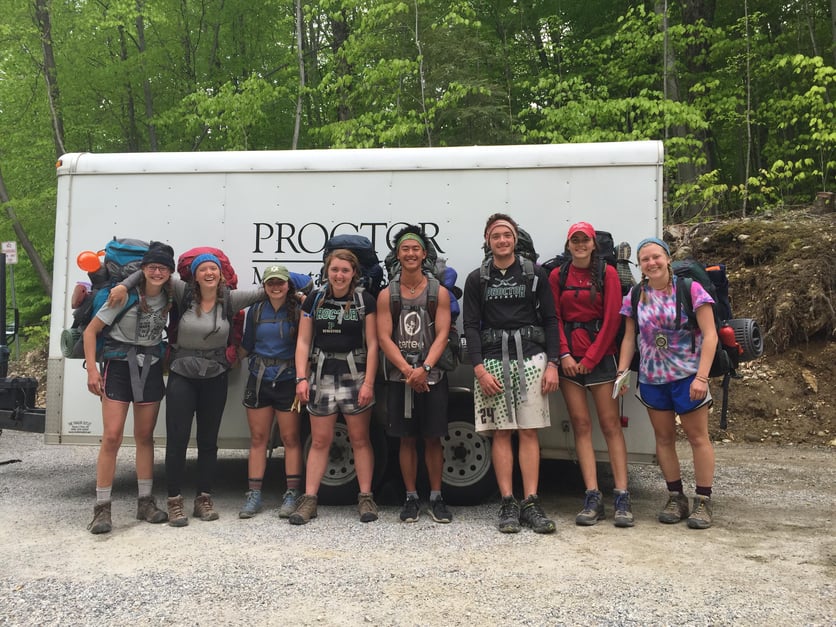 Katie '17:
It's a crisp, chilly morning at Sparrowbush Farm in Hudson, NY. My watch says 6:52, a sleep-in by Mountain Classroom standards. Maggie and Allie have already slid out of their sleeping bags and are exiting the tent in anticipation of morning exercise. So very reluctantly, I un-cinch the hood of my cocoon and am born into the day as I wriggle out. Socks, a jacket, two shoes and a beanie later I am shuffling over to the kitchen where Jamie and Keith are preparing breakfast. This morning we will be treated to egg-in-a-hole made with thick bakery bread and eggs we gathered from Sparrowbush's own hen houses. After a short run around the fields and trails, we return and dig in to a hearty breakfast complete with homemade salsa purchased from Peg, a friendly merchant we met at the Farmers' Market in Staunton, VA.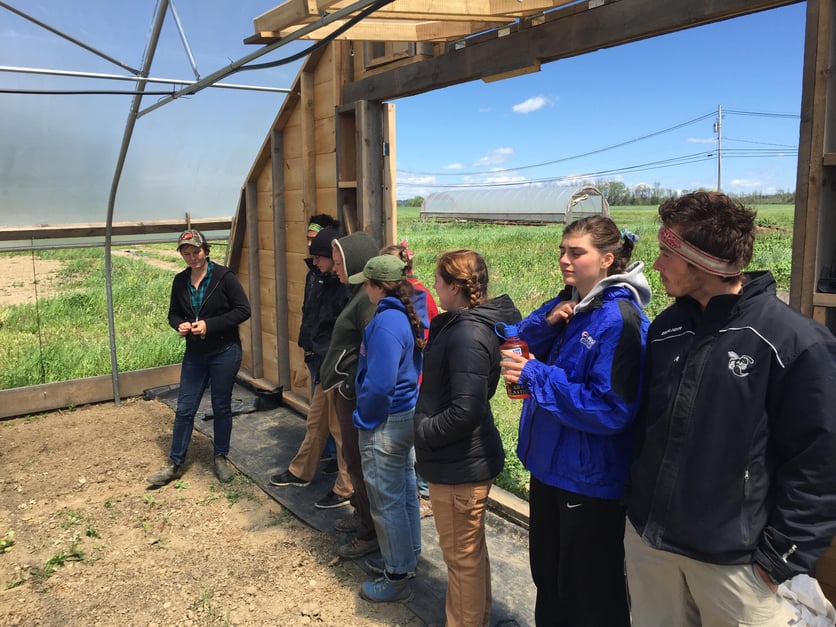 Sitting in our circle eating, I couldn't help recalling the day before, when we ran a 10K race in Ellenville, NY. It had been an amazing day from start to finish, literally. We wore matching pigtails and silly outfits, then met up with some parents and friends who had made the trip to see us and run the race. The girls swept the top 3 spots in the 16-19 age division and Timbah and Keith walked away with awards as well. We won a prize in the random drawing and got a $20 gift card to a local pizzeria. We did laundry, a luxury we had missed since Utah. We visited a local cupcakery, and feasted on pizza while our laundry dried. We met Coco's younger sister, mother and father, all of whom ran the race with us. Frankly, after such an action packed day, I anticipated our day working at Sparrowbush to be a little anti-climactic. How wrong I was!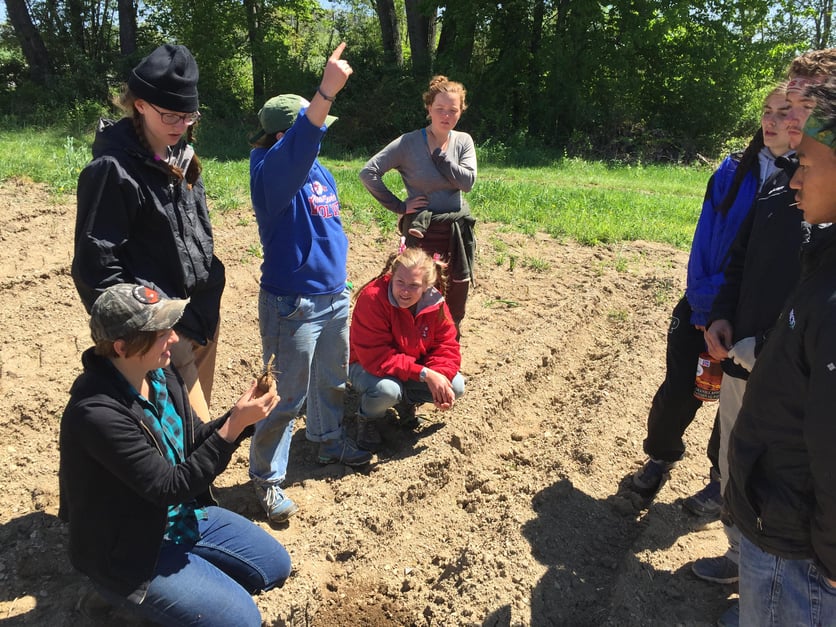 After our farm fresh breakfast, Ashley Loehr, farm manager and sister to Mountain Classroom instructor Coco Loehr, took us over to the hoop houses to begin seeding corn and squash for the upcoming growing season. We mixed mulch with water, filled pallets of seed containers and meticulously gave each seed a new home. Meanwhile, others in the group pulled up the winter salad greens in one of the hoop houses in preparation for a new batch of summer crops. We broke for lunch from noon until two, and then Ashley took us on a farm tour showcasing the fields around Sparrowbush and demonstrating the alternating cash crops and cover crops. In other words, Sparrowbush changes the kinds of crops they grow in each plot in a year-on year-off rotation. One year Ashley grows crops that they will sell and the next year she grows a crop that will help revitalize the soil and return nitrogen to the earth.
After the tour, we returned to different jobs around the farm. Allie, Maggie, Timbah, Jamie and I went out to a field to help plant leeks. We worked in teams with "droppers," those who removed the leek from their pallets and placed them on the ground six inches apart, and "planters" who followed behind the droppers and dug holes for the leeks and planted them in the ground. Occasionally, multiple leek plants would take root in one seed slot resulting in bundles of two, three or even four leek plants at a time. Maggie and I both found bundles of five, causing us to exuberantly call attention to these freaks of nature. Late in the day when we were nearly done with our row, Maggie encountered a bundle of six, six whole leeks growing in one soil slot the size of two thumbs put together. She held the frankenleek to the sky for all to admire, while calling out, "I found six! I found one with six!" I haven't had such a thrill since we got our peanut butter tub refilled.
In the upcoming days we will continue to work on our final projects at Ned's Place, a cabin in southwestern Vermont and then embark on our student-led final expedition. We have less than a week left in our adventure, but fortunately that realization has yet to sink in, leaving us free to frolic and to enjoy the remaining days of the term.
Hal '16:
With less than a week remaining in the greatest adventure of our lives, there is much anxiety as it comes to an end. But, there is no better way to wrap up our time together than by sharing a cabin deep in the Vermont woods. For the culmination of academics on Mountain we spent three nights, 2.5 miles into the woods at Ned's Place, a cabin at Merck Farm and Forestry Center, in Rupert, VT, working on our finals.
The cabin is a quaint, 2-story structure that overlooks the steep hills across the valley. Each morning the sun rises and shines through the massive eastern windows, waking us with the warm rays of daytime. Inside there is a large wooden table where we all worked the long and hard hours for school. There also is a massive wood stove, for which we collected and cut our own wood to keep us warm as the nights drew on.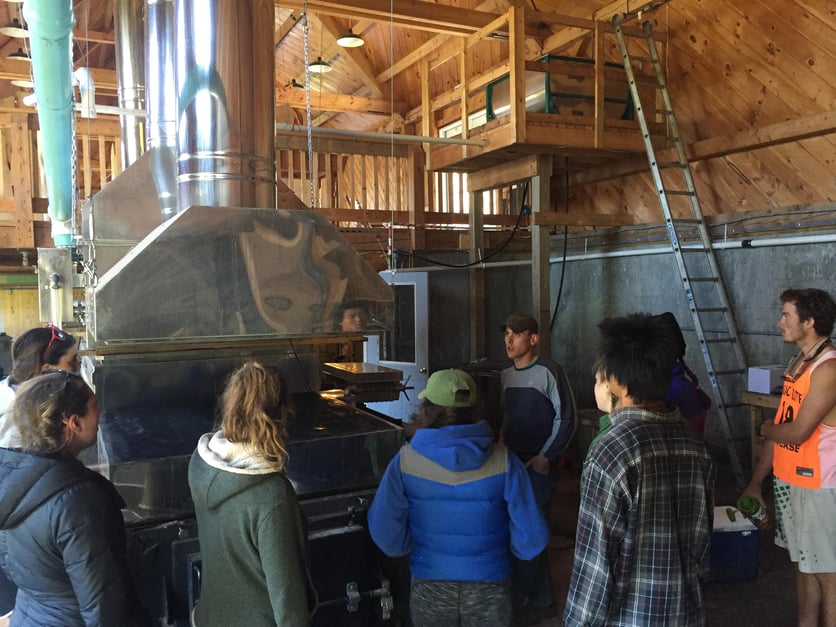 Out in seclusion, the eight of us whittled away on work, all in preparation for our final project. Yesterday (May 20), seven of us completed our final academics of high school, which felt amazing. For some of us it has taken 5 years and numerous schools; the journey has been long, but it feels amazing now that we are done. To celebrate this incredible moment in our lives we spent our free evening huddled around the campfire, laughing into the depths of the night.
During the last 72 hours we cooked, scheduled, and functioned completely on our own, without instructors. The cohesiveness that we have is undeniable, for we are truly a family now. I can say that I love the other seven lunatics here on this great adventure and that there is no way I would rather spend my final week of high school than in the woods with Mountain Classroom Spring 2016.