Proctor's Mountain Classroom shares two student journal entries from a few weeks ago as they begin their trek east after a term of adventures in Utah. Read more from Annie '21 and Luke '21 below!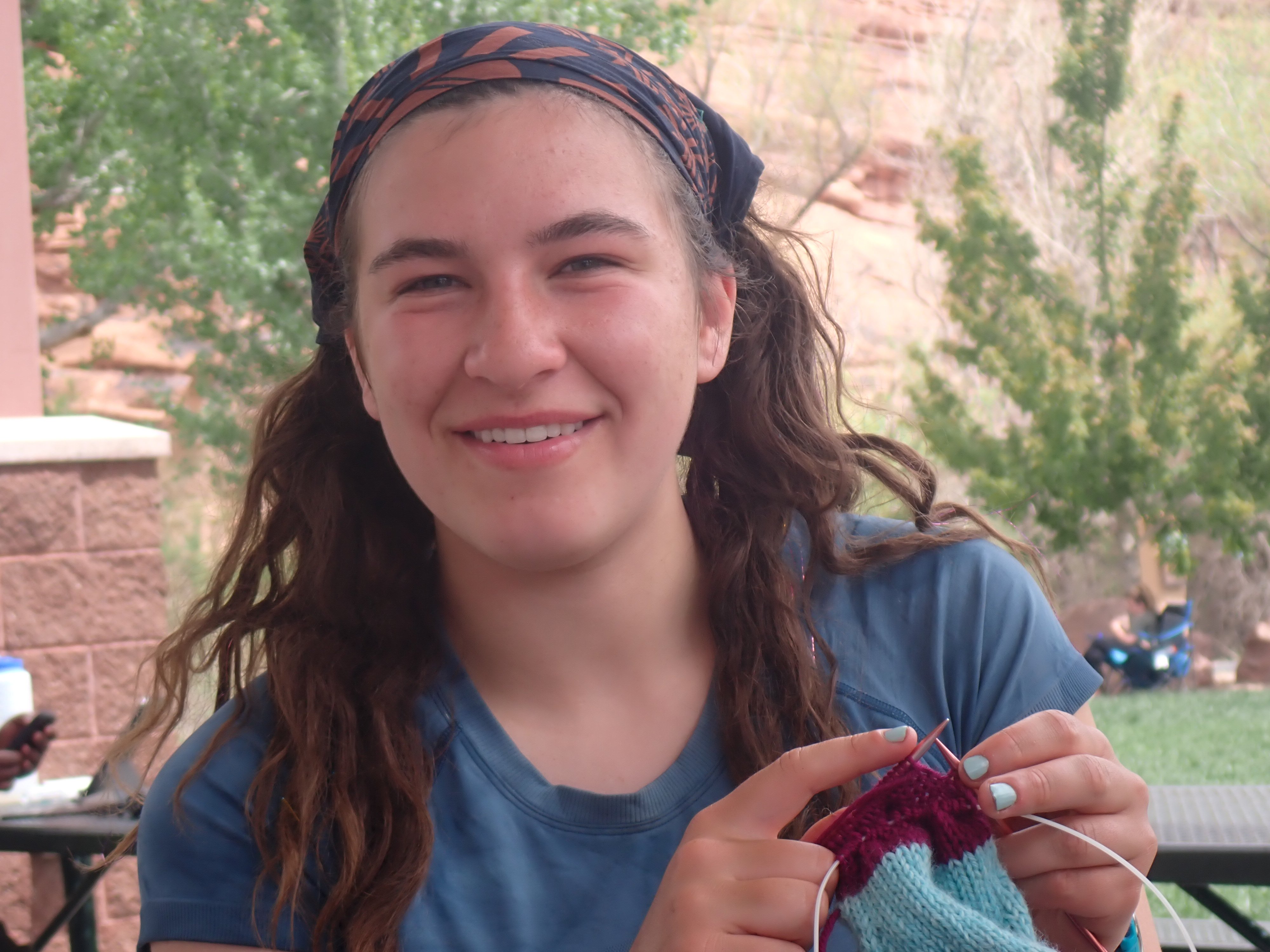 Annie '21
After an exciting and strenuous week of canyoneering it was time for the group to relax with our best buds Chris and Will in the most beautiful campsite yet. On the first morning of adjunct weekend we awoke to the La Salle Mountains to our left and the Colorado River to our right. The morning commenced with some front country meal planning, and don't worry we planned only the best for our visiting Proctor friends. After a strenuous shop through the congested aisles of City Market, Chris and Will met us in the parking lot. However, we were more excited about our ice cream sandwiches, and impatiently waiting for our mail drop. After a few hugs and questions of life on campus we all collected onto the bus to return to our Onion Creek Paradise. Many people were quick to run off the bus to our mail, none however as fast as me who was suffering from a classic case of motion sickness. With the picnic tables stacked with mail students were excited for our first glimpse of the outside world since we saw gossip magazines at Honey's. Everyone received letters from close friends, and some even received mail from their parents filled with candy and dog photos. That night we went to bed filled with excitement, and Nate even remarked that getting his mail was better than any Christmas. Unfortunately, the fun could not last long because a bus and trailer blowout awaited us in the morning.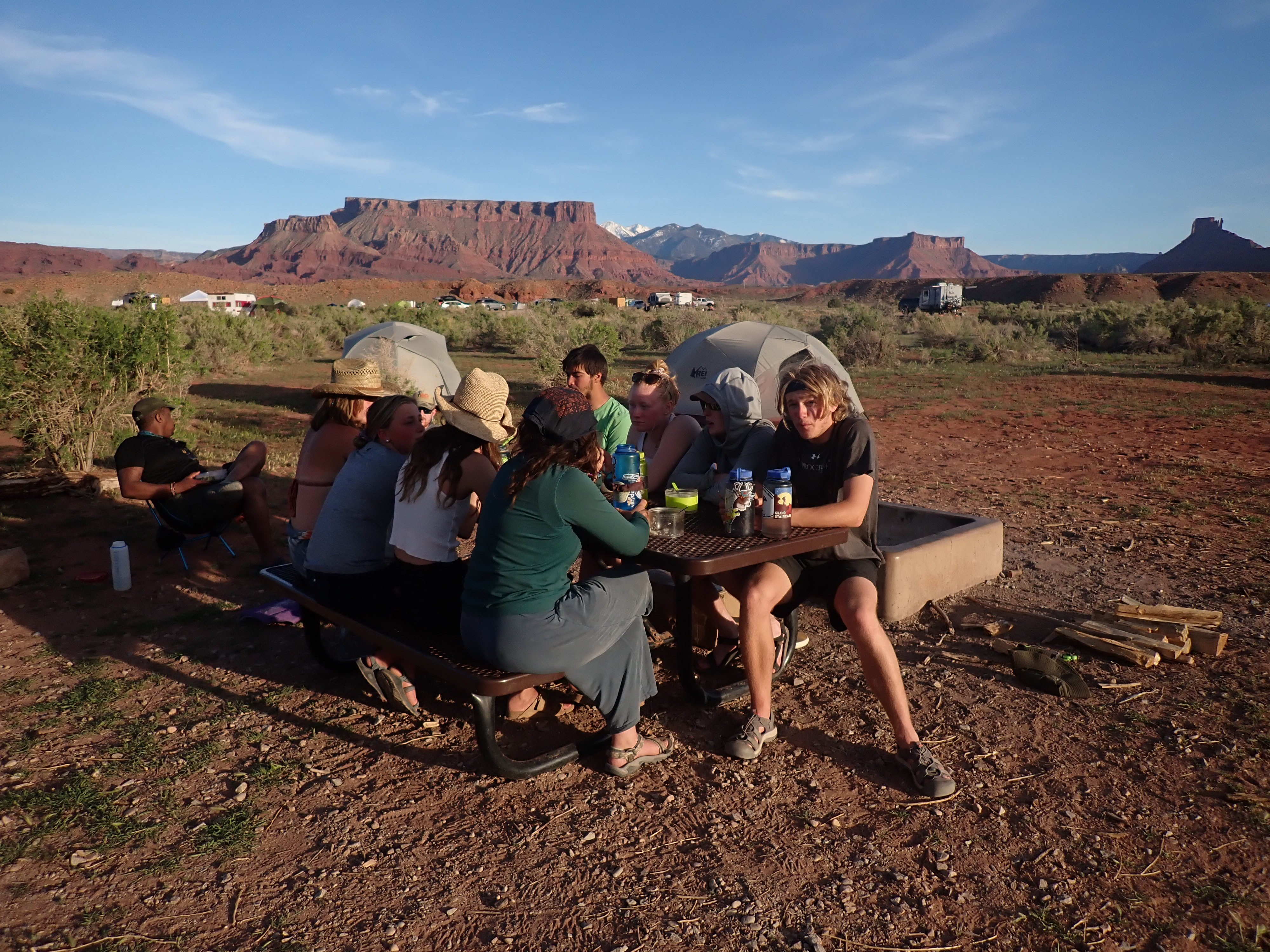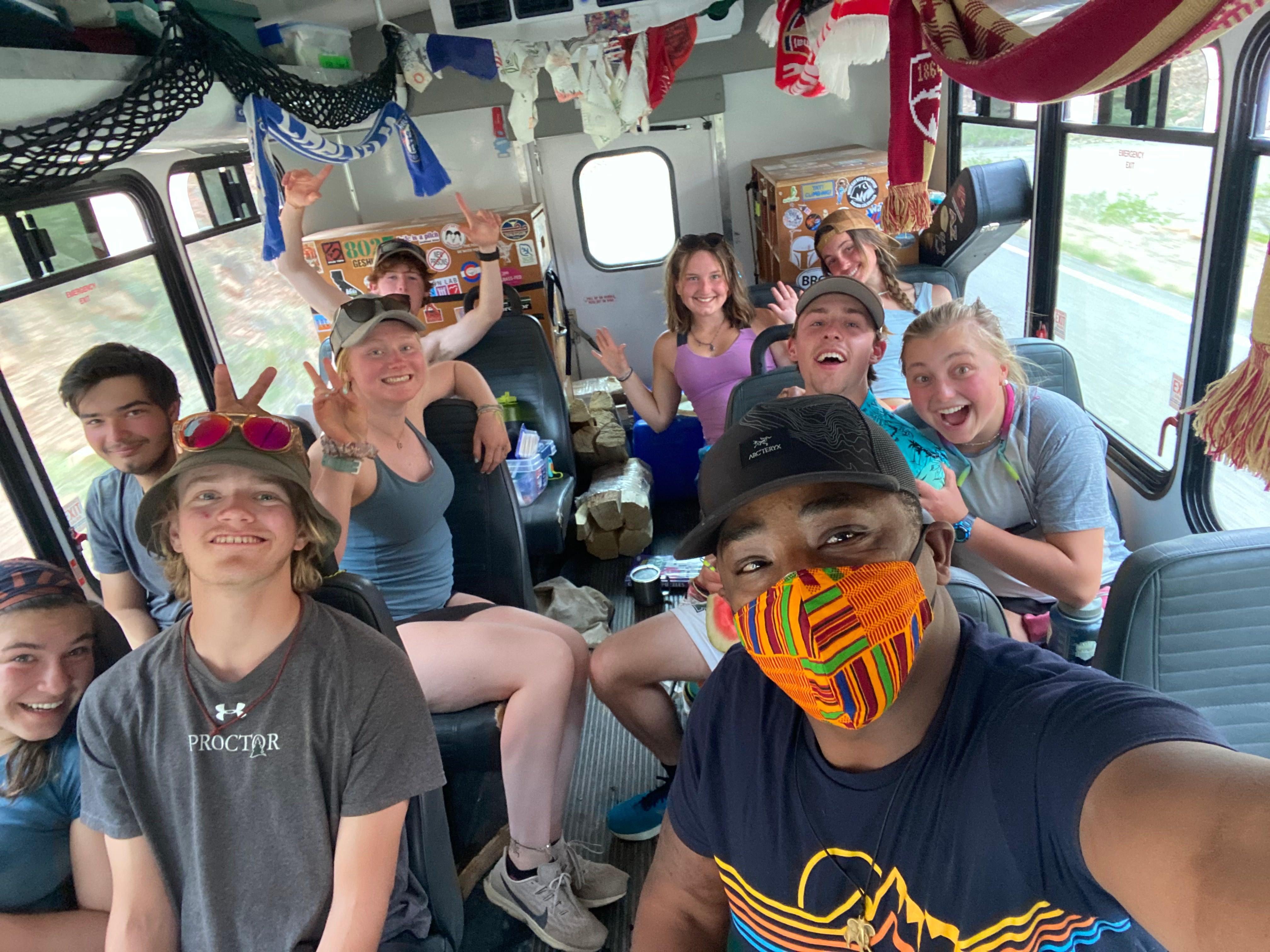 I woke up before the rest of the group to make my morning coffee, and hangout with Chris who quickly realized I am not a morning person. Cam soon followed me and we outlined everything that needed to happen for our clean day. We separated into three groups: trailer cleanup, bus cleanup, and zipper rehabilitation. Our group's handyman Camden quickly volunteered himself to clean out the sticky and sandy zippers of our beloved tents. The group realized that working together on our demanding tasks made the time fly by, and we were able to finish our clean in a very humble two hours. Before we died of heat exhaustion we all took a quick dip into the Colorado River before settling down for our first day of rest since solo. Some played music, some did homework, but for the most part we sat around the shade and gossiped with Chris and Will. We all wanted to know what life was like on campus and the answers to some crossword puzzles. As the sun set on another beautiful day we enjoyed fried pork bits from Aubrey and Camden, and planned our day trip to the Arches National Park.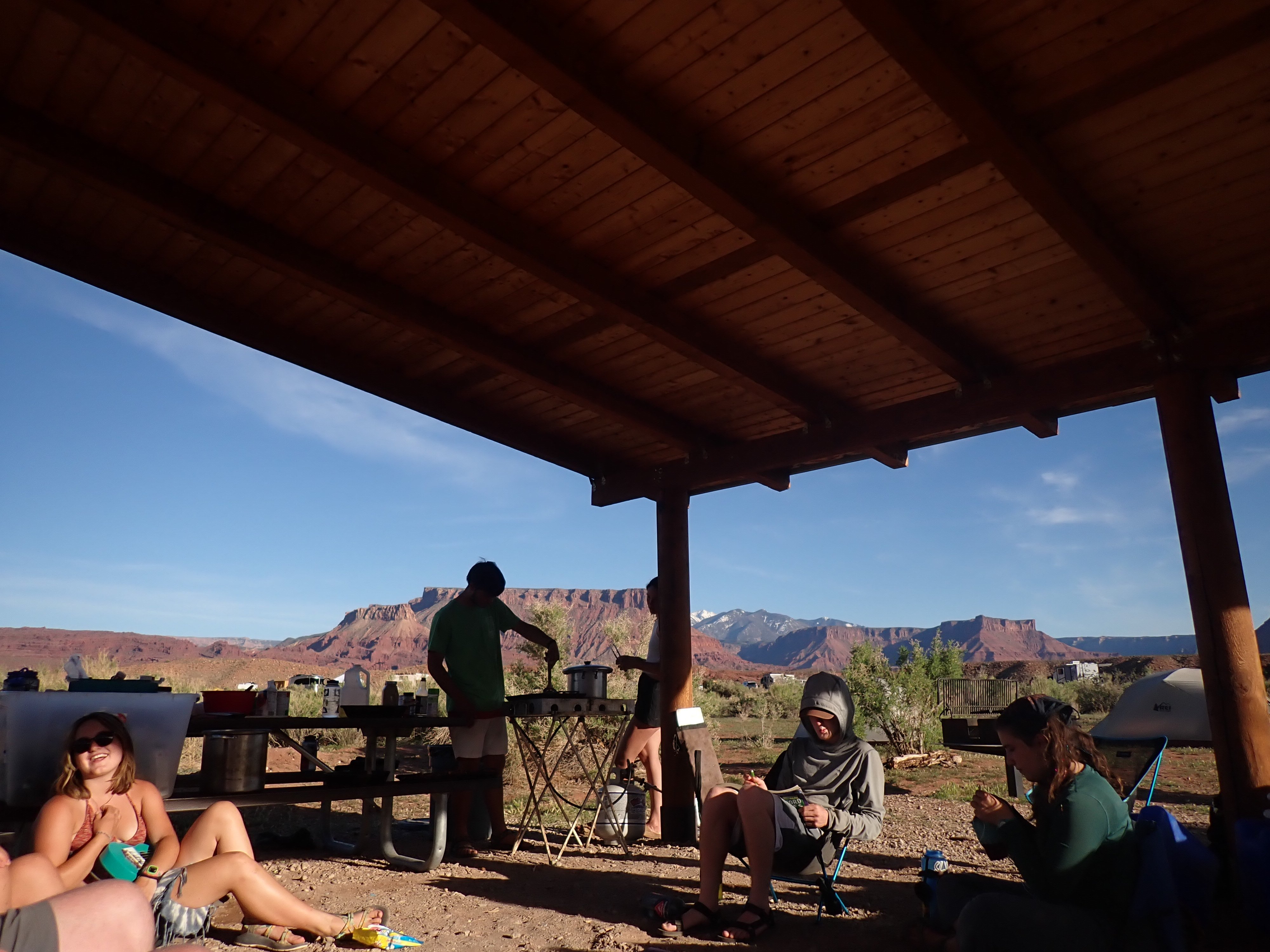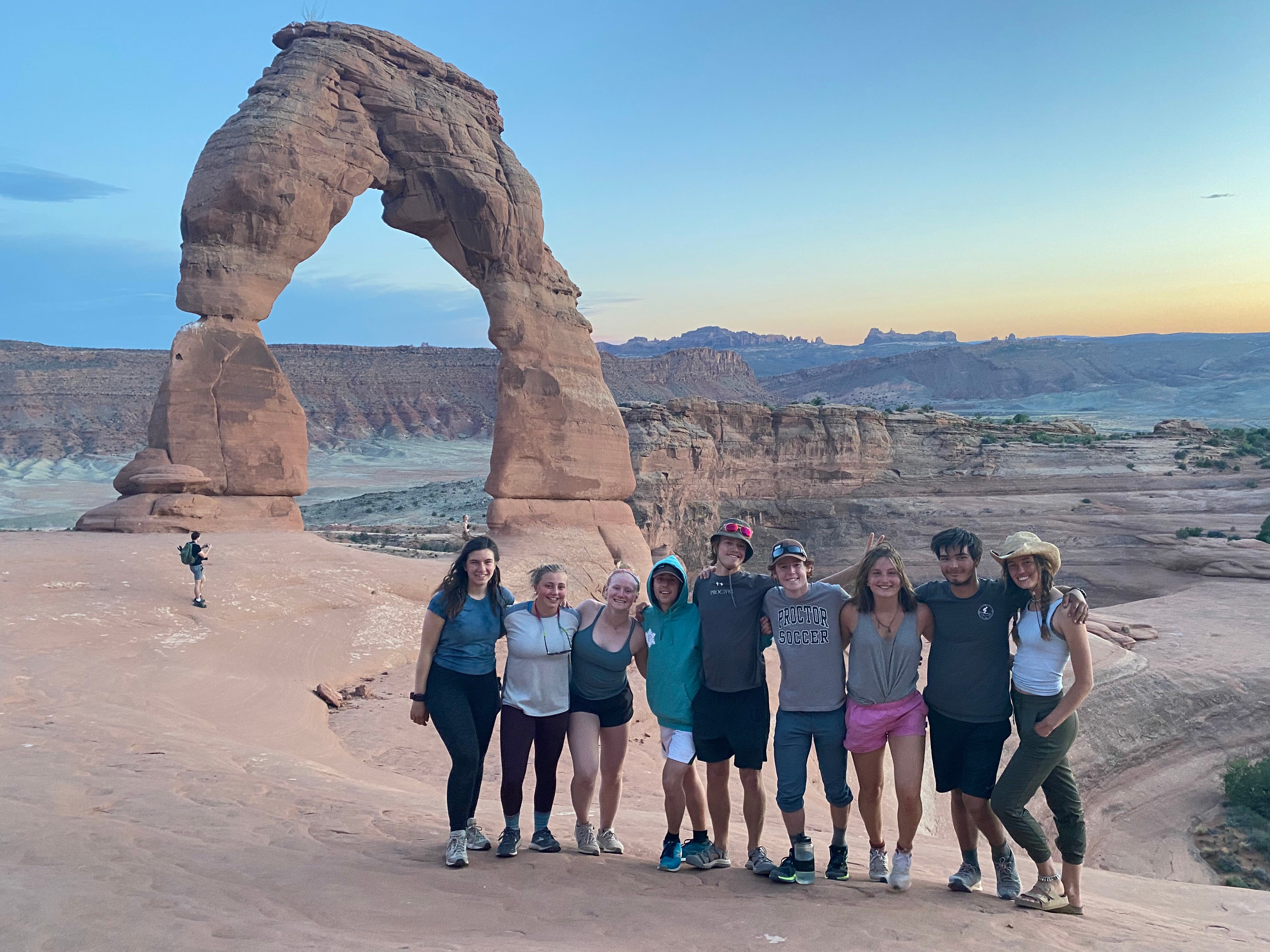 On Saturday, Cam and I were once again the first ones to rise, but this time it was to prepare avocado toast for breakfast and spring rolls to pack on our hike. The spring rolls were quite the experiment to put it simply. Despite some trouble rolling, we marked the first group to make all original meals (a slightly contested claim) and cook tofu in full rectangles. After some help from Will, Nate, and Emily, we were able to successfully roll, fry and pack our lunch to head to Arches. We piled into the bus and headed back down the windy road. Just as we pulled into what we thought was our destination, we all caught a glimpse of a light up sign saying: PARK FULL. We were a little disappointed, but luckily there was a local park that had been spotted earlier in the day. Though it was not Arches there were a few boulders for us to "free solo."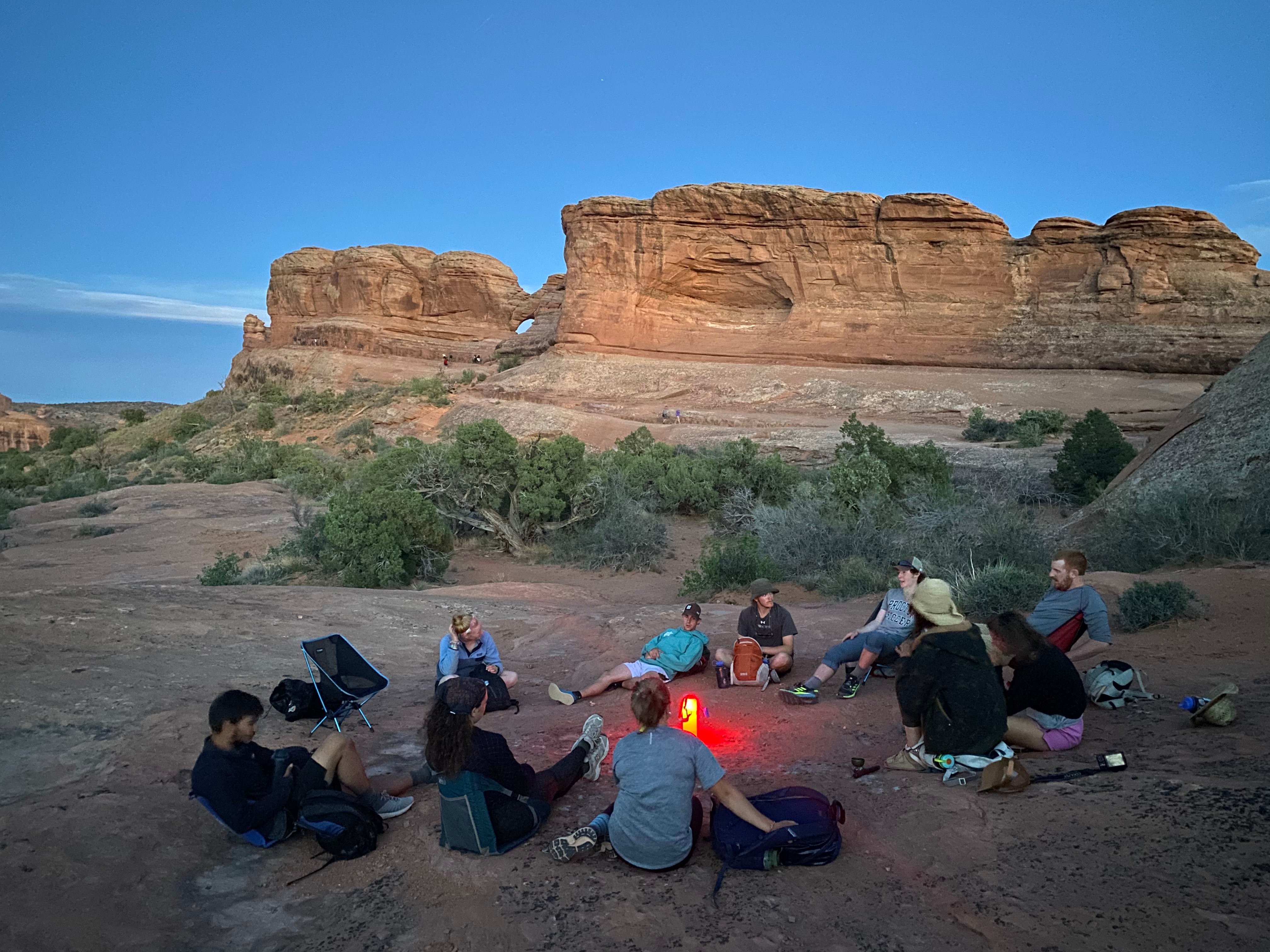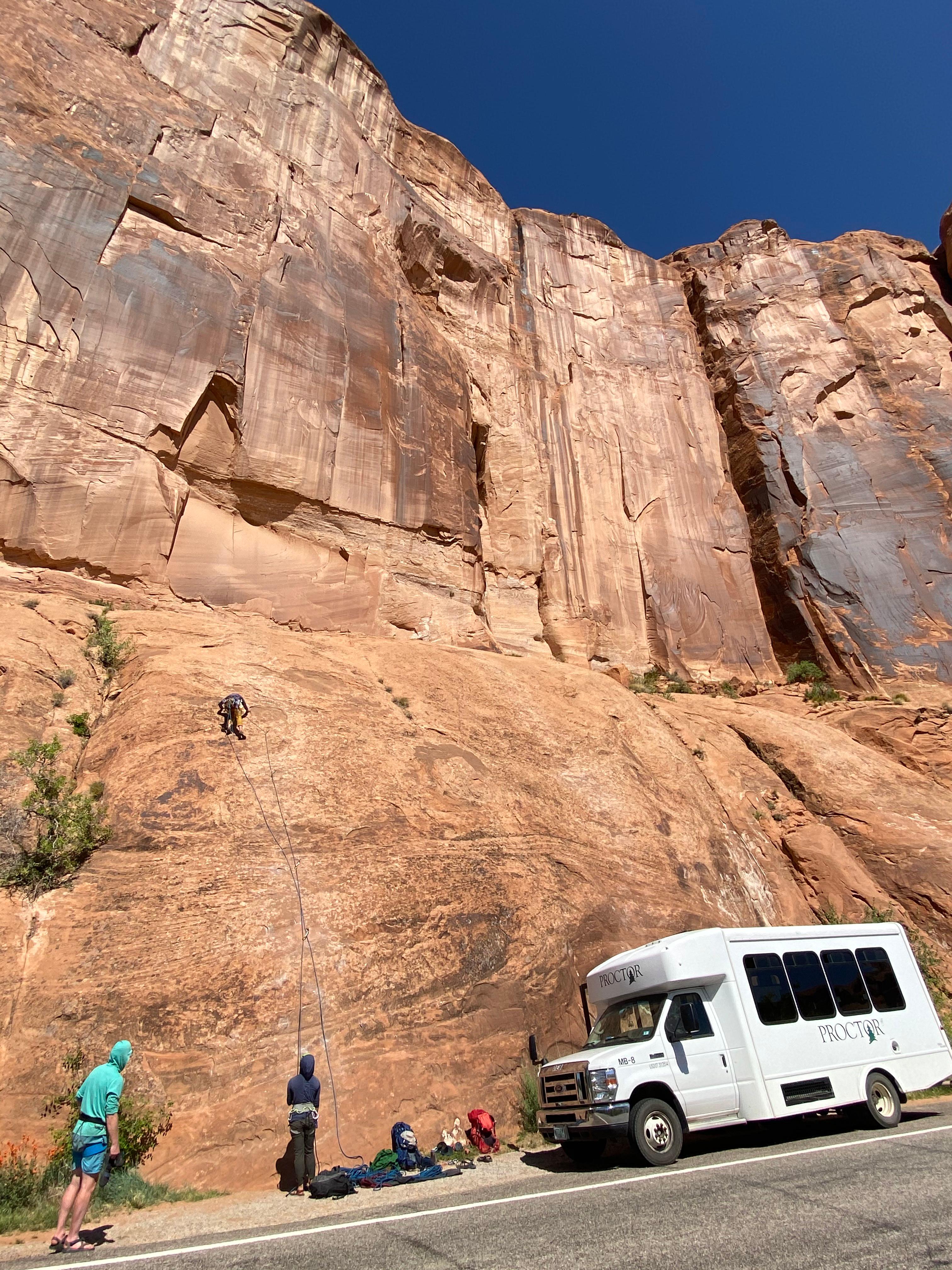 The afternoon was filled with frisbee, journaling, and a quick knitting tutorial. Luckily, we were able to research the hours of Arches, and found that it would be open for a sunset hike. After a tasty dinner of stuffed peppers, with musical entertainment, courtesy of Luke, we were able to once more take off. We were a little nervous at the trailhead of Delicate Arch as two exhausted strangers remarked to us it was much harder than advertised. Luckily the group was not afraid of a little challenge, and good thing too, because it was the most beautiful hike yet. We arrived to the arch just as the sun was setting over the beautiful natural amphitheater. A few of us were afraid of heights, but most of us were afraid of the one thing we hadn't encountered yet: people. With so many people around us trying to take photos with the arch, it was a bit of a marathon for Mountain Classroom's favorite aspiring influencer, Aubrey Ashby, to get her place under the arch. Much more fun was had at the arch, taking photos and searching for lost water bottles, before we were able to settle down for evening meeting. Just as the sun had finally set, we sat down to do our nightly ritual in a beautiful location. Most day hikers were long gone by the time we were finished with appreciations, and we were able to hike out of the arch all alone.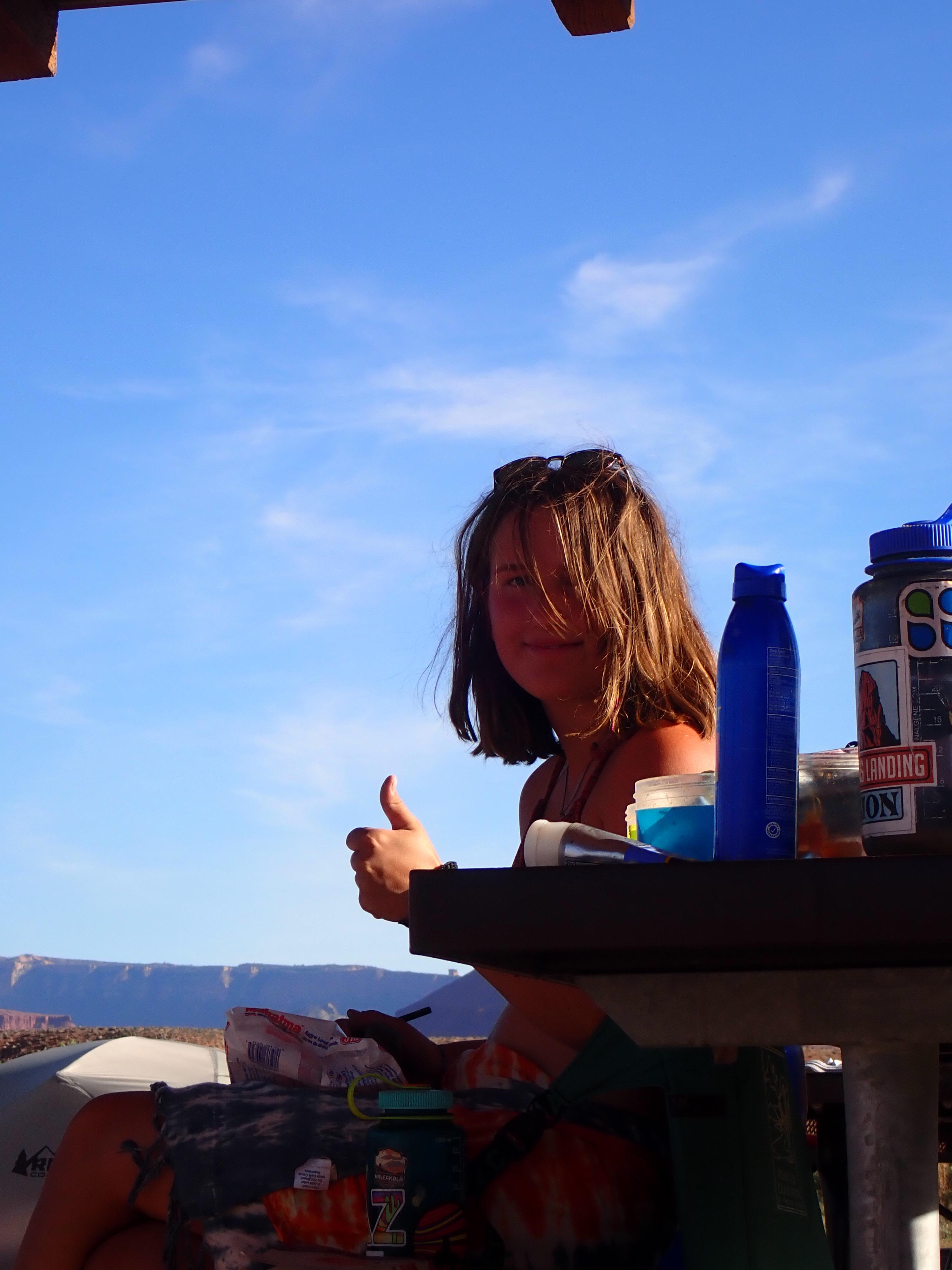 The last day of adjunct weekend came with our long awaited phone calls home, and of course showers. We took turns using phones to call home, and each phone call came with new exciting news about the outside world. However, one student was met with devastating news: the US Men's Soccer team lost to Honduras and didn't qualify for the Olympics. After four hours of showers, laundry and calls, we were able to pack back onto Deb and head to the food truck park. Important tip about Moab: do not plan for takeout on a Sunday. After looking at a few food options, Will decided he would head to the grocery store and prepare us a special meal. While he shopped the rest of us indulged in vegan smoothie bowls from Rainbowls Food Truck. After a delightful fruity treat the group returned to Onion Creek to cook dinner as a group. We baked potatoes in the fire, grilled plant based sausage, and lamb. For dessert Will prepared grilled pineapple.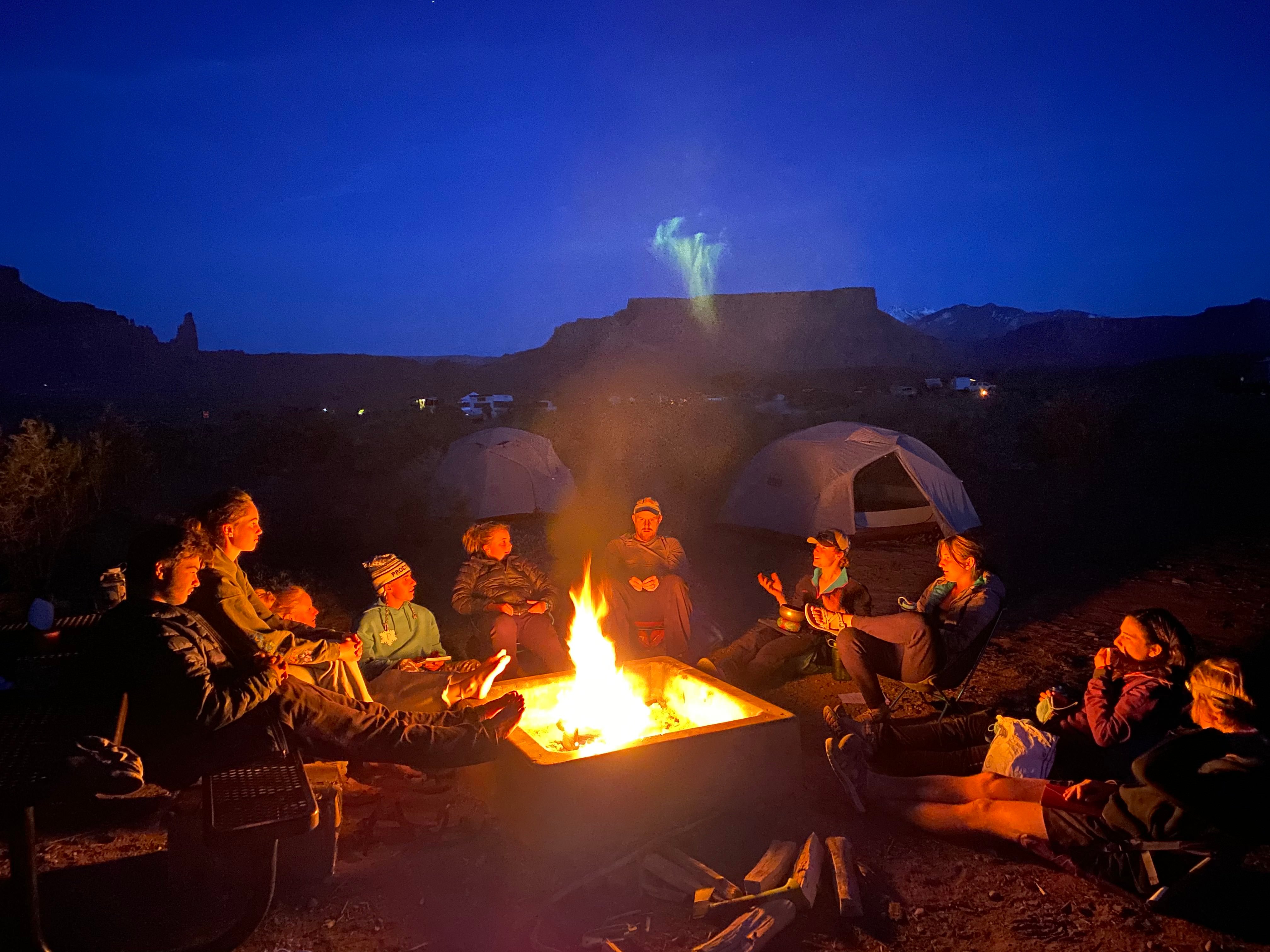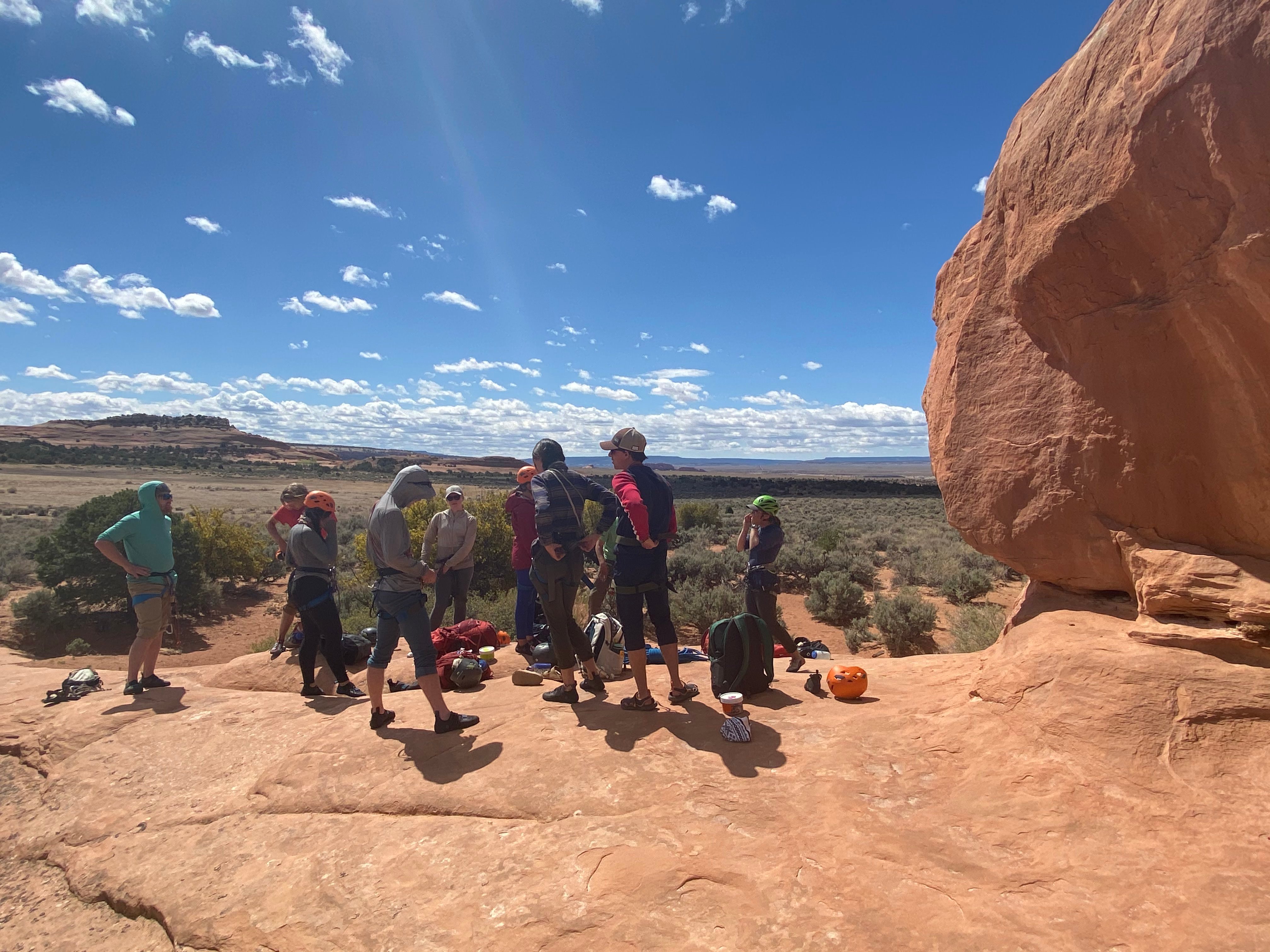 Luke '21
In the wake of a relaxing weekend with our Proctor friends Chris and Will, we were all excited for a couple days of climbing. The previous day we left our campsite near the LaSal's and moved closer to Moab. We set up camp, once again, along the Colorado. The days of relaxation made us all realize how much we love being active. Adjunct weekend was filled with fun, and yes, some much needed rest, but in reality we all could not wait to climb. After reuniting with our instructors while food shopping at the City Market, we all went back to camp and eagerly listened to them as they explained how to climb up a fixed line using a prussic knot. For some of us it was a scary thought to be belaying ourselves. After some practice we all became very confident. We went to bed that night with our stomachs filled with quesadillas, bags packed, and the anticipation of what was going to be an absolutely electric day of climbing and rappelling.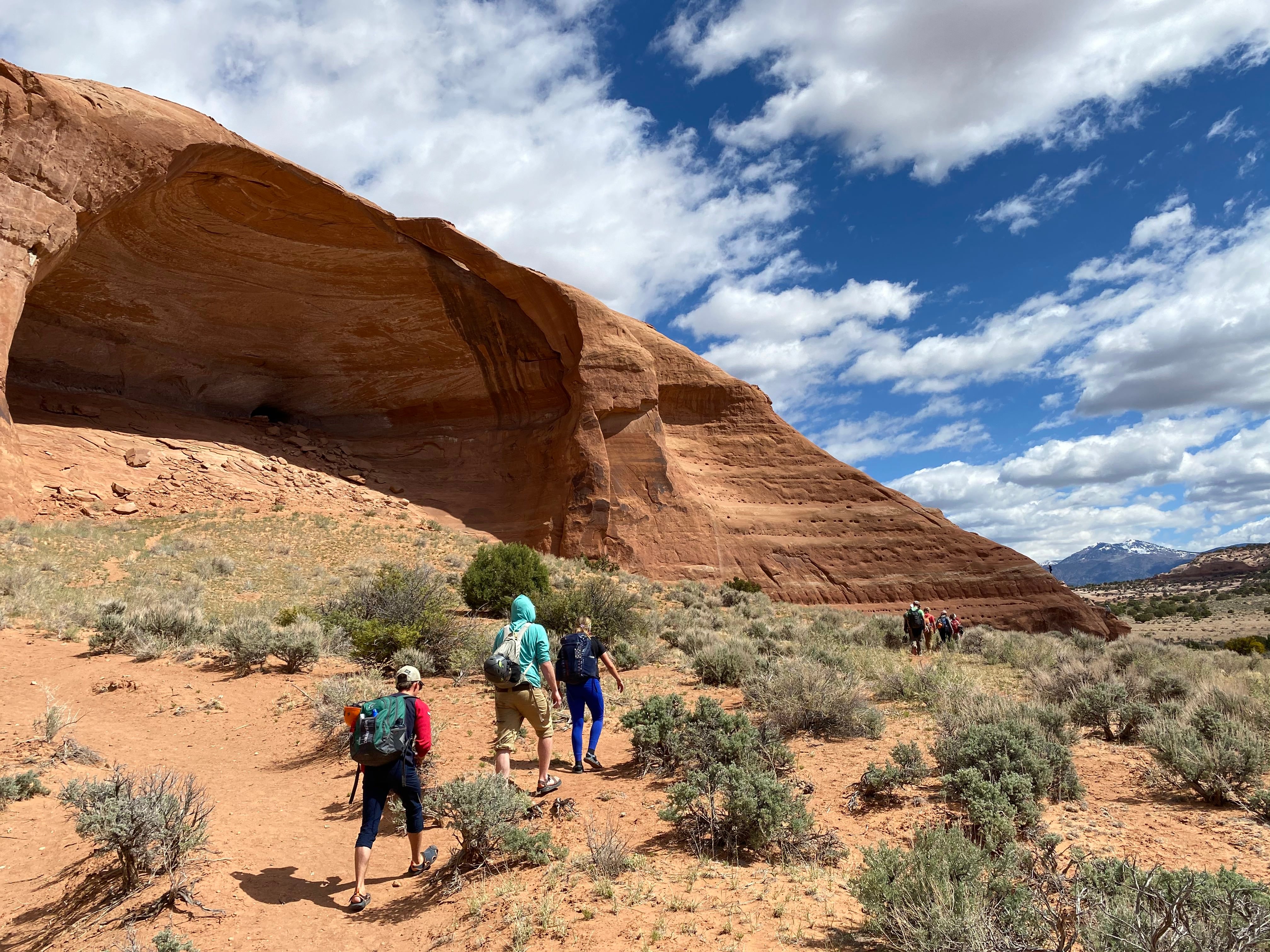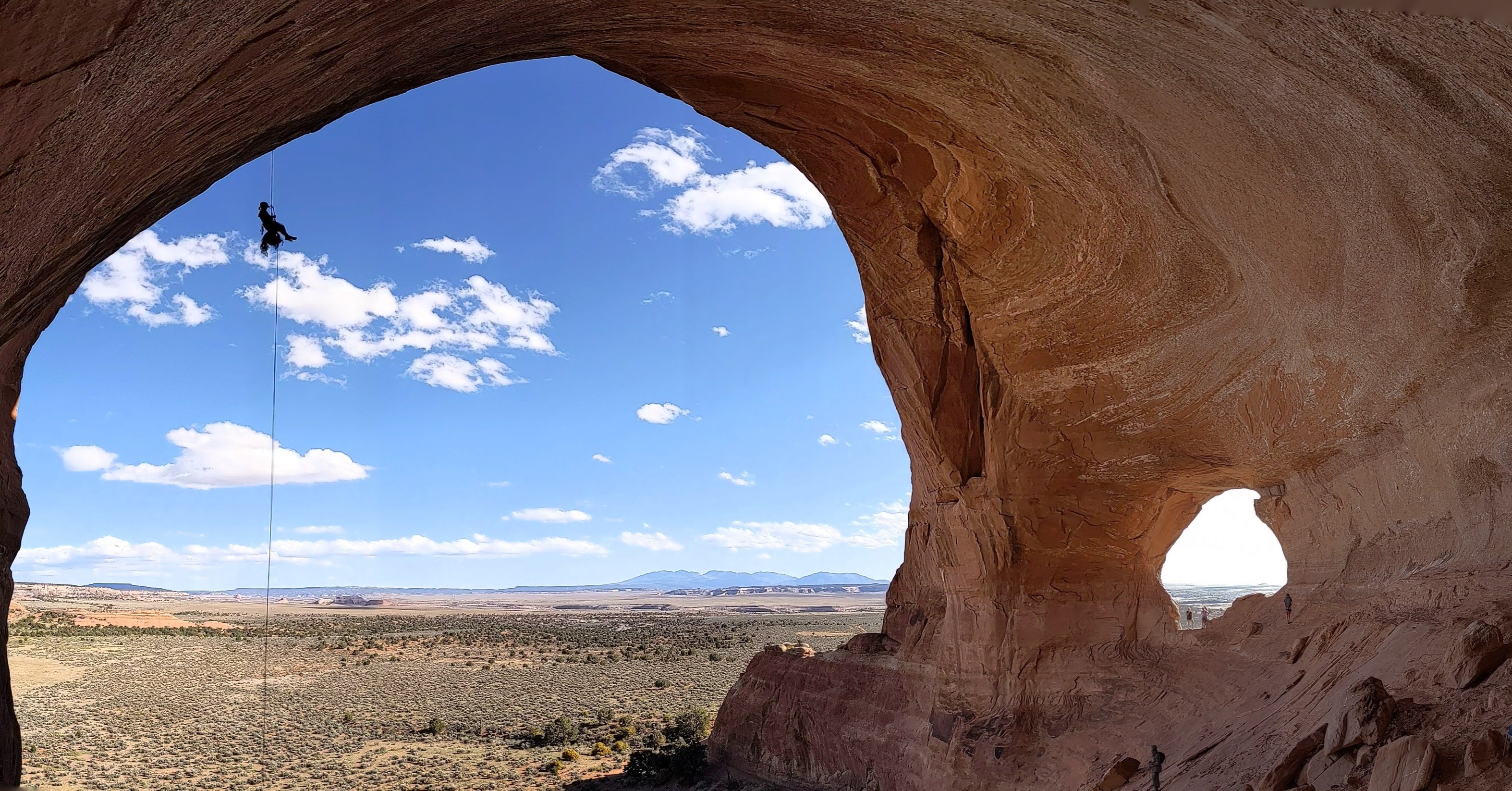 The first pitch of the four pitch climb was straight up, so Quinn had to belay us from above. To keep us safe on the climb, at the bottom of each pitch was a circle of rope to clip into called a corral. The fixed line was able to hold three people at once, so with Erica at the top of the second pitch, Annie, Camden, and Camille led the charge, while I was close behind. Going up the fixed line was one of the many things during this day that would take us out of our comfort zones. This was the first climb we had done in which we were belaying ourselves, so we really had to trust the rope and most of all ourselves. Unfortunately at the second corral, Camille dropped her GoPro some 80 feet all the way down to the bottom of the arch as Erica screamed "ROCK"! Moving up the arch was slow, but it gave everyone some solid time to enjoy the moment. The last pitch didn't require us to use our hands and one by one we got to the top and gave our feet a break from the restricting climbing shoes. Once everyone got to the top the angst of the rappel was very evident. There was about a 15 foot crack near the edge of the arch which led down a corridor of uncertainty. Prior to the rappel, Will and Erica lead a nerve calming exercise at the top. Will talked about the wind, and Erica assured us that we were all extremely capable of doing the rappel. Going to the start of the crack we had a quick down climb in which Quinn had to belay us down. Once we were all down near the crack, we clipped into another corral, and let Quinn go down first. There was a lot of mixed emotions at the top some people were scared, some people were excited, and for some reason Camden and Emily fell fast asleep on the rock. We had done a lot of rappelling in North Wash, so we definitely knew how to do it, the only difference was that it was a free rappel and we didn't have anything to put our feet on. I was one of the people who was really excited, but when it was my turn to go I found myself a lot more scared than I expected. I started down the rappel with Erica just smiling down the crack saying that I was doing great and that it was fine. Once I got about 1/4 of the way down the nerves subsided and I got to enjoy the rest, taking a break at the halfway point to enjoy the view. It was a very cool and unique day that stretched our comfort zones and gave us an extremely elevated sense of accomplishment. We found Camille's GoPro on the other side of the Arch and thankfully it still works. We walked back to Deb with such joy and relief. Will and Emily whipped up what Will called, "Hot and a lot". It was just a pasta bake, but after one of our longest days yet it hit the spot.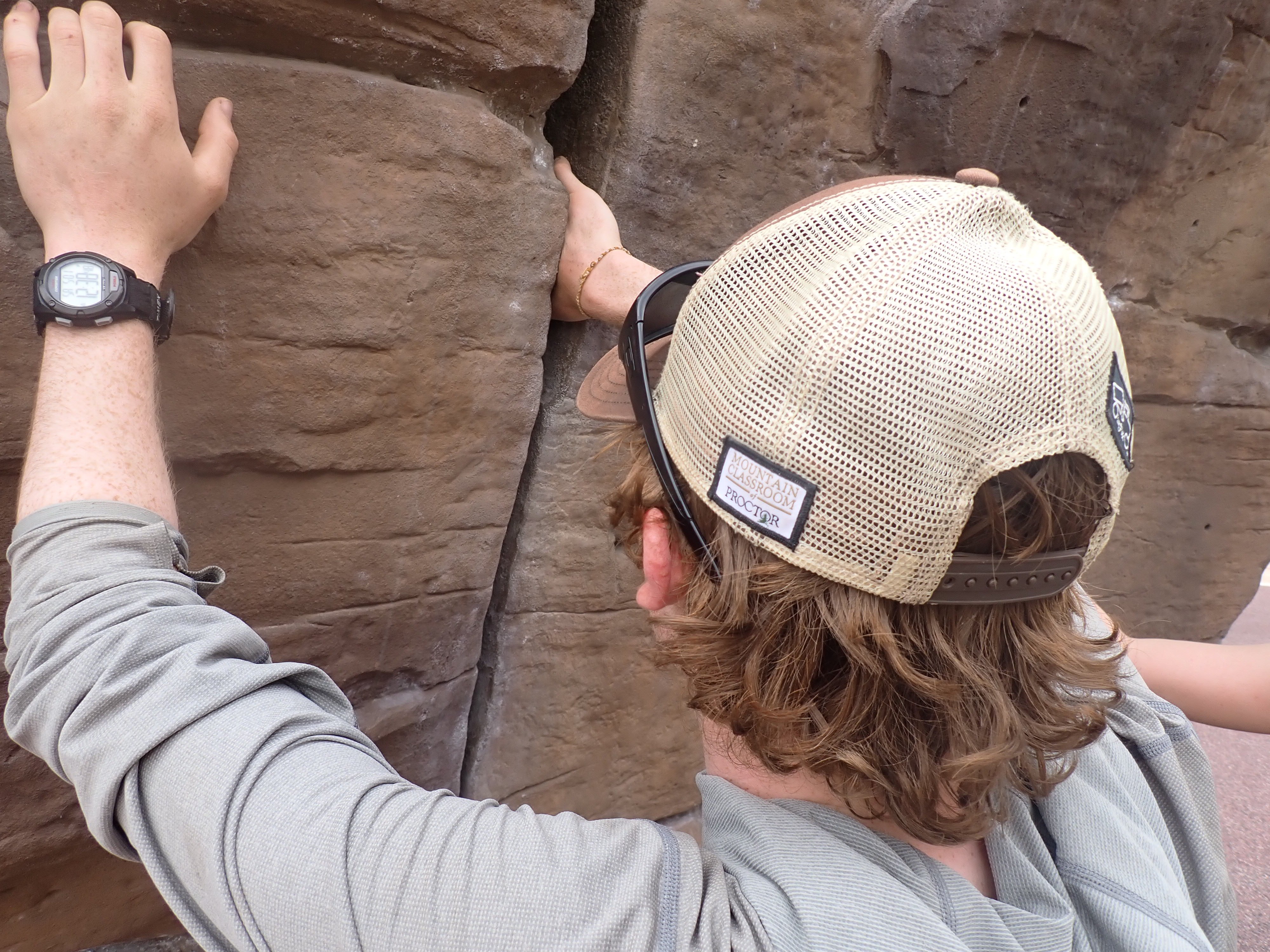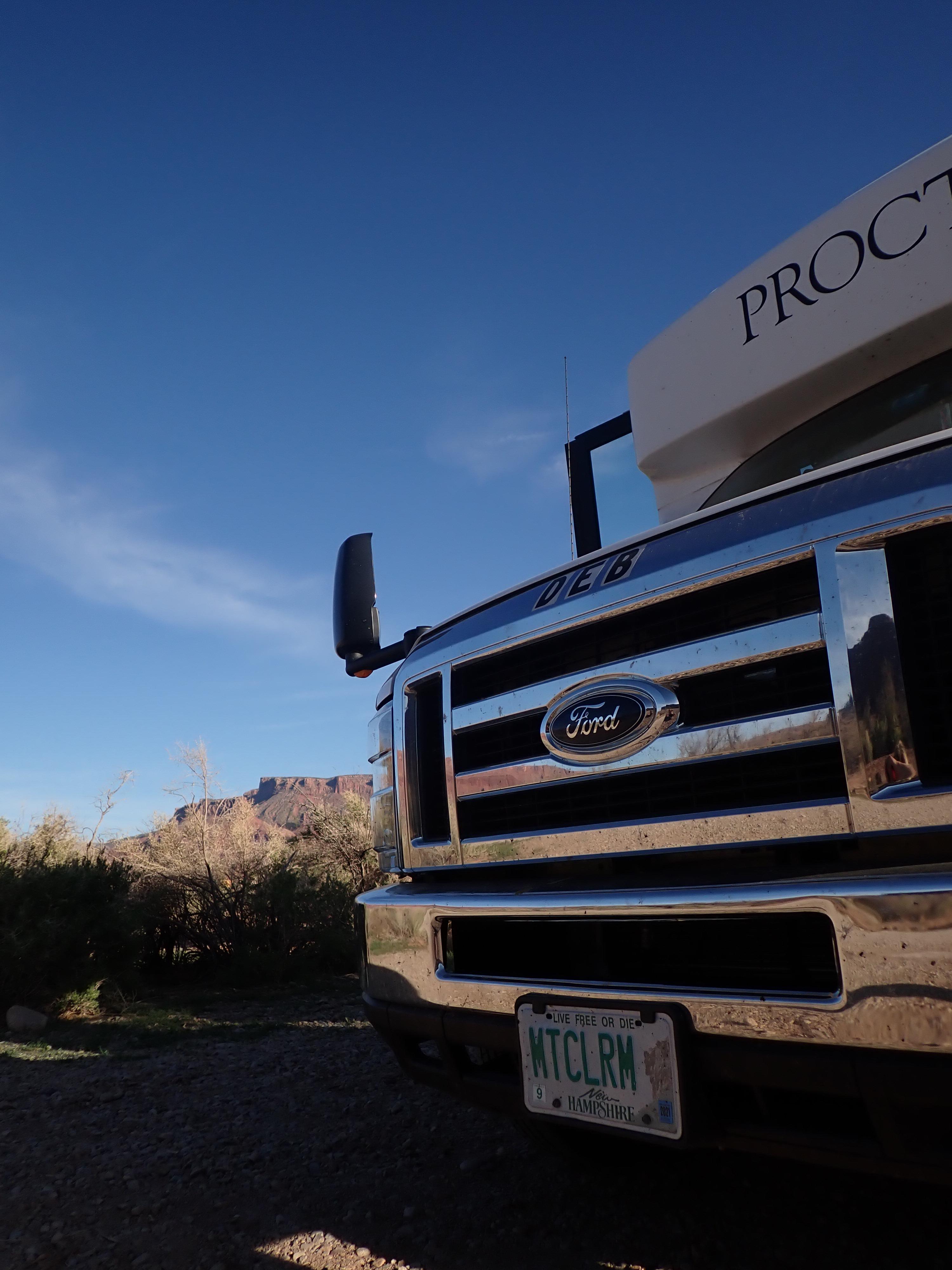 Since Deb had broken down earlier in the trip we had to push things back, giving us only two days of climbing. This was Chris and Will's last day with the group, so we really wanted to make the most of it. We took a short drive across Moab and pulled over to the side of the road at a designated climbing spot. Unfortunately it was the hottest day yet, and the wall was facing the East, making the wall extremely hot in the morning. With the heat it took us a little while to get going, but Quinn and Erica set up two great climbs and we got started. The wall next to us had been claimed by some dude who thought he knew everything about climbing, and he spent his time climbing and attempting to micromanage our entire climbing operation. Not even an hour in I decided to walk across the street and jump into the Colorado because it was so hot. Nate and I liked to believe we were experts at climbing so we would embellish almost every difficult hold we could obtain on the wall. Before lunch everyone had jumped in the river once or twice, and made it to the top of at least one of the climbs. Since we had done the super high rappel the day before the heights of the climb were nothing and we cruised up. It was nice to go from a very strenuous day to a day where we could just chill and have fun. Baxter was the most prepared out of everyone, having his own harness, shoes, and most importantly chalk bag, which he graciously shared. Around 2:00 it was time to say goodbye to Chris and Will, so after many hugs and everyone giving a bunch of letters to Chris to bring back to school, they were off. We all got a few last climbs in and after a long two days we went back to our campsite on the other side of Moab, where a bunch of us passed out.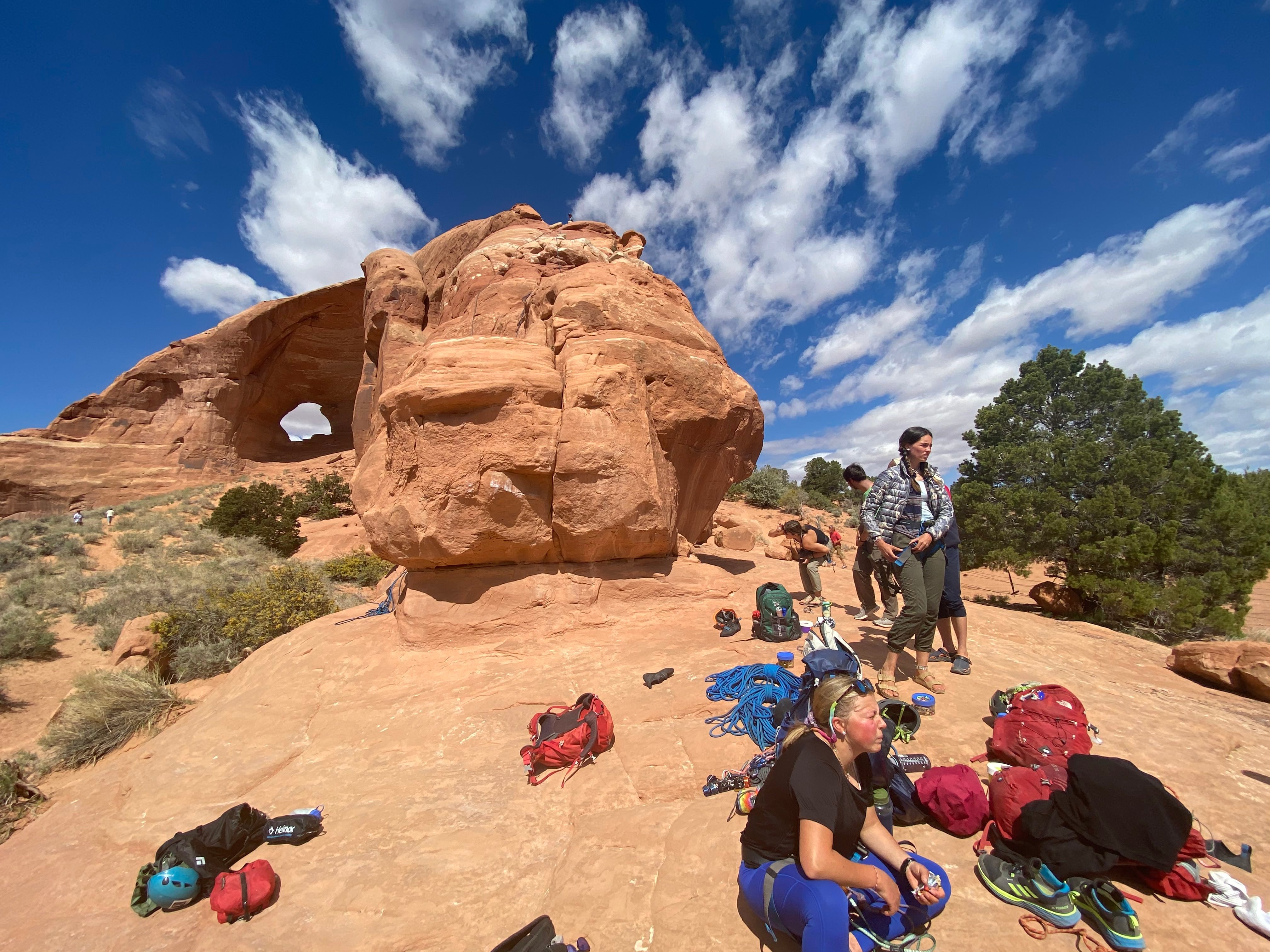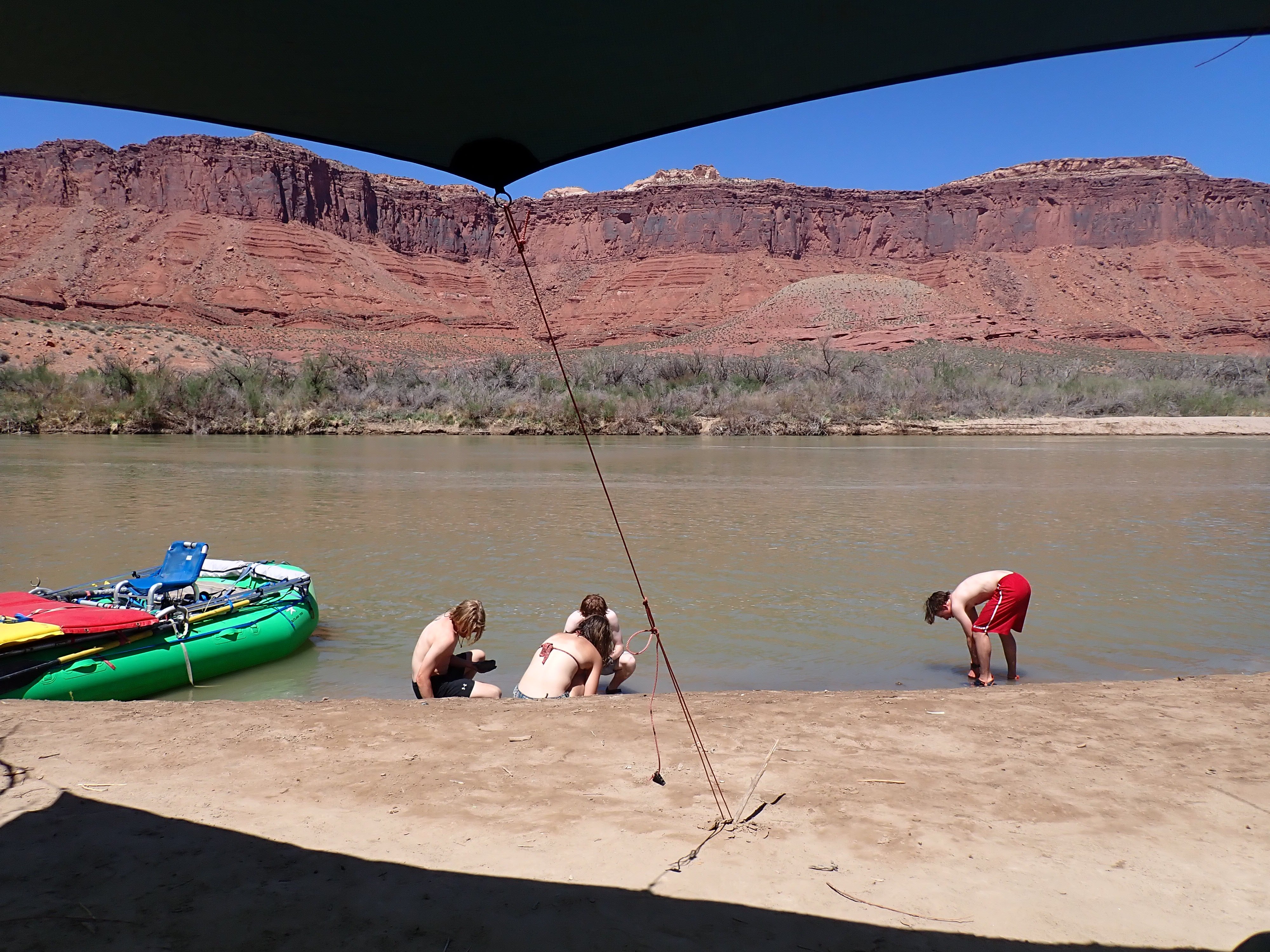 We are now going to drive back to Escalante for 5 nights. The goal is to catch up on school work, and spend some solid time planning ISGE and our cross country drive home.