Mountain Classroom
was able to send in their reflections on Mexico after hiking out from their four-night wilderness solos in Southeastern Arizona. Now they are meeting up in Tucson with adjunct Mountain Classroom faculty members Drew Donaldson and Matt Mackenzie for a weekend of fun. Check back soon for updates from our solos!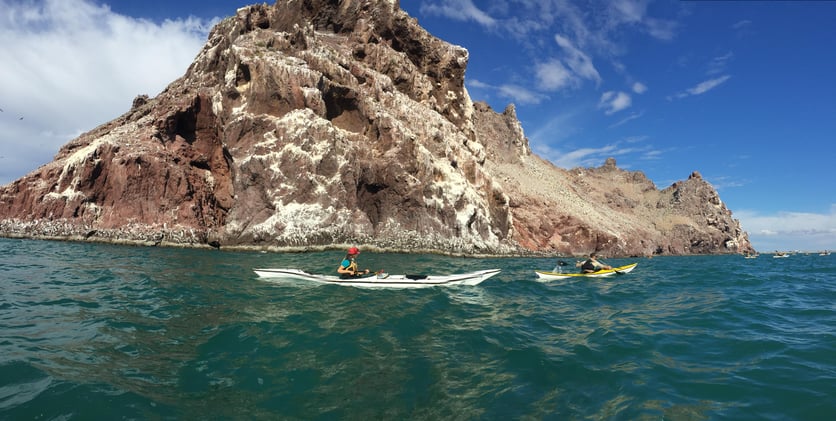 Catherine '17:
It's crazy how small the world can make you feel. From being immersed in the ocean that's teeming with life to camping in the shadows of steadfast mountains, we're always presented with reasons to be humble.
This week in Bahia de Kino we experienced both of those things. Punta Ignacio stood proudly by our home at the Prescott College Field Station, and we spent days in the water exploring nearby islands and coves. My favorite part of our snorkeling adventures was the first cove we visited. The cove hosted a multitude of life due to a phenomenon called upwelling. Cold and nutrient dense water flows into the Sea of Cortez from the Pacific Ocean and when it hits the islands the cold water is pushed up to the surface. When the nutrients are exposed to the sunlight the area turns into a hot spot for photosynthesis creating food for plankton and krill, which in turn nourish larger sea creatures, fish and mammals alike.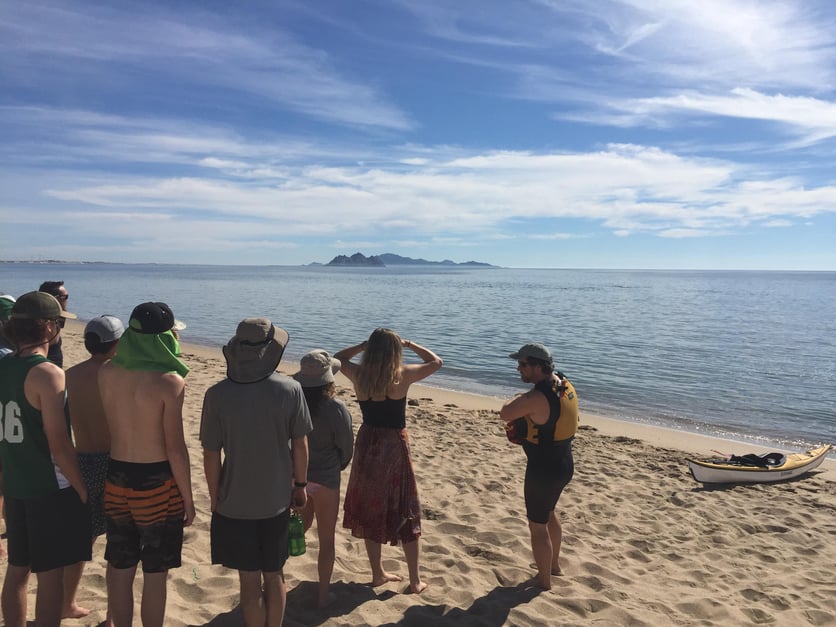 I pulled my neoprene jacket over my wetsuit for extra warmth in the frigid water and waddled with my flippers into the sea. At first my attention was fully captured by the gorgeous reef and trying to find fish hiding in it. After about half an hour of stalking fish and inspecting starfish something small and wispy floated right in front of my mask. I forced myself to zoom out from the reef and focus on the lovely creature that popped up.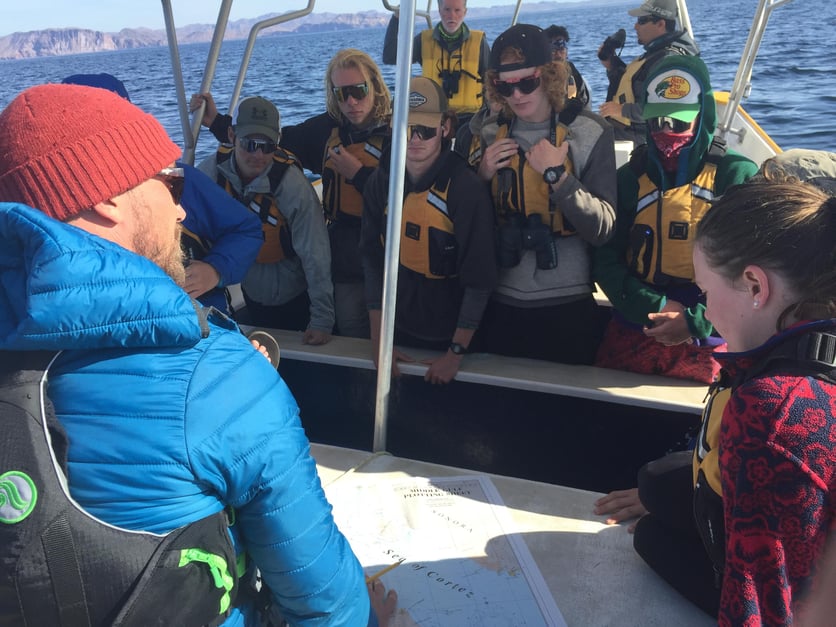 A tiny, translucent species of jellyfish was carelessly drifting in the water. Suddenly I realized that they were everywhere and I hadn't even noticed. I was also surrounded by so much krill it made my head spin, a plethora of microorganisms crowded the water as far as I could see. It blew my mind that I'd spent so much time following two cool, but boring, fish and hadn't searched for anything else. Getting the big picture is fun but remembering to look at the small stuff is even better. Those tiny little lives sustain the biggest animal to ever exist on this planet. If that doesn't change your mindset I don't know what will.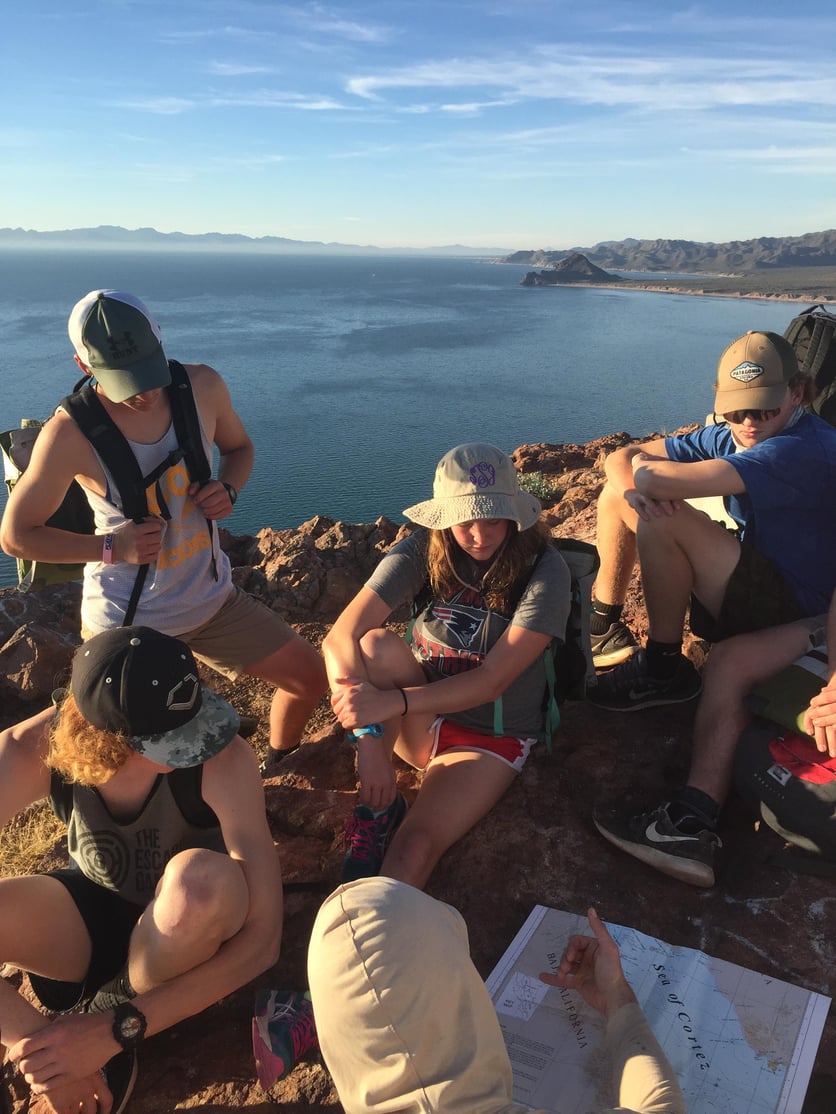 Sadie '17:
When we arrived at the Prescott College Field Station we didn't know that 15 people lived on site. We were lucky to befriend many of them. I want to share a small taste of who they are.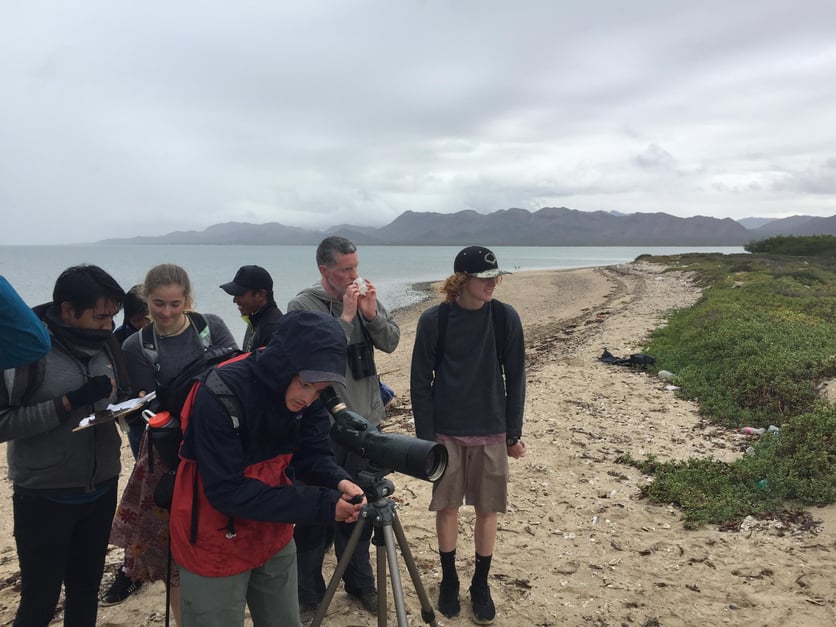 After being at the station for a few days we had the privilege of meeting Captain Cosme, a retired fisherman who operates the Prescott motorboats. He took us on the water for a day of sea lions, birds, and trying to find whales. Cosme has lived in Old Kino his entire life next to the Santa Cruz Estuary where we spent a day kayaking. He and his four siblings started a movement called "Keep Your Estuary Clean," and just a year ago a large group of volunteers picked up 21,000 kilos of trash in the estuary.

We also spent time with Hector who is the station's resident marine biologist. He came out with us in search of whales, but much of the time he is collecting data and teaching workshops. One other person we were lucky to meet was Laura who took us bird watching with the Comcaac tribe who live in the hills north of Kino. Laura came to Mexico 35 years ago to do her final project for college and ended up meeting the Comcaac tribe and has been working with them ever since.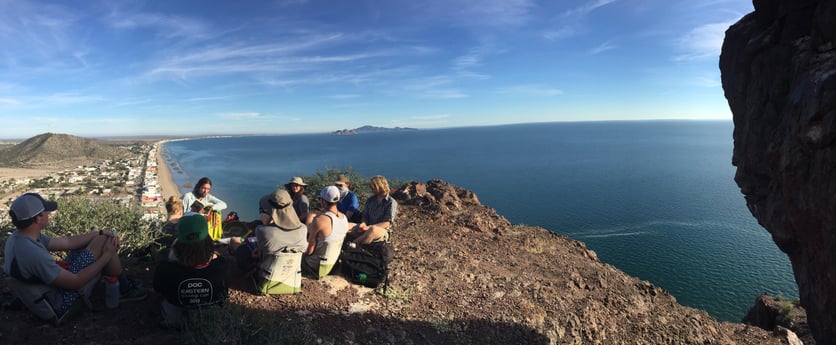 The individuals we met who work at the station have lived incredible lives. It was amazing to see the work they are doing and I was sad to leave them and this gem on the Gulf of California. I'm hoping that I will return in the future to see how their work has continued.