John Ruskey and Mark "River" Peoples from the Quapaw Canoe Company showed us to an amazing week of paddling that Grayson '18 and Matt '17 have documented below. In our class time we explored James Kilgore's Understanding Mass Incarceration, Richard Grant's Dispatches from Pluto, and a nutritional analysis of prison diets. which allowed us to get to know the prison system through multiple lenses. Enjoy this second update from Mountain Classroom's first three weeks of the term!
---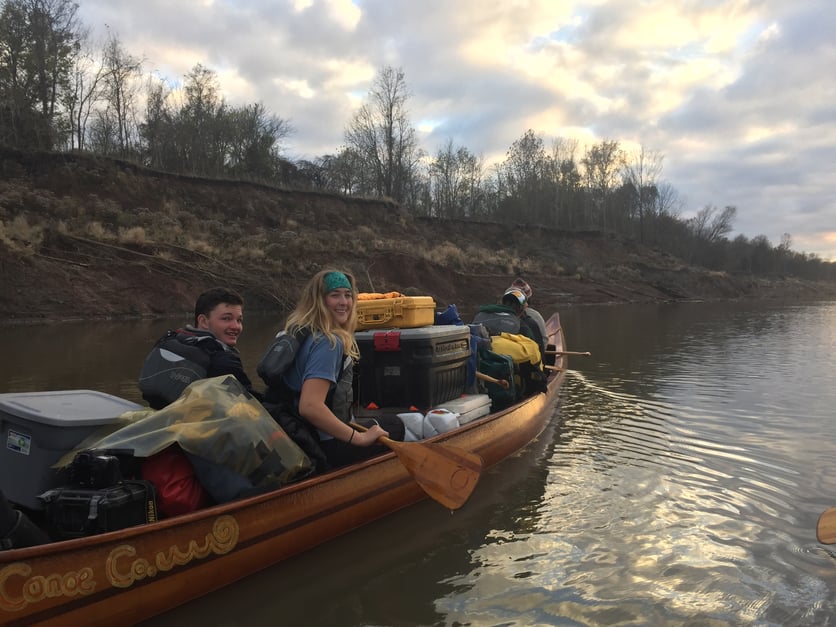 Grayson '18:
A river is a body of water that flows from one place to another, and a river is also a place of infinite wisdom. We spent seven days paddling our way from the last dam on the Arkansas River until we reached the mighty Mississippi River. From there we worked our way to the town of Greenville, Mississippi. Seven days included around 90 miles of paddling, temperatures from the low 20s to the 60s, and countless lessons that will last a lifetime.
One of our river guides was Mark Peoples who was better known to us as "River." He has spent years exploring and charting the Mississippi River as well as its backwaters and tributaries. As I said the river is a place of infinite wisdom, but it takes guidance to see this wisdom. River was the key that unlocked this wisdom for me.
A canoe is an intimate place to spend long hours of a day with others. You are close together and working toward the same end goal. As a product of this, you spend a lot of time in conversation. Sitting in the cockpit of a handcrafted 27-foot canoe a group of us, including River, found ourselves deep in conversation. I was unaware that I would hear some of the most inspiring thoughts I have ever encountered. River began to talk to us about how important a strong work ethic is after someone cracked a light-hearted joke about not wanting to paddle. River shared, amongst other things, "You are the only one that is responsible for your actions, you can choose to slack off and not achieve your goals or you can go into life ready to give everything you've got. Believe me when I tell you that one of those options is a lot more rewarding than the other." Most people have been told versions of this their whole life, but there was something about hearing it from River. While watching the glistening glide of his paddle stroke in front of me it resonated like never before.
Setting up camp every night begins with firewood collection. This allows for hours of warmth, a place to cook meals, and a setting for more conversation. One evening while the fire's bright light illuminated our figures and faces, and the stars twinkled in the night sky, we began talking about connections in life and the importance of people. We shared our thoughts about what we value most and when it got around to River he said something that I will never forget: " I think that these days people put a lot of value in money when the real value is in people". This has stuck with me since the second he said it while warming his hands over the crackling coals.
This trip down the Arkansas and Mississippi has been full of sights, scents, and sounds that I will never forget. The conversations that I was fortunate enough to take part in with River I will carry with me as long as I live.
---
Matt '17:
Paddling down the Arkansas and Mississippi Rivers I saw endless signs of people sharing a common interest with me--hunting. On top of the banks there were countless ground blinds for hiding hunters; it was a beautiful sight alongside the largest river in North America. There were game trails like I had never seen before when we pulled up to our beach campsites. The deer runs that I have to look for carefully in New Hampshire had turned into highways that even a non-hunter could spot with ease. The one or two rubs on the trees at home that get me ecstatic turned into ten to fifteen within feet of each other. This was deer country.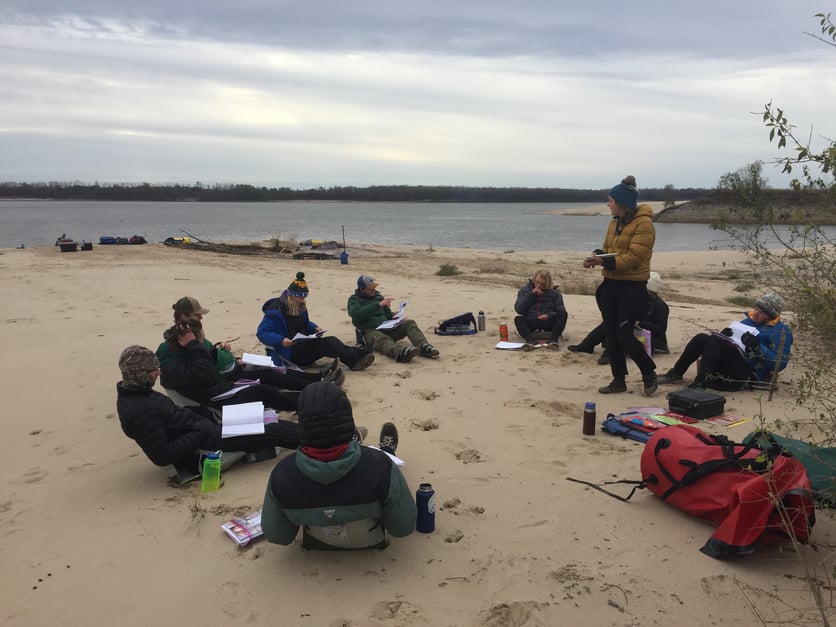 Our third campsite was on Cat Island, which is located at the confluence with the Mississippi River. One of our guides, River, told us that this spot would be crawling with deer as it is usually flooded. As we unloaded all of our gear onto the island we saw three ATVs parked on the immaculate island--hunters. My first thought was that I really wanted to meet them and find out what it is like hunting out here, but we soon figured out that they had dropped off the ATVs and were not actually hunting that night. Luckily for me, the owners stopped by on their boat and shared that they would be coming back in the early morning to go out hunting. Would I finally get to see a giant Arkansas buck?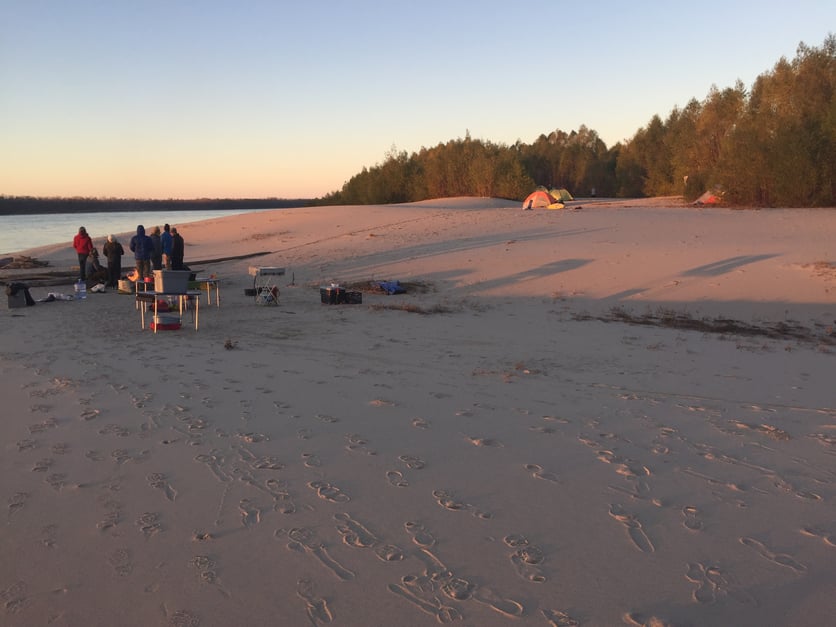 Morning came and we went about our daily activities as usual. I happened to be the cook so everybody was doing their morning exercise down the island while I was preparing breakfast. A shot rang out as the crew came jogging back. I was instantly excited. Hours passed, but the hunters were yet to return and I became doubtful that I would be able to meet them. Finally, I heard the ATV coming as we started to bring the gear down to the canoes!
The hunters showed up with a doe strapped to the front of their ATV. I asked them if they had seen anything else. Between both of them they had seen over twenty, mostly bucks, but none big enough for what they were looking for. In four hours of hunting they saw five times more deer than I saw in the twenty-five to thirty times that I hunted at home in NH. And I never saw one buck. They told us all about the season that they had been having and I learned about the land they had been hunting. They shared some photos of the bucks that they had gotten in previous years on Cat Island. It was an amazing learning experience that I couldn't find in the classroom, but only from knowledge of the other hunters around me. Hopefully I will be fortunate enough to be able to hunt in this amazing state some day.