Proctor Academy's winter 2022 Mountain Classroom program has come to an end after ten weeks of exploring, adventuring, learning, and bonding as a group. The off-campus experience is like none other, pushing students so far outside their comfort zone that individuals learn to rely on each other, and to understand fully the impact of their individual actions on the well-being of the group. For this Mountain Classroom group, like all groups, that learning has laid a foundation for the rest of their lives. Read more from Colin '22 and Calista '22 in these final reflections from the term.
Colin '22 | Day Three of Wilderness Solo
My third day of my wilderness solo was my most exciting, creative, thoughtful day of the whole experience. I spent a lot of my time alone writing in my journal about what was going on in real life and in my mind. I'd like to share a portion of that day's journal entry with you as a window into my brain during my solo. Happy reading!
"02/11/22 - Day 3 of Solo
Once I caught up on a solid number of journals I started to feel creative and longed to be in the sun so I left my sleeping tarp and looked for something to do. For some reason chocolate milk came to my mind. I fashioned my own take on a backcountry oven which consisted of a trash bag on the ground, 2 rocks angling my chocolate chip filled bowl towards the sun, and my plastic compass that I used to focus the sun's light on my bowl. Once the chocolate melted I poured in some milk powder and water and shook the bowl until it was a tasty looking color. Some of the best chocolate milk I have ever had.
That got my creative juices flowing. My next task would be a stand to hold my drom -a bag full of water- so I didn't have to hold it under my arm whenever I needed water. I found two Y shaped sticks and put them in shallow holes. Next, I strung the cord across them and staked it into the ground on either side and covered the stake with rocks. When I attached the drom to the line, I noticed it was hanging pretty low to the ground, so I added 2 additional Y sticks to raise the drom higher and it worked. It is very funny looking and is breaking all sorts of laws of science but it is doing the job and it adds a lot of easy access hooks for other gear. My last project was a quick one. I used a leftover piece of cord to construct a free throw line for my makeshift rock basketball hoop with 2 rocks, a bowline and a truckers hitch. Very crafty.
At this time the sun was about to dip behind the ridge so I watched it until it disappeared. Once it was gone I got started on my final dinner feast. I started with an appetizer of bread and cheese which I ate on my sitting rock. Next was the starter salad which included tuna, spinach, and cranberries. An odd combo, but a new backcountry classic. Now onto the main dish which was a tortilla wrap with pepperoni, cheese, and spinach with a side of grapes and a Nalgene of lemonade. I gave myself some time to digest as I looked towards the mountains that were starting to turn orange. I then cleaned up my food bags and did the dishes before sitting down for dessert. A mini pumpkin pie I had been saving for this very moment would be the final course to my feast and it was amazing. It was 100% the best meal of the Mountain Classroom. I continued along with my nightly routine of brushing my teeth, writing a note to Carl and Jeff and returning my things to my mailbox for the final time. When I returned I expressed my thanks to the land through a prayer and began viewing the sunset that had already begun.
The moon was bright and the sky was rainbow. My eyes traced the ridges and hills as they had done so many times before that. The subtle breeze sent chills down my spine as I recalled my newfound knowledge from my time alone with myself. I couldn't help but feel emotional at a sight so beautiful during an experience so bright. No more tears of sadness or loneliness. The droplets of water under my eyes streamed down a river of happiness, growth and light, and into the sea of peace. My time at this small clearing between a patch of yuccas and a hillside had done a number on my former self. Three days or a lifetime ago I arrived seeking silence that I eventually found within myself. I longed for clarity and confidence that I discovered through conversations with no humans. I know this is deep and magnifies the narrative that I am a changed man but I am not. I am still Colin, that slightly annoying and cocky boy who runs, but I know now what it feels like to grow, to observe, and to think. Most importantly, I know the feeling of change, a sensation I have ignored for far too long. Now I write to you from beneath a small blue tarp in the middle of the desert as a person who has not finished growing but has just begun.
Calista '22 | Final Reflections
When you think of a final project you think about a test taken with a pen in hand or some sort of activity that you must complete to receive a numerical grade. We have just finished our final expedition as Mountain Classroom and this was nothing like any final I've ever taken before. I knew about this expedition from the very beginning. I knew it would be hard. But this was all before I actually knew each of the nine people with whom I would be completing this final.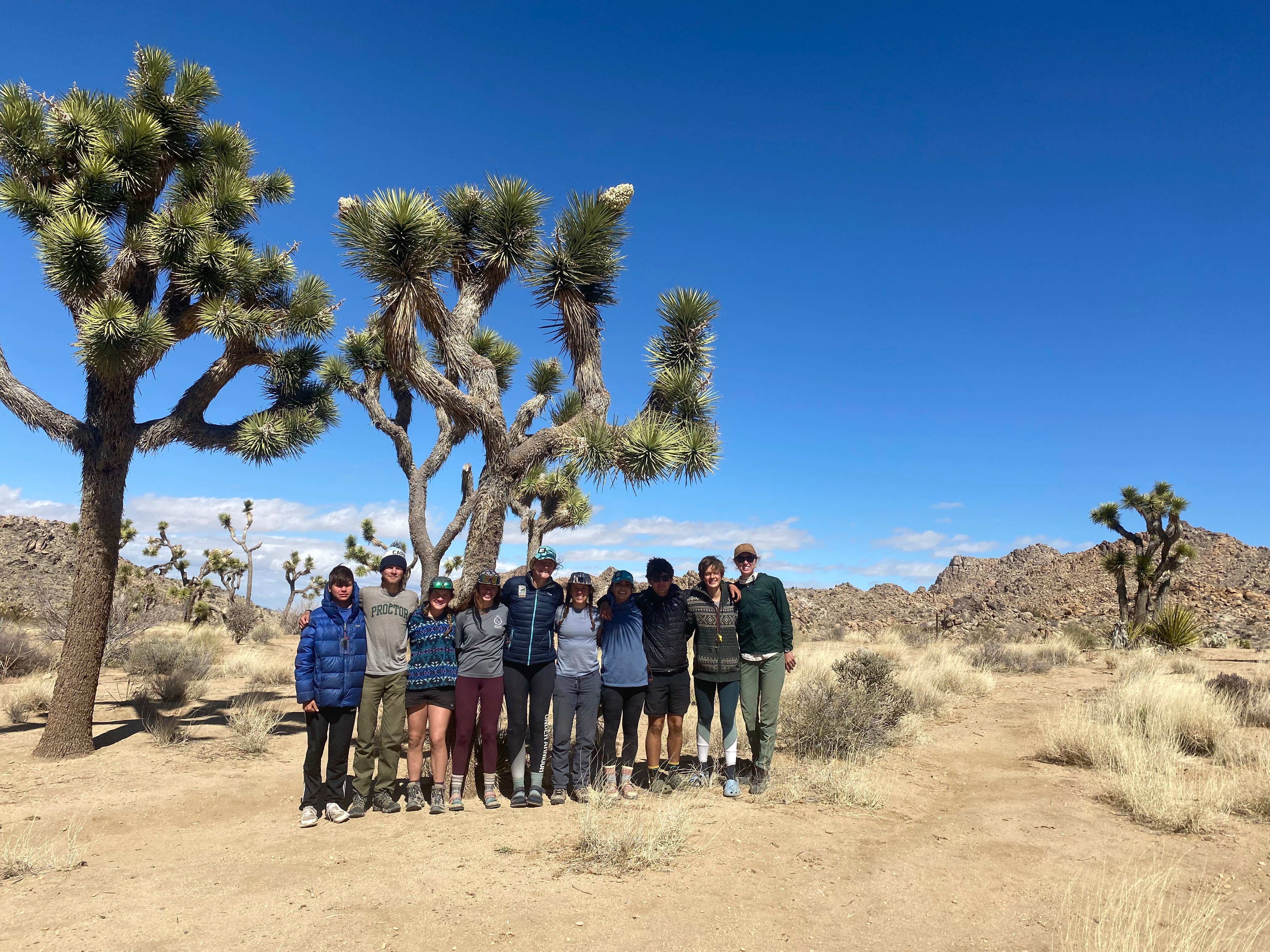 We were dropped off in Joshua Tree National Park in southern California to complete a three night backpacking trip we planned entirely ourselves with Jeffrey and Carol out of sight trailing behind us on the trail. Our packs were heavy, but not unbearable, since we planned our food carefully and cut out extra expedition gear. The first day was the hardest. We thought that we had only hiked 6 miles but later found out that we actually hiked 12 miles that day.
I could go on and on about the actual expedition itself but instead I want to tell you what I learned about our amazing group in this four day experience in paradise:
Our group cares for one another more than they care for themselves at times.
There is no point that you stop getting closer with someone or a group of people.
Watching the sunset and sunrise is one of the best feelings in the world.
You can thrive in life and follow your daily schedule without adults near.
Hiking 3 miles to water every day is not as bad as it sounds when you see lizards, snakes, sunsets, and Joshua Trees along the way.
If you have the opportunity in your life Joshua Tree is worth a visit and so is the beautiful drive from J-Tree to Nevada.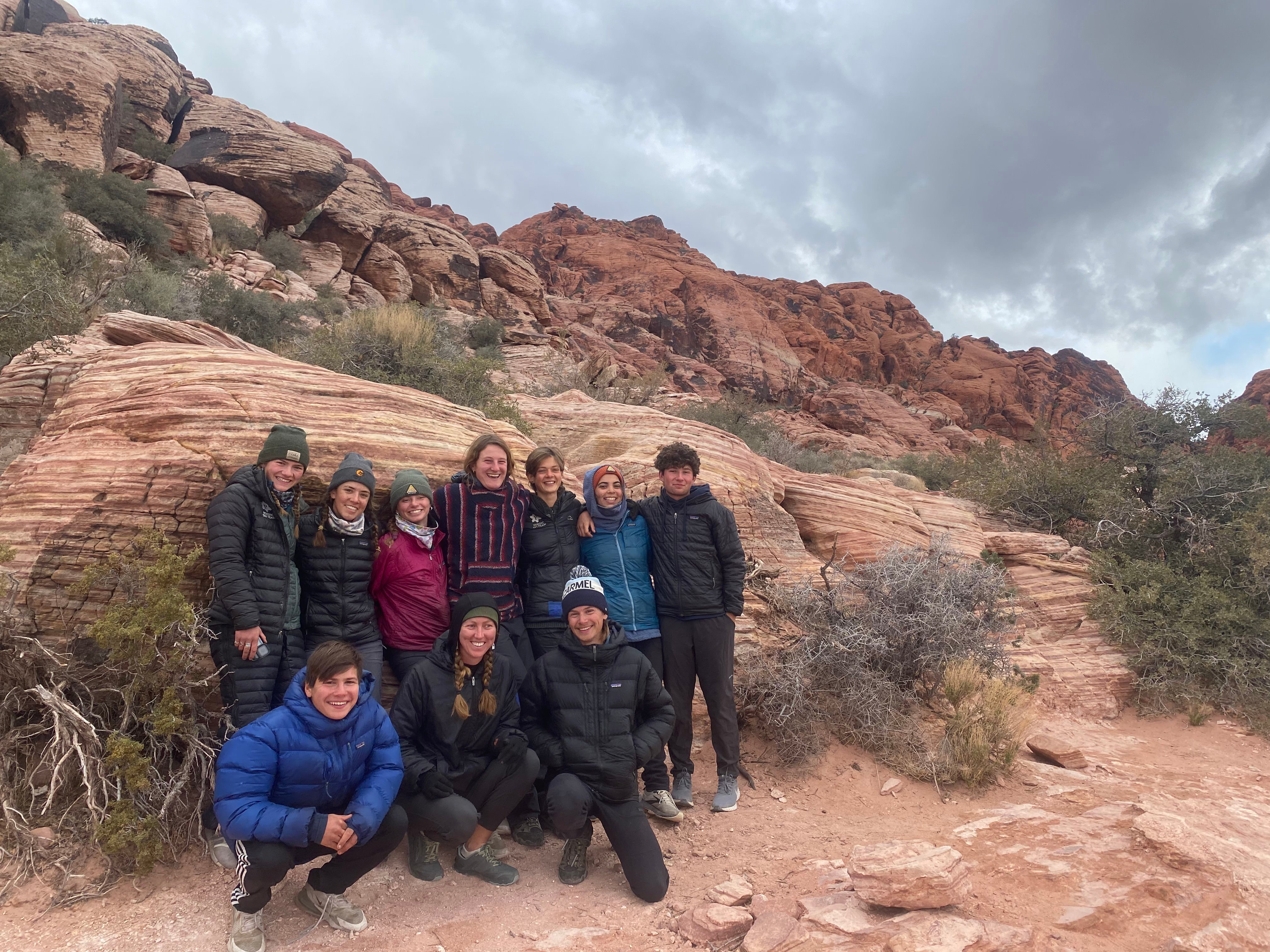 Now I know this blog post is all over the place and you may be expecting some sort of sappy blog that one could shed a tear to so I will deliver that now. While I was embarking on Final Expedition with a group of friends that I now call family I had so many moments of clarity and moments where I was in complete awe of the world around me. I realized that I am a little afraid to leave behind the constant movement, learning of life skills, beautiful views, and especially the people. I know I will see everyone around on campus, but it just is not the same as life on Mountain. I realized that no one will truly be able to understand what I just accomplished unless they, too, went on Mountain, but even then, all experiences are not equal. I realized that photos only show part of the story and I can only explain to a certain extent what my experience was like. What I know for sure is that Mountain Classroom has made me the happiest I have ever been in my life and is one of the most amazing experiences I've ever had in my life so far. If there is anything I could wish upon you, I would wish that you too could experience what I just did for over two months.