Proctor's Mountain Classroom program continued their rambling journey, venturing through Yosemite National Park, dealing with wind evacuations, sickness, and unexpected challenges as they prepared for solos in Joshua Tree National Park. Read more from the past week on Mountain Classroom below!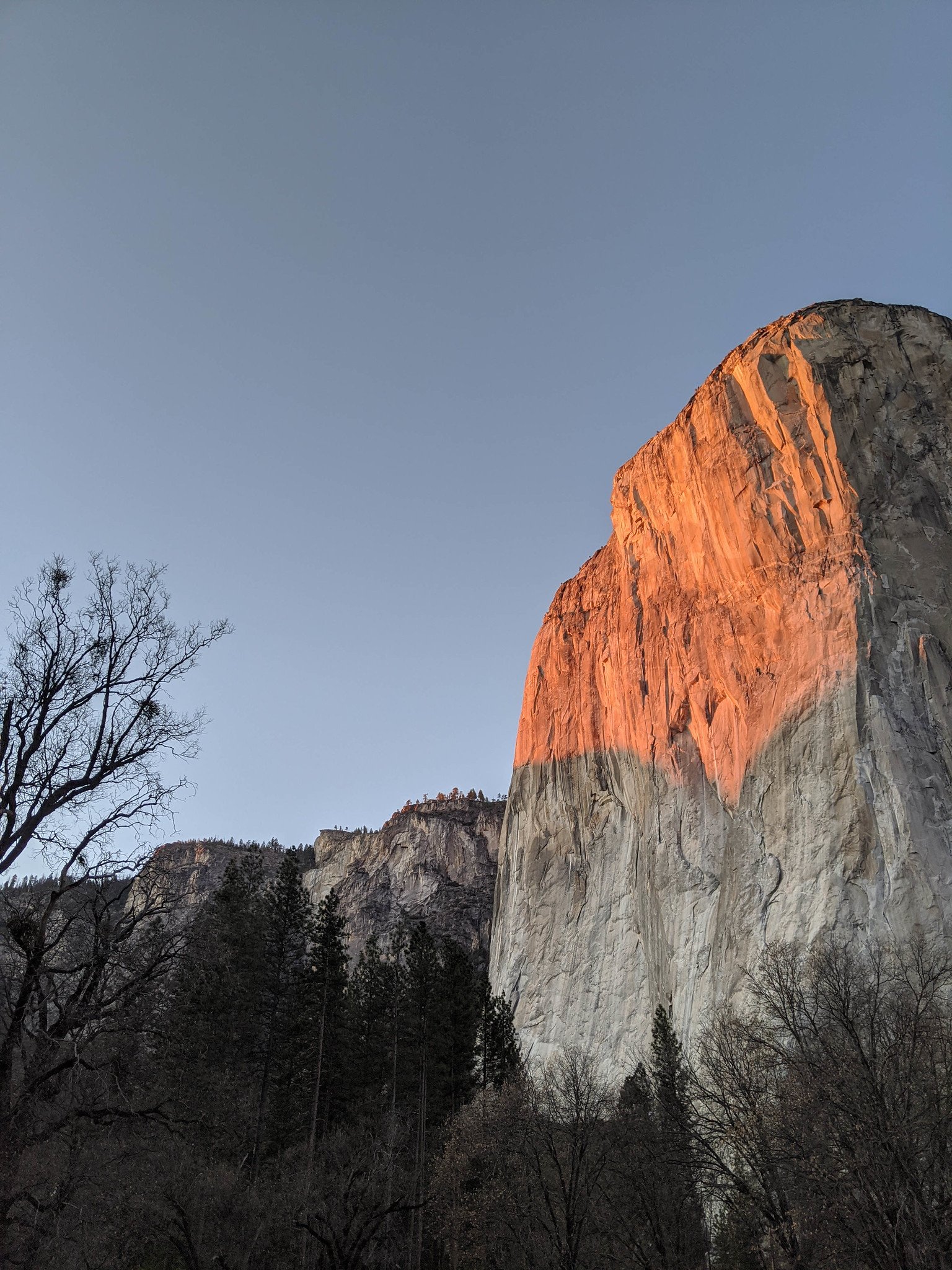 Anya '20: A Piece of Yosemite
We arrived in Yosemite on the 7th of February. Driving into the park was somewhat surreal because for a moment I felt like I was back in New Hampshire. The evergreen trees and smooth, gray rock faces of the valley reminded me of home. As I stared out the window from my seat, excitement was rising in my chest. We hadn't been in the backcountry since Catalina, so I was eager to go backpacking again and see what Yosemite had to offer. We rounded a curve and suddenly there was Yosemite Falls. It looked ghostly and majestic in the evening light, cascading down a couple thousand feet of smooth, water-carved rock. The cliffs above were dotted with snow. Despite the chilly air, spirits were high as we located our campsite and began to set up for the night.
As it turns out, due to a combination of bad mountaineering conditions and a continuation of our long strain of illnesses, we were unable to go into the backcountry in Yosemite. Instead, what followed was a confusing five days that consisted of wind evacuations, meadow games, and a surprise hotel sleepover.
On our first day, we shopped for food and tried to obtain a prescription for Cam, who was not feeling well. The second day, we conquered a challenging uphill route to the top of Yosemite Falls. The views were incredible on the way up and the weather was great. At the cliff's peak, we enjoyed a yummy lunch of caesar wraps. Then, on the way down, Alex C, Ben, Cole, Dalton, and I had fun jumping around on the rocks and yelling "parkour!" every chance we got. The following day was a strange one. We spent the morning playing group games in a meadow, and then ended up being evacuated from our campsite due to high wind speed and a risk of falling trees. On the bus ride out of the park, Erica and Quinn informed us that we would be spending the night in a hotel. Gasps of shock and cries of enthusiasm filled the space of the vehicle. And so, we continued out of Yosemite Valley and celebrated Hotz's birthday with a dinner out to eat pizza and a plush hotel sleep. Funnily enough, many group members reported sleeping horribly that night in the hotel. I think we may have adjusted a bit too well to outdoor living.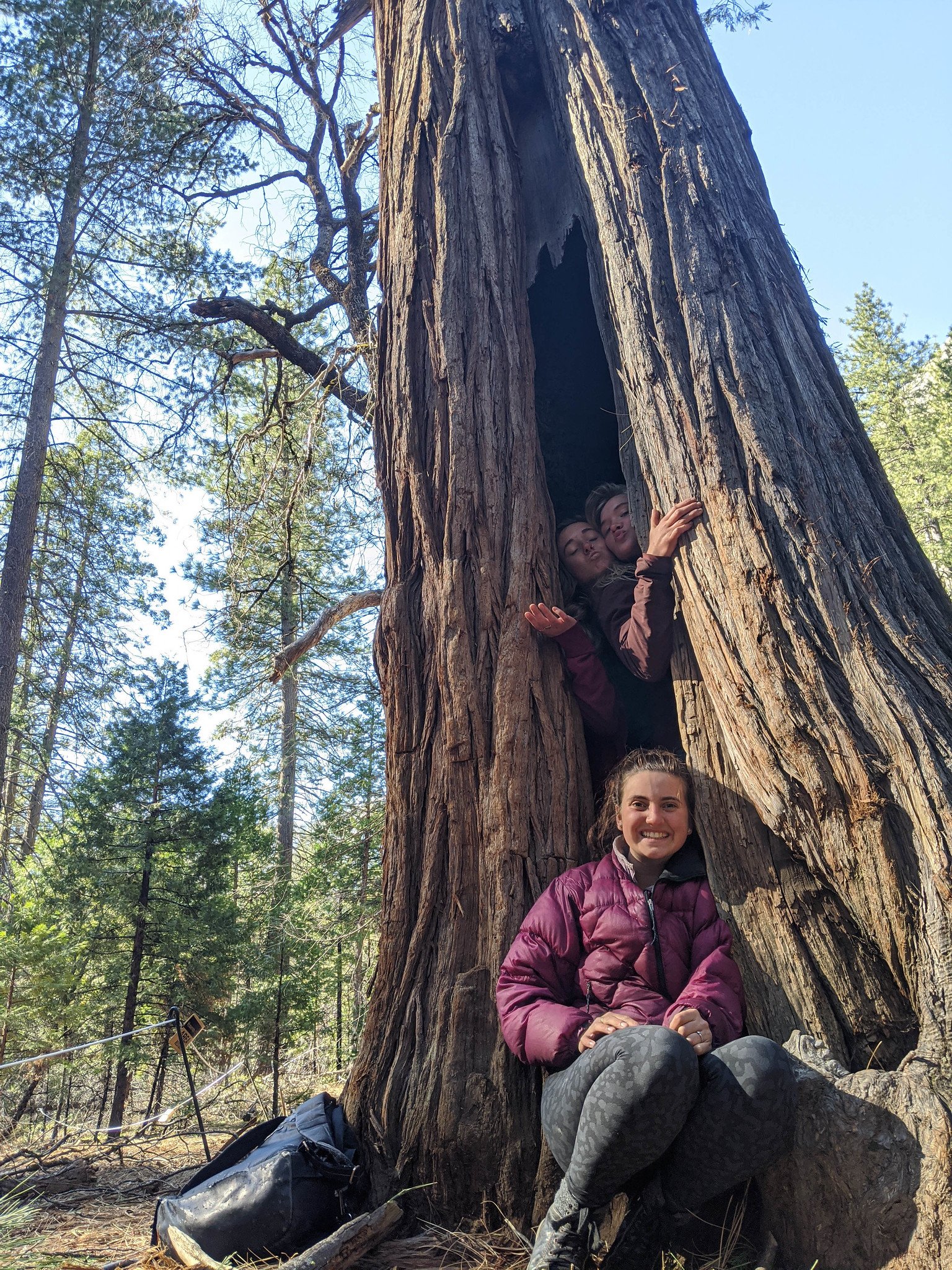 We rolled out of our cushy beds the next morning and ate breakfast in the hotel. Then it was back to Yosemite for a day hike where we traveled to Mirror Lake, ate lunch there, and then went to a meadow for a fun-filled first aid lesson. That night, there were still wind warnings in the area and the campsites hadn't reopened for business. So, after some searching, we eventually discovered a campsite just outside of the valley that was available to stay the night at. The campsite was small but comfortable, nestled on a riverbed. Funnily enough, everybody seemed to suddenly get much better sleep now that we were back to the wilderness, myself included.
Our next day in Yosemite was spent on a navigation lesson. We learned how to use a compass, find a bearing, and follow a bearing. Then we split into groups of three and had a very competitive scavenger hunt that brought the best and the worst out of everyone. Some highlights included recruiting strangers to distract the other groups, one team getting completely lost, and Hotz, Cole, and I taking home the win. The route we took ended at a climbing site, where we spent a few hours climbing and eating lunch. Needless to say, it was a very busy day that ended with another good night's sleep.
Finally, we closed our time in Yosemite with another hike to Mirror Lake, but this time we took the entire loop around. As we sat by the water, we worked on our science assignment, gathering water samples, soil samples, and wandering around to identify different types of plants. The steep cliffs shielded the sun from touching the valley, so we shivered in the gray cold. Later, we ate lunch further down the trail, but the tortillas and hummus failed to keep us full for long. By the time we'd returned to the road, everybody was hungry, so we made a pit stop at the Village Store and stocked up on snacks. Then, fueled once again, we did a team-building exercise and assessed how far we've come since the beginning in terms of outdoor and group skills. It was a lively and insightful discussion, and I believe that we all left the circle with a better sense for what we're doing well and what we need to strengthen before ISGE.
Yosemite is truly a special place. The moon was full while we were there, shining in the sky so brightly that I didn't even need a headlamp to see. The falls and rivers held crystal clear, rushing water. The looming pine forest dwarfed our bus and trailer and made us feel small in the best way possible. Everything about our time here has made me realize that I need to keep doing this. Every time I curl up in my sleeping bag, every time I put on my backpack, every time I cook a warm meal, I am reminded of what I'm trying to accomplish here and what I need to bring back to my life at home. I will bring back patience, I will bring back curiosity, and I will definitely bring back a piece of Yosemite.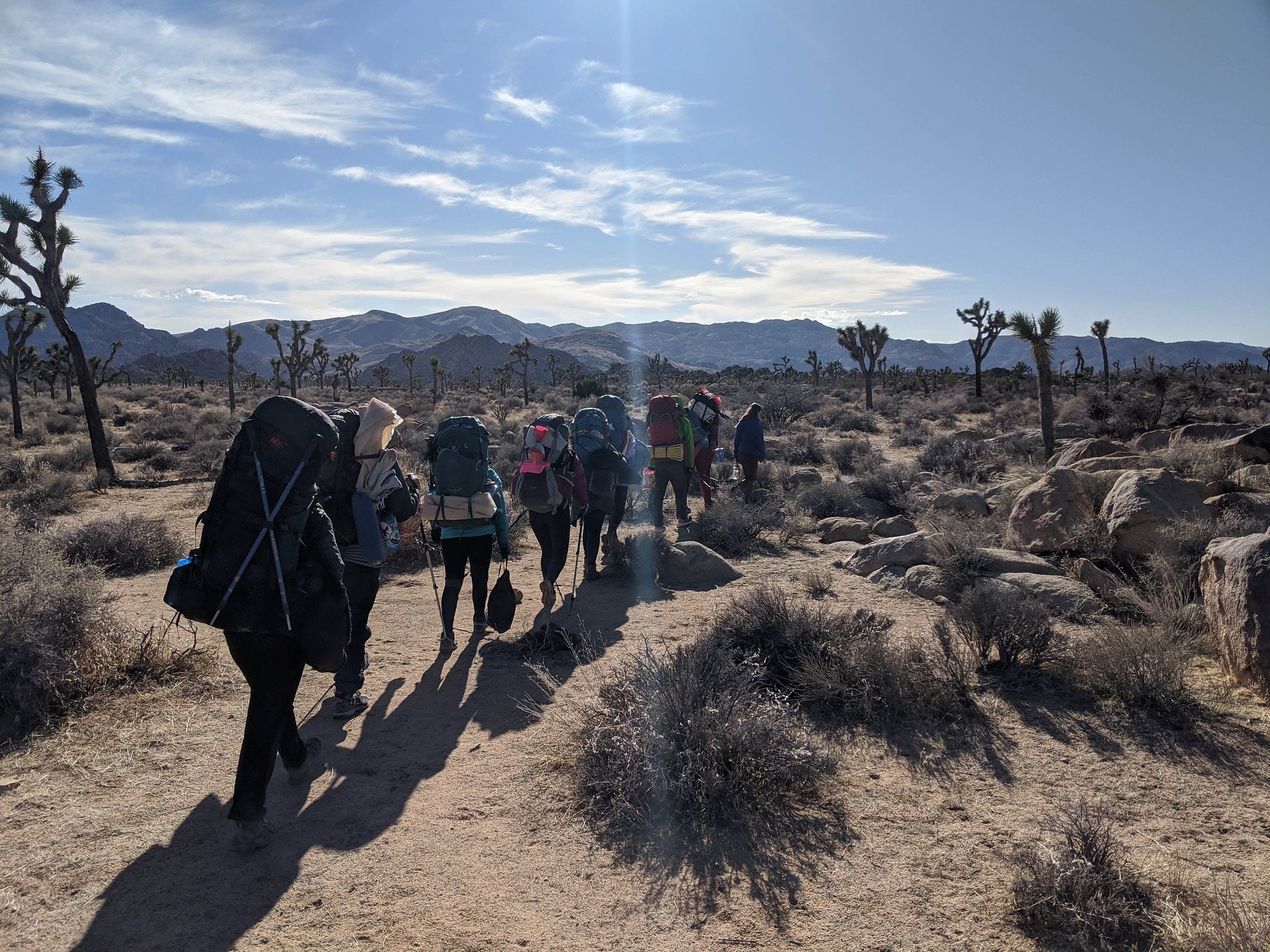 Cameron '21: Solos in the Desert
The Mountain Classroom solo sit is a monumental part of the program. From day one, the board at the front of the bus read "all questions about solo will be answered at solo briefing" and of course this became a staple saying among the group. Honestly, after a while the solo briefing build up almost surpassed solo itself. By the time that solo was around the corner, we were all a bit shocked at how fast this part of our journey had arrived. Feelings about solo were mixed; some were more nervous and than others (*cough cough* Dalton), but all of us were very excited for a break from the group and all the craziness.
The process kicked off with the very exciting solo prep day. The night before, leading into prep day, the wind had picked up dramatically (up to 70 miles per hour), which made learning how to set up the tarps interesting. Then, before we set off to buy food, we all gathered around our roadkill (aka extra food) to distribute the nourishment. We laid out all the food, drew numbers from a hat and started, one by one, picking our poisons. It seems like a simple task but it was very entertaining with the very first choice, by Lila, being used to pick croutons (which were actually not supposed to be there in the first place and were sadly taken away for lunch that day), followed by me grabbing peanut butter, and other random picks. I still think it was crazy that the half eaten Nutella got picked sixth, and we all agree that our final assortments of food really reflected our personalities. After the food yankee swap was over, we journeyed to the magical place of the Grocery Outlet (aka Gross Out), where we each had $30 to spend and we definitely got our moneys worth. Some people went with the more healthy direction with more fats and proteins and veggies, and others (*cough cough* Lila) went in more creative directions. For example, Lila's meals consisted of smoked salmon, goat cheese, and smoked shrimp. She also purchased vegetarian chorizo and protein bars that she effectively could not eat because they contained nuts, but it is ok because we all bought way too much food in the end. I barely made a dent in my food bag by the time solo was over. Some other shout outs were Alex C. and her seaweed packages, Alex H's two pounds of apple sauce and two jars of honey, and Ben not being able to eat anything due to mouth swelling from allergies(…?). Overall we were not lacking when it came to the food.
The following day, we finished our personal bags and packed up camp to depart from our unofficial mountain home: Joshua Tree, Indian Cove Campsite (specifically site 3). It was evident that most of our bags were pretty overpacked, especially since our solo time had been cut from four days to three because of all the group members getting sick. After filling up our individual drums with water, which added a lot of weight to our packs, we headed off to our solo sites. We drove for a while, further into the desert, and unloaded our stuff. After doing some final touches, we started our trek into the desert. It was about a mile to our briefing site and then another mile to our personal sites. The briefing ended up being not as glamorous and extravagant as we had expected, but we all ended up feeling prepared enough. It was pretty straight forward: get to camp, set up your tarp, make a mailbox and something for the instructors to kick over, and always wear the whistle (but don't blow it unless it is a serious emergency).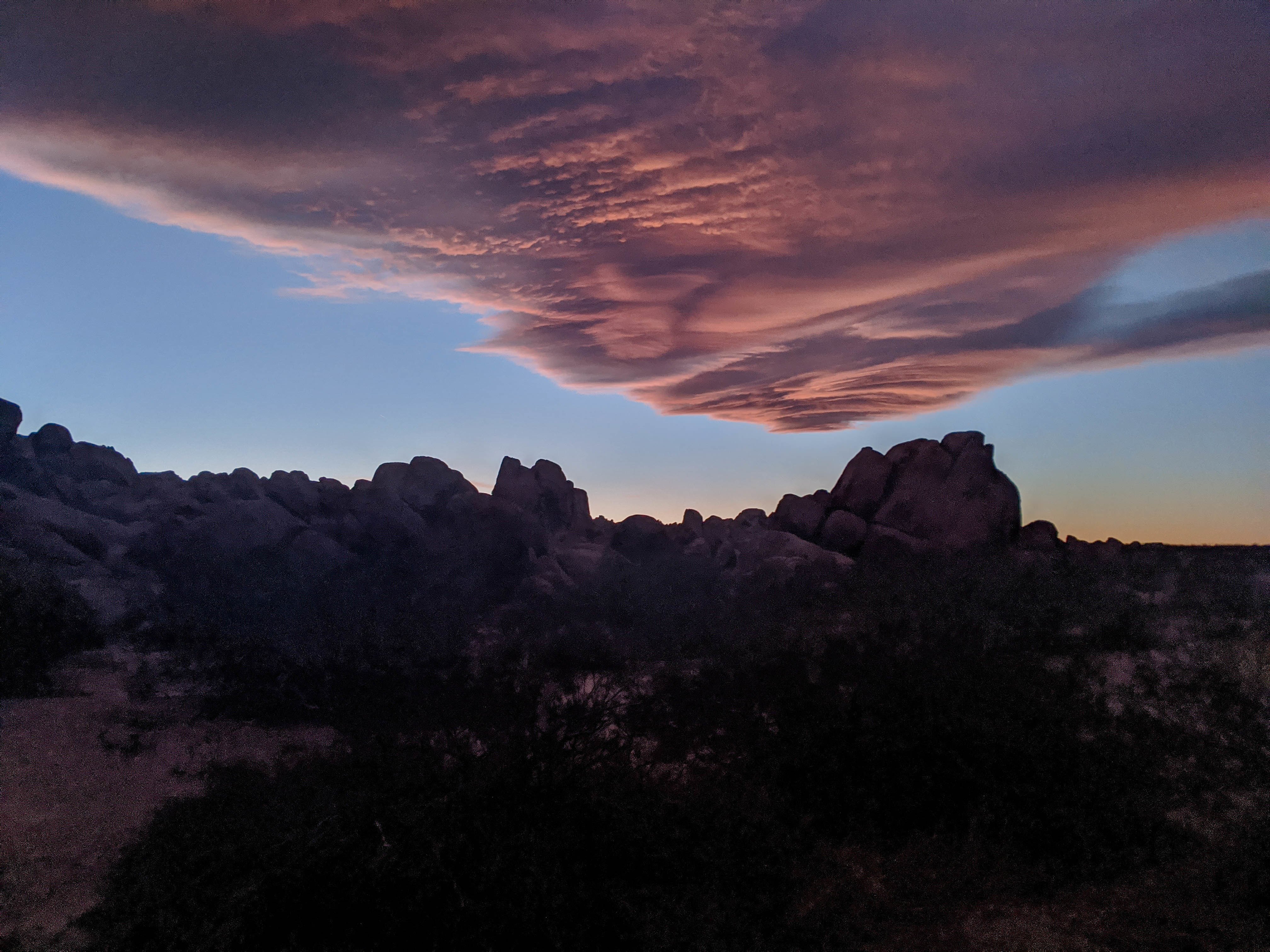 After we reached the instructor site, we said our goodbyes, read a quote about solitude, and then silently headed out, dropping people off one by one at the sites. Once I reached my site I took a moment to breathe in the air and observe my surroundings, thankfully Erica picked out a killer spot for me. One of the major things that made solo interesting from start to finish was just how freezing and windy it was, which made setting up the tarp alone difficult. After getting the tarp up and all of my stuff situated, I found a place to sit and finally feel relaxed and for the first time in a while, feel like there wasn't really anything I had to do. The first sunset was beautiful as I ate my dinner of chewy bars dipped in peanut butter, and beef jerky (which was also my "go to" for all of my meals despite how much other food I brought). As I was watching the sun set, I gazed across the desert when an all black figure started running/skipping/stumbling across the desert. I quickly realized it was Anya, but it took me a while to figure out what she was doing; getting a better view from the top of a larger cliff. This entertained me for a while because it became a frequent part of her daily solo routine.The rest of the days went by in a blur: sleeping was difficult because of the cold and wind, and so was eating because my fingers would get so cold. I would walk around and explore parts of my terrain and also just sit and stare at my surroundings, getting lost in thought. The second day especially, I got to journal and write more than I have yet on this entire trip because I had plenty of time. I also got to draw a bit and keep reflecting on life. Even though it was only three days (technically just one whole day and two half days), I feel like I got a lot out of the experience. It definitely went by just as Quinn had predicted: the sun would set, then it would rise, then it would set again, then it would rise and then it would be over. It felt like time didn't exist - especially because I decided to not bring my watch (as advised) in hopes of avoiding temptation and torture of wanted to frequently check it. Overall, I spent most of my time, eating, sitting, sleeping, and having songs like Hooked on a Feeling, Mr. Blue Sky and Rubberband Man on a loop in my head.
Once the third day came around, I spent a lot of the morning wondering what time the instructors would come around to tell us to start packing up. I never figured out what time it was, but it was probably some time after noon, and then soon I joined Quinn and Cole in walking around to pick people up. We were encouraged to remain silent until we were all together again and another quote was read. Once that happened, we all immediately started catching up and sharing our experiences. This went on for a while but some highlights include Alex C. dancing around with her sparkling cider and singing What a Wonderful World while not wearing clothing when it was probably below freezing during the night, and Cole and Dalton running around shirtless, carrying trees and making crazy cool mailboxes. There was also Alex H. dealing with "feeling lonely" but passing the time, just like everyone else, by embracing insanity… and also by having a silent dance party with Sophie from a distance. Like I said before, Anya would go off exploring a lot, and she would sometimes get tired mid-adventure and take "dirt naps" wherever she'd be. There was also Ben having the best time of his life dealing with his miserable allergy-type rash and also not being able to eat anything with his swollen mouth. After sharing all the wacky stuff we all did while we were alone, the high points and the low points, we started walking back to the bus with our packs all slightly lighter than when we came. Of course by the time we were on our way out, the weather did a 360º and suddenly became warm and sunny and the wind died down to a light breeze. We all had really fun and cool experiences, but by the end we were all pretty happy to be back together again.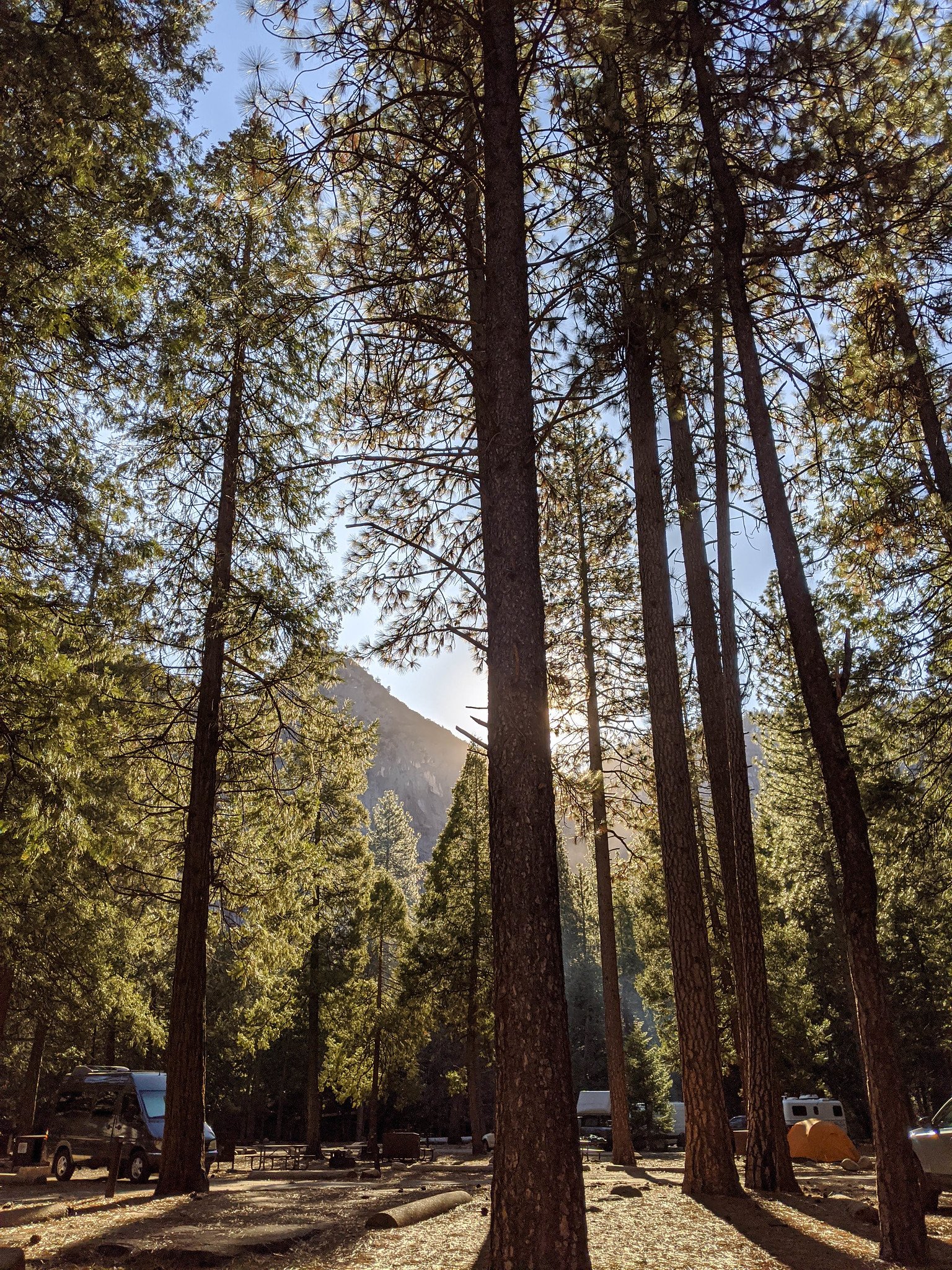 Sophie '21: A Day in the Life
No two days are ever the same on mountain, if they were I think it would be boring. I've been keeping a personal journal the whole trip so I'm going to go back a few days to the February 12th when I was LOD (Leader of the day). We had a 7:30 wake up in beautiful Yosemite. We ran out of propane the night before so for breakfast instead of egg sandwiches we raided roadkill. Roadkill is the bin where we put any leftover food from meals or snacks. Anything in roadkill is up for grabs at any time. Some choices consisted of tortillas with a mix of peanut butter, frozen nutella, honey, and/or syrup, or having leftover Captain Crunch berries with powdered milk. We got out of camp in an hour and started hiking to Mirror Lake.
We had hiked there two days before, but we were working on Sense of Place and needed a water source. The other water source option was a very steep hike about 3 miles long and the trail was closed. For reference, Sense of Place is a science assignment where we take a deeper look into the Flora and Fauna, Water, and Geology of the place we are currently living. We spent about an hour and a half at one side of the lake taking samples and answering questions. The lake is in the valley and we were in the shade the whole time, wow it was cold sitting there. We changed plans and started hiking the rest of the loop trail early to warm up. We didn't hike the whole loop trail the last time we were at the lake so it was nice to see a new part of the trail. It was nice and mostly flat. We walked through a forest, a rock slide area and a marsh of sorts. We got to the other side of the lake right across from where we'd been about an hour earlier. Thankfully that other side was in the sun. Cooks started lunch, a Winter Mountain classic tortillas, hummus and veggies. The rest of us kept working on Sense of Place. Dalton, Anya, and I have been in a group the whole trip. This time we were Flora and Fauna, we each briefly researched five animals and plants. I'd highly suggest looking up the American Pika, they are very adorable! Turned out that the place we were chilling was a big photo stop for Asian tourists. They came in groups and took turns posing on this one rock. The guide had each person cycle through the same set of poses. It was entertaining to watch to say the least. We finished the loop and headed to a meadow near Yosemite Village for a team building activity.
Everyone was very hungry so we popped into the store and coffee shop to grab a quick snack. The boys and Lila got sandwiches, a few other people got Naked (the smoothies, don't worry Mountain is good about limiting our public nudity). With fuller bellies we headed back to the meadow and worked on sorting different activities we've done and learned during our time into three different phases. Training, main and final. We had done the same activity right before we left for winter break. When we had done it then, most activities were in training or main. Now they were almost all in main or final. We were able to do all that in about an hour and a half. The group then split up.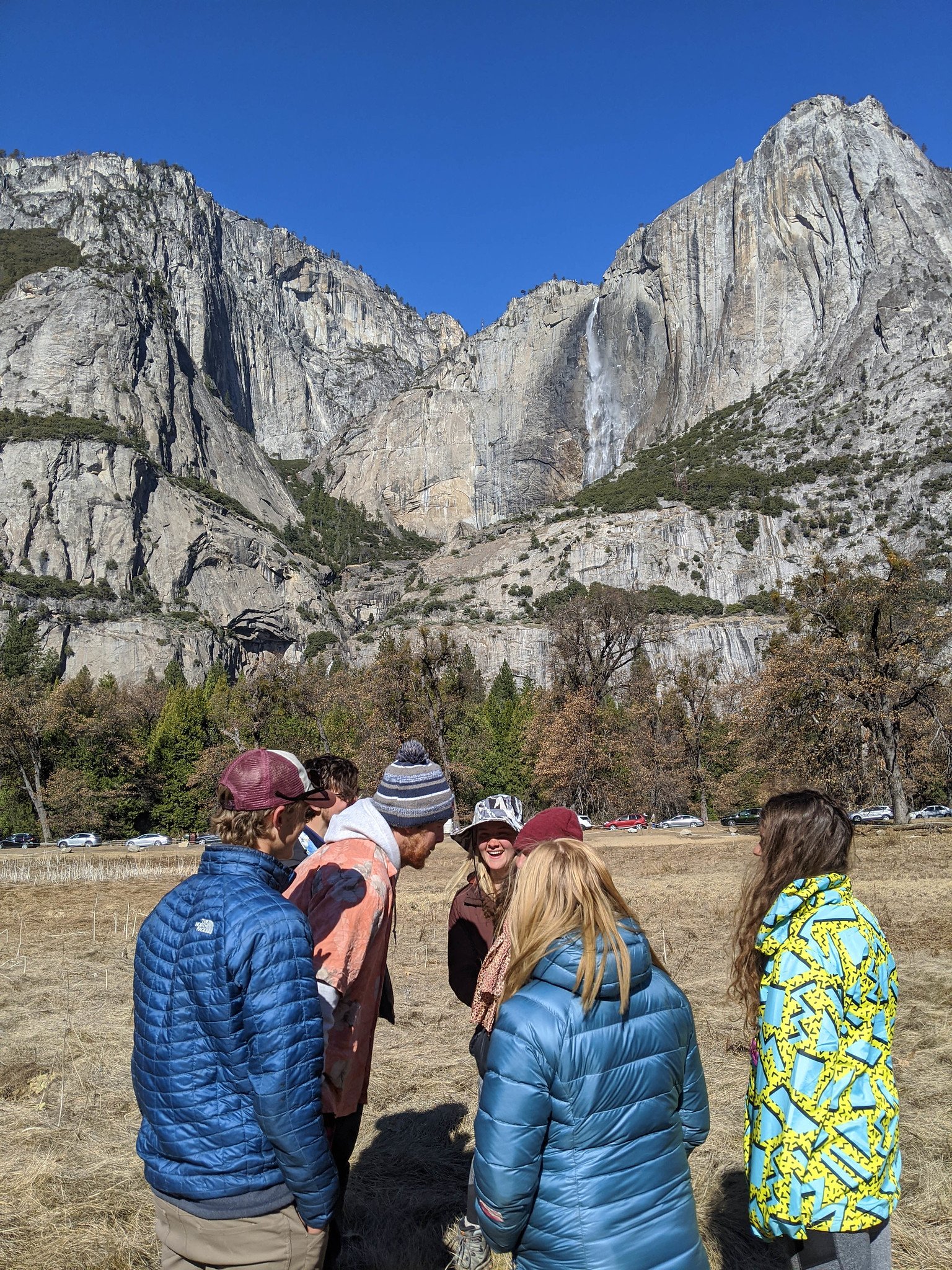 In Yosemite they have a free shuttle system to try to help lower the number of cars in the park. We were about a mile away from our campsite, Quinn said he wanted to walk so about half the group went with him. Erica got stuck with me, Cole, Hotz, and Dalton. I got very competitive along with the other three about trying to beat the walking group. Plot twist, they beat us by 20 minutes, BUT we met our campsite neighbors who were a new band called the Stray Aways. The one band member we were talking to, Jack, had his 7 month old Husky German Shepard mix with him named Rose. So even though we didn't actually win I think we did because we got to hang out with a really cute dog.
While dinner was being made Quinn started a campfire and everyone else worked on writing down feedback for everyone in the group. Dinner was Kush Mush revamped! There was couscous instead of rice and Cam and Anya added chicken and veggies with the lentils as well. It was a huge hit this time. While the cleaners were taking care of the dishes I put on hot water for tea. We had a "tea party" to fulfill our chaos card. I had a nice mug of ginger tea with an oatmeal cinnamon cookie I had bought earlier. Sitting by the fire it felt like I was back at home or at camp. We had a very long evening meeting with many pee breaks because tea is VERY hydrating, I think I got up three times in the span of two hours. After going through the normal order we all gave each other feedback, one positive and one constructive. By the time we were done it was very late, at least by Mountain standards 9:30 pm! Lila and I were cooks for the next day and because it was going to be a drive day and an early morning we made almost all of lunch ahead of time. (We made rice and bean bowls with veggies and soy chorizo in case people were wondering.) I went to bed by 10:45 pm. All the action in this blog post happened in just one action packed day out of almost 60 so far! The fact that this experience is almost over is crazy to me. I feel like I've been traveling for years. Each day is a new wonderful adventure wrapped in one giant, crazy, whirlwind of an off campus program.