Proctor Academy's Mountain Classroom program arrived in southern California after a trip to Joshua Tree National Forest. Read all about the crew's guest visitors (Patty Pond and Lynne Bartlett), visit to heaven's gate, and simple pleasures found in San Diego in this week's blog post.
Alex '20:
My uncle once told me that the further you crawl out west the better life gets because western living requires you to have to work for it. I believe him because he had a bulletproof explanation. He said when the settlers first landed on the East coast, those who were complacent called it home. Then the more ambitious folk, those hungry for challenge, driven by curiosity, crawled further and found the midwest. But some of their fatigue and strain outweighed their yearn for the unknown.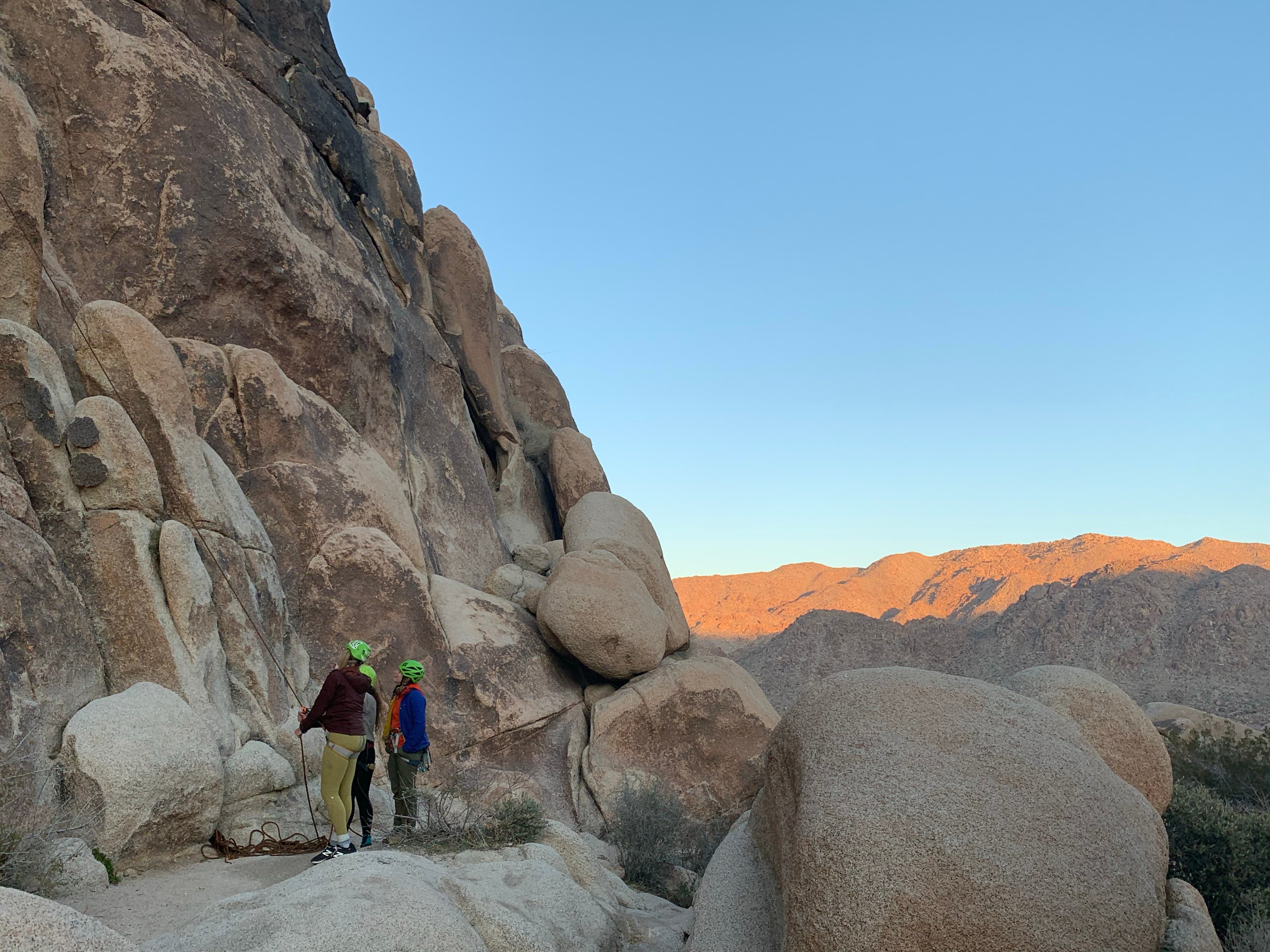 However, a remaining few, who had already fought and struggled, still had yet to quit; they crossed the desert and found the golden coast. While modern day technology makes this argument obsolete, I still love the analogy because the desert in the West makes you earn it more than any other region I have ever experienced. Water is scarce, every living thing is armored with thorns or a poisonous touch, and temperatures reach every extreme from brutally hot afternoons to frigid nights. The West is made for the unwelcome visitor, I'd imagine survival of the fittest originated here. However, if you make it, if you can learn to accept the sand-land's stubborn ways, it is incredibly rewarding.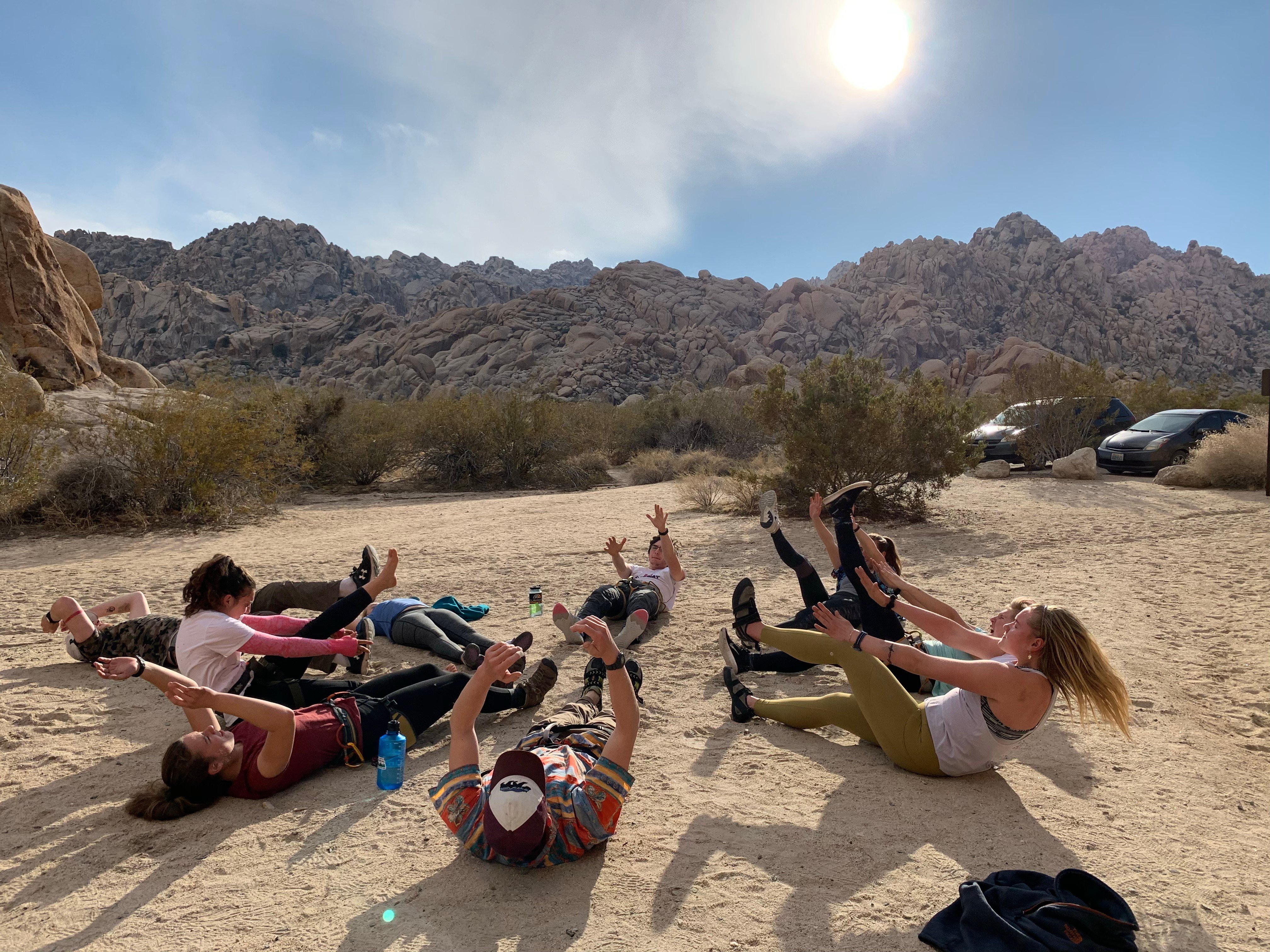 The first gift that this parched paradise bestowed to us was Joshua Tree. Spending three glorious days encircled and housed by its great boulders, we experienced the beauty and strangeness of cave exploring, the awkwardness and fulfillment of climbing mislabeled routes, and excitement of scrambling upon the tops of boulder formations that were heart-attack worthy. Navigating the caves, we slid, stemmed, crawled, inched, and human-puzzle-pieced ourselves through the cracks and crevices of the dark and mysterious holes. However, we ran into a bit of an unforeseen predicament…caves may have enough room for 12 people, but not quite enough ventilation for such a number.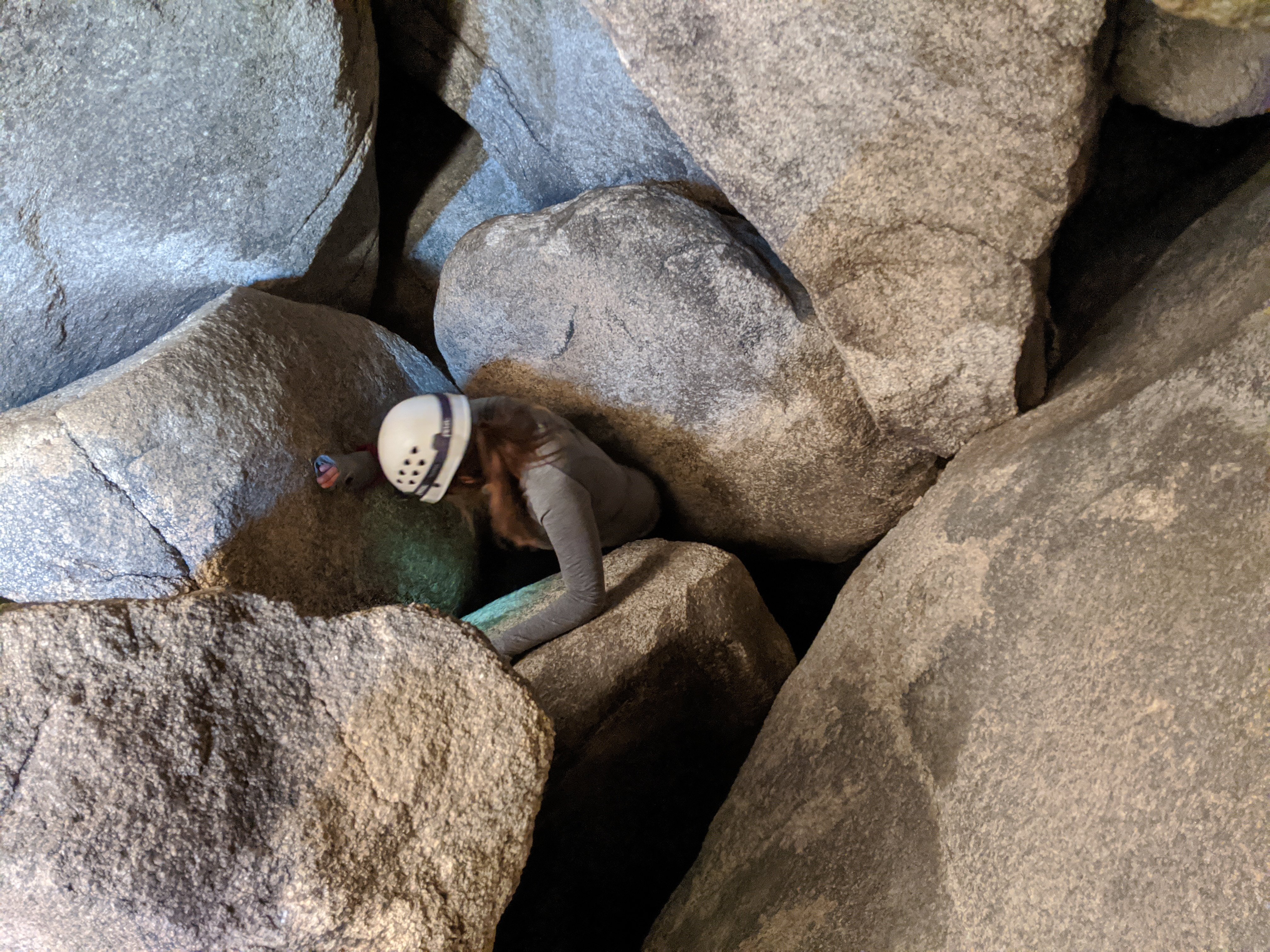 Important interruption!: Just now, while I was writing this blog and thinking about feeling guilty for not missing my family and home because it has felt like home has found me out here (p.s. I forgive you mom for raising me on the East coast), the song "This is the place" came on, playing the lyrics, "home is where I want to be but I guess I'm already there" both, in sync, in my headphones and on the bus radio. Just to play devil's advocate for the skeptics in the back, I do realize that there is an entirely explainable and rational reasoning behind this "coincidence" but I also feel compelled to share it all with you because I think it is an opportunity to listen closer and hear the whisper of life that have a little more wisdom than our own big brained heads may.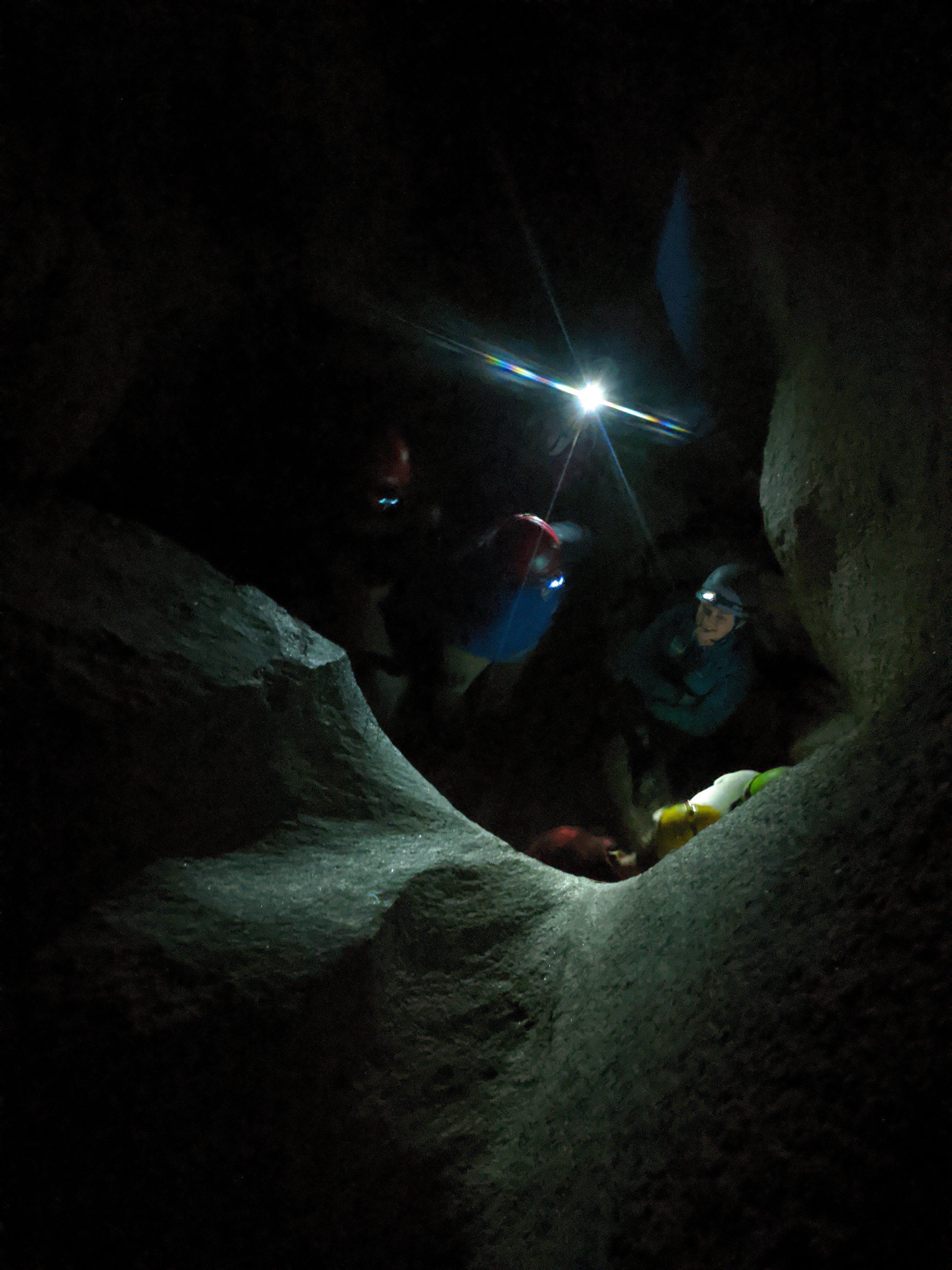 Anyways, back to the chamber of secrets. While one of our senses was more amplified than usual, we numbed another, our sight. At one opening within the cave, we turned off our headlamps to observe a single stream of light pour down and illuminate a trickling waterfall. In stillness, silence, and darkness, it felt as if we were sitting on the front steps of heaven's gate. Though we were a little too short to reach its doorbell and our voice a little too weak to be heard, we were able to peak in the window and what we saw was breathtaking. After emerging from the depths of the boulders we continued on to climbing slabs that were deemed by our experienced climbers, "sandbagging nightmares". Half the group abandoned the routes after unsuccessful attempts to advance more than four feet off the ground to peak at the landscape from the tippy-toppyist point (a classic example of our perch complex).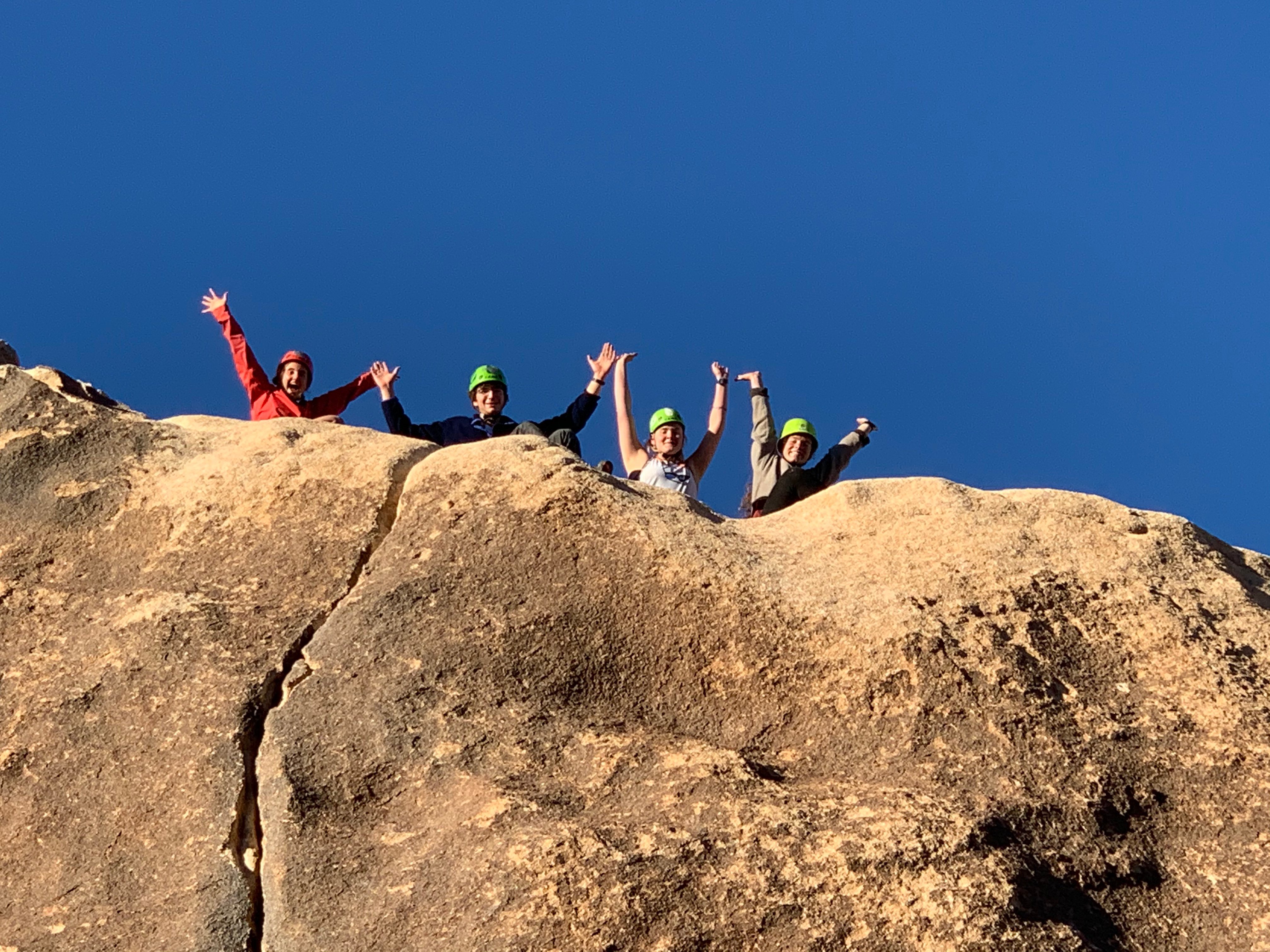 The next offering from the western coast was San Diego, a shoreline oasis, just hours from the harsh reality of the desert. There, we spent four days basking in the reward of our handwork in the prior weeks during adjunct weekend. Querica/Erwin (working titles) were swiftly replaced by the best babysitters west of Andover, NH, the one and only Patricia Pond & Lynne Bartlett. Commencing our long weekend with our settlement at our waterfront real estate in Carlsbad, CA, we all immediately ran into the ocean. However, I unfortunately suffered the cruel misfortune of a toe cramp upon my entrance to the lovely waves, as I nearly drowned, keeping my head above water with a strong doggy paddle back to shore.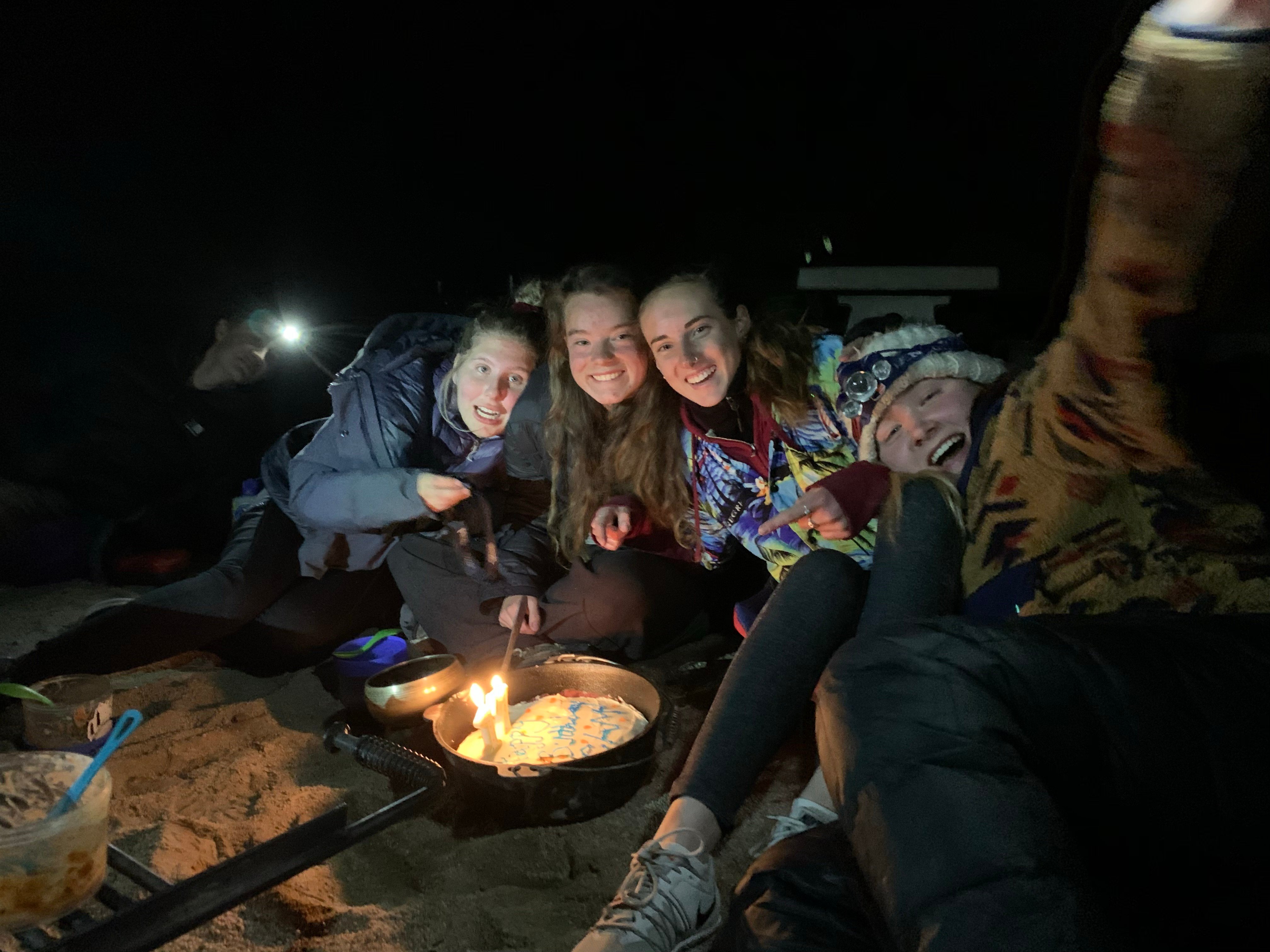 The following day we were treated to an exploration of San Diego's Balboa Area and a much-desired catering to our materialistic urges along Encinitas' stretch. Prefacing our sunshine-soaked day with a tour of the History of Man Museum, our moods took a somber blow when we experientially discovered the current exhibition's theme of cannibalism. However, our energy levels recovered as we upped our sugar & caffeine intake after lunch, ingesting pie samples and a rare brush with coffee in the Spanish Art Village. Following, we all ventured to Encinitas where we hit every juicery, art gallery, thrift store, and, for the boys, fast food joint in sight, dubbing the trio absorb-o, diabeto, and gorg-o for their talents.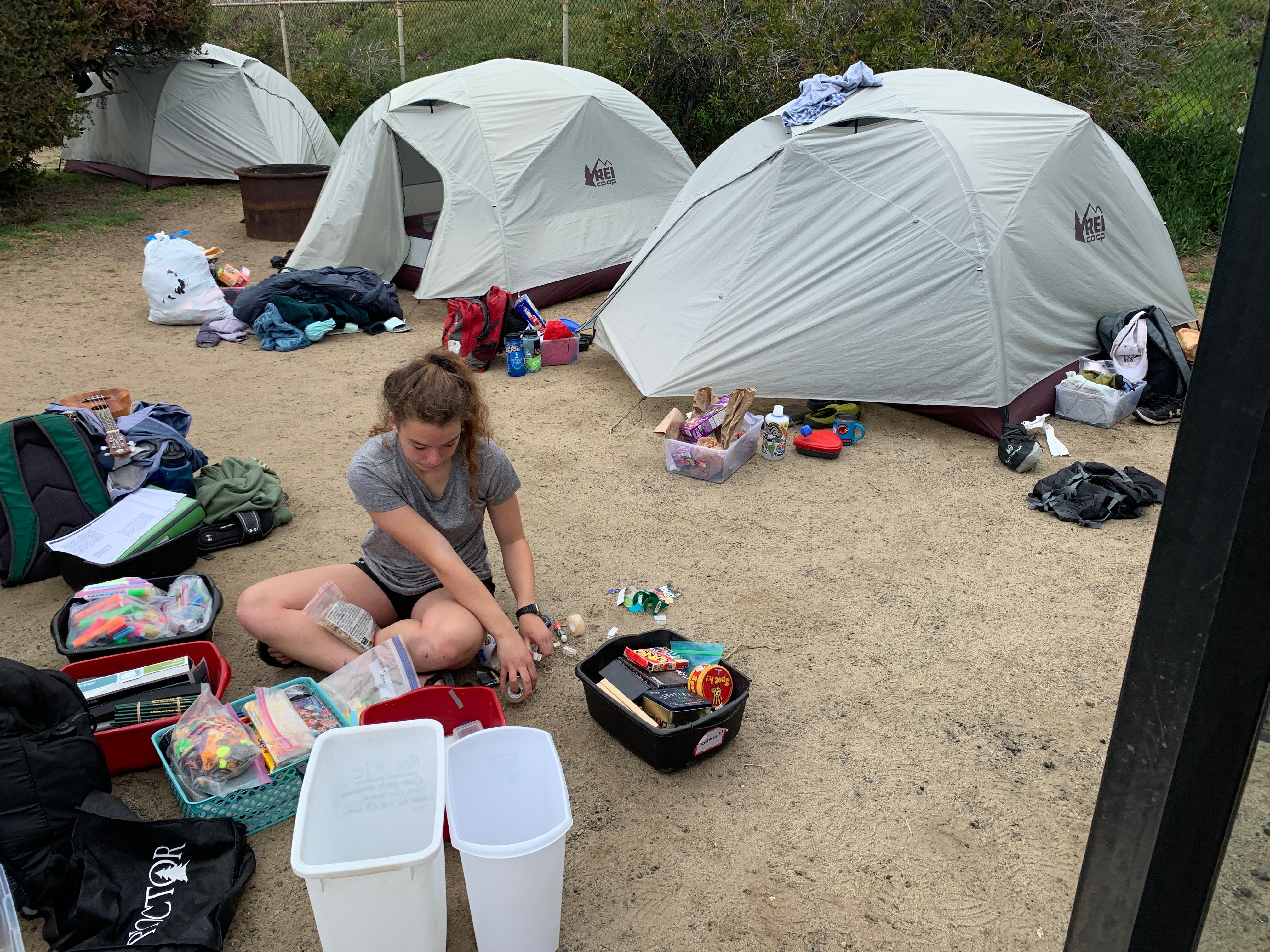 We then took advantage of the front country campground showers and all wore fresh clothes with clean hair, another infrequent indulgence. We hit the town again the following day by checking out the local library, exploring the grocery, and spent the evening at a fabulous Mexican restaurant with the girls showing off their shiny outfits, awkwardly dancing to the mariachi serenade, and the boys proving the veracity of their nicknames by downing a collective 5 entrees. Our weekend of luxe was completed by a lengthy 9:00 am sleep-in (unheard of!), and a breakfast of scones, veggie hash, fluffy eggs, hollandaise sauce, & fresh melon served by should-be-top-chef Patty and incredible sous chef Lynne. Finishing our day with calls home and another fabulous Patty Thai Original, we prepped ourselves for a 5-day expedition on Catalina Island.