February 15 2021: After a hearty breakfast it was time for the long awaited and highly anticipated solo briefing. After being constantly reminded over the course of the term that "all questions about solo will be answered at the solo briefing", we were extremely curious and prepared. Quinn and Erica explained what we were doing and how solos would work. Three nights in the wilderness in complete solitude. Upon being briefed, the room was filled with mixed emotions, some were excited to have some quality time to themselves to relax and others were anxious to be left alone in the wild with no one to talk to. I was somewhere in between.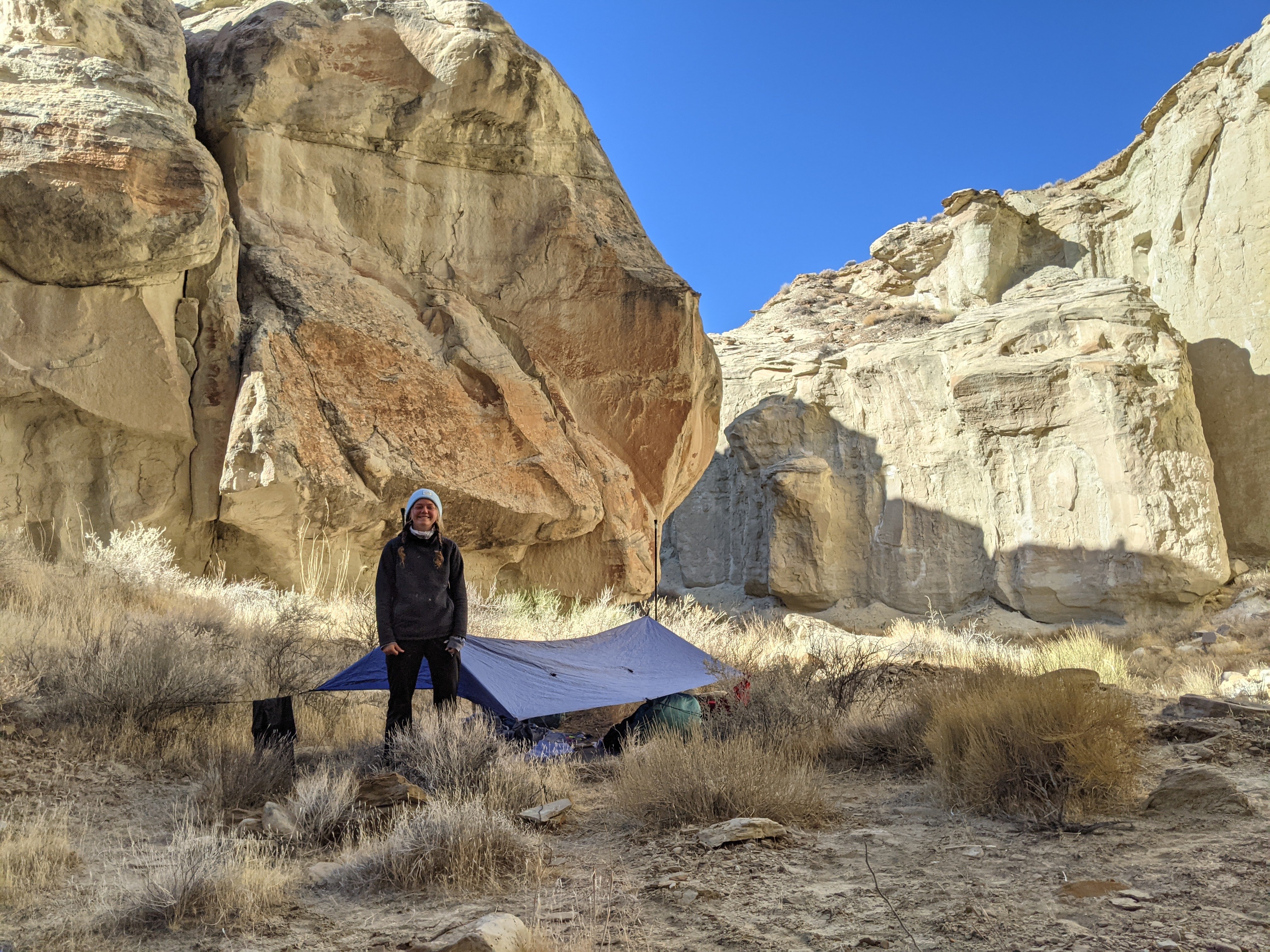 Once the briefing was over we migrated outside to learn how to set up our solo tarps. First we learned how to tie a clover hitch and a trucker's hitch which were the essential knots needed to set up the tarps. We then watched a demonstration of how to put up the tarp with two hiking poles. Erica and Quinn made it look easy, and once they were done and we were turned loose to try it ourselves we learned that it was in fact not. Strong wind combined with very loose soil proved to be difficult and many of us, including me, got a little frustrated. After some assistance from Quinn and Erica we all figured it out and we were on to meal planning. Everyone planned their meal out with their usual excitement and there was a debate on how much rice to buy for everyone. Once that was figured out we all got on the bus to go to Honey's Marketplace to do our shopping. Everyone filed into the store, ready to methodically shop with their $30 budget. Lots of canned vegetables, rice, salad, chicken, and a strange amount of carrots were purchased, which I will never understand. I think that in total Meg bought about 3 pounds of carrots for her meals. As we checked out, we conversed with Honey, the sweetest woman in Kanab and told her about our adventure. Once everyone was done we got back in the bus, returned to the cabin, packed our bags and had a Chinese dinner feast cooked by Paul and Ayla featuring fried rice, dumplings, and egg rolls. With full stomachs we went to bed to rest up for a big day.
Waking up at 8:30, I walked upstairs to make some coffee and was greeted by a kitchen full of wonderful smells and a towering stack of pancakes prepared by the duo Griffin and Cassidy. We all stuffed ourselves and then did any final packing and preparations for our solo excursions. At 11:00 we got on the bus and began our drive to Wiregrass Canyon. On the way we jammed out to a wide variety of music, some classics like Piano Man as well as some newer music like Taylor Swift and to end it off, some rap. We arrived, made sure our bags were packed and began our walk into the canyon. A mile in we stopped, Quinn and Erica scouted the solo sites and then we had our final send off with a quote read by Quinn to transition us into silence. Two groups parted at the fork of the canyon and about a minute into silence, Meg fell, dropping her water and toppling over with her pack on. The silence was broken with poorly suppressed laughter as Meg lay on the ground, eventually being helped up. From there we kept going, Meg got dropped off first and then it was my turn. My solo spot was a nice field in between two canyons and the riverbed. I began by setting up my tarp, which went surprisingly well even though it was a little windy. After that was done and my brain was no longer occupied I was hit with a weird eariess only being surrounded by the sound of the wind in the canyon. It was a strange and lonely feeling, being all by myself for the first time in a while considering that I live in a small space with 11 other people. On top of that I knew that this is what it would be like for the next three days. It was overwhelming but I sat down, began to journal and started to enjoy the peace and quiet of the canyon. After chilling for a while, the sun went down and then once the stars came out I went into my sleeping bag and went to sleep, somehow drifting off for the night around 7:30.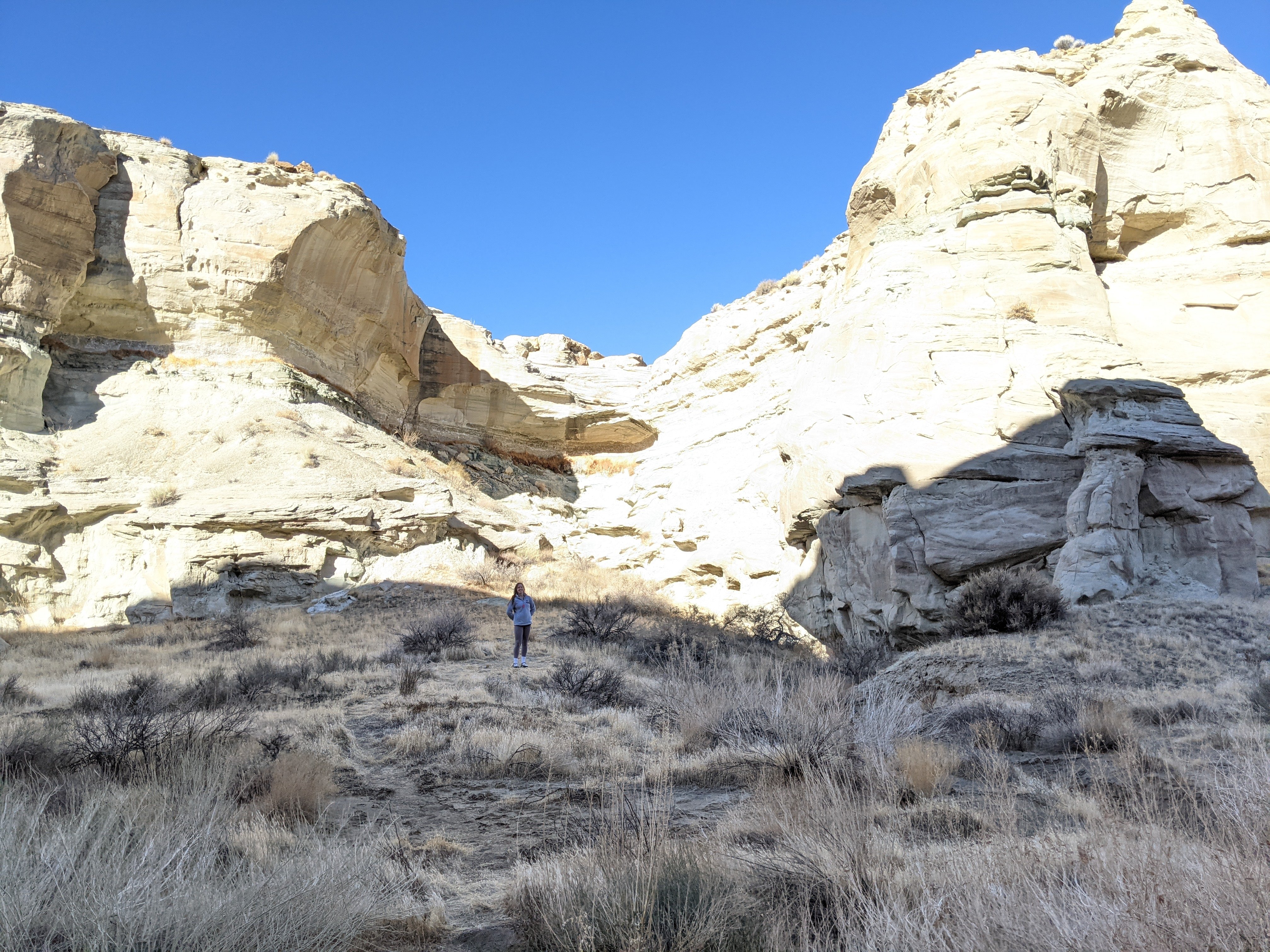 The next day I woke up sometime in the later morning, after getting an excess of sleep. Not sure what time it was but Quinn or Erica had already come by and kicked over my mailbox signaling to me that they had come by and checked in. I got up and took my crazy creek into the sun, where I began to journal about everything that came to mind and then did some drawings. I did all of this while a crow flew around the canyon and over my head. It was so quiet in the canyon that when the crow flew overhead, I could hear its wings flap and make a whooshing noise. Not long after, it got cloudy and the wind came back which was disappointing and even upsetting because after living here for almost two months, I have learned that the only source of warmth in the dessert is the sun and it is definitely a gift when it is out.
I went back to my tarp to put layers on and then I fixed my tarp so that it was high enough for me to get in without crawling and so that I could sit up inside it. After that I went to the riverbed and began to collect stones to build a wall around my head in hope that I could make a wind shield. It wasn't super effective and only helped a little, but it looked really cool so I was satisfied. I continued to pass time by exploring my area, journaling, and throwing rocks and eventually it was dark so I hopped in my sleeping bag and went to bed. The next day I woke up and it was a beautiful day. The sun was beaming down, and there was not a cloud in sight. I took my journal and my crazy creek and walked up a hill to a little perch where the sun hit for almost all the hours that it was in the sky. I then sunbathed almost all day, working on my farmers tan and barely moving, experiencing complete relaxation. This was the peak of my laziness and I did nothing for the entirety of the day until the sun went down and I retired to my tarp for the night. The last morning was awesome. After a poor night's sleep, probably due to the fact that I slept for more than 12 hours the previous two nights. I woke up and made my way up to my sun spot. There I ate breakfast, breaking my fast that started after eating southwest chicken salad on the bus the day we arrived at Wiregrass. I ate an apple first, and it was probably the best apple ever. After filling my stomach I sat in the sun until Erica came by and informed me that I had to pack up.
When it was time to go and I saw Erica followed by Tahg, Griffin, Sasha, and Paul a huge smile swept over my face. I was so happy to see everyone after three days alone. The walk back was funny because we couldn't talk until everyone was together and there was a lot of giggling but breaking the silence and hearing everyones stories as well as giving everyone hugs was a great feeling. I realized that we don't think about how much we take human interaction for granted or think about going without it. This is hard to realize when you coexist with 7 billion others on Earth and see coworkers, peers, and family on a daily basis but you don't realize that unless one chooses to, one is rarely alone. It's crazy how impactful even just a small conversation can be and it's not something you realize until you are completely alone for an extended period of time. I also understand more now that being alone can be a good thing. I always enjoyed being alone here and there when I needed some time, but never this long. Thanks to this experience though I have had time to reflect, but more importantly just exist, care-free not needing to worry about the minuscule things that occupy our brain every day.
- Hank '22