Proctor Academy's Ocean Classroom program enters their third week (of nine) at sea as they arrived in New Bedford, MA earlier this week. Be sure to follow their adventures with daily Ship's Log entries at the World Ocean School's website, as well as in the student journal entries in the blog post below. Enjoy!
Day 13 | Steve '20
We woke up today at 0700 and got dressed for an eventful day. We held our usual muster at 0715, and my watch (B-watch) cleaned the soles and bowls. I cleaned the head for the first time, and it was not the most enjoyable of jobs, but I got it done. We had pumpkin pie and oatmeal for breakfast, which was amazing! Nikki, A.J., and I presented our port report on Gloucester, which consisted of a page about Gloucester's history, information on the town, and current events, followed by some jeopardy-style trivia. It was fairly smooth, and a lot of fun.
We hauled up anchor, and headed for the dock in Gloucester. We passed many quaint, elegant looking houses on the ocean, and many old buildings before we docked, packed our backpacks, and set off on foot. We walked about 20 minutes to get to the tide pools, where Ali taught us about the Marine food chain. We all drew two organisms that we saw and were of interest to us. I drew a periwinkle and some marine vegetation.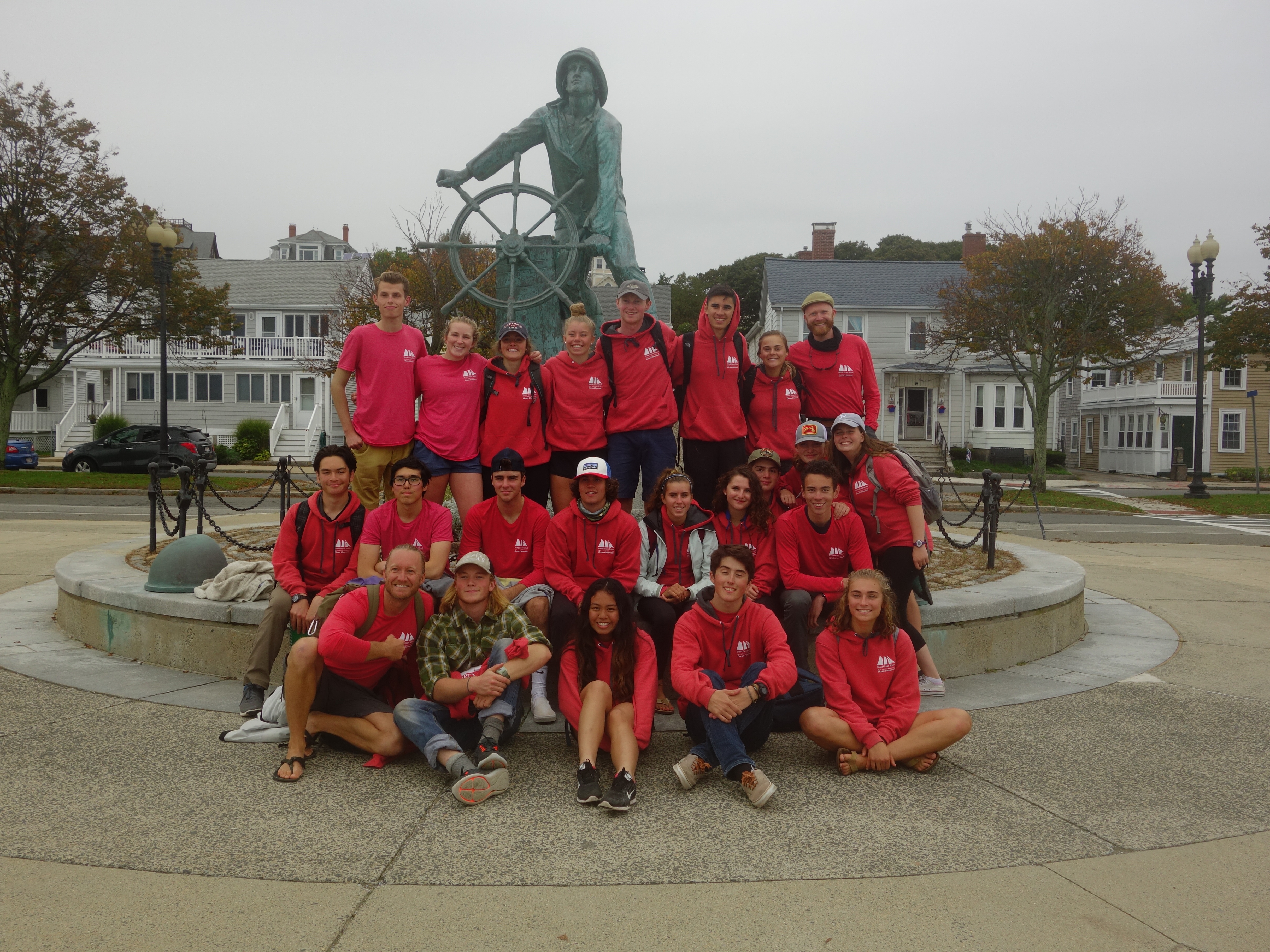 We then walked back to the Roseway, where a simple lunch of PB&J, apple sauce, and other things was set up. We went back into the town of Gloucester at around 1430 to conduct our Humans of the Port interviews. My group interviewed a man who was a carpenter, and he told us about his time in Gloucester and how he used to work on the Roseway when it was a pilot ship. I have started to notice an upward trend of the number of people who have either worked, or have been involved with the Roseway at the ports we visit, and they all have fond memories of it. Following the interviews, we had an hour and a half of free time, and we explored the town and stocked up on food.
At 1730, we all returned to the ship and had a tasty lobster dinner courtesy of the McCormick family. Daniel gave me my first taste of lobster, and I have to admit, it wasn't too bad. We also indulged in pizza, chicken tenders, and brownies. After dinner, Johnny brought out his guitar and we sang songs. Overall, it was a fun and eventful first day in Gloucester, and I look forward to what the following days bring.
Day 14 | Neal '19
After a great first night in Gloucester, I was woken up at 0045 for anchor watch. There was plenty of food for anchor watch snacks because of all the food we bought on shore and leftover cookies and brownies from dinner. Anchor watch went by quickly and I was back in bed before I knew it. We woke up at 7:10 for our usual morning muster. We had chocolate chip pancakes for breakfast and shortly after we left for the Fisherman's Wharf in Gloucester. It was a short walk away from Roseway and when we arrived we were greeted by friendly fisherman. They showed us the vacuum seal they use to preserve fish and then took us to the freezer. The freezer smell was strong even for people used to the fish market smell. The smell made some of us (Frances) a little sick, but it was very interesting to see such a large quantity of fish. We then stepped outside and watched fisherman actively package large amounts of small fish into containers. They were coming straight from the boat up to the warehouse.
We left feeling very impressed by the work being done at the Fisherman's Wharf as we returned to Roseway for lunch. We ate sandwiches on board and then went to the marine science center just down the dock. We dropped our bags inside and then we were taken to the boat house where boats are dragged on shore. We met Zim, a man I met earlier in the day while using the restroom on shore. Kristen, A.J., and I talked to him about our trip, and he remembered me when we came back. Zim had me control the chain which is what drags the boats up. We then went to the aquarium and the museum to complete a worksheet. At 1615 we mustered outside and then had free time in Gloucester. Tommy, Cat, Janelle and I ran to main street because stores were closing soon. I ate a sandwich and then picked up some more snacks. Dinner was shepherd's pie. After dinner we were supposed to watch a movie but the speaker was too quiet so we couldn't. We all had a great time in Gloucester and are looking forward to more great port stops in the future.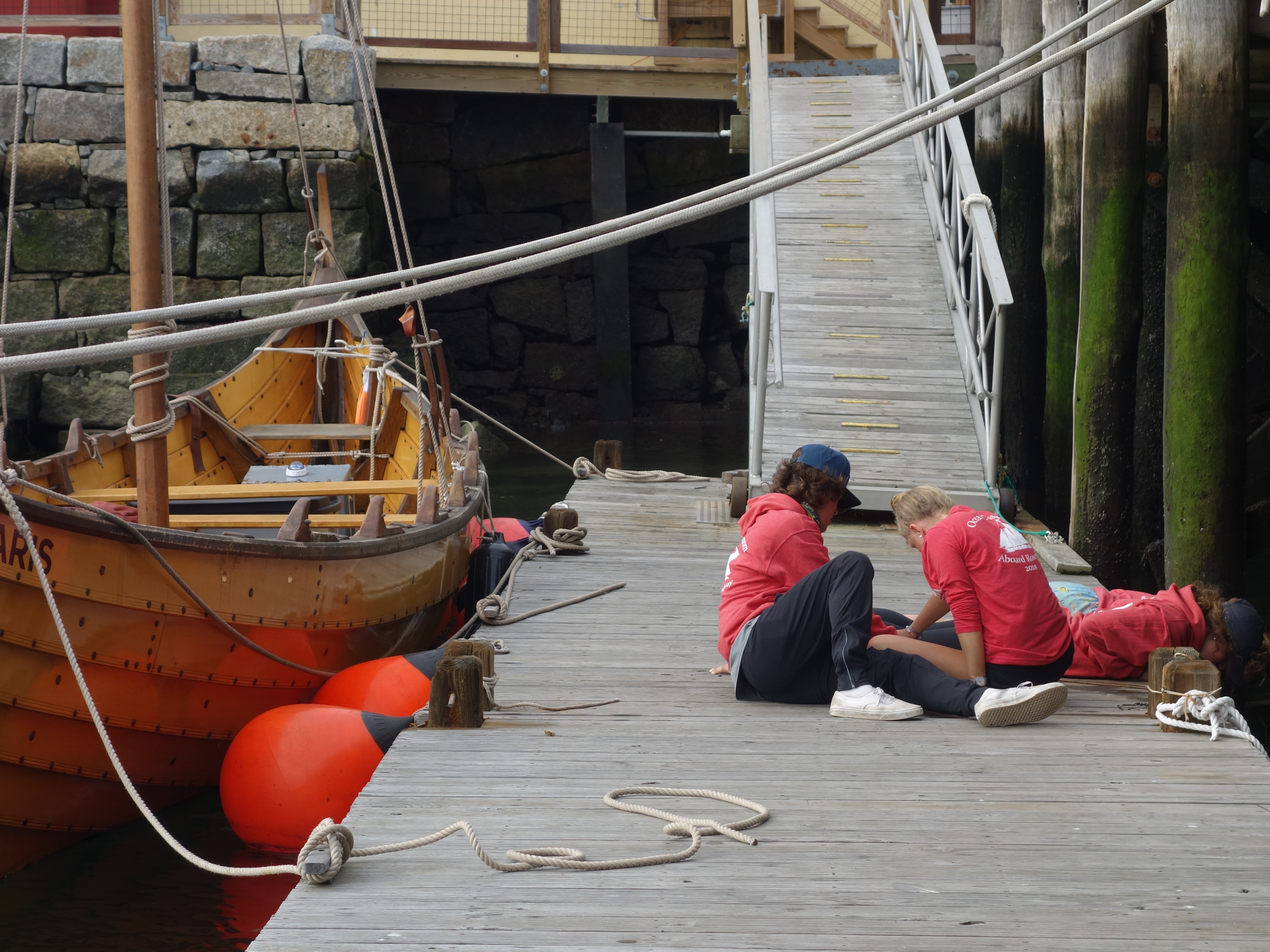 Day 15 | Nikki '20
While anchored in the outskirts of the Cape Cod Canal, I woke up at 0700 like any other day. We (the group of students and I) were woken up by practicing emergency procedures, such as man overboard, fire and abandon ship. After we were clear from the drills, I lined up for breakfast. Shortly after we ate, chores followed. Once the chores were finished, we set sail for Marion, MA.
I had the privilege of being on duty from 0800-1200. The views were amazing and the wind blew lightly. It was quite refreshing compared to the crazy sail we had the day before (Cat's entry). Along with the peaceful sail followed pleasant weather. We arrived at Marion, MA and anchored around 2 o'clock in the afternoon.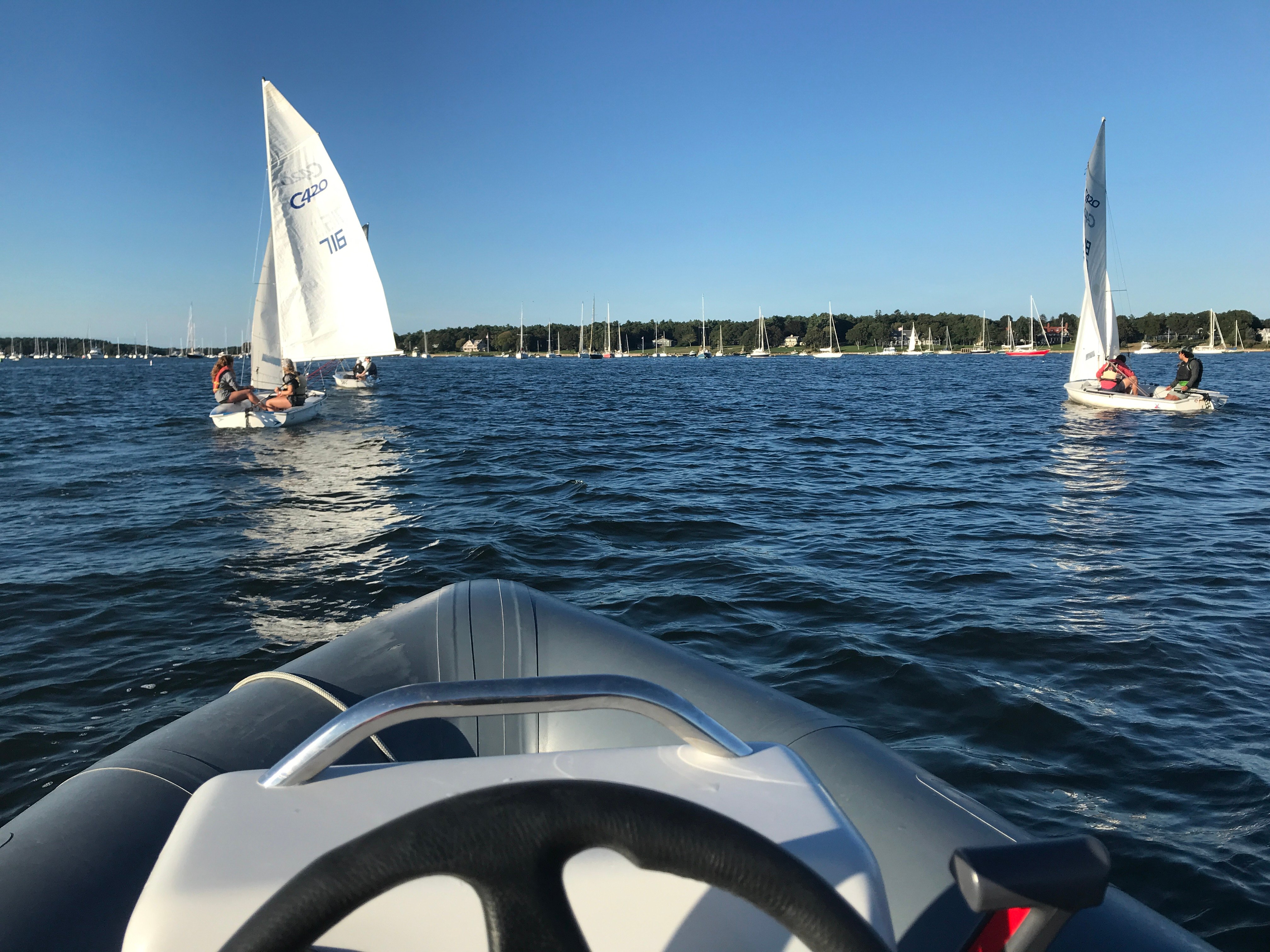 While A-watch took the deck, Ali, Frank, and I power boated to the yacht club that Ali belongs to. The club let us sail three 420s- allowing the crew to enjoy some boating/sailing on a smaller scale. I enjoyed the change because I had the wonderful opportunity to teach others how to manage a smaller boat. The first classmate I taught was Van, and I was very impressed at how quickly she picked up the skills to skipper (steer) the boat and manage the mainsheet (a line that pulls and lets out the sail). The second crew member I taught was Daniel. He too picked up the basics very well and very quickly. Both of them had a strong ambition to learn the anatomy of the 420, which made me super happy. I also felt very proud because due to my good teaching skills they picked it up quickly and were able to enjoy and feel confident sailing.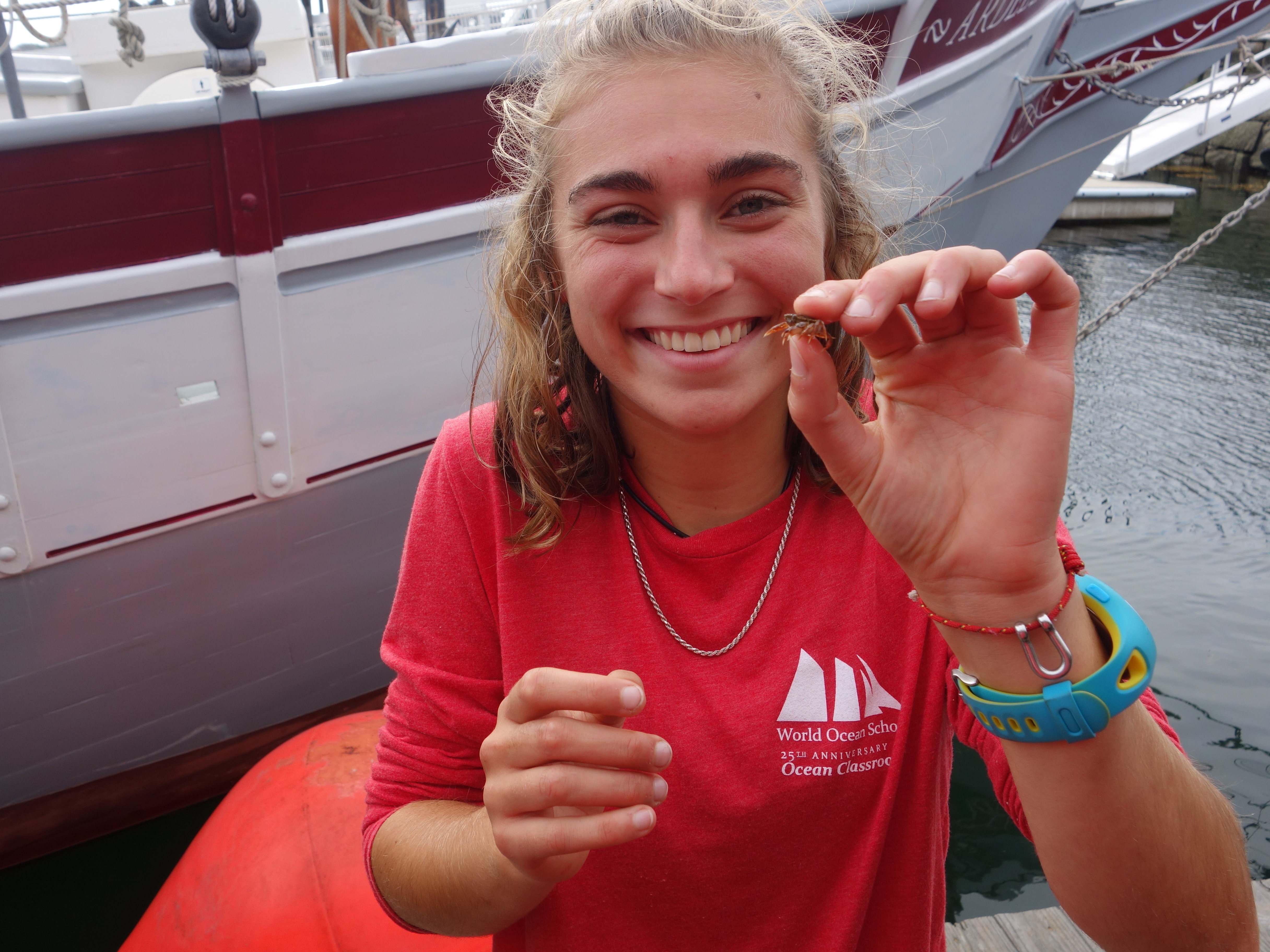 After the sailing, I climbed back onto Roseway to attend a history class. In class, we learned about the Grand Panorama of a Whaling Voyage 'Round the World. John explained to us that the mural is 1,275 feet long, and the amount of time that it took to make was 42 months. The mural really caught my interest, and when I found out that we were going to the museum that contains it, I became super excited! After class, everyone mustered mid-ships for dinner announcements and portion sizes. We got to have pizza (which I was super excited about)! Once dinner was finished and cleaned up, I sat down to do homework and read a little. I also have watch tonight at 2215-2330. We were surprised with fireworks from afar to end a great day!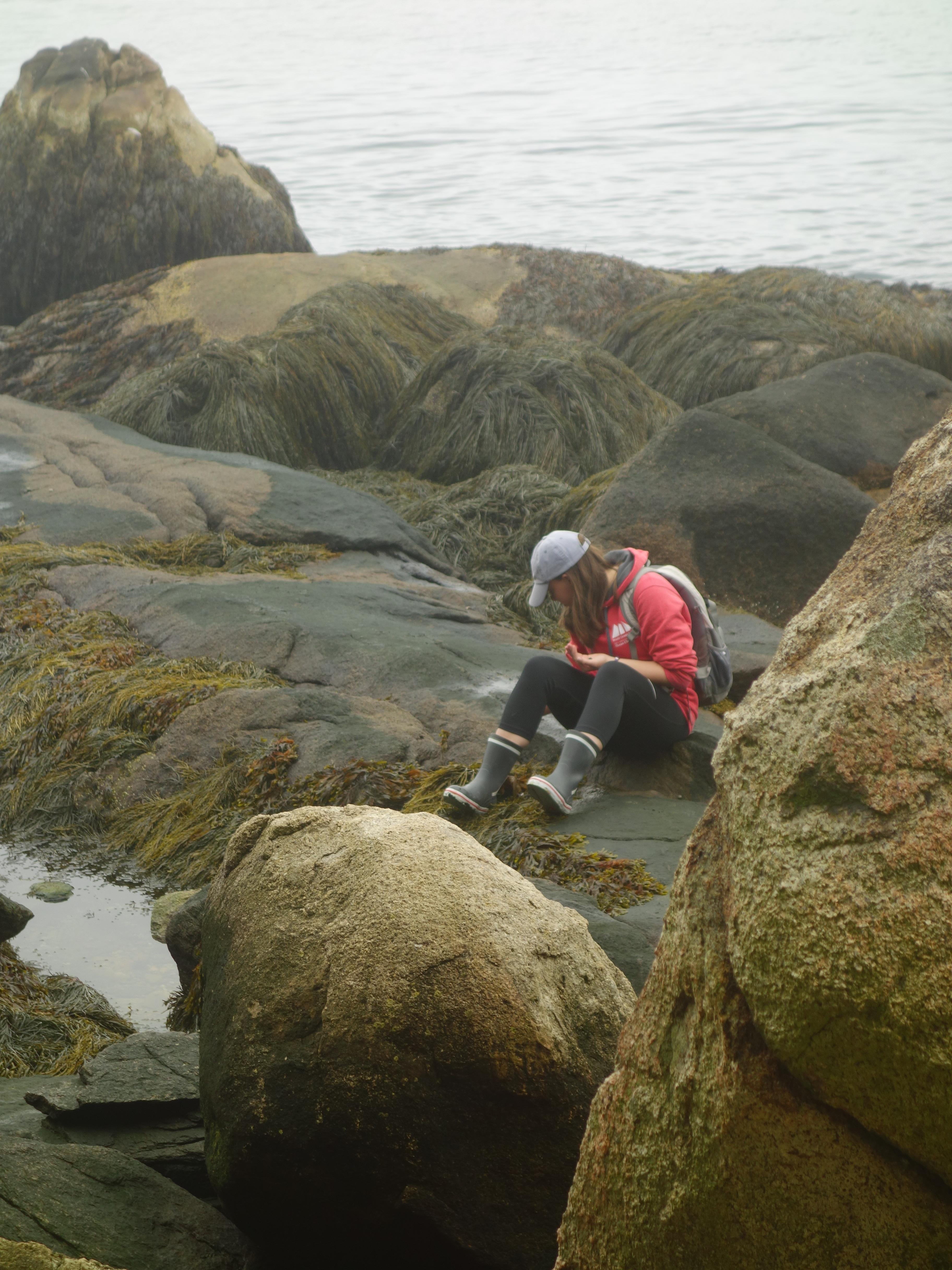 Day 17 | Mackenzie '20
Today I was awoken at 0545 to the calming sound of someone softly telling me the weather and that it was time for my watch. I climbed out of the fo'c'sle and out on deck where the former group was waiting for me to do turnover. I had the last anchor watch which means that I was able to watch the sunrise; the best way to wake up! My group finished all our tasks in a timely manner, which meant that we got to hang out on deck until we had to wake everyone up. After, we had another one of our cook, Brandon's, delicious meals. B-watch cleaned up the meal then we were all surprised by a swim call. We all got in our swim gear and jumped off the side of the deck. After a cooling swim, it was time to set sail. We all joined forces to set the foresail, jumbo, and jib. It looks spectacular when everything comes together setting sails.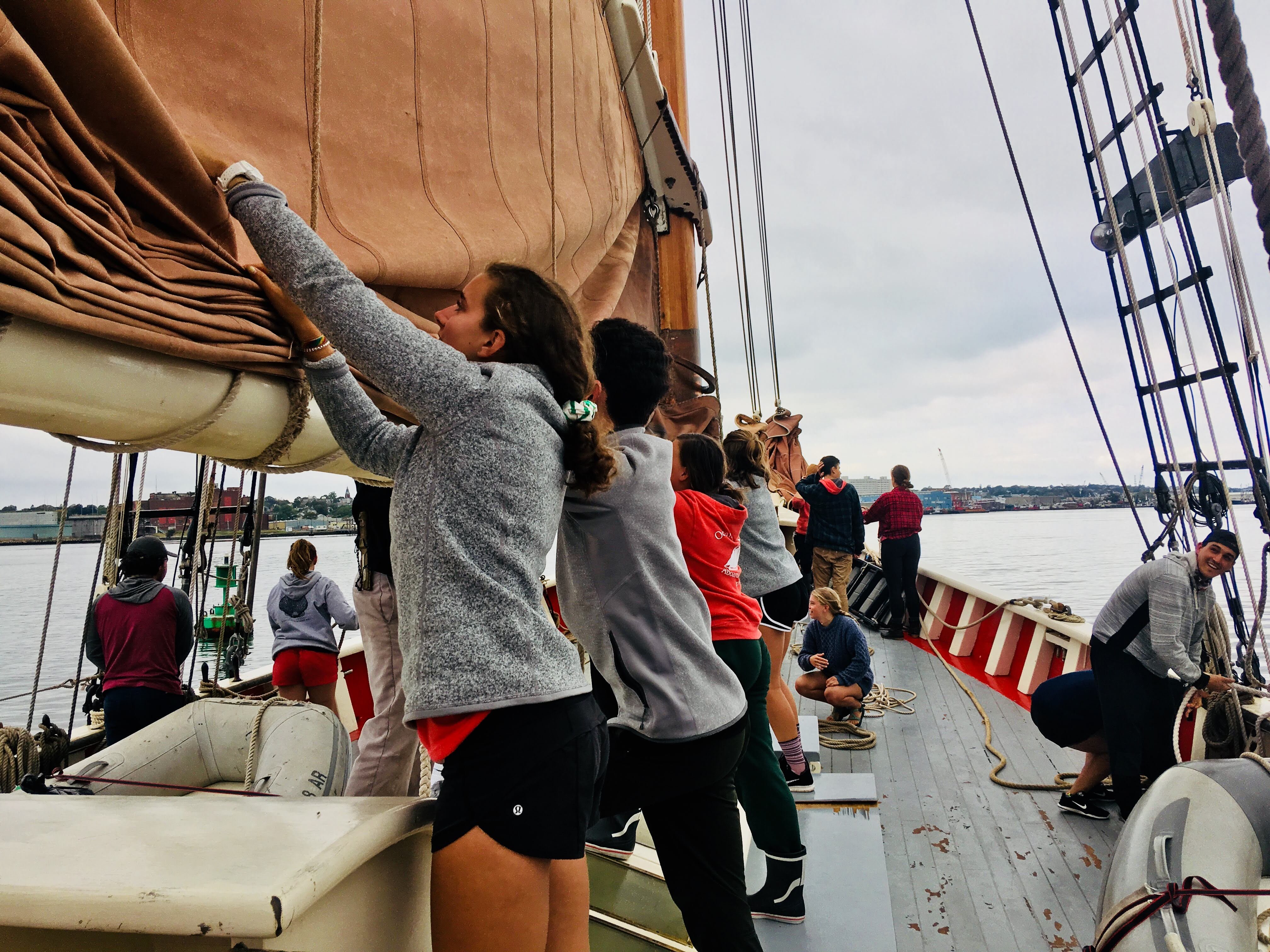 We had free time in the afternoon to work on homework, take a nap, etc. I chose to work on my ditty bag (a bag used to hold sailor's tools). Brandon then made us another incredible meal which was chicken fried rice. All the students not on watch took a "Roseway after meal nap," which is what we call naps on board. We were woken up around three to take in sails because we had arrived in New Bedford. The dinner we had tonight was absolutely amazing! It felt like a home cooked meal and we all wore our Sunday best, so it felt extra special. As I sit in the salon during quiet hours listening to the hum of the generator, I think back on the last three weeks and those yet to come. We have learned so much in a short amount of time, and I can't wait to learn more.
Day 18 | Johnny '19
Now, I'm sitting here watching everybody else eating Oreos, jerky, Starburst, protein bars, and other assorted treats. It's torture! Some students on the boat have stuffed their snack bags to the point of popping- I don't know if I'm going to be able to stand it! But, thankfully, we arrived at the New Bedford port today. By this time tomorrow, my bag will be as full as a stuffed turkey at a German Christmas. Jack-links, Mike-n-Ikes, M&Ms, Goldfish, pretzels, gummy bears and more! Perhaps I'll hit up a few restaurants during our free time tomorrow. Something really interesting would be to pick up a few frozen burger patties and store them, ready to be grilled. Or some chicken salad. Maybe I'll check in with our Chef, Brandon, and run the idea by him… Tomorrow is going to be so great!
Loving my time on the Roseway.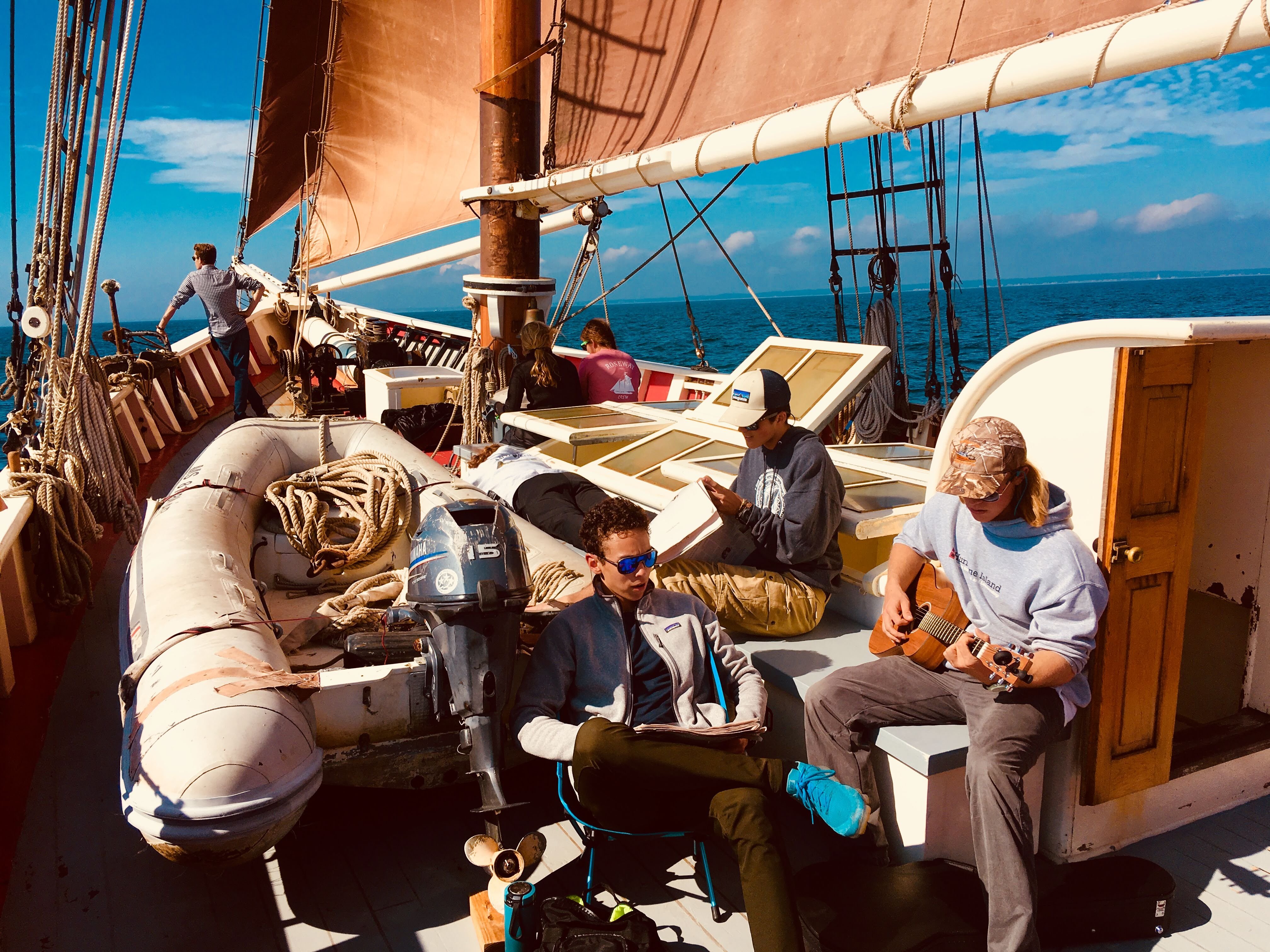 Day 19 | Renny '19
Today was just another day in port. I received a standard wake up at 0400, which I was thrilled about! Today was the first time we would do anchor/dock watch without a deckhand or mate present. This was really nice because it showed that we are earning the respect of the crew. Graham and I had watch this morning, we performed the typical tasks of dock-watch: checked the lines for chaffing and completed a boat check. Doing watch with Graham is nice because we joke around and talk about baseball.
We were relieved from our watch around 0545 and luckily got another hour of sleep. We had a jam-packed day, starting by heaping off to the New Bedford Whaling Museum. The museum was really interesting- there was a half sized whaling vessel called the Lagoda, and although it wasn't the original size, it was very impressive. Our tour guides at the museum shared their extensive knowledge of the historic whaling industry. One of my favorite aspects of the museum was when they showed us a sperm whale tooth. It was surprisingly heavy.
After the museum tour, we were given some free time in New Bedford. Frances, Teagan, Cat and I went around New Bedford; we started our tour of the city by getting lunch at Bricks, which is a nice little pizza place on main street. We then walked around and seemed to go into every open store. We went to a folklorist store which was interesting. It exposed me to a side of the world I did not know, and one which I'm not sure I ever want to know more about. We then ventured through the quaint town of New Bedford and got ice cream. By this time of the day, I had consumed too much food and walking became difficult.
We then had to muster at the whaling museum where we broke off into our Humans of the Port groups. Alex, Kristen and I interviewed three women from an antique store. It was a really funny interview because the three ladies were really good friends and started arguing about the history of New Bedford. Tonight Daniel is cooking dinner, so that will be sweet. I am excited about getting back out on the ocean and voyaging down to Virginia.