With just over two weeks remaining in the journey of a lifetime, Proctor's Ocean Classroom crew prepares to set sail for their longest open sea voyage of the term - a 10-12 day passage from Savannah to St. Croix. While the ship will be in daily contact via satellite phone, we will not post another blog until after the ship arrives in the US Virgin Islands. Until then, read about journal entries below from the past week and picture yourself aboard Roseway packing supplies and preparing for an epic passage over the open Atlantic.
Day 35 | Cat '19
I have finished my book, The Nightingale. We played an adult version of hide-and-seek after breakfast. It was just like the children's game, only people had radios and the activity was required by Homeland Security. Also, we had to pretend that the hider was possibly armed, dangerous, or under the influence. Luckily, we only found a ginger male named Ryan and a nice girl named Van, stowed away on our boat.
Drill finished, boat secured, time to enjoy Charleston. As you walk down the streets, history spills out from every nook and cranny, and its SO cool. Urban Outfitters is housed in an old theatre. At the back of the store is the stage. If you stepped onto it and looked up, you could see the curtain and ropes above you. And if you looked out, you could see the upper mezzanine. So cool! The south is very different from any place else I've been. It's got layers of history that I haven't seen. The houses, like New England, are all the same, but they are different here. We walked down the streets, and they are packed with old houses. The houses have front doors that lead onto porches instead of into the house. Or, the houses are pastel cement, which is gorgeous! If you don't know what I am describing or haven't seen them, look it up.
Tomorrow, I'll need to buy some more snacks before we head to sea again. If you have read Johnny's log, you'll know how important snacks are. Recently, accusations have flown after six Oreos went on walk and didn't come back. We all have gallon Ziploc bags of snacks held in a bin. Because, at 2am, when you have been awake for two hours in the middle of the night and are going to be awake for two more, a bite of chocolate is a much needed pick-me-up.
Life on the Roseway has become so routine and normal now. I no longer miss things like yoghurt or running. And I've stopped craving a real bathroom and shower. There are so many rewards to this life. Seeing the wildlife for example. The other morning, I spent an hour watching dolphins swimming and playing off our bow. I've also gotten to see rats, and I've chased a fox with a broom because it wanted to come on our boat.
The most beautiful thing has been going aloft. I climbed to the top of the mast on the most beautiful day. The sun was shining and the wind was light and the weather was warm. Atop the mast, I stood and was alone. I could see for miles and miles. Nothing but ocean, rippling across the surface and glistening with sunlight. It was as if our boat were alone on a giant round blue platter filled with water- it was so round all around us. Up there, I was separated from the earth, it felt, by not just space but by time. I was in another world, and it was easy to forget all the troubles, stress, and corruptness of the world. It was the most beautiful thing I've ever experienced.
At this point, I'd like to give a shout-out to my fam. Who may or may not ever read this. But they're cool and I love them a lot. Also, I apologize if this log was scattered and confusing. I decided to just write what came out of my brain.
And soon, it's Halloween. I am so excited. Hopefully it will bring more candy- and hopefully I don't come home from this trip with cavities. We are all preparing for our murder mystery night. New music will be dropping soon on the Roseway. My group of artists I am collaborating with are writing a fire track called Shanty d'Oreo. So it's a big moment in the Roseway music industry. And that's all.
Charleston, SC
32∞47.321 N, 79∞55.422 W
Day 36 | Nikki '20
My day started with a 11:30-12:45 anchor watch. It was nice to be able to only stay up for a short period. Although, one would think that having almost a full night's sleep would recover our sleep schedules but to be honest- we are all very tired by now. I'm a little nervous for the long trek and how everyone's going to react to it. Anyways, sorry for the drift in what I was originally writing about. After my watch, I quickly fell back to sleep and was awoken at 06:45. All of us mustered mid-ships, broke off for chores, ate breakfast, and departed ship for the aquarium.
The Charleston aquarium was also a sea turtle sanctuary, where they [the aquarium organization] and marine scientists travel the area for injured and sick sea turtles in order to bring them back to health. We arrived around 09:00. I was with Van and Mac (Mackenzie) the whole time- we explored all the tanks and showrooms. My favorite theme was the twilight zone (3rd layer down in the ocean after sunlight and surface zones). The kinds of species in the tanks were beautiful. There were lionfish and hatchet fish and many, many others. After that zone we walked to the room with sea otters. They were soooo cute. They were asleep so we couldn't see them in action sadly. Before the group sat down in the auditorium we went to the touch tank. The touch tank possessed two species of stingrays. I can't remember the names, but the rays had a slimy texture to them as I dragged two of my fingers along its back. One of the little ones came to me and basically stuck itself on the side of the pool. It was so cool being able to touch a cool creature. The three of us walked to the auditorium for an underwater carving show. I was disappointed to find out that the pumpkins were pre-carved and we just had to vote on the best by cheering for your favorite pumpkin.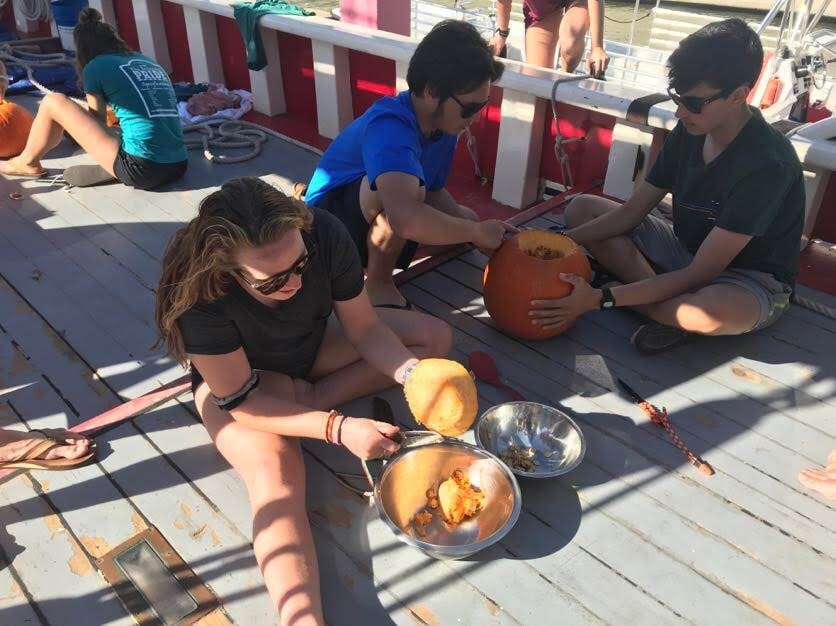 After the pumpkin show, the group headed back to the ship for lunch. After lunch, Matthew called an all hands class. We had a quick reading quiz and had time to work on our shanties. Van, Mac and I have a good one cookin'. We then had time to run around on the Charleston College's field. I passed the ball around with Van and John. After that activity time, all of us got to take a freshwater hose rinse. It felt so nice. Once cleaned, everyone got ready for a night out for free time and dinner.
Van, Mac and I went to Urban Outfitters, and picked Gunther up on the way. The next place we went to was Smoothie King. I got an "immune boost" (mixed berries and antioxidants)- it was bomb! The four of us walked down King St. to the "market." The market was a building that was used to sell slaves in the past. For anyone who has been in Faniel Hall in Boston, the market here was like that, but instead of food, little trinkets filled the long building.
As we walked down Princess St, we all agreed on Greek food for dinner- Yay! The place we went to was called "Old Towns", which was apparently the oldest family-owned restaurant in Charleston. One New York strip later and a few stuffed grape leaves, we left to seek out gelato. I got raspberry and Van got coconut. Both were good! We then trekked back to the Roseway. The lot of us arrived and sat down to do homework. The night ended with Neal trying to write a paragraph in red pen under a red light. I was dying in laughter. Well, that's all folks!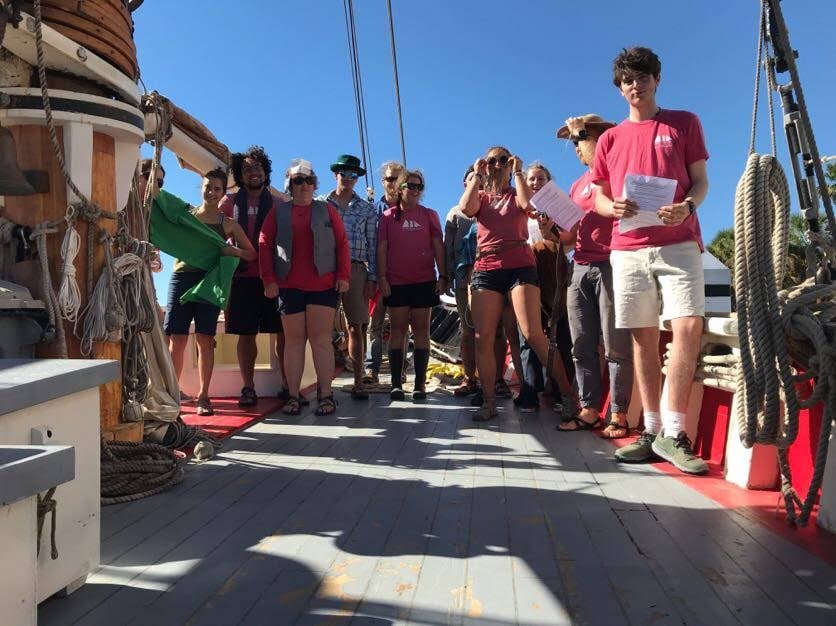 Day 37 | Mackenzie '20
Another amazing day on Ocean Classroom, but where to begin? I guess I'll start with a great meal of breakfast sandwiches from our chef "The Don." We cleaned up brekkie and headed out on our adventure to the post office. Once our group arrived at the destination, we picked out boxes to fit the amount of clothes we were going to send home. We shipped off our layers and ironically stepped outside into a rare cold Charleston day.
We came back to the boat ready to eat, but alas, we had to clean our bunks first! It wasn't too bad, but you start to realize how bad everyone smells when you dig through all your clothes. Then, we had an amazing pizza lunch in the park with Brooks who had just arrived!
Our group came back to the boat to take our dreaded Navigation Midterm, which wasn't that bad after all! It was on all the things we have been studying like DR's (Deduced Reckoning), 3 bearing fixes, and radar. Once finished, we had some free time to study, read, etc… We had dinner (left-over pizza & salad), and I started to study for the science midterm tomorrow. I'm going to sign off for now because I have to get up for the good ole 00:45 dock watch!
Day 38 | Johnny '19
I'm used to the waking up in the middle of the night, the tight claustrophobic spaces, the uncomfortable toilets. I'm used to the hauling, the sheeting, and the freshening, the watching, and the steering. I'm used to the smells and the sounds, and the thoughts that waft and reverberate and wander through me.
And there are some things that I won't get used to. Standing alone on the bow, watching the sunset over the open sea. Lying down and gazing at the mast as it makes lazy circles in the air, the stars stationary behind it. But it's the people on the boat who make it a special place. The singing and the arguing and the dancing and the laughing at nothing at all.
Today marks the day when I personally realize we don't have that long left. And I'm not surprised at how sad it makes me feel. But the sadder that makes me, the more I realize how happy the trip has made me.
Day 39 | Renny '19
With the stress of midterms fleeing, I can again begin my standard routine. I was woken up by someone on B-watch at 23:30. I was delighted to be woken up. As soon as we got on deck, Ryan and I were sent forward to help tack the ship. We were consumed by wave after wave, and within the first 15 minutes of our watch, we were soaked. The shift came and went, and soon I was back asleep in my shelf of a bunk.
Later in the morning, I was extremely tired and tried to squeeze in a couple extra minutes of sleep. C-watch then had the 12-1600 dog watch - this was anything but a normal watch. We entered the Savannah River weaving through buoys and avoiding shallow points. I took the helm about 45 minutes out and was tasked with steering the ship as we docked. This was very difficult because the current was strong, and it became challenging to "steady up." Cap talked me through it and showed me what to do. We came along side the dock at the foot of the Westin Resort. Shortly after docking Matthew and Ali ran inside and picked up all the mail that our friends and family sent us. We then had some free time to bask in the hot Savannah sun before dinner.
After dinner we went on a haunted tour of Savannah where haunted spots in town were pointed out to us. It was hilarious to see some of the kids be so squeamish when ghost stories were told. At the end of our tour, Graham and I entered the most haunted house in Savannah. The musty smell and creek of the floorboards were not inviting. Minimal light broke through, so it was hard to see where you were stepping. I am not going to lie; it was a little creepy. After a long day, everyone is back aboard the ship and getting some much needed rest.
Day 40 | Alex '19
Welcome to Murder at Sea 2018! This evening activity focused around solving the mystery of the captain's murder on a boat, circa 1914. The night started as we each received a unique role with a set of personal goals - the investigation is on for the night! Players could use their in-game money, weapons, and cunning to put the pieces together and identify the murderer while completing their own agendas. To help move the game forward, each player has a unique secret and clue that can help or hurt others. My character was a Russian minister returning from a diplomatic trip to America. My secret was that my engraved pistol had been stolen from my cabin before the murder took place. At first, this secret led to a lot of fingers pointed my way, since the captain was shot dead. However, as more of the mystery unfolded, knowing that someone had broken into my cabin led the team to conclude that the murderer was the stewardess on board! In addition, forming alliances with other countries, identifying a smuggling scheme aboard, and retrieving my pistol were my side quests. What made this activity so much fun was how much everyone was involved and invested in their characters, creating a much more intense game. Definitely a night to remember!
Day 41 | Ryan '20
Happy Halloween! Today I was awoken, and none too excited to get out of bed, I merely rolled over. Laying there, I wondered what all the commotion and noise was up on deck, and I only realized it after a classmate shouted in celebration. "It's Halloween!" I exclaimed, jumped out of bed, and ran up on deck to see the Roseway had been transformed with decorations.
We ate a quick breakfast and were then told to change into bathing suits because we were going to spend a couple hours at the pool. We are docked at the Westin in Savannah, a sweet resort. I threw on my swim trunks and basically sprinted to the pool, super excited for the hours in the near future. We collectively had so much fun at the pool. It was a great way to cool off from the hot Georgia sun. After lunch, each watch group was given a pumpkin to carve. My watch had a bit of a hard time deciding what to carve into ours, but we finally decided to go with a traditional face with a surprise in the back. After everyone was done with their pumpkins we were given free time, and we all quickly got ourselves over to the city.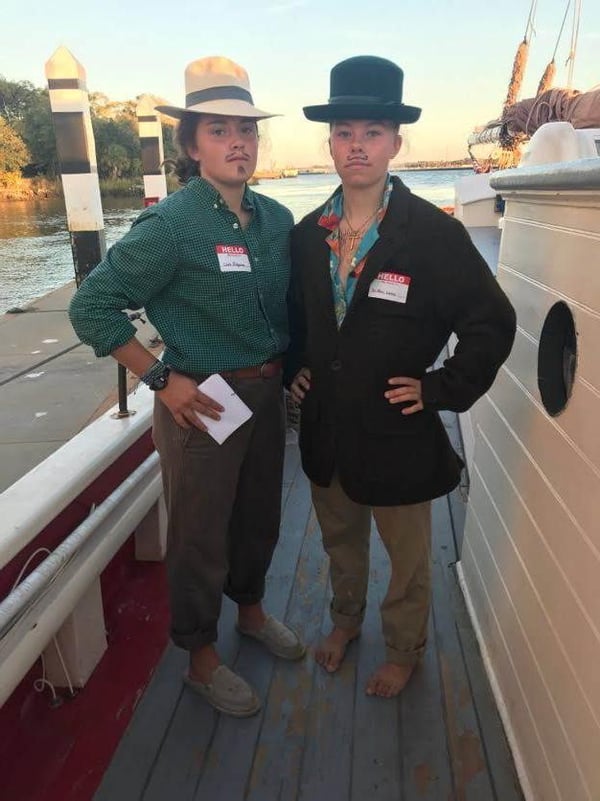 I ended up eating a spectacular burger for dinner and purchased a light jacket from a thrift store in preparation for winter back in Andover. After dinner and shopping, we were told we were going to watch a movie at the hotel. We headed over, grabbed some lawn chairs, and sat back as we watched Hocus Pocus, ending our amazing Halloween in fashion with a spooky film. This was definitely a Halloween that I am going to remember for years to come, and I am so glad to have shared with my classmates on Roseway.