Ocean Classroom 2019 is complete, but the memories and friendships will carry on. While the crew of 21 Proctor students has now been home for just over a week, and will be welcomed by a fresh foot of snow on campus when they return Tuesday evening for the Winter Term, they will have these blog posts, Ship's Logs, and thousands of photos to bring them back to the Caribbean waters of Puerto Rico, St. John, and St. Croix. A big thank you to Ocean Classroom educators Matthew Ecklund, Claire Callahan, and Holly Buresh for capturing photos, student writing and video along the way.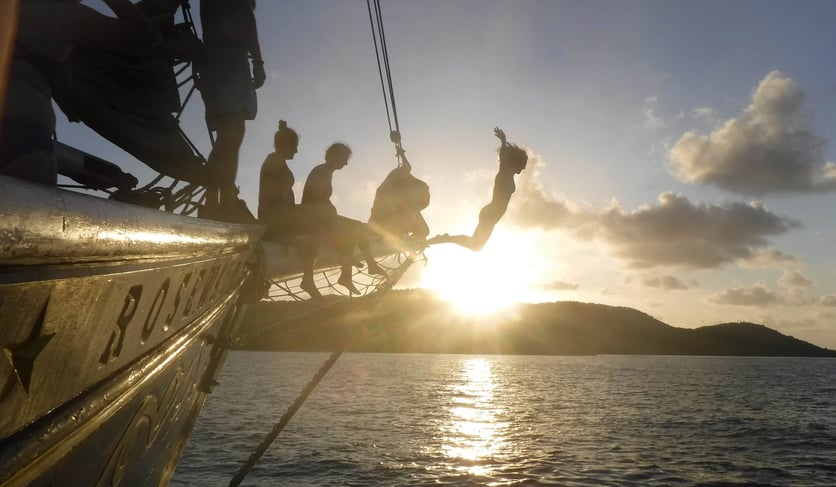 Day 63: Chloe '20 - Reef Bay, St. John
Last night, the girls slept in deck. It was gorgeous out, with all the stars. Orion was especially bright and beautiful. After a good anchor watch from 5-6 with Lila, we slept well in our hammocks. In the morning, we shuttled a couple minutes to the beach on Maho Bay, and Kerri drove our small boat which was funny. The hike was straight up hill for a mile which really took the wind out of our sea bodies, but gave us such a gorgeous view of our boat and the clear, clear blue sea. The green variety of plants was amazing, and Claire taught us about the history of some of the intricate trees. We stopped for lunch at the petroglyphs, which reminded us of orientation because the rock looked like New Hampshire rock. We made our way to this sugar mill ruins where Matthew read us "Washington Black." We all basked in the sun, and appreciated the story he was sharing with us. On the walk, there were these big black centipedes we were picking up, and Zach joked about putting it in Cole's bunk and he screamed and freaked out, it was so funny. We finally came to the ocean again and we all ran into the water, after our nice long, tiring, and pretty hike. We all could already see our beautiful Roseway sailing towards us (pictures in my Polaroid) because the crew sailed it around to the South side of the Island for us. We small boated back, and got underway toward Vieques. The cliffs around us were so pretty, and we got a little fresh water sun shower as we were setting the sails. Hana, Kerri and I hauled on the main throat halyard together. So fun!!
I was JWO for the 1600-1800 watch. We all got in our Sunday's best, and shared these gratitude notes we wrote for each other, with the sky and clouds lit up with gold and pink. Jaimes, Foster, Geoffrey and I took a late night bucky to cool off and end our busy day!
I'm so excited for more beach days, but I wish time would slow down. Why do we only have 6 more days left...?!? I love my watch and the people on this boat, and want to soak up every minute. For now I have to go to bed because I have watch soon!
Day 64: Birgit '20 - Vieques, Puerto Rico
I woke up as we were coming into Vieques. It was a beautiful morning with the wonderful sound of Matthew and Holly playing the Ukulele. We ate breakfast and struck sails. As soon as we were done furling, we jumped in the water and worked on our ditty bags. All morning we swam in the hot Caribbean sun. After lunch while my watch was doing dishes we started small boating people into town. We jumped off the pier a few times and laid in the sun. Shortly after we went into town and sat at a restaurant where we had some food, but more importantly cold water. Some us walked to the convenience store up the road. After that we took a last refreshing jump off the pier and headed back to the boat. We had a quick dinner, because we had a reservation to go kayak in the bioluminescent bay!!! We took the small boats back into town and took a bus to the bay. We got set up with life vests and a kayak and off we went. It was sooo cool. When our paddles hit the water it would sparkle all around it. I have never seen anything like it and it was soooooooo cool! Coming back to the boat we were all tired and I got ready for anchor watch.
I can't believe time is flying by so fast. Soon we'll be on a plane flying back what took us 2.5 months to sail down. It's amazing all that I have learned on this trip and all the people I have gotten to know. It is so sad that it is almost over, but it was amazing. I will try to soak up all I can out of the next few days.
Day 66: Geoffrey '20 - Culebra, Puerto Rico
0129: We arrived in Culebra. B Watch anchored the ship.
0645: I was woken up to assist with breakfast. I was the galley assistant today which meant that I would help Lizzie (the cook) cook all three meals.
0700: All hands were woken up to start their day and begin morning chores.
0700-0800: I made over 100 pancakes to feed 36 people. The pancakes were very delicious, not to toot my own horn.
0830-1115: We had free time to go ashore and explore the town or time to finish any work like your ditty bag! The town was not very large and very few places were open.
1130-1230: We had lunch. It was very delicious.
1230-1700: We were told that we were heading to a beach on the other side of the island. The beach was very beautiful. Perfect sand and waves to body surf in. It was the perfect final beach day of the trip. We were in the water for over 2 hours just playing in the waves. It made us all very tired, but it was so worth it.
1800-1845: We had dinner. It was pasta with bacon in it and a side of salad. It was delicious.
1900: MOVIE NIGHT!! We watched Pirates of the Caribbean but sadly had to cut it short because of a rain storm :( Overall we had a great day and sadly we only have two days left. I don't want it to end but I am excited to see my family and friends. See you in a couple of days.