Proctor's Ocean Classroom crew has surpassed the 30 day mark on their eight week voyage down the eastern seaboard to the US Virgin Islands. The changing of watches has become routine, the roll of the deck as the schooner Roseway cuts through the Atlantic second nature. Read this past week's Ship's Logs below.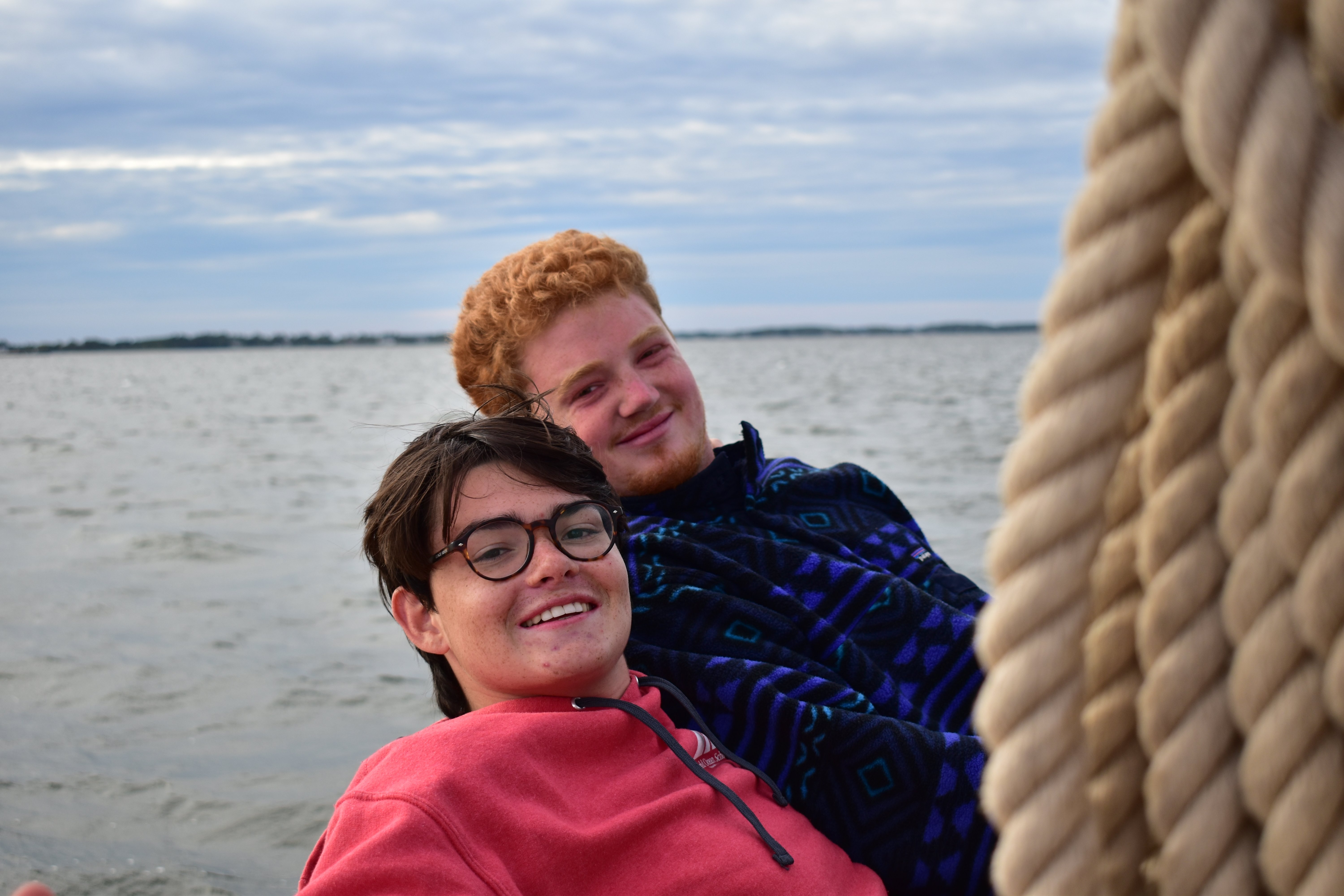 Day 25: Ryan '20 - St. Michael's
The usual 07:00 wake up rolling out of bed was difficult even though the crew members woke us up with a beautifully sung Christmas song, "All I want for Christmas is You." Then came a delicious breakfast of ham, egg and cheese. For our afternoon activity we went to the Chesapeake Bay Maritime Museum. Our boat ride from Roseway to the dock was on this really cool old fashioned style boat. Once on the dock we proceeded into the welcome center. The welcome center had a replica or look alike ship that fishermen used for finding mussels. I followed students into a building, where there was a boat in the process of being built. After some walking around in the building I found a build your own boat game. I tried it and within 50 yards it capsized and I lost thousands of mussels. Outside the building there was a man carving away at a piece of wood for the keel of the ship being built inside. Next Ian and I went up some stairs into a lighthouse where there were historical artifacts and old black and white photos of the lighthouse. After a couple of hours at the museum we got a boat ride back to Roseway and Emily got to drive the boat back. Once on Roseway the students played games as an evening activity.
Day 26: Olivia '20 - Annapolis, MD
Bright and early this morning we had an all hands muster to sail into Annapolis. A Watch was on the mainsail, B Watch was on the fore, and C Watch was on the headsails. As we were sailing in the boat was heeling so much and the water was spraying over the side. It was so much fun! Oh also breakfast was amazing and I never want Caz to leave. We then had an all hands class at 1000 which was cool because we got to test the water quality in Annapolis. After lunch, which was also amazing, we water taxied into town to tour the Naval Academy. The museum that we toured had two floors. One was about the Vietnam War and the other was about boats. The boats were so amazing, seeing all the sails that used to be on them. One boat had 35 sails on it which was incredible. I could never imagine having to sail that. Being able to remember what lines were connected to what was crazy. The model boats were so intricate in all of the little cannons, sails, and all the details on the sides of the boats. Walking around the campus, I enjoyed going to the gift shop and seeing all the clothes and small toys. The town of Annapolis was so cute and there was also a boat show happening which was insane. The boats were huge and so pretty. Tomorrow we are leaving and starting our voyage to Norfolk. It's going to take us around 3 days because they are preparing us for the next voyage after that which will be longer. It's crazy how we are almost halfway through Ocean. I feel like we just got on the boat. I find myself thinking about how much I'm going to miss this when it's finally over. It makes me sad because so far this experience has been amazing. We are about to eat dinner and then hopefully see Kerri, Jaimes, and Cole's port report.
Day 27: Cole '20 - Chesapeake Bay
Today was very fun. We got up early at 0700 and A Watch had deckwash for the morning chore. After that we ate breakfast which was very good. After that we got all hands to the halyards and hauled up the sails. After doing that we put up the anchor and sailed away from Annapolis because of our timeframe to get to Virginia. We took our time today and only turned on the engine to pump bilges. After having the entire day off watch, A Watch had the last watch before we got to bed.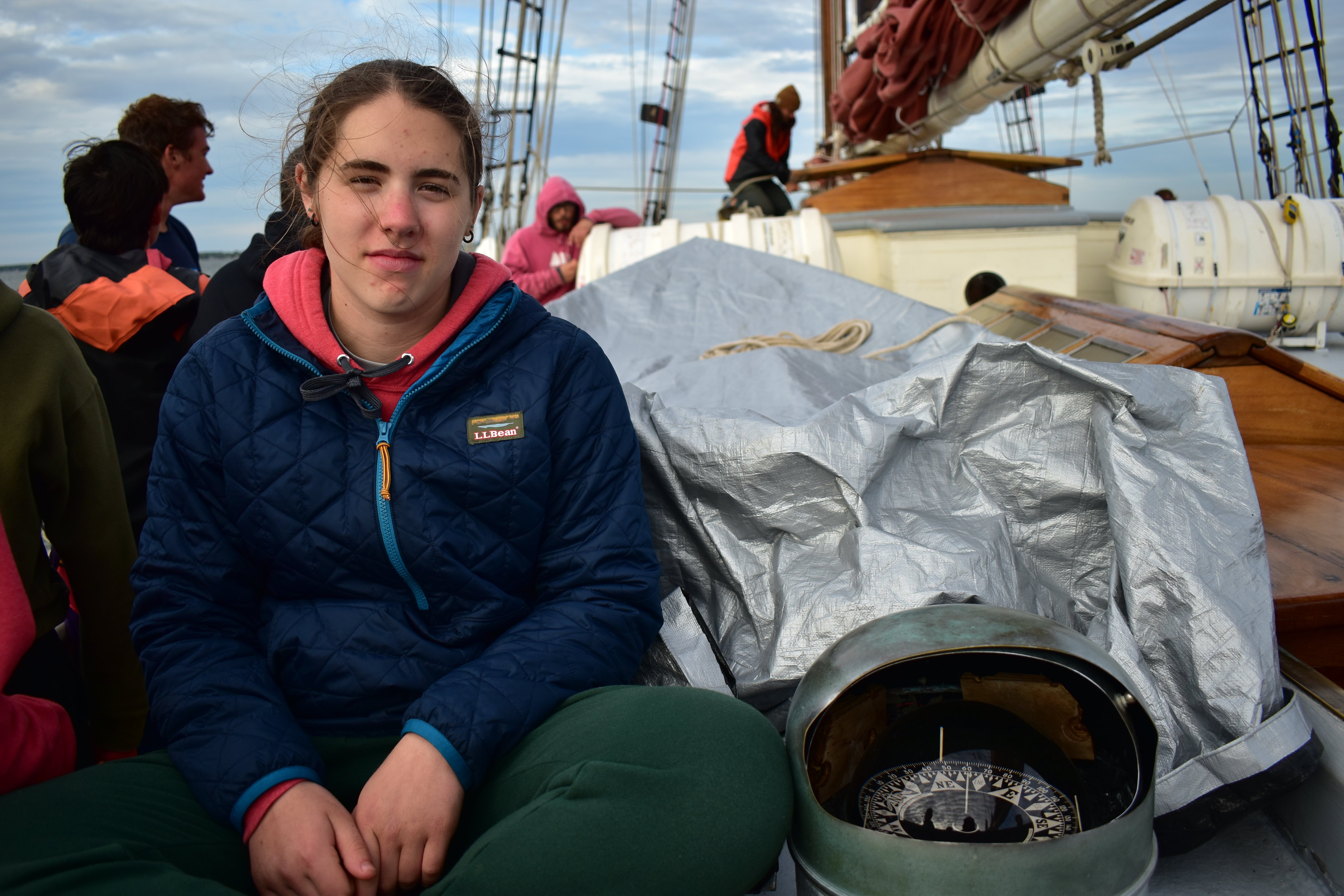 Day 28: Kara '20 - Chesapeake Bay
Ocean Classroom Average Day
0400-0800 Watch

0800 Breakfast

0830-1000 Work on Homework

1000 Lit class with Matthew

1200 Lunch

1230-1500 Take a buckie or nap... or both

1500-1600 Nav class with Claire

1700 Almanacs

1800 Dinner

1900 Work on Journal Entries

2000-0000 Sleep

0000-0400 Watch
Proctor Winter Term Average Day
6:00 AM Wake up to finish homework or work out

7:30 AM Get ready for the day/shower

7:50 AM Breakfast

8:10 AM Class

10:50 AM Free Block, practice skate at rink

11:50-12:50 Lunch

3:10 PM Class ends

3:30-5:00 PM Hockey practice

5:30 PM Dinner

6:00-8:00 PM Lift in gym/shower after

8:00-10:00 PM Study Hall

10:30 PM Get ready for bed, call Mom and Dad

11:00 PM Go to bed after a quick Netflix session
These are two typical days that I've experienced. With schedules like this I find comfort in order and direction, but it can be nice to have a time to pause and reflect. That was today as it was a Sunday. At Proctor, Sundays are a time for me to get to lift for fun, hang out with friends, open the coffeehouse to have a study session, and watch the X-Files and Grey's Anatomy I've been waiting to see. Sundays on the boat are similar in the sense that I have time to work on personal things. Today I pursued some personal projects, took a buckie, napped a lot, and hung out. At 0935 today, I sought out to place the Virginia flag up as we had entered my home state. We did not have one so I found a random flag to put up. It was all black with white lettering and it said "Home." This small moment was important to me because I am very rooted in my family and we all live in Glen Allen, VA. Besides this I pursued a small passion project. I bought a tiny boat in a bottle kit that I'm trying to assemble. Also, I worked on finding a book I find interesting to read during off moments. Sundays on the boat, at Proctor, or in Virginia all represent a pause from the constant moving pace of our world. Although I find comfort in the fast pace, it is important in a constant moving world where we have little time to relax, reset, and reflect. Whether it's napping the day away or completing a neglected to-do list, I always appreciate the gift of Sundays.
Day 29: Ian '20 - Off the Coast of Virginia
Today one could say was somewhat of a crazy day...
We started off the morning as always at 0700. It was seemingly a normal day - we had breakfast and got underway just for a day sail. After having a super good breakfast I went back to bed only to wake up from my slumber hearing voices screaming, "Man Overboard! This is a drill!" Of course I jumped out of bed and came up on deck for us all to do our station bill jobs. "A" watch being the best, we manned the sails, the jib and jumbo. As soon as we were done we all pointed out at the neon soccer ball floating in the water as we saw Andy and Anna driving out to retrieve Oscar. I loved hearing Andy's voice over the handheld radio, telling us the victim was not bleeding. Then at 1100, we had an all hands history class. It was very cool as it is Columbus Day and we debated about Christopher Columbus and Statues. Not only was it Columbus Day, but it was also Griffin's birthday today!! Then later on in the day Zach caught a jellyfish with a bucket. It was honestly one of the coolest things I have seen on this trip. We got back to our anchorage around 1600 where we then had Almanacs and were introduced to the first "friendship hat." It was given to Pistol Pete today. I am very intrigued to see who may receive it tomorrow. Now we have an all handy study session in the Saloon so I must leave.
Day 30: Emily '20 - Norfolk, VA
Okay, so, it's like day 30, per Matthew's count of our trip so far, and I must admit that I'm truly confused. So recently, I remember our cushy setup at Camp Kenwood where I felt like this trip would be an eternal sleepaway camp. Then, we went to Hurricane Island and next thing you know we drove to Boston and eventually shipped off on Roseway, which felt like one week ago, tops! I guess on Ocean, you're so fully engaged, so completely enthralled by studying halyards or knots, you can't leave any room to process the past or consider the future. This structure doesn't permit any "counting of days" or moments to think about time or dates, except if it's about the immediate 12 hours ahead. And I love it so much. While just discovering it is DAY-FREAKING-THIRTY, and a little unsettling, it reminds me that I have been so wholesomely consumed by our everyday activities - an awesomely rare thing to have. I can recount so many vivid memories from Ocean so far, like, our lobster-dinner-dance-party or series of late night watches.
Day 31: Zach '20 - Norfolk, VA
Today was quite eventful! We started off with a trip to Nauticus. Nauticus is hard to describe, there is just so much going on. It's pretty much a naval/boat oriented museum. They have jumbo Battleship (the board game), 3D movies and a cool current simulator. These are only just some of the things it has to offer. The main attraction is a giant battleship called the USS Wisconsin. This boat is absolutely massive! Billy and I wandered around it for so long and still didn't see everything. After that we had lunch before heading out for H.O.P. and man was it pouring. Like raining so hard. I wore my fouly jacket and deck boots. We must have been quite the sight! As we returned to the boat we waited in anticipation for some calzones. They were so good. After dinner everyone started grinding for our upcoming midterms. That is still currently what is going on at 23:38. That's all I got for today.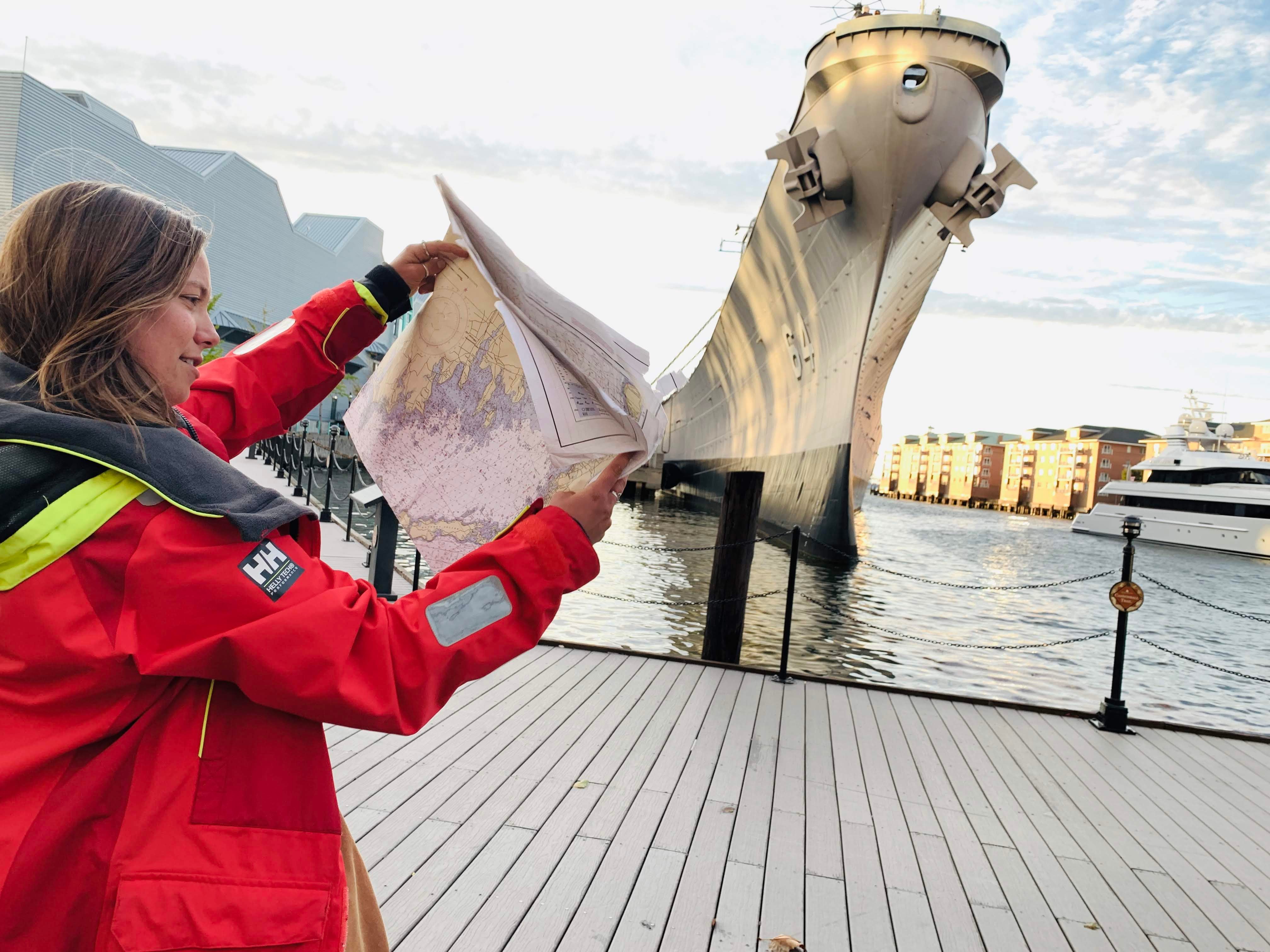 Day 32: George '20 - Norfolk, VA
Today marks our 3rd day in Norfolk, Virginia. For me personally, this is great. I live just south of here in North Carolina. We started off the day with doing laundry and I have never been more excited in my life to do laundry. It was great and now all of my stuff is clean. While we were doing our laundry, we took our science midterm. That wasn't a ton of fun but everyone buckled down and got through it. Next, we came back to the Roseway for some lunch. After a hearty meal, we were back to the grindstone for another exam, this time our Navigation exam. In between lunch and the exam, the watches were split up and some were able to go into town while others took the exam, and then we switched after two hours. After all our hard work, we got to go to the NEON Festival of Art which was super cool. We got to see Norfolk at night, and even got to see some local street soccer which was awesome. All in all this day was pretty great and I look forward to spending some more time here.
Day 33: Kerri '21 - Norfolk, VA
Today was a day of rest and recharging. We were able to all have a well-needed sleep in. Since our plan was to depart Virginia today, we were able to take it easy. The reason we stayed put was due to a storm off of Cape Hatteras. Instead of setting sail we began the day with chores, then had an amazing breakfast thanks to our new cook Lizzi! After stuffing our bellies we were able to catch up on work, write letters, and relax. Those short hours of nothing were well treasured and was wrapped up with an equally as loved lunch. We had chili with toppings like cheese, avocado, and SOUR CREAM!! Unfortunately the head (bathroom) on board was under repair so we all took a trip to the shore head (land bathroom). Once comfortable we all departed for the post office to buy stamps/letters as well as to send them. Unfortunately it was closed but we will return hopefully tomorrow! After that stop we were set free to re-provision our snacks and work as groups on our humans of the port report. We returned to the boat for a lasagna dinner and then set up the projector and white sheet for an outdoor movie night. The movie was The Princess Bride, a classic! We all snuggled up in our sleeping bags and most stayed awake (very unusual, probably due to our sleep in hehe). We all wanted to sleep on deck but unfortunately it was forecasted to rain. We all crawled into our bunks and dozed off ready for a night watch and a new day!
Sending good vibes from Norfolk Harbor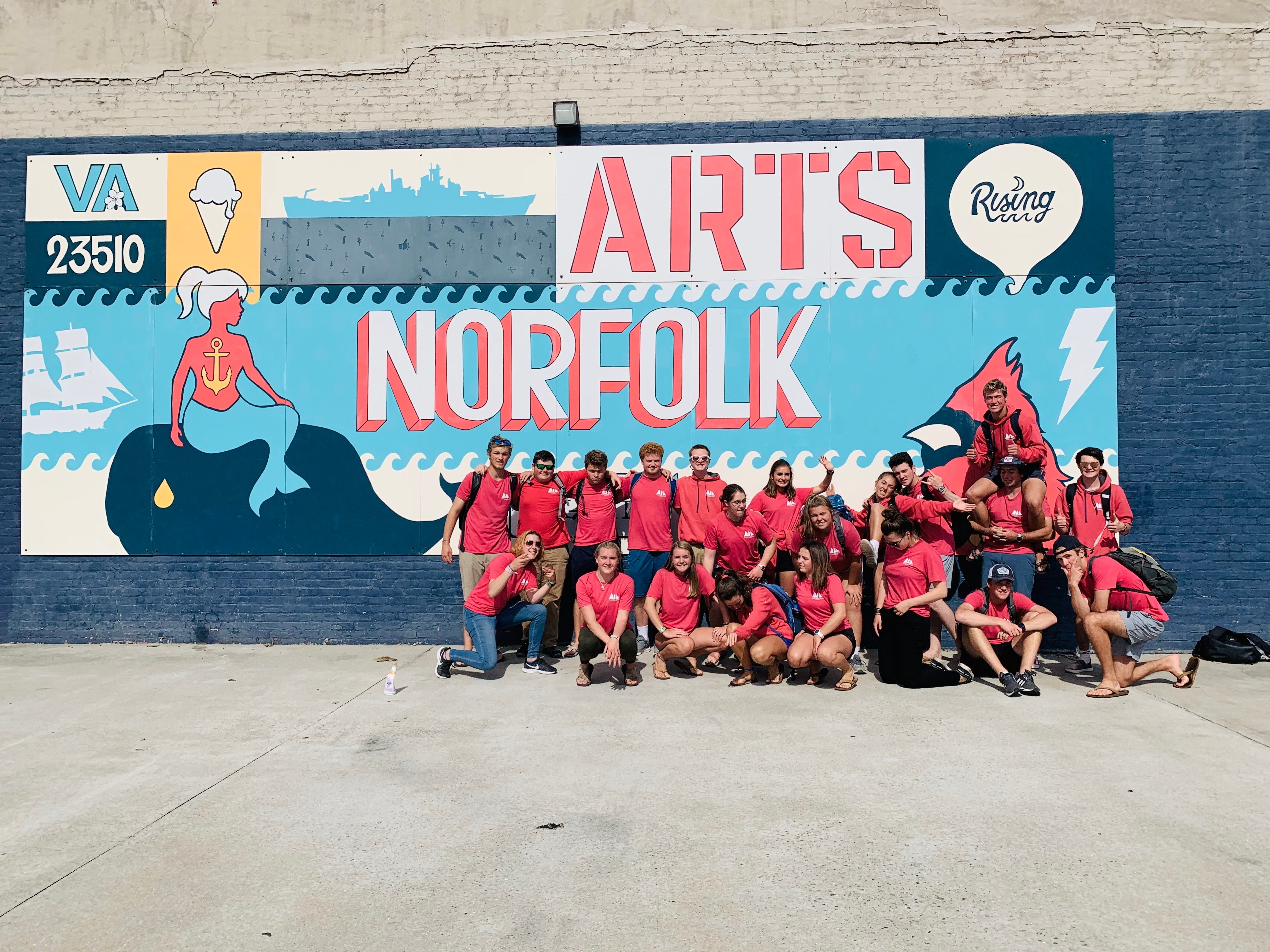 Day 34: Cedar '21 - Norfolk, VA
Our day began promptly at 0700, we were woken up and we all drafted ourselves out of bed for chores, B Watch had deckwash. We slid all over while scrubbing due to the excess oil on the deck. Next was an amazing breakfast consisting of cream cheese topped pumpkin muffins and quiche. Kara, Kerri, Ms Nevin, and a handful of others and I had a thrilling conversation about ghosts. B watch cleaned up breakfast and then we ventured to the Chrysler Museum of Art. If I had to decide, my favorite exhibit was the marble statues and busts. After roaming the museum we walked over to the glass studio and saw a super cool demonstration. They were making a case that was white and blue and black, and it was fun to watch. Unfortunately, nearing the end of the process the soon-to-be vase broke, and the demo ended with a very little bowl. We walked around for while before learning some unfortunate news. Our beloved Genny was broken and the stove wasn't working, we were given money to break off and find food. Eight of us set off for Chipotle and after walking twenty minutes and being convinced we didn't know where we were going, we happily ate our burritos. They were fantastic of course and just when we thought we couldn't eat more we passed a dessert shop. Eating our ice cream and toffee, we headed back to the ship for a "Rules of the Road" navigation class with Charlotte. When class came to an end we put on nice pants and walked over to where the Chesapeake Schooner Race ended. We helped clean up the celebration in exchange for a fantastic dinner of orzo salad, pork, and oyster, along with coleslaw. We ate our pork and salad and coleslaw back on the boat and B watch proceeded to clean the galley. Afterwards we shucked and ate the oysters while jamming to music. Then the oyster/music sesh devolved into a mini mosh pit on deck. Our dancing came to an end and we cleaned up the oyster mess. Once again we pulled our sleeping bags up on deck and set up for another movie, this time "Surf's Up," a move about surfing penguins. The movie came to an end, and most of us went to bed however some stayed on deck chatting. This continued until Mr. Terry reasonably told us we had to go to bed, considering it was 2300. So we went down, preparing for anchor watch at some point in the next few hours.