After more than ten days on the open ocean, Proctor's Ocean Classroom program aboard Schooner Roseway spotted land! While this post contains Ship's Logs that are now more than a week old, we are playing catch-up from the group's transit and will include one final blog post next Tuesday with the remainder of ship's logs from the journey as the group finishes out their term at sea with a final stop in San Juan, Puerto Rico on Friday, November 22.
Day 55: Cedar '21 - Atlantic Ocean
It is absolutely crazy to think that there are only two weeks until this is all over, it feels impossible in fact. Waking up I expected just a normal day, or at least as average as a day on Roseway can be. Boy was I wrong though. The day began with the morning watch with the one and only Billy Benson as JWO. We had literature class in which we presented our objects that we were placing in the dog. The message in a bottle is a green, tall, dog-shaped bottle. Each of us stood up, presented our object, took a picture, and crammed it in the bottle. After being relieved and eating lunch, the afternoon was rather dull, however we all found ways to entertain ourselves. I spent my time doing the weather almanac, working on my ditty bag, and listening to Dr. Claire read Harry Potter to some of the deckhands and me. Unfortunately, in this session, Anna's ditty bag flew overboard, lost at sea. Finally, almanacs were called, and we learned George's past secret musical talent, passed along the friendship hat, and then... it was time. Time to send off the message in a dog bottle. I stood ready with the Polaroid as the dog was deployed. Matthew gave it a toss, the camera clicked with a flash, and the bottle was underwater. And... everybody cheered as the dog resurfaced and floated along in the wide open sea as we continued on. Almanacs ended and I went down below to prepare myself for watch. All of a sudden there was, you could call it, a ruckus on deck. After the cheering continued for a minute I decided to check it out. Land. Cole had finally spotted land after seeing nothing but water for eight days. After rejuvenating about land we mustered for watch and had a bland two hours. Afterward Matthew, Brandyn and I stayed up talking before I decided it was time to hit the sack.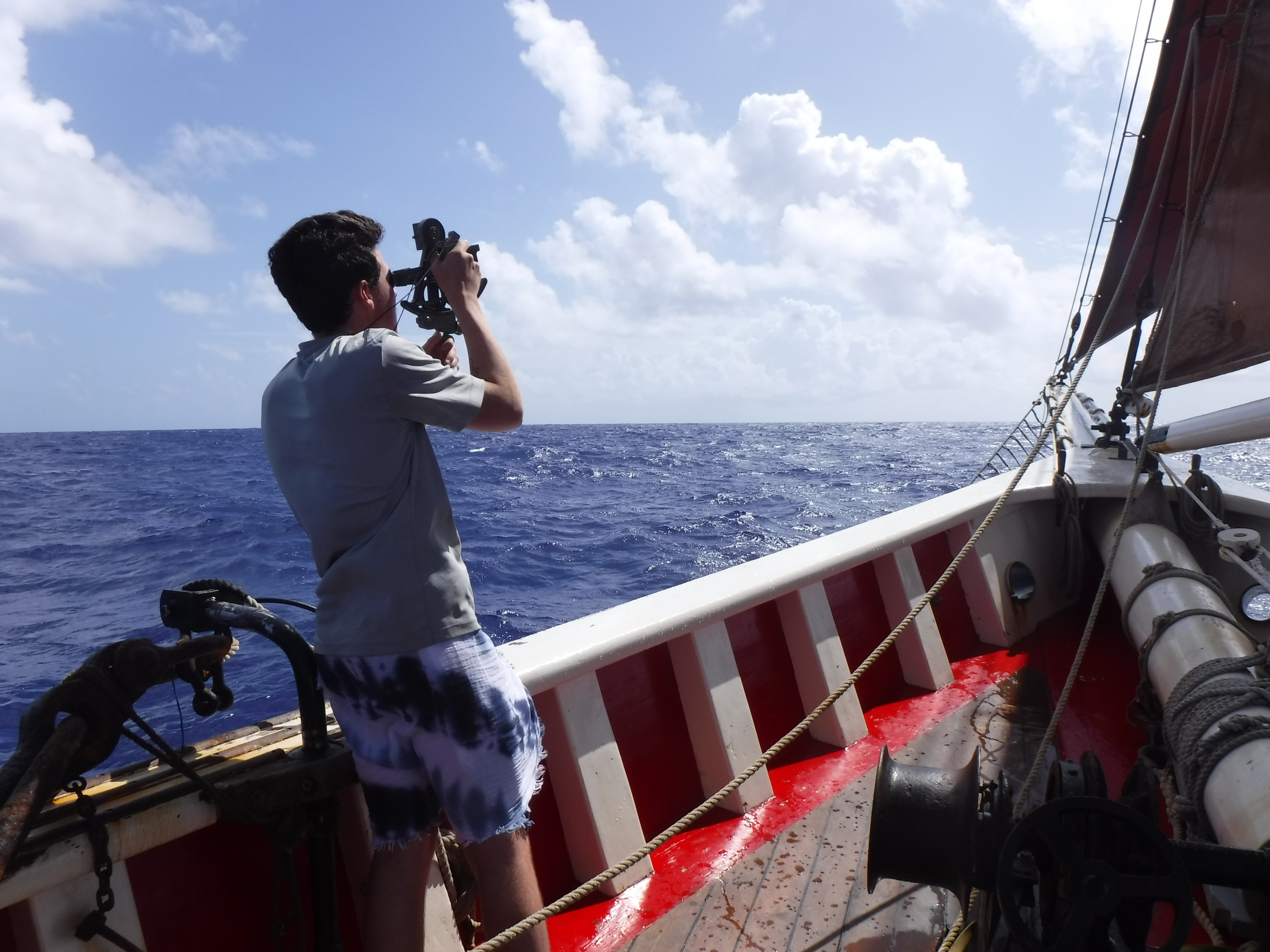 Day 56: Tahg '21 - Atlantic Ocean off the Puerto Rican Coast
This morning was probably the greatest one so far. I had the dawn watch from usual 0400 to 0800 and it was just so much fun. Starting with climbing out of the fish to see the glowing Puerto Rican coast: the sight itself brought me so much joy after not seeing land for almost ten days as we sailed from Charleston through the Atlantic. Post watching the lights of Puerto Rico for about 20 minutes, my watch mustered and then took the deck. I don't know if it was seeing land and being in the Caribbean or something else, but that entire watch was very enjoyable. I had some amazing forward lookout conversations with Billy about how cool it is that we are along the coast of Puerto Rico, got to just sit back, relax, and watch the sunrise, and see the happiness on everyone's faces. I could not have asked for a better morning, making amazing memories with some of the coolest people in the world and taking in the draining number of days we have left. That number is now 13, less than two weeks! During the day today, we passed the airport we are flying out of in San Juan and we all became super sad. It is okay though because we were still able to enjoy ourselves with about half of us taking buckies. Why must this voyage end? I mean of course I miss home and my family so so so much, but this experience has been the greatest of my life. I never would have known/been close with many of these people. They are all my family now and saying goodbye to family is one of the hardest things to do; there will definitely be tears on November 23 as we are stepping off the ship for the final time. I cannot think about that though, I have to just live in the moment and take in these last thirteen days. Peace out homies! See y'all in thirteen.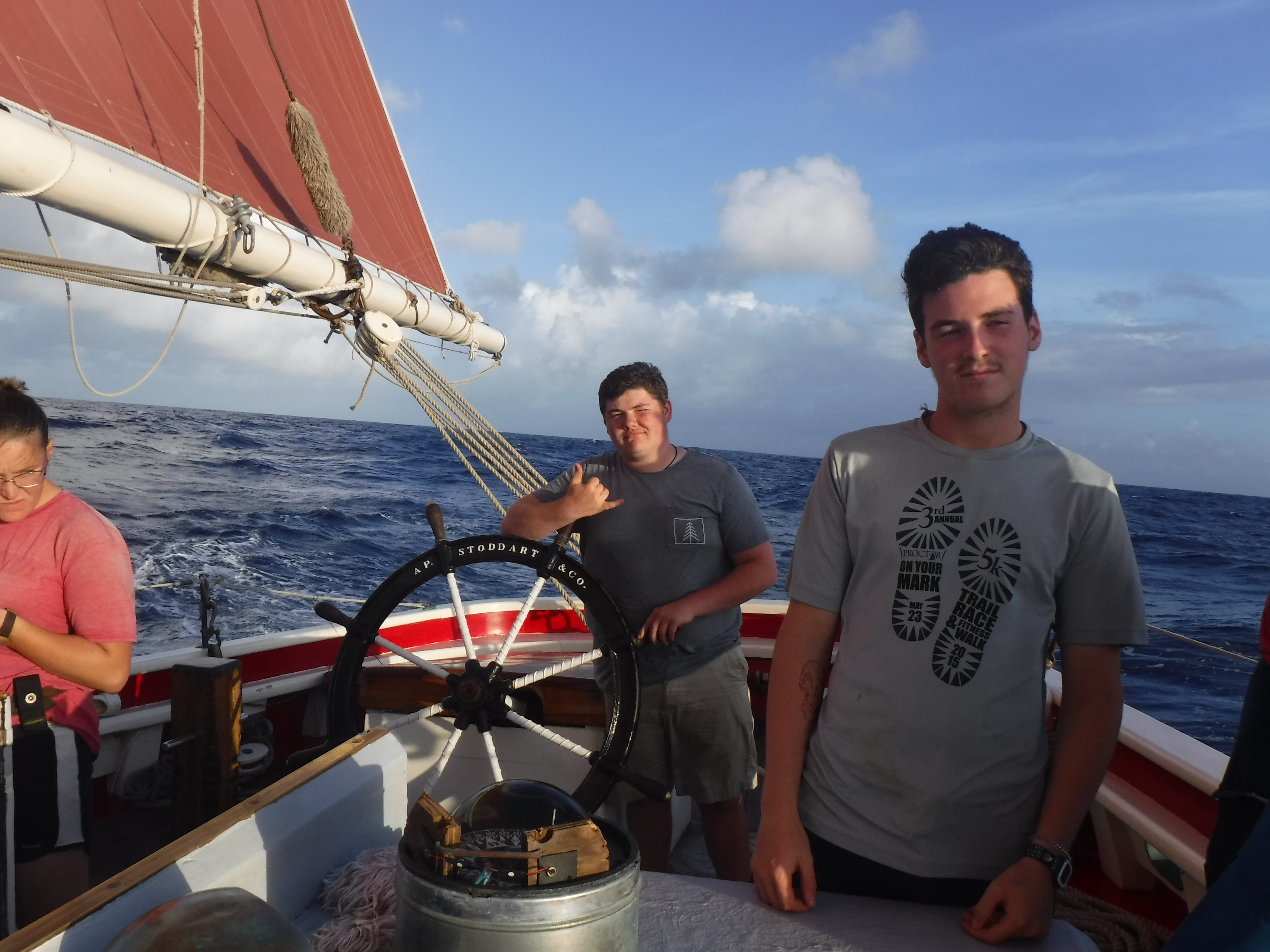 Day 57: Peter '21 - Culebra, Puerto Rico
Today we spent the day in Culebra. We woke up Thor morning in between many different islands but the biggest is them was Culebra. We started off with a swim call at 0700. As we moved into chores the only thing on our minds was the reef and the beach just across the cove. After a history class with Matthew we had lunch and then started our way across the cove to the beach. Once at the beach we spent our day playing in the sun and the sand. We got to go snorkeling through the reef and we got to see many different species of fish. Once back at the beach after snorkeling we tossed around a football and looked for shells. We found many things including shells, coral, hermit crabs, and coconuts. We spent around 4 hours at the beach and I loved every second of it. In the end we headed back to the boat, shells in hand, ready to make the 50-60 mile journey to St. Croix. I can't wait to be on watch tonight from 2000-0000 on our way towards St. Croix. It was great to see land after roughly 10 days at sea.
P.S. Happy Birthday Mom!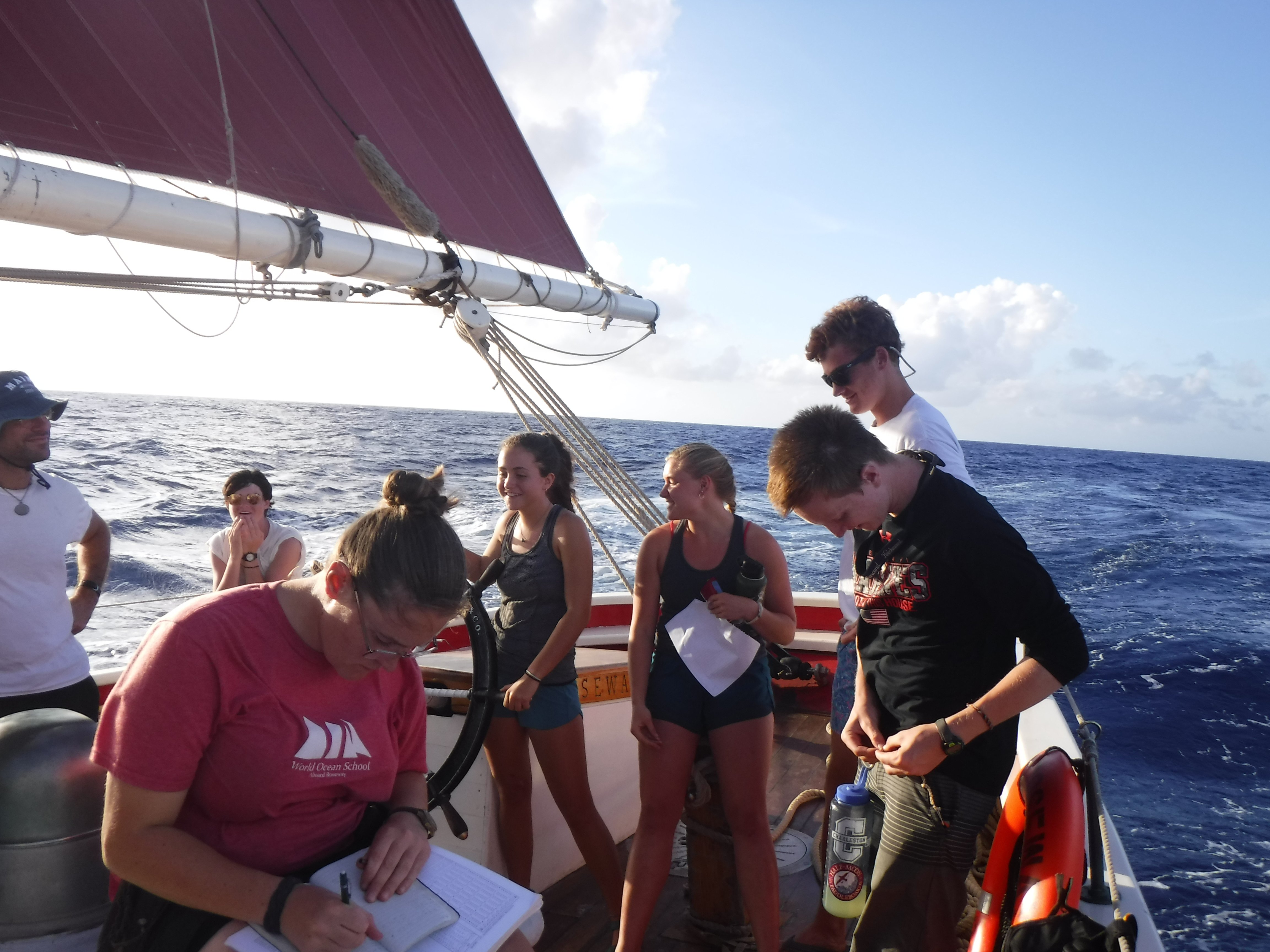 Day 58: Madeline '20 - Protestant Cay, Christiansted, St. Croix
This morning as we sailed the Caribbean seas I spotted St. Croix at the helm and I was so indescribably comforted. It was a feeling I have never completely experienced. Because finally, after a whole 58 days of scrubbing salon floors with a rocking boat and hauling halyards in the pouring rain did this vision, talked about so frequently, come into view. The feeling of comfort, relief and excitement clouded my vision as the bumps of mountains and pink buildings came into focus on Roseway's stern.
St. Croix is a destination I will never forget because of the journey. Because of the endless hours we spent travel long here. 35 people and I worked extremely hard to get to a small island that is one of Roseway's homes. And it is the best way to travel. You don't get to the destination in a plane, you have to work for it. We had to work endlessly to get here. And if the work stops, the progress stops and that destination becomes less of a reality and more of a dream.
Ten days without land at sea was the final kick to bring this dream into a reality. This dream that is now a reality I will bask in and never be grateful enough for St. Croix offered sun, clear waters and people who loved us from the sight of our Roseway Reds. Walking around St Croix we were recognized as voyagers by the widely diverse and dynamic locals. The locals congratulated us and welcomed us back to a place we had never stepped foot on before. This dream was even more in reality.
St Croix is the paradise I have worked for, we have surmounted to. It's undeniable that it's more than we could have hoped for. But soon this destination will be gone with a quick plane ride home to families. That return will be the true definition of bittersweet. The end of an unforgettable adventure but the return to people who will be able to celebrate the new developments within each of us. Through struggles and conquests, I could not imagine a better journey with better people on a better ship.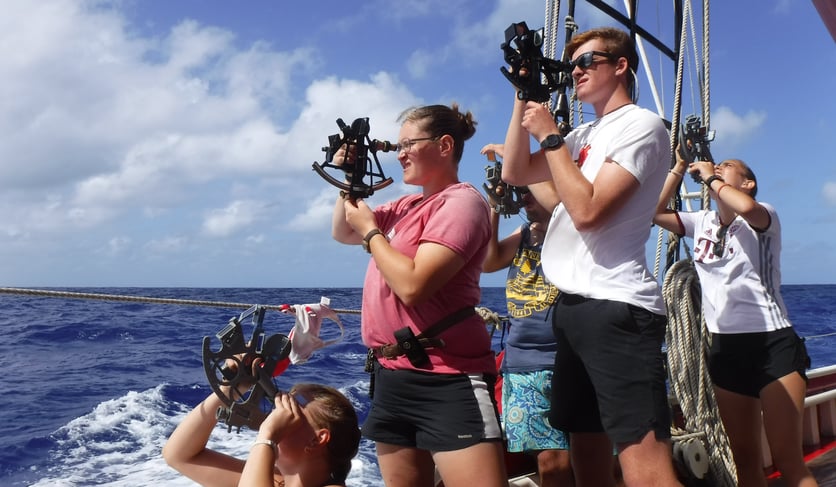 Day 59: Billy '21 - Protestant Cay, Christiansted, St. Croix
Finals day! This day on Roseway, a day that many of us have been dreading for a lot of the second half of the voyage, marks the end of regular classes and homework assignments that have caused us to stay up through countless sleepy hours of the night. After a wonderful yet chilly night of sleep in my hammock on deck, I was charged up and ready. Ready to get done with this school work. After breakfast we were greeted with a nice pre-finals swim call in the crystal clear waters of St. Croix. Marine Science was first, followed by Navigation and Seamanship. These swims were spread out among the day as a means to cool down and relieve all stress in the morning, afternoon, and evening.
Who would've thought that I would ever be taking a final in my hammock with a pristine view of the surrounding countryside of St. Croix. Only on Roseway. That just shows the incredible opportunities that one aboard Ocean Classroom may experience. This voyage has brought me out of my comfort zone in so many positive ways which have allowed me to partake in life-changing activities. Sounds cheesy, but I mean it. This trio has by far been the best decision of my life. After dinner our joyful souls settled down for a classic deck movie of Finding Nemo. To find the best and most comfortable view of the projector screen, Zach and I hung my Eno hammock up from the shrouds to the foremast. With my hammock strung aggressively high in order to clear Tahg and Kara in the hammock below me we settled in for the movie. By the end of the movie most of us had dozed off and we settled in for bed. The days left aboard Roseway are coming to an end so I am making sure to cherish each one. It is sad to see this incredible adventure come to a close, but we still have another week coming up so I can't wait. Shout out to mama Roseway for keeping us safe for the last two months.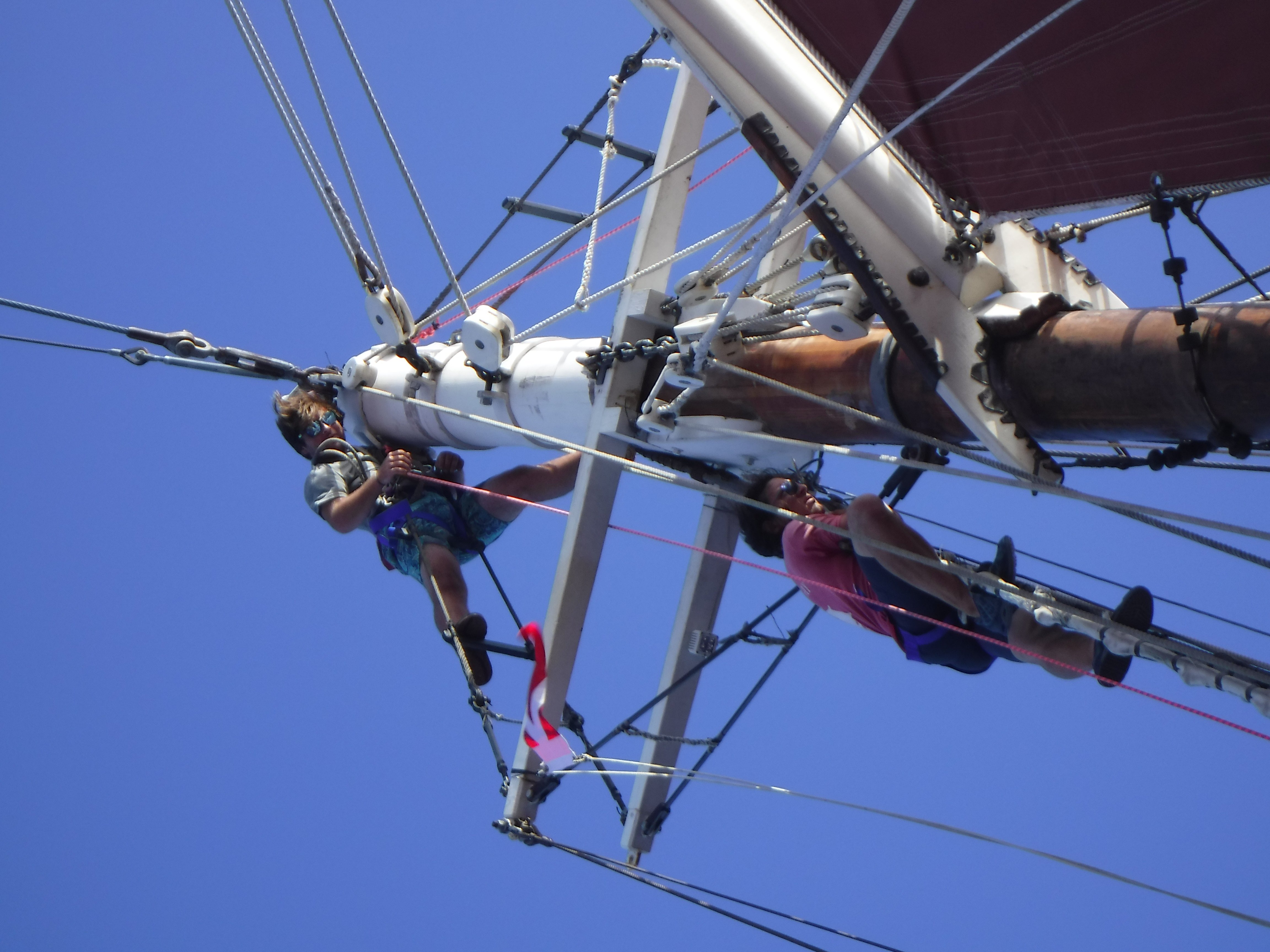 Day 60: Griffin '20 - Frederiksted, St. Croix
After a long day of finals, Nick, who works for World Ocean School down here in St. Croix, came and talked a little bit about how they get public school students on the island our sailing on Roseway. But before they go sailing, members of the crew come and talk to the kids about sailing and Roseway. He went on to say that the Roseway crew members that will be going and talking to elementary school students at Claude O. Markoe was going to be us!! After hearing this, we all went nuts.
That next morning we got treated with some free time in Christiansted after a night sleeping on deck in Hammocks. At 1130, we got into a tour bus, the first vehicle we have been in in almost three months, and drove across the island to the school. Everyone was so excited to meet the students and explain our story. We split up into watch groups and went into different classrooms. In the classroom I was in, they had a chart and were plotting our trip down!! I thought this was so cool because back at home in my mom's second grade class, she followed the Volvo Ocean Race around the world on a giant globe, and went to go and see the boats when they came to Newport, my home town. I really loved hearing what the kids had to say. We started off saying our names and favorite sea creature, and then went on and had them ask questions about us and the boat. I was surprised about how good of questions they asked. It was super cool to have discussions like this, and see first hand how much Roseway has touched the island of St. Croix. Signing off with only 8 more days of Ocean Classroom,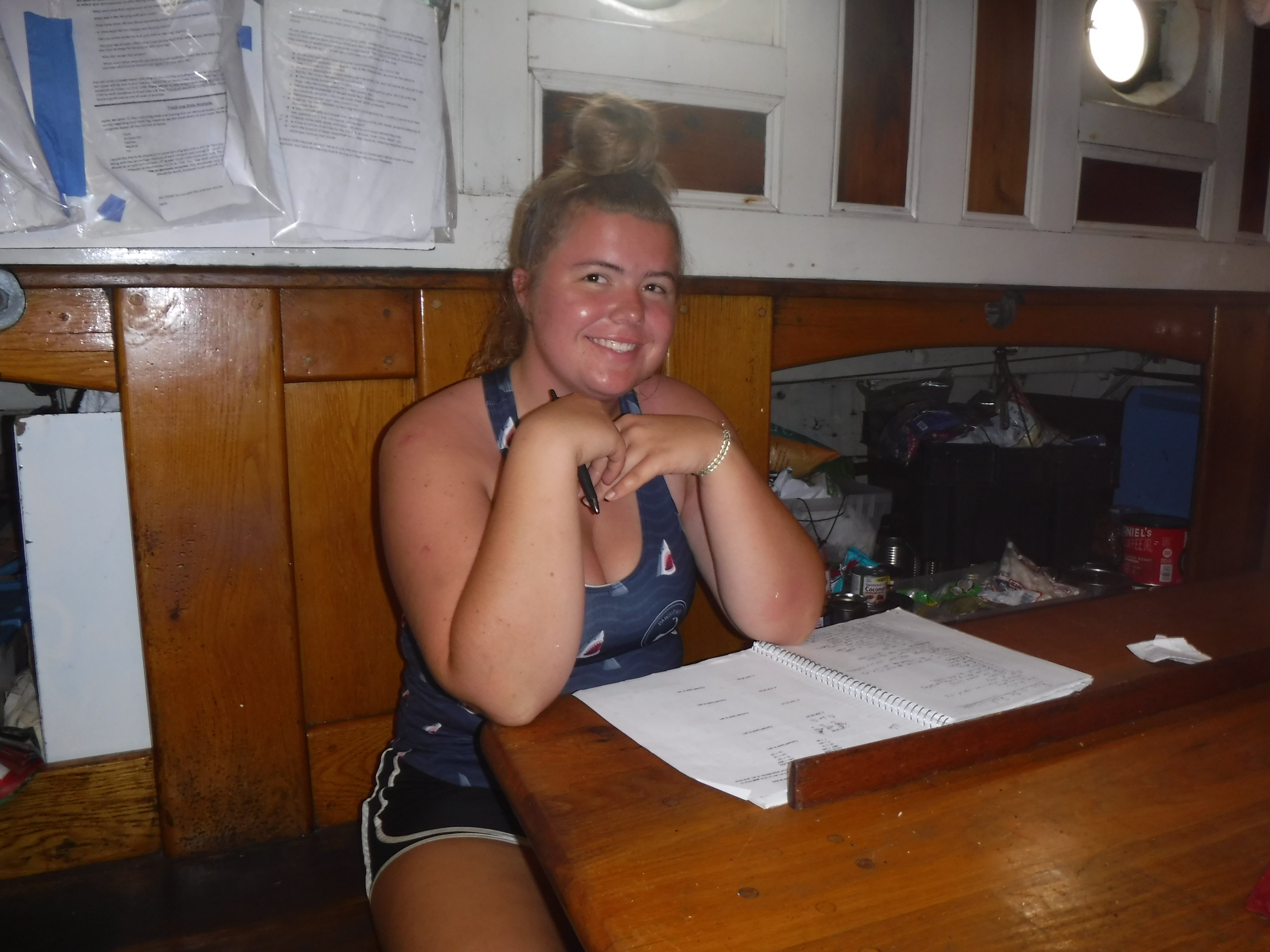 Day 61: Lila '20 - Buck Island, St. Croix
What a day on Buck Island, St. Croix. Never would I have ever thought that I would get the chance to snorkel in the beautiful reefs of Buck Island, one of the prettiest places on Earth. We started our day getting underway back to the mainland of St. Croix to drop off our engineer Dan the Man to get his leg checked out, and then off we went back to Buck Island!! We had a long and wet small boat ride to the beach and then all immediately hopped into the water because it was a hot day with very beautiful water. Kerri and I went out snorkeling during our beach time and had such an amazing time seeing some really cool things. We saw TONS of different types of fish and we even saw a few spiny lobsters!! (They look a lot different from lobsters up north). after our beach time we took the small boats back home, went for a quick swim off the boat, ate lunch, and got underway to St. John right away! Now we are all ready for a beautiful day in St. John! Only a week left :)
Day 62: Jaimes '21 - Maho Bay, St. John
It's crazy to think that this is my final voyage log entry. Exactly one week from today I will be boarding a plane and flying back home. Time has flown by. Currently we are anchored in Maho Bay in St. John and it is absolutely gorgeous. My day began bright and early for muster and breakfast setup. My watch had breakfast cleanup so we cranked out the dishes and galley cleanup because after we would be able to go into town!
We took small boat rides over to Cruz Bay in search for food. Liv, Kerri and I walked around and found a cute breakfast place by the water. It was only 09:45 and the sun was strong! Even though we had already eaten on the boat, our sweet tooth's were kickin so we ordered pancakes. At least three times during our meal people came up to us because we "were Roseway." This has been a common theme I noticed while in the Caribbean. Oh my gosh we are in the Caribbean! Sometimes I have to remind myself because it's surreal. Anyways soon we were back on Roseway for a quick motor sail over to Maho Bay! We arrived on a beach and sorted through all the gear. I went with Chloe as my snorkel partner and we swam out into the very clear water. There were small schools of fish and a sting ray. After about 20 minutes in the water, someone said they saw a turtle! There it was! Five feet swimming below was a giant turtle! It was so cute and I immediately thought about how much my family would love this. I swam with it for another 10 minutes and it was easily the highlight of my day. The rest of the beach day I tanned and swam and did handstands and the same over and over. It was so amazing and made me question that this was actually school. Soon the sun began to set and we took small boats back to the Roseway. Lizzie made asparagus, chicken, and rice for dinner. Shortly after we had an all hands talk which went well followed by a game of adventure island. It was girls night to sleep on deck and Tahg was nice enough to let me borrow his hammock for the night. Per usual the beach day (which was awesome) made me very tired so I was soon fast asleep! Fast asleep outside on a schooner, in the warm Caribbean!! Ah what a dream. I hope to make the very most of the days to come! See you soon mom & dad, love you