Proctor's Ocean Classroom program has departed Charleston, South Carolina and is currently in transit to St. Croix, US Virgin Islands. The nearly two-week voyage across the open sea is by far the longest of the term, and while the ship is in daily contact with the school via satellite phone, we will not be receiving Ship's Logs updates until their arrival in St. Croix. To view their progress across the Atlantic, click HERE. In the meantime, check out a few additional entries from Savannah and Charleston below!
Day 43: Birgit '21 - Savannah River
Today we left Savannah and got ready for the overnight to Charleston. We had an all hands history class and Brooks got to join in. We sang some shanties and read our Humans of the Port papers. It was interesting to hear the comparisons between Norfolk, VA and Savannah, GA. We had leftovers for lunch and we set the sails up. Today we got to set the sails by ourselves, so without any crew advice. I personally got to command the raising of the main sail. I was sooo excited and I think I did ok for my first try. C Watch had watch from 1200 - 1600, it was pretty uneventful and there was very little wind. During almanacs George got the friendship hat from Kara. I got some rest and we had din din. My favorite part was the homemade bread. Jaimes and I sat on the cabin top and watched the beautiful sunset. At this moment we are sitting in the salon doing our homework and journal entries.
Ocean Classroom opening letters from home after the Charleston mail drop.
Day 44: Henry '20 - Charleston, SC
Today was Tuesday and my watch C-Watch had the early 8-12 watch. This was exciting as we were on our way to Charleston. We arrived into Charleston around 12AM, we could have gone in much sooner but wanted to enter the channel to time the tides correctly. Once we got to the dock, Brooks spontaneously informed us that he would be leaving in an hour or so. Thus leaving us all in a hurry to write letters to faculty and our friends back at Procky. Ian and I took a few polaroids to add in the letters. After Brooks departed we all had a Navigation class by Cap! Then us stinky, slimy teenagers were able to head out into the town. Billy, Zach, Cole, Spinney and I all went out together, the majority of our time spent was walking checking out the town. But as our free time came to a close we all ran to Chubbies. The ending of our night was hanging out in the salon watching Moana. We all are extremely excited to do more exploring in Charleston over the next few days.
Day 45: Geoffrey '20 - Charleston, SC
0600-0700: Ryan Kellogg and I started our first anchor watch in Charleston, SC.
0700-0800: I went back to bed for a half an hour to get as much sleep as possible. It sounds a little weird to sleep for a half an hour but on Ocean Classroom you try to get as much sleep as possible.
0730: All hands wake up for the day
0800: Breakfast is served. We had oatmeal and smoothies.
0900: Field Day!! It happens every couple weeks. Field day consists of giving the boat a deep clean, so get on your dirty clothes and get ready to be filthy. C Watch had the salon and main head which consists of cleaning every spec of dust from the floor boards to the ceiling and reorganizing the space to allow for more food for this long journey ahead. A Watch had the galley which consist of taking everything out of the kitchen, cleaning those things, cleaning the galley, and then putting everything back into the galley. B watch had the fish and foc's'le which consisted of cleaning every inch of our sleeping quarters.
1215-1300: Lunch time. Also a little break from field day chores. We had crab cakes.
1300-1400: We finish the last bits of our field day jobs. The boat looks so pretty and clean.
1400-1500: We got to take a shower to clean ourselves of the gross gunk from the boat. I'm talking fresh water that's warm and that does not come out of a hose.
1500-1630: We had a science class all about pollution in our environment and how much waste happens in the U.S.
1630-1700: We got changed into our fanciest clothes for a night out in town. This is the first time that we are allowed to have dinner in town with just students.
1700-2000: We left the boat and headed into town. We walked around for a half an hour looking for a place to eat. It is hard to find a place to eat when you can't look up where it is. We ended up finding a place called Kickin Chicken. It was very good. I got a buffalo chicken sandwich with bacon-cheesy fries. It was nice to eat out with friends. After dinner we headed to this place called Jenny's. The locals raved about it. It is an ice cream place that makes their own waffle cones. It was delicious. After ice cream, we did a little shopping. Charleston is a very beautiful place to walk through.
2000-2010: we were getting back to the boat when Andy (one of the deckhands) stopped us on the dock. He told us that we were going to have a surprise for cap. He told us to meet in the Fish Hold. Once we were all in there, they shut the door. We started to realize there might not actually be a surprise for cap.
2010-2130: We got called up in groups of three. Before this Mr. Terry came out is the darkness of the fish and told a horror story about fishing back in the day. They led us to the entrance of the galley and people started jumping out and grabbing us. It was very scary. The haunted house was the perfect end to a great night.
2200: People were starting to get very tired so they called it a night and went to bed. Goodnight.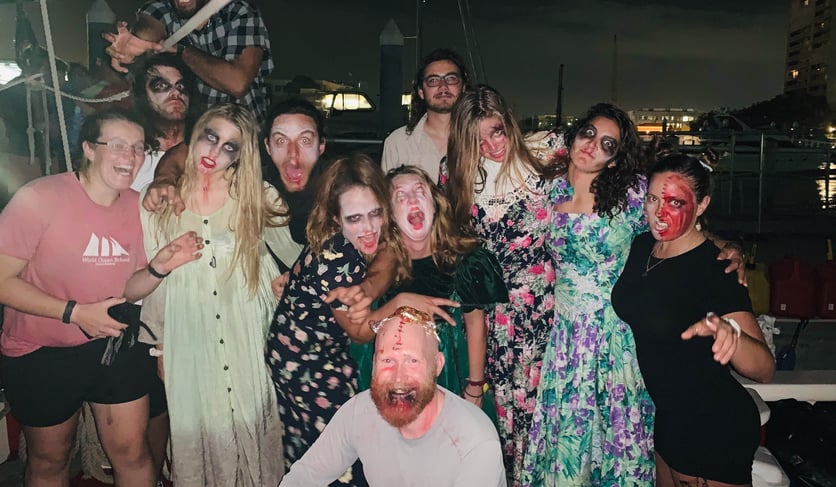 Day 46: Ryan '20 - Charleston, SC
Today is HALLOWEEN and I'm on a boat in Charleston. The education team created a schedule for Halloween including Spider Soccer, Frankenstein Football, pumpkin carving, and a walk around in town with your Halloween costumes on. Starting off the day was spider soccer. The rules are the same except you have to not use your feet, it's interesting. Towards the end of the game my team scored the winning goal. Frankenstein football looks funny because everybody has to keep their arms and legs straight. Playing like this made the game a whole lot sower and difficult. For pumpkin carving, Peter, Kara and I teamed up. Pete carved and got all the guts of the pumpkin out. Kara and I sorted through to find the seeds so Lizzy could cook them up for later. Walking around town in costumes, people asked what we were dressed as, others sometimes looked at us strangely but all-in-all it was a good Halloween.