Soon after conducting interviews we walked to the art museum which was holding a festival. The theme: NEON! The sun set while we were walking around eating tasty food from food trucks. After it set, we noticed a woman singing and DJ-ing her own music. We sat and listened, and soon a group of us began to dance. Then more. Then strangers joined us. Even some deckhands. We danced our minds out, everyone was laughing and doing their thing. EVERYONE! We all swung our hands, whipped our hair, and kicked our legs, clapping, cheering and dancing in the warm lit up streets. We danced continuously for a good hour- people walked by and stopped to join us in celebration. People with fancy cameras showed up too. We moved our dance party from the neon streets into the museum where there was live music and a dance floor. All sweaty, giggly and happy, all of us danced. We danced in thanks. We danced in pure joy of the moments this voyage has gifted us with. We danced with no fear because we are accomplishing extraordinary things. We danced in LOVE for the experiences we are given. And most importantly, we danced because we had each other.
PS- Hi mom and dad! I miss and love you!
Day 29 | Janelle '19 | Norfolk, VA
Oh, how the days have flown by on this amazing voyage! Just a week ago we were bundled up in all of our warm layers bracing the New England cold. Now we are stripping off layers as we voyage south towards subtropical climates. Our current location is in Norfolk, VA, docked next to the USS Wisconsin, a naval ship, which has the width of our length on deck (Roseway's is 112'). It could hold many, many, Roseways. We are only one out of the whopping two schooners in this port, which is crazy compared to the amount that have surrounded us in the past. Although, Norfolk is home to the largest Naval base in the world, so the lack of schooners isn't surprising.
We started out the day removing the mainsail, which is a very lengthy process, in order to patch the huge gash in the peak. It was quite frustrating trying to undo the knots in the nettles. I started huffing and puffing and Cap began laughing and mimicking me, which really lightened the mood. After getting two out and feeling accomplished, I got ready for the busy day ahead in port. We started our day on land with a bit of free time and met up with the educators for lunch. From 12:00-14:00 my day finally felt relaxing for a bit. We spent that time eating lunch and attending a literature class.
After, we made our way to the Moses Myers house which was interesting. But by the end of the tour we were quite burnt out so, instead of having marine science class, Ali generously gave us 45 minutes of re-energizing free time. Mustering back at the house, we headed on our way towards a cemetery tour, which was bone chilling, even in broad daylight. After, we left with a bit of free time in our itinerary before our watch dinners. Of course, we found ourselves being entertained at some skateboarding competition in the outskirts of town. From there we met up with our watches and quickly changed from Roseway reds to Sunday dinner attire for our "big night out." It's sad to see B-watch without the three OG members - but we are continuing our journey with three new members and circling back to the OGs for our last week on Roseway! Dinner was superb and the night is ending with 00:05 anchor watch.
Good night from Norfolk, VA!
Day 30 | Frances '19 | Chesapeake Bay, VA
Did you know that 750 gallons of boat diesel costs about $2100? Well I didn't either. Today was our first time getting fuel at a dock with the Proctor students on board. I was pleasantly surprised to find that we, the students on board, are capable of being in charge of the dock lines and fenders on our own. Of course, under the command of the captain. Realizing this, I started to think about all the things we have learned, and those I have taken for granted. For example: how to steer the boat, how to set the sails, coil lines, navigate through channels and open seas, patch sails, how to drop the anchor, and so much more. Even if you tried, it would be impossible NOT to learn something on the Roseway.
As my mind wandered away thinking about these things, waiting for the gas tank to be full, I heard my name called from the back of the boat. I immediately thought I was going to be told off for resting on the club of one of the sails and not working. But instead, I was asked to do a task. Ms. Ordway, the second mate, asked me to go aloft to un-foul a line that became tangled. I pretended to act cool, and accepted the task of untangling these lines, even though I was secretly really excited to be the first student aloft.
As I climbed the shrouds, higher and higher, they became more unsteady. Not in an uncomfortable way, just in a matter of fact way. About halfway up, I realized I was looking down on the boat that we have been living on from a completely new perspective- more than 40 feet in the air! I kept climbing until I reached the top, hooked my legs through the shrouds for security, and began undoing the tangles that had formed. As I climbed down, we set off from the dock and continued the day as usual.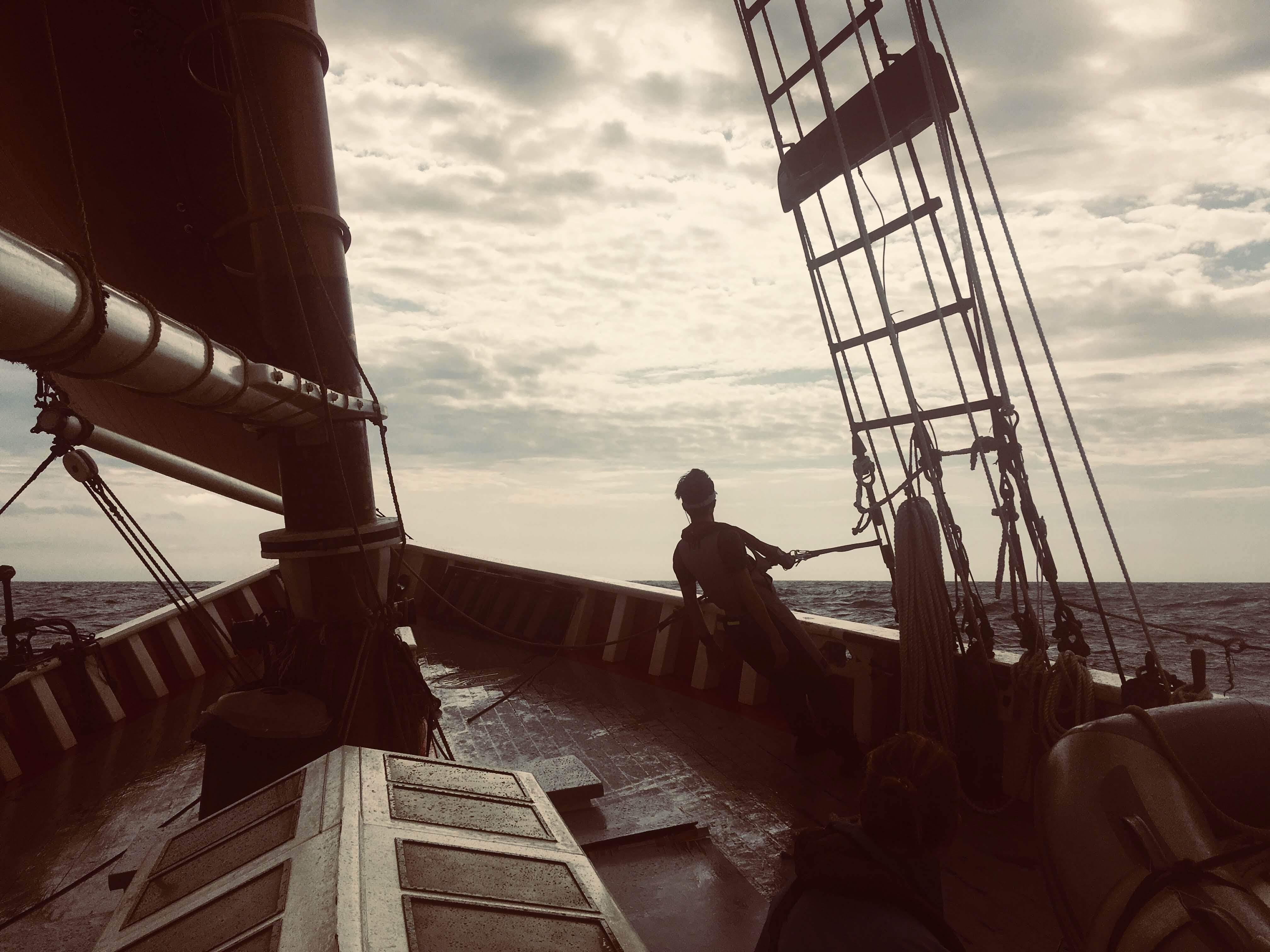 Day 31 | Van '20 | Norfolk, VA
Today we had French toast for breakfast- Yes, we had French toast for breakfast!! It was the most amazing breakfast ever and it had made my day! We were anchored for the majority of the day. During this time, I was able to catch up on dittying (making my ditty bag- a small canvas bag for tools), homework, and some reading. I also spent this time to talk to my friends and preparing for getting aloft cleared.
At noon, I was tested on the station bill for aloft clearance. Shortly after, I was given an all hands order to set the sails and begin to go underway. As we head further South, the weather begins to get warmer and I am able to spend more time out on deck to admire the beautiful scenery while voyaging. At 1800, we had watch and it was quite a productive watch because I didn't get a chance to sit down at all!
It has been a month since we are on the boat. Exactly on the 21st of last month, we had our first glimpse of Roseway. It is crazy to think that in less than a month, we will be leaving the boat. And I am having mixed emotion about it . Happy that I will be able to talk to my parents again. Sad that I will be leaving the people who have been here for me for the past two months.
Day 32 | Tommy '19 | Somewhere off the coast of North Carolina
Today B-watch had the graveyard shift from 00:00 to 04:00. I was in charge of navigation for the first two hours, and I was very happy that was the case. Not only is it my favorite job, but I was able to enjoy some candy and a hot mug of tea. After watch at 08:00, I made my way to the salon for breakfast to begin the day. Today was a transit day, and as such, it was fairly uneventful. One of the day's highlights was the repeated spotting of Mola molas (ocean sunfish). These odd critters can really only be identified by the flipper poking through the water's surface, so I've added an artist's interpretation to fully immerse you.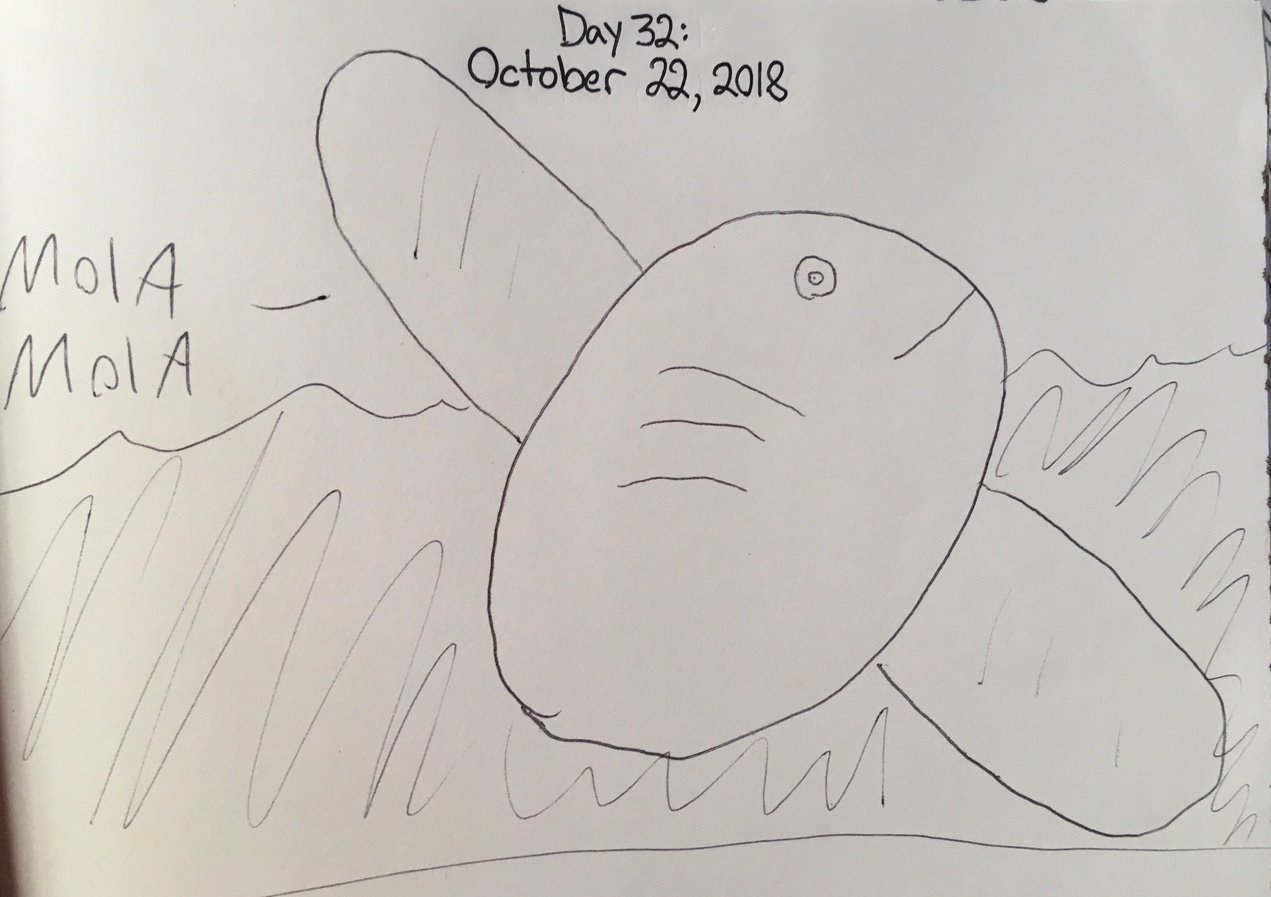 Day 33 | Steve '20 | Somewhere off the coast of the Carolinas
B-watch had an early breakfast, so we were woken up at 07:15. It was nice on deck! It wasn't too cold for the first time in what seems like a while. Tommy, Neal, and I got dressed and headed up to breakfast at 07:30. Brandon cooked us a breakfast of oatmeal with raisins and walnuts. It was excellent, as always.
B-watch then mustered and took the deck at 08:00, for the 08:00-12:00 watch. I started out as navigator, which was hard because I had not been the navigator since we went through New York City. I got help from Ben, who initially helped me do bearing fixes. The problem was, we could barely see the coast line nor could we see any noticeable landmarks or buoys in the water. We decided to do deduced reckoning instead. I did not know how to do this, so Ben showed me, and I quickly got the hang of it. The boat was going about 4 knots. Every 30 minutes, I marked the boat's location on the chart: it usually went about two nautical miles, which is pretty slow. Someone spotted dolphins off the starboard side, and a pod of about 30 dolphins came right up next to us. We could see their gray backs had spots of black, as these dolphins frolicked around our boat for about 20 minutes. They jumped out of the water, and we could see them dive down and swim under and around the boat. Truly incredible, curious creatures!
Shortly after, we did deck wash, and ½ of B-watch left for Marine Biology class. In class, we talked about the reading we recently did on Bluefin Tuna, and their evolutionary traits and risks of over fishing. Those fish are tanks, but they do taste pretty good. For the last hour of watch, I stood at forward lookout. Didn't see much, but the weather was nice. For lunch, Brandon cooked up some amazing stir-fry with rice. I had history class at 1400, and after class Johnny, Tommy, Alex, and I started writing our sea shanty. Pretty quality material. We all relaxed until dinner, which was pork, corn, lettuce and onion tacos, along with some soup.
During dinner, I found out I was the next Junior Watch Officer, and I prepped while we ate. We had the 18:00-20:00 watch; I led the muster, then we took the deck. The watch went pretty smoothly except for a couple rough patches, but after all was said and done, it was a pretty successful watch. It was definitely not easy, and I have a new respect for the mates who have to do this every day. I will get more opportunities to improve in the future, and everything is a learning experience. My watch ended a few hours ago, and I'm a little tired. I reviewed tomorrow's watches because I am JWOing the 04:00-08:00 watch in the morning, and that should be fun. Up and at 'em again tomorrow morning!
Day 34 | Neil '19 | Charleston, SC
This morning I woke up to the monotone voice of Daniel telling me I had watch. I was happy to hear that the ship was cruising after our slow day yesterday. I came up and we were heeled over very far. I went to get a cup of coffee, but there were only a few squirts left out of the dispenser. I made tea instead. I was on navigation first and was surprised to see that we were on the chart of Charleston, which means we're getting close. The boat was extremely rocky, and the chart was falling all over the place. I calculated our distance to Charleston and found that we would be in port by nightfall. A couple hours later, I popped up on deck to sit idle and was told we hit 11 knots. PJ was at the helm and the wind took us 30 degrees off course, but we were cruising! Eight foot swells crashed the boat from every side as we picked up speed. Ms. Leighton helped get us back on course as we slowed back down to nine knots. After that, the sun started to rise and the moon began to set in the distance. Matthew woke us up for the sunrise, and together we watched the orange full moon set over the horizon. Dolphins began to jump out of the water on the port and starboard side. C-watch woke up, and then it was all hands to take in the main. The ship was rocking side to side with incredible winds as we struck sail. As we were hauling on the jib sheet, we got smacked by a huge swell when the bow crashed into the water. I was soaked, but luckily it was 08:00 and we were done with watch. All this on October 24 and it's only eight in the morning!