Proctor Academy's Ocean Classroom program is more than a third of the way through their eight week journey down the eastern seaboard, and eventually to St. Croix. Proctor's twenty-one students are becoming sailors, and the daily glimpse into life aboard the schooner Roseway reinforces the transformation taking place on Ocean Classroom 2019. Read more from our students in the entries below.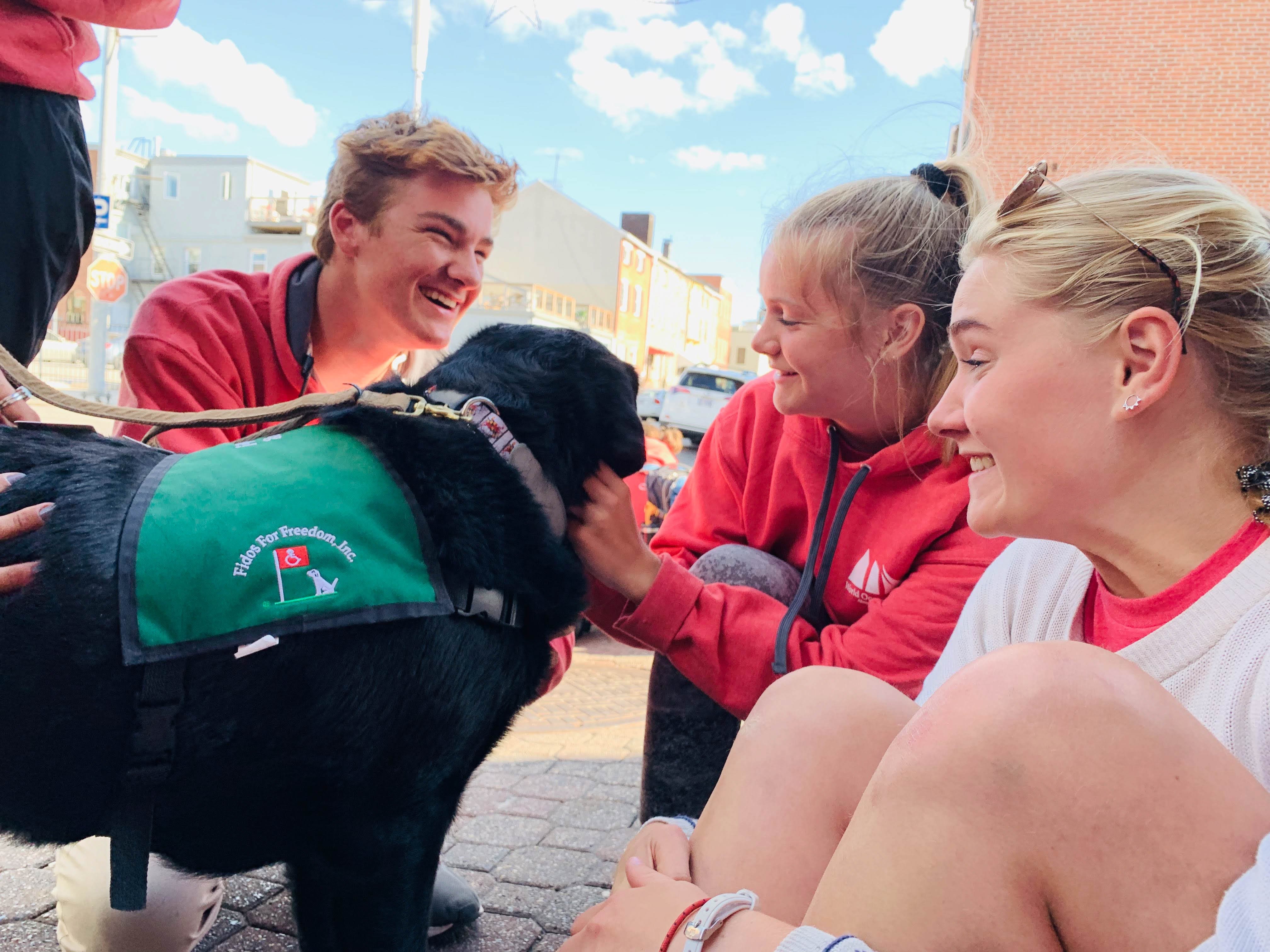 Day 15: Jaimes '21 - Baltimore, MD
My day started bright and early when Cole woke me up for anchor watch. I was half asleep and confused, but Cole soon said, "wake up Jaimes... there are Oreos for midrats!" I was awake for sure now. We are in Baltimore and that anchor watch was a chilly one! I soon was snuggled in my bunk to get a couple more hours of sleep before my big day ahead. The next morning around 0700 Tahg, Chloe, George, Madeline and someone else sang down to the foc's'le "Tik Tok" by Ke$ha for a lovely wake up. Chores came next (C-Watch had deckwash) and we munched down some breakfast fast!
At this point I was anxious to set out for our first day in Baltimore! We were divided into our H.O.P. groups and began walking the streets. Olivia, Pete and I ventured down to the farmer's market and I bought a yummy bagel after all of the interviews. We went back to the boat for lunch and there was a wedding happening on the pier where we were docked! After lunch we walked for about 30 minutes to our IMET (Institute of Marine and Environmental Technology) tour. After the tour we went to a yummy pastry/coffee shop and I splurged on coffee and cheesecake. I ate that very fast and it was delicious. Soon we worked on the H.O.P. paper and headed back to Roseway! Oh and by the way Kerri, Olivia and I marched on the city sidewalks on our way back to the boat. The day ended with a beautiful sunset (as always). We will see what awaits for tomorrow!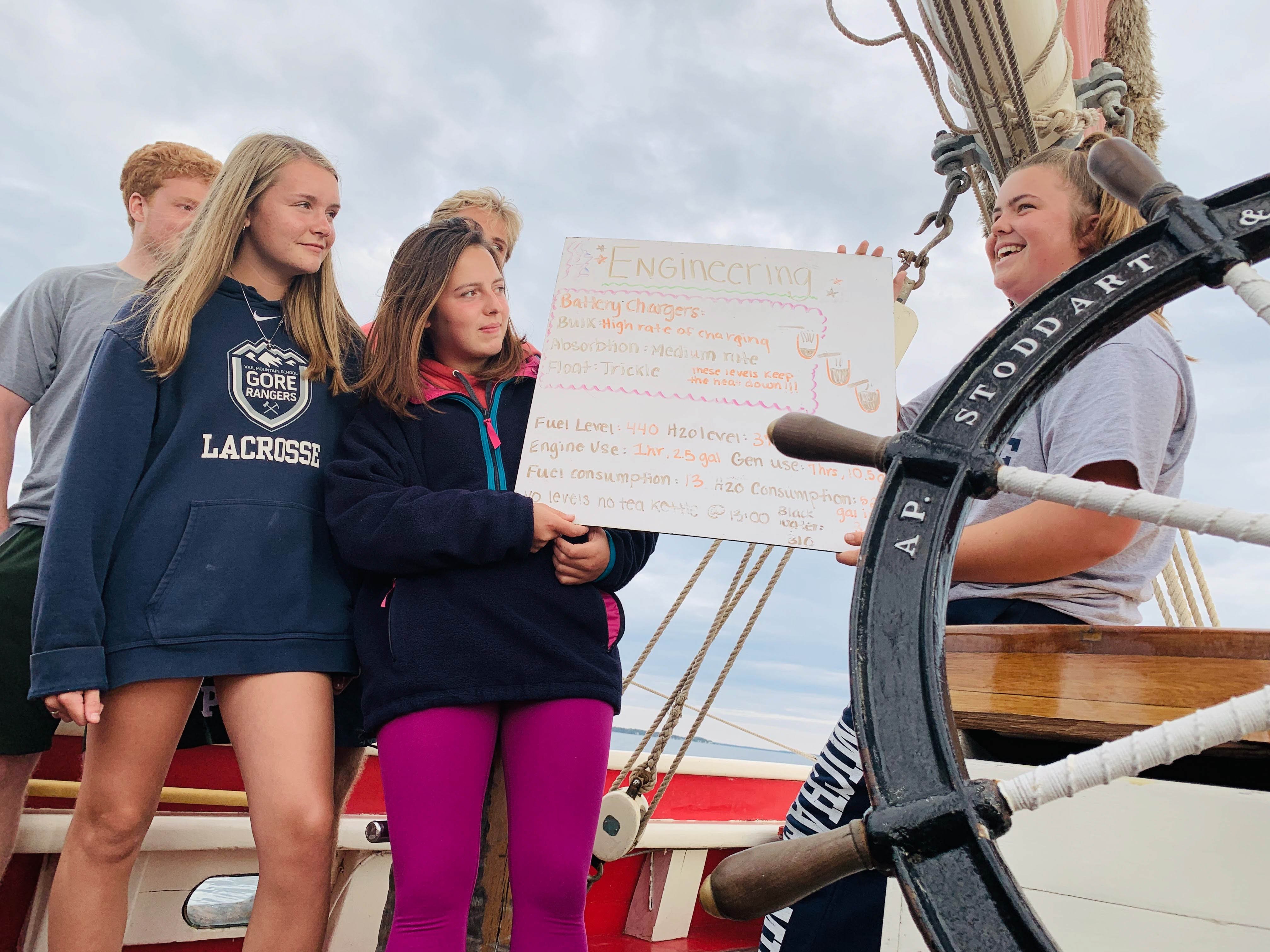 Day 16: Chloe '20 - Baltimore, MD
So, after our 0500-0600 watch, Birgit and I took off with Ms. Ragland to the farmer's market where we found lots of fresh food and herbs for upcoming meals. Our Uber driver there had an amazing story of fleeing his home country of Nigeria because he spoke up for people who didn't have a voice. With our arms full of plants, vegetables, eggs, and the lamb wool rug Ms. Rags got for her cabin, we climbed into our ride back to the boat. The driver exclaimed: "y'all got some new goods for the home?" So we proceeded to explain how we are living on a boat.. he thought we were crazy.
The big adventure for the day was the National Aquarium. We mostly liked touching the jelly fish, and standing at the glass of a head to toe tank so you felt like you were in the water with the fish. I also learned that whales have fingers which I found really weird. And the oil from the hanging whale skeleton still drips even though it is years and years old.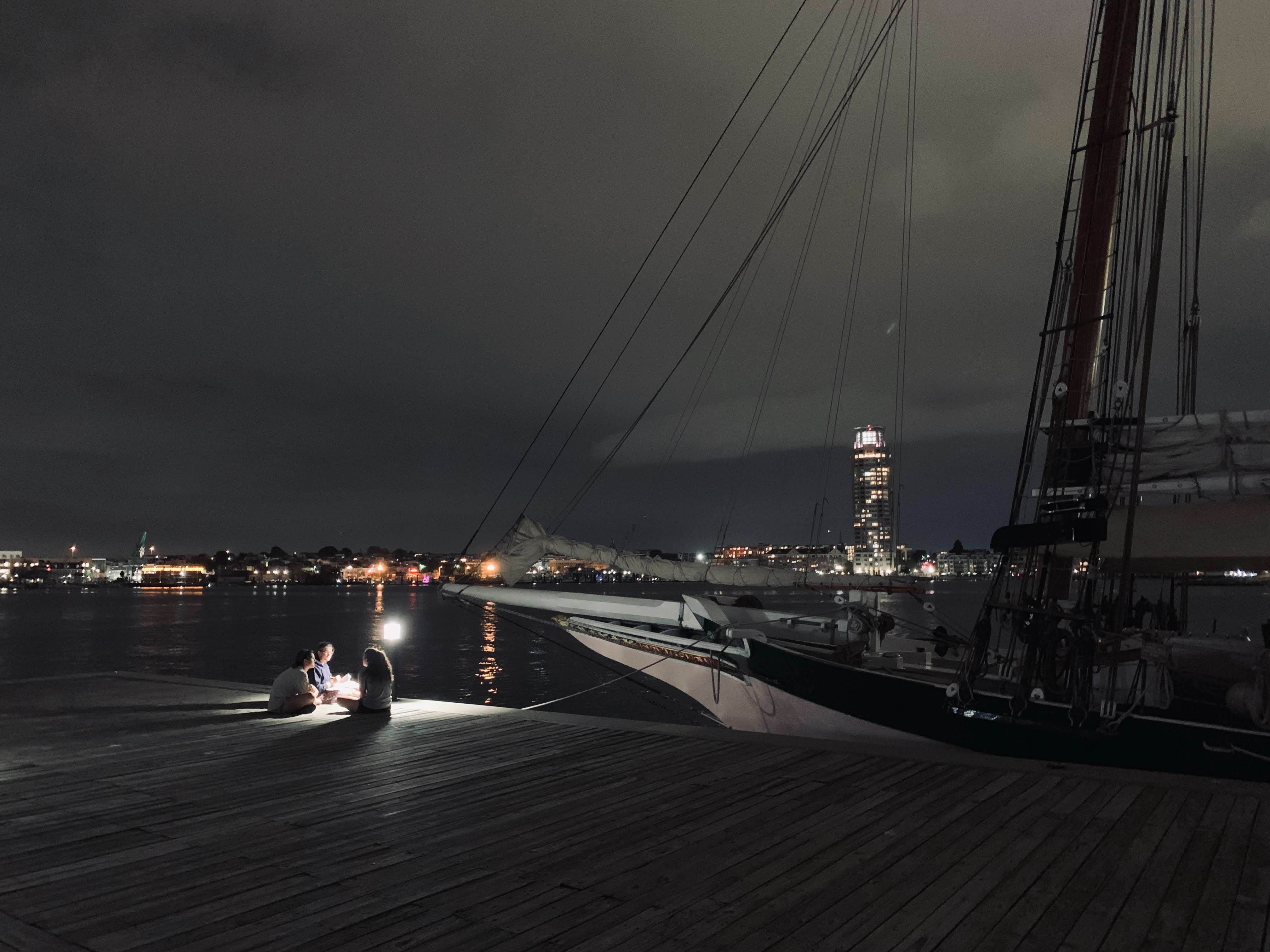 When we got back to the boat, it was field day! Contrary to popular belief, field day is cleaning day! Although we were dragging our feet a little, wanting naps, we ended up actually enjoying our deep clean of the ship, partially because we got to listen to music!!!!! We were treated to FRESH water boat showers after cleaning which was so refreshing and exciting.
For dinner we went out with our watches since when we leave Baltimore, we will be switching watch officers. It was so fun to reflect on our past two weeks together and the jokes and memories we have made. It feels like it's been so much longer than two weeks with all the adjusting to the sleep schedule we've done. I'm excited to get back out to sea for more sunsets, sunrises (especially), and whale sightings!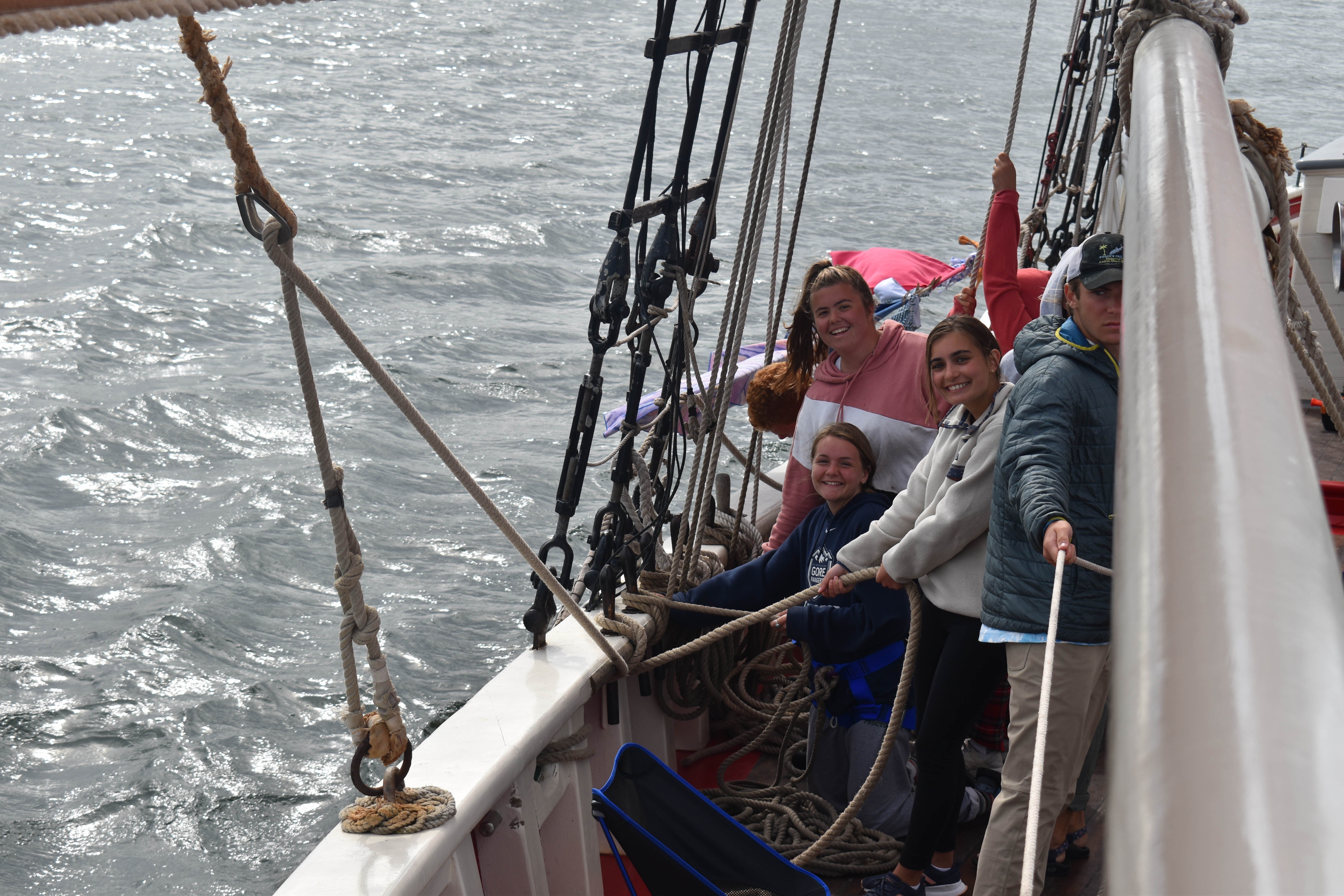 Day 17: Birgit '21 - Baltimore, MD
It is Monday and we had a pretty good day - we did regular boat chores in the morning and Ms. Rags made us a good breakfast. After that we all took the water taxi to Fort McHenry and we learned about the War of 1812. Everyone was pretty tired, but we powered through. Ms. Rags brought lunch to us there. We all presented our watch flags and some of them were pretty cool. When we got back we had some free time to walk around and got to see Baltimore through our own eyes. It took us a while to find the trash wheel, where we were supposed to meet, but once we got there we learned about how the trash in the harbor gets picked up. It was really cool to see how people are taking action all over the world to help pollution in our harbors. Before dinner we got another chunk of free time to buy snacks!!! When we got back we got to meet our cook for the next 10 days. Now we are waiting to finish the movie Maiden, which we started yesterday. Can't wait to resume our voyage tomorrow!!!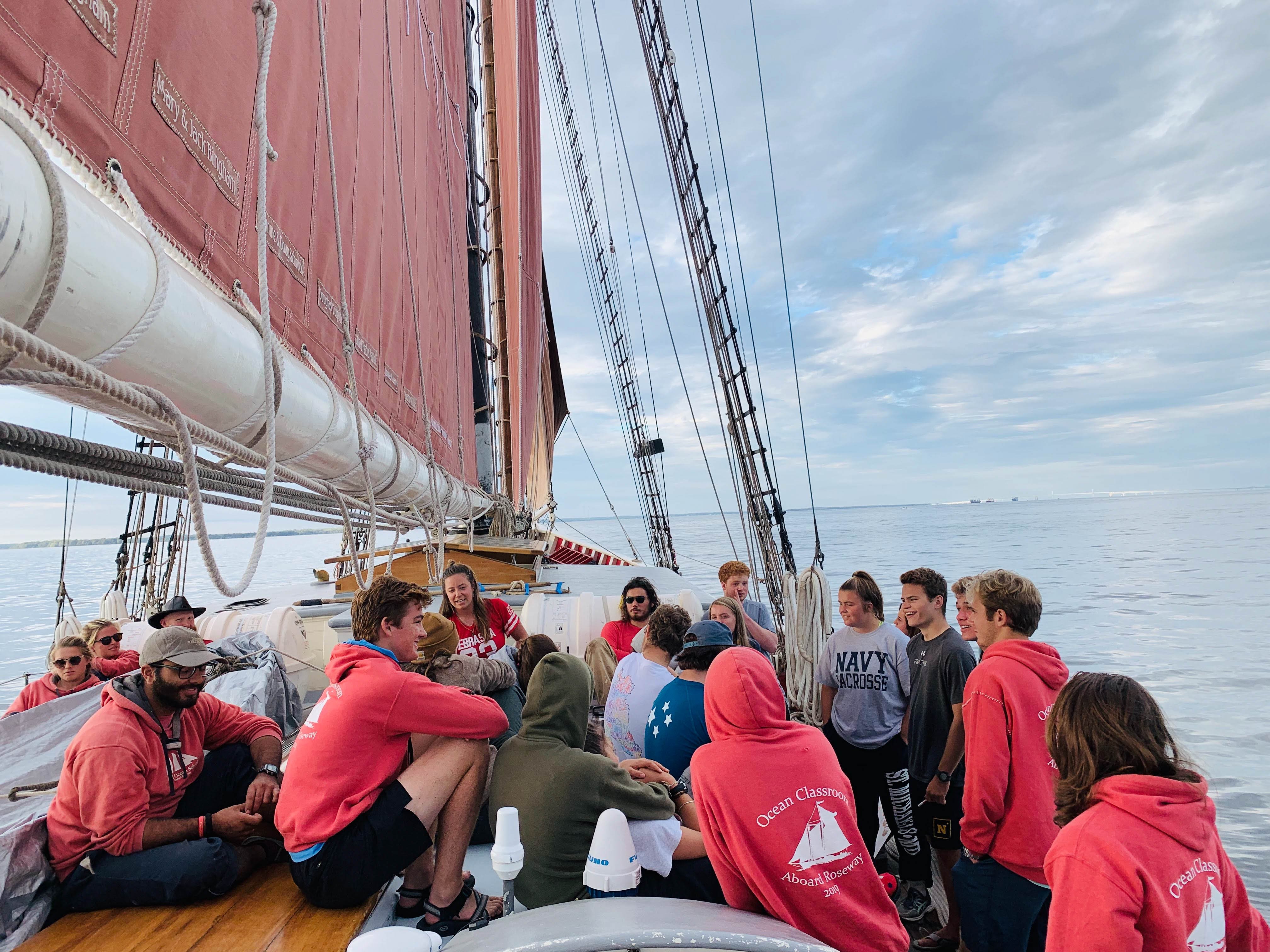 Day 18: Foster '21 - Chesapeake Bay
This cool Tuesday in Baltimore started off with a delicious breakfast of hearty eggs with bacon and high anticipation to get underway toward our next port in St. Michael's. Although some may have been upset to leave the city of Baltimore after successful shopping and snack stockpiling, the majority consensus of the group was let's head onwards, or as cap says "towards" St. Michael's. Today was also a benchmark moment in the trip as we transitioned into new deckhand groups. My watch, C-Watch, was the first to get us underway. After an "all hands" call by our mate Ms. Nevin, the family flooded the deck to set our sails. Shoutout to Billy B. as he helped assist me on the headrig to set the jib. To our good fortune we had great winds allowing us to fly through Baltimore at a solid 8 knots. Passing Fort McHenry and where Francis Scott Key wrote the Star Spangled Banner just solidified how historic Baltimore is. With fair winds and exceptional handling by the skipper we cruised from 0900 -1700 at an average of 9 knots until we anchored for the night in a secluded bay outside Mules River. After a great meal from our new cook Caz, many of us crowded around the table to play a wholesome game of Cards Against Humanity. The humor was much needed and allowed for laughter to carry into the night until 2100.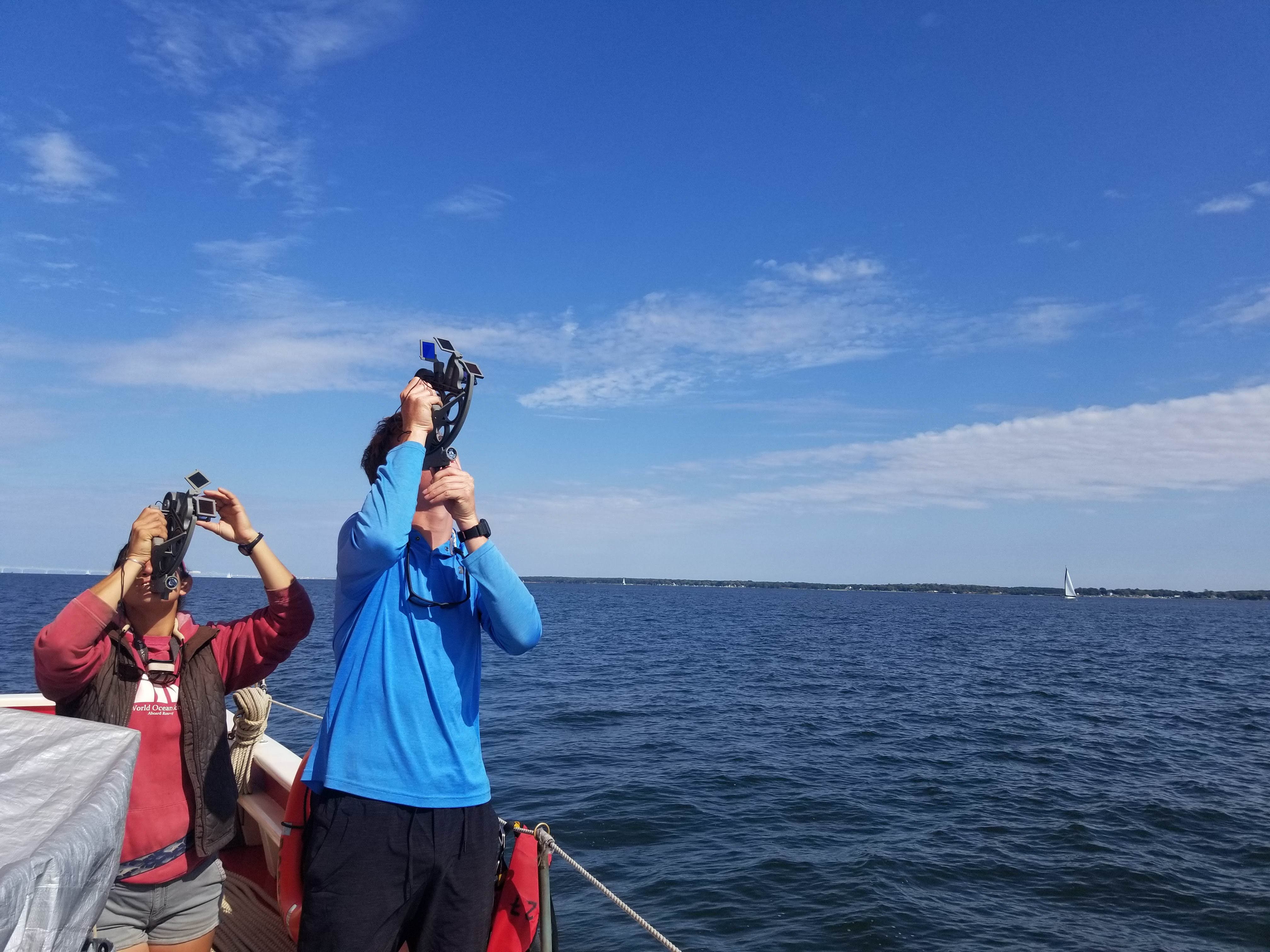 Day 19: Geoffrey '20 - Chesapeake Bay
0500-0600: Lila, Jaimes and I started our anchor watch. We were anchored in Eastern Bay, MD. Anchor watch consists of checking the level of the bilges, the weather, the sea state, the inverter chargers, the batteries, and the depth of the water.
0600-0700: We got to go to bed and sleep for an hour before we had to wake up and start the day.
0700-0800: We woke up and started the day off by cleaning the boat. C Watch (my watch) has the job "soles and bowls." That meant that we had to clean the main head (bathroom) and the salon. A great way to start off the day.
0800: We were rewarded with breakfast by our amazing cook Caz. She made apple-cinnamon pancakes, yogurt, and granola. The pancakes were so amazing that I ended up having nine.
0900: Captain called for all hands to prepare to set sail. We were headed for St. Mike's, MD.
1100-1300: We arrived in St. Mikes and had some free time to get some homework done, read a book, hang out with people from other watches, or just sit back and let the wind blow in your hair.
1300: We were called for lunch. Caz made us white rice and beans with cornbread on the side. It was delicious.
1400-1500: We had a boat building class taught by our first mate Ms. Rags.
1500-1600: We had a science class taught by our educator Holly. We learned about water quality.
1600-1700: We had a class where we learned how to make a ditty bag. A ditty bag is a bag made from old sails. We used the old sails from the Roseway.
1800: Dinner was served. We had chicken breasts, cooked to perfection, green beans, and potatoes. It made my stomach very happy.
1900-2100: We played a very fun game with all students and crew called Werewolf. It is kind of like the game Mafia but a little different. It was lots of fun and we all had a great time.
2100: Most of us went to be because we needed our beauty rest before starting the next day.