Proctor Academy's Ocean Classroom program is more than 10% of the way through their nine-week voyage along the eastern seaboard. Each day, a student or deck hand shares a reflection from the day in the Ship's Log. Enjoy the first nine entries below along with some photos from the journey to date.
Day 1 - Olivia '20 - Massachusetts Bay
Today was the first day on the Roseway! As we drove into Boston I was very nervous when we saw the top of the ship. I couldn't believe that I was actually going to be living on that ship for the next 2 months. I was nervous/excited for this moment. Once we got on board and had a tour, everything finally hit me. OH MY GOD!! Seeing my parents made me sad because they were sad too. I have been waiting for this moment for a long time and can't believe that I'm sitting in the salon writing about it. I'm excited about my first watch which is from 20:00 to 00:00 (8:00pm to 12:00am). Seeing how the crew did everything this afternoon was really special for me. I can't wait until I finally understand everything so that it can be me. Also, sea sickness is a real thing but I learned that drinking water, eating food and not going to lay in bed helps. I have to go on watch soon. Can't believe this journey has finally begun!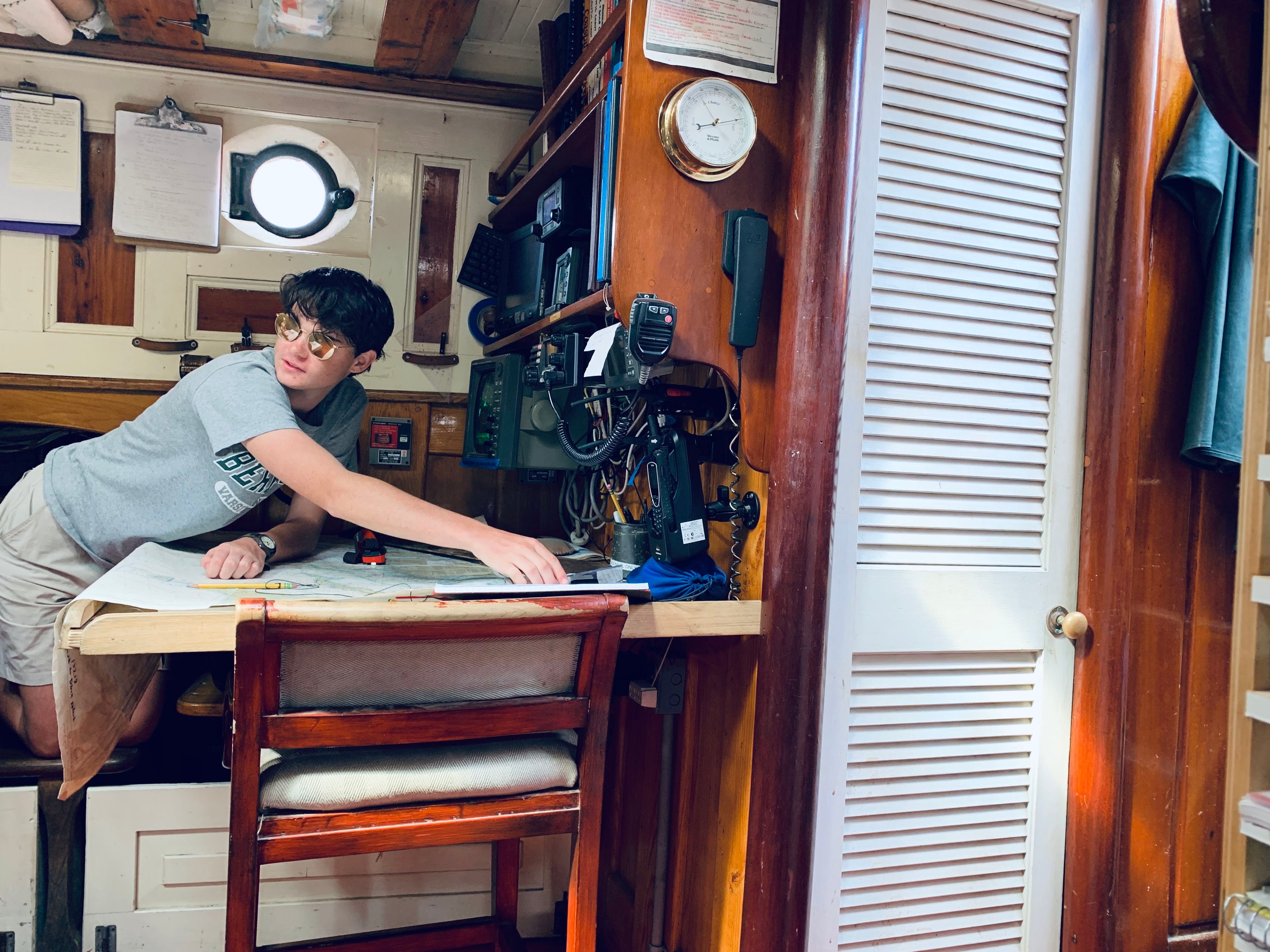 Day 2: Cole '20 - Gulf of Maine
Today was my first full day aboard Roseway. I woke up very disoriented but excited for my first full day. A Watch was the first watch of the day. I started off watch steering the ship on the helm. Steering the ship felt different because unlike yesterday we were just sailing with no help from the engine at all. Sailing without the engine is different because you have to steer opposite of the wind to keep the boat straight and on course. I was steering 055∞. After steering the ship I watched in the front of the boat as forward lookout. During that all hands mustered on the quarterdeck for our first M.O.B (man overboard) drill with Oscar the soccer ball. The drill took seven minutes which is slow to cap's preferred five minutes, but I am confident our next drill will reach that. Overall my first day was amazing.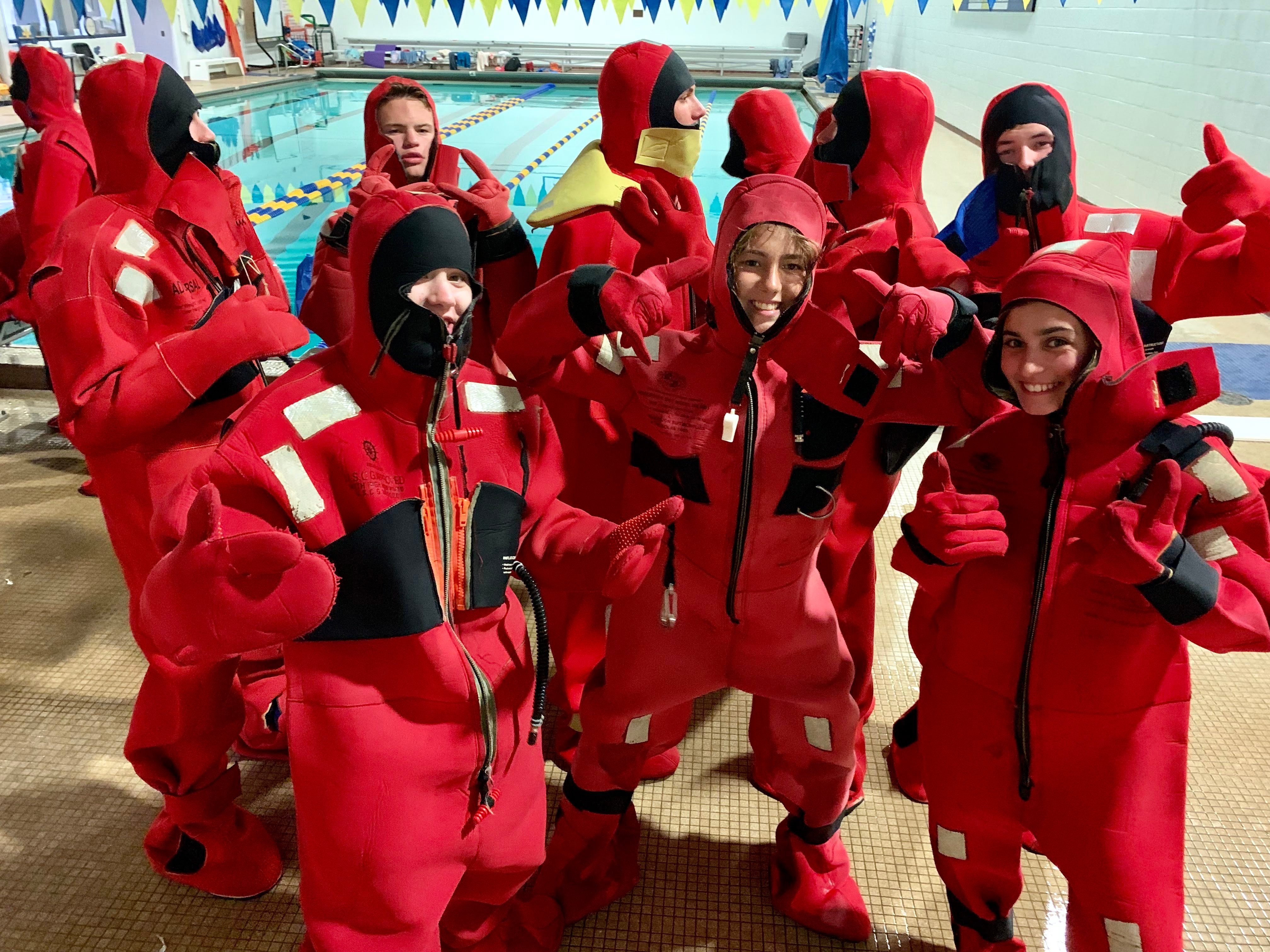 Day 3: Kara '20 - Castine, ME
My day began with an unexpected wake up at 01:00 to take in the sails. After I went back to bed, I was awoken again for anchor watch from 05:00 to 06:00. Everything went as usual and I started my day with two Oreos. Since my watch was meeting all hands at 07:00, I decided to stay up and help Brandyn with breakfast. When cracking eight dozen eggs, I cracked eight double-yolked eggs!
Pre-breakfast, I set the flag at 08:00 and Captain called all hands to help with the sails after breakfast. Before working on the jumbo, I lost a push-up contest to Zach (20 to 22 push-ups). From that time to when we mustered to talk about our plans in Castine, ME, was a blur of mashed potatoes for lunch and banging my head three times in my bunk before finding a comfortable nap position.
For our swim/safety/emergency lesson, we learned many different ways to float and swim with life jackets in certain scenarios. My favorite part was putting on our immersion suits and floating in the water.
My favorite part of the day was eating at the cafeteria at Maine Maritime Academy. After two cones of soft serve and slight regret in my mind, we headed to the "State of Maine" ship. The biggest fact that stood out to me was that the ship's anchor was 5,000 tons and each link of chain was 25 pounds.
I am enjoying my time on the Roseway more than I could have ever imagined. I can't wait to see what the next day holds, which I know includes eating in MMA's cafeteria. I'm very excited for how this voyage will transform me... and my skin tone.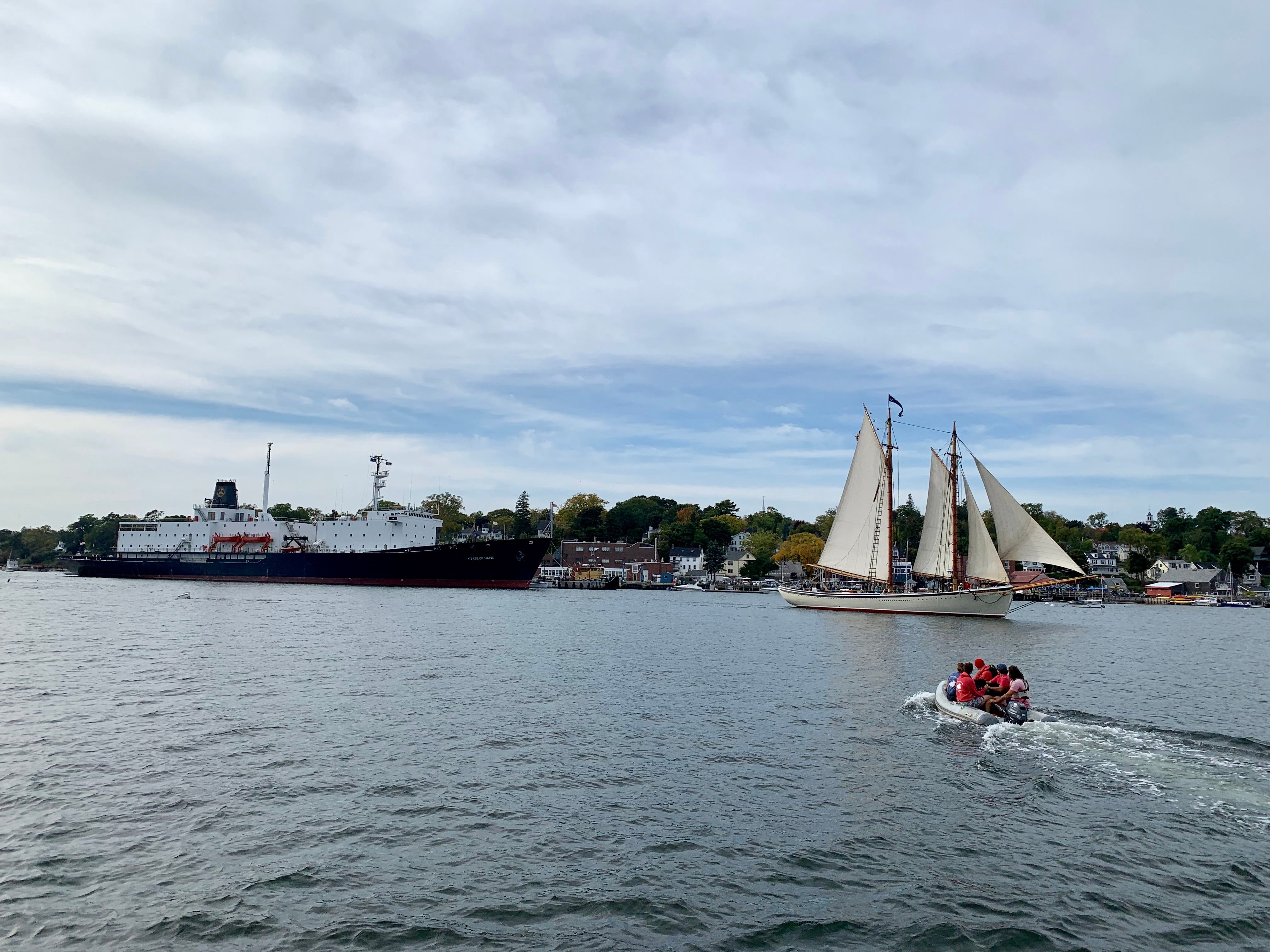 Day 4: Ian '20 - Castine, ME
Today we were woken up by the vocals of our crew, to the song called "How Far I'll Go" from the movie Moana. Then we started our day by receiving a tour of the planetarium at Maine Maritime Academy by a very nice professor who taught everyone a lot about stars, and even some other planets. Then we went to a lab where we learned and talked about the properties of water, and then continued to a wet lab with a couple of tanks. One had a few crabs that seemed to always fight each other and try to rip each other's legs off. In the next tank there were many more creatures to touch and grab. The starfish were my favorite to grab, especially the big one that had so many legs. After the wet lab we went to the school bookstore by watches. I bought a tide stain stick and an MMA scarf. After the store everyone sat down outside and we wrote haikus. Each of us had to share one of our favorites, and then we wrote the haiku on a postcard with a note to whomever you wanted to send it to. After we wrote we went into a ship simulator in five different groups. It simulated the driving capabilities and necessities to make a boat move in the water. Each of the groups was put into different rooms where we each had our own simulator. Each simulated vessel was connected to the same simulation as all the others. It was fun but our simulated ship was the slowest and other groups would try to ram us. After the simulator we went on a very fun and energetic ride on the Schooner Bowdoin. I liked the Bowdoin for its interesting past in sitting in the Arctic ice in the winters. I never knew a ship could do that. After the beautiful sunset sail we went back to Roseway for a very relaxed evening. Of course in the end everyone still had to finish their safety homework :(
Day 5: Emilina - 43.03861, -69.776299
Oh my goodness, today was dolphin-ately a challenging day. Between frequent "all hands" calls and wavy waves and some weather, we were all put under some stress. I personally was pretty sick from a cold, that I'm slowly sharing with everyone, so that plus a sinus infection plus sea sickness and cold rainy weather made today a lot more difficult than the first couple days we had. Right now, I'm on watch and despite the fact that it's 5:23 AM, or 05:23 (excuse me), I finally feel like I'm getting the hang of it. While today offered a lot of pressure, I was starting to see the most cohesion our group has ever had; when most of B watch went down for sea sickness on the 00:00/04:00 watch, the remaining three stepped up to fill their roles. This was pretty cool as everyone working together makes the Roseway feel a lot more like home.
Day 6: Zach '20 - Gloucester, MA
Today I had my first 0400-0800 watch. It was truly spectacular to at first have the moonlight reflecting brightly on the water then the sun slowly come up in a beautiful orange color. The seas this morning were wavy so forward watch was very exciting. The wind was stronger than it has been so we were humming along quite nicely. Breakfast was very good, consisting of grapes, granola, yogurt, and English muffins. I think everyone really enjoyed!
We arrived at Gloucester around 15:30. We are currently tied to Roseway's sister ship, Adventure. Adventure was built in the same shipyard as the Roseway about a year and a half after.
Tonight was very exciting, Matthew, Holly and Claire put on an incredible performance highlighting some facts about Gloucester. Then we all settled into our sleeping bags on deck for a movie with popcorn. Pretty awesome day!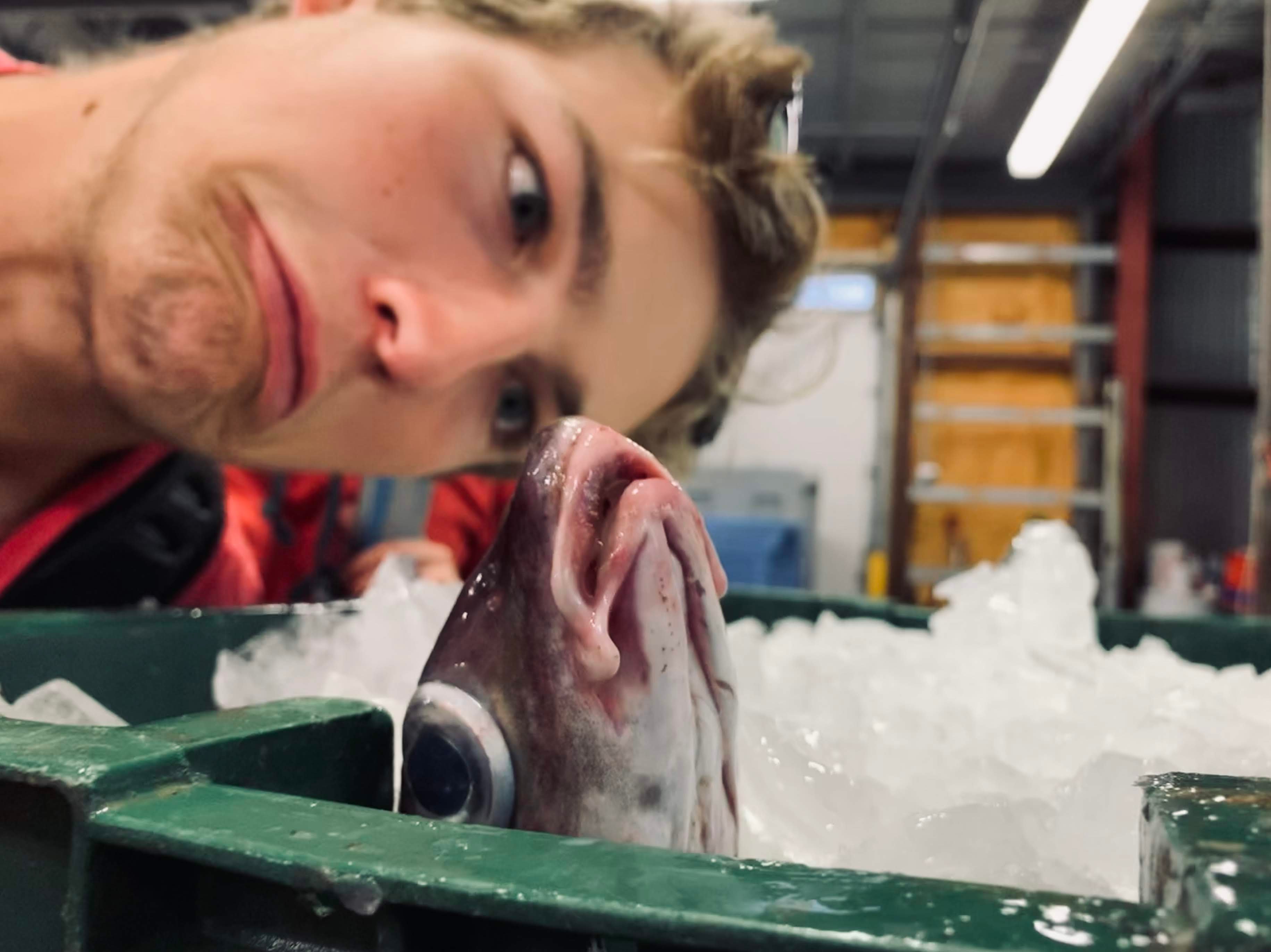 Day 7: George '20 - Gloucester, MA
Today was our first full day in Gloucester. We started the day with a hearty breakfast of eggs, bacon and toast which was awesome. We then headed to a small but excellent coffee shop to fill the caffeine craze, the scones and cinnamon buns are crazy good. Afterwards we walked all through town and all the way to the end of Rocky Neck where we saw Gloucester Marine Railway, it was super interesting to learn about. We headed back to the Roseway for lunch which consisted of pasta and sausage. Next up in our very full day was a trip to the Gloucester Maritime Museum to check out some plankton and touch tanks filled with oysters, lobsters, hermit crabs, and other assorted sea life. After the museum tour, we had a tour of Adventure, our sister ship that we are docked next to. It was really interesting to see how different but similar the two ships are. Finally, we ended our jam-packed day at the Gloucester fisherman's wharf. We got to see how multiple species of fish are weighed, separated, and packed in ice, ready to be sold. I thought today was great because I personally have never been to Gloucester and it was really cool to see the town and learn about its rich history. This is only the beginning and I can't wait for more!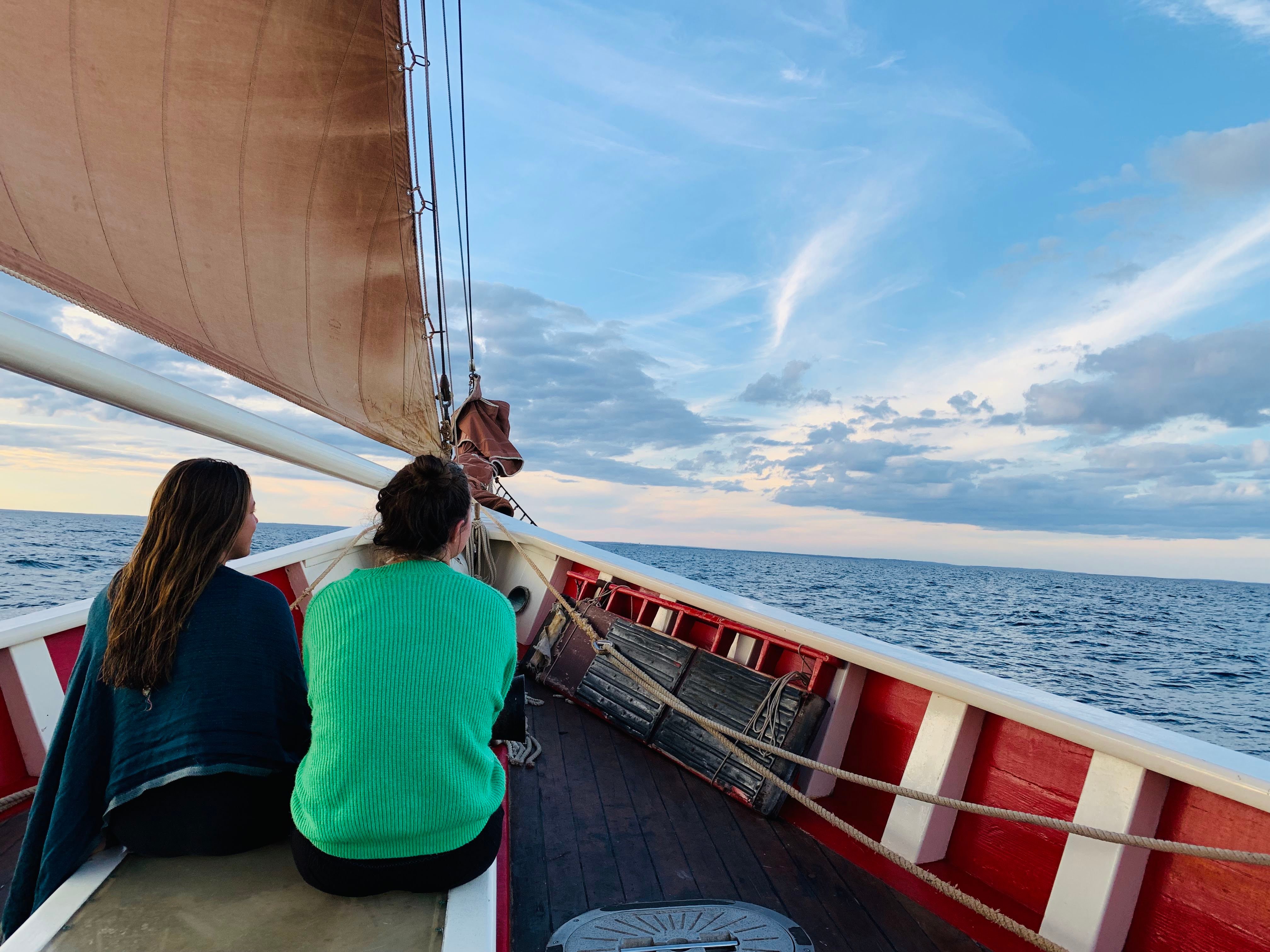 Day 8: Kerri '21 - Gloucester, MA
Days have started to begin to blend together. We are all running on a very peculiar internal clock than what we are used to. Our minds now seem more adapted to the 03:00 wake ups as well as the once confusing military time. Today began in a similar manner with an all hands mister at 07:00. We all proceeded to stuff our faces with homemade muffins thanks to Tierney. As our bellies settle and the floors were swept of crumbs we mustered in the salon for history class. We were introduced to the Humans of the Port project which is an ongoing assignment where at every port we must interview people about being a local in that area. Before we were released to explore Gloucester and it's people we watched a heartwarming and inspiring Ted Talk on the importance of interviews which brought some to tears. With a newfound inspiration for our task we branched odd to conduct our interviews. I myself interviewed a hot dog vendor, others the mayor of Gloucester or a random stranger. We all came back boisterous and eager to tell each other of our finds. After eating a brief lunch we set off again for science class. We all walked down to a beach a little ways from the boat. We learned about intertidal zones and collected/tested water samples. Once class wrapped up we went on a swim which transformed into much needed ocean showers. Freshly salted and cleaned, we went out to shop and obtain SNACKS! We met back at the ship and got all spiffed up in our Sunday bests for a lobster dinner thanks to a Proctor family. As we ate we all began to notice a radio playing music. We were all too excited to crank the volume and create a dance party including the whole crew. Once we had enough Ariana Grande and old hits and playboy cardi we walked back to our home on the water loudly singing sea shanties. We were all pretty tuckered out and after an additional snack we crawled into our bunks awaiting once again that 03:00 wake up.
Sending good vibes from the sea,
Day 9: Cedar '21 - New Bedford, MA
Today we got underway and left Gloucester. However, time doesn't feel real on Roseway, you could tell me that we left last week, you just have to keep track with every great meal. Today was started with music over the newly crew discovered P.A. system, next was chores, B-Watch did deck wash. After that we all waited in line eagerly for a breakfast of biscuits, bacon and eggs. After we ate it was finally time to leave, so we hauled up the sails and set on our way towards Baltimore. After a short watch that remained fairly uneventful, it was time for lunch. This time Tierney made lots of quesadillas and soup, I opted for only quesadillas. At 13:00 we had lit class, we learned an alternate version of the shanty "Spanish Ladies" which was super fun, of course, and then we listened to a passage of A Gift from the Sea which seems well written. I had about an hour until nav class so I meandered about doing a handful of random things. In nav we had Mr. Terry teach us about lift and points of sail. The science behind it is pretty darn cool and it came into play later when I was at the helm. Anyways we did our weather almanac, Griffin got the forecast while I did the weather phenomenon about Kelvin-Helmholtz clouds which are really neat because they end up looking like waves in the sky. Almanacs went well at 1700 and mostly everybody was excited for Holly's sports report. We also had Cap. begin to read us a short story that I enjoyed. Finally we had a rushed dinner of rice and some AMAZING curry. I headed to forward lookout and admired the waves and sunset. My next watch task was galley clean-up where I washed dishes. Finally, I continued onto the helm where I watched the stars and sails.