If 2020 has taught us anything it is 1) to remain flexible and 2) the importance of relationships. Ocean Classroom 2020 instilled these two critical lessons in the twenty-one Proctor students who called the schooner Roseway home for the past ten weeks. Congratulations to the crew of Ocean Classroom on completing an unforgettable journey.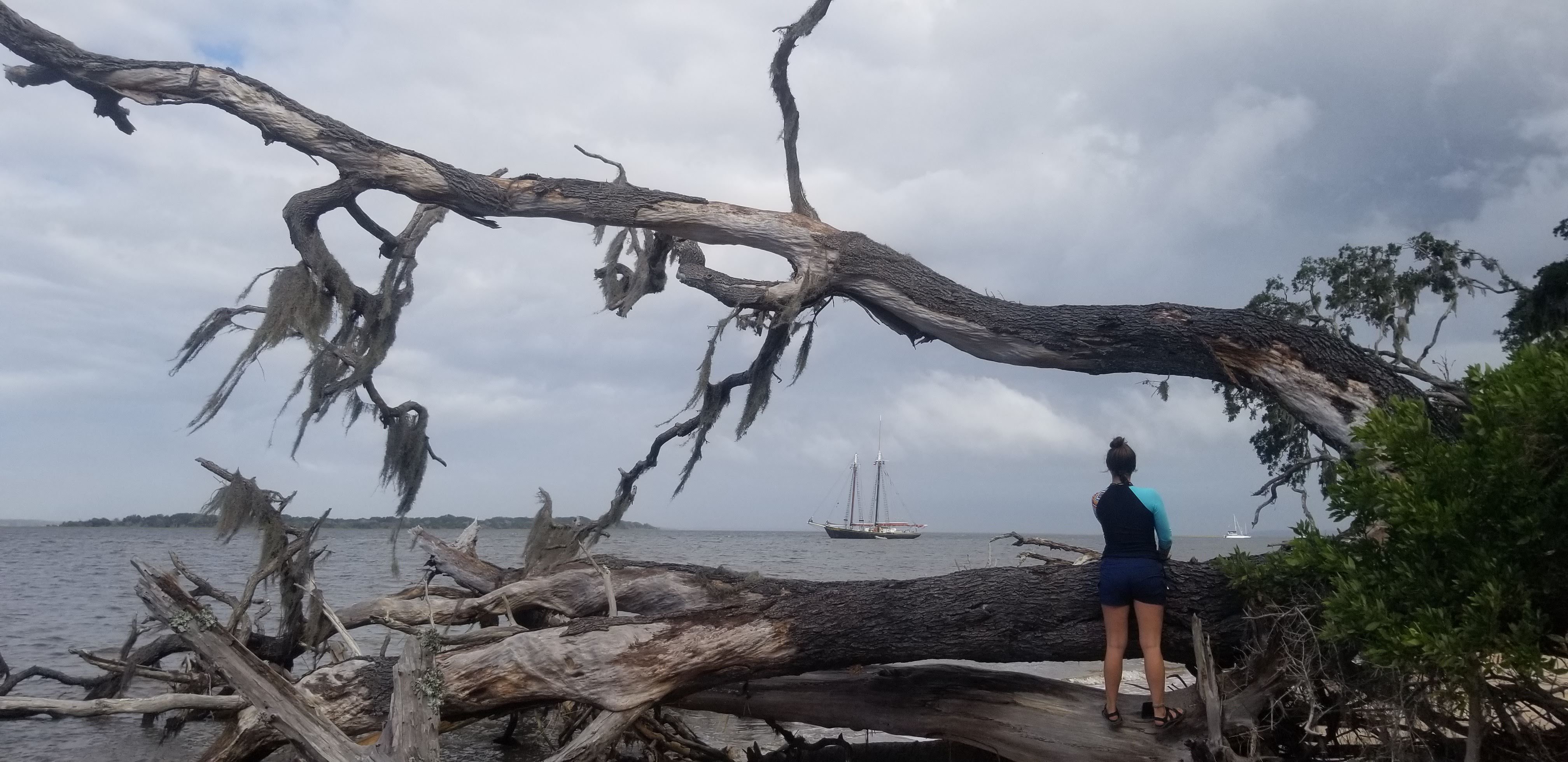 Ollie '21 | Cumberland Island, GA
Thursday, November 5, 2020
After anchoring outside of the channel last night we hauled up and headed closer to the visitor dock at Cumberland Island. Once we swung that hook and finished breakfast, we launched the small boats and started shuttling to shore. The island was so cool and much bigger than we all expected. Overwhelmed with excitement we all walked down to the beach to look for shark teeth and any other interesting objects washed up on the beach. Jake and Mr. Terry found a few shark teeth and some of us picked up trash and walked along the beach. We mustered on the hour and started on a trail that took us around the island. We stopped in a field to look at the wild horses and were given a quick history lesson on how the horses ended up there. We kept walking and our next stop was an abandoned mansion that had once caught on fire. What was left of the mansion was not much but still shocking to see how tall the remains were. We kept moving along until we came to a beach where we stopped for a swim. Everyone went into the water and played in the surf until we were called back for lunch. We ate quick and made our way back trying to avoid the rain. Once everyone was back on Roseway we hauled up the anchor and set out sailing.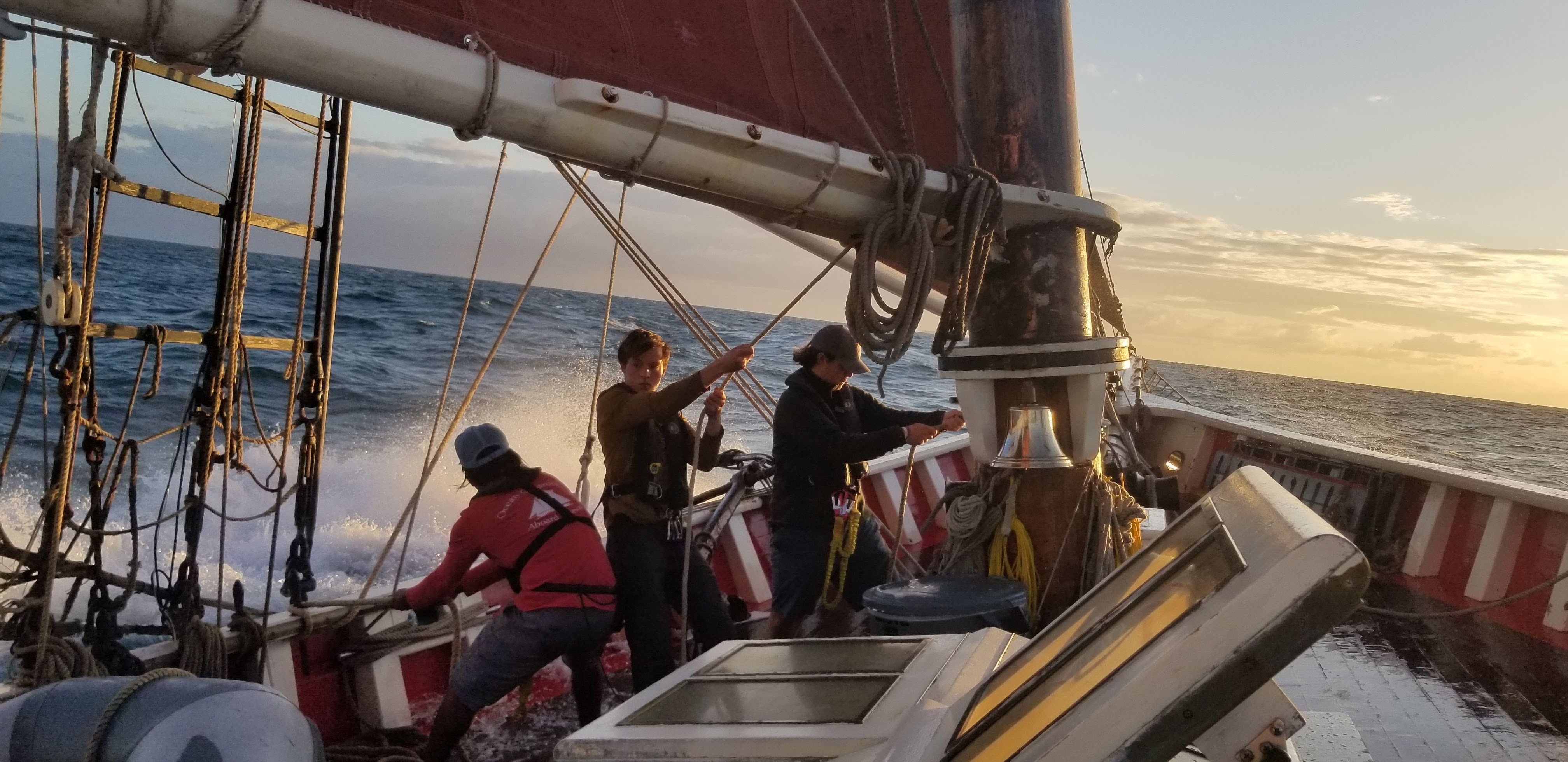 Dylan '21 | Voyaging to Savannah, GA
Friday, November 6, 2020
We sailed through some rough weather on our way to Savannah, Georgia. We were a bit bummed to hear that there's a hurricane building around Cuba and it's preventing us from heading south. We were originally headed for Charleston but the wind wasn't in our favor so we changed our course. We're wondering where we will end up with the frequent change in weather. We're trying to stay positive but the weather has been crazy! We sailed through high wind and waves which was a wild time. The boat was rocking so much that things were flying out from their place, due to a lack a sea stowing. Some people got sea sick as well. I didn't sleep very much because I kept getting shook awake by the crashing waves. From my bunk I could hear the swells crashing over the bow all throughout the night. When it was my turn for watch I had a lot of fun though. I was forward lookout when it was really nasty and I purposefully stood forward to be in the sea spray and feel the waves even more. It was so much fun with the pouring rain and the waves splashing me while trying to keep my balance. It felt awesome and I kept reminding myself that the way I see it is that in weather like this you can either be miserable or have fun- which we all chose to do! Now we are just trying to stay dry and the time being to make it to Savannah safe and sound.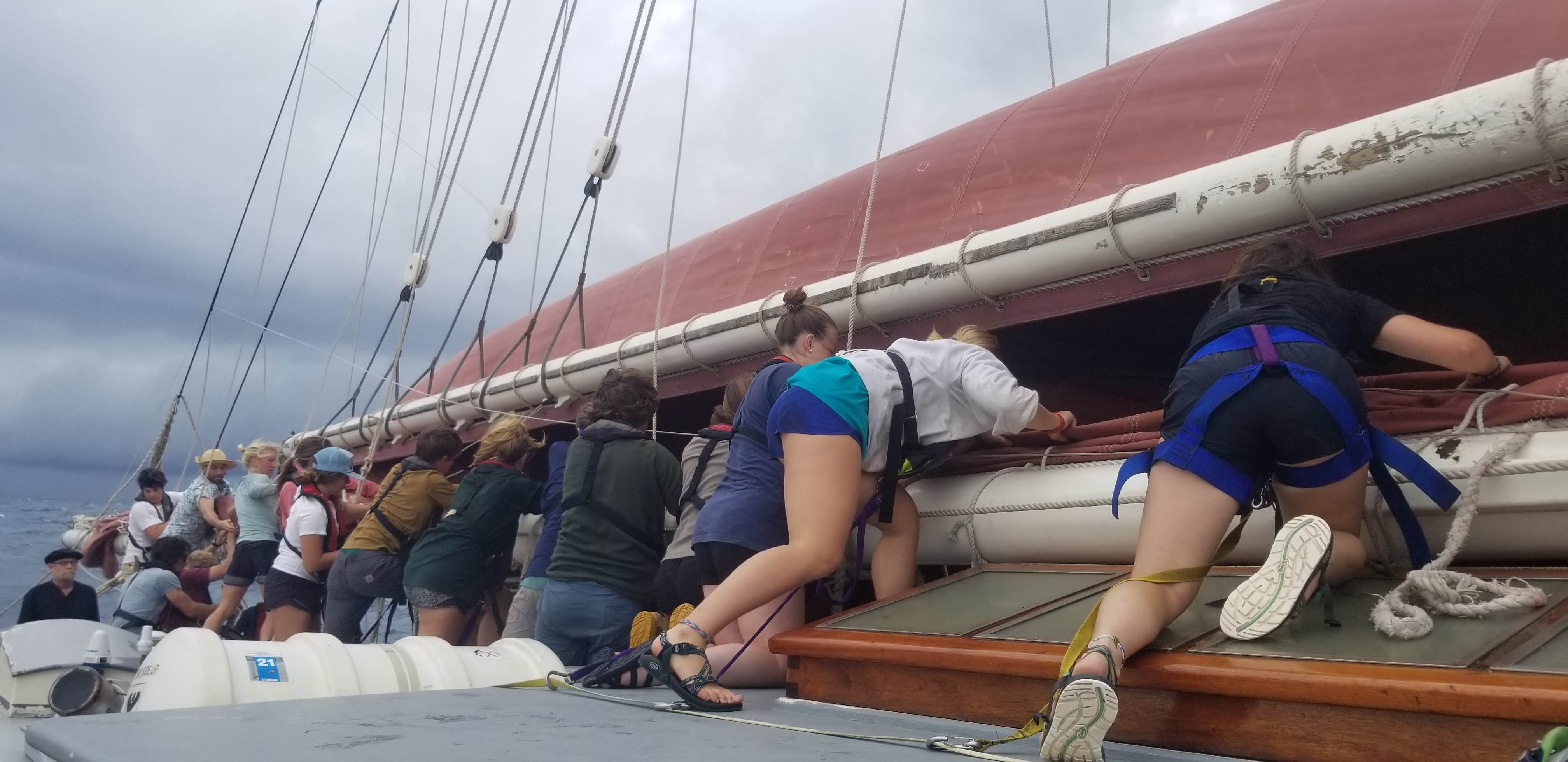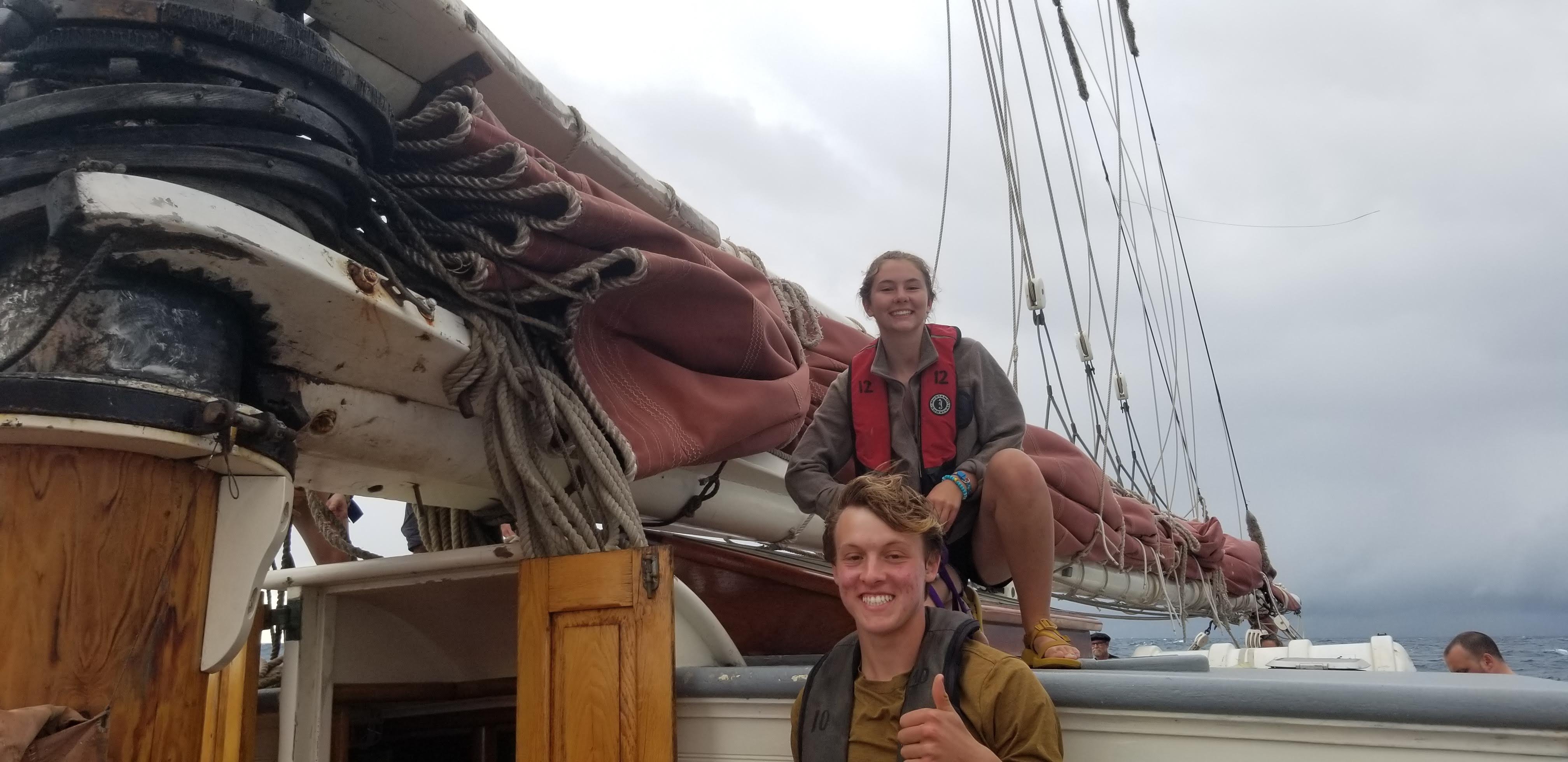 Rachel '21 | Savannah, GA
Saturday, November 7, 2020
After a long night at sea through squalls and high seas we made a course change to go to Savannah, Georgia instead of going back to Charleston. A busy morning for C watch, we got up at 0715 to go on watch at 0800 and take us to the dock. We had a good breakfast by Mitch and Sean. On watch we started by fish furling sails, an all hands effort in preparation of the hurricane and to look presentable while docked. While coming into the dock Jake drove the small boat with Susanna and dropped off Ollie to catch lines as they were tossed across with heaving lines. Now at dock we are all catching up on work and with each other. Everyone brought out clothes to hang on the lines after getting soaked through the night prior. Shoes were also brought forward to be able to air and dry out. Back in service were are all finally getting updates on how the election is going. With blue skies overhead we are all enjoying as much time outside before some looming stormy weather comes over us. With classes this afternoon everyone is looking forward to one thing- family fun night! Shoutout to my family and dog, see you soon!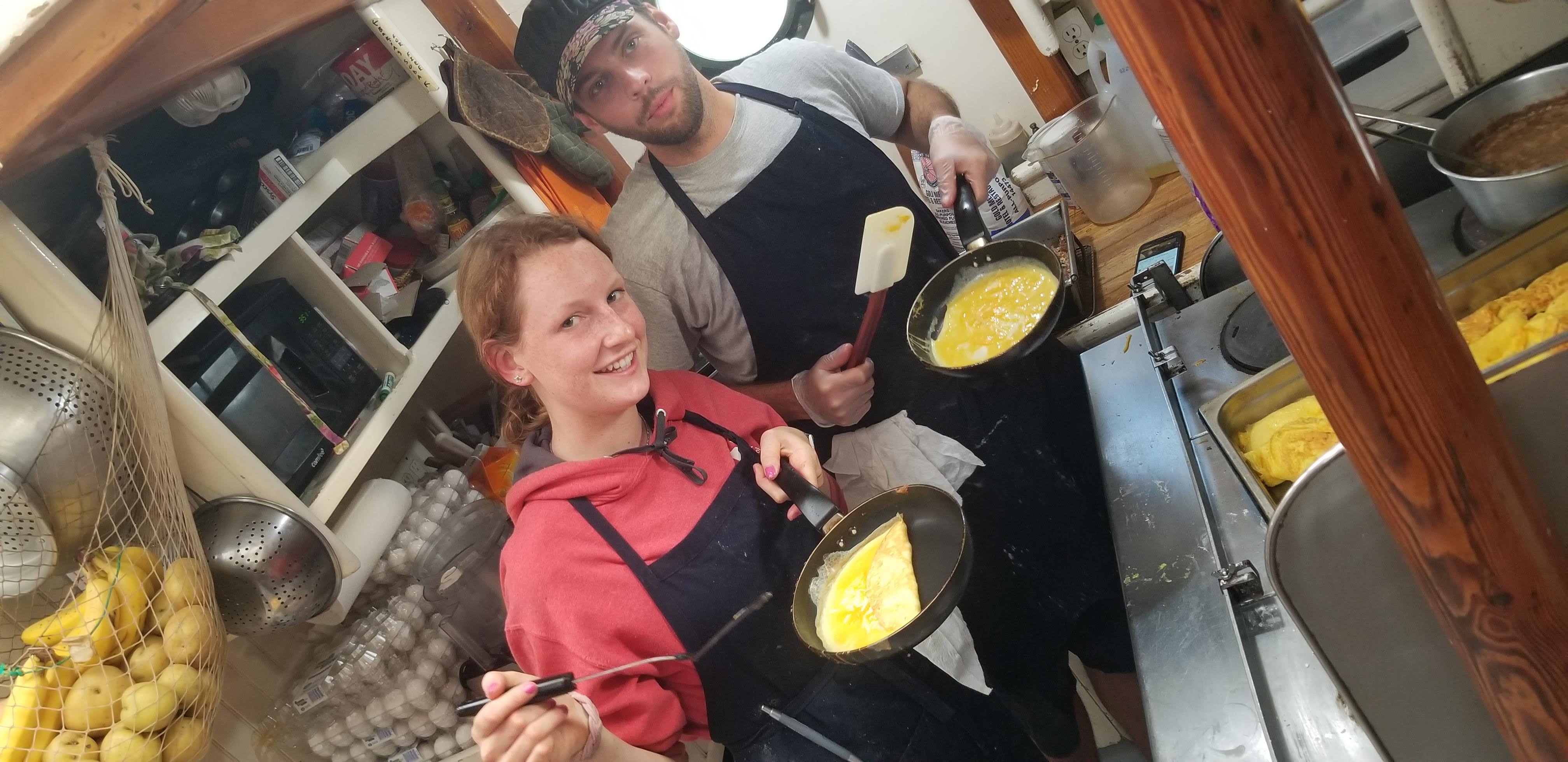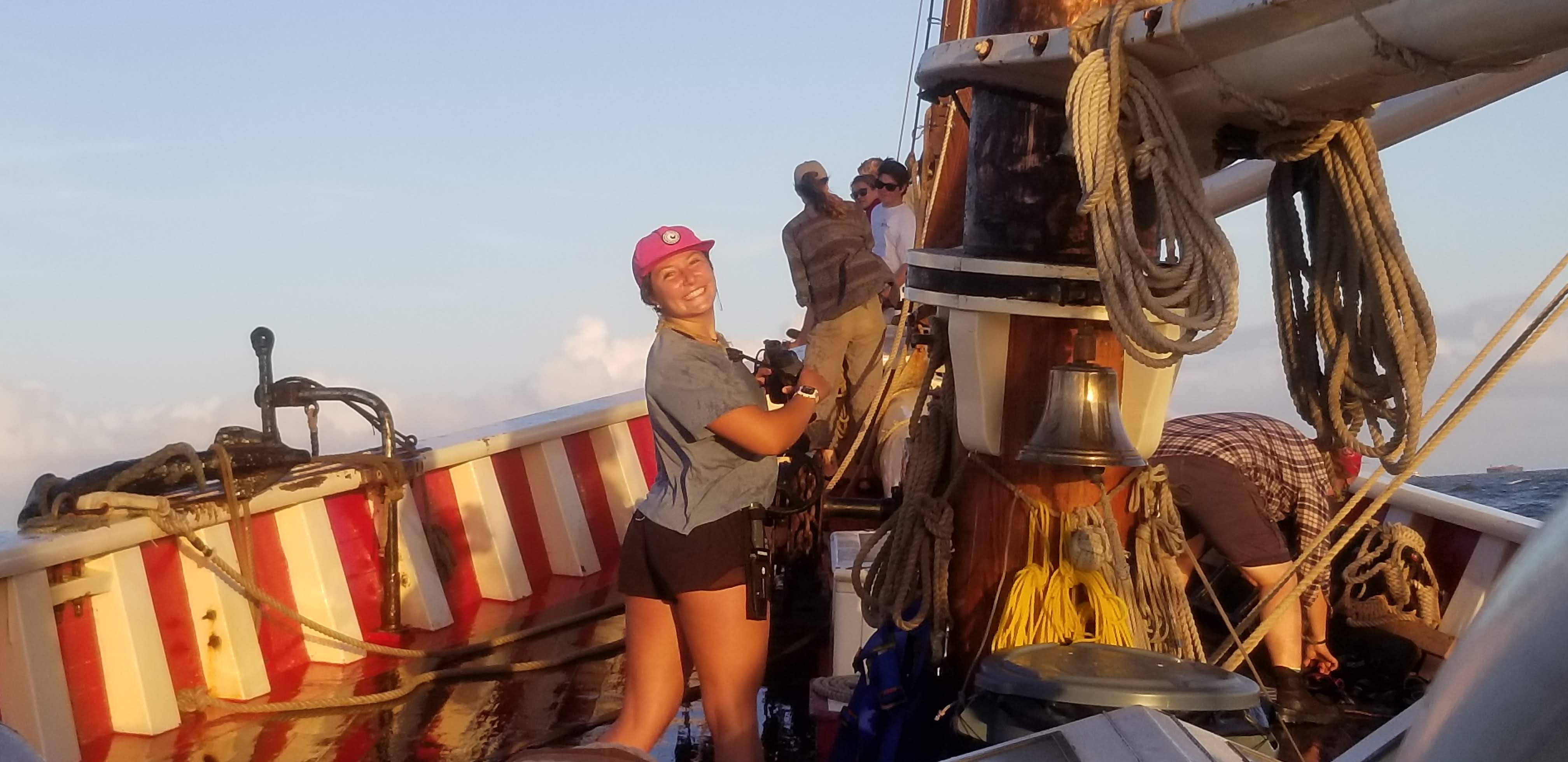 Robin '21 | Savannah, GA
Monday, November 9, 2020
It is currently our third day docked in Savannah, Georgia but this morning we got lucky with the only opportunity to sleep in until 0900! It was nice for many of us to wake up to blue skies and delicious chocolate chip muffins made by Tierney and Charlotte after almost 12 hours of sleep. Our morning was followed by regular chores of doing dishes and scrubbing soles as the sun started to heat up. Then some of us who were not yet aloft cleared had to help Mr. Terry with safety checks of all the immersion suits, life vests, and pfd's. It was not the most fun way to spend our morning while others got to relax but we still got the job done as efficiently as possible. The afternoon was filled with almost four hours of class and check in's with our educator Thane on our op-ed writing pieces regarding our reading material, The Alchemist. We also listened to a political article and ended with a lesson about animal domestication. The classes ran into dinner where Susannah and McKensie made us beef with carrots, potatoes, and a delicious gravy. After dinner we all went about our chores as normal and awaited our pool time for some night swimming! Everyone ran full force into the pool as we haven't seen one in a while. It was a fun way to blow off all the built up energy that we got from being on the boat and in classes all day. Towards the end Katie, Ollie, Dylan, and I sat by the fire pit and Sean decided to surprise us with smore's from the hotel! It was the perfect way to wrap up a long a productive day. Shoutout to my family and dog, Edie- love and miss you guys and see you all soon!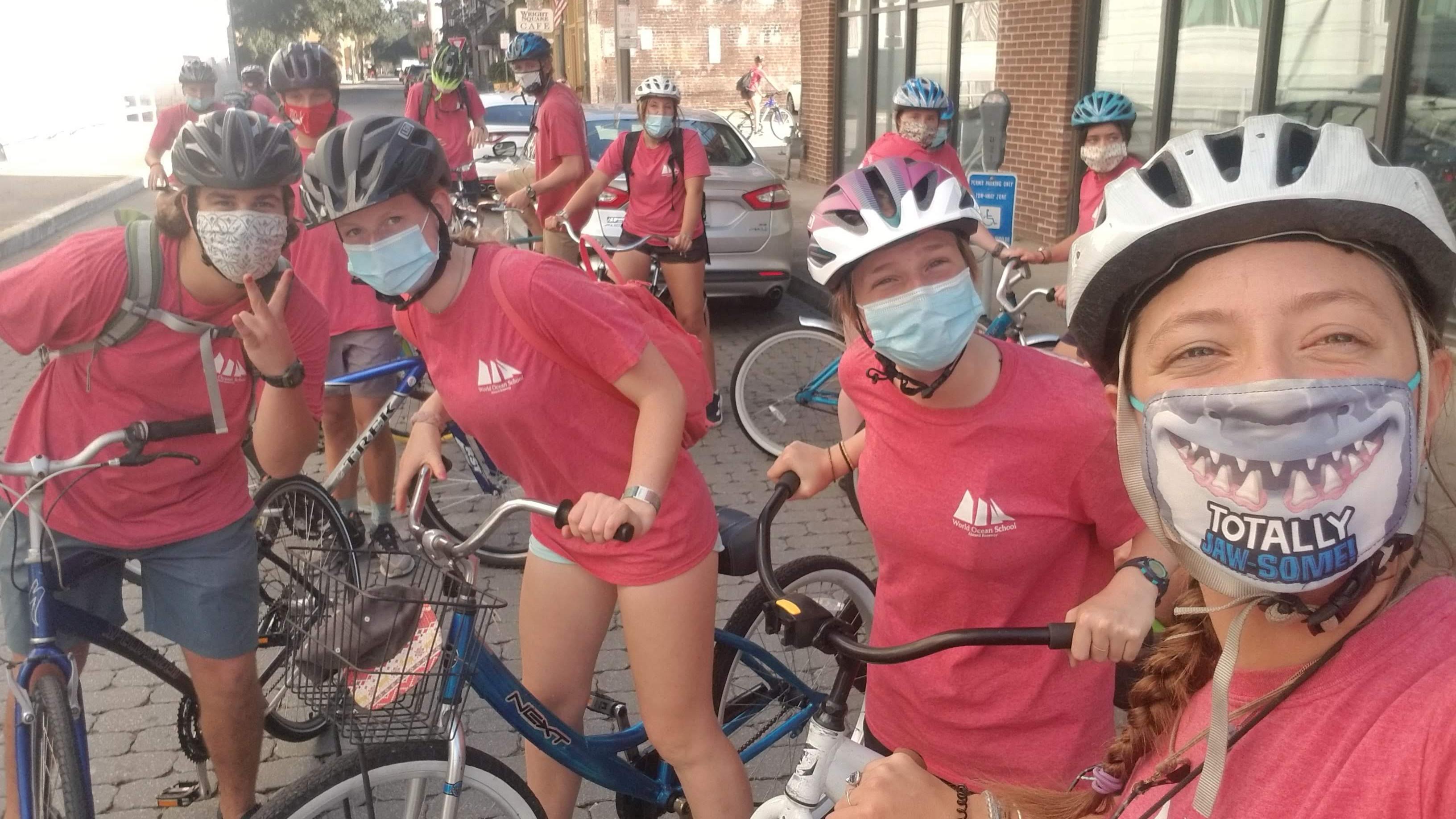 Jasper '21 | Savannah, GA
Tuesday, November 10, 2020
Today was damp, like many we have had in Savannah. We made the best of it though by going to the park. Most of us played soccer barefoot in the grass which was very fun. Slipping, sliding, wet, muddy fun. When we got back to the boat we dried off and had movie night! We saw the film "Around the Horn" that told the story of a sailor on a 4 masted barque with 30 plus sails going to Europe to South America via Cape Horn. It painted a vivid description of how life was. When you were a sailor, you just did things without asking, even if it meant going aloft 100 feet in a snow squall to furl a sail while almost getting dunked in the freezing sea and 20 ft waves. Next we watched Sir David Attenborough's "A Life on Our Planet" in it he gives a stirring call to action by showing what Earth could look like if we continue on current global warming trends. He also explains how these future dystopian might be avoided. The message was much like that of "Ocean of Life" that we read this summer. There are many things, some that we might not even realize that we are doing to our planet. However, there are ways to prevent the downward trajectory I think it is important for us to watch these types of movies so we can learn what is happening to our world since our generation is coming to the ability to vote and start making a difference. Anyway, overall morale on the boat is high, and we're very appreciative of how fun Savannah has been for us. Love you family and see you soon.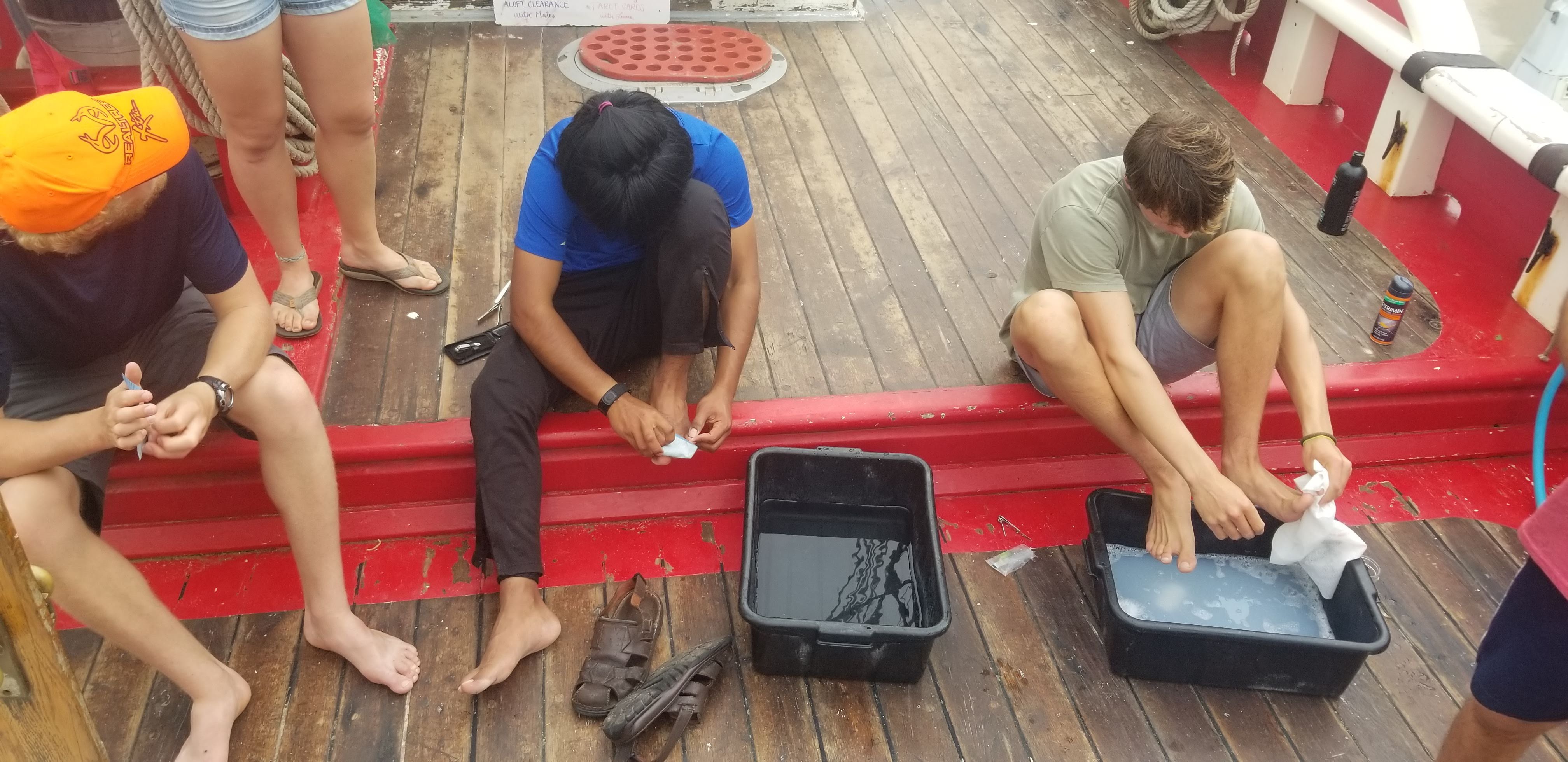 Jake '21 | Savannah, GA
Wednesday, November 11, 2020
We all sat in a circle. The room was dark and all of us looked around not sure who we could trust. We had all just been handed playing cards by the two game masters, Thane and Mr. Terry. Mine was the joker and I was a werewolf. We handed back our cards and the game began. Almost an hour later, after all the other players had been voted out all that remained were the werewolves and we had won. Before the darkness of this mafia the day had been spent at our own little Roseway spa. After a few morning words from Captain about Veterans Day we jumped to morning chores. Then an amazing breakfast prepared by Cameron including chocolate scones. We started class with Navigation where we continued to learn about the rules of the sea with a case study we had read the day before. A short time after that was history where we moved to an isolated pavilion owned by the hotel we're docked at. Today we focused on inventions and government, how they are formed, and how they eventually contributed to slavery. We caught a tiny lizard for a little time before releasing it and rushing back to the boat for spa day! The entire boat had been transformed with stations set up where crew could show off some of their spa skills. My first stop was with Nick, our engineer for some "masculine manicures" which we did with sandpaper (120 works best). Next stop was a fresh water shower which felt amazing. After we had hand massages with deckhand Morgan aka "Rico Suave" which he adopted for the event. My hands smelled like essential oils as I moved over to the tarot card table with Leona. My card reminded me of friends at home and made me wish they were here. Today Thane gave us an option that if every student got aloft cleared by the end of the day then he would help us with our final grade and we all got cleared! A good day indeed!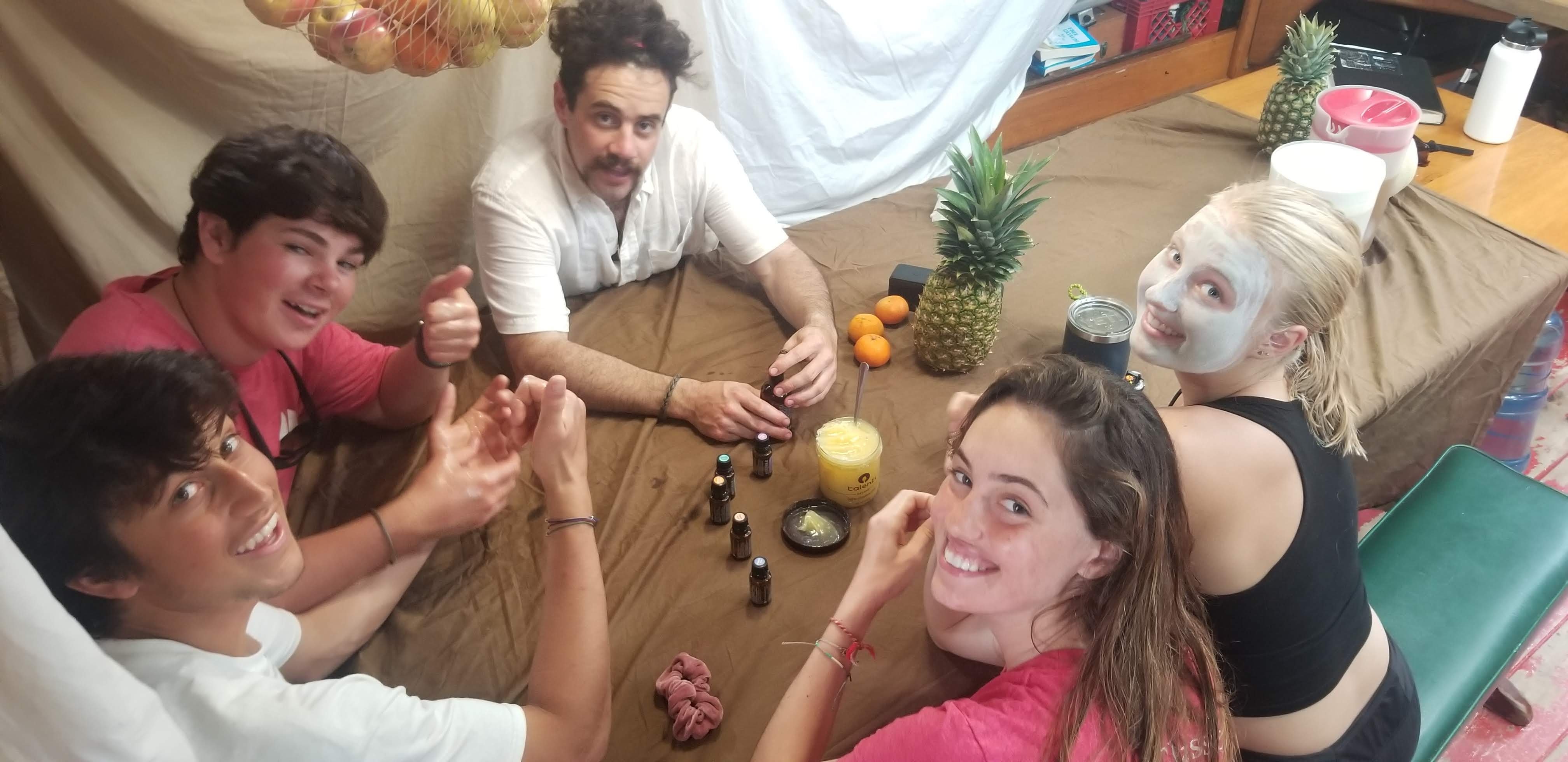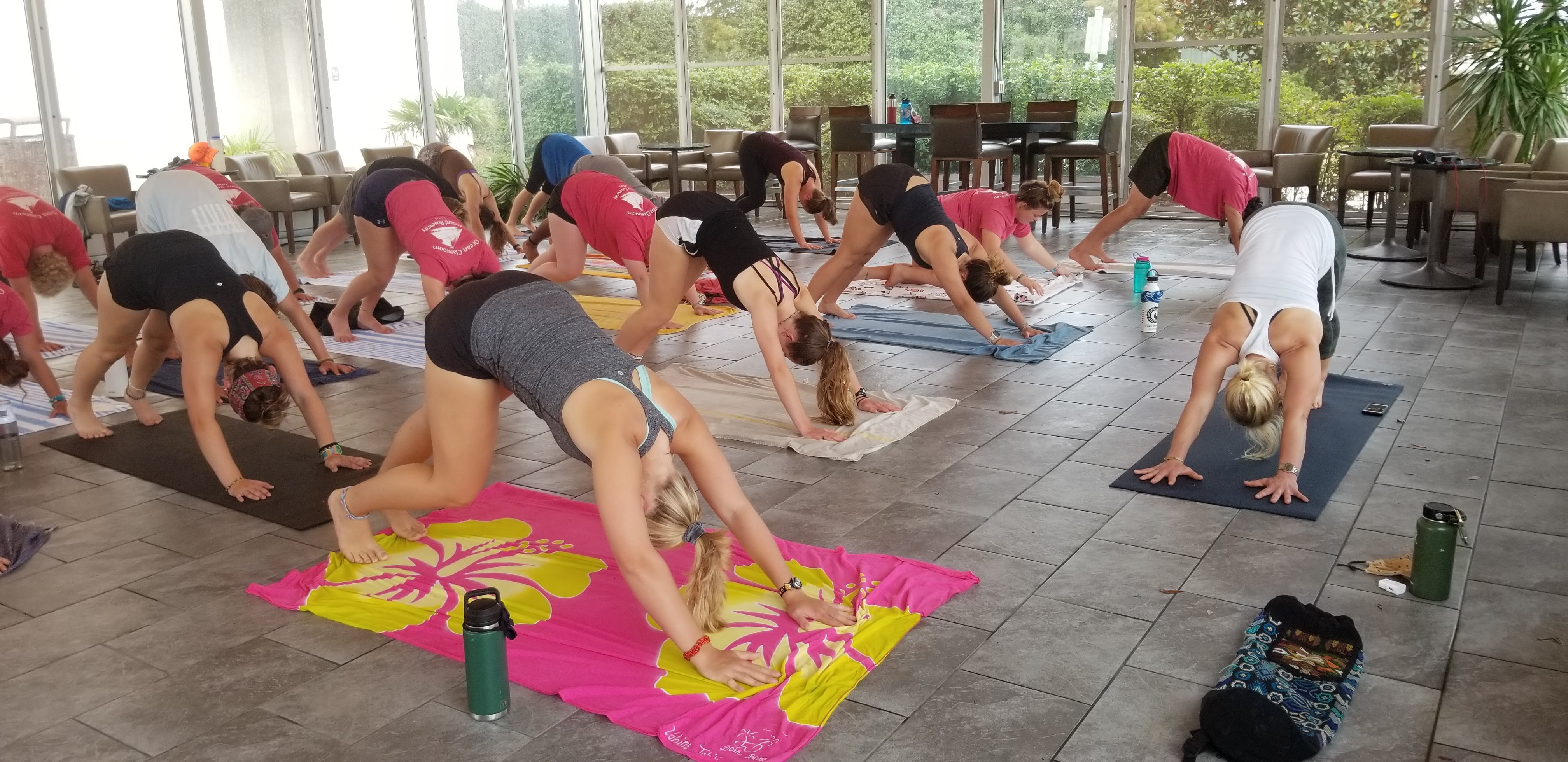 Julia '21 | Savannah, GA
Thursday, November 12, 2020
We're all aloft cleared! It was another beautiful day in Savannah and I got to be galley assistant for my second and sadly last, time. It was an early morning being woken up at 0500 and cooking a semi successful Caribbean themed breakfast. I may be bias, but the tart was pretty good. After all being incentivized by Thane with access to Starbucks after getting aloft cleared, a coffee was enjoyed by all. Holly made our two morning classes fun and high energy. We all rushed to lunch with very hungry stomachs to have some hot chicken noodle soup, which was perfect because it was a bit on the chilly side today. A built-in study hall was to take place in the afternoon, which was perfect because the heat for finals was starting to build. We were also all very excited because we were going to head over in the small boats to the other side of the river for a haunted trolly ride! We had an early dinner at 1700 of takeout from the local pizza joint. It was a fun surprise and meant I got the afternoon off from cooking to do some work. After a quick cleanup, we rushed over to get to our trolly. It was a spooky Roseway-family-only 45-minute tour all over the most haunted city in America. With our masks on we stopped and toured a haunted mansion turned museum and old sailors' chandlery. We learned all about the buried solider of past battles now hidden under the city. Many jump scares were also included! It was a very busy but entertaining day!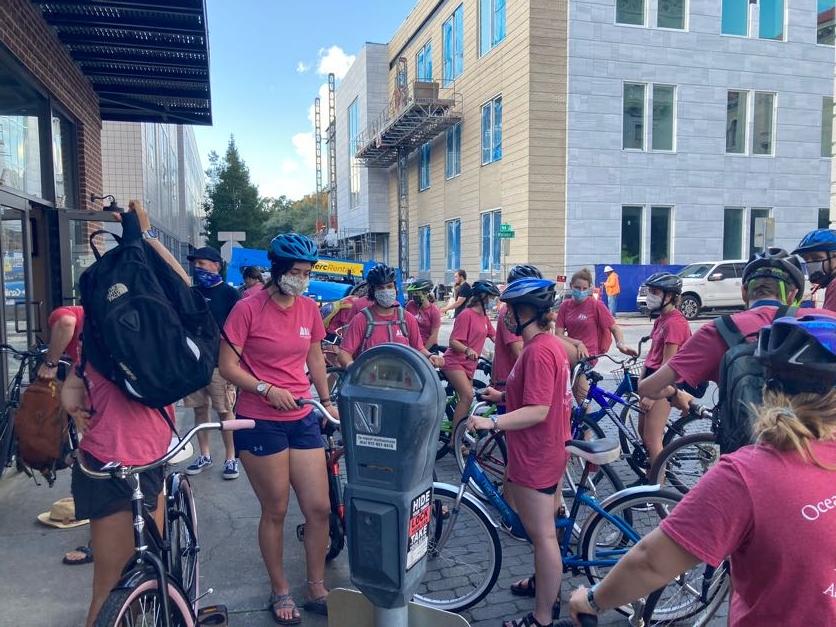 Kingsley '21 | Savannah, GA
Friday, November 13, 2020
Hey! Kingsley here! Today was a jammed packed day in Savannah! Our morning started at 0700 and trips to Starbucks for coffee! Wow have we missed coffee, but now that we're all aloft cleared we've earned the privilege of drinking ships coffee while underway. Later, we had history class with one of our deckhands, Morgan! For navigation class, we played one of Ocean Classrooms Roseway Traditions, Schooner Olympics. We split up into watches and competed in a variety of challenges against one another. Running to identify lines, knots, and coiling, was super intense. B watch took the win and earned a night without standing anchor watch. After Olympics we hustled to get galley lunch cleanup complete so we could head on our way to our afternoon surprise across the river- biking! We rented some bikes and split into groups to explore the streets of Savannah. Such a beautiful city- I definitely want to go back and explore it more and learn the history. We spent 3 hours around town masked up and having so much fun my mouth hurt from smiling and laughing the whole time. The hours flew by and we were all pretty bummed to turn the bikes back in, but we were excited about the evening planned back on the boat. Its sea shanty night! Over the last week, students worked to create sea shanties and tonight we performed it to the ships company. Julia and I reworked "Riptide" by Vance Joy to the chorus, "Lately sailing down the Atlantic, scrubbing away on the high side, I wanna be your JWO today!" Everyone did such a great job- costumes and all. It was so much fun, I'm going to miss this group so much. Shoutout to the family- see you guys soon!
McKenzie '21 | Voyaging off Hilton Head Island, SC
Saturday, November 14, 2020
Hello! Today is Saturday, November 14, 2020. We are nearing the end of our unique voyage. We learned that we are going to Charleston, SC because is the weather is just not agreeing with us. We all agreed that we're going to make the best of the last days aboard Roseway. It's sad, but we're all just happy to be together. Our group has really bonded and its been amazing through all the ups and downs just to have this experience. (Trying to avoid sappy things because we're leaving in 6 days). Today we got underway to Charleston. Our plan is to do some offshore sailing and then dock in South Carolina on the 19th . My goal is to catch a fish on our short voyage. I want to wrestle it when I reel it in so I'll probably just hang out around the quarter deck when I'm not on watch. A watch has not had a second 0400-0800 watch so we're excited to have that too! Its been amazing being in Savannah but I'm excited to finally voyage for multiple days! Cant wait to see my family! Love you guys!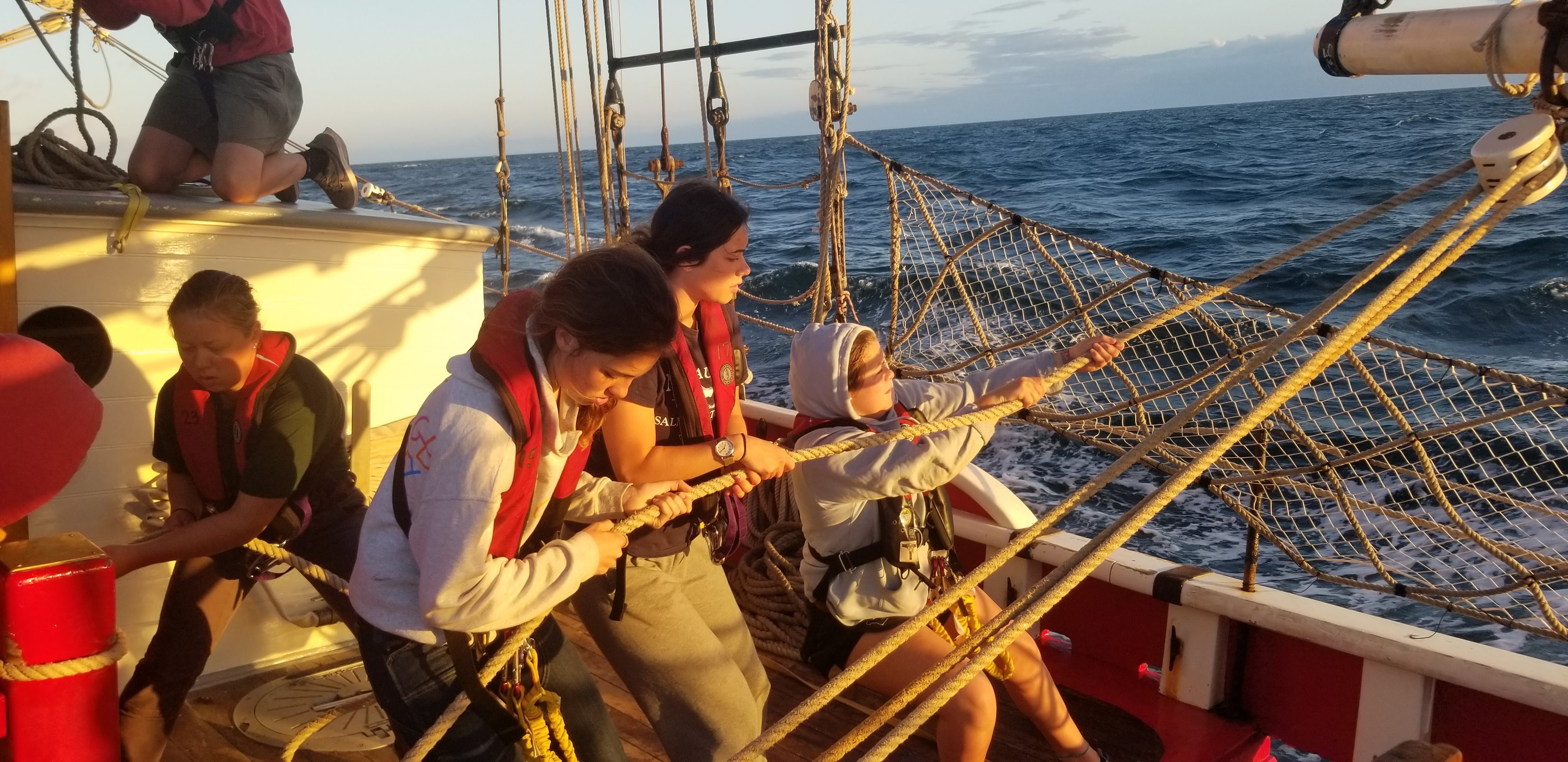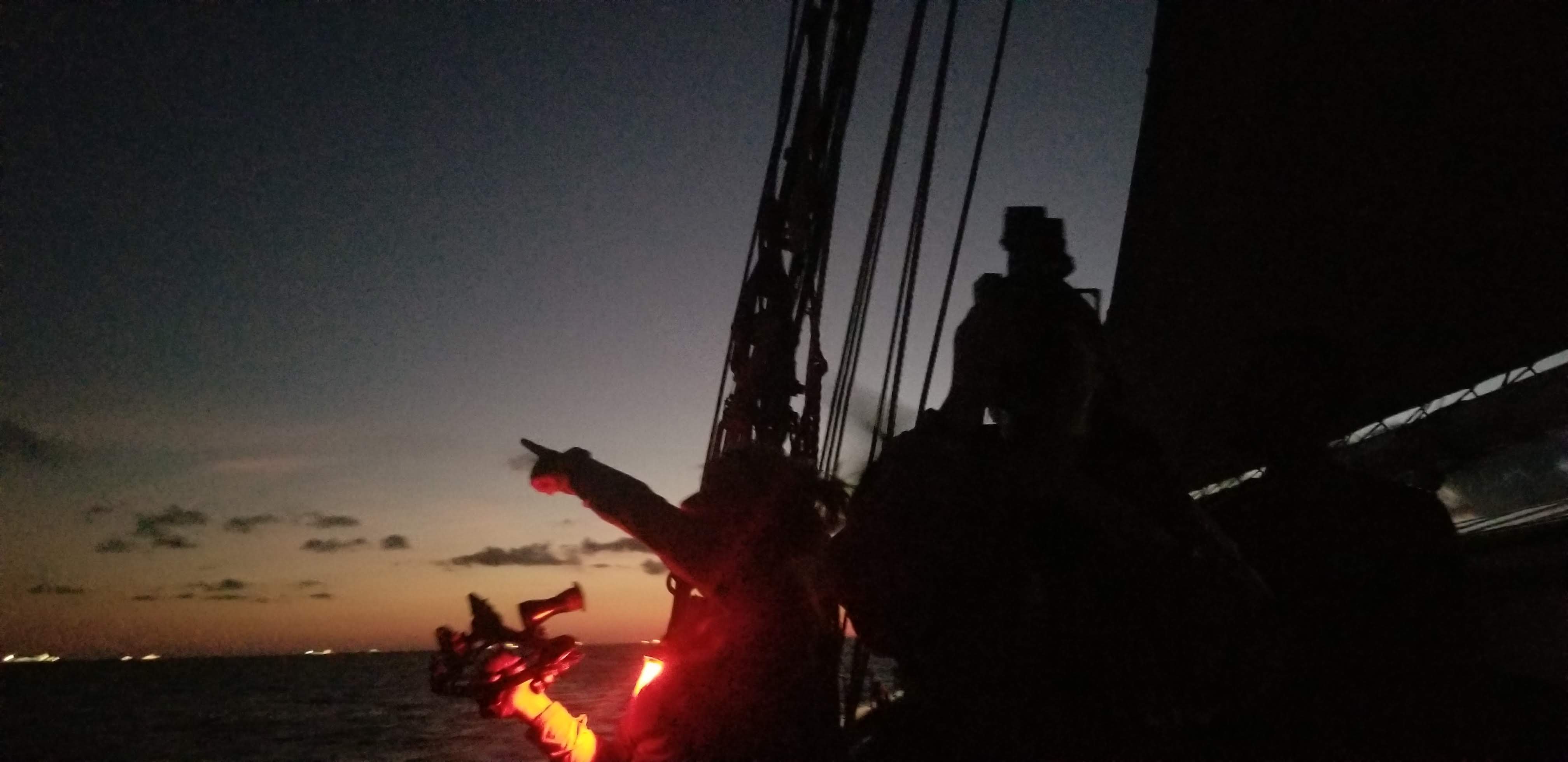 Bradford '21 | Voyaging off Charleston, SC
Sunday, November 15, 2020
We have been underway for a full day now. Our final destination sadly not being in the Caribbean, but Charleston. Charleston is closer by but we will still be voyaging out into the gulf stream. We got into some pretty decent sized seas and some of us fell again into sea sickness. My watch (A watch) had dawn watch. Easily one of the best times to be on watch because of the sunrise and today was no exception. As we sailed up the Gulf Stream the sky lightened with the incoming sun. Thane and Holly awoke to watch the sunrise and chatted on the deck boxes. The air was a crisp autumn air. Soon clouds tried to block the suns arrival on the horizon, but it shone through, almost making them translucent with a warm yellow. The days are quickly winding down on this trip as we only have 5 days left! Hope all is well on land. Peace and love.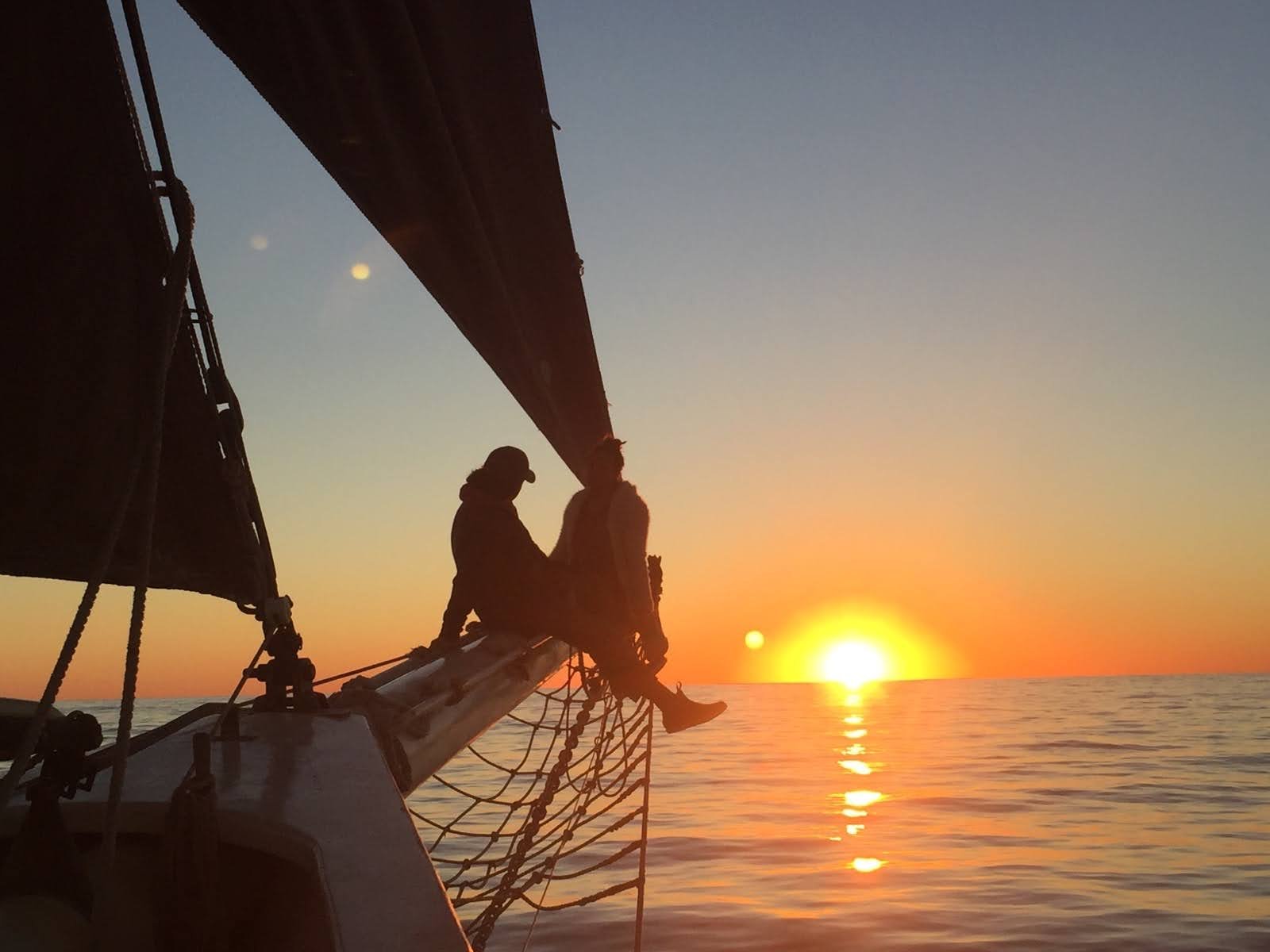 Ciaran '22 | Voyaging off Charleston, SC
Monday, November 16, 2020
I'm writing this entry as we watch the sunset one last time at sea as we are bound for Charleston later tonight. When we woke up this morning the seas had calmed down after a rough few days sailing along the Gulf Stream. As we have learned many times during the sea term, plans often change which means we all need to be flexible. There was also a chill in the air around breakfast which we haven't experienced in a while. Most of us got right to work since we have a busy week with finals. Our first class of the day was English on deck and afterwards we had a quick lunch and I then took the deck with A watch we found out shortly before watch that we where heading straight for Charleston and it was A watches last watch during the day. After my hour on helm we had a debate in history which was our final one. After class I went aloft for the first time underway and it was amazing, the water was calm and blue for miles as the sun began it's descent. When I was back on deck everyone was starting to gather forward to watch the last sunset and we saw more dolphins. We're all both sad and excited to be going home soon but glad this journey happened. We're now getting ready for dinner and then I am Junior Watch Officer tonight from 2000-0000 so its my job to get us into harbor and drop anchor. Even though we are now ending in Charleston in a few days I'm reminded its about the journey and not the destination!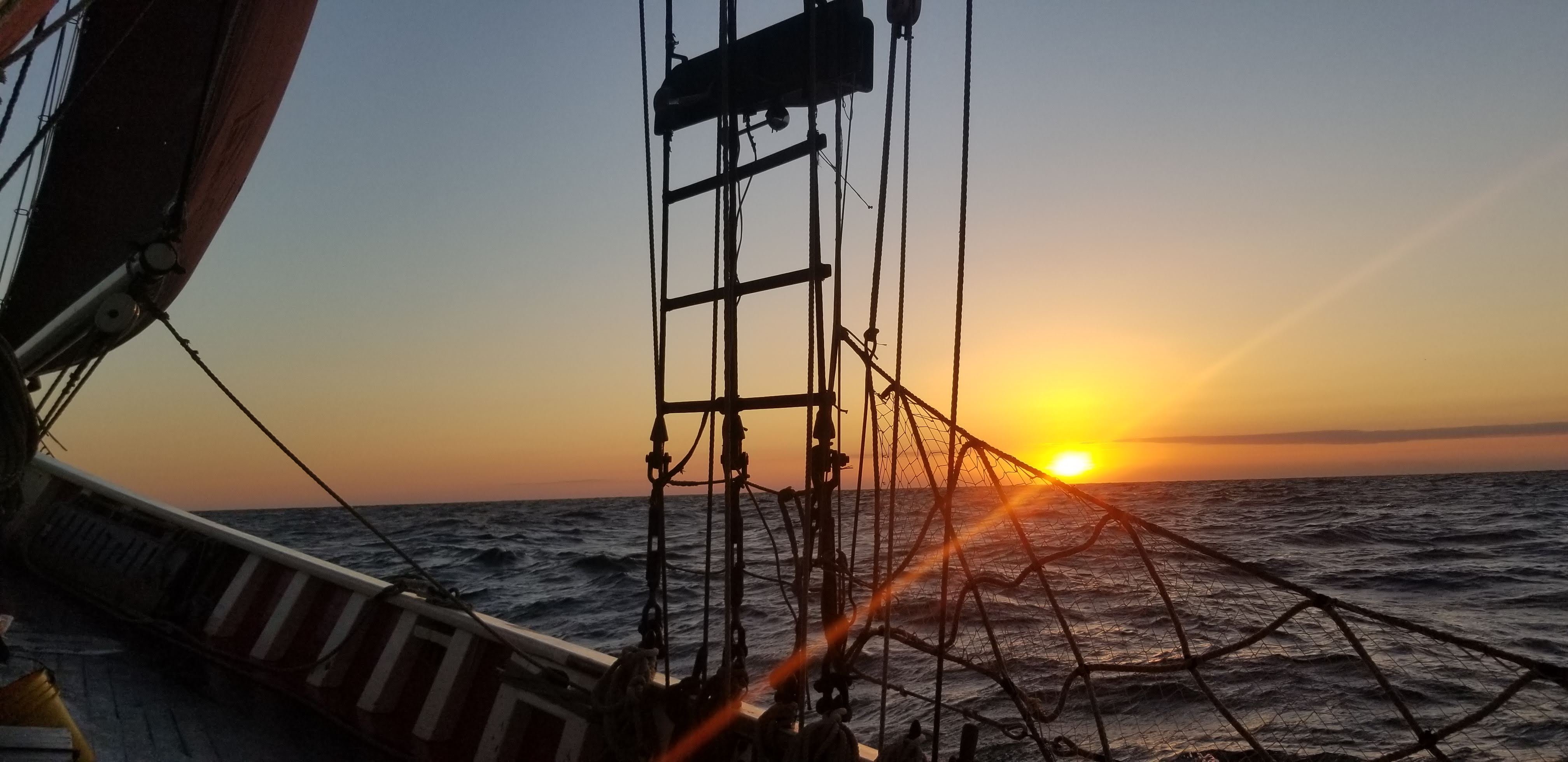 Saul '21 | Charleston, SC
Tuesday, November 17, 2020
Today we woke up in our final destination, Charleston. Everyone is a bit sad that our journey is about to end. Just a few weeks ago it felt like we were going to be sailing forever. Roseway was our little chunk of the universe and we did not need any more. Almost disconnected from the outside world we had the impression that there was nothing beyond the horizon besides the ocean. And now we know it is over. There is not time to be sad though, we are on the final stretch of classes. The literature final was cancelled, tomorrow are the final history and science projects and today is final navigation and seamanship test. We were given the morning as a study hall for the final. Almost everyone spent their time reviewing LAN (local apparent noon) and sight reduction. Those are by far the hardest topics. Right after lunch we spread around the ship to take our first final. Today, we were also given henna tattoo kits. We all had fun drawing beautiful or funny images on our skin. For the rest of the day we had free time to tie loose ends, work on our ditty bags, last homework assignments, and more. Other cool events that happened today includes Morgan cutting his hair to the point of unrecognizable and me pouring a bunch of salt in my dinner thinking it was cheese. Probably one of the most painful experiences of my life.