For the past 27 years, Proctor students have spent the Fall Term studying aboard an historic tall ship, sailing the eastern seaboard of the United States. This coveted off-campus experience has always been limited to the Fall Term, however, COVID-19 forced us to creatively look at our off-campus offerings this winter. With Proctor en Segovia unable to run due to travel restrictions, Ocean Classroom program director Brooks Bicknell '77 went to work reimagining a winter trimester program partnered with the World Ocean School based in St. Croix, US Virgin Islands. Today, eight students are aboard the schooner Roseway after rigorous COVID-19 testing and quarantine, ready to launch the experience of a lifetime. Read more from this group's first week together!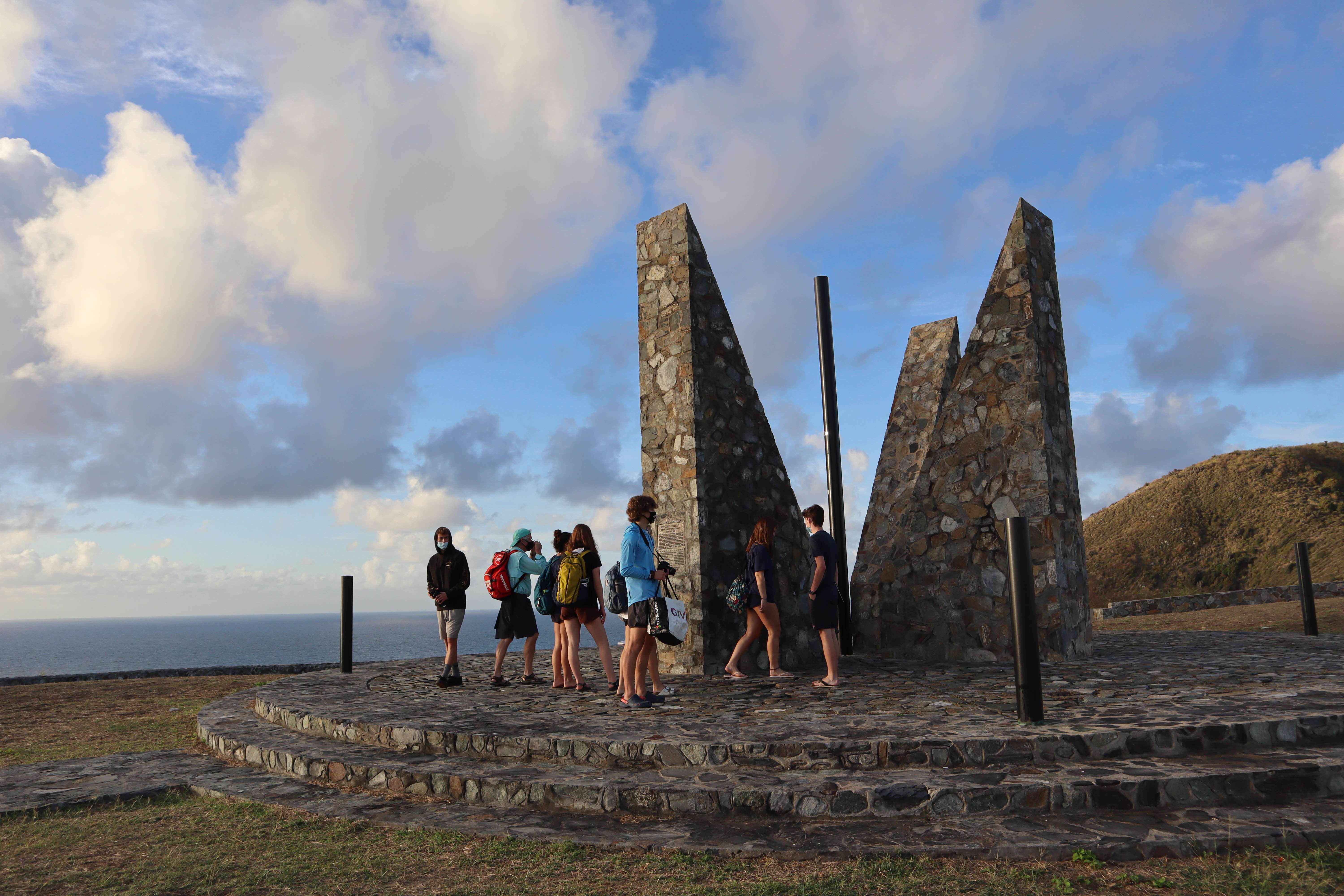 Welcome from Educator Holly B. | January 5, 2021
Today is the day we begin the inaugural Winter Ocean Classroom 2021! I am so excited! I woke up at the Sugar Apple, our quarantine location, in Christiansted, St. Croix, USVI eager to meet all of the students in person. Months and months of working on and thinking about this program and it is finally here. I spent the morning communicating with the World Ocean School office and Brooks Bicknell, who is in our quarantine bubble for the start of the program, making sure that we had all of our ducks in a row. This was much easier to do with warm weather, sunshine, and a sea breeze. Brooks and I grabbed lunch and then made our way to the airport to pick up the first student, Sam. We had a little bit of time before the next group of students came so we got our bearings on the island and picked up some supplies for our quarantined week. Cameron, Jack, Kara, and Louisa were the next to arrive. I brought them back to the Sugar Apple and then Angelina arrived. Last but not least, Brooks came back from the airport with Casten and Teige. We all were finally together! We ordered dinner from a local restaurant and chatted about our travel day, how everyone had spent their quarantines, and what is to come in the next months of Winter Ocean Classroom while sitting outside near the pool. After a long day for the students traveling and a long day for myself with all of my pent up excitement, we all retired to our rooms for some much deserved rest. A favorite quote of mine by Jacques Cousteau is, "The sea, once it casts its spell, holds one in its net of wonder forever." I am looking forward to seeing how this spell of a program brings about growth in all of the students, the crew, and myself.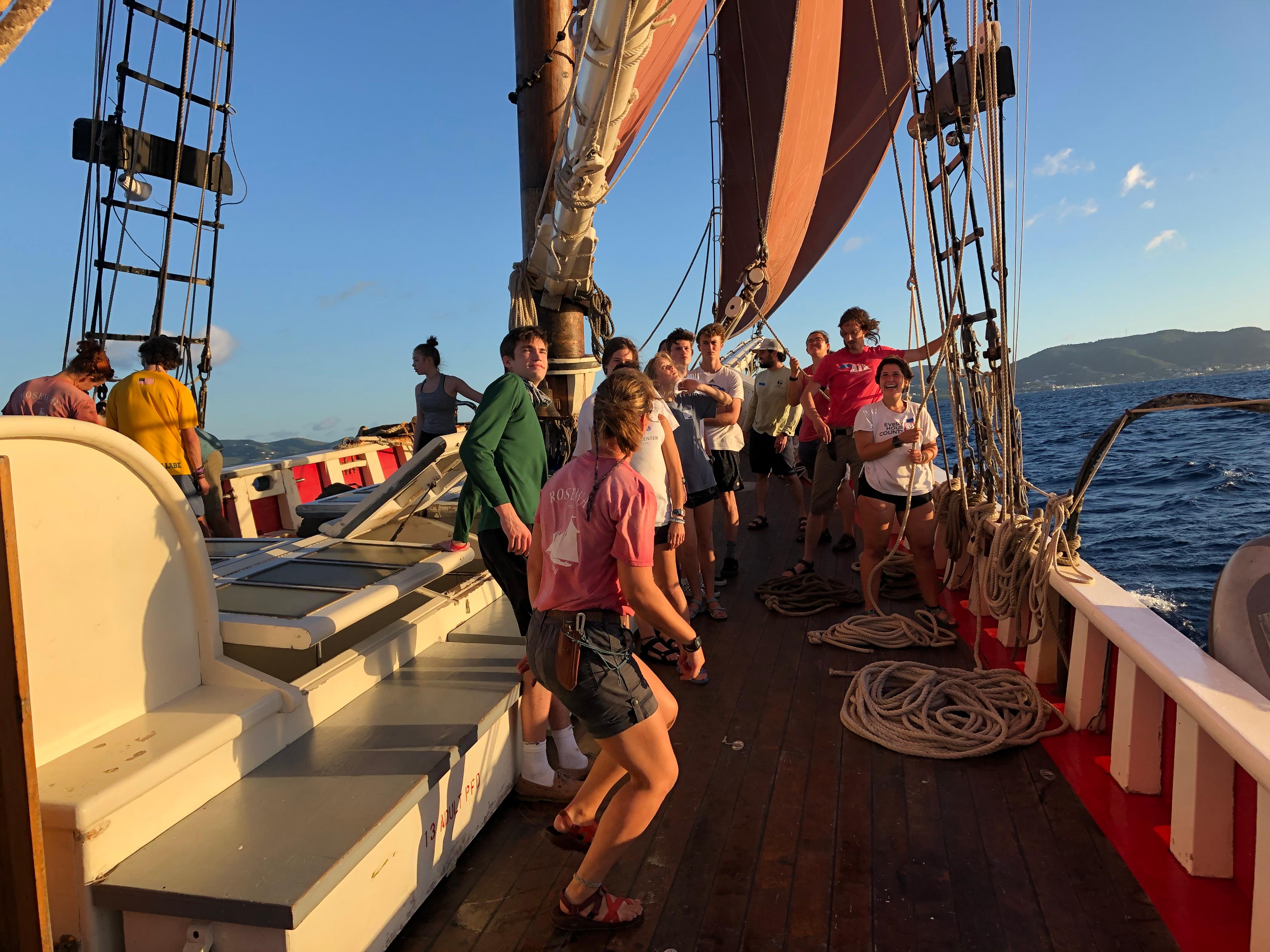 Louisa '21 | January 6, 2021
Today was our first whole day on St. Croix! This morning we woke up and had breakfast. We then headed over to the tortoise garden that is at the bed and breakfast we're staying at. We looked at the tortoises for a while and picked a few up. As a group, we went over the courses and what our term is going to look like. When it started to get pretty hot, we decided to head to the beach. We walked through Christiansted and saw lots of chickens and chicks along the way. We also saw three really sweet dogs as well! We spent most of the afternoon at the beach, swimming, and tossing frisbees and a football. We all had a great time in the warm water, which felt great considering most of us are coming from the cold! Today was pretty cloudy but still super warm. We had a nice walk back and saw some massive tarpon at the boardwalk. We made it back to the hotel for everyone to work on their online scuba certifications. We are hoping to get through the classes and dive soon! Everyone is super excited, and it's going to be the majority of the group's first time scuba diving!Tonight we are going to have pizza for dinner, yum!! Tonight we will probably all sleep well because of all the swimming we did earlier!!
Peace out,
Louisa ⭐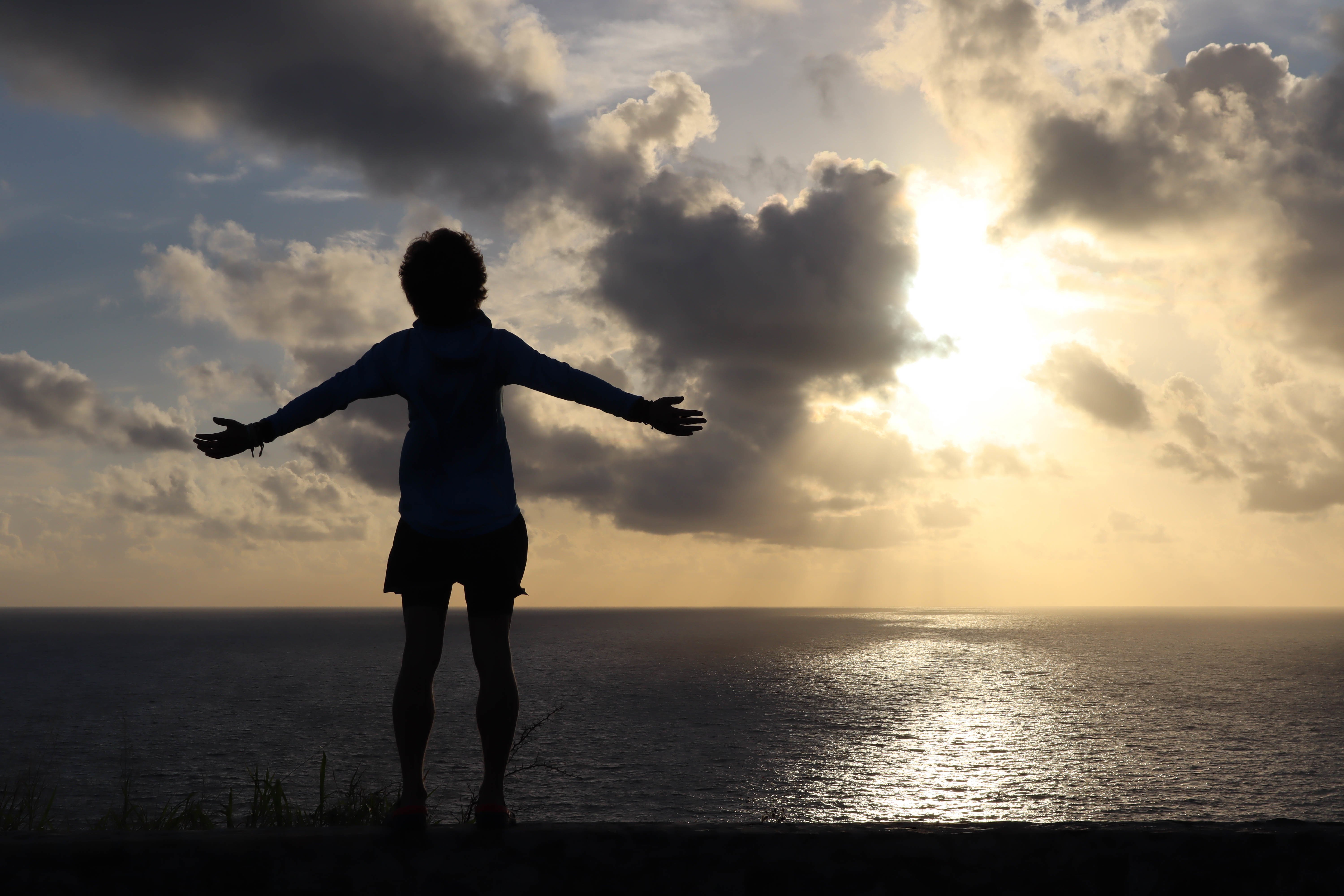 Sam '21 | January 7, 2021
Today was a beautiful day from start to finish on the colorful island of St. Croix! We started things off with breakfast at 0800! After breakfast, we all diligently worked on our dive certifications. Holly is planning out first dive soon... and I can speak for everyone when I say we are PUMPED! After wrapping those up, we joined our all-school assembly with a backdrop everyone on campus considered a dream. After making faculty and students jealous of our surroundings, it was time to receive our 3rd and final class syllabus. We received our Navigation and Seamanship syllabus and a practice line for our first set of knots. Starting off with a square knot and tying it all together for the dreaded bowline knot. The bowline is a difficulty, yet necessary tool to use on the bat. It is an array of loops and bunny holes, which in the end, results in the strongest loop. After a lot of frustration and rage, I learned the bowline. I guess you could say I am the bowline master! After tying knots we met up with Frandelle, the best tour guide in St. Croix! She showed us downtown Christiansted and gave us the ultimate history lesson. We learned about Alexander Hamilton and David Hamilton Jackson. Their stories vary tremendously from each other, yet stay connected by their roots. We wrapped up the day with a pot luck of local styled foods. It was awesome to wrap-up a culture filled day with a staple in St. Croix culture, their delicious food! Ranging from goat to locally caught fish, I experienced more than I ever thought I could, and it was only day 2. We will be sleeping good tonight from our food comas!
Best,
Sam
P.S. The power turned off and I left my apartment room sink on. I came back to a flooded room, which I am happy we could get a laugh about, but am currently mopping the pain and water away.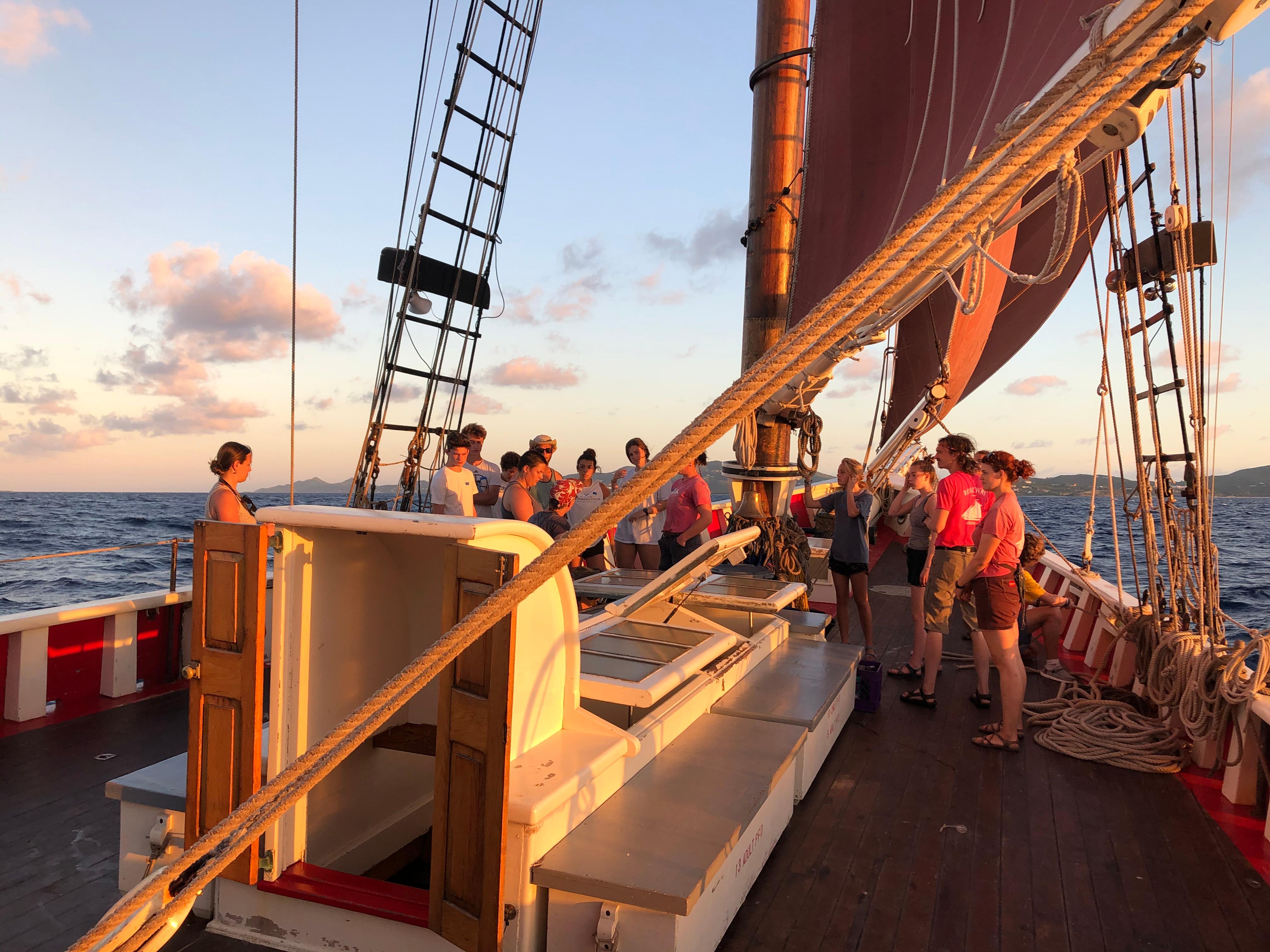 Kara '22 | January 8, 2021
We woke up on our third whole day in St. Croix to the pitter-patter of our first heavy rainfall here on the island. Digging our raincoats out from our bags, we enjoyed our delicious breakfast alongside a vibrant rainbow above the Sugar Apple. We then headed back to our rooms to apply the daily dose of sunscreen as the sun began to come out from behind the clouds. We then walked through Christiansted and started our hike to the top of a nearby mountain, Recovery Hill. We enjoyed looking at the array of colorful, traditional homes on the mountain-side, taking the time to drink water and catch our breath in the midday heat. Needless to say, the views were INCREDIBLE! The intense blues of the reef and ocean mixed with the greens of the island spotted with yellow and blue homes made the steep incline worthwhile. Once we arrived at the summit, we sat for a moment (six feet apart) before enjoying the views on the way down. Once back at the Sugar Apple, we ate a quick lunch and immediately jumped in the pool. Not long after we soaked up even more sun, we all came together for our first Marine Science class where we talked about our effects on the earth and global warming. We then switched gears and talked about the history of St. Croix and what Frandelle had previously explained to us yesterday. Some iguanas joined us at the pool and what I thought was an opossum was sleeping outside of my room. Turns out it was just a rat (thank you Holly). In the evening we had some downtime to catch up on schoolwork and chill before eating a big dinner of burgers and fries. Then it was time for some sea shanties! We started off easy with Paddy Lay Back and the crew took it away. Let me tell you this group has some natural born shanty-men. The Teige ended the night by showing off his unreal guitar skills. Today was an amazing day in St. Croix, and I can't wait for tomorrow.
To more adventures,
Kara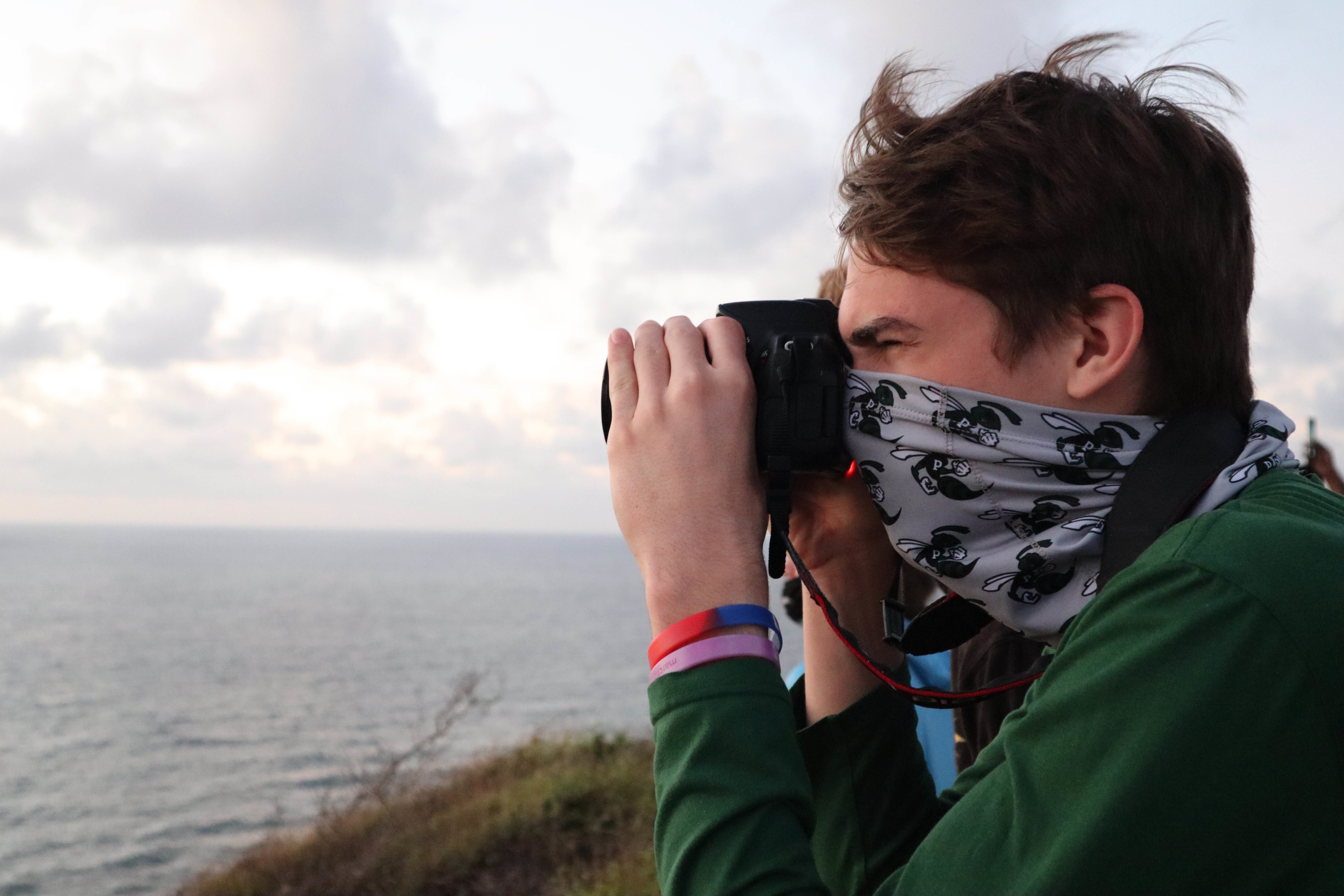 Teige '21 | January 9, 2021
The crew of winter ocean awaits anxiously as the Sugar Apple BnB for our upcoming time on Roseway. Although the BnB has been a perfect spot to quarantine from, I think I speak for the crew when I say we want to get on that boat! However, we must tough it out at the beach while we wait. Our day begins much like others, with a continental breakfast and a cup of hot, steaming joe. Afterwards, we made our way back to our rooms to prepare for Marine Science class. Today's topic: the Mammalian Dive Reflex. After taking our resting heart rates, in beats per minute, three separate times, we then took it three more times while our faces were underwater. As odd as it sounds, there's a natural response to being in water that slows your heart rate. After a difficult day of classes overlooking the turquoise and deep blues of the Caribbean waters, we decided to take a short hike to a nearby beach. With GoPros out and sunscreen applied, we made our way down to the ocean for some snorkeling and lounging. Feeling satisfied with our new, lobster-red skin, we walked back through the colorful pink and yellow buildings of historic Christiansted. Halfway through our quick walk back we looked to the bay and spotted her, the Roseway. She's waiting for the rest of her crew to board. After showering up, the night was topped off with Mexican food and music. We all can't wait until we can get on the open ocean. Life changing experiences and new friendships await. See you all on the logs Sunday.
Signing off,
Teige