Just over a week ago, twenty-one Proctor students set sail for Ocean Classroom's 27th year of changing lives through a term at sea. Students and crew aboard World Ocean School's schooner Roseway trained in Gloucester Bay to wait out inclement weather before heading north to The Gulf of Maine. We will post weekly updates from Ocean Classroom on The Buzz, but encourage you to check out the daily Ship's Logs posted on World Ocean School's website.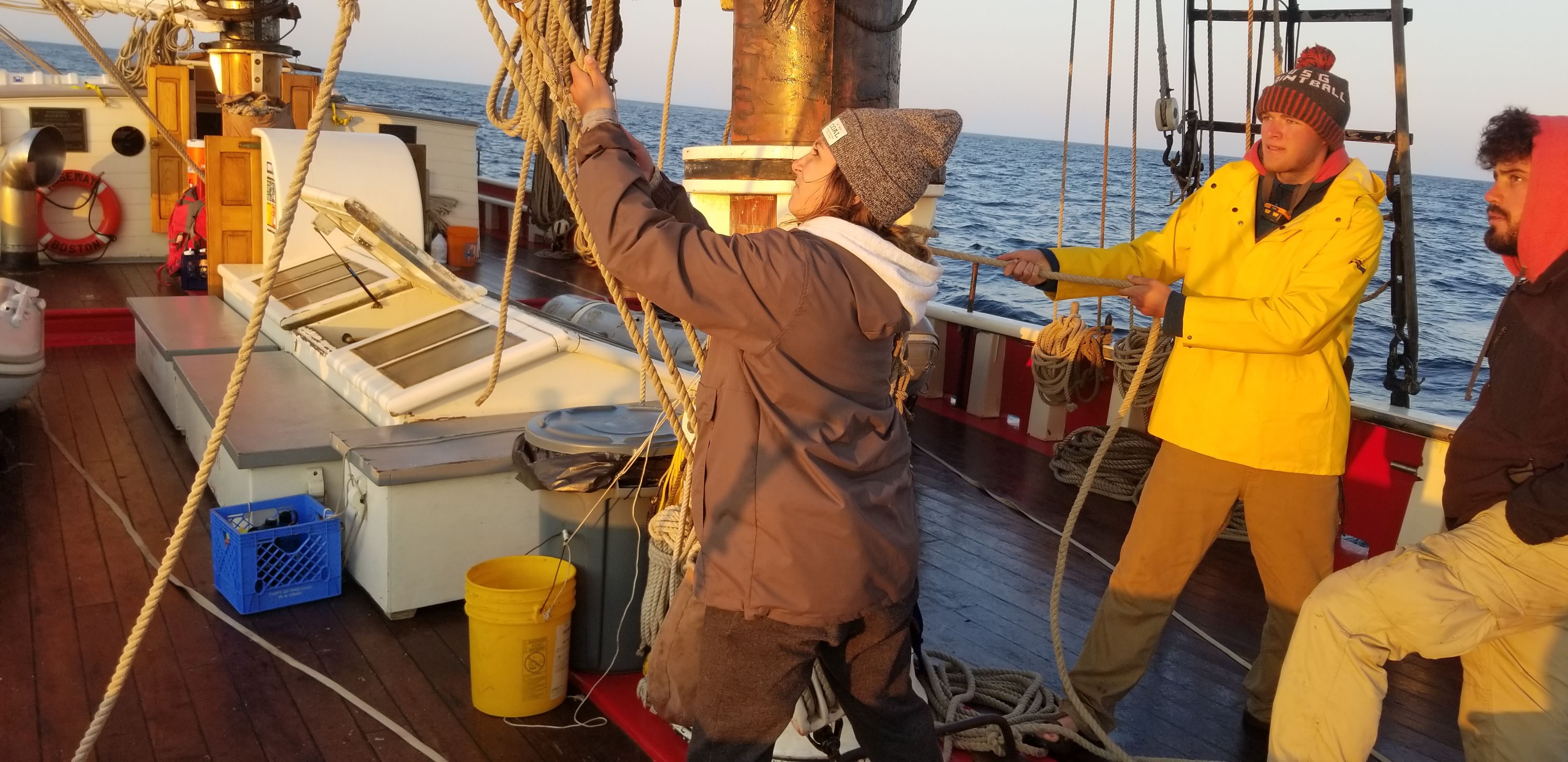 Gloucester Harbor | Monday, September 21 | Aubrey '21
Today is our fourth full day on the Roseway and the two week mark since we all first arrived. We were planning to get underway this morning and start our seventy mile transit north to Portland, Maine, however, due to gale force winds and fourteen foot waves from hurricane Teddy, Captain made the executive decision to stay back a couple days. Our group was disappointed as we're all anxious to see a new place. We spent the morning doing some safety drills going over abandon ship and the fire procedures. Ms. Miller Shelly taught a navigation class where we studied the compass rose in preparation for helm duty. After a lunch of chicken curry, we did sail training where watches practiced setting, tacking, and striking the jumbo sail. We went over all of our knots in preparation for "Schooner Olympics" where we will have knot tying competitions. A couple hours of late afternoon downtime were used for homework and shaving Jaspers beard into a goatee. Shepherd's pie for dinner warmed us up from a cold day and we sat in the salon analyzing the radar and hurricane Teddy. We are hoping to get underway within the next couple days but being anchored has given us time to adjust to life aboard Roseway before voyaging on the high seas.
Gloucester Harbor | Tuesday, September 22 | Hannah '21
We are still in Gloucester. Today has been similar to most, starting with chores and breakfast. We had our second day of class today, which was sail theory, and first day of marine science. The whole group seems pretty anxious to get underway since we've been at anchor for so long. When we have gone sailing it's been so much fun. Seeing how the ship operates makes me so excited. Although the days have already started to blend together, something always happens that stands out and shows me why I wanted to do this in the first place.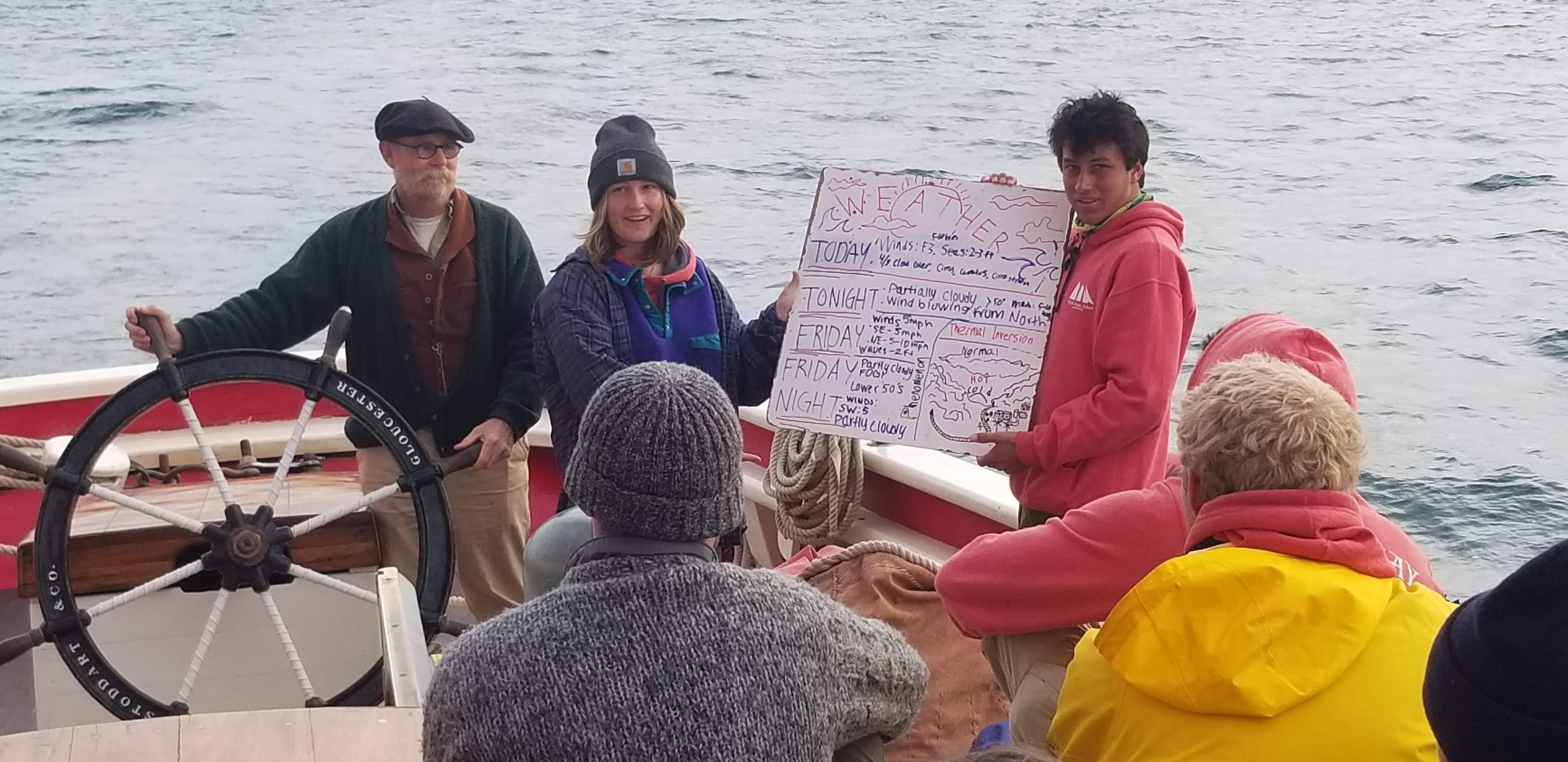 Today that moment happened in the evening a little bit after dinner. My watch was doing meal clean up for the second time today (my least favorite job) and I was doing dishes on the deck with Torie and Aubrey. We were all so cold since we were using the freezing sea water to wash the dishes. Since the other watches were free for the night, they were all laughing and singing while the sun set, making the sky a beautiful pink and orange color. Hearing everyone having fun like that made me so happy. I could feel the group starting to bond. The casual singing turned into people getting their guitars and ukuleles. As we finished the dishes, we could hear the group singing together on deck. Once we were done, we went and joined in as it got darker. Everyone was there, the students and the crew. That was one of my favorite moments so far because it seemed so wholesome and wonderful. Sitting on the Roseway singing and listening to music made it exactly what I'd hoped it would be since I wanted to go on the ocean.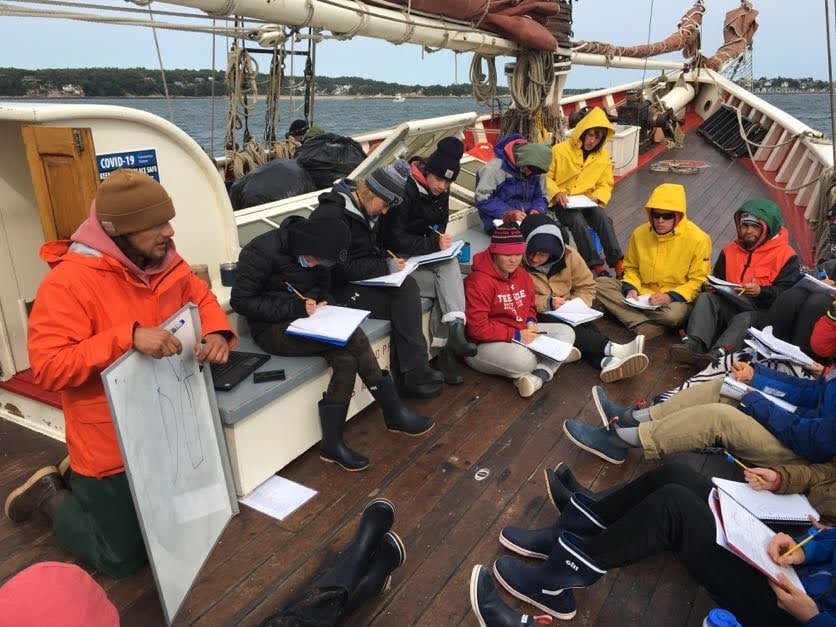 Gulf of Maine | Wednesday, September 23 | Jamie
After many anxious days in Gloucester harbor, we finally set sail! In the morning, Captain let us know that hurricane Teddy had finally traveled far enough north for us to start our transit up to Maine. After a delicious lunch, we reefed the mainsail. This allowed us to decrease the surface area of our largest sail. We then set off from Gloucester with anticipation. Most of us were anxious about sea sickness after learning we were in for 5-8 foot waves. Surprisingly, the seas were calm(ish) after leaving the protected harbor.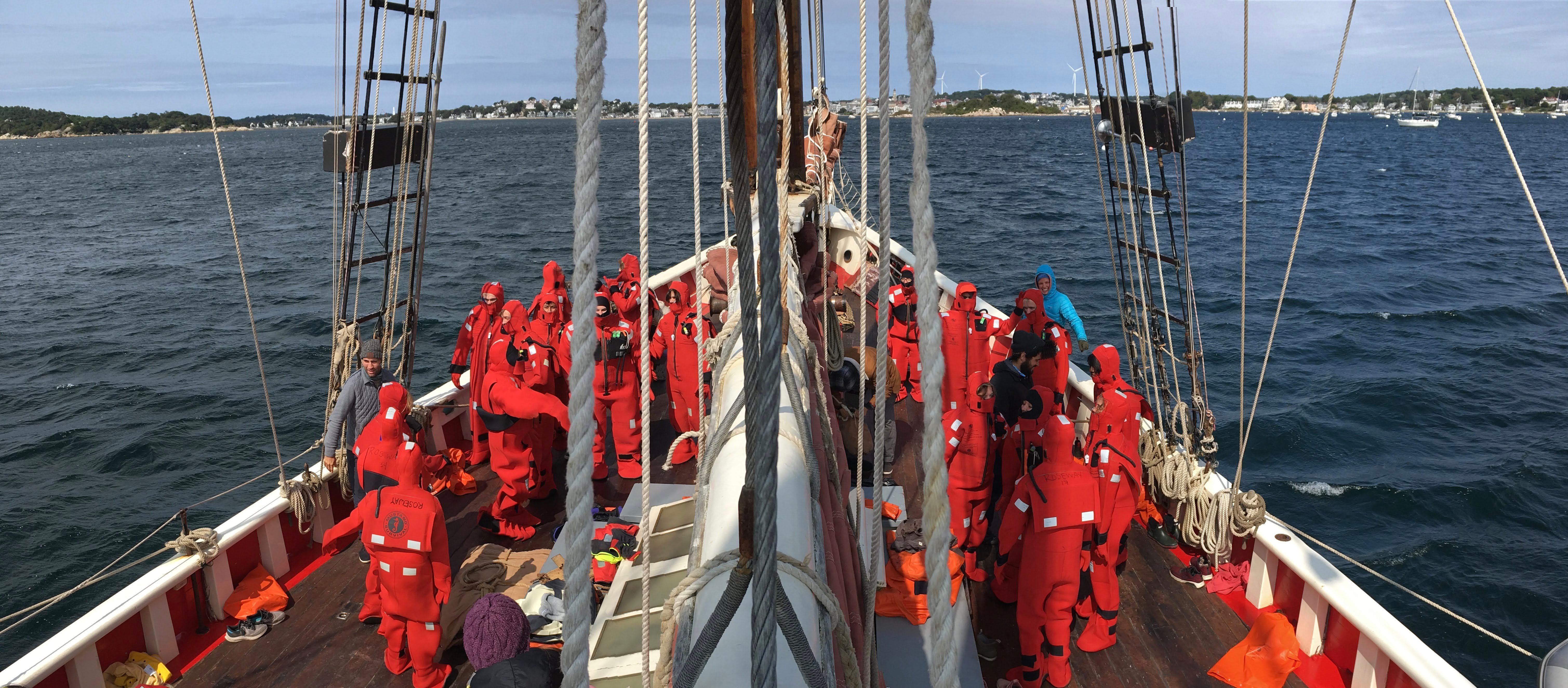 Soon enough, there was no land in sight. This was a first for me. I have spent a little time on the water, but I can't remember a time where all I saw was blue water on all four sides. We had our first official watch while underway this afternoon. It was a short "dog" watch which is two hours instead of four. We did a boat check, had someone on forward lookout and helm, dinner setup, and standby- who is available to assist with anything. As the watch was winding down and we were preparing for dinner, dolphins jumped out of the water next to us. The pod was on both sides of the Roseway, leaping out of the water, and then crashing back down into the water. We ate dinner as the sun set. I felt so fortunate to live this routine for the next two months. The hardships that are on the horizon will only make us stronger and value this experience even more. Can't wait to see what is next!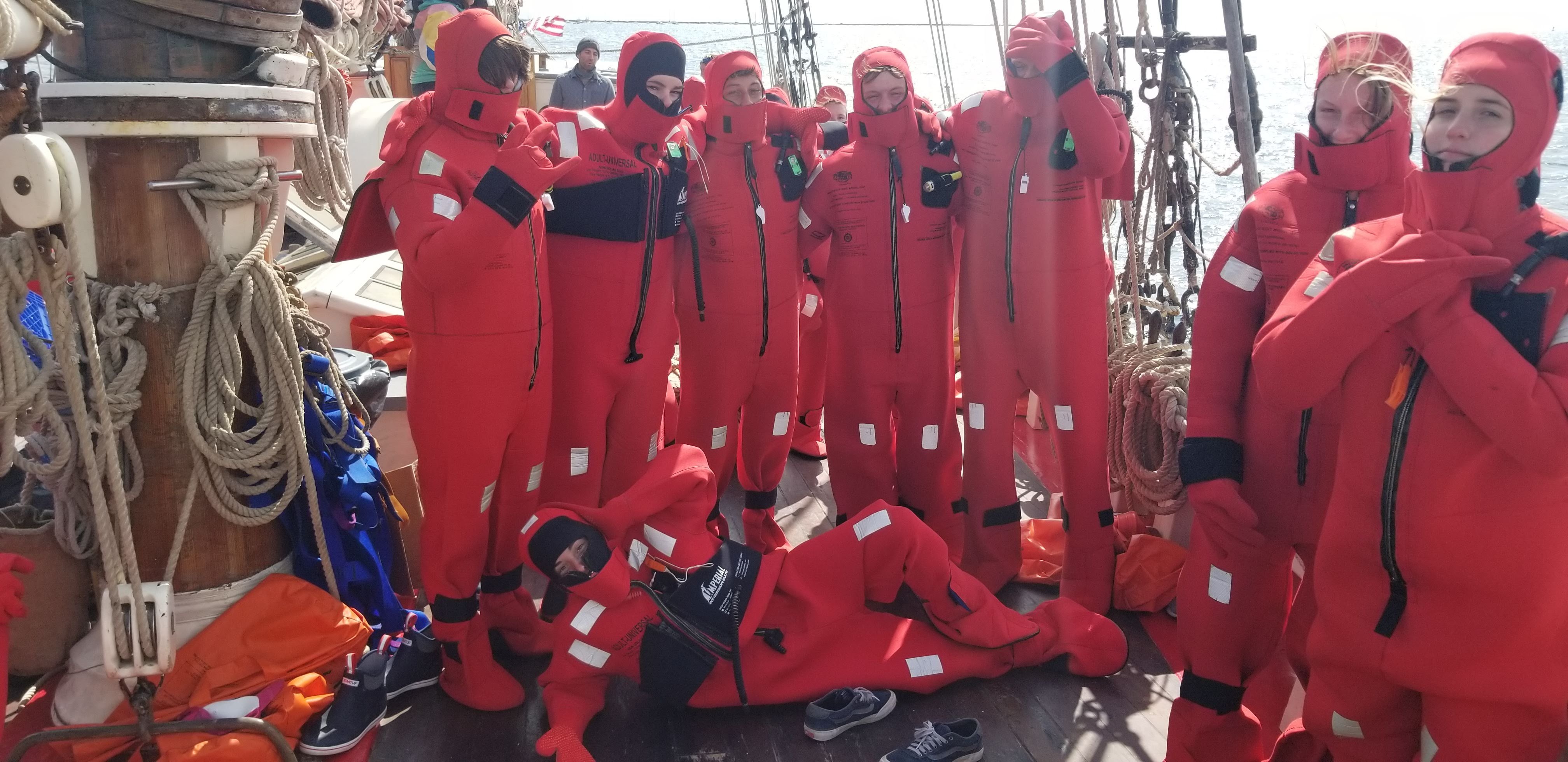 Mt. Dessert Island, ME | Thursday, September 24 | Katie '21
Today was our first full day without seeing land. B watch had the 12:00 am to 4:00 am watch this morning. After finishing our watch at 4:00 am we all went back to sleeping. Later we were all awoken to not only a meal but to a little grey and yellow bird. The bird's name is Tim Tim. The bird flies around and keeps the cook, Sean, unwanted company. We are too far from land for the bird to leave so it will live with us on Roseway until we make it to Maine. Sadly we don't have a birdhouse for it so it will have to find somewhere else. Saul mentioned braiding his hair to make a nest for the bird but right now his hair is too short. Tim Tim had a friend named Brodie, but he took one for the team and attempted to fly to land. I'm not really sure how it got to Roseway because it's about the size of my hand. Birds are not the only thing that we have seen, we have seen whales, dolphins, and bioluminescence. As I am writing this it looks like Tim Tim's brother has come back and is sitting on the main preventer.
This is only one of the memories that have been made so far on our voyage. Every crew member, mate, and the Captain are super nice and understanding. Everyone on this boat has a role even if it is scrubbing the soles. Even the little bird brought something, which was a good laugh. I never thought I would laugh so hard at a little bird flying head to head on the deck. I'm looking forward to many more memories and good laughs with my shipmates.