Proctor Academy's Ocean Classroom program has arrived in Savannah, Georgia after a long passage from an extended stop in Norfolk, Virginia due to inclement weather off the coast. The crew continues to live, learn, and work aboard the 135 foot schooner as they travel south. Ocean Classroom director, Dave Pilla, will be joining the crew for the next several days in Savannah. Below find student and crew reflections from the past week aboard the World Ocean School's Roseway!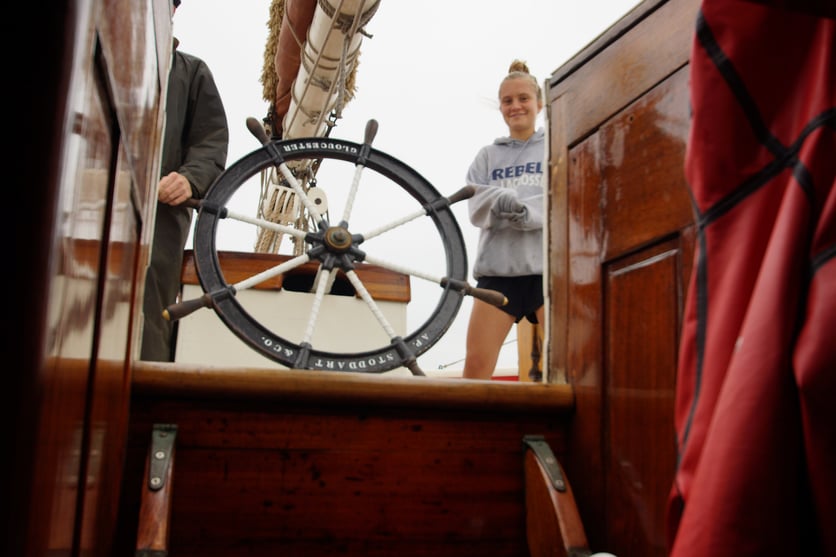 Day 20: Wednesday, October 11- Norfolk, VA - Charlotte '19
One thing that has made this trip so special has been the love and support everyone has for one another. Everyone did their best to make sure everyone was happy before going on with out day. We went to the Nauticus Museum and were given time to explore the Battleship Wisconsin but this time we could explore freely. I really enjoyed exploring the ship and learning about the ship's history. Around 1300, we were granted the privilege to roam around Norfolk freely. After an hour and a half of free time, we all met back on the boat to get ready for our interviews. My group was able to interview some really near people here in Norfolk. We learned about the history of Norfolk, popular occupations for people in Norfolk, and about a man who was in the Navy. Interviewing people of the port was definitely one of my favorite parts of the day because we were able to learn about the culture of Norfolk and hear about the lives of several very different people. At 1700, we all went back to the boat and sang songs. Singing together and constant laughter is very common on Roseway with this group of people. These moments really bring us all together to make us a very cohesive group. It has only been two weeks, but we have all gotten extremely close and will get even closer as our journey continues. These friendships and strong bonds are what make this journey so magical and I am forever grateful for these memories.
Day 21: Thursday, October 12 - Norfolk, VA - Patrick '19
Today was the final full day in the port of Norfolk, VA. This was the last day we will be on land for the next 10 days…
Just shy of 0700, Miss Ordway made her way down to the fish and gave us a soft, melodious wake up. The weather all day was on and off raining, within the first 5 minutes of being up the weather had gone from clear skies to pouring rain. We started off the morning with a basic breakfast of oatmeal, cereal, bagels, and a special addition of Nutella. The portions were extra large as well which made the day that much better. We started our day off the boat at around 1000 with a relaxing science class right outside the Nauticus Museum. After class we journeyed over to the Chrysler Art Museum where we were able to view art pieces from ancient Egypt, Mexico, and Europe. After touring the museum we all headed across the street to watch a glass blowing demonstration. We were all told at the beginning of the demonstration that the sculpture was supposed to be a chicken but it ended up being a duck in the end. After the demonstration we were granted about 2 hours of free time which was a dream come true. For my free time, I went to a wing joint and indulged myself to a huge pile of crispy and spicy wings. After lunch, we all mustered back at the boat for a long stretch of classes. We had history around 1530 and then a short literature class. During history class, each watch all created flags to represent the people and personality of their certain small watch group. With the day coming to an end, Brian cooked delicious pizzas that but a cherry on top to a perfect last day in the amazing city of Norfolk.
Day 22: Friday, October 13 - Norfolk, VA - Tom '19
Our last day in Norfolk start with a great breakfast of waffles, sausages, and fruit. After breakfast, everybody went to the park and we played some team building games with each other like Bird and Perch, Shark, Turtle, Jellyfish, and Ultimate Frisbee. After we had literature class in which we discussed our message in a bottle ideas. We came back to the boat for a sandwich bar lunch. The crew finished bending the sail on and we all furled it as a group. We rushed from the boat to the pavilion the museum for a riveting science class led by Will and Noah about geology. We learned all about the different kinds of rocks and the way tectonic plates move and interact with one another. They also taught us about the different layers of the earth like the inner core, outer core, mantle, and crust along with their properties. We went back to the boat and a few of us went to catch crabs off the pier. We all got together again at 1715 to go back to the Battleship Wisconsin for an escape room game on the main level. Only one of three groups were able to finish within the allotted hour and then we came back for a great dinner of rice and a ton of chicken. It was a super last day, I'd give it an 8/10.
Day 23: Saturday, October 14 - Voyaging to Savannah, Georgia - Captain Flansberg
I hear the thunder in the night,
'Guess i'll have to out my foulies on,
I've got the middle watch tonight,
Can't steer by the stars when it's cloudy out,
Talked to the captain along the way,
Hoping for the chart to Hatteras,
He turned to me as if to say,
"Hurry up the other watch is waiting there for you."
It's gonna take a lot to get me up on deck,
There's nothing that a hundred deckhands couldn't do,
I felt the rain around Hatteras,
Gonna take some time to learn the things I've never done.
The other watch cried in the night,
They grow pissed of longing for some needed sleep,
I know I must do what is right,
As sure as supper rises from my stomach,
I see the cure that's deep inside,
Frightened of this thing I've become.
It's gonna take a lot to get me up on deck,
There's nothing that a hundred deckhands couldn't do,
I felt the rain around Hatteras,
Gonna take some time to learn the things I've never done.
Hurry up the other watch is waiting there for you,
It's gonna take a lot to drag me from my rack,
There's nothing that a hundred deckhands could ever do,
I curse the rain around Hatteras,
Curse the rain.
A song by Captain Flansburg
To the tune of "Africa" by Toto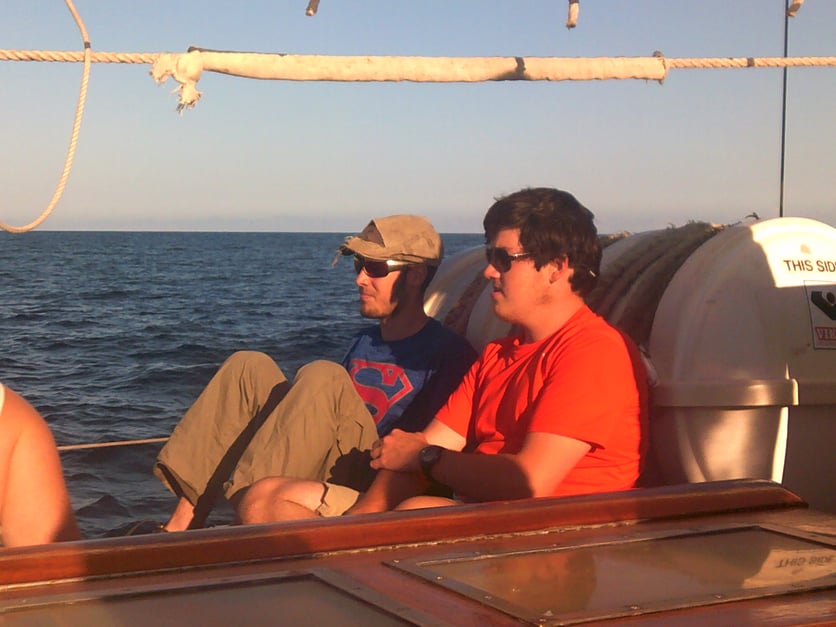 Day 24: Sunday, October 15 - Voyaging to Savannah, Georgia - Cooper '18
Visualize if you will. It's 1422 on a Sunday afternoon, and before your very eyes there's just ocean. It's been raining for the past four days I want to say. The waves have been rough. People puking everywhere, myself included. Though on days like today where the sun is out, the clouds are thin and the water is rolling up and down with calm leisure. It makes you just realize how lucky the people here are—to get a chance to see, feel, and listen to such a nice day. If it wasn't for the fact that I go blind looking at the sun, I think I'd look to see it smiling. Even the early morning was nice before the smiling sun rose from its long sleep. The water was already glowing with light. The bioluminescent phytoplankton almost guiding our way through the dark water of the night. Now I stare at the horizon in hopes of what tomorrow brings, on this adventure of a lifetime at sea.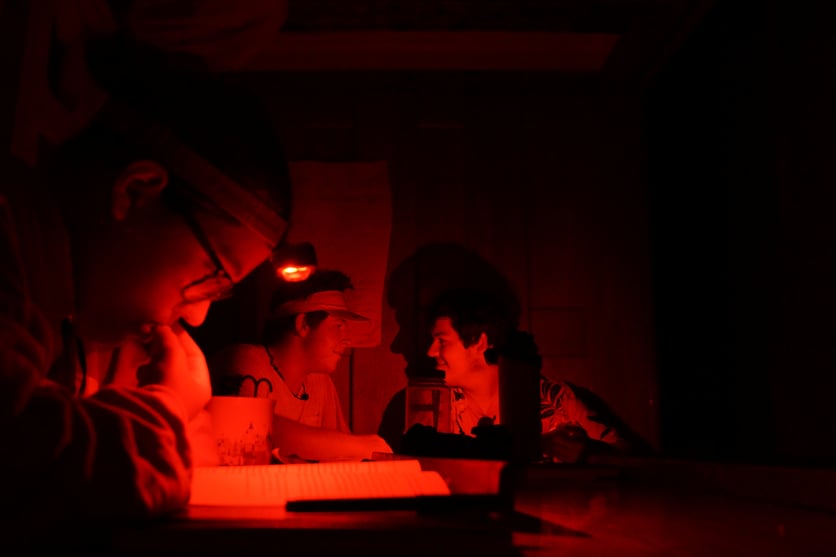 Day 25: Monday, October 16 - Voyaging to Savannah, Georgia - Miss Ordway
0800: 14 nm east of Cape Hatteras, ordered course of 205 per ship's compass.
0801: C watch takes the deck. 2nd mate sees a "really rather imminent squall" approaching from the south.
0802: C watch students decide that breakfast is better with less rain than very rained on, so in the name of "reduction of variables," breakfast is moved below.
0805: Students are finally convinced to put on full foulie gear due to rain (the radar told me so) and are later taught to use the radar so it can tell them too.
0810: All working coil and Ballentine came to fruition at this moment. Students coil down halyard with speed and alacrity, Havery Garrett Smith would be proud.
0830: Excitement! All hands called to take in the mains'l. Lots of rain and a frenzy of sail ties and the mains'l is down. Off watches are stood downing immediately turn to fresh water showers on deck.
0900: Ben musters both the elusive sheet bend and what side of the boat land is on when looking at the chart below and coming up to the quarter deck and face aft—the stuff naviguessing is made of.
1000: 14.5 nm southeast of Hatteras—getting a casual treatment of the Hatteras special. 1.5 squall and just enough traffic to make the lookout earn their lunch.
1030: Lunch smells good…mains'l is set up to the tune of "I want" "lunch"… "I want" "lunch"
Mains'l is set very quickly.
1130: C watch agrees that bioluminescence is the most beautiful thing they're ever seen. They're not wrong. It's pretty great.
1142: 12.9 nm southeast of Hatteras.
1200: C watch is stood down. Grilled cheese and tomato soup for lunch, lunch is 2nd mate's personal favorite.
Day 26: Tuesday, October 17- Voyaging to Savannah, Georgia - Will '19
Today was another day of high seas and strong winds. We sailed all day and are planning to make it to Savannah by noon tomorrow. Things seemed to be getting a little monotonous on the Roseway until we were given a show by a school of dolphins jumping from wave to wave. All of us crowded to the bow of the ship and cheered. I even heard Ben say, "Oh my God, I can't believe this isn't Sea World!" They stayed with us for 30 minutes in the morning then returned to the ship at night to give us an even more spectacular show in the bioluminescence where they looked like torpedoes weaving through the waves. All in all it was a great way to stay entertained at sea and something I will never forget.