Not all schools could run a program like Ocean Classroom in the midst of a global pandemic, but when Ocean Classroom director Brooks Bicknell '77 proposed a plan to run the program this fall, members of the Proctor's COVID-19 Task Force rallied to find a way to safely quarantine both students and crew prior to launching the nine week, term-long voyage. The schooner Roseway and its intrepid student crew are now seven weeks into their journey down the eastern seaboard, and having the most abnormally, normal Fall Term of anyone at Proctor. Read more from the past week's Ship's Log below!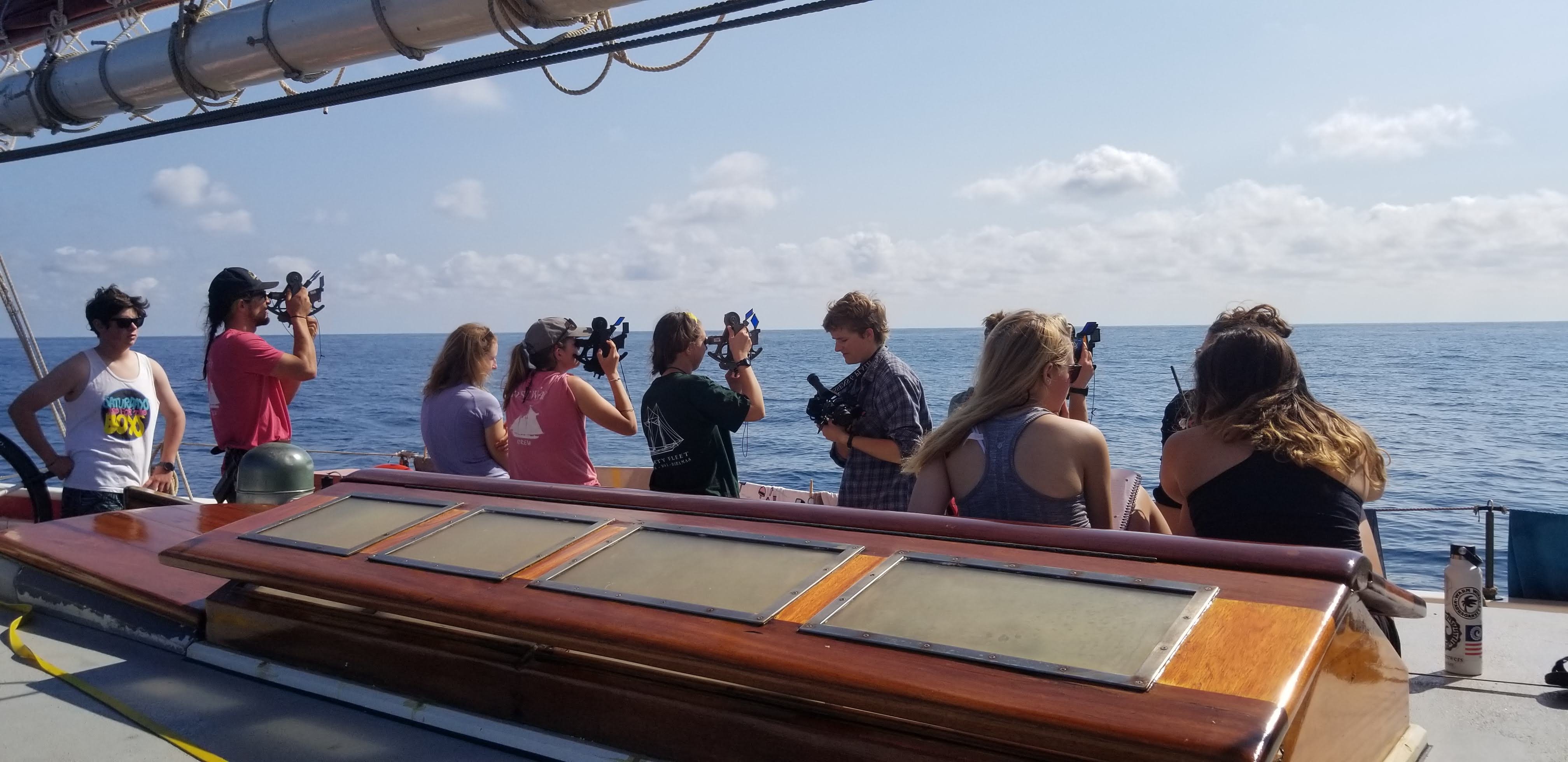 Julia '21 | Chesapeake Bay—Westland, VA
Saturday, October 24, 2020
Our last day of midterms! We all finished strong with our final test being navigation. We had anchored for about a day to take the midterms and we headed out shortly after lunch. We all helped raise the sails and we were moving! I did not have watch until 1800 so I had the majority of the afternoon free. I got to catch up on some work and laundry. We then had class with half of B watch. It was history and we got to have a very fun and amusing debate about the 14th Amendment. After many good points and some competitive cross examining, class was dismissed, and it was time for a quick nap before dinner. At 1745 my watch had a fast but delicious dinner made by one of the galley assistants. It was then a race to wash our bowls so we could relieve C watch in time for them to eat a hot meal as well. I spent my time on forward lookout planning the possible meals I would make with Sean tomorrow as galley assistant! Excited and ready to 0500 for breakfast prep, I brushed my teeth and headed to my bunk. Also thinking about the mail drop that we have been very excited for!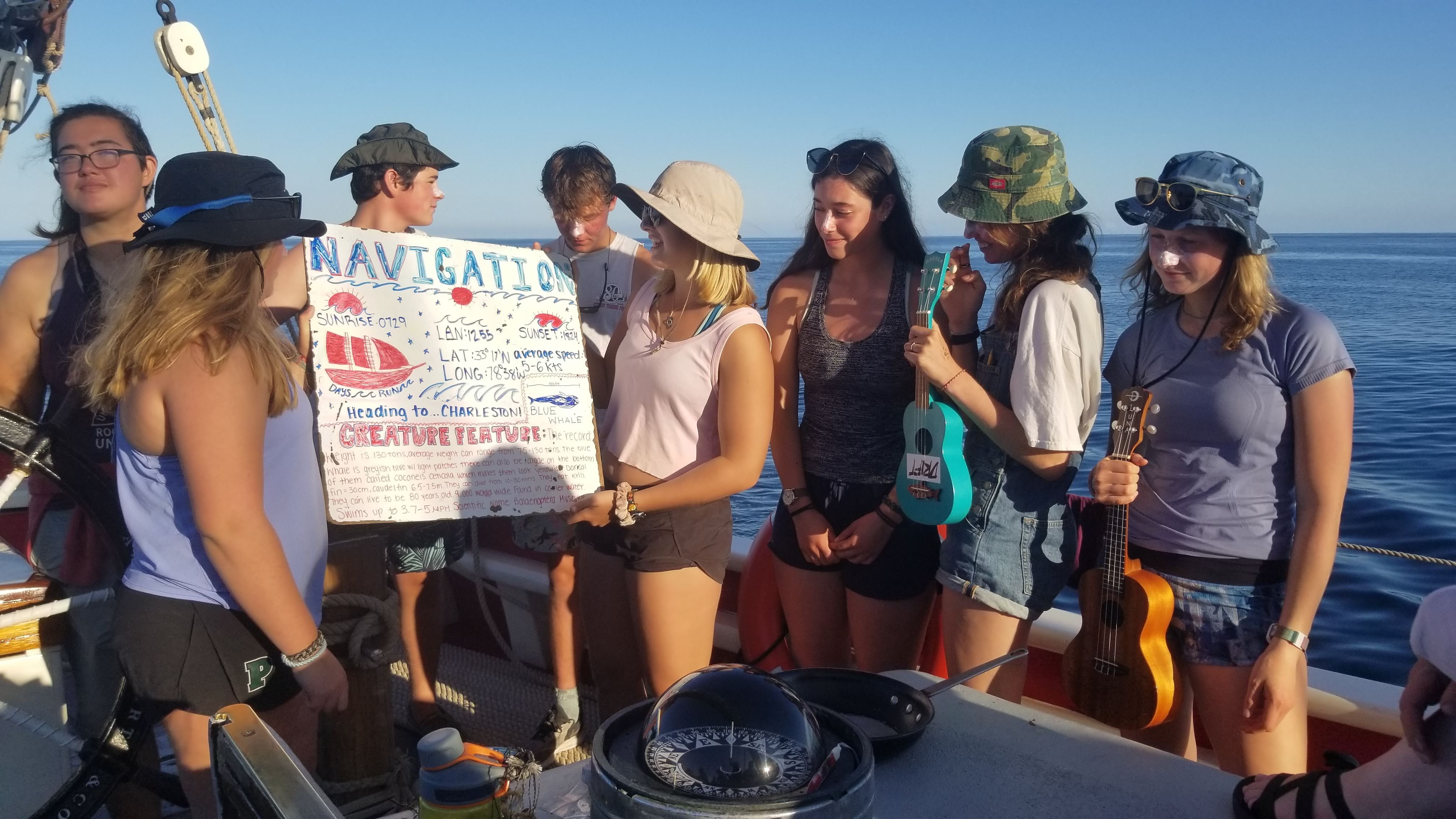 Kingsley '21 | Cape Charles, Virginia
Sunday, October 25, 2020
Today was an eventful day! We woke up anchored outside Cape Charles! The seas were rocky and the wind was blowing strong. The gusts were making it hard to stand on deck, and was blowing dishes out of our hands! Sunday's are make and mend days- no classes- but chores, homework, and ditty bag project galore! Oh, and not to mention it was our first and only mail pick up day! The anticipation levels were high as we motored our way towards the dock in the early afternoon. It was nice to see civilization and be beside a dock again. Our mail delivery people handed out a box full of an estimated two hundred letters! It took our educators some time to organize and pass out all the letters, so all enjoyed Julia's galley assistant lunch of panini's as we waited. We scrambled to eat and clean our plates to dive into our letters. The salon was loud and busy once people started opening, and happy tears started to come as we read notes from our families. For me, it was bizarre to have been so out of the loop from family so reading about what I have been missing was a relief. So glad that everything is great back home it was also exciting to receive letters from all our teachers and friends at Proctor! I miss the Proctor community and it will be an adjustment to settle back into campus after this. Later on in the afternoon we got underway, off to Charleston. This will be our longest consecutive voyage yet- four days, and rough weather in the radar! Tonight my watch, A watch, had the deck from 0000-0400. The seas were brutal, my stomach for the first time all trip, was so unhappy! I'm so grateful for my fellow watch members. When sea sickness overtook one of us, we would swap out, picking up each other's slack. My favorite part of the night was the bioluminescence. When the waves crashed onto the boat the deck lit up with sparkles. This was a great distraction from my sea sickness. Wish us luck as we journey to Charleston. Love you family and talk soon. Hugs!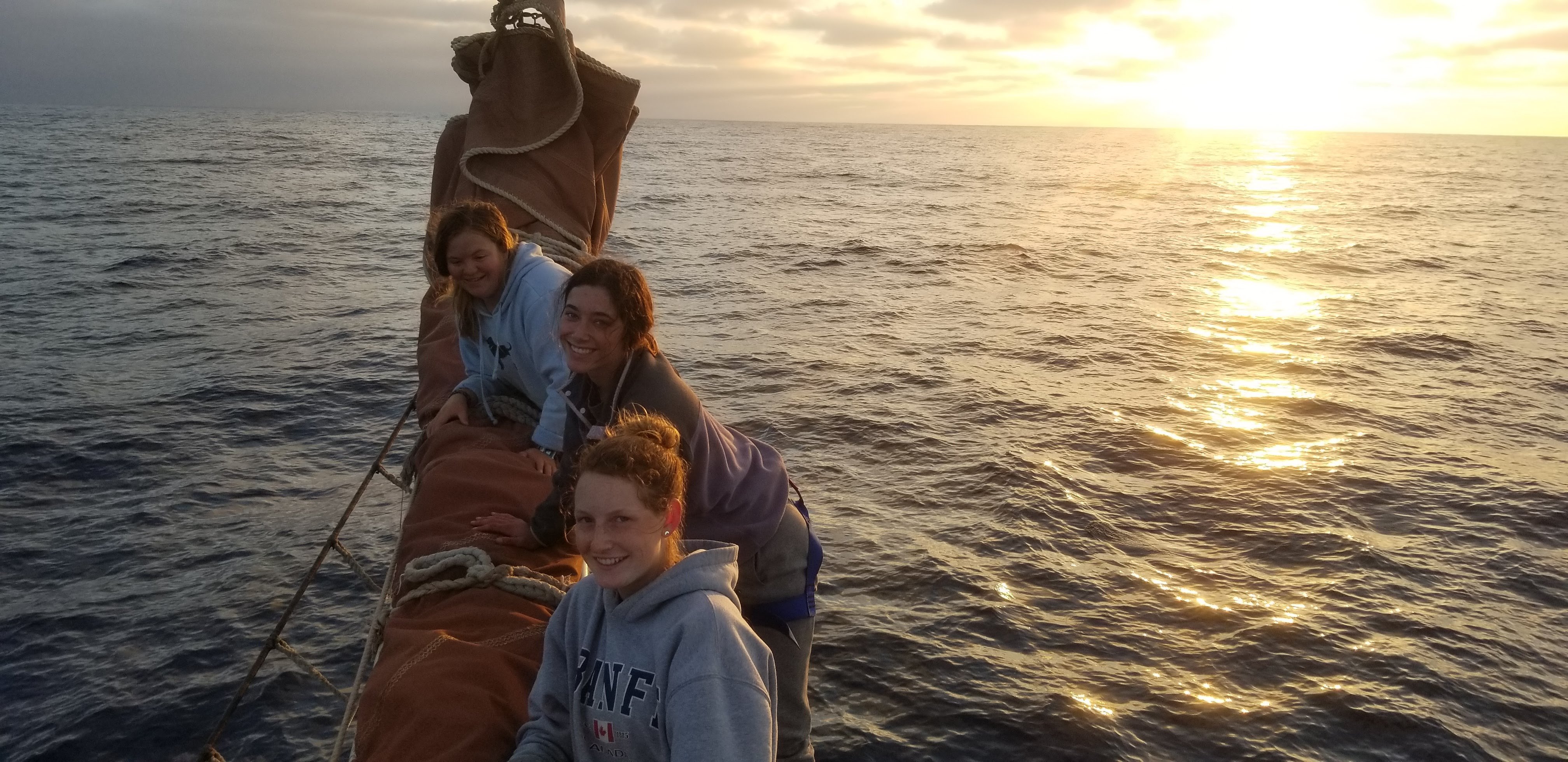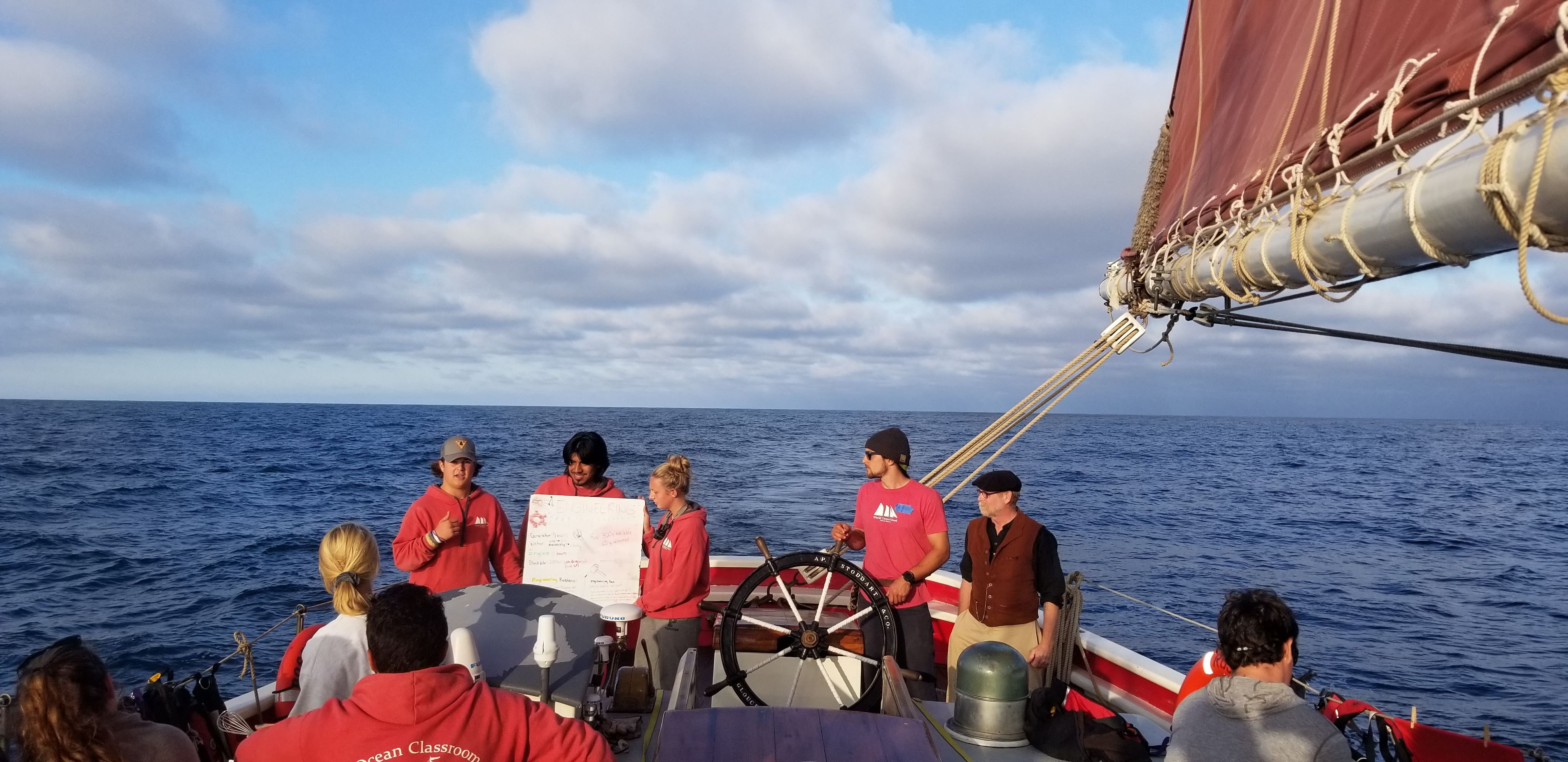 McKensie '21 | Voyaging off Cape Hatteras, North Carolina
Monday, October 26, 2020
Hello! We are officially voyaging! This is the longest we have spent underway! It will be three days when we get to Charleston. Today Aubrey was galley assistant and made the best monkey bread I have ever had, everyone loved it. We have all calmed down from our inevitable bit of homesickness that comes with the mail drop and we are just excited to be able to wear t-shirts without getting cold! It's exciting to be finally headed south and enjoy the warm weather- it's been beautiful! The water is so blue- the bluest I have ever seen. We have been underway all day today. When we got up for watch, our watch officer told us that we needed to be ready and know how to strike sail quickly during a squall because there was one on the forecast for the evening. Luckily, we did not need to strike sail but its good we learned how to just in case we need it! We are rotating watch officers again, so we have been having check-ins to make sure everything is going well. This trip has gone by so quickly and it's almost over! My mom's birthday is November 13th - I know it's early but happy birthday mom! Miss all the family so much! Love you and see you soon!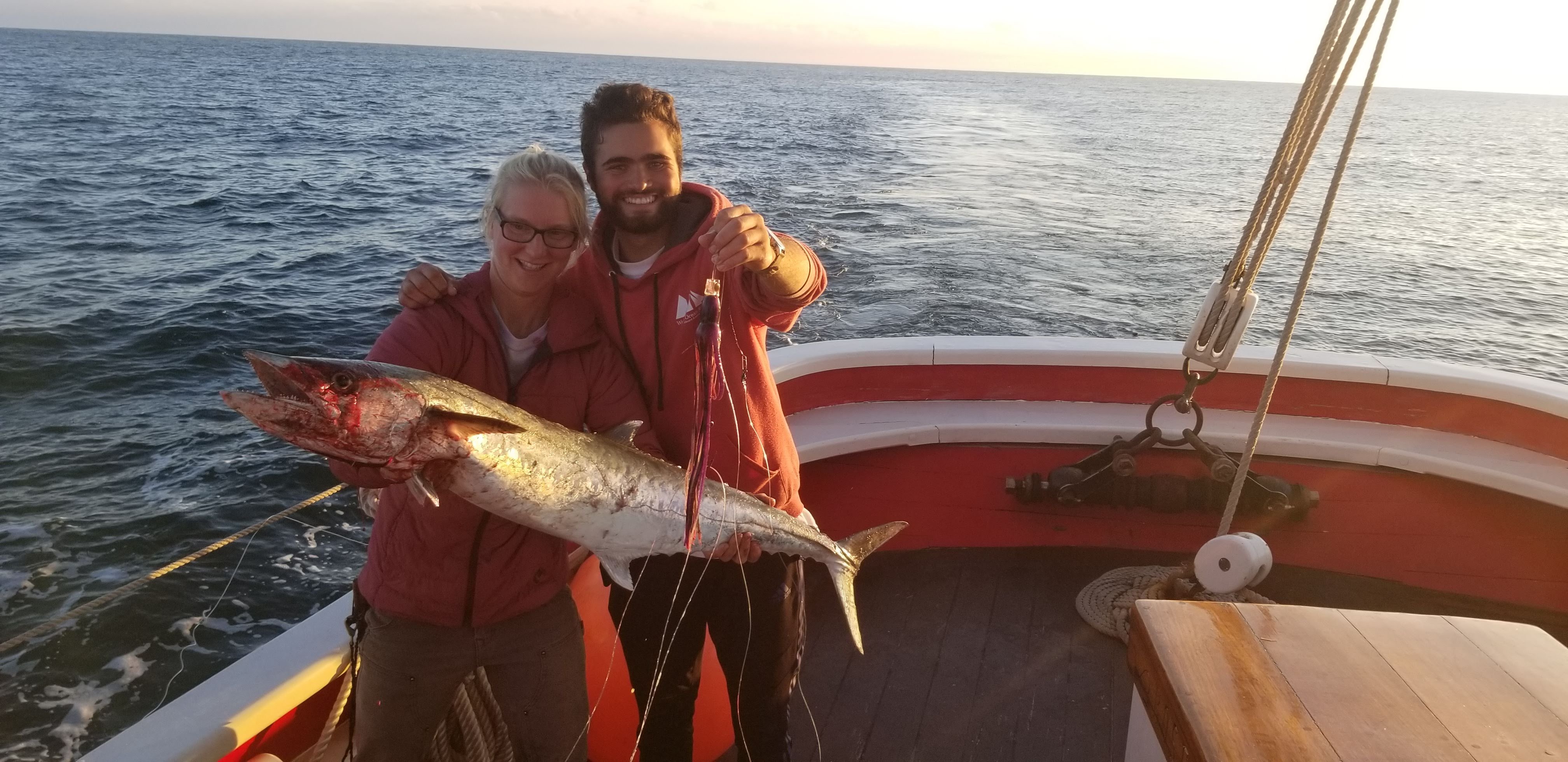 Bradford '21 | Voyaging off the South Carolina coast at McClellanville, SC
Tuesday, October 27, 2020
Wow what a day! We woke up early this morning to a bright and beautiful clear blue sky and the sun rising! We were the oncoming watch so we ate quickly and mustered for watch. As I walked up forward to relieve the forward lookouts the motor slowed and there was much laughing and yelling coming from the quarter deck. Naturally I turned and headed back there as Ms. Miller-Shelley and Mr. Terry hauled in a massive king mackerel! It was a huge catch and an incredible way to start the day with such a successful first catch. I then returned to relieve forward lookout. I stood at forward lookout for ten minutes or so before dolphins began to swim around us. They have been doing a lot of that lately. As the day progressed it only got better- the blue skies held and the sun shone down on our port side for most of the day. After lunch we were able to take bucket showers on deck with the bright blue water that surrounded us. We also did laundry and felt less gross after being able to clean ourselves and clothes. As the day wore on we headed into acting mode for almanacs. Today my watch acted out an engineering skit which we hope went over well and got a lot of laughs. As we came onto watch at 1800 I headed into being the naviguesser. I got our ETA to Charleston harbor which will be at 0400 this morning, right as we come on watch. At 1900 we had a switch in our watch and I headed to dishtater (which means in charge of chores for that hour). One of our chores was to furl the jib, which I led. While Saul, Kingsley, and I were out there furling the jib we heard a jump from below us and some splashing. When we looked down into what had become dark waters, we saw dolphins cruising along with the bow of Roseway. The moon just barely made out their shapes gliding through the smooth water. Hope all is well on land. Peace and Love.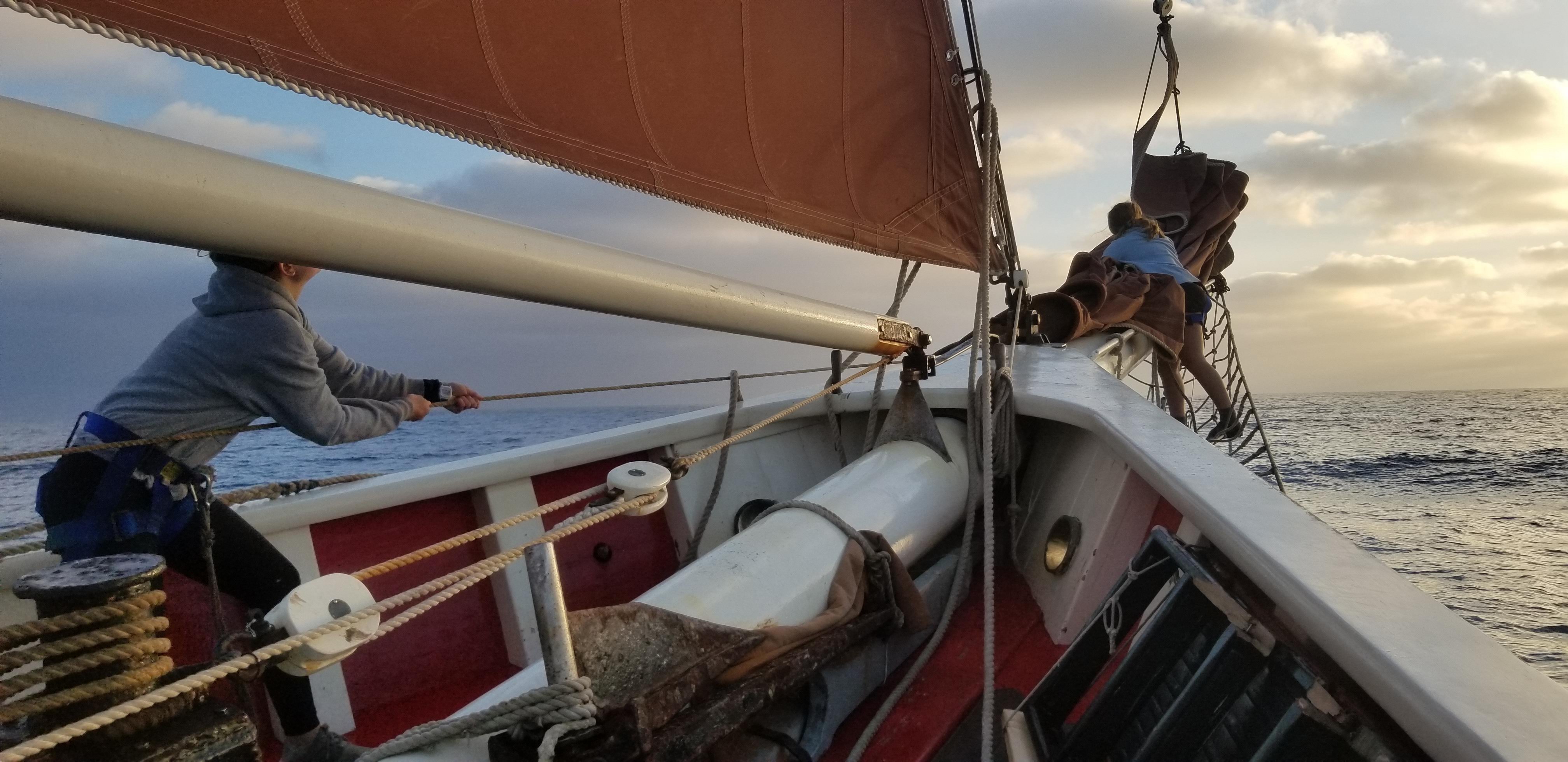 Ciaran '22 |Charleston, South Carolina
Wednesday, October 28, 2020
We made it to sunny Charleston, South Carolina after our most amount of days underway consecutively of the whole voyage so far. We left Cape Charles, Virginia after getting mail on Sunday and dropped anchor at 0400 this morning here in the harbor. Once our provisions are ready we'll head to the dock to pick them up within the next few days. Once we are all ready to go we are going to make our way to the Caribbean at last! We woke up to a beautiful sunrise this morning and a few of us laid out on the headrig to furl the jib to make sure it looks nice for our time at the dock. After breakfast we had the morning off to catch up on homework and sleep for those who were on watch until 0400 last night. For lunch we had fish sandwiches thanks to Mr. Terry's catches of king mackerel yesterday. We had a few classes on deck this afternoon and we're all so happy to be wearing shorts and t-shirts after being bundled up in the northern part of our voyage.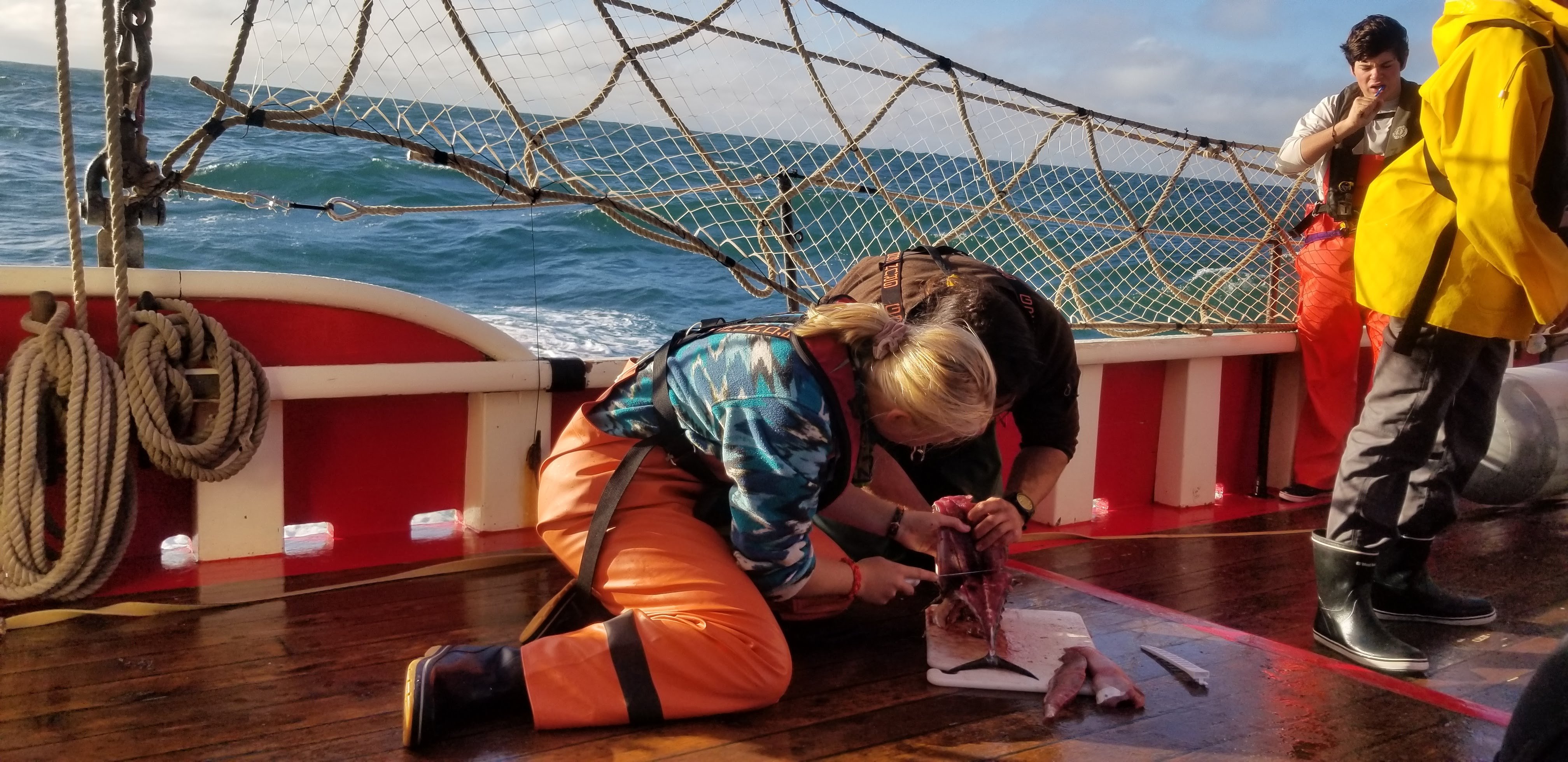 The last few days have been nice to be underway and know what needs to be done on watch. I really enjoy being on forward lookout or helm while we can only see the ocean all around us. While passing through the gulf stream the water was so blue and surprisingly warm so we all took bucket showers while we had the chance. We saw so many dolphins throughout the day, oftentimes right up next to the boat. We're now ready to begin our long stretch underway to Puerto Rico soon, and the best part has just begun.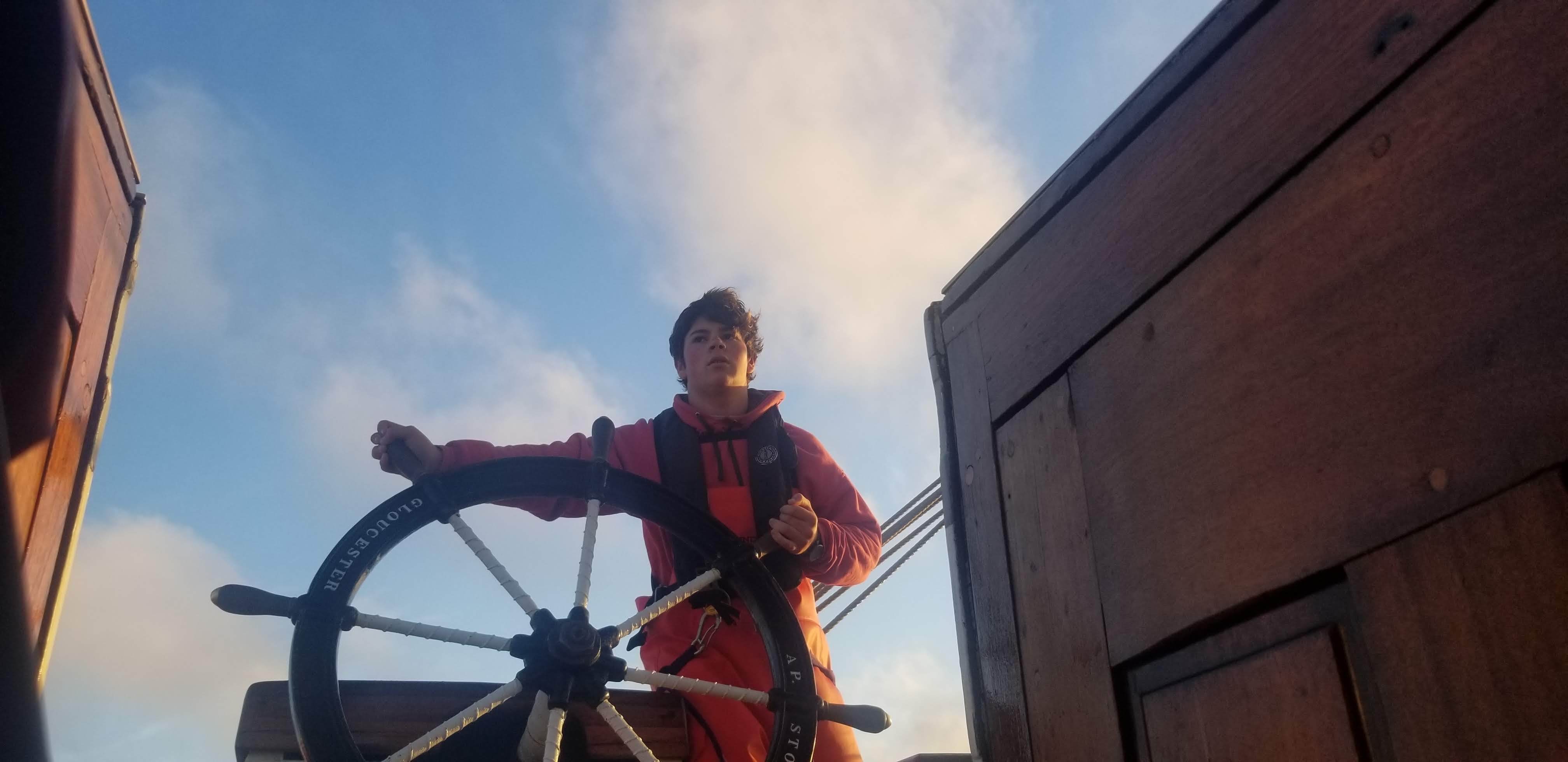 Saul '21 | Charleston, South Carolina
Thursday, October 29, 2020
Today was the second deckhand rotation of the voyage. Now I am under Mr. Terry's, Morgan's, and Charlotte's commands. I really like all of them and am excited to go on the long underway part of the voyage with them. During muster, this morning we had a couple of interesting announcements. Since we are going to be staying in Charleston for a few days, and now the student body has a bit more trust and responsibilities, each day one of the watches will spend time working on ship maintenance jobs. Today it was C watch and they had to clean the whole deck. Tomorrow it is my watch's turn and we'll probably be working on the cabin top, which sounds fun. The other announcement is that we'll be playing "Murder at Sea" in the spirit of Halloween. We all get to pick characters to play but I have yet to choose mine. After lunch I got to work on my ditty bag and I finally finished it. I'm really happy with the result and depending on my schedule I might do a second one. I wanted to try a cinching device I designed but could not use on this one. I almost forgot to mention one of the funniest moments in the voyage so far. During breakfast Morgan managed to catch a whole egg-cupcake after throwing it in the air. I asked to recreate the moment for a photo op and when he was about to do it Katie slapped the egg out of his hand, and it splattered flat on the deck. In the moment we all were caught up in laughter. We don't like to waste food, so Morgan ended up eating it anyway, which was the polaroid I got for the day. We finished the day watching Hocus Pocus, which is a favorite of mine and I highly suggest it, especially during this time of the year.